Grapevine is the Christmas Captial of Texas, but the Texan truly knows it for its annual Grapefest, the largest wine festival in the Southwest United States.
It is the perfect spot to travel if you want to have a small-town vibe while being right in the center of big cities like Dallas and Fort Worth.
And while wine lovers, nature lovers, shopaholics, and history buffs unite, Grapevine offers an abundance of ideal destinations to discover for people of ages.
To pick a few, we have a list of some of the best things to do in Grapevine, Texas, for a memorable trip.
Things to do in Grapevine, Texas
Visit the Sea Life Grapevine Aquarium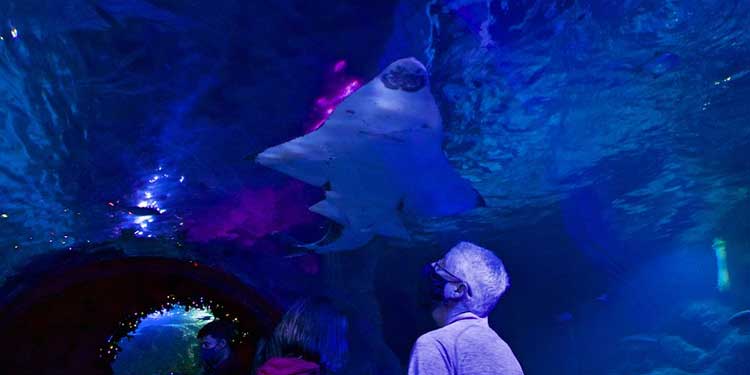 Address: Mills Mall, 3000 Grapevine Mills Parkway, Grapevine, Texas 76051, United States
Opening hours: open daily from 10:00 am - 6:00 pm
Costs: admission is $24 per person (other ticket prices vary from combo packages)
Dive deep into Texas's only 360-degree underground ocean tunnel at the Sea Life Grapevine Aquarium.
It features over 5,000 sea creatures, where you can see all forms of sea life, including starfish, seahorses, sharks, jellyfish, and more.
With its many interactive exhibits and hands-on activity, visitors get to learn about many endangered and rescued aquatic species.
The Sea Life is located inside the Grapevine Mills Mall, so if you are looking to spend more time, you can take a stroll around the area for some shopping and fine dining.
Tip: Book tickets online to save yourself a few dollars.
GreatWolf Lodge Waterpark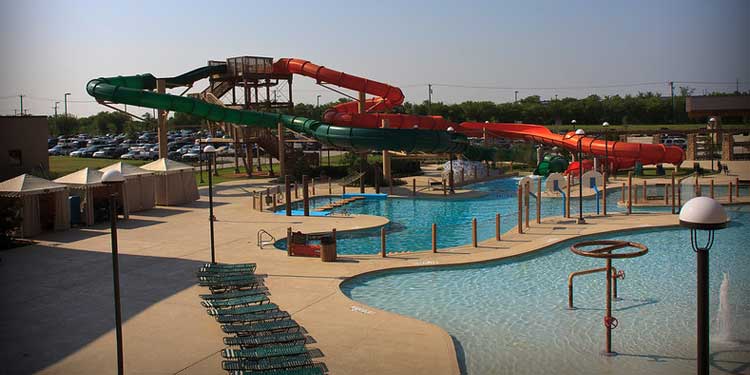 Address: 100 Great Wolf Drive, Grapevine, Texas 76051, United States
Waterpark Opening hours: 9:00 am - 8:00 pm 
Costs: tickets vary according to pass packages, ranging from $89 to $54 depending on age and groups
Get your swimsuit and goggles ready for an epic family vacation destination at the Greatwolf Lodge Waterpark, which also has the largest indoor waterpark in Texas.
It has a variety of exhilarating water slides, a unique water fort tree house, and a lazy river that will please both children and adults.
Other popular on-site activities for kids include arcade games, an exhilarating rope course, and a hands-on arts and crafts display that boosts the creativity of the little ones.
Tip: You can always stay overnight and have additional time for splashy adventures and other enjoyable things for all ages.
Check out: Best Waterfalls in Texas.
Celebrate the GrapeFest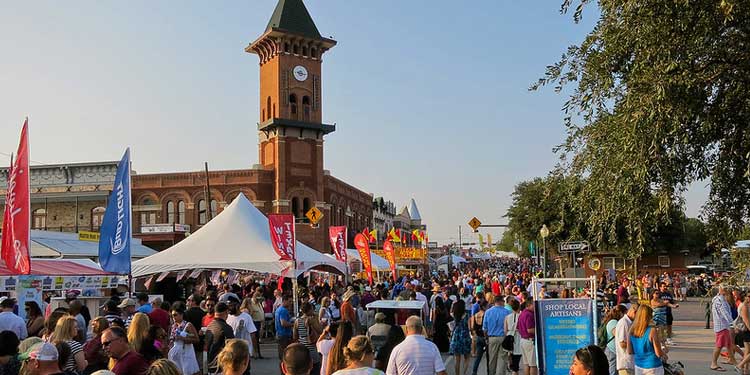 Address: 636 S Main Street, Grapevine, Texas 76051
Event held: September 15-18
GrapeFest is the southwest's most prominent wine festival, celebrating Texas wines and hosting the nation's largest consumer-judged wine competition.
This four-day event is a lot of fun, especially for wine lovers.
It takes place on Grapevine's Main Streets and features a variety of artists, live music, carnival rides, and a grape stomping competition.
At GrapeFest, you'll find more than just wine!
The Champagne Terrace in Liberty Park is a local favorite where you will get a complimentary wine glass to sip bubbly while relaxing in the shade and listening to live jazz.
The fantastic shopping area and food vendors with excellent selections around every corner make it even more exciting.
Stroll Around the Grapevine Botanical Garden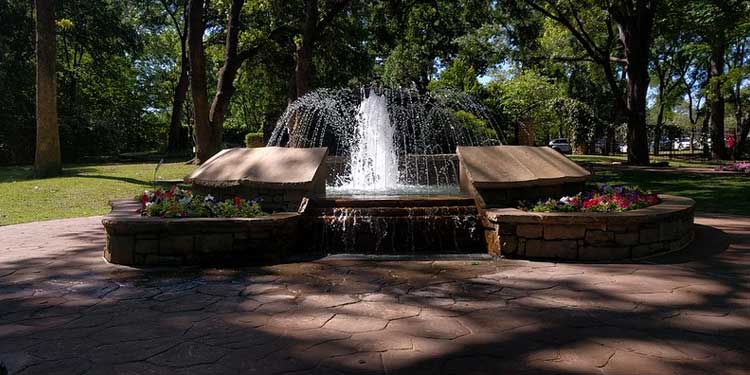 Address: 411 Ball Street, Grapevine, Texas 76051, United States
Opening hours: 8:00 am - 6:00 pm, closed on Sundays
Costs: Free admission
Grapevine Botanical Gardens in Heritage Park is a lovely spot to spend time with your family or to relax after a long day of exploration.
Along with the beautiful lushes greeneries and gardens, it has a lot of sitting areas, picnic spots, walking trails,
It is also an incredible place for a photo opportunity and celebrating special events like birthdays, weddings, or even a proposal.
Tip: If you want to spend some time, Heritage Park offers a lot of sports fields like basketball and tennis court.
Take a Walking Tour of the Historic Downtown Grapevine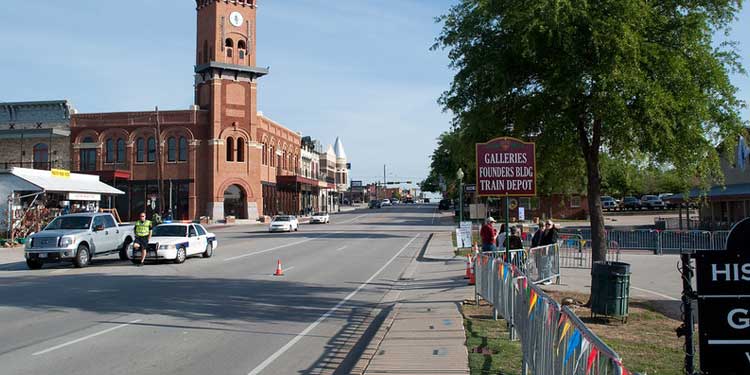 Address: 530 South Main Street, Grapevine, Texas 76051, United States
Did you know?
Historic Downtown on Grapevine was named for the Cotton Belt Train Route that originally ran through the main street of Grapevine.
Step back in time and take a nostalgic train ride on the Grapevine Vintage Railroad.
You can take a self-guided tour to visit all the historical places and learn about their stories and the people who helped Grapevine grow.
But theres more!
While on a walking tour, you may encounter various events, live music, art galleries, farmer's markets, retail shops, and tremendous Texan hospitality that will brighten your day even more.
Relax at Lake Grapevine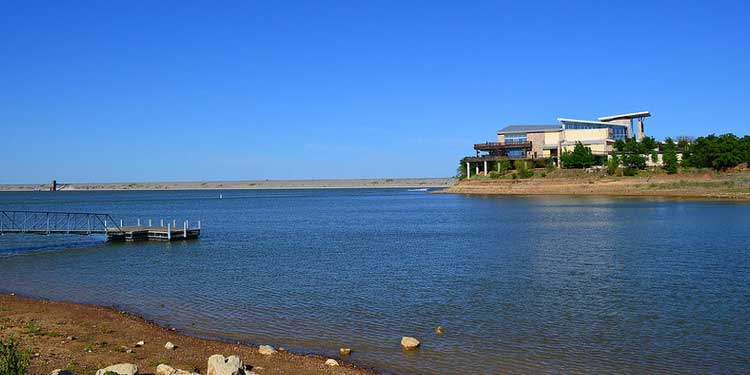 Address: 880 Simmons Road, Flower Mound, Texas 75022, United States
Lake Grapevine is one of Texas's best hiking and biking destinations, with a lovely shoreline and more than nine miles of wilderness paths.
It is a great way to escape the city's busy life and enjoy the lake's beauty by boating, kayaking, or even having a family picnic in a perfect natural setting.
If you choose a more risky adventure, there are several fishing and camping spots in the lake area where you can hike, fish, and set up a camp.
Stay around evening and witness the soothing sunset above the lake.
Tip: It can get crowded on weekends, so arriving early in the morning is best.
Go to Grapevine Wine Tours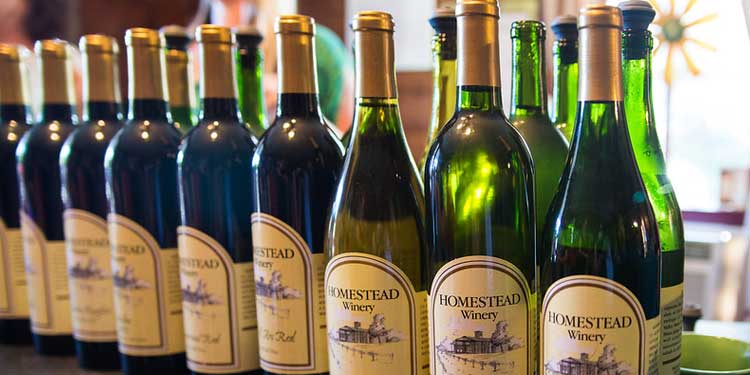 Address: 1218 Killarney Street, Suite A, Grapevine, Texas 76051, United States
Tour Timings: Monday to Saturday from 11:30 am - 4:00 pm (Lunch tours), 5:30 pm - 10:00 pm (Dinner tours) 
Costs: $125 for Lunch tour and $135 for Dinner tours
Grapevine Wine Tours takes visitors to the Grapevine's award-winning wineries.
Its standard tour offers lunch and dinner, including a three-course meal with wine tasting, and stops at two wineries to provide visitors with a unique experience of wine tours.
The tour is conducted by bus, accommodating up to 50 people. So it's ideal for birthday parties, bachelorette parties, and other special occasions.
Shopping and Entertainment at the Grapevine Mills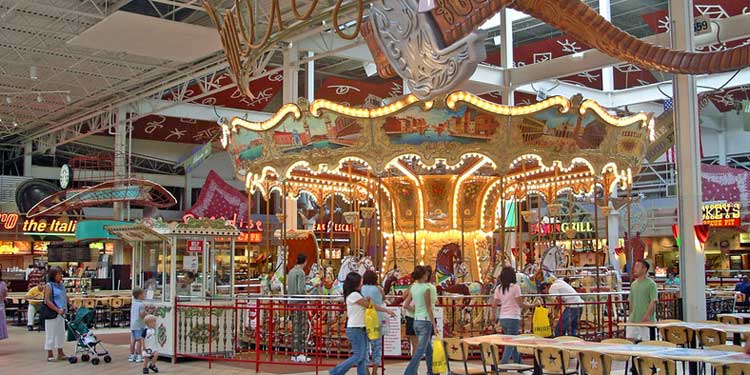 Address: 3000 Grapevine Mills Parkway, Grapevine, Texas 76051, United States
Opening hours: open daily from 10:00 am - 9:00 pm (Monday - Saturday), 11:00 am - 7:00 pm on Sundays
Are you a shopaholic? Then the Grapevine Mills is just the place for you!
It is a fantastic climate-controlled indoor mall with 185 retail outlets catering to visitors' desires, from branded clothing to shoes and antiques.
While you shop, the entertainment awaits everyone!
It has an AMC Grapevine Mills 30 with Dine-In Theatres, Legoland Discovery Center for the little ones, and Sea Life Aquarium for diving underneath the water and seeing the aquatic creatures up close and personal.
Make sure to check out its on-site Rainforest Cafe, which will give you the perfect vibe of dining and shopping under the trees.
Check Your Golf Skill at the Grapevine Golf Course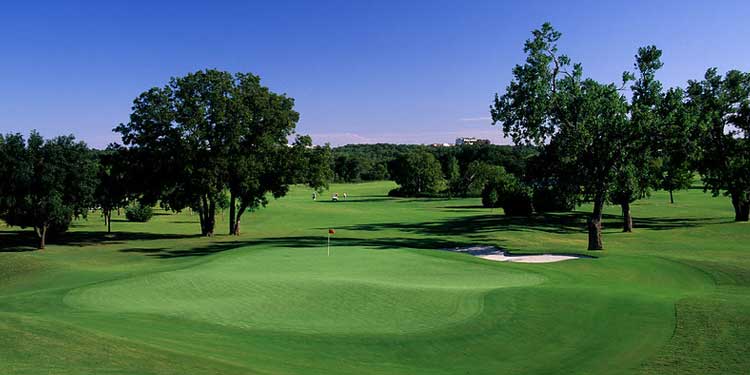 Address: 3800 Fairway Drive, Grapevine, Texas 76051, United States
Opening hours: open daily from 6:00 am - 7:00 pm
Costs: Prices vary according to the number of holes-round (check its official website to purchase)
For Golf lovers, Grapevine offers three golf courses ranked among the top UC public golf courses.
Grapevine Golf Course is one of the most popular around the area due to its hospitality and well-maintained 27-hole golf course.
You don't have to be a professional golfer to enjoy playing here, as the course has been properly developed to provide excellent facilities and services to both beginners and experienced players.
Dont, forget to check out the clubhouse, which features golf shops, a top-reviewed Bar and Grilled restaurant, and a ballroom.
Note: For advance booking and rates, we recommend emailing [email protected].
Watch Sunset at the Oak Grove Park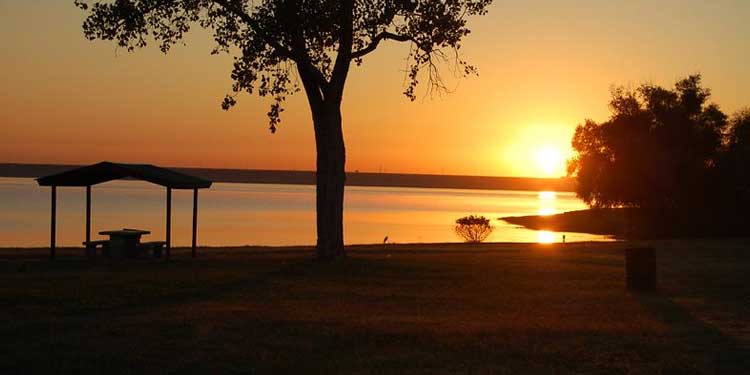 Address: 2520 Oak Grove Loop South Grapevine, Texas 76051
Opening hours: 7:00 am - 9:00 pm
Costs: Free admission
Oak Grove Park is located on 40 acres along the southern shores of Lake Grapevine.
The park has paved routes for biking, running, and walking.
There are many pavilions with covered picnic tables throughout the park for families and groups to enjoy picnics.
Other amenities inside the park include a Children's Park, sand volleyball court, baseball fields, boat storage, and more.
Tip: The park is at its best in the evening, when the sun sets and sparkles on the lake, reflecting the vivid colors of the sky.
Learn History at the Nash Farm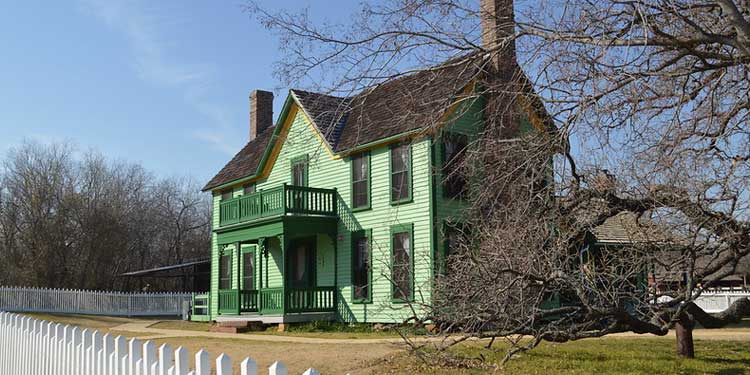 Address: 626 Ball Street, Grapevine, TX 76051, United States
Opening hours: open daily from 9:00 am - 5:00 pm 
Costs: Free admission during business hours
Step back in time and visit Nash Farm to learn more about Grapevine heritage and its history.
This historical monument, purchased by Thomas Jefferson Nash in 1859, brings history to life via exhibitions, interpretive events, and hands-on displays.
It provides educational tours and special events for visitors to connect with the life of agriculture from the nineteenth century to the present.
Pack a picnic and spend the day seeing the buildings, riding a hayride, learning about farming, and participating in crafts.
Check out the Best Places to Eat around Grapevine
The Grapevine offers an incredible dining experience from start to finish, with true Texan hospitality and great food service. Our top recommendations include the following:
Pappadeaux Seafood Kitchen: Cajun seafood, pasta, and comfort foods are served in a dark wood diner with a full bar.
Tolbert's Restaurant & Chili Parlor: The Historic Chili Specialist, located on Grapevine's main street, serves Southwestern food, steaks, and live music in a relaxed setting.
Mi Dia From Scratch: It serves handcrafted margaritas and provides an outdoor patio that complements the Santa Fe and Tex-Mex food.
Saltgrass Steak House: In the midst of cattle kitsch decor, this casual Texas-themed establishment serves a local-style meal and a full bar.
Check out: All-Inclusive Resorts in Texas.
Fun and Excitement Awaits You in Grapevine!
Despite being a small town, Grapevine has plenty of options for everyone that will undoubtedly give you an adventure of a lifetime.
And with our top recommendation and famous attraction, you will surely have the best time visiting the best of Texas.
Good luck!
Note: Keep in mind that information about travel can change quickly. To make sure your trip is fun and safe, we encourage you to double-check official websites and government/travel advisory sites for the latest information on travel restrictions, entry requirements, and safety measures.
Discover More Texas Destinations If you're looking to explore more of what Texas has to offer, consider visiting these nearby attractions and destinations: