Located in the heart of Texas Hill Country, Wimberly gives a little reminder of the beauty and diversity of the Texas landscapes.
This small town, tucked between the southwest of Austin and northeast of San Antonio, has many ways to enjoy nature. And we're talking big cypress trees, lavenders, spring-fed swimming holes, mountain hiking trails, and an epic zipline adventure.
Visit the town center for all the best places to shop, drink, and dine, or you can even go through the area's wineries and distilleries at the Wimberly Valley.
Let's get started and discover the best things to do in Wimberley, Texas.
Things to do in Wimberly, Texas
Discover Cypress Creek Nature Preserve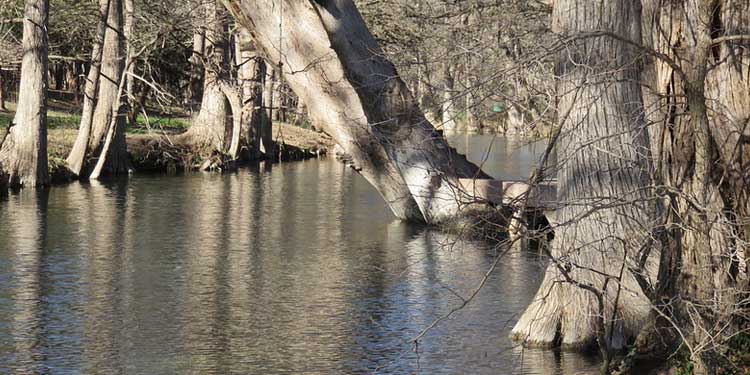 Address: 107 Old Kyle Road, Wimberley, Texas 78676, United States
Opening hours: N/A
Cypress Creek Nature Preserve is located close to Wimberley Square (also known as downtown) and provides a tranquil nature trail along Cypress Creek.
The park is named after the numerous Cypress trees that can be found along the 2.3 miles of loop trails.
So hiking and picnicking are popular activities to do around the area as it offers visitors several picnic tables and a pavilion to keep you moving forward for more sightseeing.
Tip: If you're looking for a little more excitement, one of the hiking trails leads to Blue Hole Regional Park, which has a nice swimming area.
Thrills and Spills at the Wimberly Zipline Adventure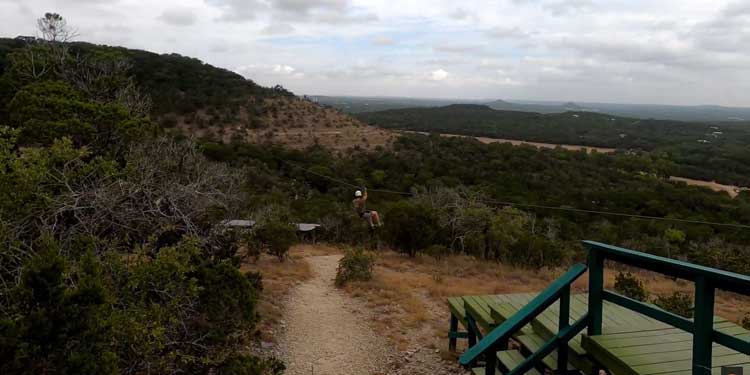 Address: 376 Winn Valley Drive, Wimberley, TX 78676, United States
Opening hours: open daily from 10:00 am - 5:00 pm 
Costs: The adventure tour is $110 per person
Located on the top of Texas Hill Country, Wimberly Zipline Adventure offers a thrilling bird's eye view of scenic canyons and landscapes.
Before gliding through ten zip lines with breathtaking landscape views, your adventure will begin with knowledgeable guides leading you on an informative walking tour of the wildlife ecosystem and local history.
The adventure tour includes the facilities of parking, equipment, training, a guided walking tour, and all the ten zip lines of the Zipline Adventure.
Note: Tours are set by reservations only, so we recommend visiting its official website for bookings and the date you are going to.
Cliff Diving at the Jacob's Well Natural Area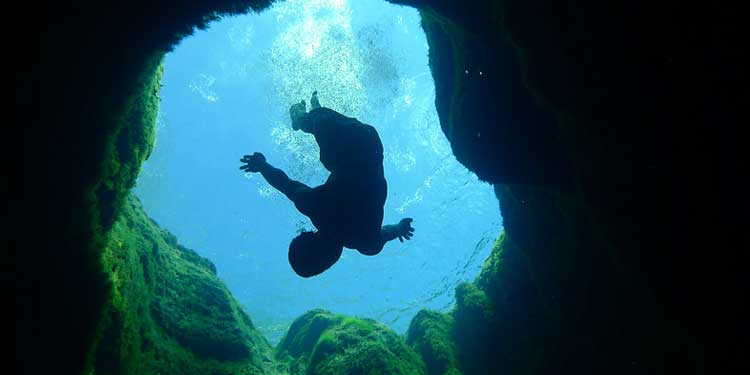 Address: 1699 Mt Sharp Road, Wimberley, Texas 78676, USA
Opening hours: open daily from 8:00 am - 6:00 pm
Costs: Swimming fees are $9 for adults and $5 for adults/seniors
The Hill Country is well-known for its swimming holes, and Jacob's Well Natural Area is the most unique among all, as it is the longest water cave in Texas.
It offers a beautiful swimming hole where visitors can jump right off the rocks into the cold crystal clear water over a hundred feet deep.
Swimming is only allowed through strict reservations between May through September.
Other recreational activities include hiking, wildlife sightseeing, picnicking, and many photo opportunities within park hours, with no reservation needed.
Note: It does not have a waitlist as reservations are for a two-hour time period, and you must arrive at the time specified in your reservation. 
Watch Theater Shows at the EmilyAnn Theater and Garden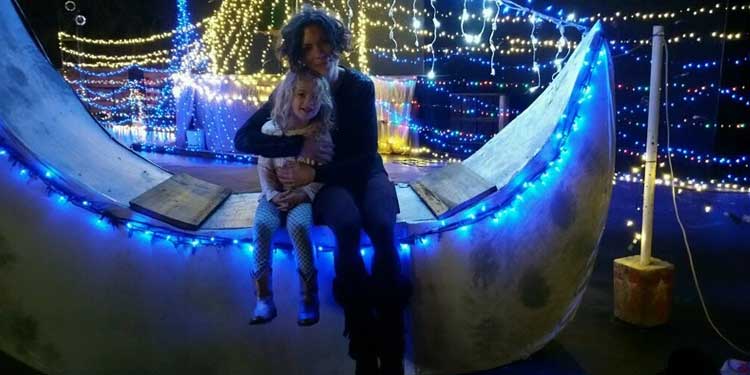 Address: 1101 Ranch Road 2325, Wimberley, Texas 78676, United States
Opening hours: open daily from dusk to dawn
Costs: Admission to the ground is free
Bring your kids to see a theater show under the stars, play on the life-sized chess board, and stroll around the gardens at the EmilyAnn Theater and Garden.
It offers interactive theater productions in indoor and outdoor settings, including musical dramas, Shakespeare plays, and other kid-friendly shows.
I recommend attending the butterfly festival, which is held every spring and features thousands of butterflies being released throughout the day, as well as live performances, nature activities, art & crafts, and various games.
If you visit between Thanksgiving and December 31, expect to see a massive trail of lights with over 100 displays created by school groups and community organizations.
Visitors are welcome to walk through the gardens daily and give spontaneous performances on one of the outdoor stages or play in the interactive musical garden.
Note: If you are attending during festivals and events, we recommend checking its official website before visiting.
Cool Off at the Blue Hole Regional Park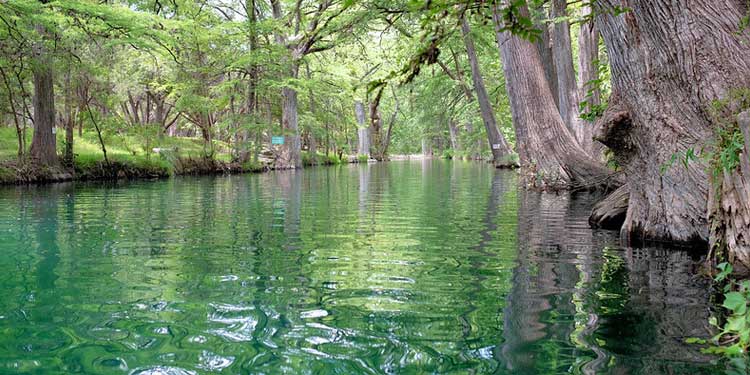 Address: 333 Blue Hole Lane, Wimberley, Texas 78676, United States
Opening hours: open daily from 8:00 am to sunset 
Costs: Admission rate ranges from $12 for adults and $6 for children/seniors
If you ask any locals for a list of things to do in Wimberley, the most beloved Blue Hole will certainly be mentioned.
The entire spring-fed swimming hole sits in the shade of impressive hundred-year-old cypress trees surrounded by a 126-acre park in the Texas Hill Country.
The rope swings are one of the main attractions, giving you the sensation of ziplining through the trees into the air, but instead of catching the flight, you fall into the deep shallow pool.
In addition, the park also provides 4.5 miles of hiking trails, a large picnic area, a community pavilion, a sand volleyball court, an amphitheater, and other amenities that will make the trip even more enjoyable.
Note: The entire park is open to visitors during regular operating hours, but swimming is only permitted during the designated swimming season, which runs from May to September.
Hill Country Lavender Farm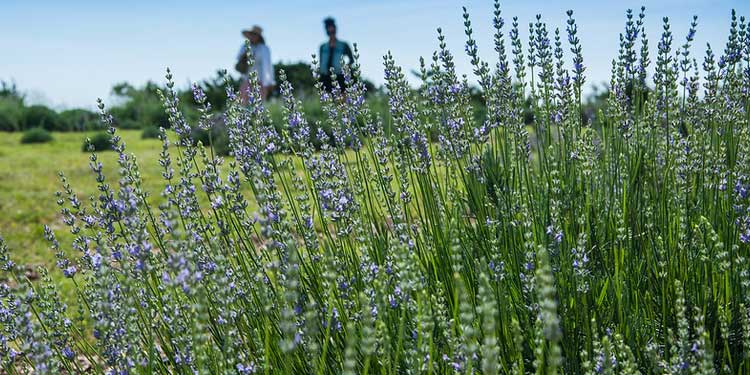 Address: 8241 Farm to Market 165, Blanco, Texas 78606, United States
Opening hours: 10:00 am - 4:00 pm (Thursday - Saturday)
Costs: Free Entry
Along the banks of Blanco, you will find fields full of Lavender that have been attracting locals and visitors with its floral scent.
Take a self-guided tour and stroll around the area to learn the life cycle of Lavenders and grab a perfect photo opportunity.
Stop at the farm store for beautiful handmade lavender-based products made from freshly picked lavender.
Some of it includes infused oil, face creams, soaps, and more.
Tip: Stop and smell the lavender at the Blanco Lavender Festival, where you can cut your stems, wear purple, and sip sweet Lavender wines while listening to live music.
Go Glamping at the Yurtopian Hill Country Resort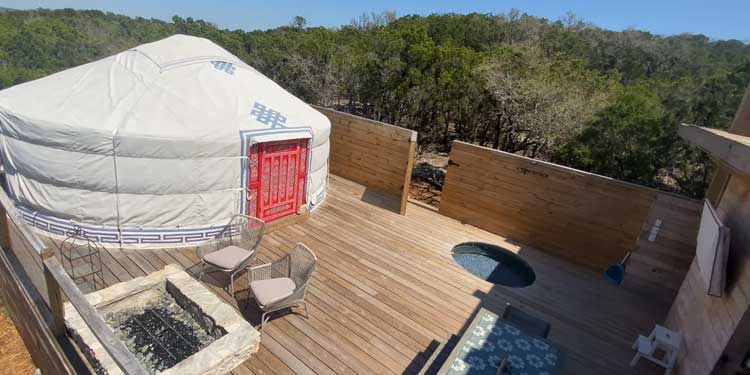 Address: 135 Winn Ranch Road, Wimberley, Texas 78676, United States

Costs: Pricing per night varies on Yurt packages
Are you looking for a romantic getaway location?
Then, visit the Yurtopia Hill Country Resort, where the scenic views of nature along the Blanco River await a fantastic couples' rejuvenation treat.
Three yurt complexes have a hot tub/pool, kitchen, fireplace, bathroom, and rooftop deck for a secluded all-in-one experience.
Best of all, the Remote Hilltop Yurts are all private among the cedars and oaks, with rooftop decks and breathtaking views.
Tip: If you are visiting from the central area of Wimberly, driving from the River Road will only take you about 2.2 miles.
Wine Tasting at the Wimberly Valley Winery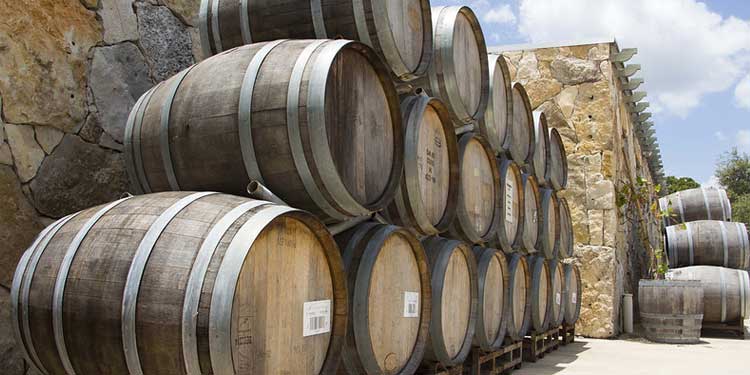 Address:  2825 Lone Man Mountain Rd, Driftwood, TX 78619, United States
Opening hours: 10:00 am - 6:00 pm
Costs: Free to enter
Wimberly Valley Winery has been delighting customers with its genuine fruit wines and classic varietals since 1983.
It offers a lovely setting for visitors, with a large outdoor patio under the oak trees overlooking a scenic view of the lush greeneries and vineyard.
Wine tasting takes place inside the tasting rooms, with educators guiding you through the selection of any five wines, or you can simply relax outside with a glass or a bottle of wine.
Take a self-guided tour of Wimberly Winery's spacious grounds and enjoy the scenery of Texas Hill Country while sipping wine.
While you're there, make sure to say hello to the miniature donkey and ponies.
Tip: If you want to attend special events such as wine pairings or first-class dinner dates, make sure to check the event calendar on its website before visiting.
Shop at Wimberly Market Days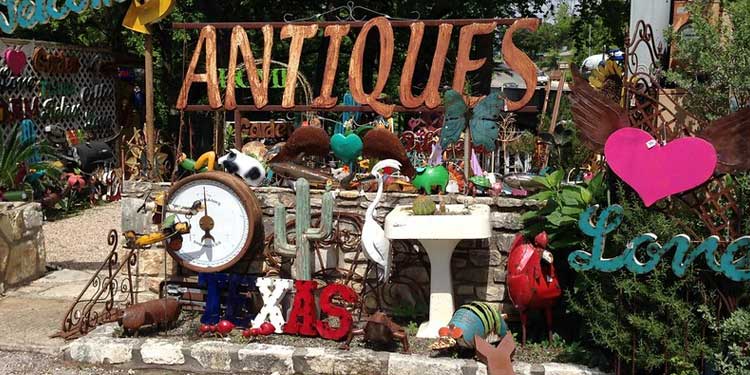 Address: 601 FM2325, Wimberley, Texas 78676, United States
Opening hours: 7:00 am - 4:00 pm on weekends (March through December)
Costs: Free to enter
Wimberley Market Days are held on the first Saturday of each month from March to December and are organized by the Lions Club, who are also raising funds for a good cause in the community.
It has nearly 500 vendors and offers a variety of great shopping opportunities, including vintage treasures, jewelry, paintings, and leather goods, as well as locally sourced products and other Mexican imports.
Overall, it's a great place to spend the weekend and stroll around the market area, which is full of shopping options and live entertainment.
Tip: On busy days, traffic can be challenging, so plan ahead of time to get into a parking lot.
Watch Sunset at the Old Baldy Park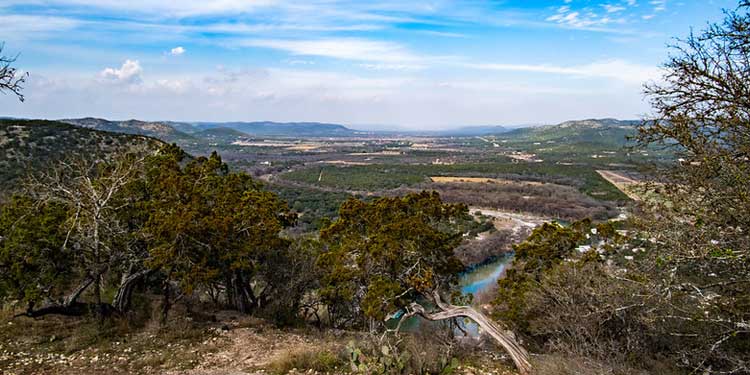 Address: 31 La Toya Trail, Wimberley, Texas 78676, United States
Opening hours: N/A
Costs: Free entry
Old Baldy Park, best known as Prayer Mountain, is a quick hike up to the mountain hills that offers a beautiful view of the Texas Hill Country.
It is a moderately difficult route that takes about 10-20 minutes to complete from the La Toya Trail.
The park is small, so you won't need to stay longer, but it's a fun viewpoint and a great way to catch the sunset from the top of the hills, with the Frio River flowing smoothly on the bottom.
Tip: Drive about 2.5 miles from downtown Wimberley to 33 LaToya Circle to reach Mount Baldy.
Day Spa and Fine Dining at the Blair House Inn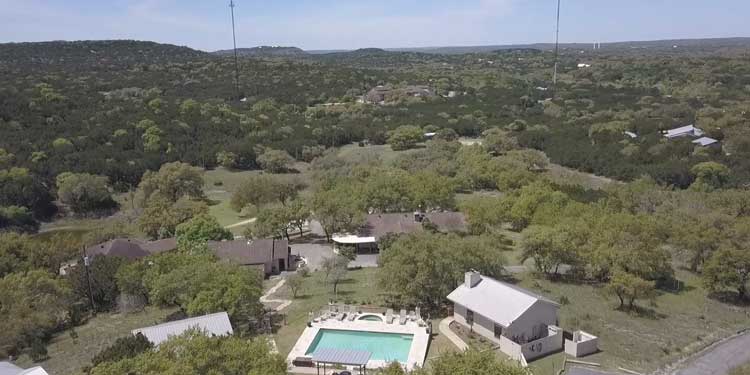 Address: 100 West Spoke Hill Drive, Wimberley, Texas 78676, United States
Opening hours: Spa service hour are from 7:30 am - 7:30 pm (Hours might differ)
Bring your partner for a romantic getaway to the Blair House Inn in the Hill Country and enjoy the elegance and Texas Hospitality to the fullest.
Treat yourself to a Day Spa service where it offers a premium spa experience with full-body Swedish Massages, aromatherapy massages, special couple's dull massages, and even more for you to choose from.
You can participate in the creative learning of world-class cooking using fresh ingredients from the herb gardens and local farms at the Blair House cooking school.
It invites visitors and members of the public to join every Saturday for an evening of excellent dining in the Texas Hill Country at one of the best restaurants in Wimberley.
Note: We recommend checking Blair House Inn's official website for reservations and accommodations.
Where to Eat?
Wimberly is home to some of the best restaurants in the area for exquisite dining, offering visitors excellent cuisine selections and first-rate service. The following are some of our top suggestions:
The Leaning Pear with an eco-friendly, contemporary indoor-outdoor setting that presents an American menu made with locally sourced ingredients in season.
Cafe Blue at Hill Country Galleria serves eclectic coastal cuisine and Caribbean cocktails in a modern, ocean-themed setting.
Wimberly Cafe is located in the downtown area and serves breakfast, sandwiches, and homestyle entrees in old-fashioned quarters with counter seating.
Community Pizza and Beer Garden is a rustic-chic spot with specialty pizzas, a large selection of craft beers on tap, and a dog-friendly outdoor area.
Best time to Visit Wimberly
Wimberley is best visited between the months of March and June through September and November.
This time of year, the weather will be hot with less rainfall and will be perfect for swimming around the spring-fed pool and swimming holes.
The highest average temperature in Wimberley is 95°F in August, and the lowest is 59°F in January. 
Start Planning Your Trip To Wimberly Texas
Wimberley is a hidden Texas gem that must be on your summer travel itinerary. You will undoubtedly enjoy your stay in the Texas Hill Country.
And with so many fun activities and adventures to discover, this small Texas town will undoubtedly make your visit worthwhile.
So, pack your bags and prepare to fulfill your vacation fantasies in Wimberly, Texas.
Good luck!
Note: Keep in mind that information about travel can change quickly. To make sure your trip is fun and safe, we encourage you to double-check official websites and government/travel advisory sites for the latest information on travel restrictions, entry requirements, and safety measures.