When traveling around Texas, you may hear a lot about honky tonks, live music, BBQ, or even some of the iconic historical sites like the Alamo.
But theres a lot more to explore just than that part! The stunning waterfalls are just some of the major attractions that make Lone Star State unique and appealing.
Discover the Texas Hill Country in the Central and South of Texas for the most captivating waterfalls, such as Hamilton Pool Waterfall and Gormon Falls, which stand out for their natural environment's beauty.
So, whether you are hiking, swimming in the natural pools, kayaking, camping, or simply enjoying nature, the waterfalls of Texas offer an abundance of outdoor recreational activities.
And for you to get started, we have listed our top recommendations for the best waterfalls in Texas. So let's get started!
Best Waterfalls in Texas
Hamilton Pool Waterfall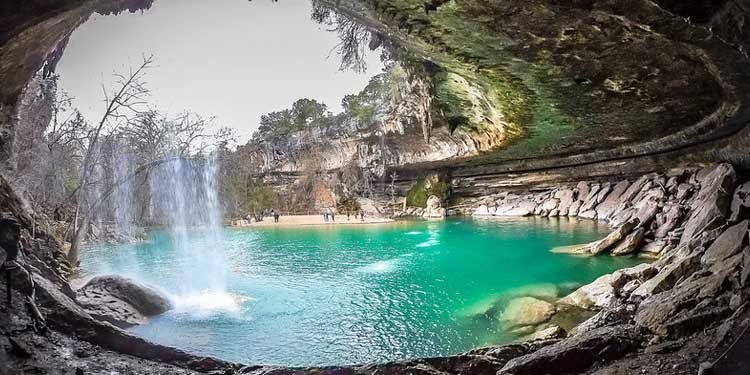 Address: 24300 Hamilton Pool Road, Dripping Springs, Texas
Opening hours: 9:00 am – 5:30 pm
Best time to visit: July and August through late September
Difficulty level: Easy to moderate
Accessibility: Not wheelchair accessible
Nearby attractions: Reimers Ranch Park, Westcave Preserve
Seasonal considerations: Water levels may fluctuate; swimming is prohibited during heavy rainfall due to high bacteria levels
Hikers and Swimmers can be ready for an epic outdoor adventure in Hamilton Pool Waterfall to relax and cool off in the sweltering summer heat.
Located 23 miles and an hour's drive from west Austin, this waterfall runs over limestone cliffs dropping 50 feet into the shallow pool that sparkles green in the sunlight.
It takes approximately 30 minutes to hike from the parking lot to the pool area.
Although swimming is a popular activity all year long on days, Hamilton Pool prohibits swimming in heavy rainfall when the bacteria level is higher.
The costs of per-person entrance fees are $8 for adults, $3 for seniors, and children under 12 are free. You may also make an online reservation by paying $12 per vehicle through
Note: You can also reserve a vehicle online for $12 per vehicle. However, you should also pay additional per-person entrance fees to the Preserve in cash, as credit and debit cards are not accepted.
Mckinney Falls Texas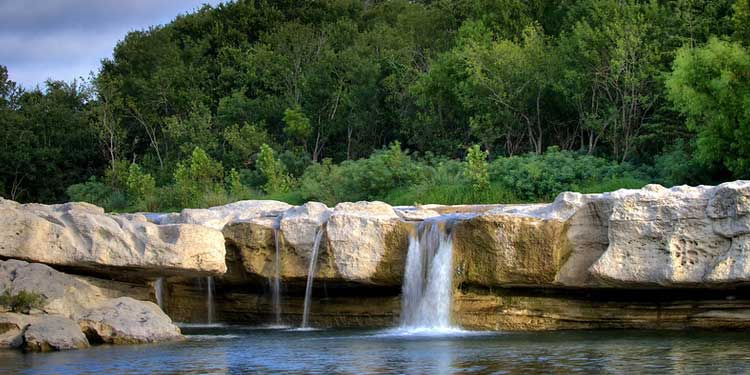 Address: 5808 McKinney Falls Parkway, Austin, Texas 78744, United States
Opening hours: Open daily from 8:00 am – 10:00 pm
Best time to visit: Spring Season (March through May)
Difficulty level: Easy
Accessibility: Wheelchairs accessible in certain areas
Nearby attractions: Onion Creek District Park, Austin-Bergstrom International Airport
Seasonal considerations: Water levels may fluctuate depending on rainfall; avoid during flash flood warnings
Mckinney Falls, located 10 miles from downtown Austin, offers many outdoor recreational opportunities as well as a scenic view of lush greeneries.
You can explore its beauty from the lower falls to the upper falls, into the large pools that offer swimming, fishing, and more than 80 camping spots for visitors to lay back and relax.
Parking is available near both the waterfalls, but if you choose to hike, it offers you a fantastic 3-mile loop trail through the rock shelter and forest.
To enter, it will cost you an admission charge of $6 per person (adults), and children 12 or under get in for free. The price of camping overnight varies according to the facilities ranging from $20 to $24.
Tip: I strongly advise making reservations online by visiting its website for both camping and day use, as it frequently fills up quickly.
Gorman Falls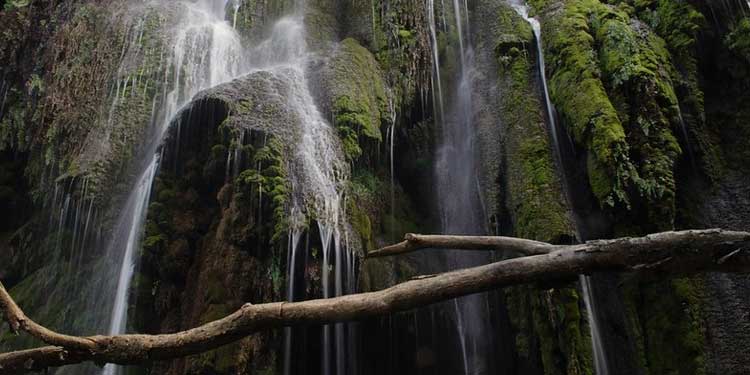 Address: 1201 Colorado Park Road Bend, TX 76824
Opening hours: The main gate opens daily from 6:00 am – 10:00 pm
Best time to visit: Early Spring to late Fall (April to mid-September)
Difficulty level: Moderate
Accessibility: Not wheelchair accessible
Nearby attractions: Colorado River, Spicewood Springs
Seasonal considerations: Water levels can vary depending on seasonal rainfall.
Gormon Falls, also known as the Colorado Bend State Park, is a hidden gem that is located in the Texas Hill Country.
To reach the falls, it has a great 3-mile hike up a trail that provides the beauty of cypress and fern trees running down 65 feet of rock and plant-covered walls.
Dont be surprised if you see an armadillo, vultures, or even wildflowers on your way, as it is a fantastic destination for sightseeing wildlife.
The trail to Gorman Falls is easily navigated once you enter the front gate, as it provides board signs on all your hiking and biking trail.
With over 57 campsites and a great fishing spot around the area, it provides a great space to be around nature with a scenic view of the State Park and the waterfall.
To enter, it will charge you a fee of $5 for adults, and children under 12 get in for free.
Note: For camping and ticket guarantee, you need to make an online reservation by visiting the Colorado Bend State Park website.
Westcave Preserve Falls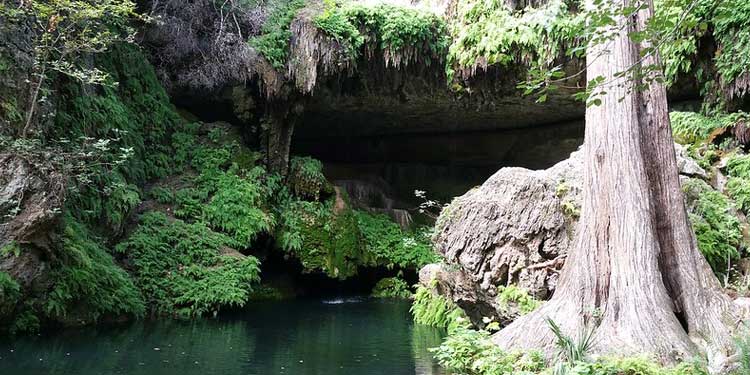 Address: 24814 Hamilton Pool Rd, Round Mountain, Texas 78663, United States.
Opening hours: Hours of operations may vary. Generally, it is open from 9:00 am – 5:00 pm.
Best time to visit: Early Spring to late Fall (April to mid-September)
Difficulty level: Easy to moderate.
Accessibility: Limited wheelchair accessibility; some areas may be challenging.
Nearby attractions: Hamilton Pool Preserve, Pedernales Falls State Park.
Seasonal considerations: Falls may be less impressive during dry periods.
Located between the Hamilton Pool and Pedernales Falls, Westcave Preserve Falls is another unique Texas Hill Country nature preserve that takes approximately 45 minutes to a one-hour drive from downtown Austin.
Guided tours are available to reach this 40-foot waterfall, leading tourists from a captivating grassland through a limestone aperture and into a Grotto (artificial cave), where a beautiful waterfall replenishes the emerald pool below.
Other tour includes guided photography hike, Star Gazing, Forest Bathing, Night hike, and more.
The tickets vary according to tour packages, ranging from $20 for adults and $10 for children.
I recommend visiting the Westcave Outdoor Discovery Center website to book tickets online.
Tip: Self-guided hikes are every Tuesday- Friday from 9:30 am – 1:30 pm. So if you are in for self-discovery, study the guidebook.
Note: Weekday access to the Canyon is not permitted unless a prior reservation is made.
Pedernales Falls State Park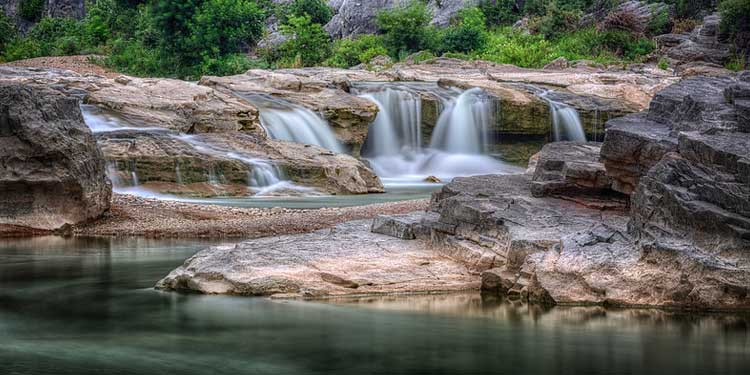 Address: 2585 Park Road 6026, Johnson City, Texas 78636, United States
Opening hours: Gate open from 8:00 am – 10:00 pm
Accessibility: Most trails are not wheelchair-friendly due to uneven terrain; however, the park offers some accessible facilities like restrooms and picnic areas.
Difficulty Level: Easy to Moderate trails
Best Time to Visit: Early Spring to Fall (March to early October)
Nearby Attractions: Lyndon B. Johnson National Historical Park, Garrison Brothers Distillery, and Science Mill
This waterfall is located in the Texas Hill Country town of Johnson City, about an hour's drive from San Antonio and 30 miles west of Austin.
With scenic hill country terrain, It offers a massive 5,212-acre park and six miles of river frontage, which is ideal for picnicking, camping, horseback riding, hiking, and off-road biking.
Swimming is not permitted near Perdernales Falls. If you want to swim, there is a shallow pool on the other side of the river, but I recommend reading its swimming safety tips before going.
Adults pay $6 per day to enter, while children under the age of 12 are free. Camping fees range from $10 to $20 per night, depending on the facilities.
Note: We recommend making online reservations for day visits and camping at Perdenales Falls State Park to ensure entry.
Wichita Falls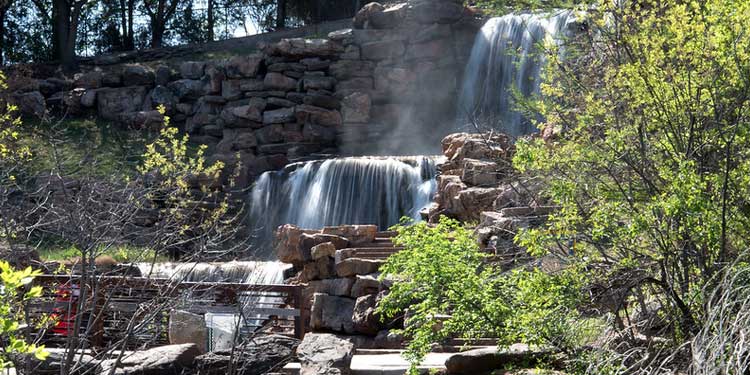 Address: Wichita River Trail, Wichita Falls, Texas 76301, United States
Opening hours: Gate opening hours are from 9:00 am – 4:00 pm (Monday – Friday)
Accessibility: The park is accessible, with paved paths and wheelchair-friendly facilities.
Difficulty Level: Easy
Best Time to Visit: Spring and Autumn, when the weather is pleasant with less rainfall.
Nearby Attractions: The Professional Wrestling Hall of Fame & Museum, River Bend Nature Center, and Castaway Cove Waterpark
Wichita, a small town located near the border of Okhalama and about two hours drive northwest of Dallas, is home to the iconic man-made Wichita waterfalls.
Visitors can reach the falls in less than a mile by hiking the Wichita River Trail from the nearby 178-acre Lucy Park.
It's a great place to relax in natural settings, with plenty of photo opportunities, covered picnic areas, and a playground area for families and children to run around and play.
Best of all, it won't charge you any admission fee as it is a public park and accessible for all public to see the falls.
And after you've thoroughly explored the area, you'll understand how the city got its name.
Boykin Creek Waterfall and Springs Recreation Area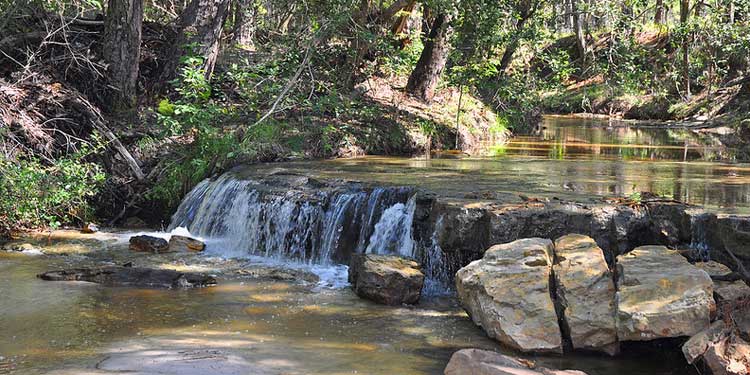 Address: Forest Service Road 313, Zavalla, Texas 75980, United States
Opening hours: Gate opens from 7:00 am – 5:00 pm (Monday – Friday), 7:00 am – 10:00 pm (Saturday and Sunday)
Accessibility: Some trails may not be wheelchair-friendly due to uneven terrain; contact the park for specific accessibility information.
Difficulty Level: Trails range from Easy to Moderate
Best Time to Visit: Spring to late Fall
Nearby Attractions: Angelina National Forest, Sam Rayburn Reservoir, and Cassels-Boykin Park
Home to Angelina National Forest of East Texas, this national recreation area shares a small waterfall on Boykin Creek that offers visitors many outdoor recreational activities.
From hiking on Sawmill Trail to fishing and camping around the river or lake area, it has something for everyone to rejuvenate in nature.
There are 200 miles of hiking routes, 85 miles of off-road vehicle trails, and numerous bike and horseback riding trails throughout the park.
Visitors can follow the Sawmill hiking trail on a 6.5-mile round with a 190-foot elevation increase to the waterfall.
In addition, it has a shelter rental service for $25 per day, where visitors are welcome to picnic in a natural setting.
It costs $5 per person per day to enter and $10 per campsite per night to camp, which includes parking for up to two vehicles.
Krause Springs and Waterfall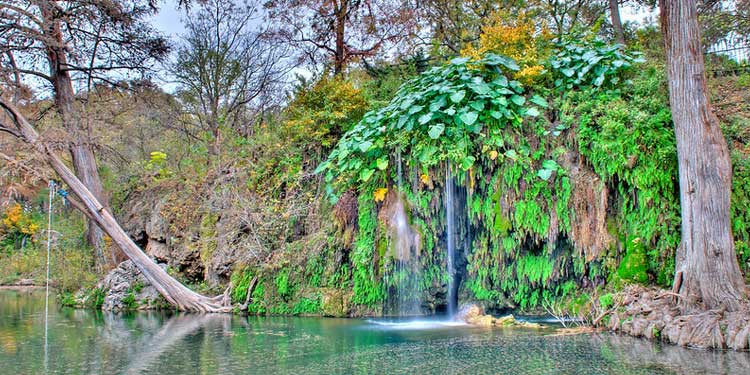 Address: 424 Co Rd 404, Spicewood, Texas 78669, United States
Opening hours: open daily from 9 am – 8:00 pm
Accessibility: The swimming area is not wheelchair-accessible, but some picnic areas may be accessible.
Difficulty Level: Easy
Best Time to Visit: Early spring to late summer
Nearby Attractions: Pace Bend Park, Muleshoe Bend Recreation Area, and Spicewood Vineyards
Get ready to cool off in the Texas Hill Country during summer at Krause Springs, which has water flowing straight out of the ground from 32 natural springs.
This private swimming hole has been in the Krauser family for over 50 years, with towering cypress trees, enormous rocks for sunbathing, and a trickling waterfall in the perfect rope swing.
So swimming is merely a significant draw for visitors to Krause Springs. If you want to try out other recreational activities, primitive campsites are also reasonably priced and can accommodate both tent camping and RV camping.
It costs $8 for adults, $5 for children, and $15 to reserve a campsite for the night.
Get Ready to Discover the Best Outdoor Recreational in Texas Waterfalls!
Amidst the fast-paced hustle and bustle of our modern lives, Waterfalls offer a harmonious sanctuary of peace reserved for those seeking a much-needed escape. The mesmerizing beauty and gentle sounds of the cascading waterfalls help to unwind and melt away stress effortlessly.
By following our carefully crafted itinerary showcasing the best waterfalls in Texas, you can explore the wonders of nature and discover your perfect stress-relieving retreat.
So, don't wait much longer!