If you are in the middle of planning a trip to this small and charming mountain town and wondering what you may do there—not to worry, you have reached the right place!
Gatlinburg is known as a mountain city mainly for being the gateway to the most visited park in America called the Great Smoky Mountains National Park.
Here, we have collected a bunch of fun and unique places and activities you might want to try in a town mostly famous for having countless outdoor attractions.  
Get ready for a vacation full of actions whether you want to take over Rafting, Fishing, Hiking, Ziplines, or Golf—you are promised a fun and unforgettable experience!
Things to Do in Gatlinburg, Tennessee
Go Hiking in the Great Smoky Mountains National Park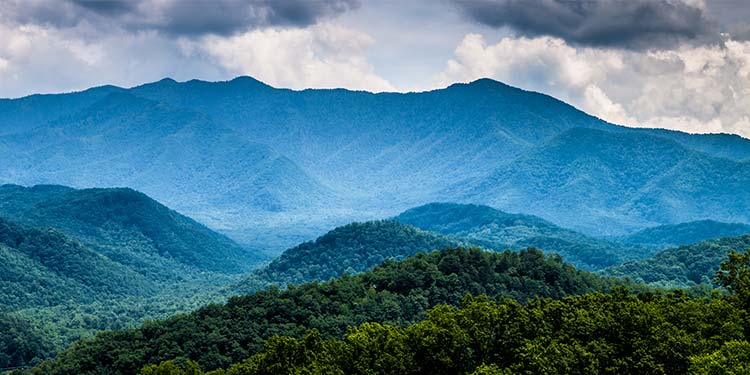 Opening hours: 24 hours (Every Day)
Entry rate: Not required 
Contact: (865)436-1200
Located between the two states, North Carolina and Tennessee, you will be fascinated to know that the famous tourist attraction has an entrance right here in the city! 
You can simply take a hike or a stroll on the 800 miles long trails, which offers different levels of challenging trails suitable for every individual depending on their skills and strength. 
Endless opportunities for Nature lovers to explore the mountains, valleys, and streams and can witness a stunning view of them throughout the exploration.
One of the most popular hikes in the park is the Alum Cave Trail, which takes you through lush forests and scenic waterfalls to a remarkable rock formation known as Alum Cave Bluff.
Another great option is the Grotto Falls Trail, which leads you to a picturesque 25-foot-tall waterfall you can walk behind.
Tips: No matter which trail you choose, make sure you are sun-protected, and hydrated and have something to munch on along the way. Always stay on marked paths to protect the natural environment! 
Visit the Gatlinburg SkyBridge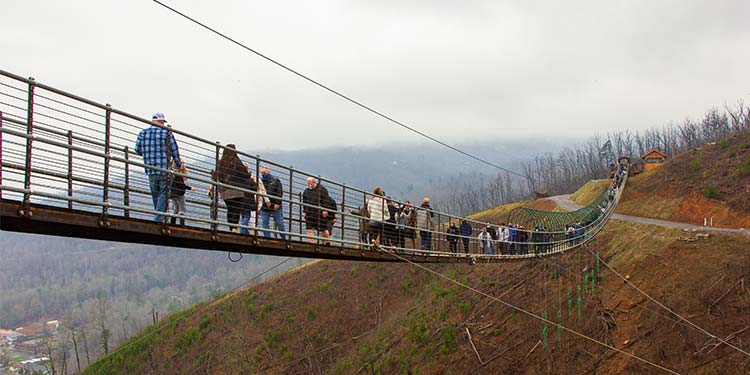 Location: 765 Parkway, Gatlinburg
Opening hours: 9:00 am - 9:00 pm (Sun-Thurs), 9:00 am - 10:00 pm (Fri & Sat)
Entry rate: 32.95 (Adults)
If you're looking for a thrilling experience with outstanding panoramic mountain views, the Gatlinburg SkyBridge is a must-visit spot you should check out while you're here!
The longest pedestrian suspension bridge in North America, the SkyBridge stretches up to nearly 700 feet across a deep valley.
It was opened to visitors in 2019 to witness breathtaking views of the surrounding mountains and experience a bridge none like others.
The bridge also has a glass bottom at the highest point, having three layers of thick glass you can tell it is safe to walk on them, but again, you are advised not to run, jump or bounce.
In addition to the suspension bridge, the attraction also includes an observation deck, a gift shop, and a café—in case you want to avoid walking the bridge if you're scared of heights, you can still enjoy the place!
Tips: Remember to wear comfortable shoes and dress for the frequent change in weather, as the bridge can sway in high winds and temperatures can vary with the altitude.
Explore the Historic Great Smoky Arts & Crafts Community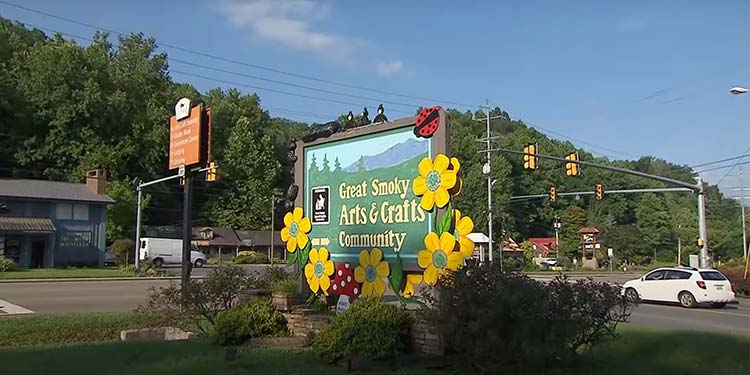 Location: 668 Glades Rd, Gatlinburg
Opening hours: 10:00 am - 5:00 pm 
Entry rate: Not required
For a glimpse into Gatlinburg's cultural heritage, head to the historic Great Smoky Arts & Crafts Community, packed with artsy surprises in every corner.
The community is widely known for displaying hand-made products through their own creativity, which makes the items unique and valuable.
Covering an 8-mile loop road, the community is home to over 100 artisans who create traditional Appalachian crafts such as pottery, weaving, and woodworking.
Visitors can watch the artisans at work, browse the unique handmade goods in the shops, and even take home a one-of-a-kind souvenir for loved ones or for themselves as a keepsake.
The community also hosts annual events such as the Gatlinburg Craftsmen's Fair, which features over 200 exhibitors and live music, so don't miss them out!
Take a Scenic Drive on the Roaring Fork Motor Nature Trail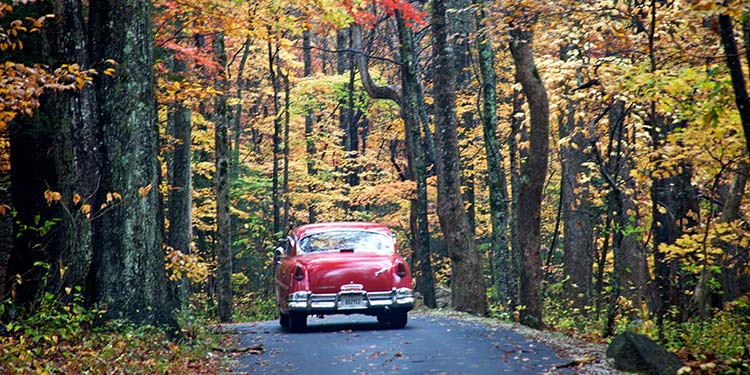 Location: Roaring Fork Motor Nature Trail, Gatlinburg
Opening hours: 9:00 am - 9:00 pm
Entry rate: Not required
If you prefer to take in the beauty of the mountains from the comfort of your car, the Roaring Fork Motor Nature Trail is a scenic drive, just the right getaway for you!
The 5.5-mile one-way loop road takes you through pristine forest, past rushing streams, and alongside historic cabins and mills where you can feel your soul connect with nature.
Feel free to take your time and stop or even step out for a few minutes at the several pull-outs and overlooks along the way to fully appreciate the views.
While enjoying the peaceful drive, keep an eye out for wildlife, such as black bears, deer, and turkeys, often spotted in the area.
Tips: Every spot is a picture worthy so don't hesitate on taking beautiful shots but make sure you keep your shutter sound and flash off; you don't want to invade the wildlife's privacy.
Go Skiing or Snowboarding at Ober Gatlinburg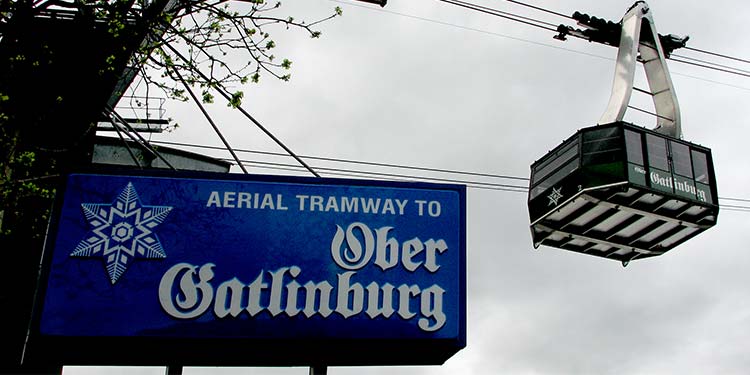 Location: 1339 Ski Mountain Rd, Gatlinburg 
Opening hours: 10:00 am - 6:00 pm (Sun-Thurs), 10:00 am - 7:00 pm (Fri & Sat)
Entry rate: $22 (Adults), $20 (Ages 5-11)
Don't miss the thrilling opportunity to hit the slopes at Ober Gatlinburg ski resort if winter is the time, you're planning to visit Gatlinburg.
Take a tramway to the top of the mountains and involve yourself in activities such as Ice Skating, Snow Tubing, and Skiing, whichever you prefer!  
Located at the top of the mountain overlooking the town, the resort offers rental gear, extremely helpful customer service, and places to eat and shop around.
Mostly ideal for Skiing and Snowboarding, visitors can spend a wonderful time in the friendly environment and can be a great learning spot for beginners and kids as well.
In addition to the winter activities, Ober Gatlinburg also offers a scenic chairlift ride, an indoor ice skating rink, and a wildlife encounter featuring bears, otters, and other animals native to the Smoky Mountains.
Visit the Gatlinburg Space Needle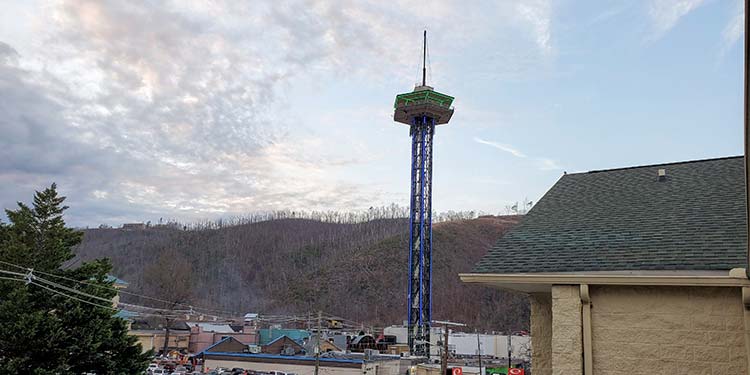 Location: 115 Historic Nature Trail, Gatlinburg
Opening hours: 10:00 am - 1:00 am (Mon-Fri), 9:00 am - 2:00 am (Sat), 9:00 am - 1:00 am (Sun)
Entry rate: $15.95 (Adults), $9.95 (Ages 4-11)
Head to the Gatlinburg Space Needle for an outstanding skyline view of Gatlinburg and the Smoky Mountains.
Located in the heart of town, the 407-foot observation tower offers 360-degree views from its spacious observation deck.
Alongside the observation deck, the attraction has an arcade, a theater, and a restaurant for visitors' enjoyment, with floor-to-ceiling windows overlooking the town.
If you plan to visit here in the evening or late at night, be ready to witness the breathtaking view of the city all lit up in the dark—absolutely a sight to see!
Tips: The one-time purchased admission ticket lets you enter the observation tower once during the day and once at night so if you can then why not live the fun twice?
See the Animals at the Rainforest Adventure Zoo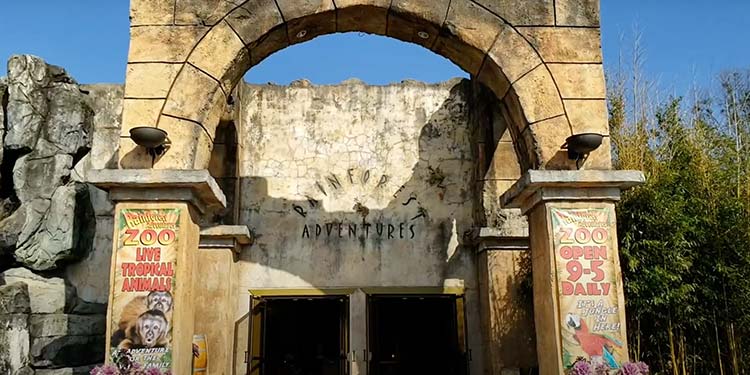 Location: 109 Nascar Drive, Sevierville
Opening hours: 9:00 am - 5:00 pm 
Entry rate: $16.99 (Adults), $99.9 (Ages 2-11)
If you're an animal lover or you are traveling with little ones who are into them more than you are, the Rainforest Adventure Zoo is a fun and educational attraction to check in!
The zoo features over 600 live animals of 140 interesting species from around the world; they are especially focused on rainforest species and a collection of exotic birds.
The animals in the zoo, including Monkeys, Hedgehogs, Lemurs, and many more, are very active and healthy and are mostly seen happily engaged with their surroundings.
Most of the animals here were rescued from owners who could not give proper care or could no longer serve them as their pets.
Visitors can enjoy watching the animals being fed, petting some of the friendly creatures like goats, sheep, and emu, and interacting with some of the animals in the petting zoo.
The zoo also offers various educational programs and animal encounters that can be informative for kids and adults.
Tips: To avoid a big crowd, try to come earlier during the opening time and take a tour at your own pace to watch every exhibit closely.
Go Fishing or Tubing in the Little Pigeon River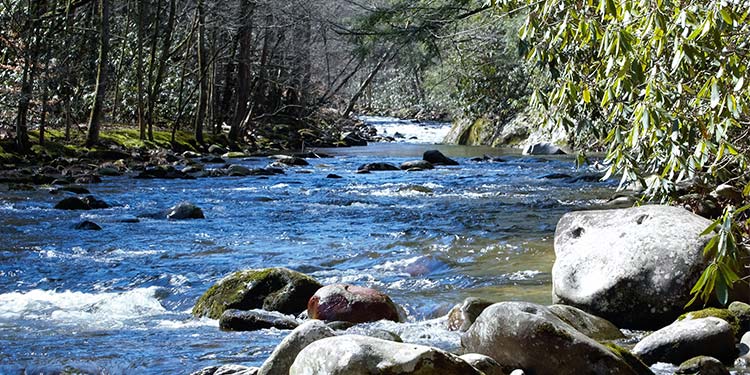 Location: 135 Jake Thomas Road, Pigeon Forge 
Opening hours: All time 
Entry rate: Not Required
For a relaxing afternoon in nature, head to the Little Pigeon River and try your hand at fishing, tubing, strolling, or just sitting on the bench to feel the cool breeze.
As the river is stocked with trout and smallmouth bass, and you can rent equipment or book a guided fishing trip from one of the local outfitters for an exciting fish hunt.
Grab a tube and float down the river if you are looking forward to a much more relaxing but fun and refreshing way to cool off in the summertime.
You can find many outfitters that offer shuttle services and tube rentals for a hassle-free and easy experience.
See the East End Historical District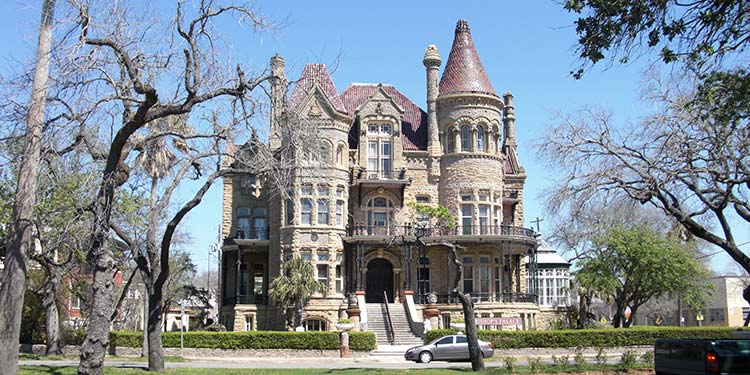 Location: 1501 Postoffice St, Galveston
Opening hours: 9:00 am - 4:00 pm
Entry rate: Not required
The East End Historical District is an area of Galveston with lavish Victorian mansions that are significant historical buildings.
Visitors can take self-guided tours or book a guided tour where a local historian can provide information to help you understand the history behind every spot.  
The area is very quiet and peaceful with details you can notice on every corner; restaurants and museums nearby can be great spots to check out once you're here.
You can either take a walk in the streets or drive your way through and still witness and feel the beauty of the place.
A visit to this gorgeous neighborhood is a must for history buffs and anyone who appreciates architecture and aesthetics.
Visit the Salt and Pepper Shaker Museum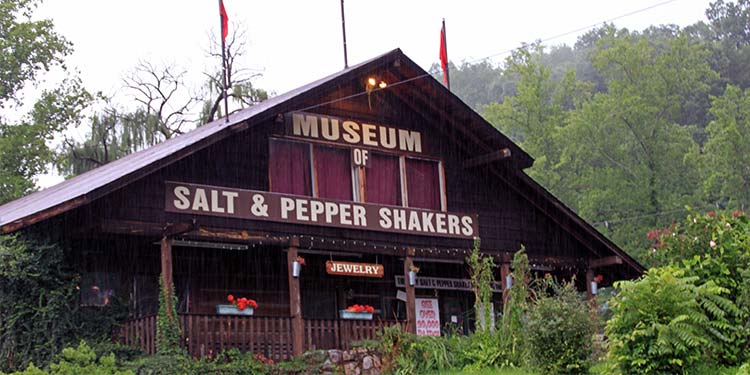 Location: 461 Brookside Village Way, Galtlinburg
Opening hours: 10:00 am - 2:00 pm 
Entry rate: $3 (Adult), Free for children under 12
For a quirky and unique museum experience, check out the Salt and Pepper Shaker Museum in downtown Gatlinburg!
The museum features over 20,000 pairs of salt and pepper shakers from around the world, ranging from whimsical and kitschy to artistic and rare.
Visitors can learn about the history and cultural significance of salt and pepper shakers and see some of the most unusual and interesting designs.
The place is so fascinating; with a wide variety of collections shelved in an organized manner, you can easily spend hours if you wish to go through every single one.
The museum also has a gift shop where you can buy your own salt and pepper shaker set, where you get a $3 discount from the ticket you purchase.
Try Moonshine at a Local Distillery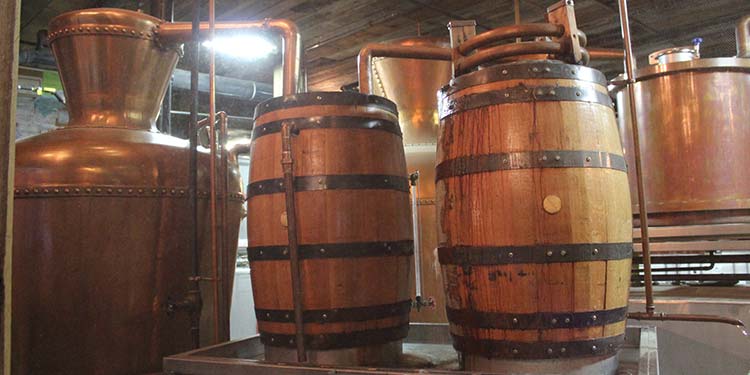 Your visit to Gatlinburg will be incomplete without sampling some of the locally produced classic Appalachian moonshines.
The town is home to several distilleries where you can taste various flavors, from traditional corn whiskey to fruit-infused moonshine and their very own signature flavor.
Some of the most popular distilleries you can find in the town are Ole Smoky Tennessee Moonshine, Sugarlands Distilling Company, and Doc Collier Moonshine.
Many of the distilleries also offer tours where you can learn about the history of moonshine in the area and the distilling process of the marvelous drink.
Attend a Local Event or Festival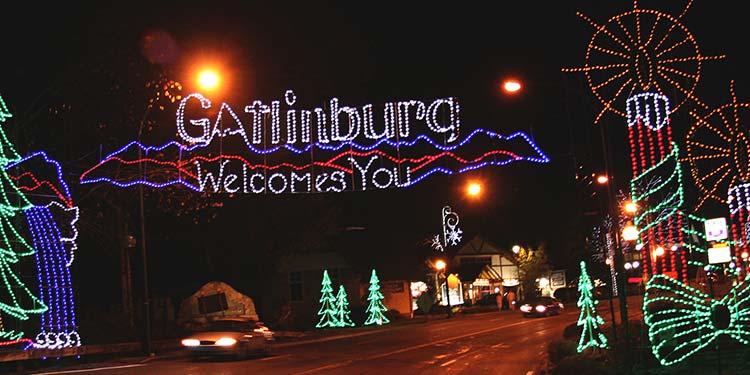 Gatlinburg is known for conducting local events and festivals that often celebrate everything from music and food to arts and crafts.
Some of the most popular events include Smoky Mountain Tunes and Tales, Gatlinburg Craftsmen's Fair, and Winter Magic.
You will find the city celebrating something every season, whether parades, concerts, craft fairs, or food festivals; join in the fun and have a blast with the local people if you get a chance!
Tips: Check online to stay updated about upcoming events and further information.
Where to Stay?
Staying in a luxurious suite while you're in Gatlinburg is no fun; the best way to make your stay memorable is simply by booking a cabin.  
Yes, you heard it right! Cabins offer great value – they're affordable, cozy, and often come with amazing outdoor amenities such as hot tubs and fire pits.
Some of the best cabin options in Gatlinburg include River Edge Inn, Riverside Retreat, and Greystone Lodge by the River.
If a suite-style hotel is more your style, don't worry – you'll still have plenty of options. Look into hotels like Courtyard by Marriott, Country Inn & Suites by Radisson, or the Margaritaville Resort for excellent room service and amenities.
Where to Eat?
Want to try what is most popular among the locals? Howard's Restaurant—one of the oldest in the business; next to mountain streams, you can taste the best hand-cut steaks, gourmet burgers, and fresh trout with a beautiful view.
On the streets of downtown, Fannie Farkle's is a unique food station where you get a foot-long ogle dog which is basically an unusual corn dog that is made with a secret recipe!
For your sweet tooth, stop by Donut Friar and gulp on some of the yummiest fresh baked goods, from trying different flavors of doughnuts to drinking coffee with an éclair! 
Getting Around?
Gatlinburg has amusing trolleys in service for tourists and locals all year round.
Commuting from one street to another, getting in a trolley is an easy free-of-cost option as it is easily accessible to everyone.
It is a walkable city where you can take a walk on the clean paved roads and get to your destination without any problem.
Get Going in Gatlinburg!
The city is a great stop to accomplish many adventurous must-do activities you have stored on your bucket list!
You get a chance to feel closer to nature, participate in many interactive attractions, and learn from the local creative minds and their creation of arts and crafts.
Suitable for every season, your staycation at Gatlinburg will be a remarkable journey that is yet to conquer!
Note: Keep in mind that information about travel can change quickly. To make sure your trip is fun and safe, we encourage you to double-check official websites and government/travel advisory sites for the latest information on travel restrictions, entry requirements, and safety measures.