Planning a trip to Pigeon Forge but unsure if you should take it? We've got the perfect list of things this mountain town has in store that will convince you!
Also known as one of the gateways to the Smoky Mountains, it is a mountain town in Eastern Tennessee. It has endless options for outdoor activities that anyone can enjoy easily.
It is one of the most popular family-friendly vacation destinations in America; it has something to offer for everyone all around the year.
The unique theme park Dollywood is its major attraction, millions of visitors travel here throughout the year and prefer to explore, experience, and enjoy the town's history and art.
Things to Do in Pigeon Forge, Tennessee
Visit Dollywood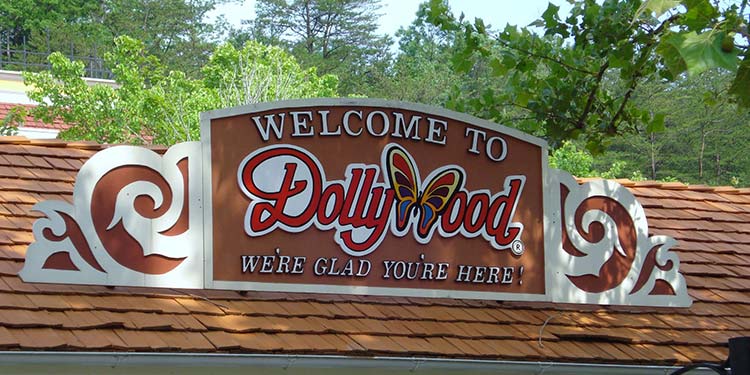 Address: 2700 Dollywood Parks Blvd, Pigeon Forge, TN 37863.
Opening hours: opening hours vary, but generally opens at 10am
Best time to visit:  is weekdays and outside of peak season. 
Cost: starts at $79 per person for a standard one-day ticket, but discounts may be available.
Are you a country music fan looking for an unforgettable adventure?
Dollywood is the perfect destination for you!
With its lively atmosphere, thrilling rides, and delicious food, Dollywood has something to offer everyone.
From roller coasters and water rides to vintage carousels, the park's attractions are sure to provide excitement and fun for visitors of all ages.
And with an emphasis on cleanliness and tidiness, you can enjoy your day worry-free.
Speaking of tastiness, the food at Dollywood is amazing.
You can find everything from comfort food to healthy options, so there's something for everyone.
Burgers, sandwiches, delicious snacks, and desserts – you won't go hungry here.
The live shows are another standout feature of Dollywood.
With country music performances and theatrical productions, there's entertainment to suit every taste.
Tips: To make the most of your visit, we recommend visiting on a weekday or arriving early in the day to beat the crowds and avoid long lines.
But no matter when you go, a day at Dollywood promises to be an exciting, memorable experience.
So don't miss out!
Take a Stroll Through The Island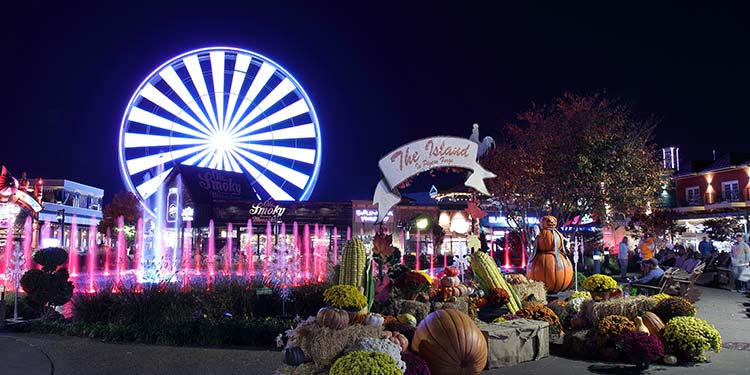 Opening hours: generally opens around 10am and closes around 11pm.
Best time to visit: during the weekdays and outside major holiday seasons, as it can get crowded during peak times.
Cost: Admission to the island is free, and you can purchase an unlimited ride wristband for around $29 per person.
Address: 131 The Island Dr, Pigeon Forge, TN 37863.
The Island is truly a wonderful place to visit in Pigeon Forge.
Exploring the unique shops and sampling the delicious food options is a must-do for anyone visiting the area – you won't be disappointed!
The Ferris wheel is a must-ride as well, offering stunning views of the Smoky Mountains.
For those seeking a more challenging experience, the arcade, game centers, or rounds of mini-golf or bumper cars will keep you entertained.
Families with kids will particularly enjoy the various kid-friendly activities on offer.
And don't forget about the fountain show!
It's an impressive display of dancing water, light, and music that's not to be missed.
Overall, The Island offers something for everyone in terms of entertainment and recreation.
Browsing, dining, games, and live performances make it an excellent destination for a full day spent with family and friends in Pigeon Forge.
Tips: Don't miss the free concerts and events that take place on the Island's stage every Friday and Saturday night!
Hike the Great Smoky Mountains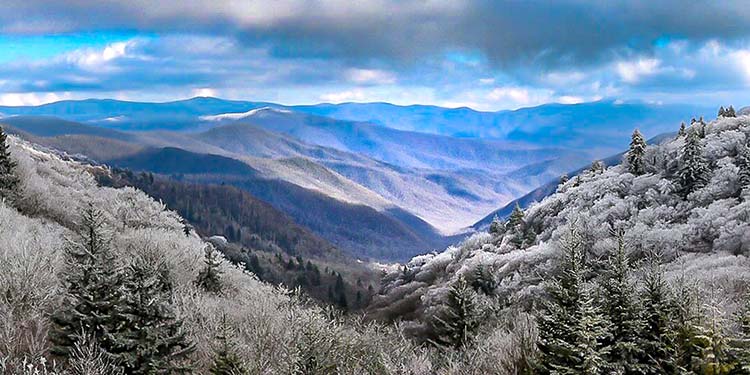 Opening Hours: is open 24 hours a day
Address: 107 Park Headquarters Road, Gatlinburg, TN 37738.
Hiking the Great Smoky Mountains in Tennessee is an activity for anyone who loves the outdoors.
They are well-maintained, with plenty of scenery and wildlife to encounter along the way.
The trails vary in difficulty, making them accessible to everyone.
Just make sure to bring enough water and snacks, and wear proper hiking gear that is appropriate to the weather forecast.
Entrance to the Great Smoky Mountains National Park is free, but some trails require permits, which can be checked ahead of time.
The best time to see wildflowers in full bloom is from May to June. Get ready to enjoy it to the fullest!
Overall, let the crisp mountain air rejuvenate your senses and immerse yourself in the beauty of Tennessee's Great Smoky Mountains.
The hiking trails and natural landscapes are truly exceptional and are sure to leave you with unforgettable memories.
 Tips: Carry a small backpack with snacks, water, and layers of clothing, as the weather can be unpredictable.
Explore the Titanic Museum Attraction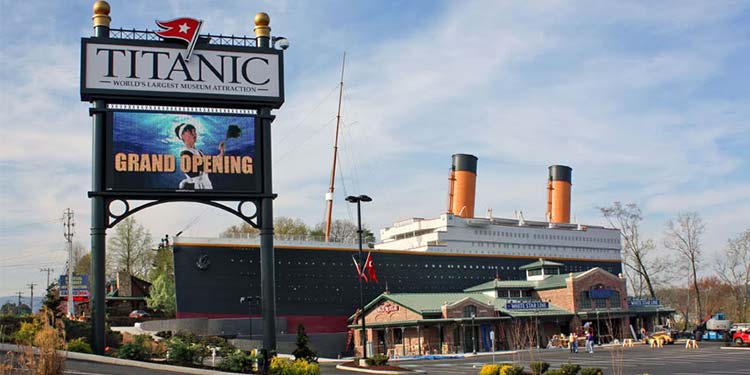 Opening hours: even days a week, from 10 am to 9 pm
Best time to visit: early in the morning or late in the afternoon when the crowds are smaller. 
cost: admission is reasonable, and tickets can be purchased online or at the museum.
Address: 2134 Parkway, Pigeon Forge, TN 37863.
The Titanic Museum Attraction is a genuinely remarkable museum that provides an immersive and engaging experience for its visitors.
With its attention to detail, period costumes, and interactive exhibits, it's no surprise that it feels like you are actually on the ship.
You'll get to explore the ship's decks, visit the captain's bridge, and even touch an iceberg.
The museum's staff also dresses in period costumes, further immersing you in the authentic atmosphere of the time.
You'll see everything from a piece of the ship's hull to an original life jacket, which offers a poignant reminder of the tragedy that unfolded on that fateful night.
You'll discover stories of courage, heroism, and sacrifice, as well as human stories that add a layer of emotion to the museum experience.
From the ship's captain to its passengers and crew, this museum offers a truly immersive and expansive view of the Titanic's history.
So why not take a trip back to the early 20th century and explore the Titanic Museum Attraction today?
You won't regret it!
Tips: Plan to spend 2-3 hours at the museum to fully immerse yourself in the exhibits.
Visit the Pigeon Forge Gem Mine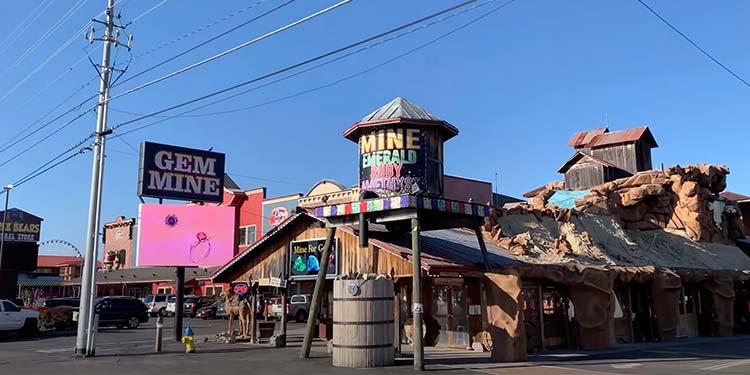 Address: 2865 Parkway, Pigeon Forge, TN 37863
Mining for gems at the Pigeon Forge Gem Mine can be fun for people of all ages.
You can purchase buckets of ore, which you then sift through to find precious stones such as rubies and emeralds.
The mine's staff is always happy to assist in identifying the gems and advising on how best to polish them to make them shine.
Tips: If you find a beautiful gemstone, you can have it made into jewelry by the onsite gem cutter.
Visit the Hollywood Wax Museum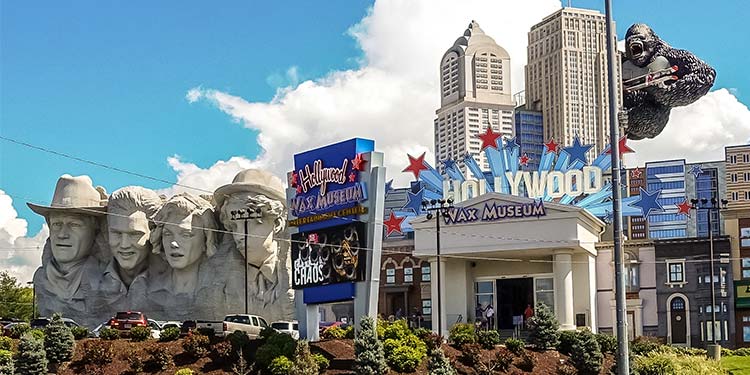 Opening hours: open daily from 10 am to midnight
Best time to visit: on weekdays, as it tends to be less crowded than on weekends. 
cost: is reasonable, and the tickets can be purchased online or at the museum
Address: 106 Showplace Blvd, Pigeon Forge, TN 37863.
If you're in Pigeon Forge and seeking an immersive and entertaining experience, the Hollywood Wax Museum is the place to go.
The museum boasts incredibly life-like wax figures that are intricately detailed and complemented by fun-themed areas.
With the opportunity to take photographs with the life-like wax figures and feel like you're standing alongside A-listers, it's an experience not to be missed.
The interactive exhibits provide a hands-on adventure into the world of your favorite Hollywood heroes.
You can get creative and enjoy a unique adventure while the stunningly designed displays, accompanied by lighting and sound effects, create a Hollywood atmosphere that adds to the excitement.
The Hollywood Wax Museum in Pigeon Forge is a perfect blend of entertainment and education for visitors of all ages.
The friendly and knowledgeable staff ensures that guests have a wonderful experience, answering questions and joining in the fun with visitors.
Furthermore, admission to the museum is affordable, making it accessible to everyone who wants to experience a fantastic attraction and create memories with their favorite celebrities.
Tips: Save money by purchasing combo tickets for all the museum's attractions.
Take a Scenic Helicopter Ride
Opening hours: from 9:00 AM to 6:00 PM, but hours may vary depending on the season.
Best time to visit: during the spring or fall seasons.
Cost: typically range from $40 to $150 per person.
Address: 1949 Winfield Dunn Pkwy, Sevierville, TN 37876
One of the most thrilling activities to partake in Pigeon Forge is a scenic helicopter ride.
The Great Smoky Mountains from above are breathtaking, and the experience is nothing short of extraordinary.
You can witness the beautiful fall foliage or see the snow-capped mountains glittering in the sun during winter.
Not to mention, the magnificent views of the city from above are second to none.
Pigeon Forge Helicopter Tours offers various tour options to choose from, ranging from shorter tours to longer ones.
If you're looking for a romantic date idea, the helicopter tour offers a private option at sunset with a champagne toast.
Alternatively, if you're traveling with family or friends, they offer a group package that seats up to five passengers.
They also offer private charters; you can add a special occasion package to make the adventure more memorable.
We recommend you dress warmly during colder months, as temperatures can drop drastically at higher altitudes.
Tips: Book your tour in advance, especially during peak seasons.
Visit the Smoky Mountain Alpine Coaster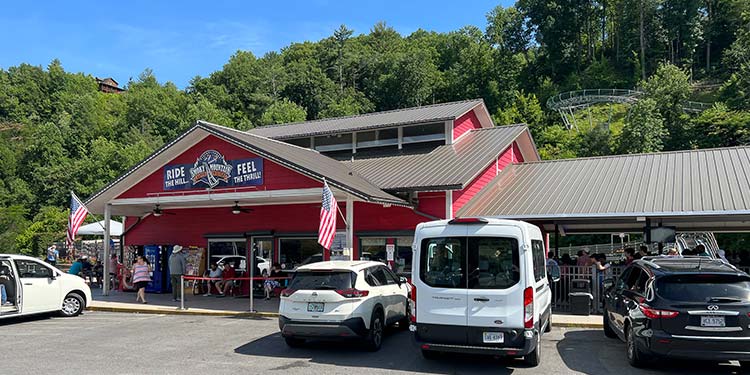 Address: 867 Wears Valley Rd, Pigeon Forge, TN 37863.
The Smoky Mountain Alpine Coaster is a thrilling attraction with over a mile of track that takes you through the scenic woods of the Smokies.
The cart's speed can be controlled, so you can either have a slow, scenic ride or a fast, heart-pumping ride.
The ride is suitable for both solo riders and families, and the experience is unforgettable.
Tips: Buy combo tickets to extend the adventure, including an additional lazer gun attraction experience
Visit the WonderWorks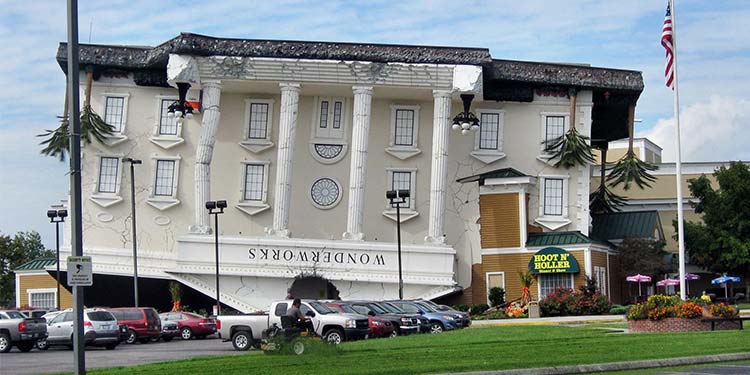 Opening hours: from 10:00 AM-9:00 PM Monday to Thursday, and 10:00 AM - 10:00 PM on Friday and the weekends.
Cost: Prices vary depending on age and package, with adult "All Access" admission from $35.99 and children's admission from $24.99. Discounts are available for Military,
Address: 100 Music Rd, Pigeon Forge, TN 37863
WonderWorks is an interactive science museum in Pigeon Forge that is perfect for anyone looking for a fun and unique learning experience.
For those who love the thrill of virtual rides, you can experience the virtual roller coaster ride and the space shuttle simulation.
But if you're someone who loves games and challenges, the ropes course, laser tag, and arcade are perfect for you.
One of the great features of Wonderworks is it's both entertaining and educational.
You'll have fun trying out the virtual rides and testing yourself in the ropes courses and laser tag arena, and you'll also learn a lot about the laws of physics and how the world works.
Another fantastic thing is that WonderWorks is designed for everyone to enjoy.
With wheelchair accessibility, this attraction ensures that everyone, regardless of their physical abilities, can have a complete experience without any limitations.
Tips: Choose a weekday to visit as weekends can be extremely crowded
Go on a Horseback Ride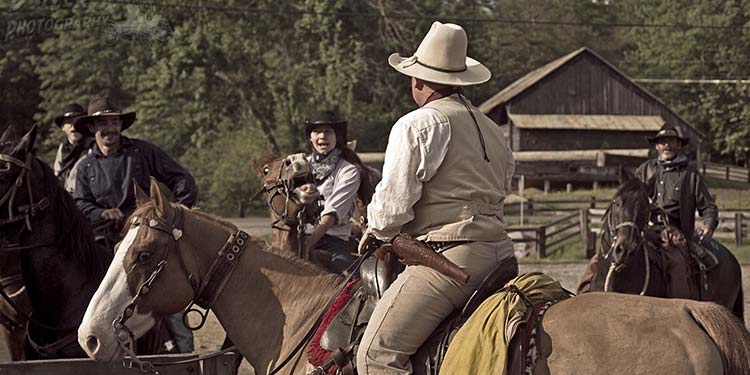 Opening hours: During summer (May-October), they're open from 9 AM to 5 PM, while in winter (November-April), they close at 4 PM.
Cost:  depends on the ride you choose
Address: 2179 Parkway, Pigeon Forge
Take a horseback ride through beautiful Pigeon Forge with Walden Creek Stables.
They offer different rides for different skill levels and provide helmets.
Keep in mind that there are weight and age restrictions.
You'll see breathtaking views of the Great Smoky Mountains, encounter wildlife, and gain exciting information about the local flora and fauna from your guide.
If you are planning to go during the busy season, make sure to book in advance and note that rides can be canceled due to weather conditions.
Don't forget to bring some carrots or apples to bond with your horse and enjoy the area's natural beauty.
Tips: Dress in comfortable pants and closed-toe shoes suitable for riding.
Visit the Old Mill Square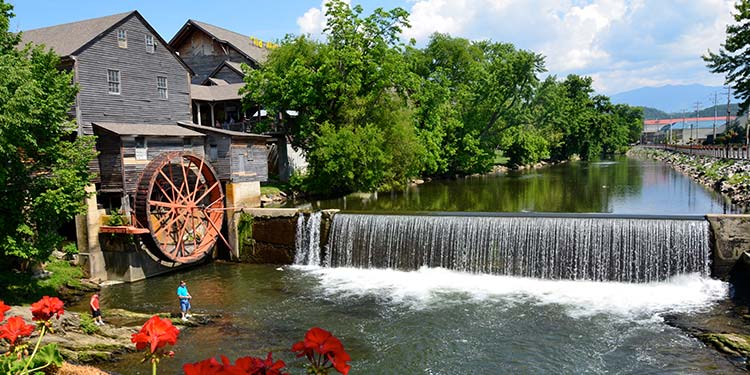 Opening hours:  from 9 AM to 9 PM.
Address: 175 Old Mill Ave, Pigeon Forge, TN 37863.
Discover the charm and traditions of the South at Old Mill Square in Pigeon Forge.
At the heart of Old Mill Square is the iconic 1830 gristmill, which is still in operation.
You can tour the mill and witness the process of creating cornmeal, flour, and other grains.
After checking out the mill, be sure to stroll through the unique gift shops featuring handmade pottery, quilts, and Smoky Mountain art.
You won't want to miss the Old Mill Candy Kitchen, where you can watch artisan candy-makers create their delicious taffy and brittles by hand.
When it comes to finding something to eat, the Old Mill Restaurant serves up classic Southern comfort foods like fried catfish and chicken and dumplings amidst the rustic charm of a countryside cabin.
If you're looking for something lighter, Old Mill Pottery House Cafe & Grille serves salads, sandwiches, and soups made from scratch.
Don't forget to take some time to relax and enjoy Old Mill Square's laid-back, peaceful atmosphere.
Overall, You can enjoy rustic buildings, delicious Southern comfort food, and exceptional shopping all in one spot, surrounded by the beauty of the Great Smoky Mountains.
Tips: To avoid long lines arrive early before the restaurant opens for breakfast.
Take a Trip to the Alcatraz East Crime Museum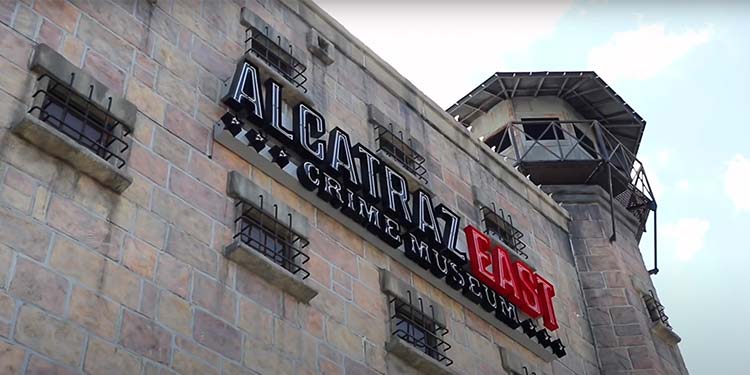 Openig hours: from 10:00 AM to 9:00 PM.
cost: $28 per adult. However, there are discounts available for seniors, students, and military personnel.
Address: 2757 Parkway, Pigeon Forge, TN 37863.
The Alcatraz East Crime Museum focuses on America's history of crime and punishment.
It features exhibits that showcase famous courtroom dramas, forensic evidence, and the evolution of crime-fighting techniques.
There are several themed sections, including a CSI section that tests your observation skills, a John Dillinger exhibit with memorabilia, and an interactive 911 call center.
you can see authentic artifacts like the white Ford Bronco that carried O. J. Simpson on that low-speed chase through Los Angeles, as well as displays of forensic science technology and equipment used by crime scene investigators.
You can also take a walk-through history of law enforcement that highlights the evolution of tactics and tools used over time to fight crime, including early fingerprinting technology and handcuffs from centuries ago.
One of the most popular exhibits is "The Notorious RMS Titanic," which provides a unique and haunting perspective on the infamous shipwreck.
Tips: Check the museum's event calendar, as they often host crime-related speakers.
Watch a Dinner Show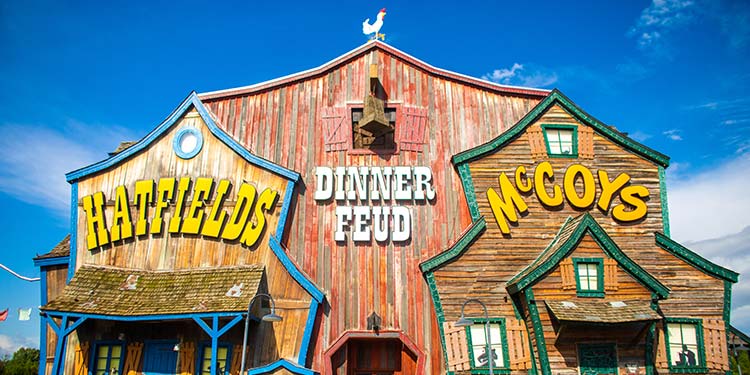 Opening hours: opening hours may change, especially during peak seasons or holidays.
Address: 2713 Parkway, Pigeon Forge, TN 37863
Pigeon Forge is a renowned destination that offers a wide range of dinner shows to entertain the whole family.
With exciting performances and delectable cuisine, it's no surprise that these shows are a popular attraction.
The Pirate's Voyage Dinner and Show offer a swashbuckling dining experience, while Dolly Parton's Stampede Dinner Attraction showcases country music and horse performances.
For some Southern-style humor and entertainment, you can catch the Hatfield and McCoy Dinner Feud, while the Cirque de Chine Dinner Show brings acrobatics, music, and dancing to the stage.
To make the most of your visit, it's a good idea to arrive early and enjoy the surrounding attractions.
Also, bringing a jacket or wrap may be necessary as the indoor venues can get a bit chilly.
For accessibility information, you should contact the venue in advance, as each show provides accommodation for guests with disabilities, including wheelchair-accessible seating, restrooms, and parking.
Tips: Booking your tickets in advance is essential, as dinner shows are popular, especially during peak seasons, and you don't want to miss out.
Explore the Forbidden Caverns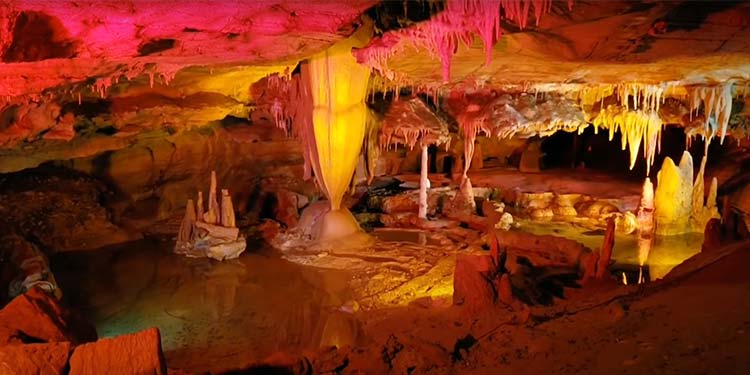 Opening hours: Monday through Sunday from 10:00 AM to 6:00 PM.
Best time to visit: during the summer months 
Cost: for adults is $20, while children ages 6 through 12 are $12. Children aged 5 and below are free. They also offer discounts for seniors and military personnel with a valid ID.
Address: 455 Blowing Cave Rd, Sevierville, TN 37876.
Embark on a remarkable underground adventure and explore the Forbidden Caverns in Pigeon Forge, Tennessee.
With crystal formations, underground streams, and fascinating geological structures, the natural beauty and historical significance of the cave will leave you awestruck.
During the tour, knowledgeable guides will take you through the passageways and share facts about the cave's development and history.
You'll learn about the people who once used the cave as a hideout and even as a secret wartime manufacturing site.
Visitors can enjoy the cool temperatures of the caverns during the summer months while marveling at the stunning scenery.
The Forbidden Caverns also have a gift shop filled with unique souvenirs and gifts, as well as a picnic area.
Tips: Be sure to wear comfortable clothing and sturdy shoes, as there is some walking on uneven terrain. For those with mobility or vision issues, accessing certain areas of the cave may be difficult.
Try Some Moonshine at the Old Forge Distillery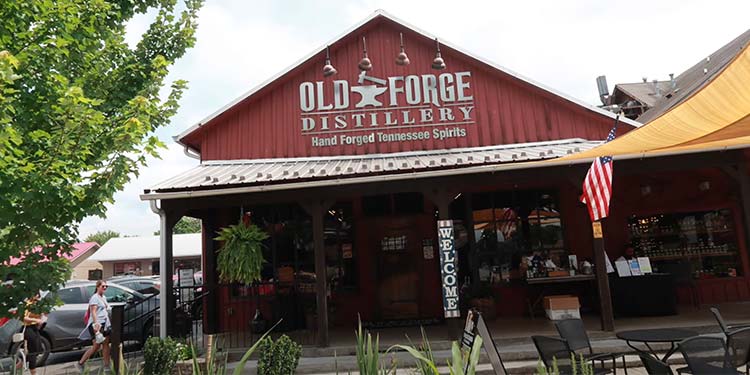 Opening hours: 10:00 AM to 9:00 PM.
Cost: A single-serving glass of moonshine can cost around $5.00, while a flight of several moonshine samplings may cost anywhere from $10.00 to $30.00.
Address: 170 Old Mill Ave, Pigeon Forge, TN 37863.
The Old Forge Distillery is a perfect place to try some homemade moonshine and other spirits made from local fruits and grains.
You can enjoy a tour of the distillery and learn about the process of making moonshine.
Tastings are offered daily and include a selection of whiskey, rum, gin, and vodka.
Tips: Purchase a bottle of Old Forge's signature moonshine, which makes an excellent gift or souvenir.
Visit the Parrot Mountain and Gardens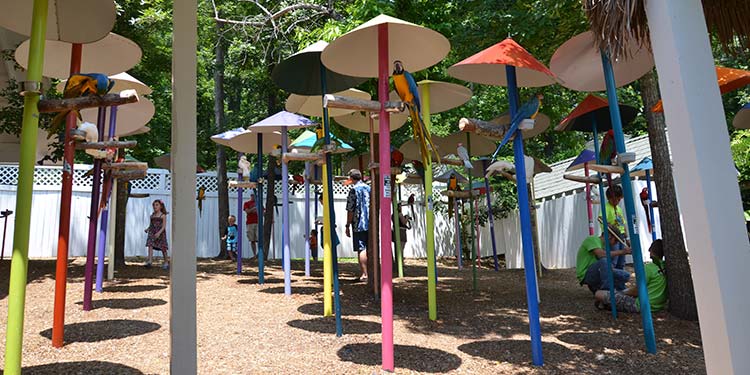 Opening hours: 10:00 AM to 6:00 PM,
Cost: $16.95 for adults and $10.95 for children aged 3-11.
Address: 1471 McCarter Hollow Rd, Pigeon Forge, TN 37862.
Visiting the Parrot Mountain and Gardens is an excellent opportunity to interact with exotic birds, including macaws, toucans, and African grey parrots.
You can hold and feed the birds, walk among the birds along meandering trails, and even enjoy a bird show.
Tips: Bring your camera to capture photos of the birds in their natural habitats.
Winter Sports at the Ober Gatlinburg Ski Area & Amusement Park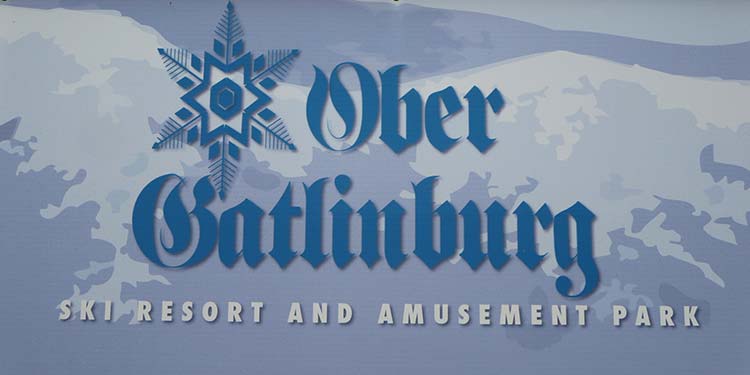 Opening hours: 9:00 AM and 10:00 AM
cost: $36 for children and $59 for adults. Other activities like tubing and ice skating have separate fees.
Address: 1001 Parkway #2, Gatlinburg, TN 37738
Ober Gatlinburg Ski Area & Amusement Park offers visitors winter sports opportunities such as skiing, snowboarding, tubing, and ice skating.
The park also has attractions such as mini-golf, a wildlife exhibit, and a scenic chairlift ride.
You can experience the thrills of winter sports while enjoying a scenic view of the Smoky Mountains.
Tips: Check the park's website for deals, season passes, and discount tickets.
Visit the Wildlife Encounter at Goats on the Roof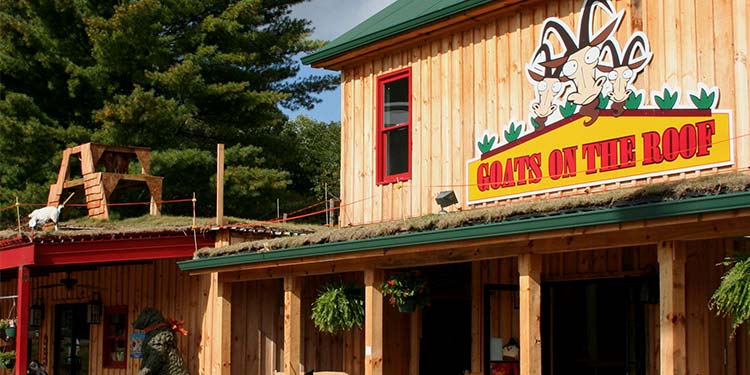 Address: 1341 Wears Valley Rd, Pigeon Forge, TN 37863.
Goats on the Roof offers an opportunity to get up close with several animals, including baby goats, exotic chickens, and miniature donkeys.
The wildlife encounter also features an indoor playground with an arcade center, gem mining, and a sweet and ice cream shop.
Tips: Buy the food for the animals to encourage them to come to you and have more interaction opportunities.
Spend the day at the Smoky Mountain Deer Farm & Exotic Petting Zoo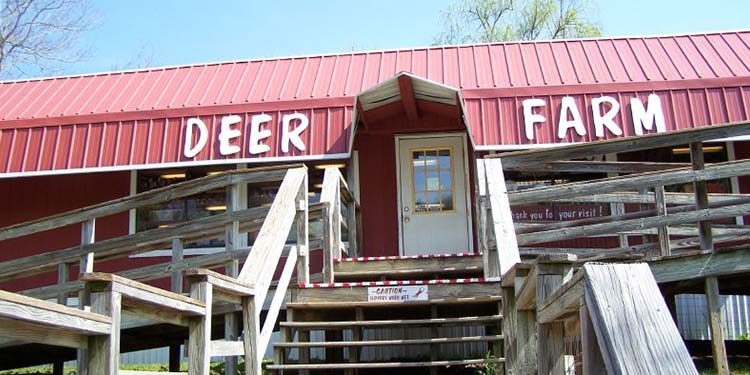 Opening hours: 10:00 AM to 5:00 PM.
Cost:  $7 for children under 12 and $12 for adults. Prices for other activities can be found on the attraction's website
Address: 478 Happy Hollow Ln, Sevierville, TN 37876
The Smoky Mountain Deer Farm & Exotic Petting Zoo is the perfect place for families to spend a fun-filled day.
You can interact with lots of animals, from deer to camels to goats and zebras.
Feed them, ride ponies or a tractor-pulled wagon, and explore the beautiful surroundings.
Besides the petting zoo, there are other fun activities, such as an indoor mini-golf course and pig races.
The farm is open year-round and is an ideal attraction for animal lovers and nature enthusiasts.
Importantly, be mindful of the time of year you choose to visit.
Spring and Fall months provide perfect weather for outdoor activities, making this the best time to go.
Remember to wear comfortable and suitable shoes – closed-toe shoes are ideal.
The Smoky Mountain Deer Farm & Exotic Petting Zoo is an excellent opportunity to spend quality time with family while enjoying and learning about different animal species.
Be sure to pack a couple of snacks or lunches and extra cash for the little ones' extra adventures in buying food for the animals.
It's a great way to create lasting memories for yourself and loved ones while making new animal friends!
Tips: Bring your camera as an onsite photographer can take memorable photos of you and the animals.
Follow the Fun Path to Pigeon Forge!
Pigeon Forge is a perfect destination for people looking for not only a family-friendly but also an eco-friendly and budget-friendly place for a vacation!
With plenty of fun activities, tons of attractions, and multiple choices of cuisines available in the town—every hour spent here will feel like another adventure.
Accessible trolley routes will make getting around the city much easier and affordable; it offers excellent lodging options where you can relax after an exhausting day.
Also, the town is right next to Gatlinburg if you wish to visit the city, which also has its own share of unique and exciting attractions you may want to check out.
All in all, you will have such a great time that you might want to come back again—this small mountain town never fails to compel visitors to come here for another round!
Note: Keep in mind that information about travel can change quickly. To make sure your trip is fun and safe, we encourage you to double-check official websites and government/travel advisory sites for the latest information on travel restrictions, entry requirements, and safety measures.