You might be surprised to learn that there are relatively few waterfalls in Florida – and most of the ones there are less than ten feet high.
Florida is a low country with many plains, fields, and marshes – none of which are perfect places for a waterfall to occur.
There are still a few lovely waterfalls, including a particularly wide one. 
In this article, we'll explore the best waterfalls found in Florida and discover what makes each one unique.
Tips for Visiting Waterfalls in Florida
Before you choose a waterfall to see, consider the kind of day you want to have and the group you're bringing. Some Florida waterfalls are more accessible than others.
Many of the natural waterfalls in Florida require a bit of a hike to view. If anyone has accessibility needs or you have young children, check with the park or location before making plans to be sure it will work for your group.
Consider visiting after a period with a lot of rain. The waterfalls in Florida aren't swollen and bursting forth with water as you might expect. They're at their most majestic days after a storm has blown through.
Bring tick and bug spray with you. At certain times of the year, you'll likely end a hike with a tick somewhere on your skin, so check yourself afterward.
If you plan to spend a lot of time in Florida State Parks, check out the annual pass to save some cash.
Waterfalls with Hikes
Be prepared with hiking boots, water bottles, and lots of energy to check out these waterfalls.
The walks aren't always the shortest, but they're worth it to view the natural – and man-made – wonders of Florida.
Falling, Waters State Park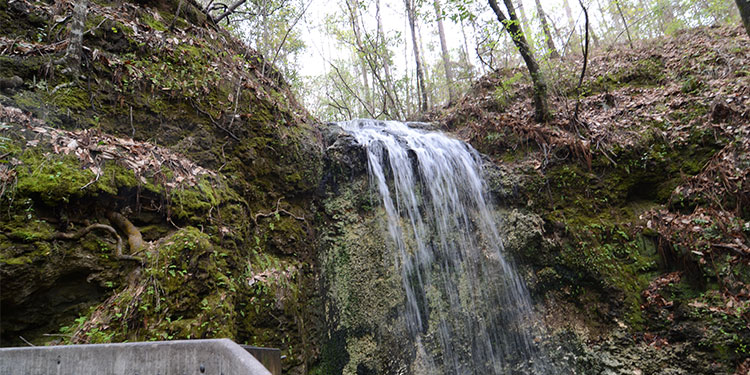 Take the two-mile path to the largest waterfall in Florida.
It flows 73 feet down into a sinkhole that's 20 feet across.
It's an awe-inspiring sight in a state where most waterfalls are much smaller than you might imagine.
Florida is a very flat place full of lowlands, which makes this sinkhole waterfall even more impressive.
Head to the playground to start the hike, and rather than head right for the waterfall, try going left to check out all the sinkholes on display.
It's a major area feature and as worthy of perusal as the waterfall itself.
There's also a natural bridge, lush trees, and other things to see on this hike in Chipley.
Tip: Visit after heavy rain for the best waterfall experience, as the flow can be minimal during dry periods.
For more information about Falling Waters State Park, visit the official website here.
Rainbow Spring State Park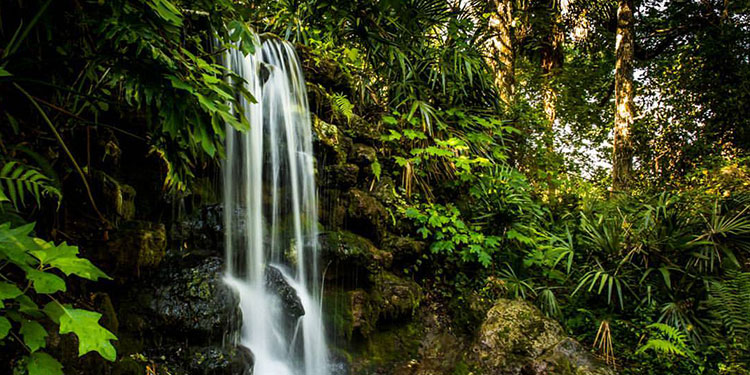 Rainbow Springs State Park hosts three man-made waterfalls, each of which is a callback to a time when the property was a tourist attraction.
In fact, many of the features of the state park are due to that period, including the rainbow fountain and dining terrace.
While you're there, enjoy the boats, springs, and everything else they have to offer.
While much of the park is sculpted, it is not accessible for some groups because of the terrain and isn't very accommodating if you require a mobility device.
It's a bit of a walk to the falls over uneven terrain. You should also call ahead to see what's open.
Because the falls are artificial, they occasionally require the park staff to restore them, which can lead to some or all of the falls not operating. 
Tip: Arrive early in the morning to avoid crowds and have a more peaceful experience exploring the waterfalls and springs.
Visit Rainbow Springs State Park's official website here for more details.
Weeping Ridge Trail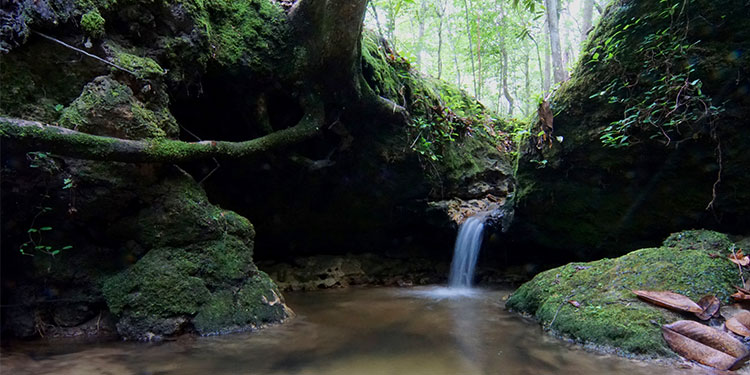 Only one mile down the path at Torreya State Park is a 25-foot tall waterfall, one of the largest in Florida.
Don't let the short length of the hike fool you; some uneven spots can be difficult for novice hikers to navigate.
Make sure you know the route before you begin. Near the end of the path, you'll find a railing.
That's how you know you're almost at the end.
Pay attention to traction here because while continuing will give you the best view of the waterfall, it's steep and can be slippery.
However, the waterfall is not nearly as impressive unless there is a lot of recent rain.
It's harder to hike out than in because you're going down as you approach the falls.
There is a fee to enter the park, and dogs must stay on a leash.
The trail is tight in places, and you'll probably have many plants brushing against you, so insect repellant and tick spray are also necessary. 
Tip: Wear sturdy shoes with good traction, as the trail can be uneven and steep in some areas, making it challenging for novice hikers.
Learn more about Weeping Ridge Trail and Torreya State Park here.
Easily-Accessible Waterfalls
It's a bit easier to get to these waterfalls, so they're great for groups of all ages. Spend a relaxing day out in the sun and enjoy spectacular water features.
Morikami Japanese Gardens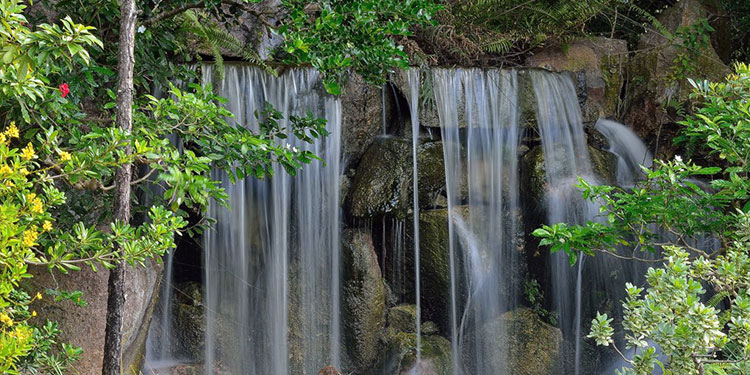 In Delray Beach, the Roji-en gardens await to delight your senses and ease your troubles.
Stroll through six different gardens, stopping to breathe and take in each waterfall carefully landscaped into the garden.
They even host a Lantern Festival, which might be the most magical time to visit the gardens.
While they do not provide wheelchairs for visitors, the gardens are largely accessible if you bring your own.
It's not entirely smooth, and you may need to go over some gravel or grass.
However, there are many places to see waterfalls on this property, so you won't miss out even if you only want to see part of the gardens on your first visit. 
Tip: Attend one of their special events, such as the Lantern Festival, for an unforgettable experience amidst the beautifully lit gardens and waterfalls.
Find out more about Morikami Japanese Gardens by visiting the official website here.
Falling Creek Falls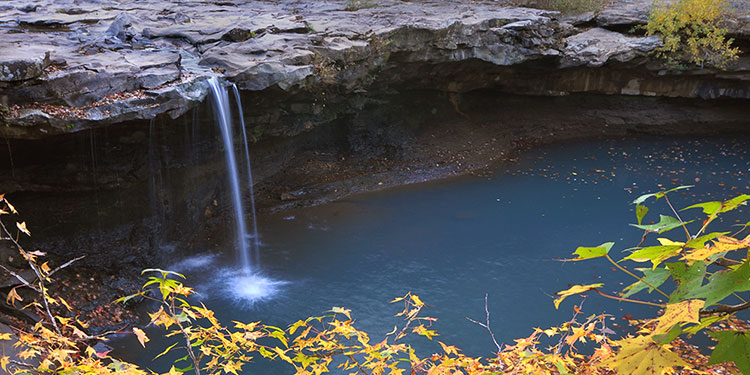 A boardwalk through lush greenery will take you to this small but lovely waterfall.
While it's only about ten feet high at max, it's a very Floridian waterfall – short and at its best after heavy rain.
The water pours down into a rolling stream with lots of rocks.
The pleasing sound of a running stream will guide you as you explore the area.
There's even a playground where you can relax and let your kids blow off some steam.
The boardwalk is very accessible and suitable for people with mobility issues.
You may see other visitors doing things like yoga or birdwatching.
One tip: leave your dogs at home. They aren't allowed at this particular park. 
Tip: The boardwalk can get slippery, especially after rain. Wear shoes with non-slip soles and be cautious while walking.
For more information on Falling Creek Falls Park, check out this link.
Steinhatchee Falls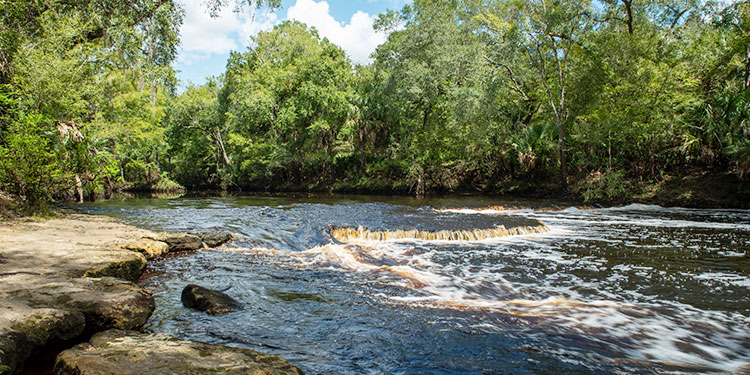 Steinhatchee Falls is the longest waterfall in Florida – but it's not very tall.
It's like a rocky ridge that stretches across the wide river with a shortfall from the upper to the lower area.
There's a long loop hike if you want to stretch your legs and take in more of the surroundings.
Many people use this area to launch boats into the river, so consider adding a boat to your plans if you enjoy watercraft.
You can park right near the river.
However, the path does have quite a few potholes – unless they've been filled in during the last couple of years.
There's a wheelchair-accessible porta potty, some picnic tables, grills, pavilions, and signs you can read to learn more about the area.
Make sure to take it slow on the way in. The dirt road can get pretty bumpy. 
Tip: In addition to visiting the waterfall, consider renting a kayak or canoe to explore the river and enjoy the surrounding natural beauty.
Learn more about Steinhatchee Falls here.
Travel to Florida Waterfalls
While you can drive to the trailheads for these waterfalls, not all are on paved roads.
Check the weather conditions beforehand and slow down to navigate any uneven terrain.
Many waterfalls are located near historic and exciting sites, lodging, and food, as well.
If you plan to go out of your way to see one, consider scheduling an itinerary that lets you experience a bit of the surrounding area.
With an average height of only 31m above sea level, it's surprising that Florida offers such a variety of beautiful waterfalls.
Whether you prefer to stare into natural sinkholes or explore the winding paths of a Japanese garden, you won't regret a trip spent at a Florida waterfall.
For more waterfalls to explore, check out our article on Waterfalls in Texas,
Waterfalls in Tenneessee.