Welcome to San Antonio, the "River City" of Texas! As the seventh largest city in the United States.
Whether you are traveling with friends and family, or as a solo traveler, visiting San Antonio will undoubtedly help you build stronger bonds and memories because you will be satisfied with everything that it has to offer.
The city's subtropical climate and Tex-Mexican festivals are just two of the many reasons why it is one of the most worthwhile cities to visit in Texas.
It has several historical landmarks including the Mission Alamo, the San Antonio Missions National Historical Park, and the Jewel Riverwalk, which surrounds the entire city with tranquility and provides a pleasant way to navigate the city.
Whether you're looking for an adventure at Nature Bridge Caverns or hiking and swimming at Medina River Natural Area, San Antonio is filled with fun and thrilling activities.
Get ready to experience an unforgettable adventure in San Antonio with our insider tips and top recommendations.
Things to do in San Antonio, Texas
San Antonio River Walk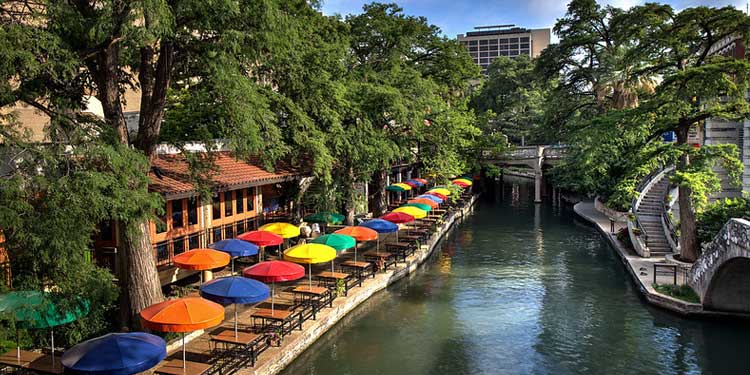 Location: 849 E Commerce St, San Antonio, TX 78205, United
Opening hours:  open 24 hours
Costs: Free
One of the most beautiful riverfront developments you will ever see is the San Antonio River Walk – an excellent area for strolling with restaurants, bars, and stores nearby.
Restaurants here will serve the best seafood, and steaks, along with Mexican and Italian dishes. I could only imagine my time there with great food and cold beer while overlooking the river. So you better take advantage of it while you are out here.
If you want to take a River Walk Cruise, I recommend going later in the evening when the lit-up areas are the best places to look out for a night view with lights all around you.
Wear walking shoes because the River and cobblestones will tire your feet out.
The Alamo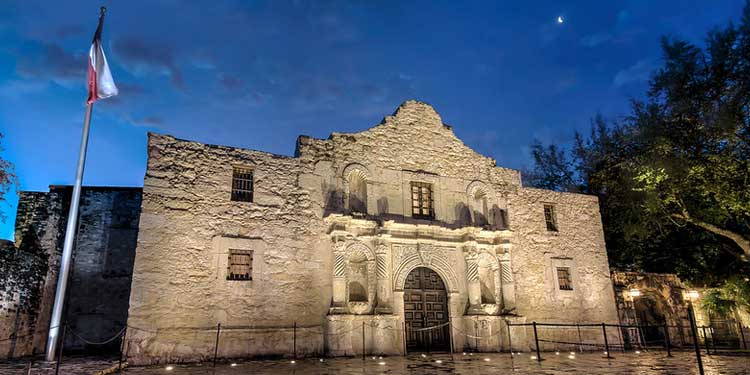 Location: 300 Alamo Plaza, San Antonio, TX 78205, United States
Opening hours: 9:00 am to 5:30 pm
Costs: Free
You may have only read about the Mexican and Texan wars for independence in your books. Well, let me tell you how fascinating it is to visit the site of the Alamo battle.
This place has every answer to your books, from early Spanish Colonization to the Texas Revolution to Modernization. Only you could see the actual sculpture, historical Church, and battlefields of the war that took place in the 18th century.
If you are unfamiliar with this history, I highly recommend taking the audio self-guided or the live guided tour because the guides will teach you much about the battle and Texas history.
There is no charge for an unguided tour, but it will cost you $15 for a guided tour and $7 for an audio-guided tour with a headset.
Note: You are not permitted to bring food or drinks into the Church of the Alamo, and no flash photography or videos are allowed.
Nature Bridge Caverns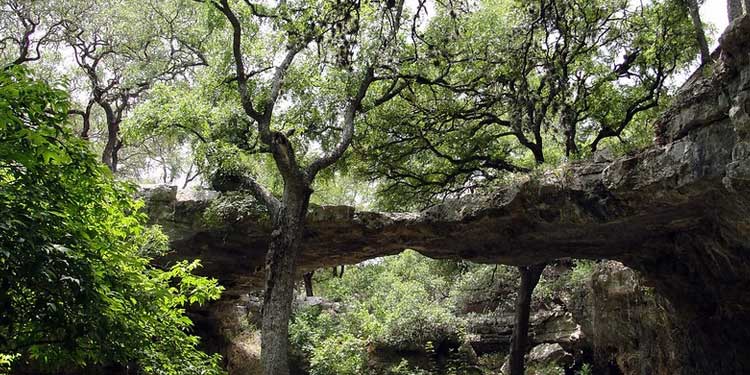 Location: 26495 Natural Bridge Caverns Rd, San Antonio, TX 78266, United States
Opening hours: 9:00 am - 5:00 pm
Costs: $29 (adults 18+) and $19 for children (5-17)
Natural Bridge Caverns does a fantastic job of taking the concept of mixing education and fun to the next level, offering everything from wall climbing to underground adventure in the dark.
Explore its hidden passages tour where shadows dance over delicate formations and mystery awaits in every shadow.
If you go on a guided tour, I recommend taking the famous discovery tour, which will take you to some of the most mysterious places underground and back up through narrow passages and cavernous rooms.
Exit the cave to find an extensive rope course zip line with a hidden maze, mining, and rock climbing alongside. Ideal for exploring thrilling outdoor recreation.
You will be happy to know there is a cafe on-site with the best hot dogs and other fast foods. Great place if you are thinking of relaxing and having a good meal after a long day of adventure.
San Antonio Pearl District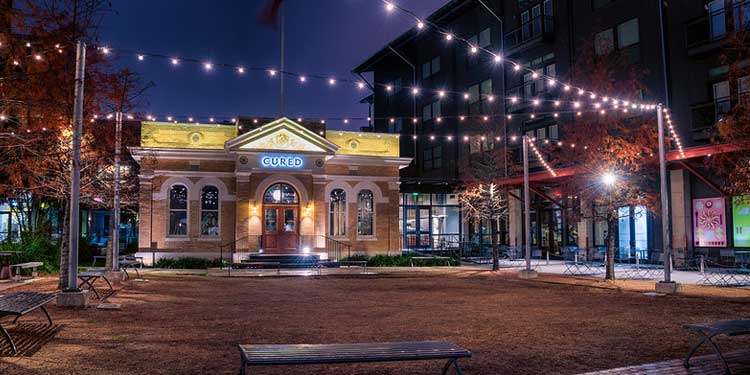 Location: San Antonio, TX 78215, United States
Opening hours: N/A
Costs: Free
If you want to spend a day with the locals in San Antonio, this is the place to visit the city's cultural and historic sites.
It is more of a gathering spot for you to stop at when walking along the Museum Reach of the Riverwalk, visiting the San Antonio Museum of Art, or bringing your kids and pets on a lovely day.
With so many activities to choose from, you'll find a variety of local vendors, restaurants, hotels, and peaceful outdoor spaces – a great place to start your day.
There are farmer's markets, live music, and other events on weekends. You'll enjoy the great vibe, surrounded by a lot of positive energy.
If you're coming down for dinner, I'd recommend giving yourself a little extra time to explore the area and stop by the Hotel Emma, which was once a brewhouse.
Medina River Natural Area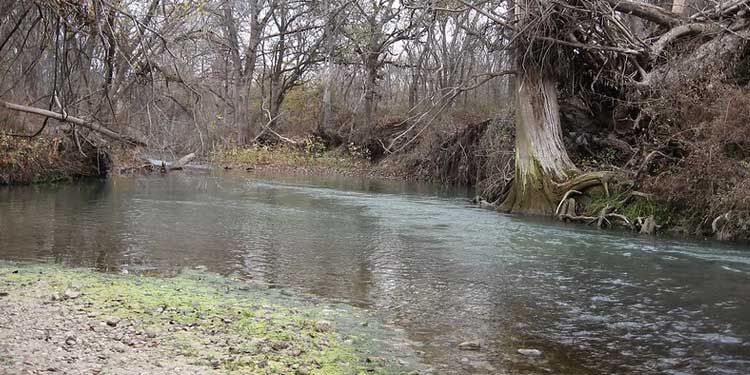 Location: 15890 TX-16, San Antonio, TX 78264, United States
Opening hours: 7:00 am - 8:00 pm
Costs: Free for the day. Camping is $20 per night.
Get your bikes and sports shoes ready for a thrilling adventure in the Medina River Natural Area.
This place is well-known for its biking trails, hiking, and scenic views of wildlife. However, many adventurous activities are available if you push your limits.
From kayaking in the river and fishing in many different spots to discovering swimming holes in Bandera's main street, you will have no problem making this destination on your go-to list.
If you are excited about camping, you must reserve the spot for $20 per night.
Note: It may be hot during the day, so bring sunscreen and other safety precautions. Also, if you intend to return, do not stay until sunset, as they will unknowingly lock you in.
Japanese Tea Garden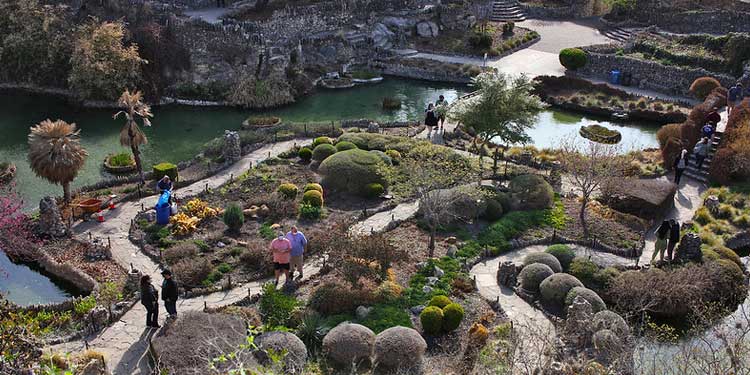 Location: 3853 N St Mary's St, San Antonio, TX 78212, United States
Opening hours: 7:00 am - 5:00 pm
Costs: Free
Japanese Tea Garden is a great place to relax and appreciate the earth's beauty if you enjoy nature and gardens.
The waterfall, the dragon bridge, the Koi fish in the ponds, and the attraction of flowers that draw butterflies are the loveliest sights you will see here – an excellent opportunity to experience calm Japanese culture.
It's a lovely short stroll through beautiful gardens with lush green colors, water features, and plenty of photo opportunities.
Don't worry if you get hungry – a cafe nearby with a view of the downtown skyline that serves up the best foods and drinks for a relaxing day. Make sure to order their specials.
If you plan on visiting here, I recommend arriving early because parking is limited and can be crowded on weekends.
San Antonio Missions National Historical Park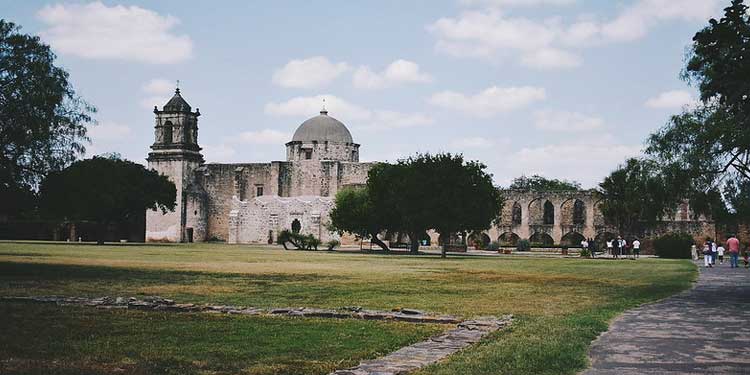 Location: 6701 San Jose Dr, San Antonio, TX 78214, United States
Opening hours: 9:00 am - 5:00 pm
Costs: Free
''Did you know San Antonio Missions National Historical Park is a UNESCO world heritage site?'' It comprises the five missions in San Antonio, each of which is managed separately.
If you are a history buff, this place offers you a good experience of learning more about the colonial history of the United States.
Some people even claim that Missions National Historical Park and the other five missions are haunted, and given their historical significance, I wouldn't be surprised. ''Do you want to know why?'' I recommend you take a guided trip to visit the actual location of the massacre.
You can pull up and enter the park while driving your car. Alternatively, you can stroll around or hire a bike nearby to explore the historic Park.
Fiesta San Antonio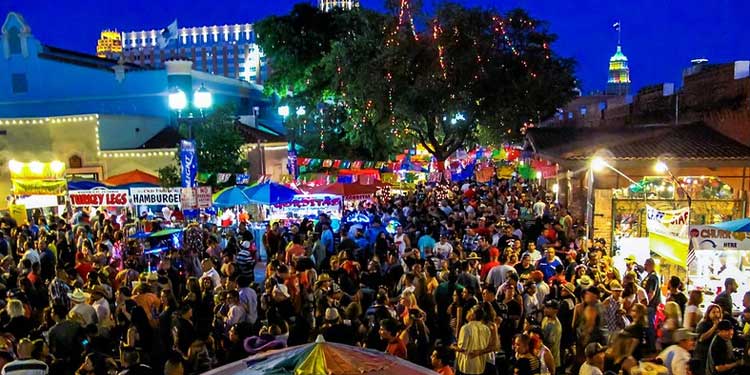 Location: San Antonio, Texas
Opening hours: N/A
Event: Every spring, April 20 - April 30
This ten-day festival in San Antonio attracts thousands of tourists and locals, with 100 events happening in a culturally rich Texas city.
If you've heard of San Antonio's five missions, you should attend this festival, a parade event honoring the heroes of the Alamo and the Battle of San Jacinto.
Every day you will enjoy the festive week with lots of marching bands competition and art galleries in every corner of the city.
Whether watching the Texas Cavaliers River Parade on the riverbanks or enjoying the national and local musical acts on the Oyster Bake with hundreds of thousands of oysters sold, it has everything you need to keep your adrenaline pumping.
San Antonio Zoo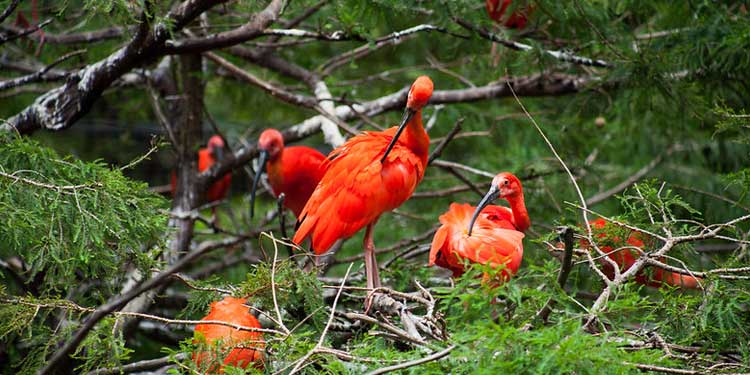 Location: 3903 N St Mary's St, San Antonio, TX 78212, United States
Opening hours: 9:00 am - 5:00 pm
Costs: $26 (adults), $23 (children), free (children under 3)
Considered the best zoo in all of Texas, San Antonio zoo is home to various animals, from the jungles of Asia to the deserts of Africa and the South American rainforests. It is an ideal destination for people of all ages, particularly children.
The zookeeper lets you get up close and interact with some friendliest animals by feeding and educating them about them. The best part is visiting the San Antonio Zoo.
The kids will love the train ride and the Children's Amusement Park outside the zoo.
If you are here with your family and kids, I suggest you visit during the special events it hosts throughout the year. Some include Zoo lights, Jingle Boogie Nights, and many more.
Cowboys Dancehall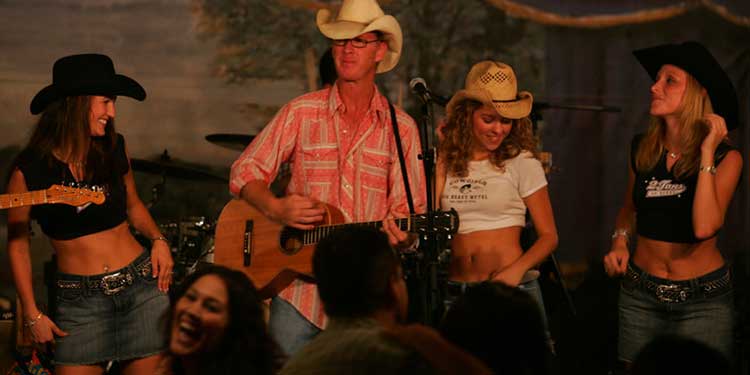 Location: 3030 NE Interstate 410 Loop, San Antonio, TX 78218, United States
Opening hours: 7:00 pm - 3:00 am. Closed from Sunday to Tuesday
Costs: Free to entry
''Are you ready for some honkytonk?'' Visit Cowboys Dancehall for some real live Texan music and boot-stomping fun. It is undoubtedly the city's most extensive and impressive concert venue, situated on the northeast side of San Antonio.
With the best cocktails and crafted beer served, make sure to break a sweat on the dance floor. Do you need to learn how to dance? Not to worry, as some of the friendliest instructors will lead you in some of Texas' craziest country dance moves.
It also has an indoor rodeo arena where you can watch live bull riding and cage fights, seven bars, and a mechanical bull.
The venue is also available for private events such as birthday parties and Bachellorates, which include facility rental and beverage services.
Lost Wood Campground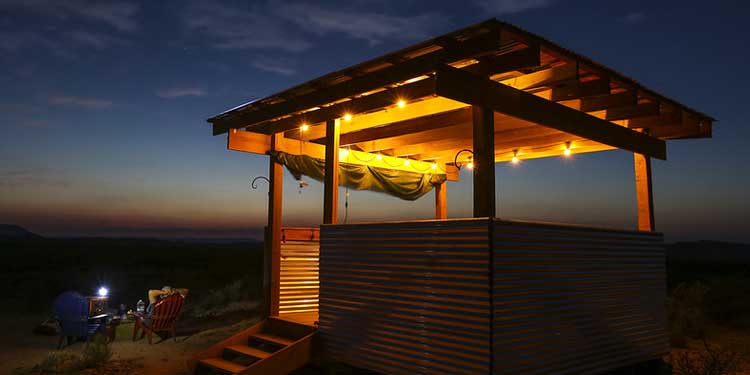 Location: 10185 Braun Rd, San Antonio, TX 78254, United States
Opening hours: open 24 hour
Costs: $35 per campsite
Explore the hidden campground in the woods of San Antonio. A great place to camp in the woods with your friends and family.
With many campsites, this location is full of adventure within the dense forest. Don't be surprised if you come across some wildlife, as this private property is home to many Hill Country animals.
You will have the best time hiking on the campsite as it offers you many loop trails and the flow of creeks and open fields.
The property's owner will provide you with all rental services – from exclusive RV tents, hammocks, and woods to the best campsite. Everything can be booked either online or on-site.
Note: Make sure to remove all the trash before leaving the camp, or you'll be charged extra for the mess.
Tower of Americas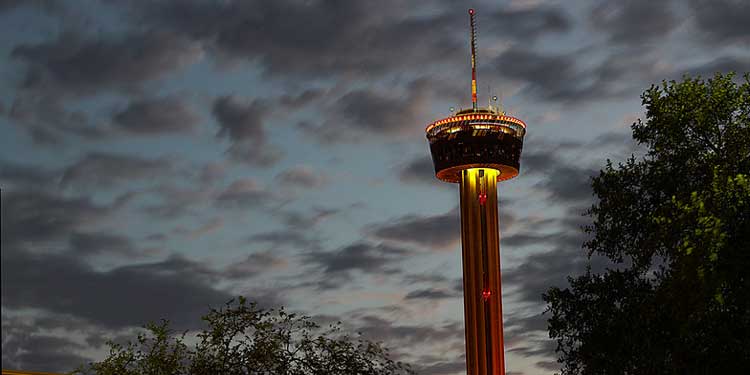 Location: 739 E César E. Chávez Blvd, San Antonio, TX 78205, United States
Opening hours: 10:00 am - 10:00 pm
Costs: $16.50 (Adults) and $12 (children 4-12), free for children under 3
"How does it feel to be 750 feet above the ground?" Going to the Tower of Americas will give you a taste of what it's like to have the perfect time above the clouds.
From taking in the stunning view from the Chart House Restaurant in the Tower to experiencing the exhilarating 4D Theater Ride. It has everything you need for the perfect day.
A visit to the Tower of Americas would be incomplete without a stop at the Flags Over Texas Viewing Deck. It provides breathtaking views of downtown San Antonio and educates you about the Spanish dominance of Texas and the Mexican attack on the Alamo.
I'd recommend you to go after dusk as you will witness soothing sunset during the evening and sparkling city lights at night.
If you are wondering about the parking, it has a huge spot but will charge you a fee of $8.
Note: Your tickets give you unlimited entries on that day, so make the most of it.
Seaworld San Antonio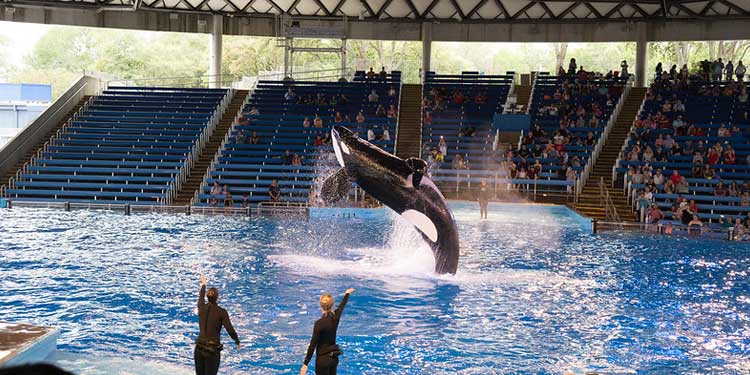 Location: 10500 SeaWorld Dr, San Antonio, TX 78251, United States
Opening hours: 10:30 am - 5:00 pm (opens only on Saturday and Sunday) 
Costs: $97 (ages 3+) and $25 (Parking)
Visit the family-friendly waterpark to see some of San Antonio's most incredible marine life. With so many shows to choose from, you'll never be bored at Sea World. Ideal for people of all ages, especially if you have little ones.
Attending Sea World's famous Shamu show is one of the unique ways to stay hydrated. If you are fortunate enough to be in the splash zone, you may become wet by being splashed by one of their many aquatic creatures – including Orcas, Dolphins, and beautiful Beluga Whales.
There are lots of enjoyable things happening backstage. The 360-degree loop roller coaster and the fantastic water coasters will have your adrenaline pumping if you appreciate thrill rides.
San Antonio Botanical Garden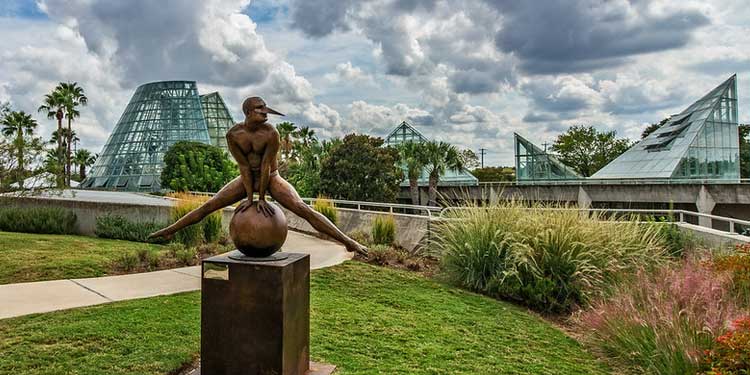 Location: 555 Funston Pl, San Antonio, TX 78209, United States
Opening hours: 9:00 am - 5:00 pm
Costs: $12 (adults) and $9 (children of 3-13)
I recommend this place if you want to take the family on short hikes and see flowers from all over Texas.
If you have time off while visiting San Antonio, stop by this amazing Botanical Garden with lots of greenery, waterfalls, and fish pond lights. Overall, it does an excellent job of blending flowers in an urban setting.
If you are thinking of meditating, this area offers you an open space for letting your mind breathe in peaceful and calm surroundings.
The Guenther House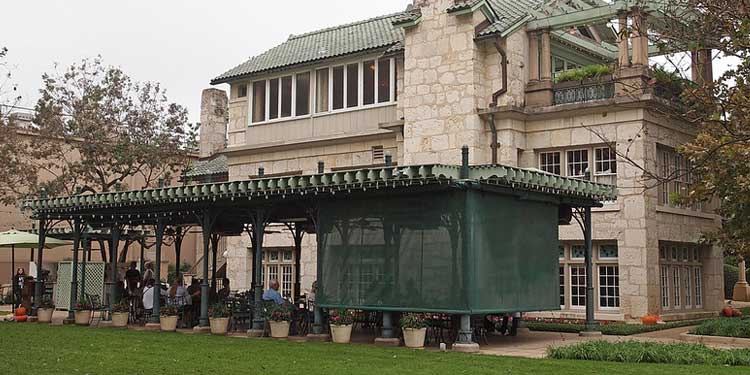 Location: 205 E Guenther St, San Antonio, TX 78204, United States
Opening hours: 8:00 am - 2:00 am, closed on Monday and Tuesday
Costs: N/A
Discover the Guenther House – a wonderful brunch location for families and couples with lovely indoor and outdoor dining settings.
The house is near the Riverwalk, where you will have plenty of options while you wait for your order – from browsing in the on-site museum to exploring fancy gift shops. It has everything you need to stroll around the area.
The food menus are excellent! I would order the strawberry waffle and pancakes. I recommend bacon and cinnamon rolls if you are here for early brunch. A perfect meal to start your day!
If you're looking for places to eat breakfast in San Antonio, the Genther House will provide you with the best meal, excellent service, and hospitality.
Six Flags Fiesta Texas
Location: 17000 W I-10, San Antonio, TX 78257, United States
Opening hours: 10:30 am - 6:00 pm ( Saturday to Monday), closed on (Tuesday to Friday)
Costs: $86.59 (Single Day Admission), $27 (Parking)
Six Flags Fiesta, located 17 miles northwest of downtown San Antonio, is the best theme park for thrill-seekers looking to experience some of the tallest and fastest roller coasters and waterparks in one location. Ideal place for kids and families to explore fun activities.
If you like superhero shows, it has some of the best DC (Detective Comics) roller coaster rides, including the Batman and Superman rides. The best part is that you get to dress up as your favorite character. So hop along!
I recommend purchasing tickets online for a bit cheaper price, as those purchased at the park's entrance can be expensive, costing around $86.59. However, you can purchase 15-99 tickets to qualify for a group discount, where you will receive free access for every 25 tickets purchased.
Stop Thinking And Start Planning For A Wonderful Adventure In The River City
Every adventure awaits a new discovery in San Antonio. Whether it is about the fascinating history or its indoor-outdoor spaces, everything will light your way to a new journey by exploring this River City.
Tips: I highly recommend visiting in the springtime. The weather during this time of year is generally very pleasant, with mild temperatures that are perfect for exploring the city's many outdoor attractions.
So, start looking into your options, booking your accommodations, and putting together an itinerary that includes all of the top attractions and events. You'll be glad you did, and you'll have memories to last a lifetime.