When visiting Texas, you may hear a lot about historical sites and cowboy culture, but it's also a fantastic destination for any lake enthusiast.
Thanks to the people of Texans, who started digging their own freshwater escapes!
Today the Lone Star State has gone from just one to over 7000 lakes, which means you are always close to a place to beat the Texas heat.
You can find the most beautiful lakes in Texas's central and eastern parts.
But which of Texas Lakes are the best ones?
Hop on! We have listed our top recommendations for the best lakes in Texas to plan a memorable trip.
Best Lakes in Texas
Lake Travis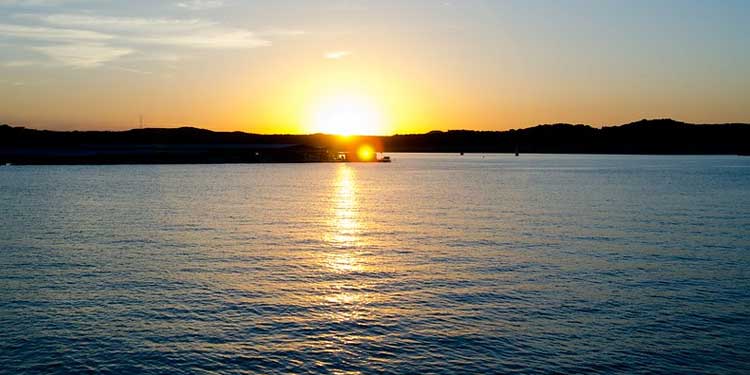 Cities Nearby: Austin 
Address: 4370 Mansfield Dam Park Road, Austin, Texas 78732
Distance: 20 miles from downtown Austin
This reservoir in the west of Austin is mainly known for water sports activities and a long shoreline that offers beautiful views of the hill country and the sparkling lake.
You can swim, paddleboard, take a boat tour, wakeboard, or simply relax and enjoy the surrounding scenery.
Various hiking and fishing locations are nearby for extra excitement, but I recommend Windy Point Park, also famous for camping and picnicking.
Check out the best things to do in Austin,Texas
Canyon Lake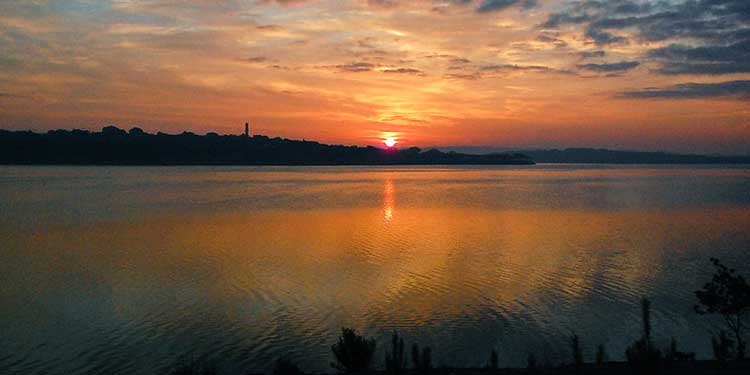 Cities Nearby: New Braunfels, San Antonio, Wimberly
Address: Texas Hill Country, Comal County, Texas, United States
Distance:  19 miles downtown New Braunfels
With over 80 miles of coastline, Canyon Lake in the Guadalupe River provides an excellent escape from the Texas heat.
The Lake is surrounded by the lovely Texas Hill Country, where the view is picturesque and inviting.
So, it is an ideal location to relax and enjoy outdoor recreational activities in a perfect natural setting.
From swimming, lakeside hiking, water skiing, and scuba diving to watching the fossils of Dinosaurs, there is something for everyone to enjoy.
Check out the best things to do in San Antonio, Texas
Grapevine Lake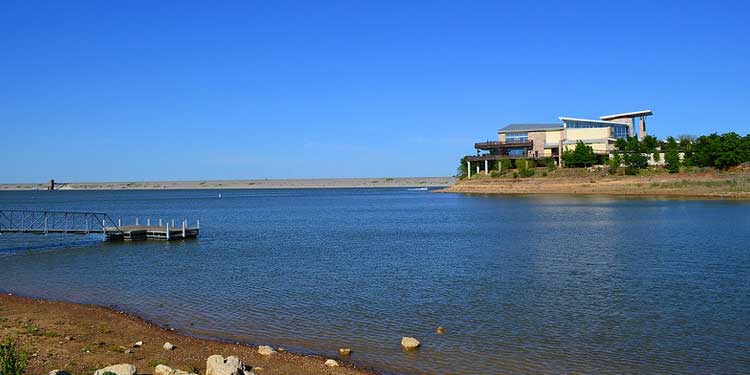 Nearby Cities: Grapevine, Dallas/Fort Worth
Address: 880 Simmons Road, Flower Mound, Texas 75022, United States
Distance: 9 miles from downtown Grapevine
With a beautiful shoreline and more than nine miles of wilderness routes, Lake Grapevine is one of Texas' most incredible hiking and biking locations.
You can enjoy the beauty of the lake by boating, kayaking, or even enjoying a family picnic in a beautiful natural setting.
Other nearby attractions include Oak Grove Park, which has a lot of pavilions where locals like to sit and watch the evening sunset while fishing.
Check out the best things to do in Grapevine,Texas
Toledo Bend Reservoir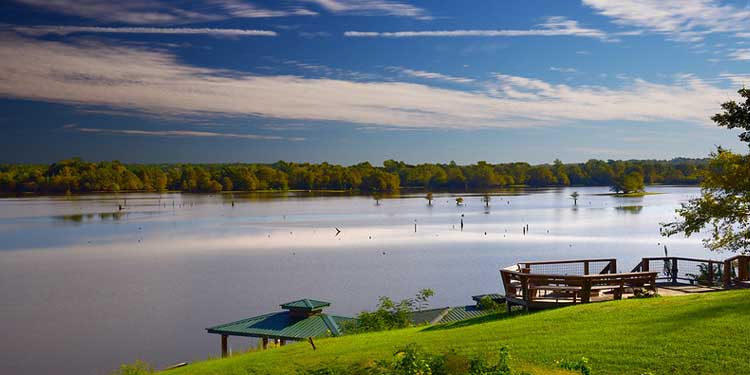 Nearby Cities: Beaumont, Waco, Huxley
Address: Sabine River, Texas/Louisiana 
Distance: 80 miles Northeast of Beaumont
Toledo Bend Lake is the southern United States' largest artificial lake that shares the Texas and Louisiana border.
The lake is home to several fishing competitions organized by neighborhood clubs, and it has also been awarded as the best bass fishing lake in the country.
But it's not just a place for the Fishermen!
As it is nestled amongst gorgeous rolling hills and pine trees within the lake, there are several opportunities for outdoor recreational activities such as swimming, boating, hiking, sightseeing, and even hunting.
And with its 1,200 miles of shoreline and sandy beaches, the lake offers many spots for camping and picnicking.
Check out the best things to do in Beaumont, Texas
Lake Texoma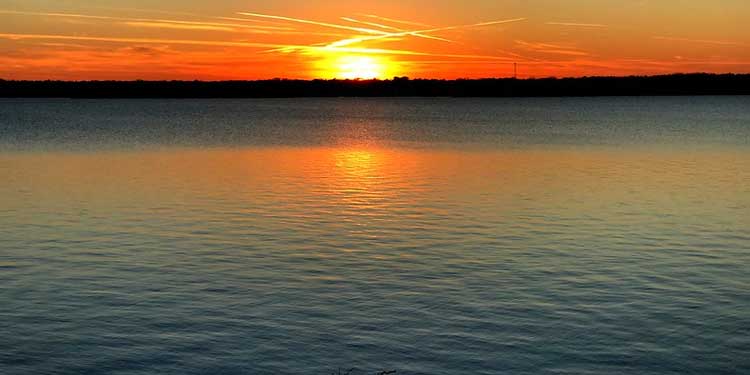 Nearby Cities: Dallas, Denison
Address: Texas-Oklahoma border
Distance: 76 miles from North Dallas
Lake Texoma offers visitors a wide range of recreational opportunities on the Red River between Oklahoma and Texas.
Surrounded by wild beauty, it's a wonderful lake for hiking, biking, and even horse riding.
Within the 580 miles of shoreline, many beaches on the shores of Lake Texoma allow visitors to swim, play sand volleyball, and go on a long cruise by boat.
And for thrill seekers, drive directly outside High Port Marina after launching your boat. You will see an oversized island with beaches—a fantastic summer camping and fishing location.
Check ou the best and Cheap things to do in Dallas, Texas
Possum Kingdom Lake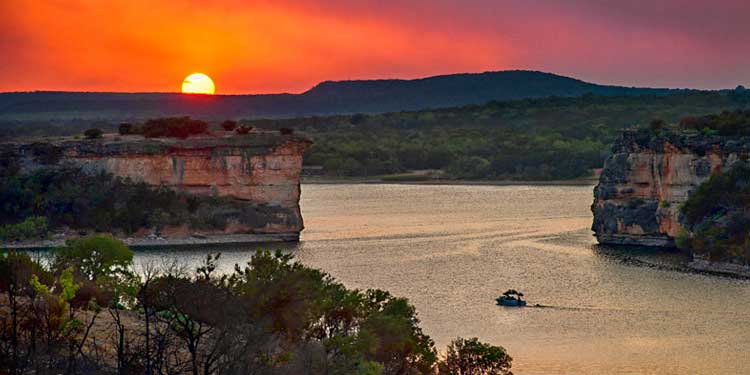 Cities Nearby: Graham, Breckenridge, Fort Worth
Address: 3901 Street Park Road 33, Caddo, Texas 76429, United States
Distance: 80 miles west of Fort Worth
Possum Kingdom Lake is quite famous amongst visitors and locals alike as it is a haven for vacationers from all over.
Its clear waters make it ideal for scuba diving, fishing, and boating.
The major attraction of the Lake is the Hell's Gate, an exposed cliff break that adds to the beauty of Possum for viewing sunset and fireworks at night.
It is also the location for the renowned Red Bull cliff diving competition, where participants jump off the cliff to demonstrate their skills and win prizes.
Tip: Discover Possum Kingdom State Park, which includes tent and RV camping sites along its 310 miles of beach.
Check out the best things to do in Fort Worth, Texas 
Lake Whitney State Park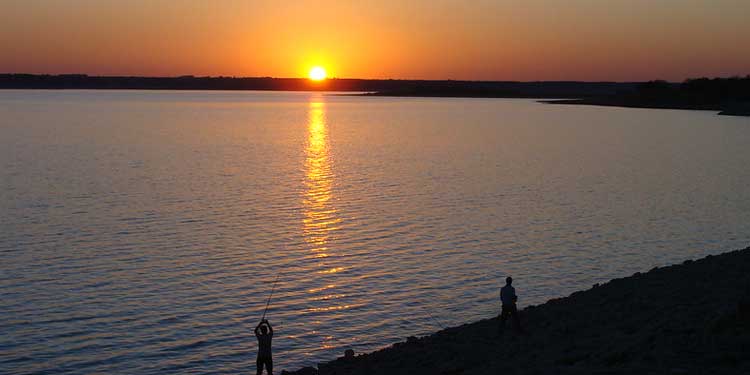 Cities Nearby: Whitney, Dallas, Fort Worth,
Address: 433 FM1244, Whitney, Texas 76692, United States
Distance: 64 miles from northeast Dallas
If you are looking for a place to get away and take a road trip to one of the best places in Texas, Lake Whitney State Park is a great place to relax and have a good time outdoors.
The reservoir has around 23,500 acres of surface area and 225 miles of shoreline with crystal-clear water and several campsites.
And as it sits between the lush greeneries and hills of Texas, wildlife sightseeing is another main attraction, especially in the early and late hours.
It also has many other recreational activities, from fishing and swimming to boating and skiing.
On the beach, you can hike its trails, go geocaching, or set up camp in an ideal spot to gaze at the night sky.
Lake Lewisville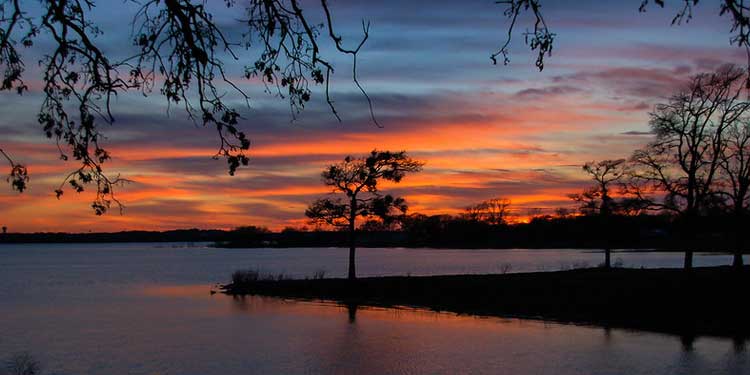 Cities Nearby: Lewisville, Dallas, Irving, 
Address: 600 Sandy Beach Road, Lewisville, Texas75057
Distance: 21 miles from Dallas in the southeast direction
This vast 29,000-acre lake in Northwest Dallas has over 233 miles of shoreline, making it one of Texas's most popular tourist destinations.
The lake is great for all types of recreational boating, fishing, skiing, and swimming.
It also provides several public parks lining the shore for activities like hiking, biking, and camping close to the water.
One of the most popular things to do on Lake Lewisville is visit Party Cove, where you will have the best time on the lake with nonstop party music and a lot of swimming on the lake.
We recommend checking its website at https://www.lake-lewisville.org/ for park use and other events.
Lady Bird Lake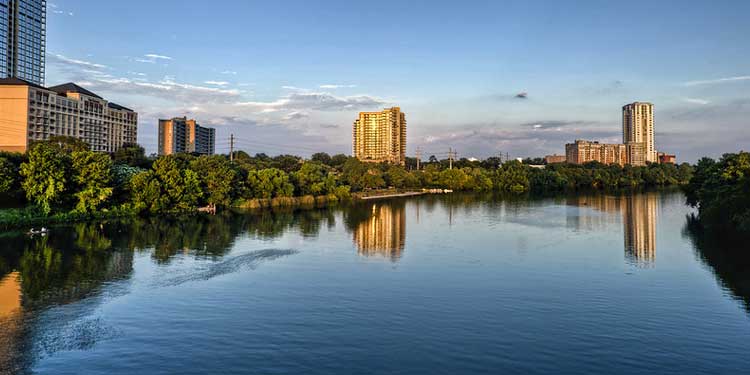 City: Austin
Address:1820 South Lakeshore Blvd, Austin, Texas
Distance: 3 miles from the downtown area
Lady Bird Lake is a downtown Austin urban lake built by the damming of the Colorado River in 1960.
Now it is considered one of the most enjoyable places in Austin to spend an entire day engaging in outdoor activities.
It has a lot to offer, including most leisure activities such as rowing, dragon boating, kayaking, canoeing, hiking, and cycling around the area.
The 10-mile Roy and Ann Butler Hike and Bike Trail will take you to every loop of the lovely lake.
There are also various trails, parks, restaurants, and hotels located around the lake where you can unwind after a long day of action.
Check out the best fun and free things to do in Austin, Texas
Tyler State Park Lake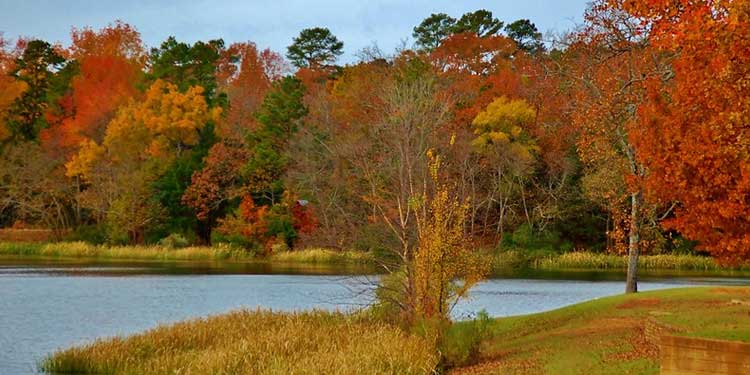 City: Tyler
Address: Tyler State Park Area 1 Bath House, 789 Park Road 16, Tyler, Texas 75706, United States
Distance: 10 miles from the downtown area
When exploring the best lakes around Texas, dont miss out on the hidden gem in the north of Tyler that features a cool 64-acre spring-fed lake surrounded by nature and wildlife.
There are numerous hiking and bike paths, but the most well-known is the 'whispering pines nature trail,' where the pathway is as exquisite as the aroma of the Pine trees.
The lake activities include Paddle Boarding, Kayaking, canoeing, swimming, row boating, and even fishing.
You can even stay overnight by pitching a tent or camping in one of its RV campsites.
The best part is that it provides everything you need for a peaceful stay.
For more information, visit its website at https://visittyler.com/tyler-state-park/
Check out the best things to do in Tyler, Texas
Beat the Heat by Discovering the Best Lakes in Texas
Whether you're spending your vacation in the downtown area or simply seeing the best of Texas, you'll find the best lakes in Texas around every turn.
And with every recreational activity it offers, you will have the best time visiting Lone Star State.
Tip: Check the weather forecast before visiting these lakes, as it may allow you to reroute your trip and avoid becoming trapped in uncertain situations.
Good luck!