Get ready to experience the best of Texas in Houston, where everything is bigger and better, from its sprawling metropolis to its iconic space center.
Houston offers an abundance of attractions that will make your trip unforgettable.
From NASA's space center to Minute Maid Park, there's no shortage of fun and excitement to be had.
But that's not all. Houston's historic neighborhoods are home to some of the finest art spaces and museums you'll find anywhere in the country.
And with everything conveniently located within the compact downtown area, exploring this vibrant city couldn't be easier.
Whether you're looking to soak up the beauty of nature, immerse yourself in local culture, dance the night away with your friends, or savor some of the best food you'll ever taste, Houston is the place to be.
Our list of the best things to do in this fantastic city will help you make the most of your trip. Let's get started!
Things to do in Houston
Visit the Space Center Houston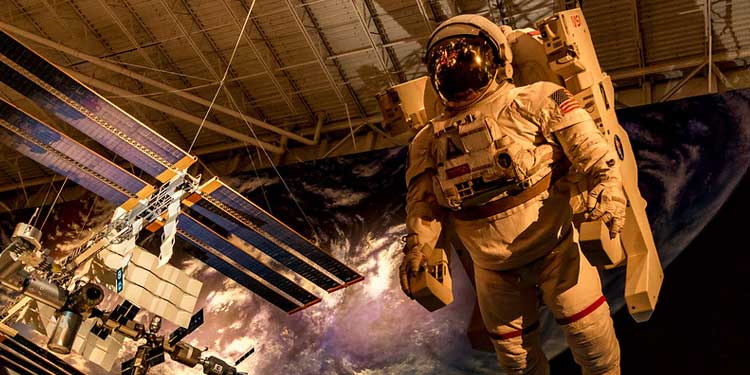 Opening hours: Open daily from 10 am to 5 pm, closed on Thanksgiving Day and Christmas Day. 
Cost: Adults- $29.95, children (ages 4-11)- $24.95, $27.95 (Seniors) 
Address: 1601 NASA Pkwy, Houston, TX 77058
For any space enthusiast, the Space Center Houston is a must-see destination.
It is the official visitor center for NASA's Johnson Space Center and offers interactive exhibits, films, and tours that allow visitors to learn about human space exploration.
You can even see a real spaceship and lunar rocks brought back from the moon. If you're lucky, you may even get to meet an astronaut.
Tips: Go early in the day to avoid crowds.
Explore Buffalo Bayou Park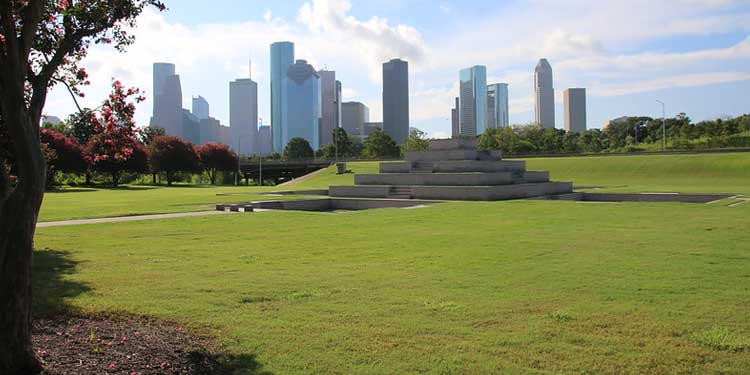 Opening hours: Opens daily from 6 am to 11 pm. 
Address: 1800 Allen Pkwy, Houston, TX 77019
Buffalo Bayou Park in downtown Houston is an expansive urban park covering 160 acres.
There are numerous trails suitable for hiking and cycling, providing breathtaking views of the city.
Additionally, it has facilities available for renting kayaks and paddleboards, as well as designated areas for dog owners to enjoy with their furry companions.
Children can also avail themselves of the park's playgrounds, while skateboard enthusiasts can take advantage of the skate park.
The park is well-maintained and offers safety measures for visitors of all ages, making it an excellent destination for outdoor recreational activities.
Water sports enthusiasts will definitely find great pleasure in this park.
They can take advantage of the paddleboard and kayak rental facilities and glide through the serene waters while taking in some of the best views of downtown Houston's skyline.
Tips: Go for a boat tour to experience the bayou from a different perspective.
Note: Swimming and fishing on the lake are prohibited within the Park area as per the official rules of Buffalo  Bayou Park.
Explore the National Museum of Funeral History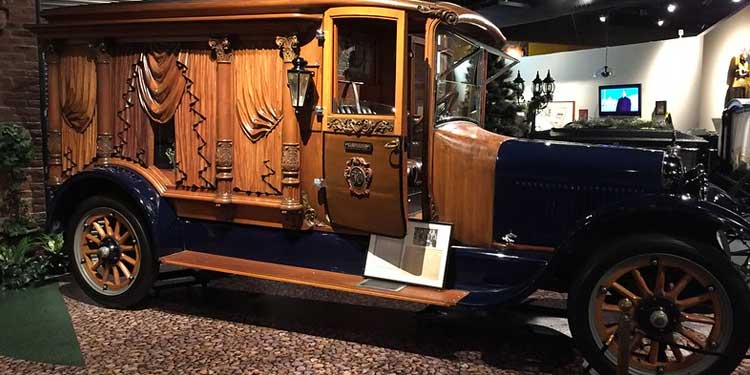 Opening hours: 10:00 am - 4:00 pm (Monday to Saturday), 12:00 pm - 5:00 pm (Sundays)
Costs: General admission - $10
Address: 415 Barren Springs Dr, Houston, TX 77090, United States
It is home to many hearses that have been part of many famous funerals, including Princess Grace Kelly, Ronald Reagan (the 40th President of the United States), and Gerald Ford, the (38th President of the United States).
Overall, you will learn about everything from mummification and casket-making to cremation. It might sound strange, but it is satisfying and very informative.
If you are intrigued about the parking, the Museum offers free parking for 150 common spaces.
Make sure you purchase tickets online to avoid lines on a busy day.
Waugh Drive Bat Colony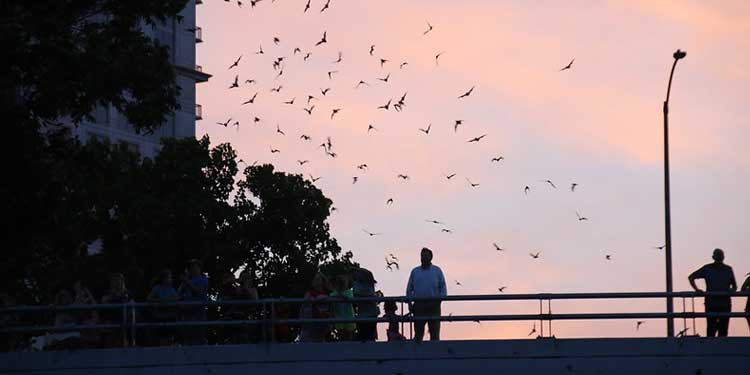 Opening hours: opens 24 hours
Address: Waugh Dr, Houston, TX 77002, United State
Around 300 thousand Mexican tail bats live under Waugh Drive's bridge and come out at dusk to feast – an excellent free activity while hiking or boating around Buffalo Bayou Park. 
It's something you shouldn't miss if you're in Houston. It will be a perfect evening for sightseeing with the sunset by your side and the bats coming out.
You can watch them from both the top and bottom of the bridge. However, It can get crowded, so we recommend arriving before noon.
You can find 3 hours of free parking off Allen Pkwy near Dunlavy Street or just park across the bridge street for free.
Tip: As you wait, you will find many mosquitoes and other insects nearby, so applying insect repellent is highly recommended.
Explore the Downtown Aquarium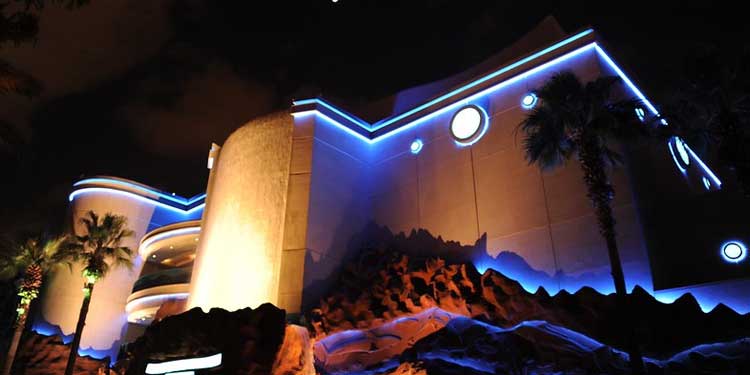 Opening hours: 10:00 am - 8:30 pm (Sunday to Thursday), 10:00 am - 10:00 pm (Friday and Saturday)
Costs: Exhibit ticket - $15.99 (Adults), $13.99 (Children and Senior
Address: 410 Bagby St, Houston, TX 77002, United States
The Downtown Aquarium of Houston features over 400 species of marine life, over 100 exhibits showcasing various aquatic animals and a 4D theater experience.
It is an excellent way to learn about the ocean's habitat and its inhabitants.
Whether you are petting a stingray or taking an exhilarating train ride through the Aquarium tunnel.
It's a great attraction for the whole family, especially the kids, who can enjoy the aquarium rides ranging from the Frog Hopper to the Aquarium Carousel.
''What can the adults do?'' Aside from all the fun activities, the venue has plenty of adult treats, such as shopping, a full-service restaurant, and aquatic exhibits.
The Aquarium offers both self-parking and valet parking, both of which cost around $8 for self-parking and $10 for valet.
Tips: Make sure to visit the koi pond, which is a hidden gem within the aquarium that offers a peaceful setting and a chance to feed the fish.
Cockrell Butterfly Center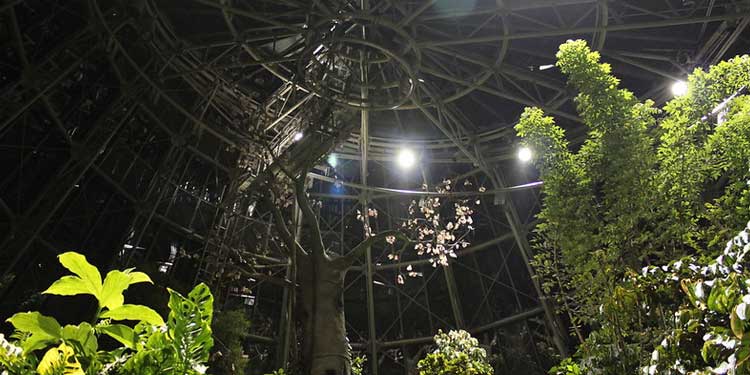 Opening hours: 10:00 am - 5:00 pm
Costs: $12 (Adults), $10 (Children)
Address: 5555 Hermann Park Dr, Houston, TX 77030, United States
Located at the Houston Museum of Natural Science, you will witness hundreds of real butterflies displayed in a realistic rainforest environment at the Cockrell Butterfly Center,
The three-story glass structure offers a large 50-foot waterfall with winged wonders fluttering through the warm air, hovering over flowers, sipping fruit juice, and occasionally landing on people.
Make sure to interact with them because you know what they say, ''the spirit of nature touches us when our hearts turn into a butterfly.''
If you enjoy nature and bugs, this is an ideal outdoor space in the downtown area to stroll around and learn about various species of bugs.
We recommend visiting during the weekend since there might be fewer crowds; however, purchase your tickets online to avoid long lines, even if you do not plan on visiting during busy hours.
Visit the Gerald D. Hines Waterwall Park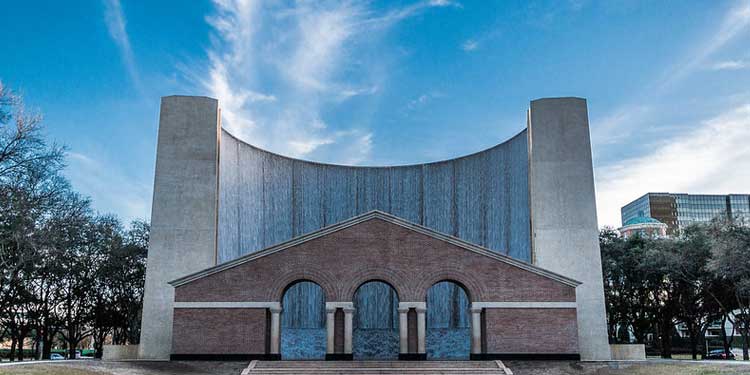 Opening hours: 8:00 am - 9:00 pm
Address: 2800 Post Oak Blvd, Houston, TX 77056, United States
Mesmerizing would be an understatement when describing Hines Waterwall Park, as words can't tell the beauty of this multi-storied sculptural fountain from which the sheets of water flow gracefully down the walls made of concrete.
The park offers an ample open space of 2.77 acres with hundreds of oak trees surrounding the waterfall.
Perfect for gatherings, picnics, walking, running, and, most importantly, a fantastic photographic opportunity.
While paid street parking is available here, We recommend parking in the mall's parking garage two blocks away.
Discover the Houston Zoo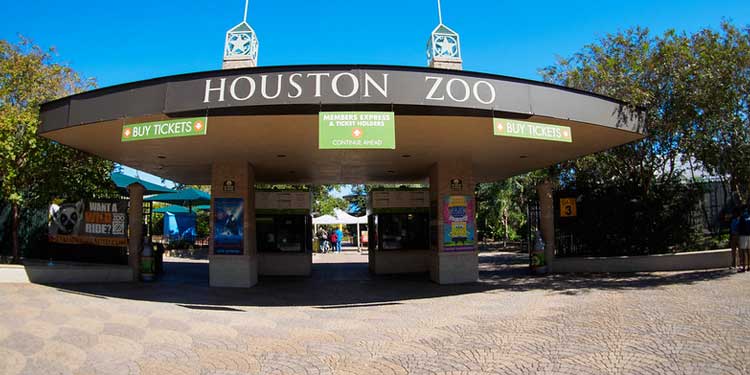 Opening hours: 9:00 am - 6:00 pm
Costs: Adults- $22, children (ages 2-11)- $17 
Address: 6200 Hermann Park Dr, Houston, TX 77030, United States
The Houston Zoo is a popular attraction that both children and adults will enjoy.
With over 6,000 animals covering 900 species, the Houston Zoo offers visitors the chance to see and learn about a variety of animals from around the world.
''What are the special exhibits?'' It offers many different types of exhibits, from the Australian Outback section, which includes Kangaroos, Koalas, and Wombats, to the Asian section, with Red Pandas, Snow Leopards, and much more.
That's not all! For a more exciting experience, you get to interact with some of the friendliest animals by hand-feeding them close and personal.
The Houston Zoo does not have its own parking lot, but visitors can park for free at Hermann Park or use paid parking lots nearby. Public transportation is also available with a stop near the zoo's entrance.
Tips: Check out the After Dark events on specific days of the week for a unique experience.
Note: You must purchase the tickets online if you are a non-member, as they are not sold on-site. 
Attend Houston's Annual Livestock Show and Rodeo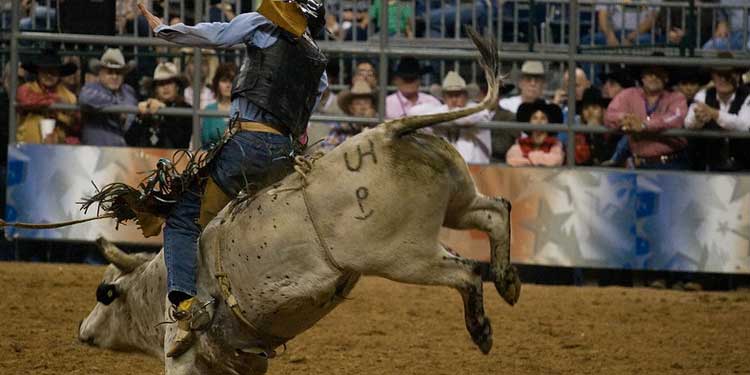 Opening hours: 8:30 am - 4:30 pm, closed on Saturdays and Sundays
Costs: NRG Park admissions - $20 (Adults), $10 (children). Grounds Season Pass - $50
Address: NRG Pkwy, Houston, TX 77054, USA
Home to NRG Park and NRG Stadium, the Houston livestock show and Rodeo offers everything from Eastern Rodeo shows and thrilling carnival rides to live concerts and a touch of southern charm.
Moreover, you can enjoy some of the best food and beverages ever.
We recommend visiting during the months of February and March when it hosts a mega festival that Houston celebrates every year at NRG Park.
This family festival can be enjoyed as much more than just a rodeo and livestock show.
If you have never been to a rodeo or livestock show, this is definitely the one to visit.
Note: Admission to NRG Park includes access to all public activities at NRG Park, NRG Arena, and NRG Center. Other activities, such as rodeos, concerts at NRG Stadium, and admission to Carnivals, are not included.
Catch a game at Minute Maid Park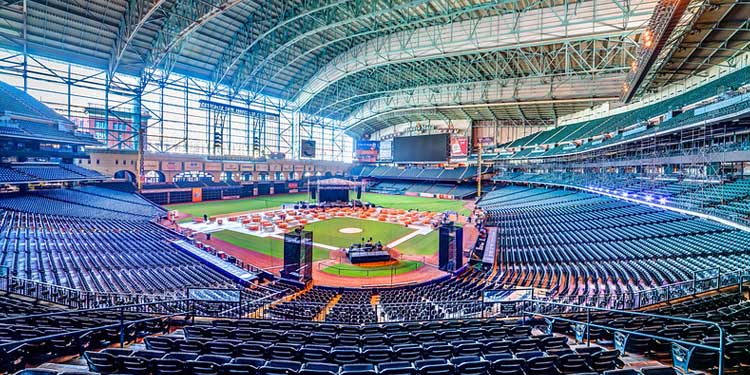 Opening Hours: The opening hours of Minute Maid Park vary depending on game schedules and tours.
Cost: Prices for tours start at $15 for adults, $12 for seniors and $10 childrens
Address: 501 Crawford St, Houston, TX 77002.
Recently, Minute Maid Park has undergone a major renovation that has enhanced the guest experience.
New features include additional food and drink options, upgraded seating areas, and a revamped center field entertainment section that features a massive video board and a state-of-the-art sound system.
This renovation has cemented Minute Maid Park's status as one of the premiere venues for sports and entertainment in the country.
Overall, whether you're a lifelong Astros fan or a first-time visitor, Minute Maid Park is an attraction not to be missed.
From the excitement of the game to the engaging tour experiences, this stadium offers something for everyone.
Tips: Book ahead for the best seats in the house.
Explore The Museum of Fine Arts, Houston
Opening hours: 11:00 am - 6:00 pm (Fridays and Saturdays), 12:30 pm - 6:00 pm (Sundays), 11:00 am - 5:00 pm (Wednesdays), 11:00 am - 9:00 pm (Thursdays), closed on Mondays and Tuesdays.
Costs: General admission- $19 (Adults), $16 (seniors), Free for children (12 and younger), Free on Thursdays (for all)
Address: 1001 Bissonnet St, Houston, TX 77005, United States
The Museum of Fine Arts is an iconic Houston gem dating back over 6000 years.
And it's no surprise that hundreds of thousands of visitors interact with its nearly 66,000-item collection through various exhibits, educational programming, art instruction, and community outreach.
It offers unique galleries devoted to the arts of Europe, Asia, and the Americas.
The other main attraction includes the Cullen Sculpture Gardens, which provides masterworks of modern and contemporary sculpture masterworks, and the underground rainbow tunnel connecting all three buildings.
Overall, the Museum offers a very engaging and informative piece of history and art collection for people of all ages.
So if you are an art enthusiast, visiting the Fine Arts is a must.
Go Wildlife-spotting at the Armand Bayou Nature Center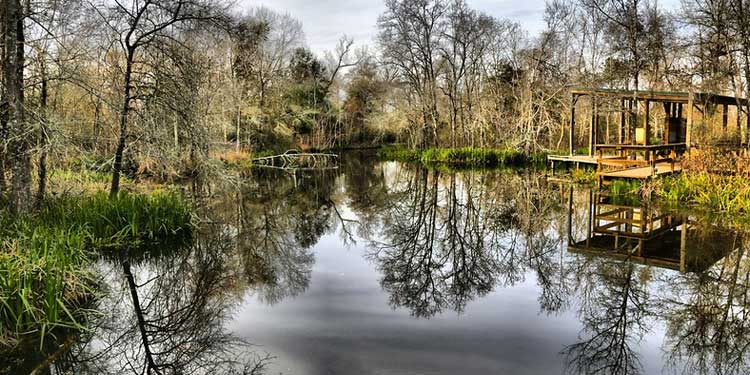 Opening hours: Open daily from 9 am to 5 pm, closed on Thanksgiving Day, Christmas Day, and New Year's Day. 
Admission rates: Adults- $6, children and seniors- $4
Address: 8500 Bay Area Blvd, Pasadena, TX 77507
If you're looking for a more natural experience, check out the Armand Bayou Nature Center.
The center covers over 2,500 acres of marsh, forest, and prairie habitats, home to various species of birds and wildlife.
Visitors can hike through the park or take a guided tour and learn about the diverse ecosystem.
Art Car Museum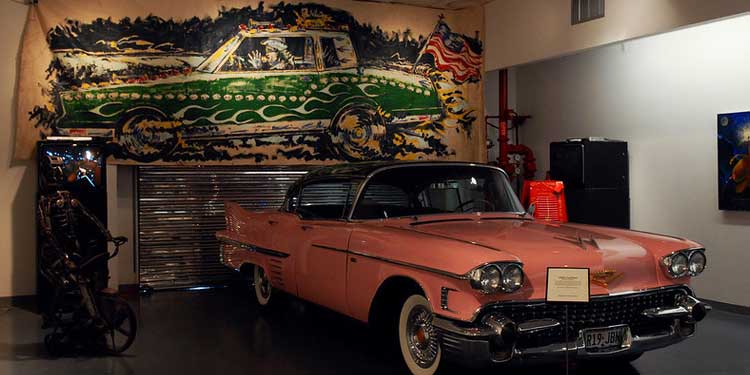 Opening hours: 11:00 am - 5:00 pm, closed on Mondays and Tuesdays
Address: 140 Heights Blvd, Houston, TX 77007, United State
''What does a fine art of a vintage car look like?'' Well, the Art Car Museum is just the place for you to discover the creativity of artists and the community through Art cars.
The Museum exhibition offers you to witness a collection of over 100 cars by artists from all over the world and fancy design paintings.
Perfect area to look out for in your free time while you are out in Houston. 
Every April, it hosts a 'Car Parade,' which showcases vintage cars decorated in wacky and bizarre ways around the street of downtown Houston.
But that is where the fun starts! Attending this event is highly recommended, as you will have a fantastic time with locals and artists from all over Texas. 
Whether you enjoy the unusual or are a traditionalist, visiting an art installation created by people who think outside the box is worthwhile.
Sheldon Lake State Park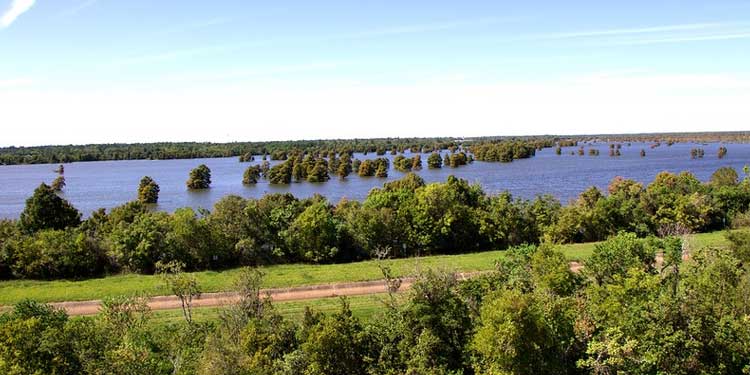 Opening hours: 8:00 am - 5:00 pm
Address: 14140 Garrett Rd, Houston, TX 77044, USA
Just 20.9 miles from Downtown Houston, you will find a 2,800-acre recreation center Sheldon Lake State Park – a great place to be in contact and learn about wildlife.
If you want to stay away from the hustle and bustle of city life, visiting Sheldon Park will have you all refreshed.
Whether you are fishing, boating, birdwatching, or camping in the area, it has everything you need for a perfect nature getaway.
The park's main attraction is the observation tower, where you can see the best sunset views and the lake with lush greenery and wildlife everywhere.
Tips: While exploring, makes sure to check into the education center to see what kind of wildlife is in this area.
Galveston Beach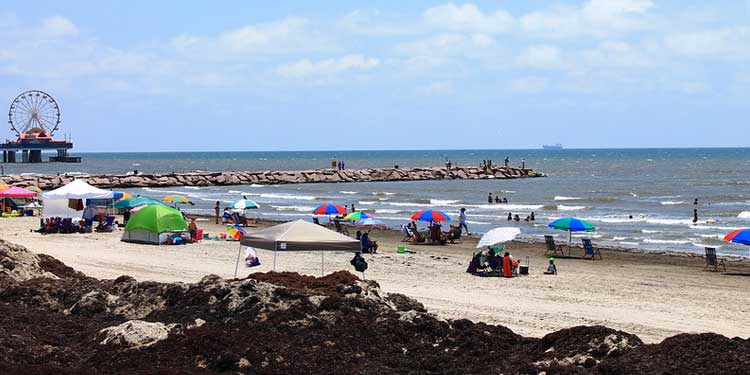 Opening hours: opens 24 hours
Costs: Parking- $2 an hour, Entry free
Address: 6285 Seawall Blvd, Galveston, TX 77551, United States
''Want to go away for a long drive to explore beach life?'' Discover Galveston Island in the city of Galveston, 52 miles from Houston.
It features several beaches, including East, Steward, and Seawall beach, and is well-known for its warm water, white sand beaches, and scenic views of the Gulf of Mexico.
All of it provides plenty of space for sunbathing, swimming, and playing beach volleyball.
The main attraction of Galveston beach sits right on the shore of the beach, which offers you a playground and a park for endless fun activities.
''What are the hotspots to eat around the area?'' Well, there are plenty of restaurants everywhere in the beach area.
However, some of the best eateries spots we recommend are Jimmy's on the Pier and  Tortuga Mexican Restaurant- the only fantastic place to have the perfect meal while on the beach.
Kemah Boardwalk
Opening hours: 12:00 pm - 7:00 pm (Monday to Thursday), 12:00 pm - 9:00 pm (Friday), 12:00 pm - 10:00 pm (Saturday), 12:00 pm - 8:00 pm (Sunday)
Costs: All-day Ride Pass - $19.99 (Kids'), $25.99 (Adults)
Address: 215 Kipp Ave, Kemah, TX 77565, United States
The Kemah Boardwalk is a popular destination in the city of Kemah, about 20 miles Southeast of Houston.
The boardwalk offers a variety of restaurants, shops, and other attractions, including a Ferris wheel, a Carousel, and thrilling roller coaster rides.
Kids will surely love everything this boardwalk provides for a fun activity, while the adults can stroll around the Marinas and enjoy the views of Galveston Bay and the surrounding area.
Outside the Boardwalk, there is plenty of paid parking, with a $9 fee on busy days.
So when you see red metal gates blocking some entrances, it takes you a while to pull up to the waterfront, then you will know it's busy.
Hermann Park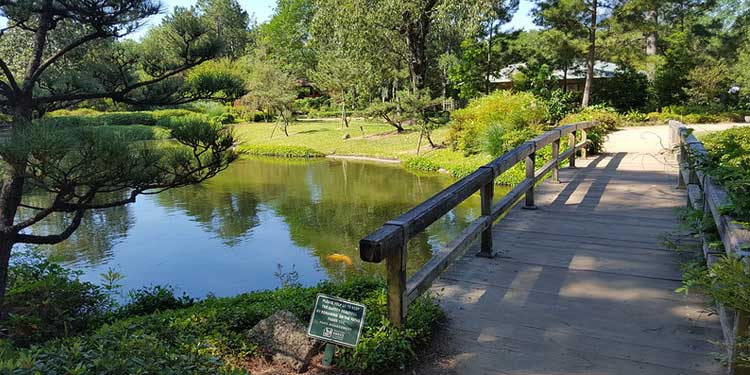 Opening hours: 6:00 am - 11:00 pm
Address: 6001 Fannin St, Houston, TX 77030, United States
In the heart of Downtown Houston, Herman Park is a 445-acre green space that offers a variety of recreational activities, including Hiking and Biking trails, a golf course, a swimming pool, and several playgrounds.
One of the most popular features of Herman Park is the McGovern Centennial Gardens, which provides several themed Gardens, including a Japanese Garden, Butterfly Garden, and a Mediterranean Garden.
It is an excellent place for everyone, with endless options, with lots of fun and outdoor activities– the perfect area to discover nature and take in the sights.
There are plenty of rooms parking near the Sam Houston Monument (Lot A), and it is free of charge.
However, it can get crowded on weekends and during the holiday season, so we recommend you use public transportation or ride a bicycle around as it is an open space.
Shopping in Houston's popular malls
Houston's massive shopping malls are great for any shopaholic.
Check out the popular Galleria mall, which boasts over 400 stores, including high-end luxury brands such as Chanel and Gucci.
If you're looking for a unique shopping experience, visit the Rice Village district, which is home to several independently owned boutiques
Get a Taste of Houston's Food Scene
Houston boasts a vibrant culinary landscape that showcases a fusion of global flavors, making it an exciting destination for food enthusiasts.
Whether you're looking to sample trendy food trucks or visit iconic eateries like Houston's Original Tex-Mex.
which has been serving up its delicious chili con carne for over a century, this city has something for everyone.
For an unforgettable meal, be sure to try Houston's prized chopped beef sandwich at the renowned Luling City Market.
Drinks and music in Houston's nightlife
Houston has a lively nightlife, with plenty of bars and music venues to explore.
Check out the famous Continental Club, which has been in operation since 1957 and hosts live music shows every day of the week.
Take a trip to Montrose for a more laid-back atmosphere at Pearl Bar.
Day trips from Houston
If you're looking to explore further afield, Houston is conveniently located near several interesting destinations.
Take a day trip from Downtown Houston to Austin, which is just a three-hour drive, and enjoy the sun, sand, and surf.
Visit Brenham, the home to the Bluebell Ice Cream factory, or explore the Space City city of Kemah.
Houston Offers Everything You Need For Your Bucketlist, So Start Planning…
Whether it's your first or tenth visit to this Texas city, there's always something new to discover.
And now that you've learned about the best places to visit here, Houston will not disappoint; In fact, you'll wonder why you didn't come down here sooner.
The best months to visit Houston are around February, April, and the fall months of September to November, when the weather will be pleasant and lots of festivals and events will be held.
''So, what are you waiting for?'' Start planning your vacation for a fantastic adventure.
Note: Keep in mind that information about travel can change quickly. To make sure your trip is fun and safe, we encourage you to double-check official websites and government/travel advisory sites for the latest information on travel restrictions, entry requirements, and safety measures.