El Paso is a city in western Texas, right on the border between the United States and Mexico, that offers visitors an intriguing blend of old western culture and Spanish Mission-styled historical buildings.
It is truly a hidden gem of Texas, surrounded by mountain ranges and a multicultural society. 
If you are a wanderer, it provides everything from exploring the Franklin Mountain State Park mountains to learning about the hunters and gatherers at the Hueco Tanks State Park.
But let's not forget that El Paso has many options for entertainment in the city, making it ideal for families and couple-getaways.
From the scenic drives around the hillside and the best food scenes around the city, there are exciting parks, a thriving downtown market, and an art scene that is a must-see for visitors.
And for you to get started, we have listed our top recommendations for things to do in El Paso, Texas, to plan a memorable trip. So let's get started!
Things to do in El Paso, Texas
Learn about Border History at the Border Patrol Museum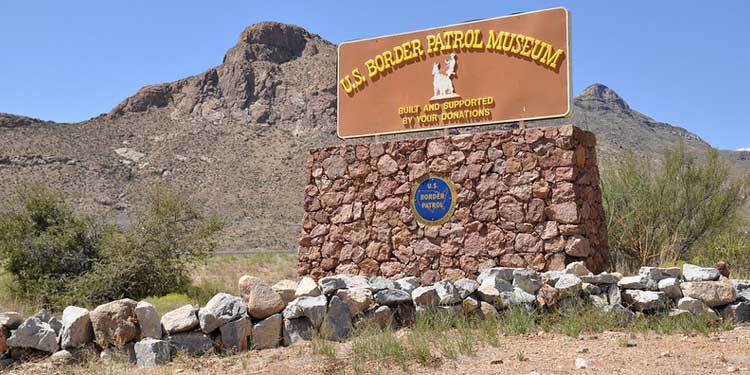 Address: 4315 Woodrow Bean Transmountain Dr, El Paso, TX 79924, United States
Opening hours: 9:00 am - 4:30 pm (Tuesday - Saturday), closed on Sunday and Monday
Costs: Admission is free
This museum is well worth visiting if you want to learn about the history of the Border Patrol and see actual vehicles and other equipment used to protect the country's borders.
The Museum allows visitors to view some of the seized weapons and other confiscated goods that many people tried to bring across the border illegally.
The museum tells the story of the unsung heroes of the Border Patrol, like K-9 units, horse patrol units, and specialized tactical teams.
You'll learn about these groups' vital roles in securing the border and keeping Americans safe.
The research library at the museum is also an excellent resource full of books, articles, and photographs that tell the story of border history.
And, before you leave, don't forget to visit the museum's gift shop full of souvenirs, t-shirts, and unique items supporting the museum's activities.
It's an engaging and educational destination with exhibits that offer insight into American history and border protection. And it's a unique and memorable experience you won't forget!
Hike the Franklin Mountains State Park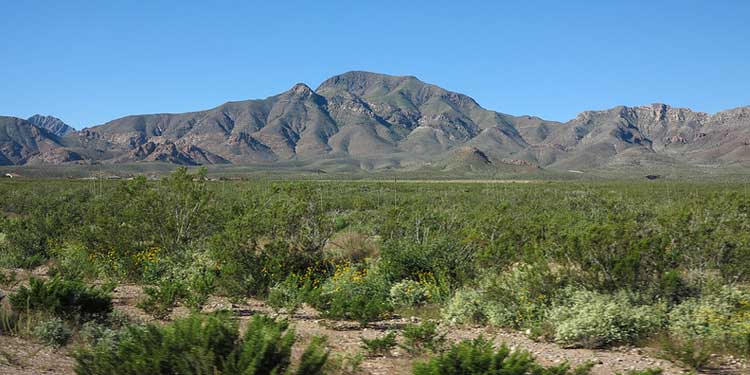 Address: Tom Mays Park Access Rd, El Paso, TX 79930, United States
Opening hours: 8:00 am - 5:00 pm
Costs: The entry fee is $5 per person per day.
Franklin Mountains State Park is a short distance from downtown El Paso that offers an abundance of routes for all levels of hikers.
The trails vary in difficulty, so you can choose a route that matches your skills and fitness level.
It includes mines, caves, and breathtaking views of the city and mountains.
If you are up for a challenge, we recommend making time for the moderately complex 4-mile Ron Coleman Trail and an additional mile to the famous Aztec Caves. The panoramic view at the top of the peak is worth the extra mile.
Tip: If you don't want to hike, you can always take the scenic Franklin Mountains drive instead, but make sure to stick to the route on the map.
Enjoy the Scenery at the El Paso Municipal Rose Garden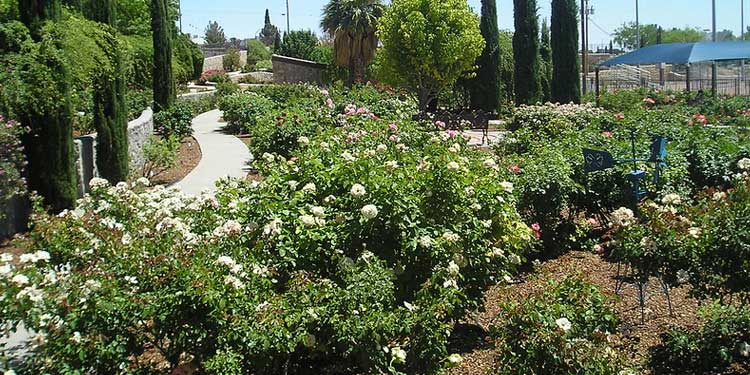 Address: 3418 Aurora Ave, El Paso, TX 79930, United States
Opening hours: 8:00 am - 6:00 pm
Costs: Admission is free
With many garden varieties, it is home to more than 320 different scented roses. It is a perfect area for strolling around and witnessing the beauty of nature.
The garden offers a peaceful ambiance that allows visitors to take in the sights and smells of various rose varieties while relaxing on comfortable benches.
The plaques with information about the roses are informative, and visitors can learn a lot about the different types of roses.
Apart from the tranquility that the garden offers, there are also special events held here.
Concerts and festivals bring residents and visitors to the garden, adding to its charm.
Plus, several people choose to have their weddings here – that's how enchanting this garden is!
Tip: To avoid the day's heat, come early in the morning or late in the afternoon.
Hueco Tanks State Park and Historic Site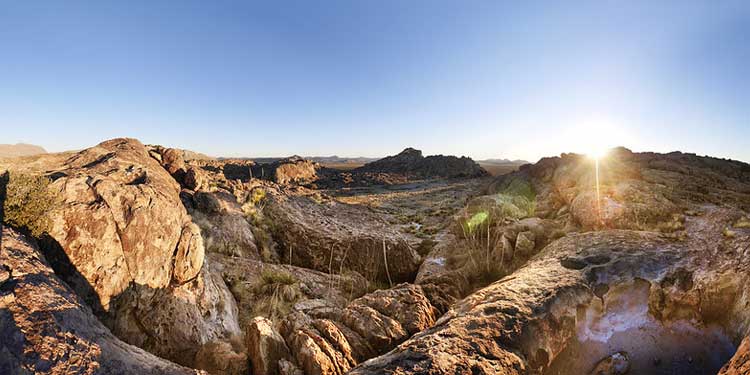 Address: 6900 Hueco Tanks Road No. 1, El Paso, TX 79938, United States
Opening hours: 8:00 am - 6:00 pm (Monday - Thursday), 7:00 am - 7:00 pm (Friday to Sunday)
Costs: Entrance fee is $7 for adults, and children under 12 are free
An interesting fact about this place is that it dates back to pre-human civilization.
You will learn about the history of humans traveling through these hills for hundreds of years to collect rainfall in unnatural rock basins.
Pretty interesting! But let me tell you, you could explore all the places as this historic site is a popular destination for hikers, climbers, birdwatchers, and campers located approximately 30 miles northeast of El Paso.
Tip: there is a strict limit on the number of visitors allowed in the park at one time, so plan in advance and reserve when possible.
Celebrate Viva El Paso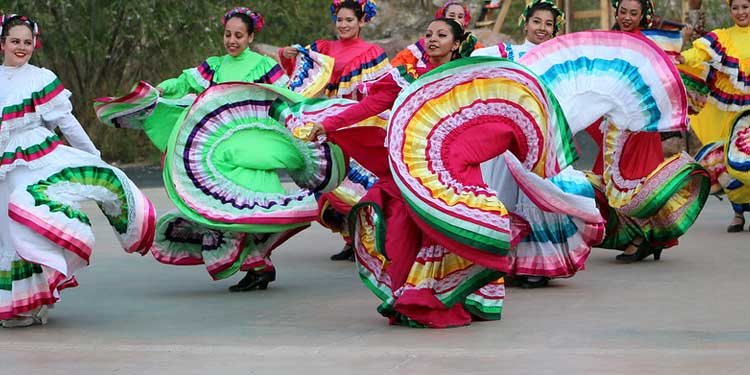 Address: 1500 McKelligon Canyon Rd, El Paso, TX 79930, United States
Timings: Held annually from June to August
Costs: Tickets vary according to the shows and events
El Paso's rich cultural history is celebrated in the city's renowned festival Viva El Paso.
With full of entertainment, including historical dramas, cultural dance, songs, and much more, it's great fun for families and a great way to spend time together.
The show starts with acrobatic dancing and ends with the story of Six flags over Texas and a trail of the "Pass to the North.''
Overall, this festival is a great way to spend time in the mountains while watching a show under the stars.
History at El Paso Mission Trail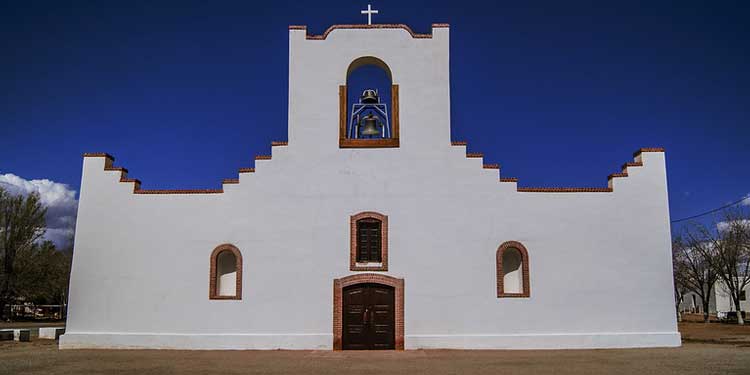 Address: 131 S Zaragoza Rd, El Paso, TX 79907, United States
Opening hours: timings vary on each Mission, generally opens from 8:00 am - 4:00 pm 
Costs: Admission is free to all the Missions
There are three Missions, including the Ysleta, Socorro, and San Elizario Missions, in the El Paso Mission trail from the 17th and 18th centuries. They are also recognized as some of Texas's oldest churches.
You can learn all about the history of the local tribe, European settlers, Spanish Colonizers, and missionaries in the Museum housed in their cultural center.
Every year in July, Ysleta hosts a three-day music festival that includes live performances by local artists, games, and delicious food. Make a point of visiting during this time.
Explore the Fort Bliss and Iron Side Museums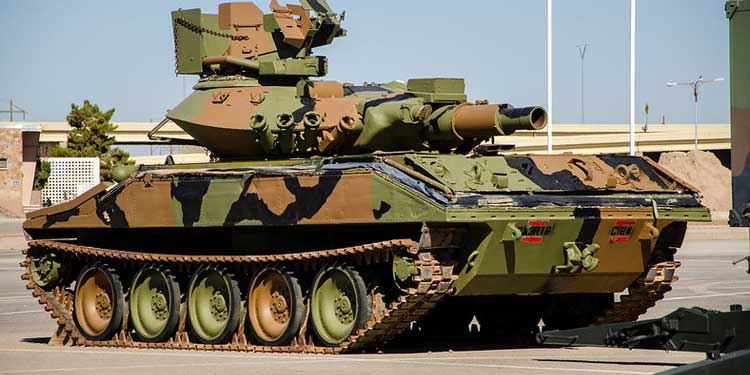 Address: 1735 Marshall Rd, Fort Bliss, TX 79906, United States
Opening hours: 9:00 am - 3:45 pm (Monday - Friday), closed on Saturday and Sunday.
Costs: Admission is free
History buffs will surely appreciate the close proximity of the two museums, Fort Bliss and the Iron Side, which together provide an exciting look at the development of the United States.
Visitors can view a variety of military aircraft, including the Americas tank division and weapons from world war 2, at the exhibition center.
This museum is close to the airport and is an excellent place to spend some time before your flight.
Note: To get anywhere on the base, you must first acquire a pass from the Chaffee or Buffalo Soldiers Visitor Center.
Catch a Game at the Southwest University Park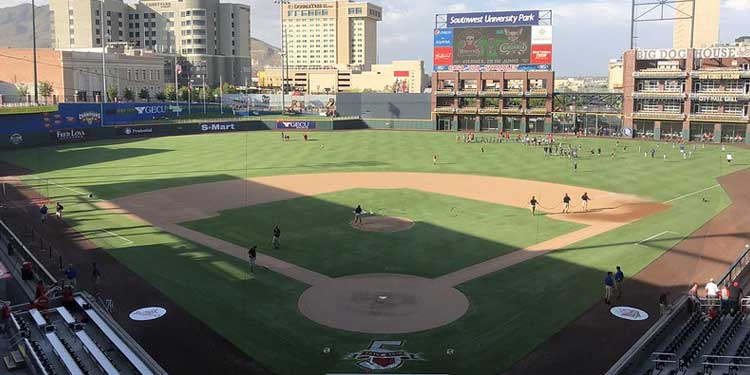 Address: 1 Ballpark Plaza, El Paso, TX 79901, United States
Opening hours: 8:30 am - 5:00 pm (Monday - Friday), closed on Saturday and Sunday.
Costs: vary according to games and events.
With a majestic view of Franklin Mountain, Southwest University Park is home to the El Paso Chihuahuas baseball team.
This is an excellent location for a fun-filled family outing. With the park opening an hour before the game and a number of great individual game promotions each season, it has a major-league baseball feel.
The stadium is small enough that every seat is a good seat but large enough to house various restaurants, bars, and fast food establishments.
The stadium is close to several hotels in downtown El Paso, and parking is available nearby on the street or in parking garages for $10 per night.
Explore the El Paso Zoo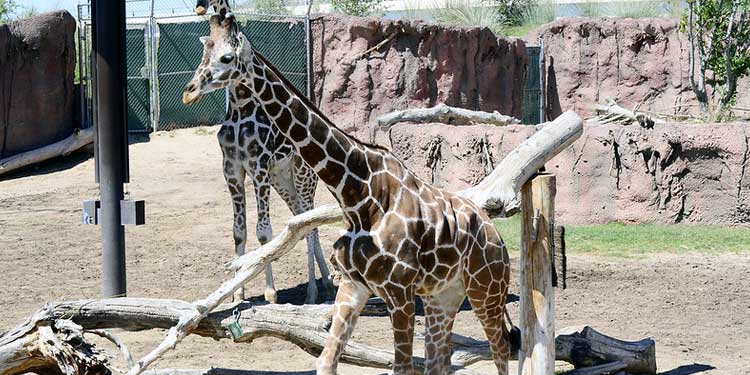 Address: 4001 E Paisano Dr, El Paso, TX 79905, United States
Opening hours: 9:00 am - 5:00 pm (Friday - Sunday), 9:00 am - 3:00 pm (Wednesday and Thursday), closed on Mondays and Tuesdays.
Costs: Admission ticket range from $7 - $14 depending on age
The El Paso Zoo is often regarded as the ideal destination for families and young children during the holidays.
The fun-filled 35-acre property is home to exotic animals from all over the world and offers family-friendly activities, including the African Star train, the Hunt Family Desert Spring, and the Foster Tree House Playground.
I recommend taking a guided tour because there will be much to learn about the animals and their habitats for both kids and adults. And remember, you can have close interaction and feed some of El Paso Zoo's friendliest animals.
Shows at The Plaza Theater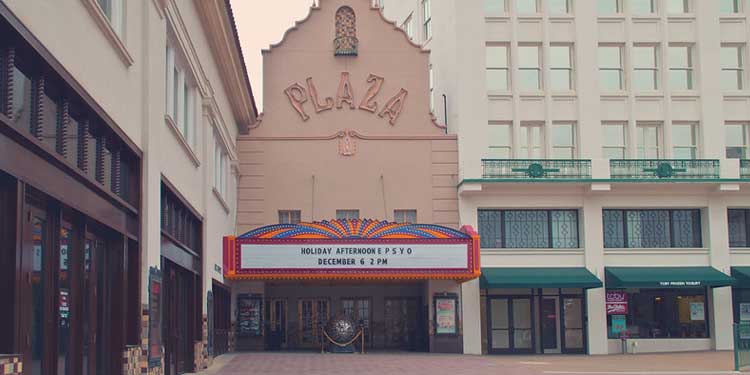 Address: 125 W Mills Ave, El Paso, TX 79901, United States
Opening hours: Box Office windows are open from 9:00 am - 5:00 pm (Monday - Friday); Saturday and Sunday are Event days.
Costs: Vary according to shows and events
Located inside the heart of downtown El Paso, the Plaza Theater has been welcoming visitors on its grounds since 1930.
Dance performances, classical to modern movies, stay concert events, and musical cleans from a broadway run are some of the stand-out features it provides in the theater.
One of the best opportunities you should not miss is the Plaza Theatre public tour every Tuesday at 12:00 pm.
You will learn about the history and architecture of this classic theater along with Sun City Ghosts Haunted Cowboys and Outlaws Tour. So don't miss out!
Ascarate Park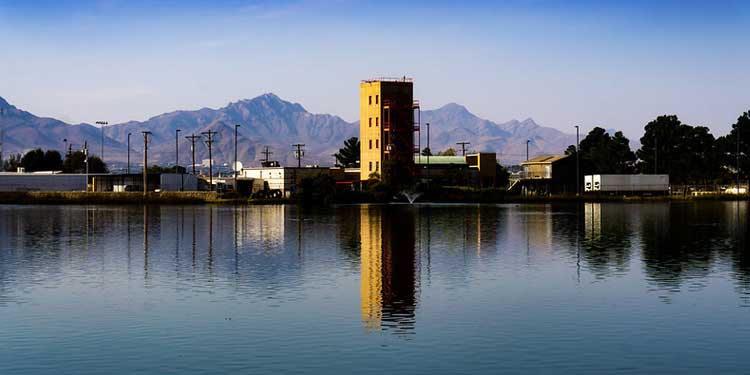 Address: 6900 Delta Dr, El Paso, TX 79905, United States
Opening hours: vary from the month, generally open at 6:00 am - 9:00 pm
Costs: $5 - $10 parking fee during special events and $1 - $5 walk-in fee.
If you are looking for outdoor recreation and entertainment, Ascarate Park is El Paso's one of many popular destinations for you to rejuvenate in nature.
The sports enthusiast can enjoy the park's facilities, including a basketball court, tennis court, a large soccer field, and a playground for the little ones.
But wait, there's more! Other activities include fishing in the park's lake, taking a boat ride, and taking a sunset stroll on the Broadwalk; the 400-acre park has something for everyone to enjoy.
Note: The park does not require online booking for admission costs but only accepts cash on-site.
El Paso Scenic Drive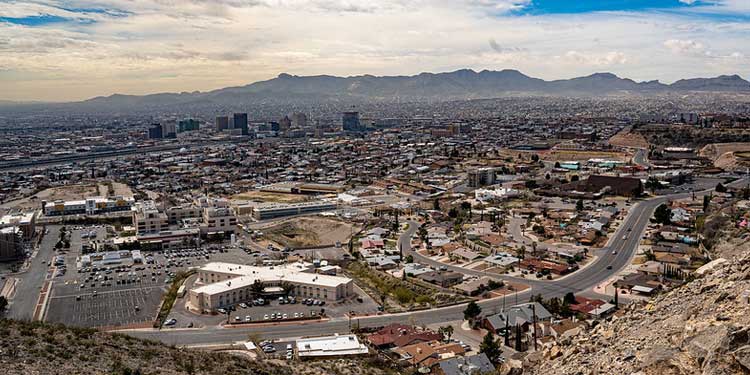 Address: El Paso, TX, USA
If you are looking for a quick little drive, the Scenic Drive will take you up to a viewpoint in the Franklins Mountains that looks down over the city and out into Mexico.
Make sure to stop by Tom Lee upper park on the way down from the drive, offering a stunning view of downtown El Paso.
I recommend seeing the best sunset and city lights in the evening. It is an excellent activity for couples looking to enjoy an evening date while filling some time.
So, if you're in El Paso, this is one thing you can't miss.
Discover Art Palace at the Casa De Azucar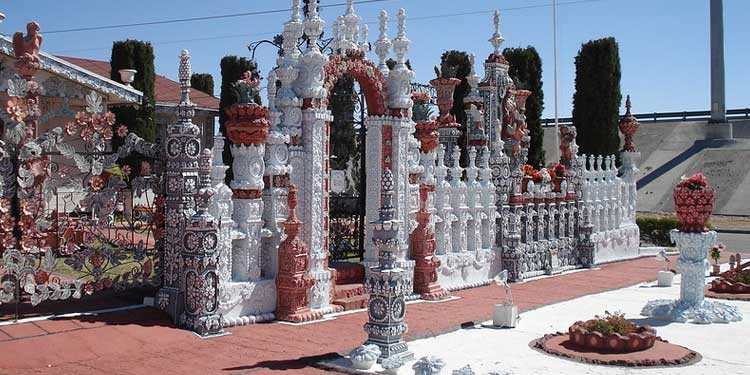 Address: 4301 Leavell Ave, El Paso, TX 79904, United States
Opening hours: hours N/A
Costs: Entry is free
Casa De Azucar, also known as Sugar House, is a private residence in a unique palace of masterpieces created by the hard work of the late Rufino Loya to his wife.
It provides visitors with a soft and romantic touch of art, with an altarpiece outlining every stonework covering the house's side and front.
It is an enjoyable spot to witness the creativity, so be sure to pay tribute to the artist and leave a donation if you visit.
Enjoy Shopping and Local Cuisine at The Downtown Art and Farmers Market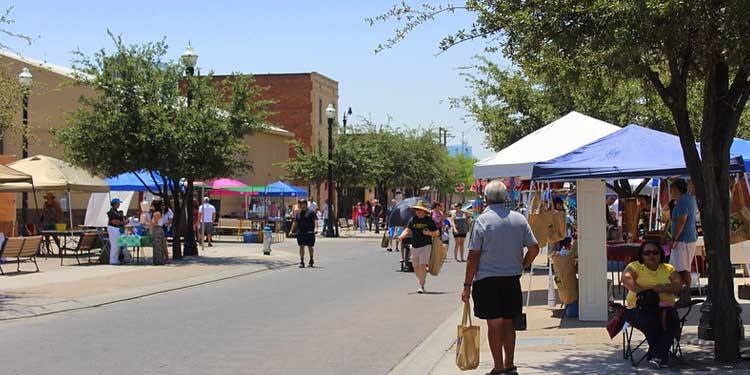 Address: 117 Anthony St, El Paso, TX 79901, United States
Opening hours: 9:00 am - 1:00 pm only on weekends
The Downtown Art and Farmers Market in El Paso's Union Plaza District is a delightful way to spend a Saturday morning.
Since its inauguration in 2011, the market has become a favorite among both locals and tourists looking for one-of-a-kind handicrafts and recently harvested agricultural goods from local farmers.
The market is a fantastic place to enjoy delicious local meals and wines for a perfect dining experience, with many food vendors around every corner.
The live music performances and outdoor artisan market only add to your enjoyment of the bright sights and sounds and the arts of artists from around El Paso.
Visit the El Paso Museum of Art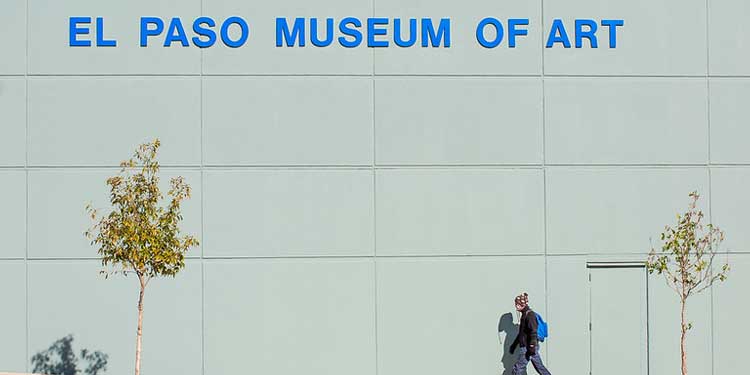 Address: 1 Arts Festival Plaza, El Paso, TX 79901, United States
Opening hours: 10:00 am - 6:00 pm (Wednesday - Saturday), closed Sunday - Tuesday.
Costs: Admission is free
If you want to avoid the heat of the day and wondering where to go in the downtown city, the El Paso Museum of Art is just the place for you to spend a perfect day inside the world of art galleries.
Nearly 7000 works of art are on display, ranging from 19th-century American, European, and Mexican art to the oldest works dating back to the 12th century.
The museum not only tells the region's stories of triumphs and tragedies, but it also displays the stunning landscapes of the American Southwest.
Centennial Museum and Chihuahuan Desert Gardens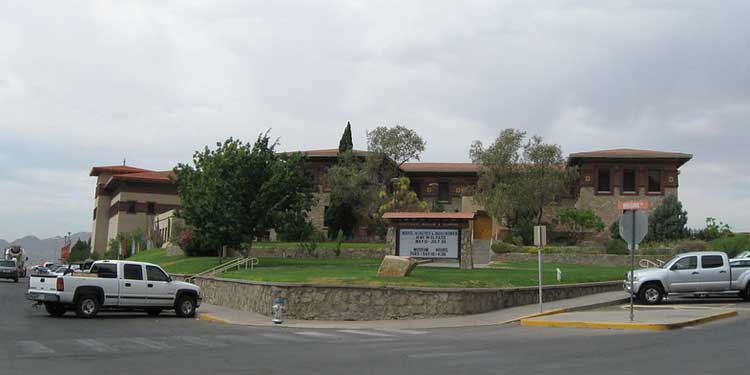 Address: 500 W University Ave, El Paso, TX 79968, United States
Opening hours: 10:00 am - 4:00 pm (Monday - Saturday), closed on Sundays, holidays, and UTEP Football home games.
Costs: Admission is free
Located on the University of Texas campus at El Paso, discover the Centennial Museum and Chihuahuan Desert Gardens, both of which preserve the region's natural heritage and rich culture.
You do not want to miss the history of the Chihuahuan Desert, which is chronicled in the museum's permanent displays.
It also features rotating exhibitions on some historical events, including World War 2 in El Paso and the issue of the plight of children detained at Tornillo's detention camp.
And not to forget the main attraction of the desert gardens, where visitors can take a stroll and observe the flora in its natural settings, with over 800 desert plant species.
Eat at Chico's Tacos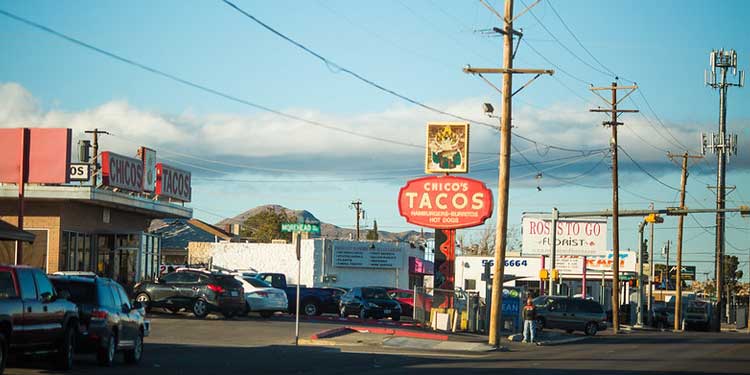 Address: 4230 Alameda Ave, El Paso, TX 79905, USA
Opening hours: 10:00 am - 10:00 pm
If you are around the city looking for a local fast food spot, look no other than the famous Chico's Tacos, which is known for its rolled tacos, or many of them say ''Taquito.''.
Along with its main course, it serves some of the best hand-licking fries, burritos, and hamburgers with its special tomato sauce.
Overall, it's a great location for a cheap meal with the best local food in El Paso served.
Western Playland Amusement Park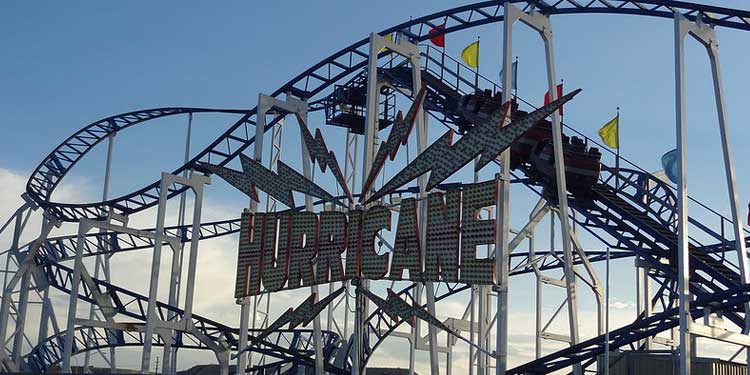 Address: 1249 Futurity Dr, Sunland Park, NM 88063, United States
Opening hours: timings vary on the season, generally opens from 2:00 pm - 9:00 pm
Costs: Admission with a ride ranges from $18.49 - $27.65, depending on age, and general admission costs $5 without rides.
Only a 20-minute ride from downtown El Paso, visit Western Playland for thrilling fun activities for kids of all ages.
With over 30 rides, games, and activities, this amusement park will surely provide a day of excitement and fun.
One of the most popular attractions in this park is the iconic drop tower ride, The Tsunami.
The Tsunami takes riders up 140 feet into the sky before dropping them in a thrilling free fall.
For those looking for a more intense ride, The Wild Thing roller coaster is sure to deliver.
This coaster features three vertical drops and a top speed of 50 miles per hour.
For families with younger children, the park offers rides like The Ferris Wheel, The Round-Up, and The Paratrooper.
These rides provide a fun and exciting experience for those not quite ready for the big thrills.
Additionally, the amusement park has several games and attractions, including laser tag and bumper cars.
The Western Playland Amusement Park provides an unforgettable experience with a western theme that will make visitors feel like they're in the heart of the Wild West.
The park features several food vendors, serving a variety of delicious foods and treats.
Overall, the Western Playland Amusement Park serves as an excellent site for family bonding and adventure-seeking at an affordable price.
Tip: It's better at night because the kids will enjoy the sparkling lights and the numerous ice cream and food vendors.
Note: No outside food or drinks are permitted inside the area.
Where to stay?
Our top recommendations are the Hotel Indigo El Paso Downtown and Hotel Paso Del Norte in the downtown area.
If you are in the Franklin Mountains State Park area, we recommend Candlewood Suites El Paso and The Hotel at Sunland Park Racetrack & Casino/West El Paso.
All of these offer reasonable accommodations and excellent facilities for customer service.
Note: We suggest visiting its website for bookings for the latest costs and timings.
Best Time to Visit
March through early May and late September through early November are the best months to visit El Paso for excellent weather and low crowds.
El Paso's summers can be hot, but it cools off at night as the city is bustling. Winters are relatively mild, so bring some warm clothing for the evenings.
Make Only Memories in the Sun City, So Start Planning…
As you know by now that visiting El Paso is not expensive, in fact, it has a lot of affordable and cost-free attractions that offer something to everyone.
Although there are numerous attractions to visit, you will not feel rushed during your stay because the city is easy to navigate. And with our top recommendations, you will have no trouble deciding what to do while you are here.
So don't wait any longer, and best of luck with your journey!
Note: Keep in mind that information about travel can change quickly. To make sure your trip is fun and safe, we encourage you to double-check official websites and government/travel advisory sites for the latest information on travel restrictions, entry requirements, and safety measures.