Oregon's hidden gems are scattered all around its natural landscapes that spread entirely over the hills, cascading mountains, high deserts, and miles of coastlines.
From the United States' deepest blue Crater Lake to the tallest Multnomah Falls, there are many renowned gems that await an epic adventure.
You can go backpacking at these hidden waterfalls and secluded lakes or rejuvenate at Oregon's most relaxing natural hot springs.
So whether you like outdoor or indoor activities, there are plenty to suit your interest.
Together, we have set a list of the best ones for a year-round memorable trip.
Hidden Gems in Oregon
Neskowin Ghost Forest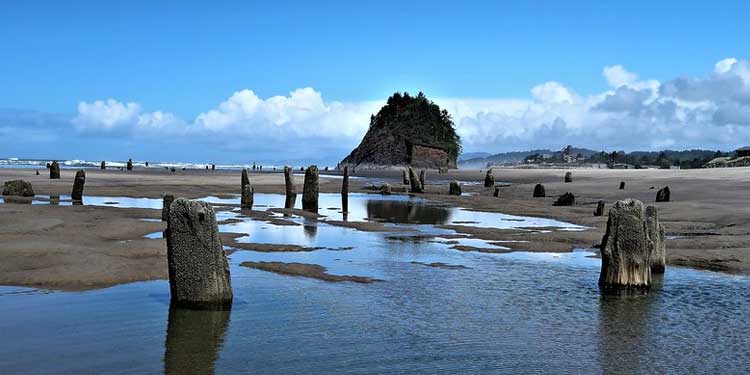 Address: Neskowin, Oregon 97149, United States
Hours: Open 24 hours
Also known as the ''Ghost Forest'' of Neskowin, this hidden gem of Oregon was originally buried beneath the ocean waves for over 2,000 years.
With the remnants of its petrified trees, it is now hauntingly exposed during low tide and is revered as one of the most remarkable natural phenomena in Oregon to visit.
Walk along the beach and encounter the ghostly remains of these ancient trees stripped of their bark and weathered elements.
The Neskowin Ghost Forest is accessible from Neskowin Beach State Recreation Site, just north of Lincoln City and about 2 hours drive from Portland.
Smith Rock State Park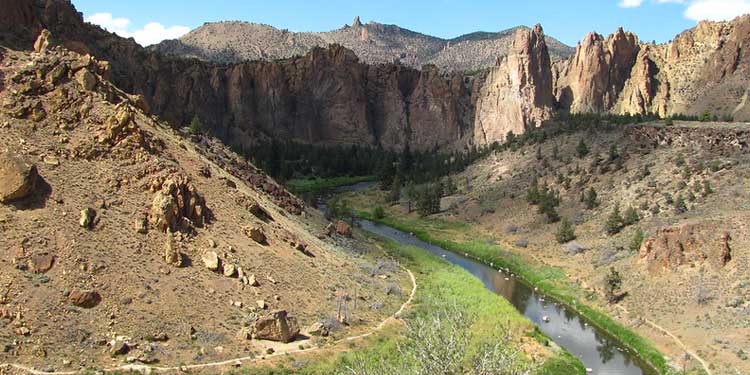 Address: Oregon 97760, United States 
Hours: Open daily from 7:00 am - 7:00 pm 
Costs: $5 per person for day use
For an epic outdoor adventure in the high desert of Redmond, Smith Rock State Park offers thrill and relaxation to the next level.
It is known as the Birthplace of American Sports Climbing, providing visitors with a rock climbing experience like never before.
From beginner to intermediate and advanced, you will discover more than 2000 climbing routes that suit every climber.
While for hikers, taking the Smith Rock State Park's Misery Ridge Trail is the best way to explore this 650-acre park's hidden pathways into the rivers, rock mountaintops, and greeneries.
Umpqua Hot Springs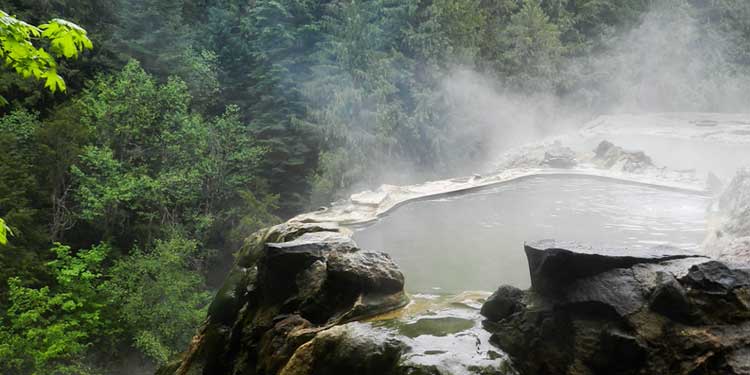 Address: NF-3401, Idleyld Park, Oregon 97447, United States 
Hours: open daily from 7:00 am - 7:00 pm
Explore the Umpqua National Forest through stunning waterfalls, creeks, and lush pine forests to the top of Umqua Hot Springs.
It is one of the best hot springs in Oregon that's known for its balcony geothermal pools, reaching temperatures up to 115 degrees Fahrenheit depending on the weather.
At an elevation of 2,640 feet, this hidden gem is located 63 miles from Downtown Roseburg via OR-138 East.
You can take the 0.8 miles Umpqua Hot Springs Trailhead that will lead you on a short hiking trip from the parking lot to the top of this natural hot springs.
Umpqua Hot Springs can be visited year-round. However, visiting between April and November is more convenient if you want to avoid crowds and be there during a mild climate.
Dee Wright Observatory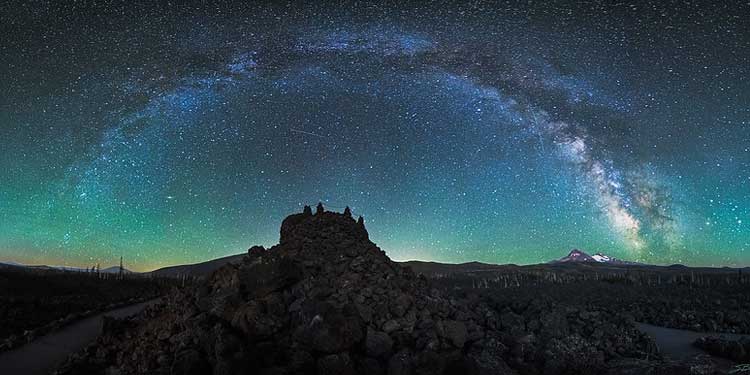 Address: McKenzie Hwy, Blue River, Oregon 97413, United States 
Hours: N/A 
Costs: free entry
Located 15 miles west of Sisters on Route 242 at the McKenzie Pass, Dee Wright Observatory is a unique viewpoint structure made from lava rocks.
It offers stunning panoramic views of the surrounding cascading mountain range, lava fields, and an amazing night sky.
You can also discover and learn volcano history dating back from 50,000 to 100,000 years old.
As you ascend the observatory, you will be greeted by otherworldly landscapes formed by ancient volcanic activity.
The Observatory's strategic location provides an unparalleled vantage point to appreciate the rugged beauty of the mountains, with peaks stretching as far as the eye can see.
It's a mesmerizing experience connecting you with nature's raw power. So dont miss out!
Crater Lake National Park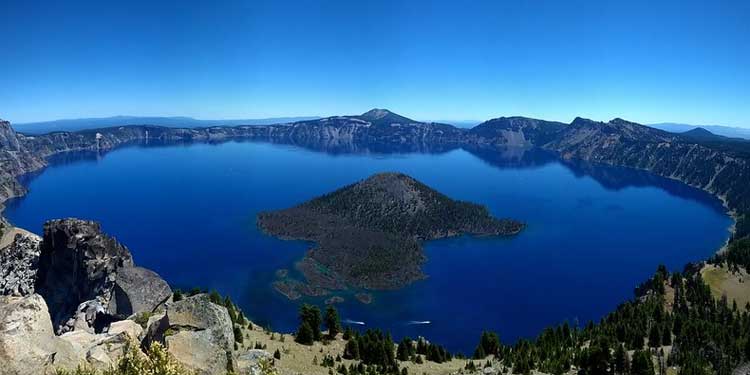 Address: Oregon, United States 
Opening hours: open 24 hours 
Costs: Standard entrance fees range from $15 - $30 
Crater Lake National Park is the ultimate getaway to go out looking for many hidden destinations at its 180,000 acres of natural rugged beauty.
From the stunning Wizard Island of the Lake to a scenic 33-mile rim drive, you can have the best time exploring this jewel of Southern Oregon which is located 73 miles from Downtown Medford.
For backpackers, there are 28 different trails to choose from that take you on an adventurous journey of hiking and camping.
Take a guided boat tour to the deep blue Crater Lake and learn about many history of the Island and its surroundings.
You can always choose to make it an overnight trip at the nearby Crater Lake Lodge. It offers the best remote luxury you can get in a natural setting.
Enchanted Forest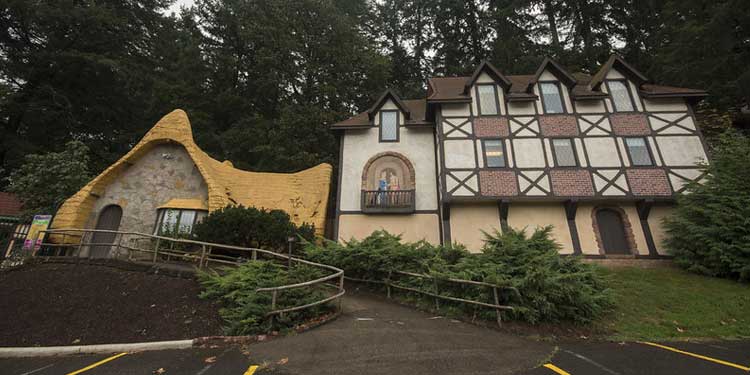 Address: 8462 Enchanted Way South East, Turner, Oregon 97392, United States 
Hours: open every Saturday & Sunday from 10:30 am - 5:00 pm 
Costs: admission rate range from $25 - $19 depending on age
Enchanted Frest is an excellent family-friendly destination hidden in the small town of Turner in Oregon. It is located approximately 10 miles from Downtown Salem.
This amusement park features classic theme rides and storybook-inspired attractions that will take you into the world of fairytales and Disneyland.
With various live entertainment performances, including theatrical shows, live music, and dramas, theres plenty of room for everyone to enjoy.
Be prepared for some hiking that includes hills and stairs through the natural greenery and little tunnels to make your through.
Theres are also snack shacks and several gift shops with all sorts of enchanted items.
Painted Hills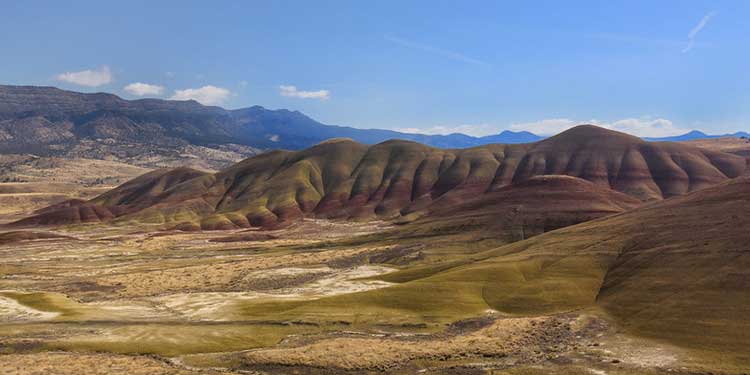 Address: 37375 Bear Creek Road, Mitchell, Oregon 97750, United States
Hours: Open 24 hours
Costs: free entry
In the high desert of central Oregon is the Painted Hill – one of three John Dave Fossil Beds National Monument units.
It showcases layers of geological history in the breathtaking landscape of Mitchell in Oregon.
There are five different points of interest on this hill: Carrol Rim Trail, Painted Hills Overlook Trail, Painted Cove Trail, Leaf Hill Trail, and Red Scar Knoll Trail.
All of these are about a mile or less of hiking each, so they can all be viewed within a day.
As you wander through the hills, you will witness vibrant red, yellow, gold, and black hues created by millions of years of processes.
It's a place where time seems to stand still, allowing you to connect with the ancient stories embedded in the layers of the rock. So dont miss out on this must-see attraction.
Cannon Beach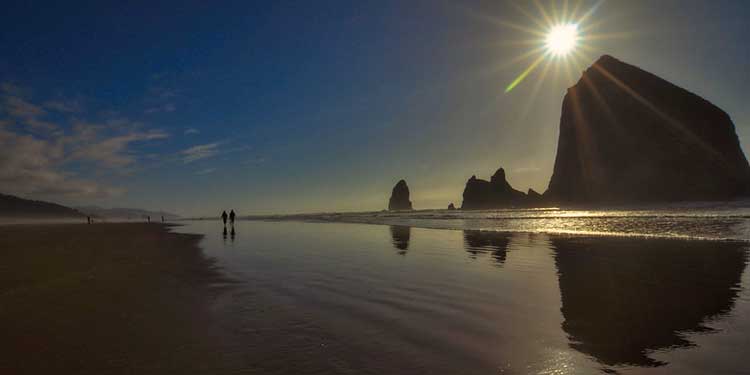 Address: US-101, Cannon Beach, Oregon 97110, United States 
Phone: +1 503-436-2623
You might find many beaches in Oregon, but not until you head over to Cannon Beach.
It's an iconic coastal treasure known for its art and discovering 235 feet tall Haystack Rock.
Located 25 miles from Downtown Astoria, this part of Oregon's coastal side make a great destination for sightseeing and exploring its miles of shorelines.
Stroll around and be prepared for everything it has to offer during both low and high tides.
From Tide pooling to hunting hidden treasures of Oregon and viewing marine wildlife, theres enough activities for everyone to indulge in.
You can also learn about fascinating historical attractions, including a Naval Canal, Beach Museum, and a shipwreck from the 1840s.
Pendleton Underground Tours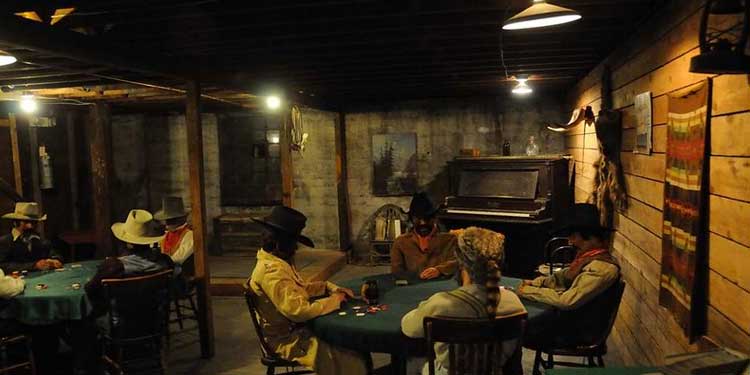 Address: 31 Southwest Emigrant Avenue, Pendleton, Oregon 97801, United States 
Hours: open year-round from 10:00 am - 4:00 pm, closed on Tuesdays & Sundays
Costs: Underground Tours are $20 per person, $15 for ages 6-12
Theres a mysterious underground pathway in the heart of Downtown Pendleton where visitors can learn about Chinese and Native American History through a guided tour.
This two-hour tour will lead you through a large cross-section of old West history from the 19th century.
Get a glimpse of the past and explore one of many Chinese businesses' secret rooms, laborers, illegal opium dens, remnants of card rooms, butcher shops, and many more.
It's worth taking the trip merely to see what was built and existed below street level in the past. So make a pinpoint while you are around discovering the hidden gems of Oregon.
Tip: Call ahead for reservation as operating times can vary by date.
Cape Foulweather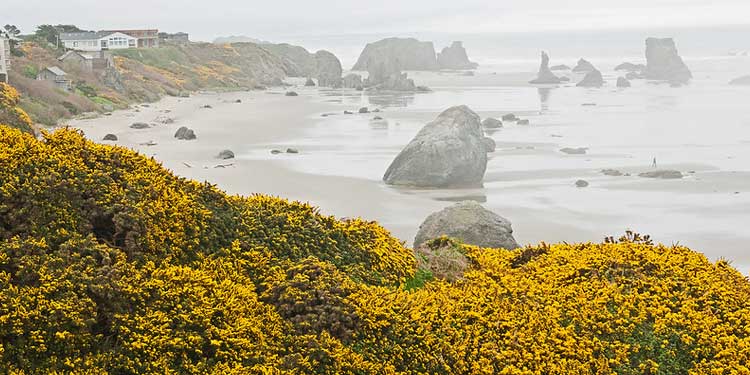 Address: 4905 Otter Crest Loop Depoe Bay, Oregon 97341, United States 
Hours: N/A 
Costs: Free entry/Parking
Did you know? Most locals claim that Cape Fouweather is where Oregon first began in terms of civilization.
Thanks to Captain James Cook for discovering this picturesque gem on the central Oregon coast near Newport in the late 18th century.
Today, it is a renowned destination for whale spotting, hiking, and viewing over 30 miles of coastline above 500 feet of ocean level.
Tip: Take a ranger guide tour of the area to experience the best of Cape Foulweather.
Multnomah Falls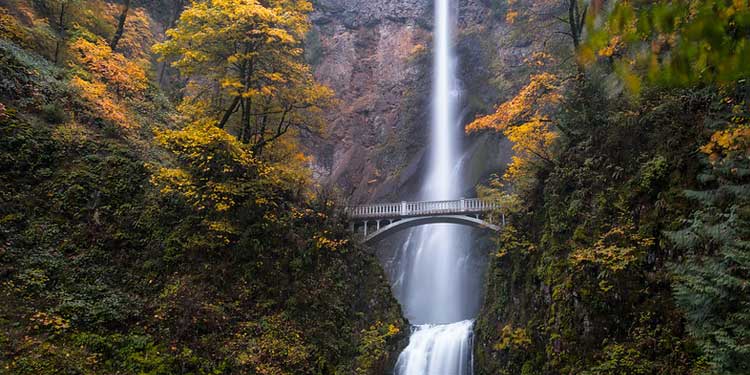 Address: Columbia River Gorge, Multnomah County, Oregon, United States 
Hours: open year-round 
Costs: Costs: $2 per ticket 
Difficulty level: easy to moderate trails
Multnomah Falls is the tallest waterfall in Oregon, standing high at 620 feet.
It is a real treasure of the Columbia River George that lets you experience nature's beauty up close and personal.
The access to the waterfall is from the Historic Columbia River Highway and Interstate 84.
Take the 2.6 miles out and back hiking trail near Bridal Veil for a shorter option.
You can visit Multnomah Falls any season, but I would recommend traveling during the mid-winter or Spring.
You will face less crowd with mid-climate and clean forest trails for hiking.
Experience The Best Hidden Gems Of Oregon
Oregon sure is filled with many hidden gems around its picturesque landscapes and nature's warmth.
You will have a lifelong memorable trip discovering the best of Oregon jewels with everything it offers.
Make a perfect itinerary by listing our top recommendations and have a splendid year-round vacation.
Good luck!
Note: Keep in mind that information about travel can change quickly. To make sure your trip is fun and safe, we encourage you to double-check official websites and government/travel advisory sites for the latest information on travel restrictions, entry requirements, and safety measures.