Medford is a small and charming city in Southern Oregon where adventure travels with you over the waters through the lush greeneries and mountaintops.
From hiking around the natural beauty of the Upper and Lower Rock Table Trail to going on miles and miles of Fishing and Kayaking exploration around the Rogue River, theres plenty of options for outdoor lovers.
Wine lovers are sure to be excited as there are plenty of wineries and vineyards around Rogue Valley that cater to visitors with the best wine sampling tour.
But theres more than just a nature getaway!
Downtown Medford and historic Jacksonville boast an array of eclectic shops, brewpubs, world-class cuisines, and endless entertainment venues.
Whatever you do, there are many things to choose from the menu of Medford!
And for you to get started, we have set a list of some of the best things to do in Medford, Oregon, for a memorable trip.
Things to Do in Medford, Oregon
Downtown Medford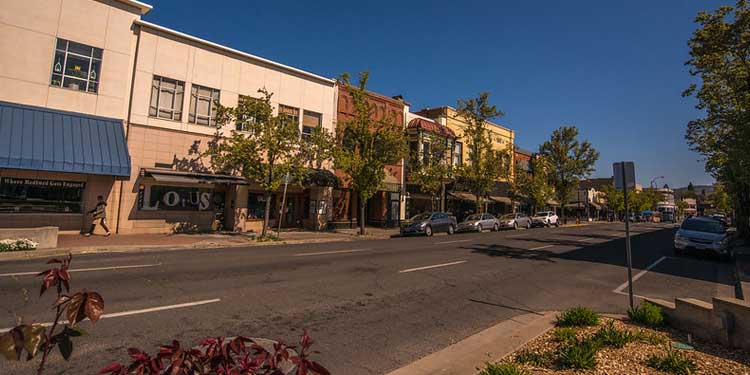 Address: Medford, Oregon 97501, United States
Start off your trip to Medford by strolling around the downtown area.
You can have the ultimate urban adventure by visiting many of its trendy restaurants, theaters, brewpubs, and shopping stores.
It is a vibrant and exciting place to have the best time shopping, eating artisan cuisines, and enjoying the nightlife.
The Village Shopping Center is the oldest and largest regional shopping complex alongside the Rogue Valley Mall, which offers a lot of options from Sears to Cinemark Theater and Cold Stone Creamery.
A perfect way to blend in with the excitement of shopping, dining, and full-on entertainment.
Tip: On the weekends, there will be many local food trucks and musicians around. So look out!

Watch Live Performances at the Craterian Theater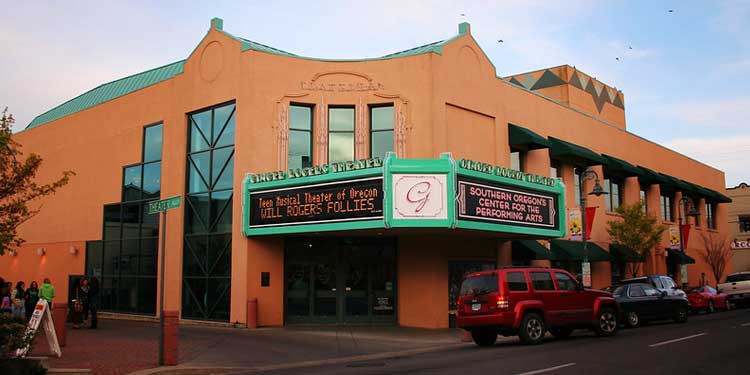 Address: 23 South Central Avenue, Medford, Oregon 97501, United States
Opening hours: 10:00 am - 4:00 pm (Tuesday - Friday)
Costs: ticket rate varies on shows and events
Craterian Theater is a state-of-the-art performing arts center located in the heart of downtown Medford.
It was named in honor of the late iconic American actress/singer and dancer Ginger Rogers, who performed on this very own stage during the Golden Age of Hollywood.
Today, the theater is renowned for hosting stand-up comedies, national concerts, dance shows, and many other theatrical tours throughout the year.
And with a comfortable seating arrangement of over 732 seats overlooking the best view of the stage, you are sure to have the best entertainment of your life.
Go Hiking at the Upper and Lower Rock Table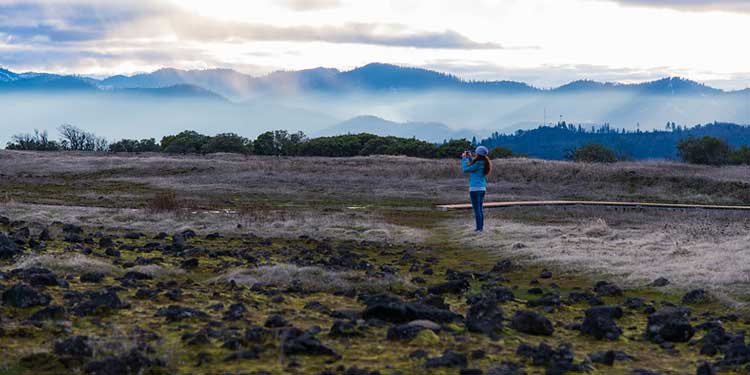 Address: Medford, Oregon
Open: all year-round
Costs: free entry
Difficulty level: moderately easy
The Upper and Lower Rock Tables are two famous volcanic plateaus formed by a huge volcanic eruption millions of years ago.
The Table Rocks are the most popular hiking destinations around Medford, which provide scenic views of lush forests, rivers, Mountains, and wildlife of the Rogue Valley.
The Upper Trail is 2.5 miles with 720 feet to the top, whereas the Lower Trail is 3.5 miles long, climbing approximately 780 feet on top of the plateau.
Tip: Visit from March through May to see wildflowers in bloom.
Family Sized Train Ride at the Medford Railroad Park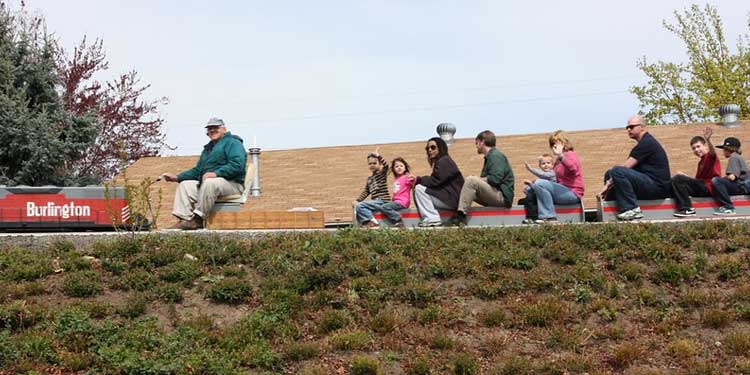 Address: 799 Berrydale Avenue, Medford, Oregon 97501, United States
Open: April through October 
Costs: free admission 
Phone: +1 541-613-163
Melford Railroad Park has been providing a complete full package of entertainment to visitors since 1978.
This family-friendly park museum features open-air model railroad tracks that provide miniature train rides for the entire family.
And while you are done with all the rounds of the park, another main attraction here is its collection of historic locomotives and rail cars.
Visitors can take a self-guided tour and explore the exhibitions showcasing the history and technology of rail transportation.
Wine Tasting Tour at the Rogue Valley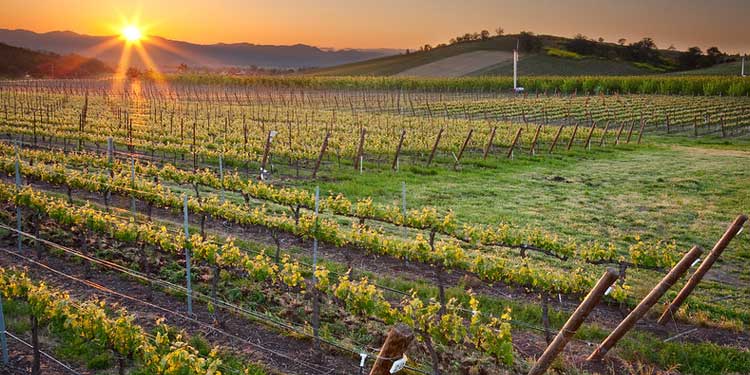 Address: Medford, Oregon 97501, United States
Medford sits in the heart of the Rogue Valley wine region, mostly acclaimed for its sultry smooth, and sophisticated Pinot Noir.
So there are many great wineries, each with its own unique offerings and styles. Some of my recommendations include:
DANCIN Vineyards is among the most famous winery and tasting rooms that are set magnificently on the forested foothills of Southern Oregon and offers an award-winning variety of Pinot Noirs.
Roxy Ann Winery boasts a large tasting room in a renovated barn offering tapas, wines & gifts in a bucolic country setting.
And with its blend of family heritage and farming excellence Del Rio Vineyards strive to consistently provide visitors with the finest examples of Oregon wine made today.
These are just a few out of 33 different wineries around Rogue Valley. If you choose to do a full wine tour, check out roguevalleywinecountry.com.
Make a Day Trip to the Historic Jacksonville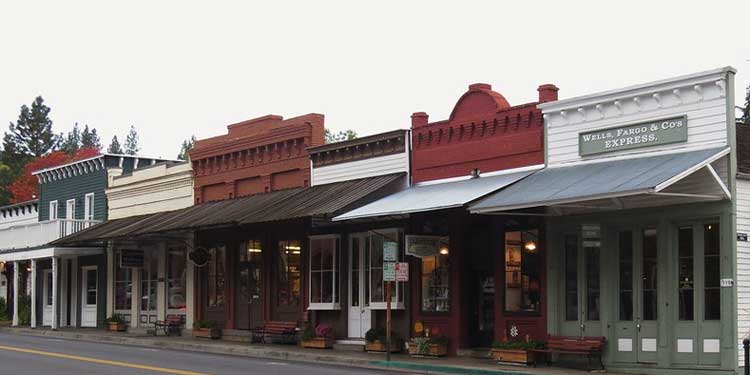 Address: Jackson County, Oregon
Distance: 5.3 miles via (West Street Main Street) from downtown Medford
Jacksonville, also known as the gold mining town of Oregon, is a small town located just a few miles from Medford.
The town has a unique charm and is home to amazing restaurants, shops, wineries, and an interesting history of gold discovery.
You can spend a day shopping and doing a food hunt at many of its trendy antique shops, malls, and restaurants.
Or make your best summer break by enjoying an eclectic variety of musical artists at Britt Festival.
Go Fishing and Kayaking at the Rogue River
Address: 3040 Biddle Road, Siskiyou National Forest, Medford, Oregon 97504
As winter thaws, spring and summer greet an ample range of activities at the Rogue River.
You can make the best of your outdoor adventure by fishing and kayaking through miles of whitewater rapids, lush forests, wildlife, and historic mines.
Gather your fishing and watersports equipment and go down to the Rogue River for one of the Medford adventures of a lifetime.
Bring your Kids to The Children's Museum of Southern Oregon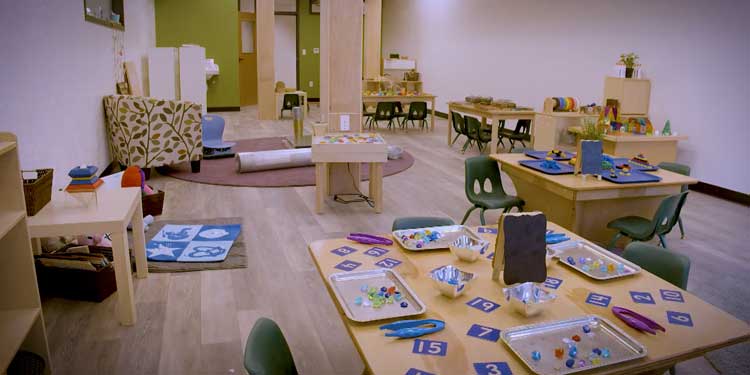 Address: 413 W Main Street, Medford, Oregon 97501, United States
Opening hours: 10:00 am - 5:00 pm (Tuesday - Friday), 12:00 pm - 5:00 pm Sundays, closed on Mondays
Costs: admission rate is $8 for adults, $12 for children
If you are looking for the best place to bring your little ones for a fun educational experience, look no further than the Kid's Time Children Museum.
It is a non-profit hands-on children's museum and discovery space focused on stimulating brain development in young children.
Theres different themed exhibitions that encourage smaller kids to learn and grow through creative play.
Epic Adventure Awaits at the Crater Lake National Park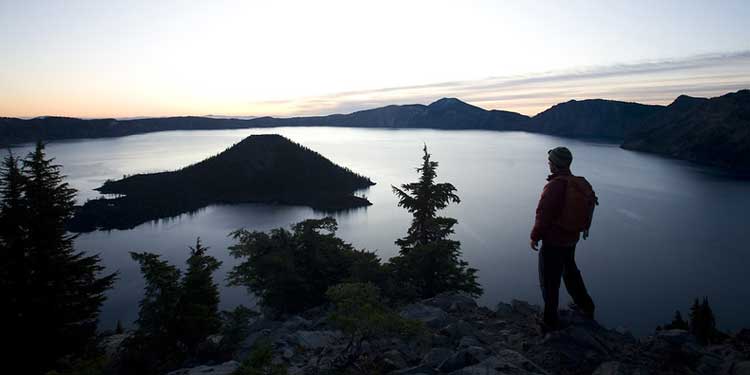 Address: Oregon, United States 
Opening hours: open 24 hours
Costs: Standard entrance fees range from $15 - $30
Distance: 73 miles from Medford
Phone: +1 541-594-3000
Crater Lake National Park is a magnificent conservation area in Southern Oregon that encompasses 180,000 acres of mountains, woods, and Crater Lake.
There are several activities available, ranging from a 33-mile scenic rim drive to an exciting boat ride around the lake's Wizard Island.
If you are looking for the best adventurous trip around the Lake, there are 28 different trails great for hiking and camping.
All of the trails take you through a scenic view of forests and wildflowers meadow during spring and summer.
Or, if you choose, make a luxury stay at the nearby Crater Lake Lodge.
Go Spelunking at the Oregon Caves National Monument & Preserve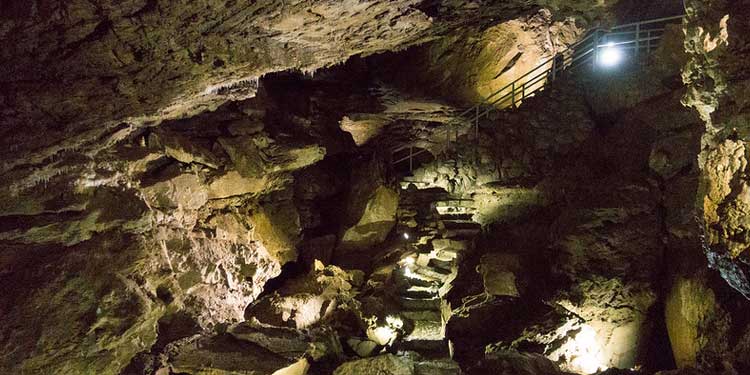 Address: 19000 Caves Highway, Cave Junction, Oregon 97523, United States
Opening hours: 9:30 am - 5:00 pm (Thursday - Monday)
Costs: Discovery Cave tour $10 - $4, depending on age
High up within the Siskiyou Mountains is the National Monument and Preserve – a hidden gem known for its wonder, adventure, and jaw-dropping discovery.
It offers visitors a 90-minute guided tour through the caves that wind through tiny passageways with ceilings as low as 45 inches.
From the History and Geology of the caves to the discovery of mysterious calcite flowstones and bones of animals from thousands of years ago, theres everything to look out for from ancient times.
Cave trips are still accessible from late March to early November, and they are very popular throughout the summer. For reservations, visit Recreation.gov.
Note:The walk is moderately difficult and is not recommended for anyone who have respiratory, cardiac, knee, or back problems.
Make Every Moment Special at Medford
Finally, Medford is a superb year-round destination for everyone since the weather provides for a wide range of outdoor activities.
Summers and springs are hot and bright, with temperatures averaging slightly around 90º Farenheight. Thus, clear vistas of mountaintops and landscapes of lush greeneries are common.
Autumn is the greatest time to come since temperatures remain pleasant, usually in the 70s.
Consider taking our top recommendations as a guide in preparing for the checklist of the best things to do in Medford.
Good luck!
Note: Keep in mind that information about travel can change quickly. To ensure your trip is fun and safe, we encourage you to double-check official websites and government/travel advisory sites for the latest information on travel restrictions, entry requirements, and safety measures.