If you are ready to relax and unwind in Oregon's steamiest Hot Springs around nature, then get ready for an epic outdoor adventure.
We'll take you to some of the state's most beautiful and secluded hot springs, including Umpqua, Breitenbush, and Summer Lake hot springs.
But to get something satisfying, theres always a hard climb!
From hiking and backpacking adventures on the scenic mountains to a tranquil riverside oasis, theres an exciting journey that awaits!
You can also learn about each location's rich history and unique features and discover the amenities and top suggestions for each hot spring.
So, whether you're a local looking for a weekend getaway or a tourist seeking an adventure, we will guide you to the best hot springs in Oregon.
So sit back, relax, and prepare for a healing and revitalizing world of natural hot springs in Oregon.
Hot Springs in Oregon
Bagby Hot Springs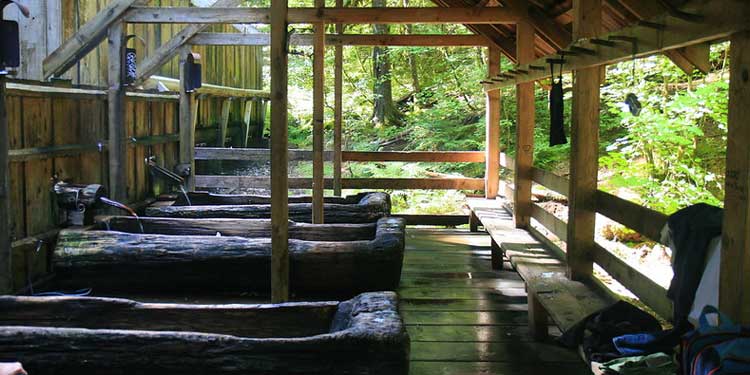 Address: NF-70, Estacada, Oregon 97023, United States
Best time to visit: Fall, Winter, & Spring
Other Nearby Cities: Portland, Salem
Bagby Hot Springs has a rich history back to the 1800s when it was first discovered by hunter and prospector Bob Bagby.
Today, locals and visitors like to visit here to learn, see, and enjoy every piece of its unique blend of natural beauty and various amenities.
You can enjoy multiple soaking pools with varying temperatures, stunning forest views, and an on-site restaurant for a little treat.
The hot springs are also equipped with changing rooms, showers, and a campground for those looking to extend their stay.
It is located in the Mount Hood National Forest, about 66 miles from Downtown Portland via OR-224 West and 38 miles from Estacada.
Tip: arrive early in the day to beat the crowd.
Umpqua Hot Springs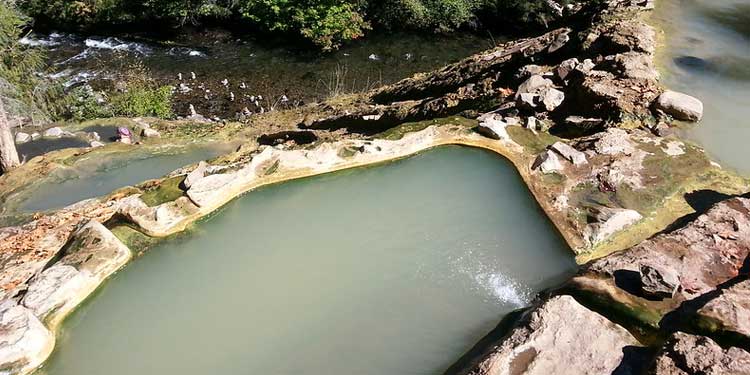 Address: NF-3401, Idleyld Park, Oregon 97447, United States
Hours: open daily from 7:00 am - 7:00 pm
Best time to visit: All year-round
Other Nearby Cities: Roseburg
Umquua Hot Springs is a hidden gem of Southern Oregon that is located close to Crater Lake National Park at an elevation of 2,640 feet.
Also known as Toketee Hot Springs, this natural oasis is just a short drive from the charming town of Roseburg and is surrounded by the beauty of the Pacific Northwest.
It offers a variety of amenities, including an enlarging soaking pool, several smaller pools, and even camping areas for making an overnight trip.
The Hot Springs are fed by natural mineral water and are some of the hottest in the State of Oregon, with temperatures often above 108 to 115 degrees Fahrenheit.
Take the Umqua Hot Springs Trailhead, which will take you on a stunning 0.8 miles of hiking adventure through the Umqua National Forest to reach this destination.
Tip: Pack a picnic box and bring extra clothes.
Belknap Hot Springs and Resort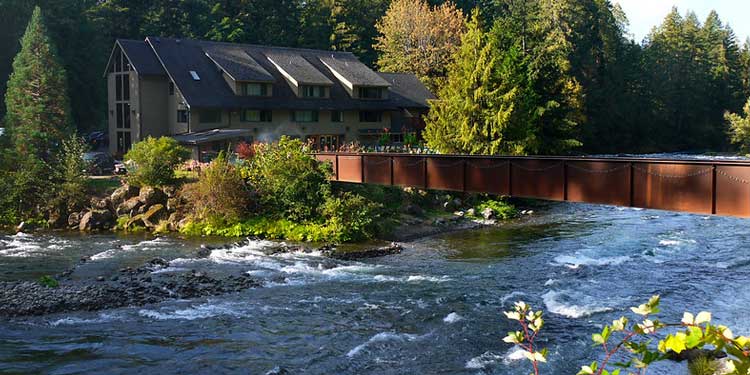 Address: Belknap Hot Springs Road, Oregon 97413, USA
Hours: open daily from 9:00 am - 9:00 pm
Best time to visit: Winter
Nearby cities: Bend, Sisters
Located amongst the forest and rolling hills, Belknap Hot Springs is a nature lover's paradise.
The hot springs were once used as a therapeutic property by Native Amelover'sribes. But today, it has been transformed into a resort providing visitors with a unique and rejuvenating experience.
It offers weary travelers a range of modern amenities to ensure a comfortable and memorable stay. Some include lodges, cabins, and scenic campsites.
There are two natural outdoor hot spring pools that are kept at a temperature of between 102 to 104 degrees Fahrenheit.
So, whether you are looking to escape from the hustle and bustle of the city or simply trying to get away to rejuvenate, this is just the place to be.
McCredie Hot Springs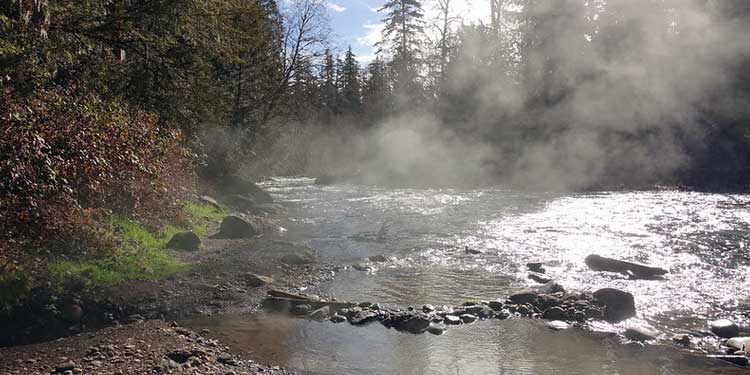 Address: PP46+9R, highway 58, Oakridge, Oregon 97463, United States
Open season: year-round
Costs: Day use fee is $5 per vehicle
Best time to visit: Spring & Autumn
Other Nearby city: Eugene
McCredie Hot Springs is a primitive roadside hot spring that is located in the heart of Willamette National Forest.
This hot spring has two wide and shallow pools with average temperatures between 98 and 114 degrees Fahrenheit.
It is open year-round and is accessible only for day use.
Visit here any day, and the natural beauty and wildlife around McCredie Hot Springs will awe-inspire you in every breath you take.
During peak season, it can be tricky to get a spot, so be sure to plan ahead and arrive early.
Note: Be prepared to bring all the necessary supplies, such as food, water, and extra clothes, as it is situated in a remote location with limited amenities
Summer Lake Hot Springs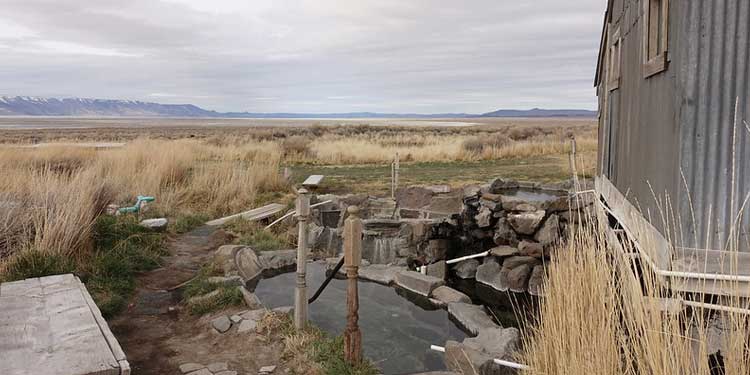 Address: 41777 Highway 31(Mile Marker 92), Paisley, Oregon 97640, United States
Hours: check-in at 3:00 pm by reservation
Best time to visit: Fall & Winter 
Other Nearby city: Sunriver
Located in the high desert of Oregon just 2 two hours from Southeast Bend, Summer Lake Hot Springs is a unique and tranquil destination for those seeking a peaceful escape.
It has four natural hot springs, which are all geothermally heated and have very high mineral-rich groundwater.
The temperature of the main indoor spring ranges between 118 to 124 degrees Fahrenheit, while the outdoor consists of between 106 to 113 degrees Fahrenheit.
And if you want to make it an overnight trip, some amenities include Tent/RV camping sites, cabins, and a lodge.
Due to its remote location on the grasslands, hills, and mountains, it also makes the finest place for stargazing at night.
Breitenbush Hot Springs Retreat and Conference Center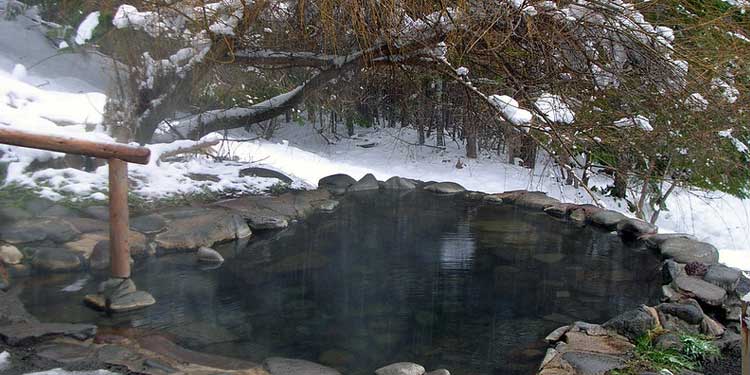 Address: 53000 Breitenbush Road Southeast, Detroit, Oregon 97342, United States
Hours: Day visits are from 9:00 am - 6:00 pm
Costs: $30 for adults and $20 for kids ages(5-17)
Best time to visit: Late Spring & mid fall
Nearby city:  Albany
Breitenbush Hot Springs is a world-class resort and off-grid sanctuary hidden in the pristine Willamette National Forest.
This old logging camp goes back to the 1900s and shares a lot of the history of American tribes.
You can enjoy incredible views, wildlife, and amenities that suit your preference.
From indoor soaking pools to several outdoor hot springs, saunas, and hot tubs, visitors may enjoy the springs all year round.
Tip: There are multiple hiking trails alongside the river, so remember to bring on your sports shoes.
Hunters Hot Springs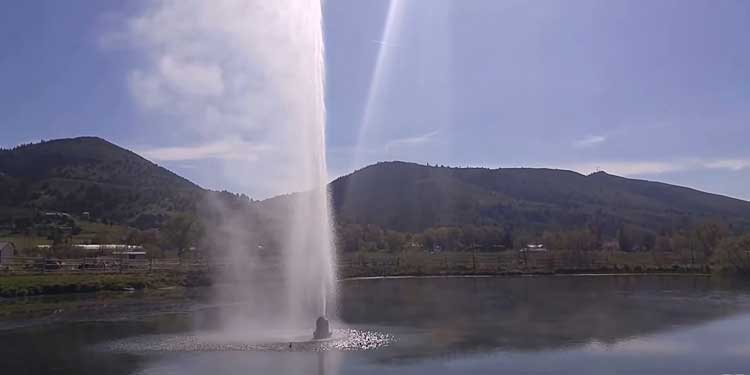 Address: 18088 Highway 395, Lakeview, Oregon, United States
Hours: Open 24 hours
Best time to visit: Spring & eary Fall
Nearby City: Bend
Hunters Hot Springs is a true gem of the world of natural hot springs, with a rich history dating back to the 1850s.
It has a collection of six different hot spring pools, each with a varying temperature to accommodate visitors of all ages.
In addition to its therapeutic and relaxing hot springs, there are other amenities such as private changing rooms, picnic areas, and camping facilities.
Terwilliger Hot Springs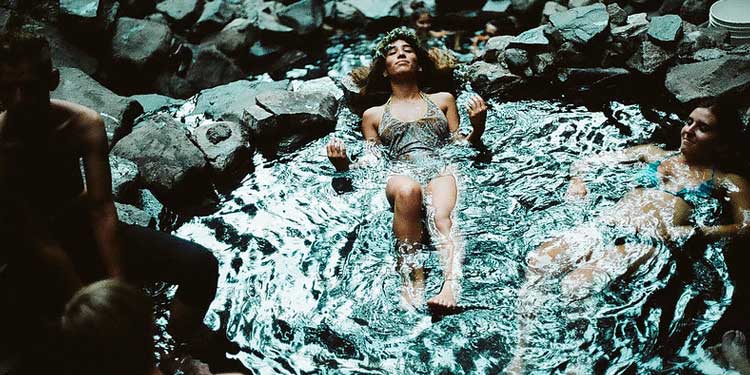 Address: Cougar Dam Road, Blue River, Oregon 97413, United States
Hours: Day use only
Costs: entry includes $10 per person 
Best time to visit: April & September
Other Nearby Cities: McKenzie Bridge, Eugene
Also known as Cougar Hot Springs, this little piece of heaven is located between everything in Willamette National Forest.
Terwilliger Hot Springs has been a popular destination for generations of visitors seeking to relax at its geothermal pools that range from 85 to 112 degrees Fahrenheit.
Amenities of the hot springs include various natural and artificial pools ranging from shallow soaking pools to deeper pools where you can actually swim.
Fire pits and nearby campgrounds are also available for those looking to spend a night. But make sure to bring all your essentials.
Additional Tip For Best Hot Springs in Oregon
While making plans for any trip may be overwhelming but not until you relax at Oregon's finest Hot Springs. Here are some additional tips for you to consider while packing and booking.
Clothing and Footwear: bring an extra layer of clothes, swimsuits, towels, and hiking/water shoes to stay comfortable on your adventure and cooler temperatures.
Water and Food: Hot tubs can sometimes make you lightheaded due to dehydration, so always carry drinkable fresh water and food on your journey to the hot springs.
Bookings: Many Hot Springs require early reservations, so make sure to plan ahead by visiting its website.
Weather: Most of Oregon's weather are warm due to long summers, and winters are snowy and windy. I'd recommend you check the weather forecast before visiting to prevent uncertain situations.
Soak in the Hot Springs of Oregon
If you are a fan of hot springs and looking for a unique and rejuvenating outdoor experience, visiting Oregon is a must.
With our Oregon'ss of the best hot springs in Oregon, you are sure to have the best relaxation of a lifetime.
So dont wait up and start packing your bags. Good luck!
Note: Keep in mind that information about travel can change quickly. To ensure your trip is fun and safe, we encourage you to double-check official websites and government/travel advisory sites for the latest information on travel restrictions, entry requirements, and safety measures.