With over more than 200 waterfalls, Oregon is a natural paradise filled with enchanting forests, Mountaintops, creeks, wildlife, and miles of hiking trails.
The Columbia River Gorge marks its number one list on the 7 Wonders of Oregon as the most beautiful destination for having cascading waterfalls and scenic vistas.
Explore other hidden gems like Punch Bowl Falls and Steelhead Falls with access to easy hiking and swimming in a deep natural pool.
So, whether you are a casual traveler or an adventurous spirit looking for an epic outdoor journey, our list of the best waterfalls in Oregon will leave you speechless.
Let us get started!
Waterfalls in Oregon
South and North Falls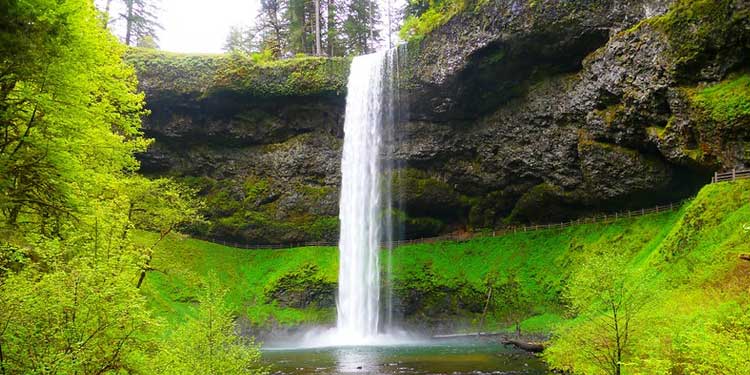 Address: Marion County, Silverton, Oregon 97381, United States
Park hours: open daily from 7:00 am - 9:00 pm
Entrance fee: $5 for day use
Difficulty level: Easy to moderate
Best time to visit: Spring & Fall
A short drive from Salem within the Willamette Valley, Silver Falls State Park boasts a stunning range of waterfalls on 9 miles of hiking trails.
The South Falls stands out amongst the top due to its unique walking paths that wind through the entire waterfall.
It is also the starting point of the Trail of Ten Falls. So you can always stop to admire its beauty or choose to go for an exciting hiking or biking adventure from the South to the end of North Falls.
This moderate trail has paved paths, some dirt trails, and stairs to climb. So wear good sports shoes and a lighter pair of clothes.
Multnomah Falls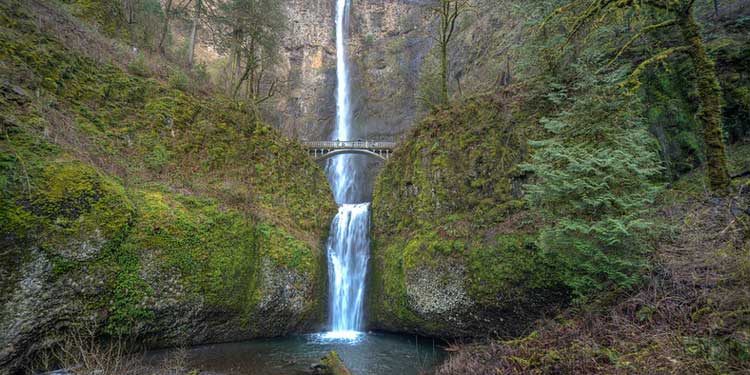 Address: Columbia River Gorge, Multnomah County, Oregon, United States
Open: year-round
Costs: Costs: $2 per ticket
Difficulty level: easy to moderate trails
Multnomah Falls is a treasure of the Columbia River George, located just a 30-minute drive outside Downtown Portland.
As the highest waterfall in Oregon, standing 620 feet tall, visiting Multnomah Falls lets you experience the power and beauty of nature up close and with ease.
There are several hiking routes to Multnomah Falls that offer spectacular forest trails and wildlife viewing opportunities.
If you want to take the shortest one, take the 2.6 miles out-and-back trail near Bridal Veil, consisting of a paved uphill trail.
Tip: Bring a good layer of clothes as temperature may vary as you increase in elevation, and you may get wet.
Toketee Falls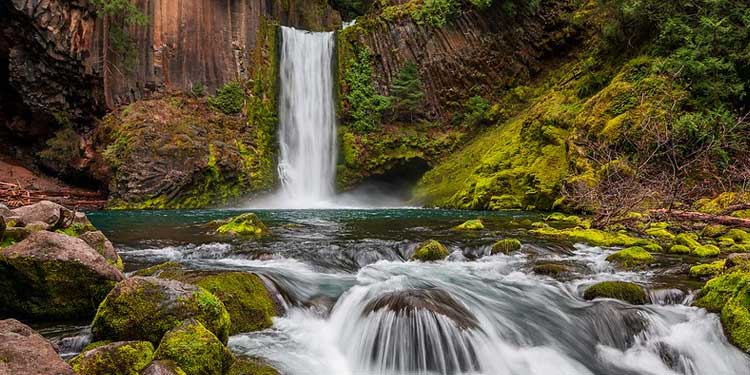 Address: Idleyld Park, Oregon 97447, United States
Difficulty level: easy
Best time to visit: Spring through Fall
Phone: +1 541-957-3200
Southern Oregon's breathtaking Toketee Falls is a must-see for any traveler who enjoys natural wonders.
The trail leads to an elevated platform from which you can see both tiers of this beautiful waterfall cascading down sheer cliffsides over 120 feet.
You will be surrounded by lush greenery on your journey to the top of Toketee Falls.
But be prepared because although the trail is less than a half mile long, there are a lot of stairs.
You can enjoy picturesque views while making your way to the viewpoint surrounded by old-growth stands of timber and undergrowth untouched by Oregon wildfires.
The easy hike to the platform makes it accessible to all ages. So everyone is welcome!
Tip: As the water is quite deep here, Swimming is also permitted, but at your own risk.
Tumalo Falls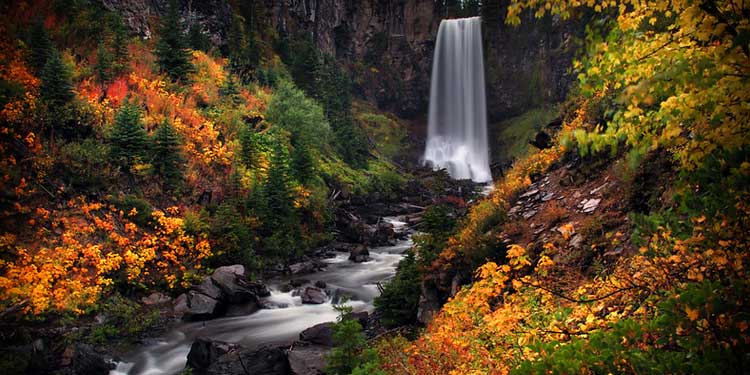 Address: Deschutes National Forest, Tumalo Falls, Bend, Oregon 97703
Costs: $5 entry fee
Difficulty level: moderate
Best time to visit: Spring and early Fall
Just a 30-minute drive from west of downtown Bend in the Deschutes National Forest lies a stunning 97-foot Tumalo Falls.
Explore this 6.4 -mile out and back loop hiking trail along the pathway of forests, creeks, and views of mountaintops.
Most of the journey is along a decent paved road and a dirt road trail with its fair share of potholes.
However, the dirt road closes in winter, so you must walk an extra 2.5 miles each way to get to the falls.
All year round, it makes a great adventure for the entire family going on fly-fishing and snowshoeing in the late fall season.
Salt Creek Falls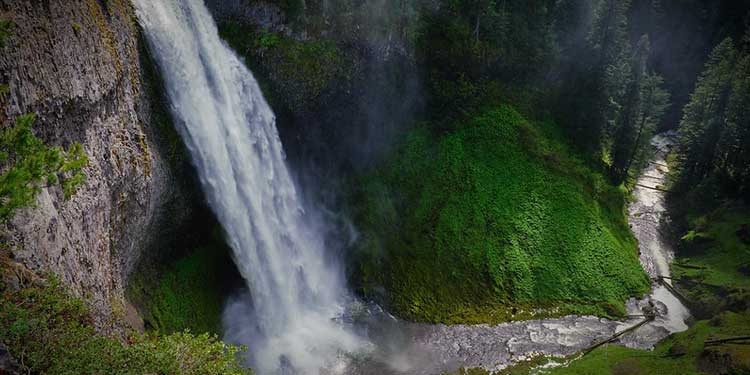 Address: Willamette National Forest, Salt Creek Falls, Oregon, United States
Costs: $5 fee per vehicle
Difficulty level: easy to moderate
Best time to visit: April through August
Plunging from more than 286 feet into a beautiful waterfall basin issued from Fuji Mountain and Mount Yoran, Salt Creek Falls is one of Oregon's largest single-drop waterfalls.
Thanks to its universally accessible boardwalk and viewing platform accessed 50 feet from the parking area, nearly anyone can appreciate this remarkable destination.
Take the 1.6 miles out and back to Salt Creek Falls trailhead for a shorter hike to the viewpoints.
Or, if you prefer the longer route, the 3.2-mile Diamond Creek Falls Trailhead loop trail skirts the rims of the Salt Creek and Diamond Creek Canyons.
Watson Falls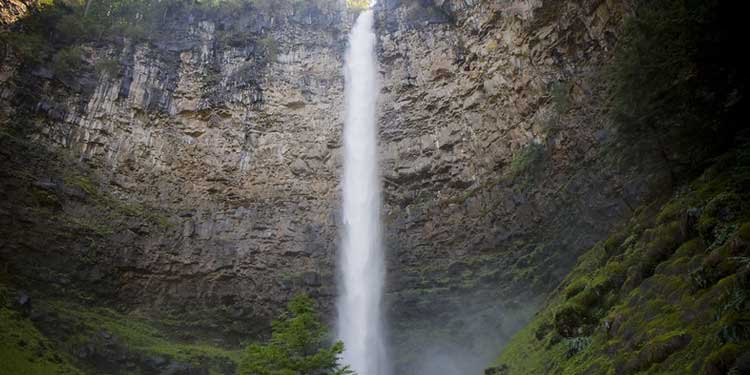 Address: Umpqua National Forest, Watson Falls, Oregon 97447, United States
Open season: year-round
Costs: free entry
Difficulty level: moderate
Best time to visit: April through November
Situated at the heart of Umpqua National Forest, Watson Falls is the third-highest waterfall in Oregon, with an elevation of 272 feet.
The surrounding waterscapes are filled with many hiking trails and tributaries, making it a popular place for long-exposure photography and adventure.
Hiking trails offer clearly marked trails with elevation to both viewpoints beautifully lined with moss-covered rock, trees, and boulders.
The 0.4-mile Watson Falls Trail #1496 trail leads to the beautiful Watson Falls and offers ample parking with picnic tables tucked inside the forest just off the pavement. 
Latourell Falls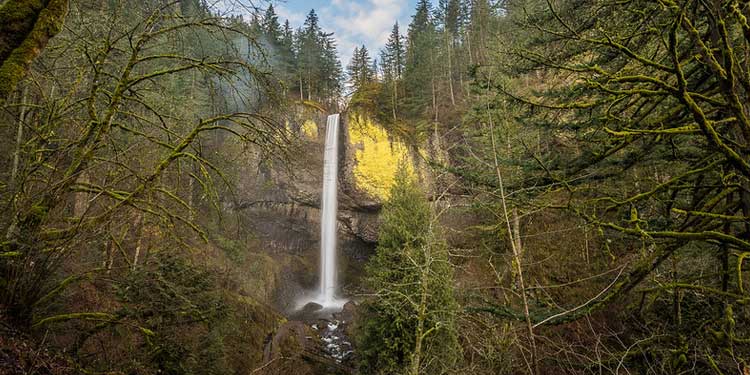 Address: Historic Columbia River Highway, Corbett, Oregon 97019, United States
Opening hours: 6:00 am - 10:00 pm 
Costs: free entry
Difficulty level: moderate 
Best time to visit: March through May
Latourell Falls is a hidden gem in the Columbia River Gorge that is about a 30-minute drive from Downtown Portland.
Take the Bridal Veil exit 28 from Interstate 84, then travel to the west on the historic highway for three miles, where you will find a small parking area on the South side of the road.
For an exciting hiking adventure, consider the 2.4 miles of Latourell Falls Loop Trail that starts from a paved wooden pathway all the way to Upper Latourell Falls.
Note: Most of the trail's elevation is at the beginning of the hike, and certain areas can get slightly muddy and slippery, so proper footwear is required. 
Punch Bowl Falls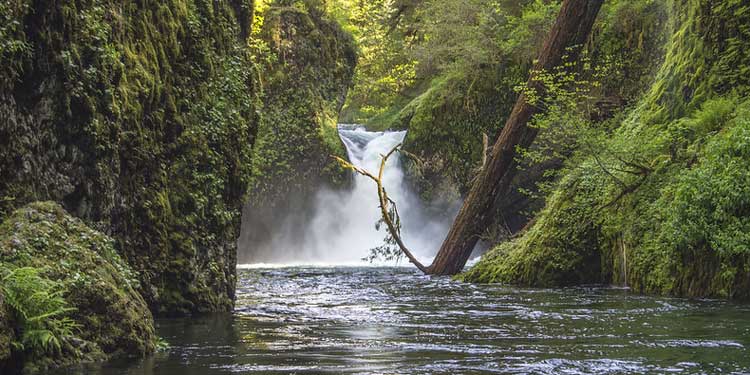 Address: 74162 NE Eagle Creek Loop, Cascade Locks, Oregon, United States
Open: year-round
Costs: $5 entry fee 
Difficulty level: moderate to challenging
Best time to visit: Winter through Spring & Summer
Punch Bowl Falls is another of Columbia River Gorge's popular waterfalls and hiking destinations known for its sprawling swimming hole.
The Punch Bowl Falls trek begins at the Eagle Creek trailhead, which is 45 minutes east of Portland.
This 4.7 miles out and back hike proceeds for about two miles along the main Eagle Creek path before reaching a junction where a smaller trail descends into the canyon below Punch Bowl Falls.
Usually, by late summer, the route with its stunning waterfalls becomes a little dry, but that's when it's ideal to go down into the canyon, where cooler temperatures prevail.
And with a little effort, you can reach dripping mossy cliffs and the spectacular Punch Bowl Falls.
White River Falls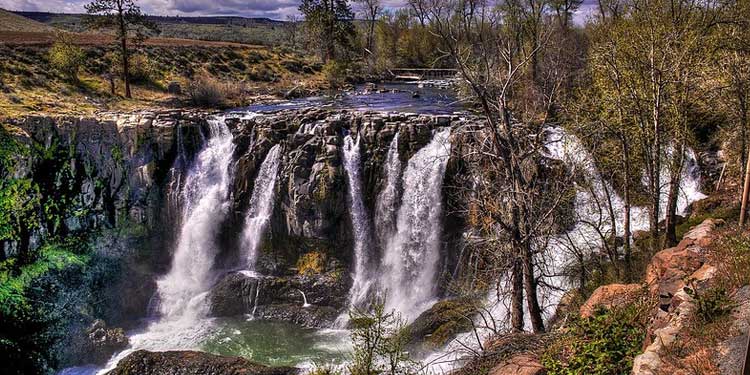 Address:  White River Road, Maupin, Oregon 97037, United States
Opening hours: open daily from 7:00 am - 9:00 pm
Costs: free entry
Phone: +1 800-551-6949
Difficulty level: moderate
Best time to visit: April through October
Whether you're a nature lover, adventure seeker, or just looking to escape from the hustle and bustle, White River Falls is the perfect destination to unwind.
It is a hidden gem of the Pacific Northwest that is located 35 miles South of the Dalles and a two-hour drive from Portland.
Get ready to take a wild ride as you will explore deep into the remote area of Tygh Valley, stunning cliffs, green hills, and crystal clear water of White River Falls.
To reach this 90 feet over a basalt shelf, a 7-mile hiking trail takes hikers into the canyon to the historic hydroelectric power plant, which has access to both the Upper and Lower Falls.
So hurry up, grab your hiking boots, and dive into this natural wonderland!
Steelhead Falls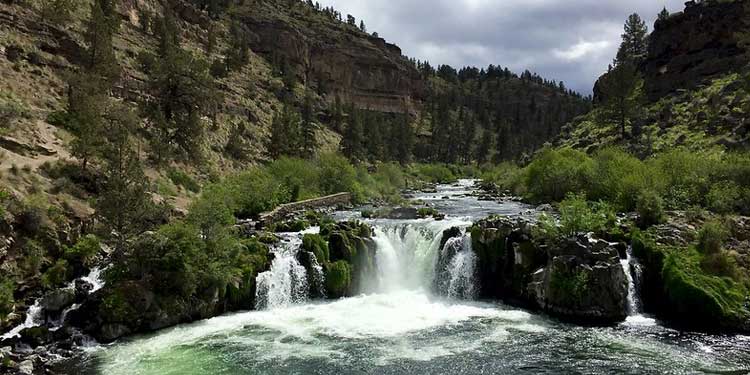 Address: Deschutes River, Terrebonne, Oregon 97760, United States
Open: year-round
Costs: free entry
Phone: +1 541-416-6700
Difficulty level: easy
Best time to visit: Summer
Steelhead Falls is a remote scenic waterfall on the Deschutes River with access to swimming and thrilling cliff-jumping opportunities.
The 0.5 hiking trail runs along the river with some steep areas climbing up and gliding down.
It is also open for overnight camping, picnicking, trout fishing, and exploring the rocky shores.
Wait for the best part at the falls as you cliff-jump into the deep natural water. It is one of the main highlights of the area.
And even if you are not a cliff-jumper, it makes a great destination for swimming for the entire family and larger groups. So dont miss out!
Tips For the Best Waterfalls in Oregon
Having the right equipment and information can help you a lot while traveling around Oregon's best waterfalls. Here are some of our top useful tips while packing and researching about the places:
Seasonal Considerations: Water levels may fluctuate depending on seasonal rainfall. So check the weather conditions before visiting any waterfalls.
Essential hiking checklist: Pack some good grip sports shoes, sunscreen, torch, windcheater jacket, reusable water bottle, extra packed foods, and rain covers to prepare for uncertain weather conditions.
GPS and Maps: It is important to locate yourself. So I'd recommend using Topographic Maps to plan routes and navigate the trail. For more convenience, creating GPS will help you to get significant information like distance, elevation, and altitude about a particular place.
Swimming and Cliff-Jumping: Avoid swimming and cliff-jumping as possible, but if you are going to, know where and when to swim because you have to do it at your own risk.
Start Planning Your Trip to the Best Waterfalls in Oregon
Oregon is packed with many breathtaking waterfalls that are best visited year-round. But we have listed the best ones to ensure a fun and exciting trip.
Finally, our itinerary and top recommendations will help you plan epic outdoor recreational fun for the entire family, larger groups, and also for solo travelers.
So hurry up and start packing!
Good luck!