Planning a trip to Johnson City? Prepare yourself to indulge in the lovely atmosphere of the town-like city.
It is an ideal place for day trips and fun escapes to nature as it is surrounded by mountains, rivers, and lakes all around!
Visitors can easily find tons of outdoor activities available in this area of Tennessee.
Mountain climbing, biking, hiking, boating, fishing—the city is undoubtedly a perfect destination for any outdoors enthusiast!
Things to Do in Johnson City, Tennessee
Feel the Vibe Around Founders Park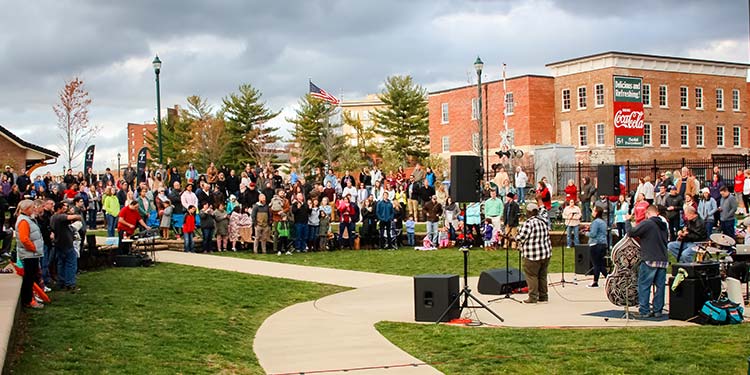 Location:  225 Commerce St, Johnson City
Opening hours: 24 hours (Every Day)
Entry rates: Not required
Located right in the middle of downtown, Founders Park is a beautiful family-friendly free space to enjoy a pleasant day.
The 5-acre land has a rushing creek, brilliant architecture, and well-maintained paved paths to walk.
Throughout the park, you can find outstanding sculptures and meaningful quotes from renowned people on art and nature.
Visit the site on Saturdays for a refreshing and rewarding Johnson City Farmer's Market that happens on the grounds of Founders Park.
You will find creative and friendly vendors selling handmade and farm-grown products from 8:00 am to 1:00 pm.
Tips: Grab the chance to attend the popular 'Blue Plum Music and Art Festival', which happens on the first Friday of June, if you're here around that time!
Take the Hike at Tweetsie Trail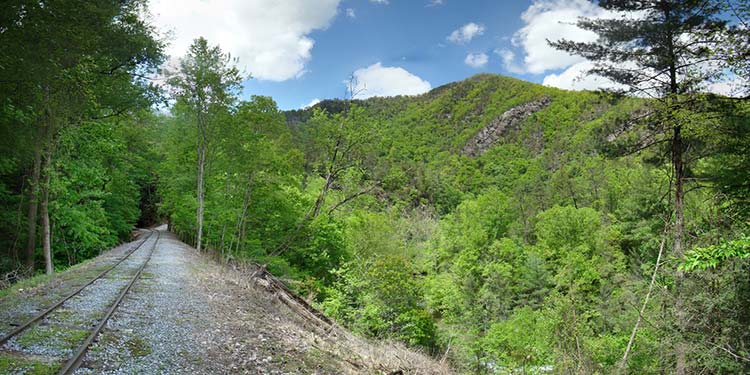 Go for a refreshing hike in the natural setting of Tweetsie Trails.
The almost 10-mile-long trail is an easy hiking, biking, and walking area that has scenic and freshening places along the trail.
Suitable for people of all ages, kids and adults, or people with different abilities, all can use the well-maintained trails.
Fun Fact: The name for the Tweetsie trail came from the sound of the train's high-pitched steam whistles!
Explore the Tipton-Haynes State Historic Site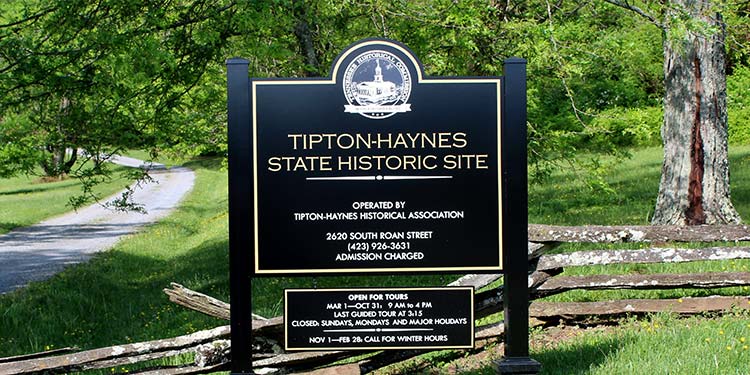 Location: 2620 South Roan St., Johnson City
Opening hours: 9:00 am - 4:00 pm (Tues-Sat), Closed on Sun & Mon
Entry rates: $4-$6 (Adults), $2-$3 (ages under 12)
Visit the historic site and learn about the former residents of the house and the history of Northeast Tennessee.
Built-in 1784 by Colonel John Tipton, the house is now a preserved place to learn and explore the history within.
It displays various artifacts throughout the site, where you can tour around either by yourself or take a guided tour.
Guided tours offer more in-depth information about the place and give you access to explore the house thoroughly.
Tips: Explore the hidden secrets of the limestone cave, interested visitors are provided with flashlights.
Live in the Moment at Laurel Falls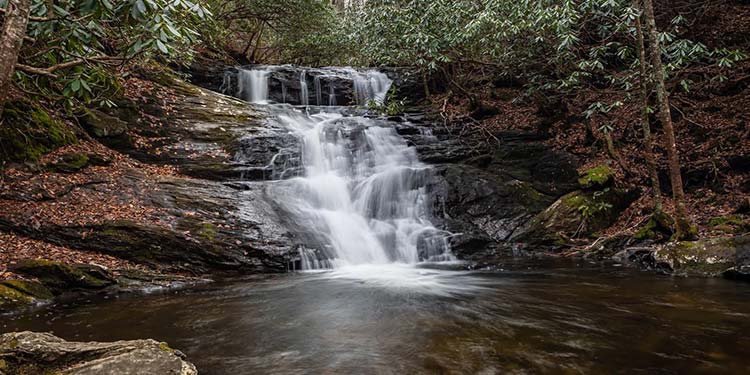 If you're looking for a beautiful hiking spot with rewarding views—follow the path to Laurel Falls in the Great Smokies!
Take the moderate 2.6-mile trail that leads you to the stunning 80-foot-tall Laurel Falls.
It is one of the many falls in the National Mountain Park and one of the best waterfalls in Tennessee!
Go on that adventure; it will take about a couple of hours to complete the hike.
Don't worry, your exhaustion will be defeated by the scenic fall at the end!
Wander around at Winged Deer Park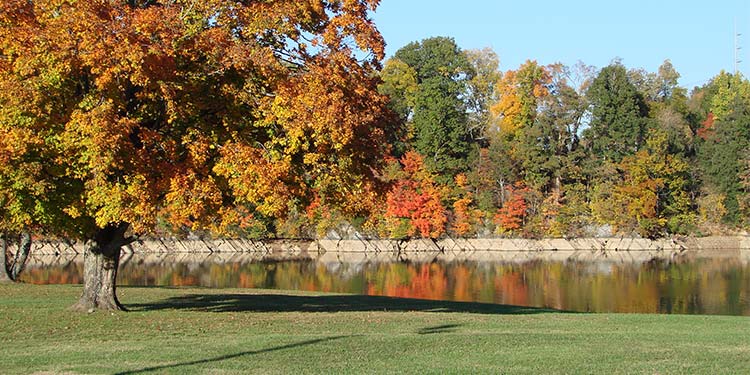 Location: 4137 Bristol Hwy, Johnson City
Opening hours: 7:00 am - 7:00 pm (Winter), 7:00 am - 10:00 pm (Summer)
Contact: 423.283.5815
Winged Deer Park is a nice place to spend either a sunny or chilly day, most preferable for families and couples.
It is a fun park for everyone as you get endless options of activities to do inside the grounds!
The complex has a big playground for children; adults can find a disc golf course here for entertainment.
You can do fishing, kayaking, or launch larger boats on Boone Lake.
Visitors can easily spot birds and wildlife, including deer, and plenty of Ducks and geese quaking around.
Lovely environment to plan a picnic and ride bikes, start a hike or take a nice walk.
Read more: 10 Best Things to Do in Tennessee For Couples.
Discover at Hands-On! Discovery Center at Gray Fossil Site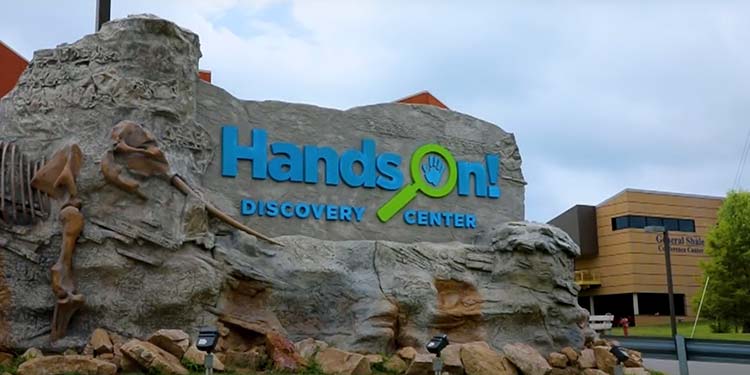 Location: 1212 Suncrest Dr, Gray
Opening hours: 10:00 am - 5:00 pm (Tues-Sat), 1:00 pm - 5:00 pm (Sun), 10:00 am - 5:00 pm (Mon: Only in March, June & July)
Entry rates: $11
Hands-On! Discovery Center at Gray Fossil Site introduces kids and adults to science in an interactive setting.
The science center offers many fun, educational, and interactive programs and experiences.
Some of their fascinating exhibits feature giant building blocks, an art studio, a 3-story Paleo Tower, and much more!
The place allows kids to get on with hands-on activities, build and create masterpieces, and make new discoveries in the center.
It will be quite an amazing experience to witness the world's largest bipolar Tesla coil that is demonstrated here.
View the City from Buffalo Mountain Park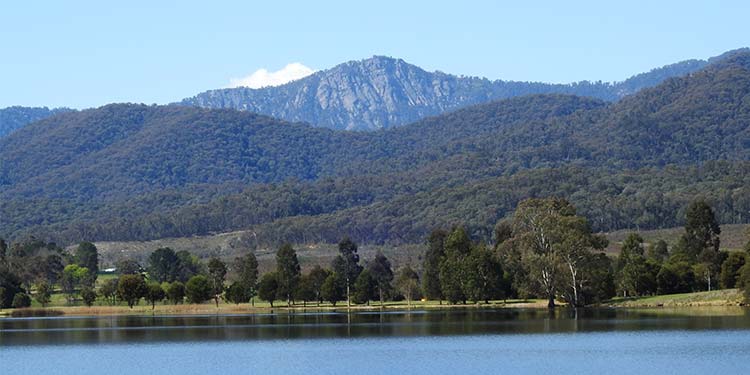 Location: 570 Highridge Rd, Johnson City
Opening hours: 7:00 am - 9:00 pm (Summer), 7:00 am - 7:00 pm (Winter)
Entry rates: Not required
Get the best top view of Johnson City from Buffalo Mountain Park!
The park is a 725-acre of natural area, and it is the closest and best mountain views you can get from the city.
It has a well-marked trail that can be moderately challenging, mainly for the non-hikers!
The place is never too crowded, and you can view wonderful sights of nature—trees and streams throughout the hike.
Tips: Pack a couple of bottles of water and your favorite snacks to enjoy while watching the scenic view from the top!
Learn About Trains at George L. Carter Railroad Museum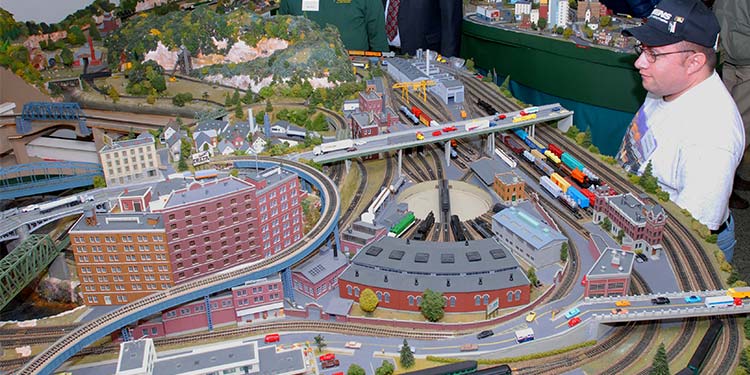 Location: 176 Ross Dr, Johnson City
Opening hours: 10:00 am - 3:00 pm (Saturdays only)
Entry rates: Not required 
A must-visit museum at East Tennessee State University for all train enthusiasts and mechanics, history, and art lovers.
Memorabilia of railroads, miniature trains, structures, and railroad models are displayed in the museum.
You can find the scale model of the East Tennessee and Western Carolina railroad dedicated to George L. Carter.
Look closely to see miniature animals, people, and natural surroundings represented in the scale model.
Tips: Visitors are permitted entry without any admission fee, however, donations that help them maintain the quality of exhibits are accepted.
Watch a Show at Freedom Hall Civic Center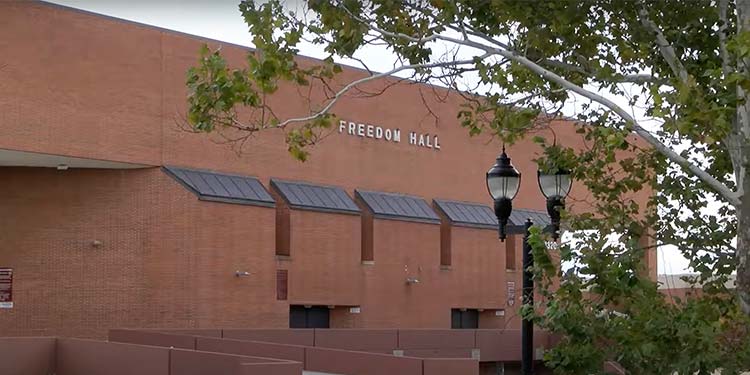 Location: 601 E. Main Street Johnson City
Opening hours: 8:00 am - 5:00 pm
Contact: +1 423-461-4855
Freedom Hall Civic Center is a great venue that is used for multi-purpose events.
With over more than 8000 seating capacity, the arena is a big space enough to hold large audiences during events.
Although now the home to the East Tennessee Start Basketball teams, concerts to basketball and ice hockey shows are entertained here.
While you're here, catch a show and enjoy the warm and energetic atmosphere inside the hall.
Just keep Jumping at Just Jump Trampoline Park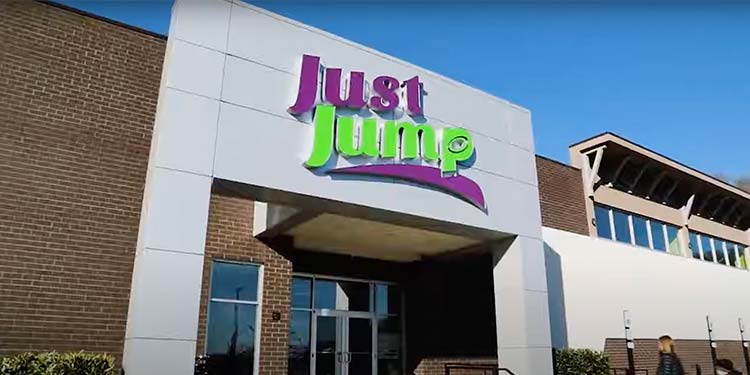 Location: 2304 Silverdale Dr #600, Johnson City
Opening hours: 11:00 am - 7:00 pm (Mon-Thurs), 11:00 am - 9:00 pm (Fri), 10:00 am - 9:00 pm (Sat), 1:00 pm - 6:00 pm (Sun)
Entry rates: $12/hr (Ages 7 and above), $7/hr (Ages 6 and under)
If you're accompanied by kids, or it is you who like to have fun like a kid—age is just a number anyways—check this place out!
Just Jump Trampoline Park is a huge indoor space where you can find entertainment, fitness, and sports facilities.
People of all ages can enjoy several areas to play, including an open jump space, basketball dunking goals, an airbag jump, obstacle courses, and much more!
It is an amusement center for family social outings as well as for celebrations and parties.
Tips: Learn about their weekly specials and activities update before you visit the place on their website!
Read more: 18 Fun Things to Do in Nashville with Kids.
Feel Close to Nature at Warriors' Path State Park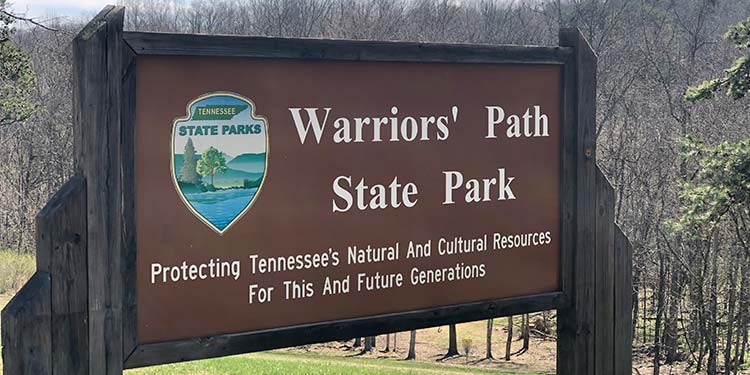 Location: 490 Hemlock Rd, Kingsport
Opening hours: 8:00 am - 10:00 pm (Every Day)
Entry rates: Not required 
Warriors' Path State Park is one of the city's best parks, situated on the shores of the Patrick Henry Reservoir. 
The 950-acre park has a variety of trails to offer its visitors who wish to hike, bike, or do horseback riding.
If you are interested in biking, it has an internationally recognized system of over 8 miles of mountain biking trail. 
The family-friendly place offers free use of Tennis courts, Soccer fields, a disc golf course, and a playground for children.
You can find boat slips, canoes, and paddle boats for rental at the Reservoir if you wish to get on the water!
Alongside boating, you can also hop on fishing activities—spot fish, including crappie, catfish, bream, trout, bass, and much more! 
Tips: The park is also a great campground for adventure lovers; they provide grills, water, tables, and electrical hookups over all their campsites.
Appreciate Art and History at Reece Museum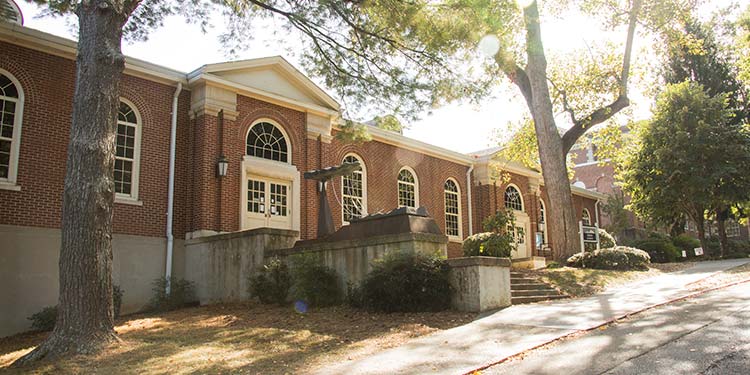 Location: 363 Stout Dr, Johnson City
Opening hours: 9:00 am - 4:30 pm (Mon-Fri), Closed on Sat & Sun
Entry rates: Not required 
Visit the Reece Museum, which displays some fascinating and thought-provoking exhibits that change from time to time.
The small gallery is situated on the property of East Tennessee State University.
You can find interesting and informative artifacts from various cultures relevant to current events and local culture.
Sargent Stubby is one of the many fascinating topics you can find here; they also have an animation of the only dog who was ranked as a Sargent in the army for his service.
The Overmountain Weavers guild display and small music exhibits are other interesting presentations in the museum you can enjoy.
Feel the Joyous Vibes of Johnson City!
You are sure to love the pleasant weather and vibe of the city!
The community thrives to build a creative and safe space for everyone living or visiting here and continues to improve yearly. 
Whether you're an adventurer, a food lover, or a progressive learner—the place will never disappoint you.
Johnson City can truly feel like a Home away from Home! 
Note: Keep in mind that information about travel can change quickly. To make sure your trip is fun and safe, we encourage you to double-check official websites and government/travel advisory sites for the latest information on travel restrictions, entry requirements, and safety measures.
Discover More Tennessee Destinations: