Tennessee is one heavenly place in the country, surrounded by mountains, lakes, and nature everywhere.
Love Birds looking forward to spending quality time are welcome to anticipate a wonderful stay.
Home to the Great Smokies, Music, and of course, Elvis Presley! —You can explore and experience so much here with your other half.
This can be the perfect destination for couples who like to explore great music, food, art, people, and nature together.
Whether it is the calmness of nature that connects you two or an adventure—find the best ways to spark the love over and over again!
Things to Do in Tennessee for Couples
Feel Closer to Nature at Ijams Nature Center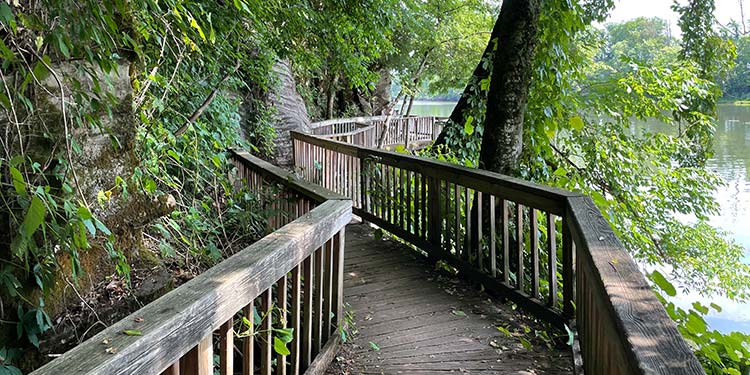 Location: 2915 Island Home Ave, Knoxville
Opening hours: 10:00 am - 5:00 pm (Sun-Fri), 9:00 am - 5:00 pm (Sat)
Entry rates: Not required
Sometimes, all you need is a peaceful escape from your busy lives; Ijams Nature Center is where you can spend a tranquil day with your partner away from the city.
The Natural Area is more than 300 acres in the city of Knoxville, Tennessee, that offer tons of opportunities to bond with your partner.
Hiking and mountain biking trails, paddling, and swimming in Mead's Quarry Lake, Climbing at Ijams Crag, play structures, and much more are available here.
Taking a stroll around the serene river or a moderate hike on the well-maintained trails is the least but it still can be a rewarding thing to do here.
Try to avoid going at midday, around 2:00 pm – 3:00 pm, which is usually the busiest hour to spend the day without any hassle or disturbance!
Tips: Admission to Nature Center is all free, but you are suggested to tip them some donations to help them preserve the natural area.
Feel the Calm in Ozone Falls Natural Area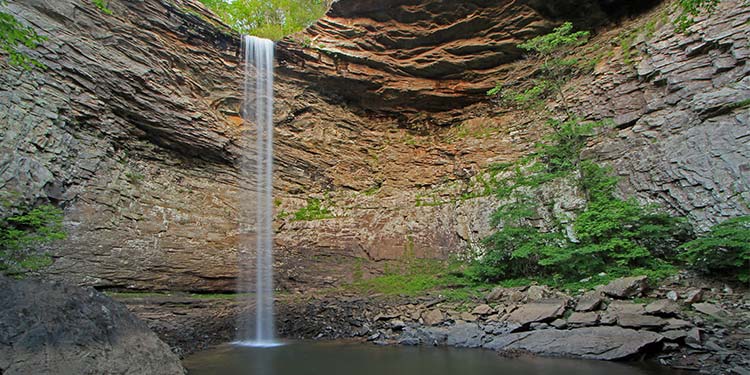 Ozone Falls is one of the most mesmerizing and beautiful waterfalls in Tennessee.
The waterfall is a great attraction for people who love the calmness of water streams or just nature lovers.
Imagine yourself sitting on-site, watching the stunning view of the fall with your soulmate by your side, isn't it so romantic?
With a short hike to the bottom of the falls, you don't have to worry about getting lost or exhausting yourself from hiking too much.
Tips: The best view of the waterfall is from the bottom, which makes a lovely spot for great couple pictures!
View the Downtown in Carriage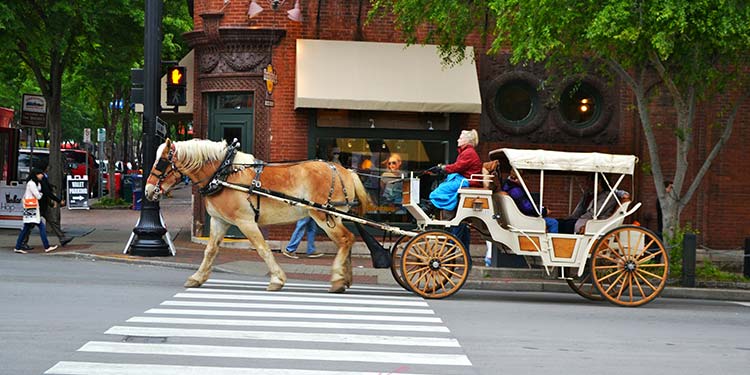 Downtown is a popular neighborhood in Nashville, Tennessee which is a great tourist attraction mostly for its vibrant streets, music, and history.
Exploring the streets of downtown with your loved one can be adventurous as you get to see and do so many things.
It can be even more fun if you book the tour on a carriage ride!
Yes, go around on that special ride with your special person. It is fun to tour the place while sitting comfortably on a carriage and viewing famous sites.
Tips: Couples who like to do something extra and magical can also ask for a Cinderella-themed carriage—a totally Disney couple moment!
Get on Board at Titanic Museum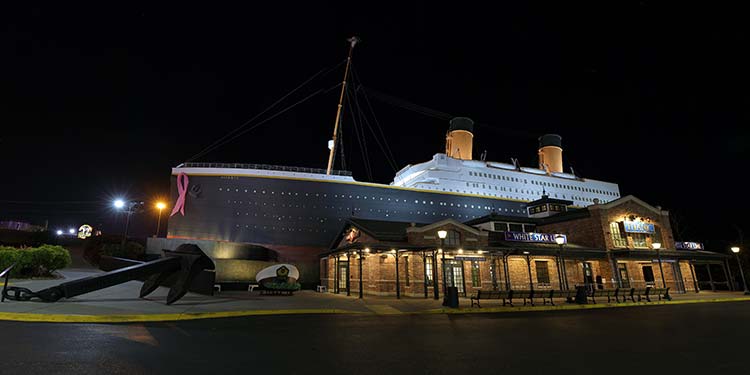 Location: 2134 Parkway, Pigeon Forge
Opening hours: 9:00 am - 10:00 pm (Every Day)
Entry rates: $39.11
If you're a couple who likes to learn and experience new things together, you may also enjoy checking out historic places or museums together.
In that case, Titanic Museum in Pigeon Forge, Tennessee, won't be a disappointment!
There is a life-size replication of the famous and historic Titanic ship where visitors get boarding passes and get to experience the exact as passengers did in 1909.
You can walk down the replicated grand staircase, look through cabins and enjoy interactive exhibitions.
Original artifacts of the sunken ship and the passengers here are preserved and displayed here.
Although having a tragic history, Titanic remains one of the most fascinating subjects to know more about.
Tips: Couples who love the movie 'Titanic' can recreate the iconic Jack-Rose pose—even if it feels overrated and clingy, it's a must!
Hike in Great Smoky Mountains National Park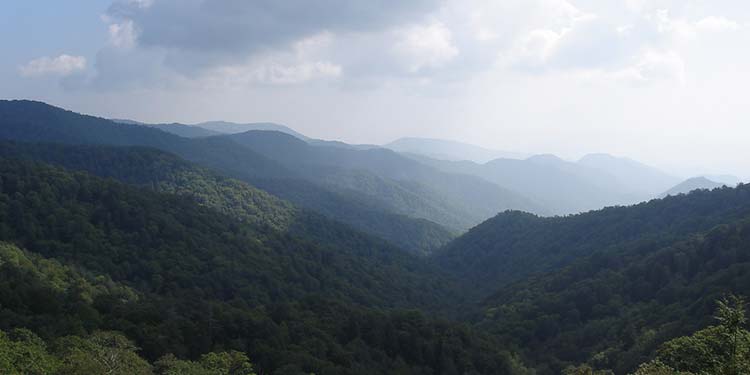 Opening hours: 24 hours (Every Day)
Entry rate: Not required 
Contact: (865)436-1200
To all the nature-loving and active couples out there, you cannot come to Tennessee and not go to the Great Smoky Mountains National Park.
Hiking with your partner boosts your energy level, and while in nature, you can release all the stress, it also makes a fun outing as well—there is no reason to not!
The gateway to the National Park is right in Gatlinburg, Tennessee from where you can plan an adventure to see the wildlife and beautiful waterfalls and spend a meaningful day.
Go on an adventure to explore hidden caves and trails; you can do camping, fishing, or sightseeing with your partner.
You can also plan a picnic right in the park, just for the two, surrounded by fresh air and nature only.
Go Cruise on Southern Belle Riverboat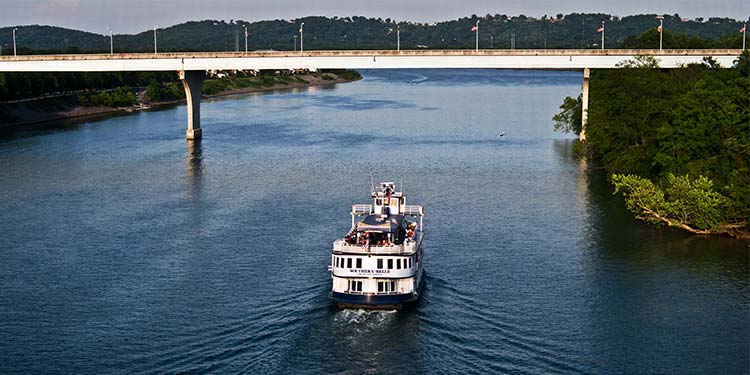 Location: 151 Riverfront Pkwy, Chattanooga
Opening hours: 9:00 am - 9:00 pm (Every Day) 
Entry rates: Starts from $30.99
Great live music, refreshing drinks, and stunning views of the river and city—get on the Southern Belle Riverboat and get to view Chattanooga, Tennessee, from a different perspective!
The best sightseeing tour in the city, the cruise takes you under the bridges, to Lookout Mountain, and around the neighborhoods.
Couples can enjoy the beauty of the river and the city's stunning skyline and the sunset if preferred to go in the evening.
Tips: For a romantic time, a dinner date while watching the sunset is highly suggested for couples!
Catch a Show at Orpheum Theater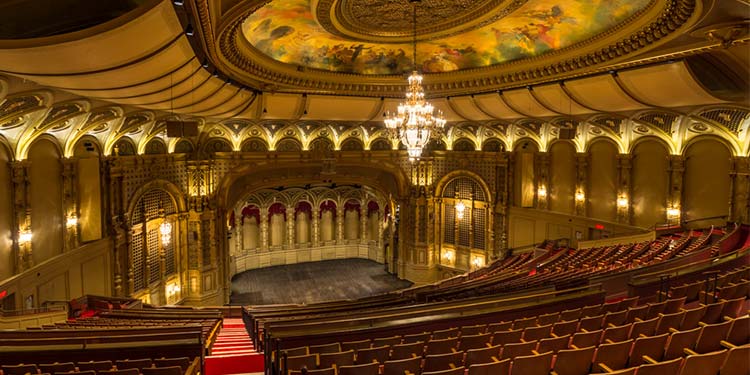 Location: 203 S Main Street, Memphis
Opening hours: 9:00 am - 5:00 pm (Mon-Fri)
Contact: +1 901-525-3000
The stunning theater in Memphis, Tennessee, is one of the historic places and tourist attractions in the state.
Get tickets to a show and watch with your partner in this elegant, classy, and mesmerizing venue with more than 2000 audience capacity.
Professionally choreographed and high-quality performances, including musicals, ballet, and opera, are performed in the venue.
The seating is very clean and comfortable; drinks and refreshments are available in the lobby to improve the audience's time.
Visitors are welcome to tour the historic building and explore its corners as well.
Go for a Horseback Ride in Percy Warner Park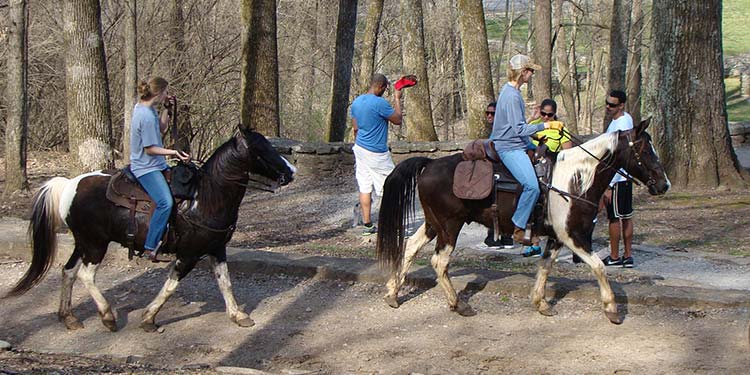 Location: 50 Vaughn Rd, Nashville
Opening hours: 6:00 am - 11:00 pm (Every Day)
One of the most beloved parks in Nashville, Tennessee—Percy Warner Park, is 2,664 acres of public area.
Go for a horseback ride in the park that has well-maintained trails.
Alongside being a fun outdoor activity, It is also a great way to know the animal better and feel nature closer.
It can be a memorable adventure of riding a horse with your other half in such a beautiful place.
Watch a Movie at Stardust Drive-in Movie Theater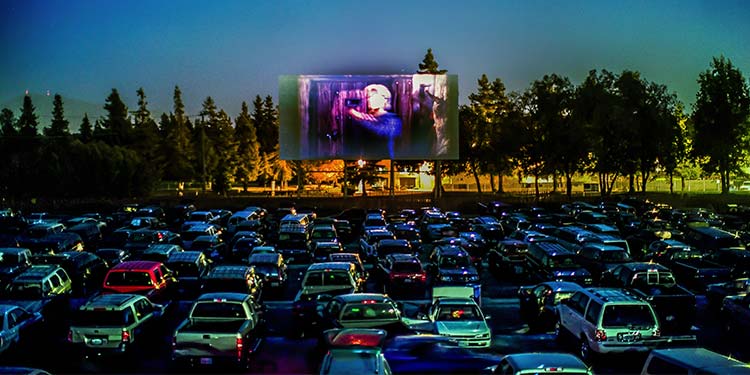 Location: 310 Purple Tiger Dr, Watertown
Entry rates: $9.50 per person 
Contact: +1 615-237-0077
Couples watch movies together; don't miss the chance to watch one in a classic way!
Drive-In Theater is one of the most romantic dates usually depicted in old movies, live it in real life at least once in your life!
While in Nashville, catch a show at Stardust and experience watching the movie from the comfort of your own vehicle.
They have great customer service and plenty of delicious snacks and beverage options to munch on.
Tips: Take some blankets to warm yourself, it might get a little windy in the evening!
Spend a Lovely Day at Arrington Vineyards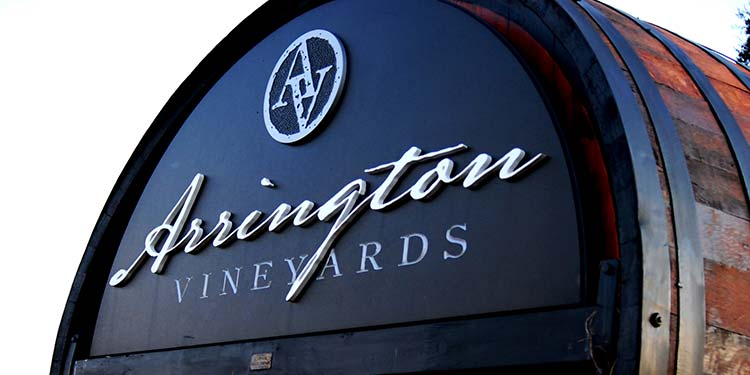 Location: 6211 Patton Rd, Arrington
Opening hours: 11:00 am - 6:00 pm (Mon-Thurs), 11:00 am - 8:00 pm (Fri & Sat), 12:00 pm - 6:00 pm (Sun)
Contact:  615-395-0102
Arrington Vineyards in Knoxville, Tennessee, can be a great spot for a romantic date for couples who are all about good wine and a good time!
The whole sitting area is perfect for a picnic, and the atmosphere is warm and lovely.
Spend a relaxing afternoon at the vineyards learning about the process of winemaking and enjoy winetasting.
While listening to music and viewing the beautiful property, couples can find serenity and feel loved!
Travel to Tennessee Together!
A romantic escape helps in keeping the relationship healthy and full of love.
This family-friendly state offers many different opportunities a couple can explore, whether natives or tourists.
It has something interesting and innovative planned for the visitors every season; you can plan your trip for any time of the year.
You can surely look forward to a unique and memorable getaway with your forever date here!
Note: Keep in mind that information about travel can change quickly. To make sure your trip is fun and safe, we encourage you to double-check official websites and government/travel advisory sites for the latest information on travel restrictions, entry requirements, and safety measures.
Discover more couple-friendly activities in our Boston for Couples guide.