The well-known music city of Tennessee, Nashville, is a popular tourist destination mostly renowned for being a unique city.
Nashville is the center attraction in the state which offers endless choices of various experiences for everyone.
Likewise, the big city is also a perfect getaway for children, with tons of outdoor activities and educative cultural landmarks, one can learn and do so much.
The city is rich in its deep-rooted history, culture, and art, which can be a great exposure for the kids to learn new things! 
Fun Things to Do in Nashville with Kids
Play Around in Fannie Mae Dees Park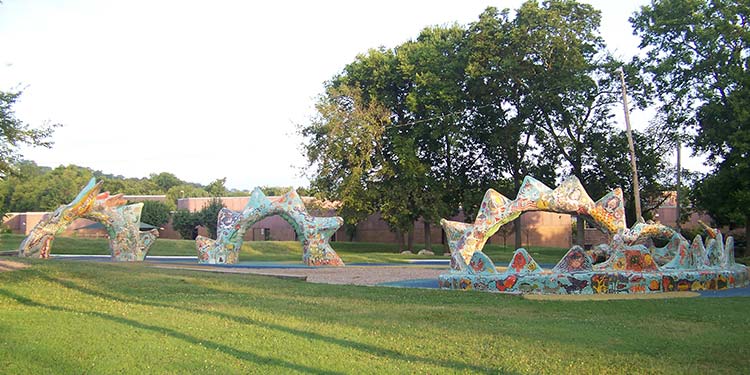 Location: 2400 Blakemore Ave, Nashville
Opening hours: 5:00 am - 10:00 pm (Every Day)
Contact: 615-862-8408
If you are looking for a big outdoor space for your kids, Fannie Mae Dees Park is a free area for them to explore, jump, and run around!
The park, named after a local civic leader, offers climbing areas, swings, slides, a sand pit, tennis courts, a soccer pitch, and a crawl-through tunnel for children of all ages.
You can plan a family picnic on the grounds by reserving a picnic spot beforehand.
The park is also known as Dragon Park for its major attraction of a large serpent-like dragon or sea monster—whatever you want it to be—slithering through the ground.
It is covered with mosaics from its head all the way to its tail made by several artistic people.
It is also a fantastic place to stroll, for adults accompanying their kids can wander around the beautiful lily garden.
Tips: You can engage your children to look through the arts and even come up with your own game of exploring the fascinating sculpture!
Catch a show at Nashville Children's Theater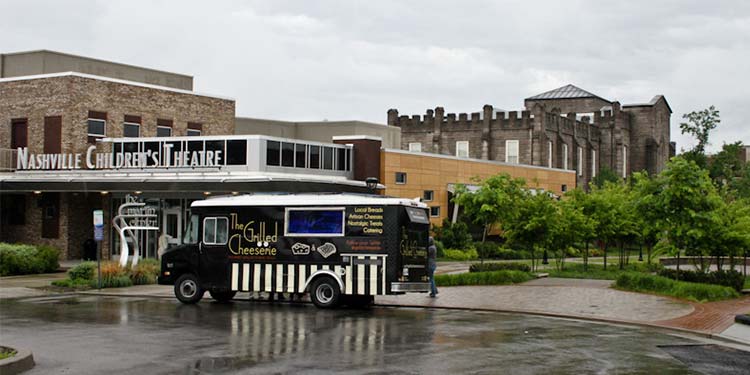 Location: 25 Middleton St, Nashville
Opening hours: 7:30 am - 5:30 pm (Mon-Fri), 1:00 am - 4:00 pm (Sun), Closed on Sat
Entry rates: $20 (Ages 3-17), $25 (Adults)
Established in 1931, Nashville Children's Theater is one of the country's oldest and finest children's theaters.
Take your kids to watch a show, highly recommended if it is their first play—it's a great place to start, and they will love the experience.
The theater offers some of the most popular shows, including Llama Llama, The Wizard of Oz, Itsy Bitsy Spider, The Little Mermaid, The SpongeBob Musical, and much more!
Kids can engage themselves while waiting for the play to start in the lobby, where many playing options are available.
Plays here are very interactive and attention-grabbing, so a kid being distracted is out of the question!
The production and high-quality performance can almost match Broadway!
Experience Unique Exhibits at Adventure Science Center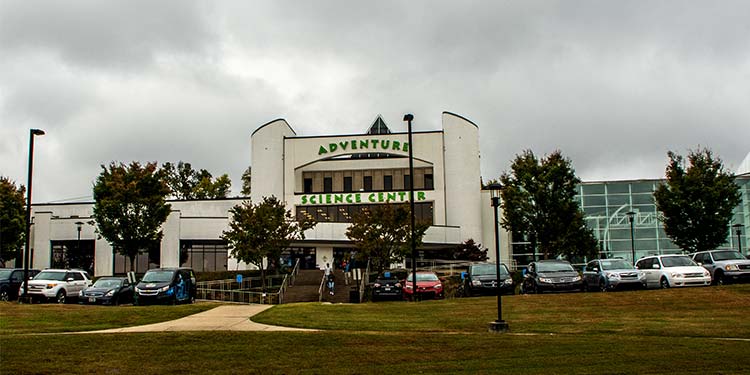 Location: 800 Fort Negley Blvd, Nashville
Opening hours: 9:00 am - 3:00 pm (Sun, Mon, Thurs & Fri), 9:00 am - 6:00 pm (Sat), Closed on Tues & Wed
Entry rates: $14 (ages 2-12), $18 (Adults)
A perfect chance for exploration and a unique experience for all kinds of kids in this interactive Adventure Science Center.
Your children can enjoy their time exploring and playing alongside learning from many educational exhibits.
This science museum for children has tons of hands-on activities divided into many streams of science, including Physics, Biology, Air and Space, Mind, and much more.
It has an interactive climbing structure children can climb on and get a beautiful view of the city from the top of it.
Some exhibits are temporary, whereas Train exhibits, Dinosaur Figurines, and Planetarium are some of the many permanent ones you can enjoy all season.
You can even find a subway restaurant inside the museum where the hungry little tummies get filled with yummy snacks!
Have Fun Jumping at Cumberland Park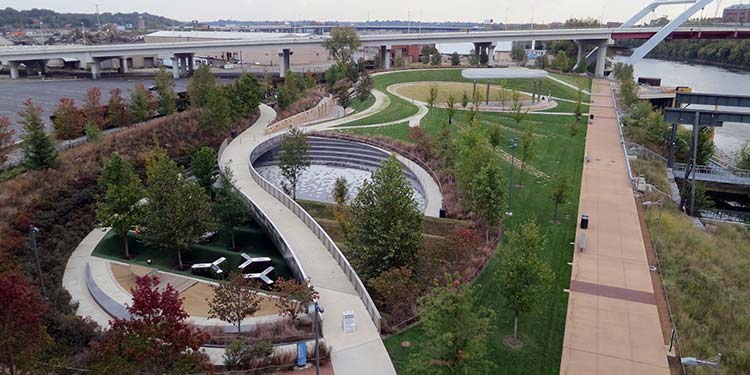 Location: 592 South 1st Street, Nashville
Opening hours: Opens every day from dawn to 11:00 pm 
Entry rates: Not required
Cumberland Park truly is a break from the city area; taking kids to this park can be relieving not only for them but for the parents as well.
The 6.5-acre park has everything a kid needs to have a fun time. It has unique play structures and spaces built for their amusement.
Including the hollow—an activity area having sand play, a bouncing pad, a seesaw, a green maze, and much more.
It has other innovative and engaging spaces, such as a splash area, a stepping-stone path, and a rock-climbing wall. 
Visitors can also take the explorer trail that goes all around the park's beautiful grasslands; likewise, the kids can run around and explore the whole area!  
Tips: You can get direct access to the long pedestrian bridge next to the park, where you and the children can enjoy the city's best skyline view. 
Make Non-Human Friends at Nashville Zoo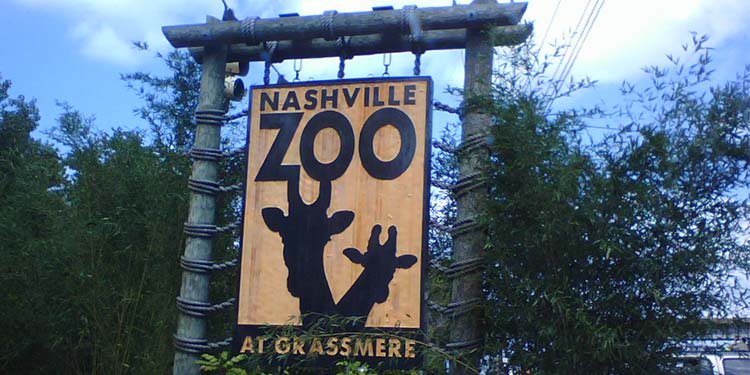 Location: 3777 Nolensville Pike, Nashville
Opening hours: 9:00 am - 4:00 pm (Every day)
Entry rates: Starts from $4 (Ages 2-12), $16 (Adults & Teens)
One of the most popular attractions throughout Middle Tennessee is the Nashville Zoo at Grassmere.
Kids love animals, and there is no doubt animals find them interesting too; they can observe over 6000 animals varying from more than 300 species in this zoo.
It is a small zoo with great exhibits, which is very accessible for younger children as well. 
Besides watching the animals and participating in the interactive exhibits, the zoo also offers a 4D theater experience, Dino Trek, and Zipline for their audience.
Kids can find something intriguing to take home with them in the reasonable gift shop.
Alongside a zoo, it also has a historic plantation farmhouse within the property which can be an interesting sight for visitors.
Tips: The park has installed water refill stations throughout its ground, so carrying your own water bottle is highly recommended. 
Get Inspired at Frist Art Museum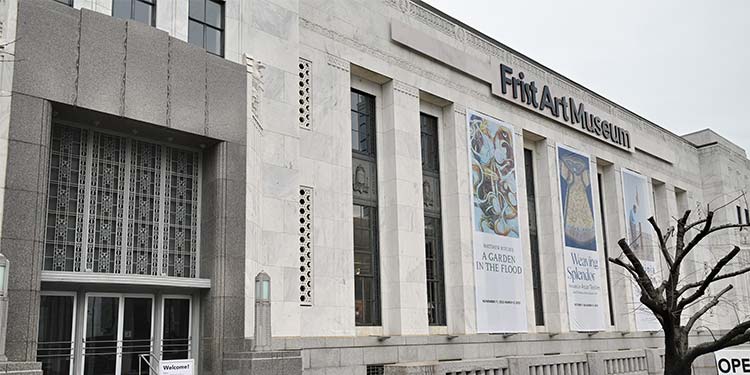 Location: 919 Broadway, Nashville
Opening hours: 10:00 am - 5:30 pm (Mon, Fri & Sat), 10:00 am - 8:00 pm (Thurs), 1:00 pm - 5:30 pm (Sunday), Closed on Tues & Wed 
Entry rates:  Free (Members & children under 18), $15 (Adults)
The white marble building was originally Nashville's main post office that was later turned into an art museum.
Kids will love to explore the visual arts and installations created by many local, national, and international artists.
First Art Museum showcases a variety of inspiring and thoughtful pieces of traveling art that change after every certain period; it does not own any permanent displays.
The art gallery has an interactive art lab where children and adults can enjoy making artwork using various mediums and inspiration.
You don't want to miss out on visiting this historical building that has lots to offer young and creative minds.
Tips: Don't forget to check out the gift shop inside the building for exciting and unique stuff for the kids to remember the trip.
Explore the Outdoors in Treetop Adventure Park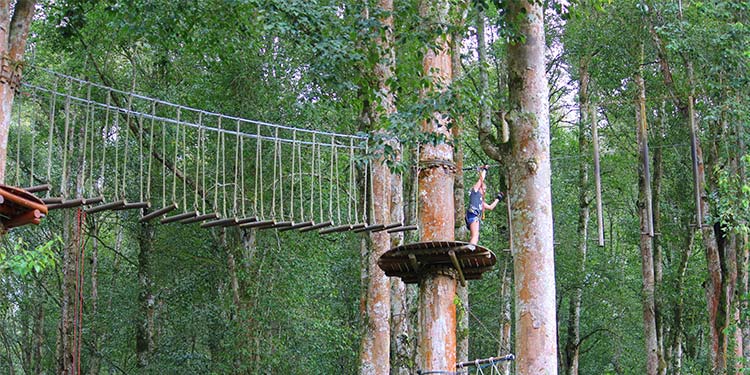 Want to plan something exciting for your kids? Take them to Treetop Adventure Park for awesome outdoor fun.
The park featuring over 100 challenging obstacles, is set in the woods of Nashville Shores Lakeside Resort.
Visitors can participate in thrilling activities such as Ziplines, Cargo nets, Suspended bridges, Tarzan swings, and much more.
It provides separate packages of combined activities offers for adults, tweens, and kids.
You can have a fun bonding experience with your kids and a recreational activity for the whole family.
Despite all the exhaustion at the end, you will remember this worthwhile adventure as a day spent well!
Feel the Calm in Centennial Park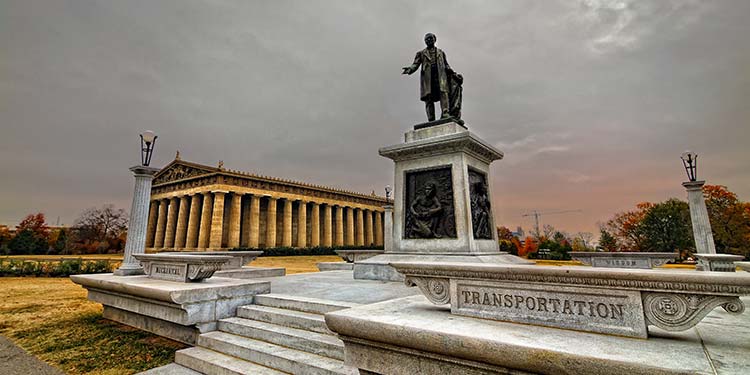 Location: 2500 West End Avenue, Nashville
Opening hours: Dawn to 11:00 pm (Every Day)
Contact: +1 615-862-8400
Located right in the middle of the city is a beautiful and relaxing Centennial Park.
The 132-acre of natural beauty has many attractions within the park that can be visited without being charged.
A stunning replica of the Greek Parthenon is the center of attention as many come to the park just to witness the architecture.
The kids might enjoy walking around Lake Watauga, where they can watch ducks swimming and turtles slipping in and out of the water.
The presence of music is always around the park; you can find fairs and festivals happening here or ice cream trucks and food trucks around, which can be amusing to the little ones.
This park is a lovely place for kids as they can explore the grounds that have statues, a flower garden, and walking spaces.
Tips: You can take the children inside the informative and fascinating museum that charges $10 for adults, $4 for the younger ones, and free entry for kids of age four and under.
Go Experience at Goo Goo Chocolate Co.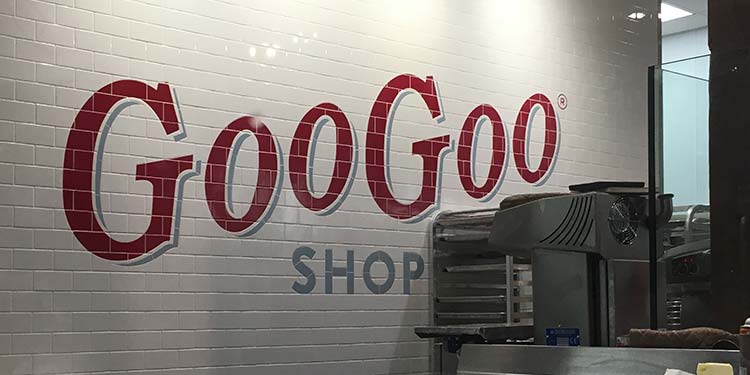 Location: 116 3rd Ave S, Nashville
Opening hours: 10:00 am - 6:00 pm (Every Day)
Contact: +1 615-490-6685

Who doesn't like to treat their sweet tooth? No one could admit it more than a kid!
Visit the beloved Chocolate Company and experience a fun and interactive tour—the kind of tour the kids and even adults will love.
The tour comes with some Goo Goo goodies, an elaborative insight and history of the facility, and making your own cluster and chocolate bar!
The best part of your visit would be watching your kids making their own unique piece of chocolate from varieties of fillings to choose from.
You can purchase some packaged candies, hot cocoa mixes, coffee, and merchandise like t-shirts as souvenirs.
See It All at Shelby Bottoms Nature Center and Greenway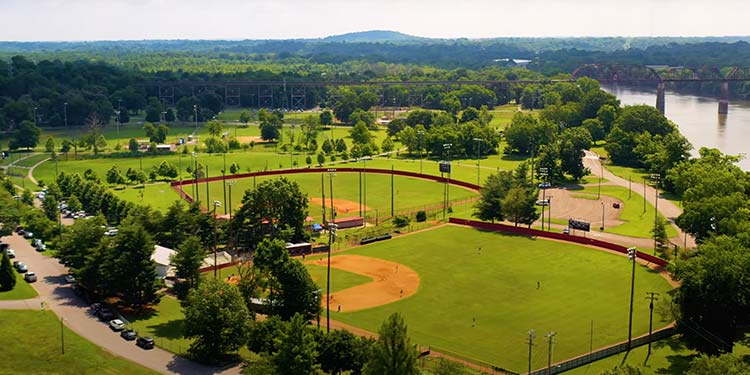 Location: 1900 Davidson Street, Nashville
Opening hours: 9:00 am - 4:00 pm (Tues, Thurs, Sat), 12:00 am - 4:00 pm (Wed & Fri), Closed on Sun & Mon 
Entry rates: Not required 
A perfect escape from the town's hustle and bustle to a wonderful and peaceful natural area.
The 950 acres of Greenway have lots to offer the children.
From sharing the area's cultural history to providing free educational programs regarding nature and environmental awareness.
There are special activities happening that engage an all-ages audience.
It is a great place for observing wildlife; you can commonly spot deer, turtles, and tons of birds, including songbirds and insects like dragonflies.
The park makes a huge fun area for children to play and explore the grounds having multiple art sculptures.
Take your children to the nature center and greenway to connect them with nature.
Collect Memories in Country Music Hall of Fame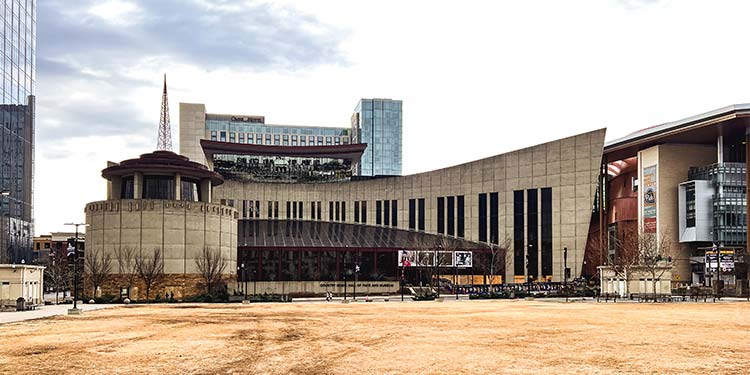 Location: 222 Rep. John Lewis Way S, Nashville
Opening hours: 9:00 am - 5:00 pm (Every day)
Entry rates: $17.95 (Children under 13), $27.95 (Adults) 
Do your kids love music? Get them off their in-trend pop and rock songs for a while and take them to experience the world of Country music.
This is one of the world's largest museums and research centers built to preserve American country music.
Find all your favorite country music stars featured in this Gallery and introduce them to your kids.
Children might find watching interesting artifacts and displays, including gold records, awards, and costumes of many legendary artists, amusing.
Tips: To make the visit more worthwhile, fun activities such as scavenger hunts and Young explorer bags are available to reserve online.
Meet Your Favorites at Madame Tussauds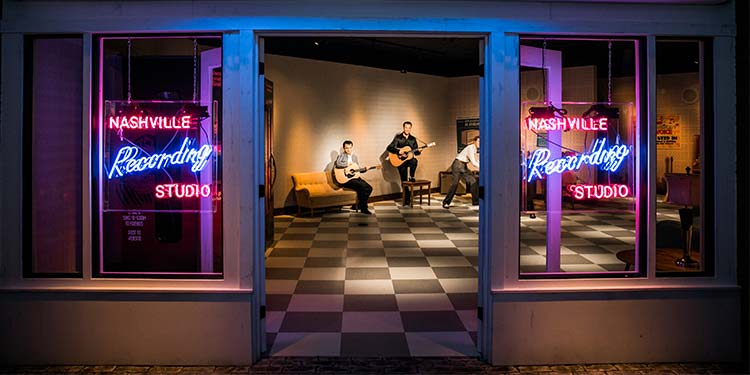 Location: Opry Mills, 515 Opry Mills Dr, Nashville
Opening hours: 11:00 am - 7:00 pm (Mon-Thurs), 10:00 am - 8:00 pm (Fri & Sat), 12:00 pm - 6:00 pm (Sun)
Entry rates: $19.99 (Kids), $25.99 (Adults)
Madame Tussauds is where you can meet and take pictures of past and present celebrities.
The wax museum is a famous attraction for everyone who wishes to meet the wax replicas of their favorite idols.
You can find realistic models of Taylor Swift. Elvis Presley, Beyoncé, Luke Bryan and so many more are in this museum.
With more than 20 Madame Tussauds locations worldwide, check out the interactive museum right here in Nashville for a fun time.
Wild Fun at Wildhorse Saloon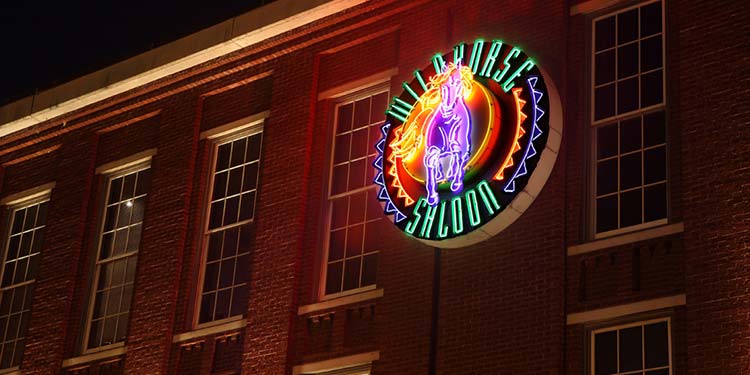 Location: 120 2nd Ave N, Nashville
Opening hours: 12:00 pm - 10:00 pm (Sun),  4:00 - 10:00 pm (Thurs), 12:00 pm - 11:00 pm (Fri), Closed on Mon-Wed & Sat) 
Contact: +1 615-902-8200
Wildhorse Saloon is a fun and entertaining family-friendly dining space.
Enjoy delicious food and refreshing beverages while enjoying live music and country dancing in a fun and friendly atmosphere.
The spacious venue has plenty of space to dance throughout the 3-story tall building.
You can also join the free line-dancing lessons they teach to hundreds of people at a time! Even if you don't wish to get on the dance floor, it is surely an amusing sight to see!
Engage your kids and encourage them to show some little dance moves and boost their confidence in the crowd.
Stop Once at Opry Mills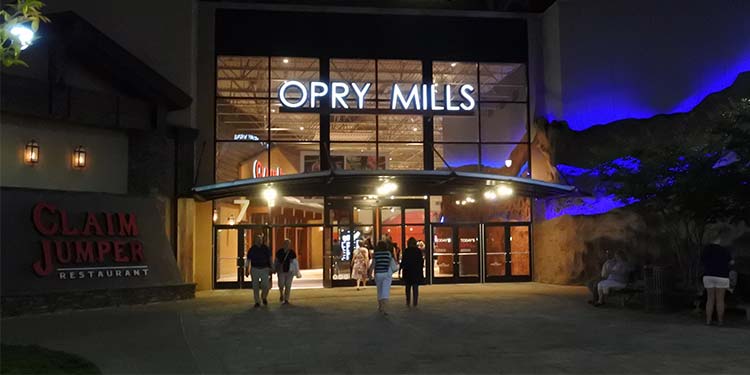 Location: 433 Opry Mills Dr, Nashville
Opening hours: 10:00 am - 8:00 pm (Mon-Sat), 11:00 am - 6:00 pm (Sun)
Entry rates: Not Required
There is no doubt a kid wouldn't like to visit a good shopping mall, surely when it has everything they could ever ask for!
Opry Mills is that one-stop destination for your kid's enjoyment!
Tons of fun activities, an Aquarium, Madame Tussauds, an Escape Room, and lots of food and shopping options are available here.
You will have lots to explore and discover inside the super shopping mall with your little ones!
Indulge in the Beauty of Gaylord Opryland Resort and Convention Center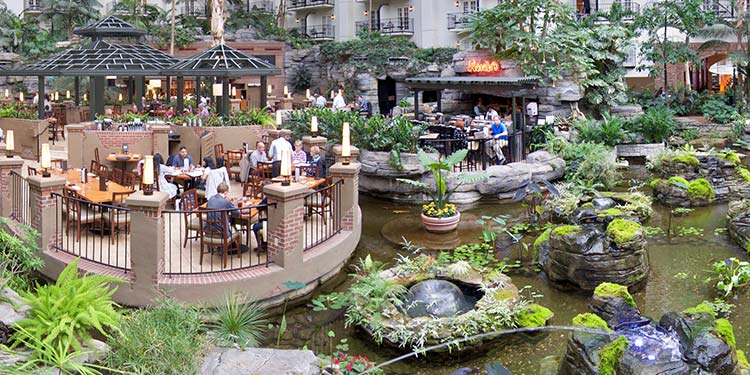 Location: 2800 Opryland Drive, Nashville
Contact: +1 615-889-1000
If you are looking for a luxurious staycation in Nashville, then Gaylord Opryland Resort is the perfect place for a fun and relaxing stay.
It is fun to walk and explore the massive grounds of the resort having plants and tree species from all around the world.
They have fun activities for children and offer an amazing fountain show and a boat ride on an inside river that takes you around to see stunning scenery.
There is a huge selection of restaurants and shopping on the property; sightseeing and touring around the hotel area can be fun as well.
The beautiful resort is the most popular and highly rated place in the area, so you are promised a top-notch room and service here.
However, if you don't plan to stay for the night, do consider visiting during the daytime for a wonderful experience!
Tips: If you're staying for the night, make sure you keep your patio door open to enjoy the sounds of the waterfalls and feel the cool breeze!
Catch a Show at Grand Ole Opry
Location: 600 Opry Mills Drive, Nashville
Opening hours: 10:00 am - 4:00 pm (throughout the week), 5:30 pm - 9:30 pm (Tues, Fri & Sat)
Entry rates: Differs on Shows & Seating area
Grand Ole Opry is a famous attraction in Nashville, many people visit the place to watch a show and tour the historical place.
You can catch a live musical show, a country classic one that matches well with the aesthetics and atmosphere.
The performers here are replaced frequently so that audiences get to watch one-of-a-kind performances now and then.
Children can indulge and find the performances fascinating and different from what they are used to.
With over 4000 seats, you won't find a single bad seat in the house!
After the show, you can take a guided tour and see what happens behind the scenes backstage.
Explore the History at Andrew Jackson's Hermitage
Location: 4580 Rachel's Lane, Nashville
Opening hours: 9:00 am - 6:00 pm (Every Day)
Entry rates: Starts at $12 (Ages 5-12), $19 (Adults)
A historical museum that was once the residence of the seventh president of the United States can be a great place to explore history with your kids.
The house is well preserved with lots of original artifacts and interior pieces and history all over the place.
The grounds of the presidential house are gorgeous; with over 100 old trees incredibly surrounding the site can be a great sight!
You can enjoy varieties of plants, wildlife, and beautiful scenery here!
Tips: If your kids are into fairytales and fantasy, do take the horse carriage ride that takes you around the property!
Splash and Slide Your Way to Nashville Shores Waterpark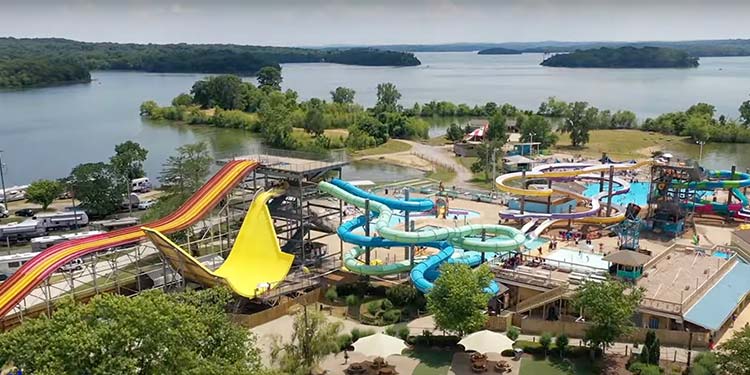 Location: 4001 Bell Rd, Hermitage
Contact: +1 615-889-7050
Are you by any chance in the city around the summertime? If yes, the Nashville Shores Waterpark is the best place for fantastic summer fun!
Lots of adventurous and thrilling water activities are available for every age in the clean water area.
It has over 10 water slides, a lazy river, a wave pool, lots of bouncy obstacle courses, an aquapark, and many more family-friendly attractions.
They have separate suitable spaces for the younger ones; a splash pad area with slides especially for the toddlers.
The waterpark is never too crowded and opens its gate for visitors from early May till early August.
Let the Fun in Nashville Begin!
Traveling with kids is never easy when you don't know for sure what they might enjoy the most in a new place.
However, you won't regret taking them to any of these places—these are the most family-friendly and safe places to take your kids to.
Although it is a big city, it stays loyal to its small-town origin providing a sense of warm and welcoming feeling to its visitors.
Don't worry about not finding a suitable place for your little ones in this Fun city.
Toddlers, tweens, teenagers, or young adults, something is there for everyone's entertainment and refreshment!
Note: Keep in mind that information about travel can change quickly. To make sure your trip is fun and safe, we encourage you to double-check official websites and government/travel advisory sites for the latest information on travel restrictions, entry requirements, and safety measures.