If you want a travel destination that combines history and modern development, Franklin, Tennessee, is a perfect choice.
This charming city has it all: from historic sites to beautiful parks to cozy diners.
Our guide will help you discover the best locations and activities, so you can truly experience everything Franklin has to offer.
And the entertainment choices are endless!
Franklin is an amazing place to discover southern culture while experiencing the best of modern development.
Get ready to engage yourself in the lively atmosphere of Franklin, Tennessee!
Things to Do in Franklin, Tennessee
Get Caught up with the History at Carnton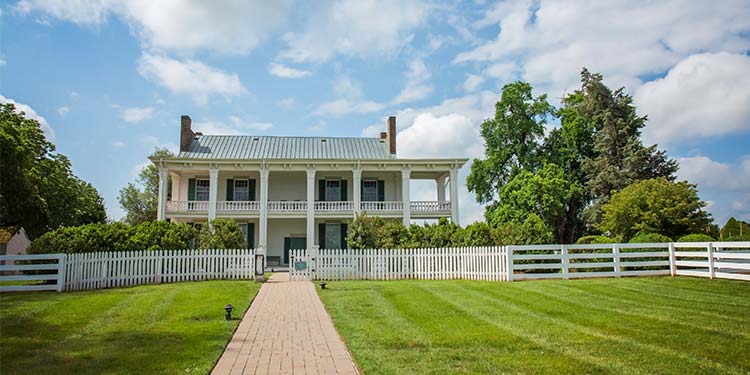 Location: 1345 Eastern Flank Circle, Franklin
Opening hours: 9:00 am to 5:00 pm (Mon-Sat), 11:00 am to 5:00 pm (Sun) 
Entry rates: $18 (Adults), Ages, $10 (Ages 6-15)
A historic family home turned museum, Carton is a red brick federal-style two-story residence built in 1829.
The site is rich in Civil War history and has preserved original pieces of furniture and antiques from the 1830s to 1860s.
It is also one of the most prestigious and well-maintained farms in Middle Tennessee.
Self-guided tours are allowed however, guided tours offered by knowledgeable and professional staff members are recommended.
It will take you about 60 minutes to go through the historic site and watch all the displays.
Other exclusive tours, such as a 90-minute Extended tour of the house and the ground of the Carton, are offered for $25.
You can also take a behind-the-scenes tour which allows the visitors to the private rooms and sections of the site, including the main areas of the house, basement, third floor, and back balcony.
A walking tour of the Franklin Battle shield is also provided to visitors who wish to learn more about the historic Civil War and the details of the battle of Franklin.
The extended and exclusive tours are not recommended for children under the age of 10 or people who have mobility issues.
The flowers bloom beautifully in gardens during spring and summertime, welcoming their visitors gladly!
Explore the Food and Have Fun at Franklin Farmers Market!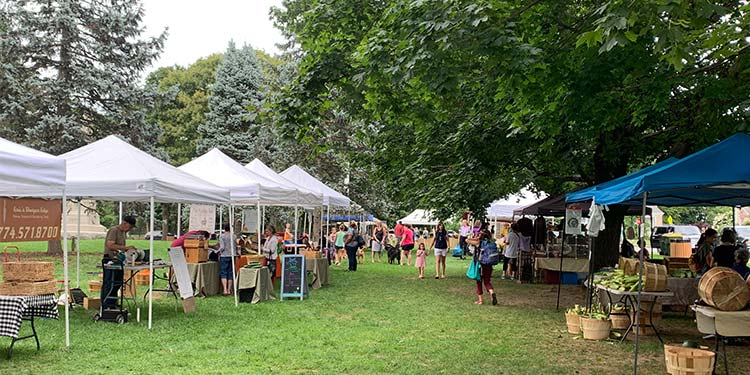 Location: 230 Franklin Road, Franklin 
Opening hours: 9:00 am - 12:00 pm (On Saturdays)
Contact:
Spend a fine morning at a true representation of a Tennessee farmers market filled with food, laughter, and people everywhere!
A large outdoor market with every item on your grocery list; a wide variety of fresh and locally produced goods can be found here.
You will be amazed by the selection of the finest, freshest, and tastiest variety of food items, from baked goods to fresh fruits, dairy, and meat.
Every product comes into the market straight from the farm or the kitchen!
The market is also a social gathering where you get a chance to meet the city's local farmers, bakers, and artisans.
Handmade items such as paintings, woodwork, original photography, pottery, and jewelry are displayed here for sale.
Get yourself something as a keepsake of this journey from a diverse collection of unique and beautiful handcrafted items.
Support the community as they offer you the finest quality products!
Plan a Quick Picnic at Pinkerton Park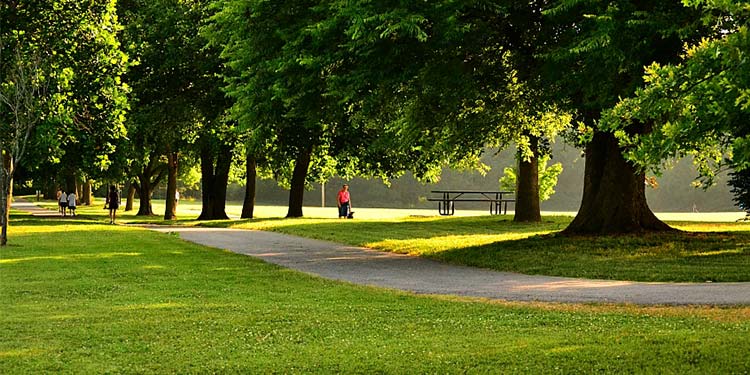 Location: 405 Murfreesboro Road, Franklin
Opening hours: 6:00 am - 9:00 pm (Everyday)
Busiest hour: Usually gets crowdier midday around 1:00pm - 3:00 pm 
Pinkerton Park, spanning 34 picturesque acres, offers an ideal setting for a day out with family, friends, or a significant other.
This charming park is particularly enjoyable for both children and pets, making it a delightful destination for all.
The children's playground here is exceptionally amusing and interactive—a wooden castle area and the fun Tinkerbell playground named after Disney's character.
Likewise, adults can take a stroll on a 1-mile walking trail or sweat off by exercising; pieces of equipment are found in different spots throughout the area.
Harpeth River is found on the west side of the park, whereas Fort Granger is on the North.
'Storybook Trail,' an interesting addition to the park, was introduced in 2018 where the story changes every year.
A beautiful picnic day can be executed here in the fresh air and in the greenery easily—picnic tables and grill spots are provided in the park.
You can find a tennis ground, ping pong tables and a small freely assessable library.
It is one of the most popular places in the city for both the locals and the tourists, so do anticipate the place to be filled with people everywhere.
However, the spacious ground here won't make it feel overcrowded!
Learn More About American History at Lotz House Museum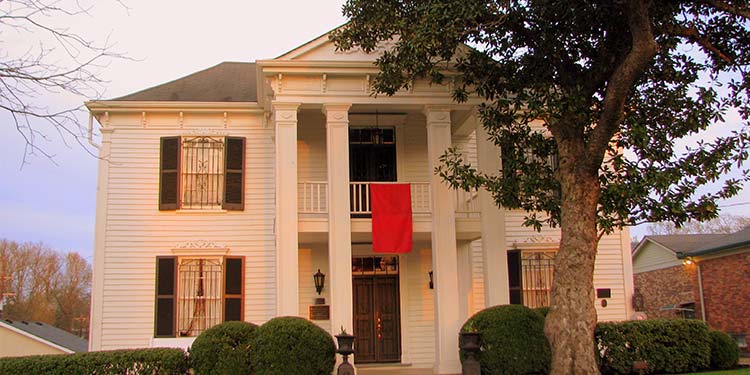 Location: 1111 Columbia Avenue, Franklin
Opening hours: 9:00 am - 5:00 pm (Mon-Sat), 11:00 am - 4:00 pm (Sun)
Entry rates: $14 (Adults), $6 (For ages 7-13) 
One of the other famous historical attractions—suggested for those interested in American History—in central Tennessee is the Lotz House Museum.
Take a guided tour of the two-story house built in 1858 offered by well-trained guides who can also make it informative and entertaining.
The site is known for being at the epicenter of the Battle of Franklin in the 1864's American Civil War.
Apart from the house tour, you can also catch on other tours they provide, such as the Women's history tour, where you can explore how the life of women was in the 1860s.
You can also prefer to get a Private Cellar tour or a Ghost tour in the evening to explore unexplained occurrences on the site.
There are still bullet holes in the house from the massive attack a century ago; you can see the vintage furniture and wallpapers that might take you back in time.
You are not permitted to take personal photographs inside the house, so fully concentrate on looking around the details in the house.  
Find yourself or your loved ones back home a souvenir at their little gift shop alongside supporting the site.
Middle Tennessee Hot Air Adventures: Go Higher!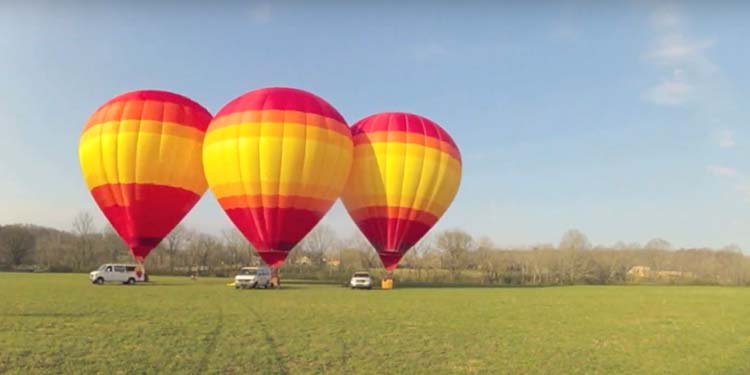 Opening hours: 24 hours 
Entry rates: Starts at $325 per person 
Contact: 615-829-6483
Is flying above in the sky on a big Hot air balloon on your bucket list? Get ready for a lifetime experience!
Middle Tennessee Hot Air Adventures serves thrilling and amusing flights up to altitudes above 2000 feet.
An expert pilot in charge will take you to the hills of Middle Tennessee and hidden lakes; glance over the wildlife you can view from above.
You can either share the box with additional passengers or reserve a private one for you and your loved ones for a special occasion.
Private hot balloon rides are highly recommended for any intimate celebrations such as Proposals, Anniversaries, or romantic getaways!
The hour-long flight is available every sunrise, don't miss it if you want to witness the most beautiful start of the day.
Their smooth and comfortable ride will be safe for you to capture the breathtaking views and unforgettable moments.
They have a tradition of toasting champagne on the landing—it's a victory of accomplishing an adventure!
Explore Around The Factory at Franklin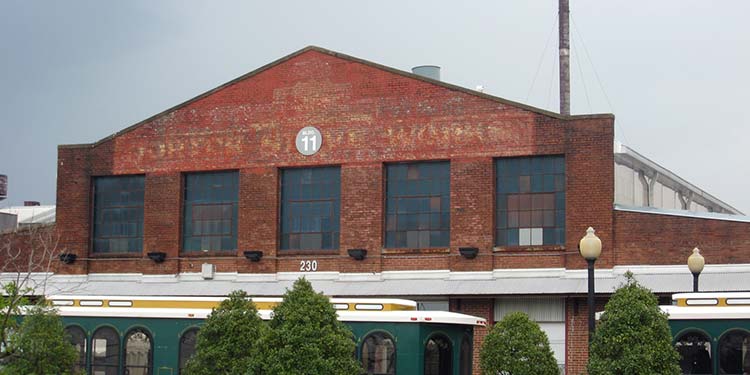 Location: 230 Franklin Rd, Franklin
Opening hours: 7:00 am - 9:00 pm 
Contact: 615-791-1777
The Factory at Franklin is a mixed dining, retail, and entertainment center which was built in 1929 as a stove factory.
It is a perfect destination for people looking for a shopping and dining experience.
Varieties of products and foods are displayed for sale by the most popular local businesses in the huge area.
Visitors can also enjoy the live performances while tasting the delicious delights and supporting the small business.
You can purchase gifts from unique pieces of home décor to artisan goods.
However, they are under construction to expand their area for the new addition of stores and restaurants, so a visit now might feel interrupted.
But they will come up with a better quality of experience very soon!
Take a Guided Tour of the Carter House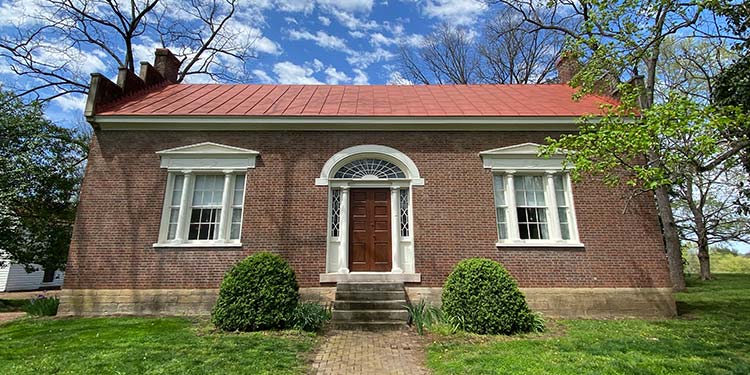 Location: 1140 Columbia Avenue, Franklin
Opening hours: 9:00 am - 5:00 pm (Mon-Sat), 11:00 am - 5:00 pm (Sun)
Entry rates: $18 (Adults), $8 (Ages 6-15) 
If you are into history, a guided tour at one of the state's historical sites—The Carter House—is worth your time and money.
Carter House is a federal-style brick farmhouse and a historic site for playing a significant role during the second battle of Franklin in 1864.
The site has been under the control of the State of Tennessee since it was saved from demolition in 1953.
The well-informed guides here will provide you with many civil war facts, details of the events, and information about the people involved in the Battle. 
You can find about a thousand bullet holes in the walls and furniture that demonstrate the horrific battle that took place on the grounds of the property.
You may take pictures in the small house, log house, and outside on the grounds however, you are prohibited to take pictures inside the big house.
You will enjoy wandering into this beautiful vintage house filled with artifacts and personal belongings of the Carter family and the nation's history preserved very well.
Sweat Out at Soar Adventure Tower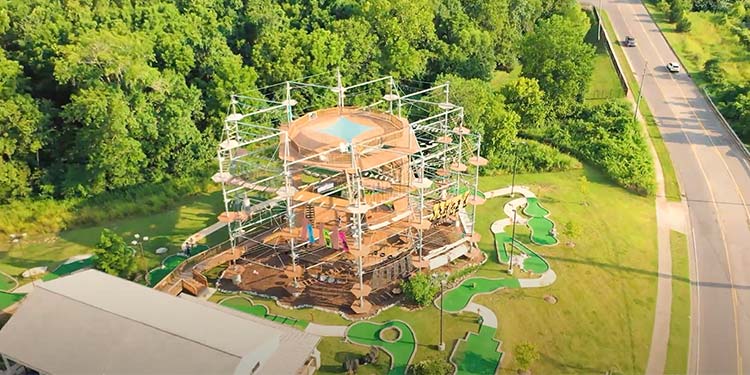 Location: 3794 Carothers Parkway, Franklin
Opening hours: 1:00 pm - 9:00 pm (Mon, Tues, Thurs), 10:00 am - 9:00 pm (Wed), 1:00 pm - 10:00 pm (Fri), 10:00 am - 10:00 pm (Sat), 10:00 am - 8:00 pm (Sun)
Entry rates:  $50 (Adults), $33 (Ages 3-7)
A Perfect adventure for adults and kids, the Soar Adventure Tower is a must-go place for every daring and fun-loving person.
The place offers many fun activities that keep an adventurer engaged and challenged.
The unique tower has many interactive sections, featuring four levels of difficulty and over 100 climbing obstacle courses.
Its ground also has a miniature golf course that offers 18 holes.
The kids can improve their growth by taking over the obstacles, while parents can enjoy watching them face their fears.
A great place to spend time with family and friends by experiencing the unique adventure together.
Get ready to sweat off because the challenge might exhaust you mentally and physically!
Glance Around at the Gallery 202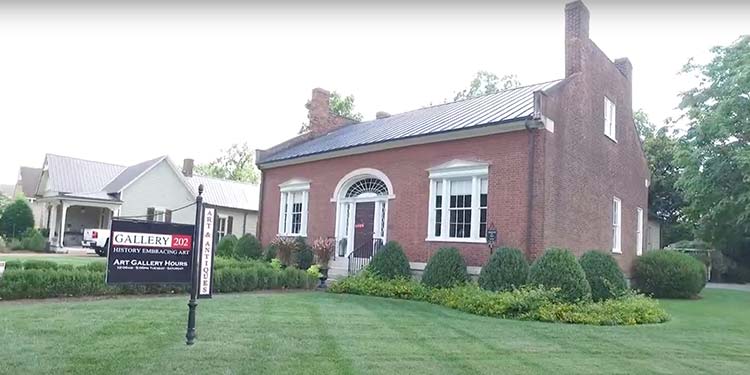 Location: 202 2 Avenue S, Franklin
Opening hours: 10:00 am - 5:00 pm (Tues-Sat), Closed on Sunday & Monday
Contact:  615-472-1134
A diverse collection of art in the form of different artistic styles and mediums is displayed here in Gallery 202.
In a historic Federal-Style home, some of the most unique and original artwork by various local artists is in this premier gallery.
The place is solely dedicated to admirers of art and people who would want to give them a new home.
A beautiful collection including Paintings, Antiques, Jewelry, Pottery, Glass, and Sculptures are exhibited.
You can pick a suitable art piece for your collection if you prefer to purchase it and support local artists.
A warm and welcoming vibe can be felt in this gallery, where the helpful staff welcomes all the guests as friends.
Learn about the history of the house and wander around the gallery to learn from the creators!
Feel the Vibe at Pilgrimage Music and Culture Festival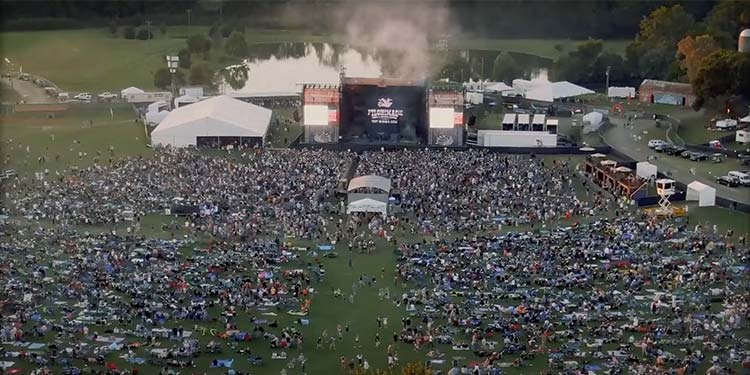 Date: 23rd - 24th September 2023
Entry rates: Starts at $239
The highly anticipated annual two-day Music Festival has been taking place in Franklin's Park for eight years now.
Showcasing a wide variety of musical genres, such as Rock & Roll, Jazz, Indie, Gospel, Americana, Alt-Country, Pop, and Blues, this event offers something for every music lover.
If you're here around the time, don't miss out on the event solely committed to creating an authentic music festival experience for the people.
Watch out for a guest appearance or surprise acoustic performances, which Pilgrimage always manages to do for the audience.
Alongside music, you shall also enjoy some amazing food and buy handicrafts from the local vendors.
Some of the lineups for the event are The Lumineers, Yola, James Bay, Zach Bryan, Luke Grimes, and much more!
Shop at Franklin Antique Mall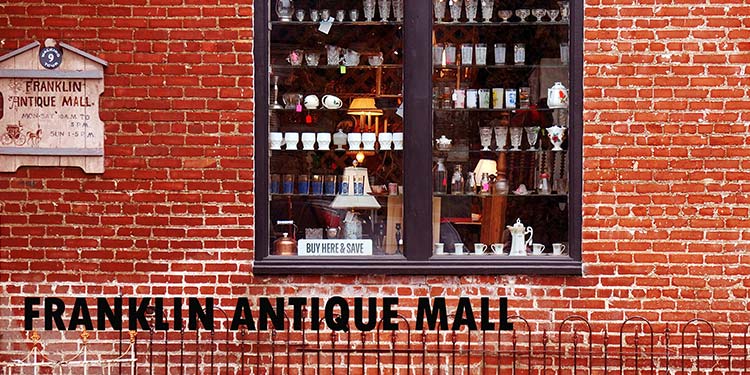 Location: 251 2nd Ave S STE 100, Franklin
Opening hours: 10:00 am - 5:00 pm (Mon-Sat), 1:00 pm - 5:00 pm (Sunday)
Contact: (615) 790-8593
Ready for a treasure hunt? Find yourself the most unique and valuable accessories and collectibles at Franklin Antique Mall.
Franklin has the most extensive collection of vintage items, including glassware, jewelry, furniture, kitchenware, books, and so much more. 
Many findings here are one kind of never-seen-before, a perfect purchase for those interested in collecting antiques.
Staff members are very friendly and patient and have knowledge about each item which shall help you delve deeper into an item's history. 
Taste the Wine and Tour Arrington Vineyards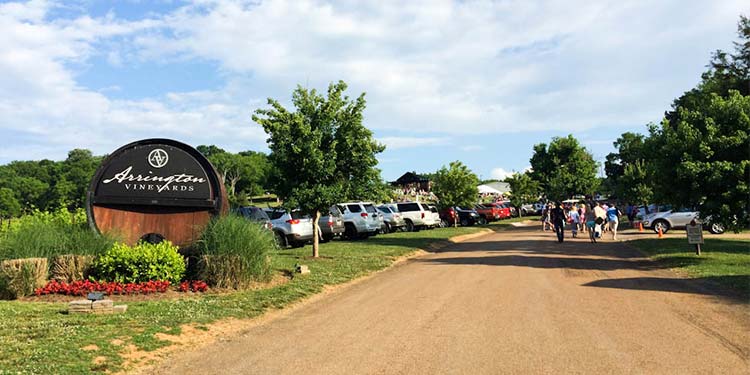 Location: 6211 Patton Rd, Arrington
Opening hours: 11:00 am - 6:00 pm (Mon-Thurs), 11:00 am - 8:00 pm (Fri & Sat), 12:00 pm - 6:00 pm (Sun)
Contact:  615-395-0102
Visit one of the best wineries in Tennessee!
The 95-acre land has 16 acres of vineyards, tasting rooms, picnic areas, and free parking space.
Enjoy a relaxing afternoon here tasting wines and enjoying the live music playing in the background on weekends from April to November.
It is a fantastic outdoor space for family picnics or a romantic date.
They provide picnic tables in the shaded areas and foods you may wish to buy, or you can bring your own food. 
Lots of fun, good wine, and a perfect country vibe! 
Where to Stay!
Franklin offers a range of accommodations to suit every traveler's needs and budget.
From luxurious boutique hotels like The Harpeth Hotel to cozy bed-and-breakfasts like the Magnolia House, you'll find a comfortable place to rest your head.
For those seeking a more budget-friendly option, consider one of the many chain hotels or Airbnb rentals available in the area.
Where to Eat!
Savor the flavors of the South with an array of dining options in Franklin.
Sample local dishes at Gray's on Main, indulge in farm-to-table fare at 55 South or enjoy a laid-back meal at the Frothy Monkey.
Don't forget to satisfy your sweet tooth with a visit to Kilwins or Merridee's Breadbasket for some homemade treats.
Essential Itineraries and Tips!
To make the most of your visit to Franklin, we recommend planning your trip around your interests and the length of your stay.
For history buffs, focus on the many historical sites and landmarks, such as the Carnton Plantation and the Lotz House.
For nature lovers, prioritize outdoor activities like hiking at Timberland Park or canoeing on the Harpeth River.
And for art and culture enthusiasts, spend time exploring the galleries, workshops, and live performances throughout the town.
No matter your interests, Franklin has something for everyone.
Essential Information!
When planning your trip to Franklin, consider the weather and any seasonal events that may impact your visit.
The town experiences a temperate climate, with warm summers and mild winters.
However, spring and fall are considered the best times to visit, thanks to their pleasant temperatures and vibrant foliage.
Franklin hosts a variety of annual events, including the Main Street Festival in April, the Pilgrimage Music & Cultural Festival in September, and Dickens of a Christmas in December.
Be sure to check local event calendars when planning your trip.
Let the Fun Begin!
You can anticipate spending an unforgettable journey of a lifetime here in the city that promises nothing but a good time.
Getting around the city will be one of the most relaxing or exhausting parts of the trip, depending on your preferred activities.
Nevertheless, even exhaustion will feel rewarding after spending a meaningful and exciting day in the city.
What are you waiting for? Pack your bags already—this is the start of a new adventure!   
Note: Keep in mind that information about travel can change quickly. To make sure your trip is fun and safe, we encourage you to double-check official websites and government/travel advisory sites for the latest information on travel restrictions, entry requirements, and safety measures.