Traveling to a new City and wondering what you may do? If it's Nashville you're going to, we've got you covered!
Nashville is well-known for being the city of music, having much historical involvement in the evolution of America's Music.
So, you are expected to indulge yourself in lots of music, history, and art in the capital city of Tennessee.
With endless options of places you must go to whether you're traveling with a companion or alone, the city will have something that will excite you!
Things to Do in Nashville, Tennessee
Country Music Hall of Fame and Museum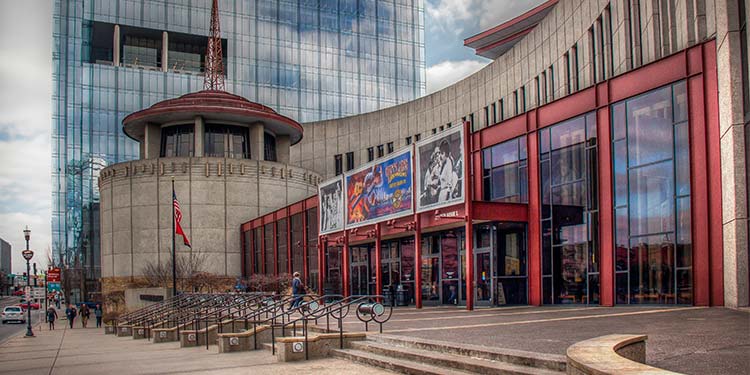 Location: 222 Rep. John Lewis Way S, Nashville
Opening hours: 9:00 am - 5:00 pm (Every day)
Entry rates: $27.95 (Adults), $17.95 (Children under 13)
One of the places you cannot dare to miss out on in this city is the world's largest Museum and American Music Research Center also known as the Country Music Hall of Fame and Museum.
Explore a variety of exhibits featuring iconic country music artists like Johnny Cash, Patsy Cline, and Dolly Parton, and get up close and personal with their belongings like clothing, instruments, and even Elvis Presley's custom-made 1960 Gold Cadilac rests here.
With interactive displays and educational programs, music lovers tend to experience something very personal and informative making the visit a memorable one.
Cheekwood Estates and Garden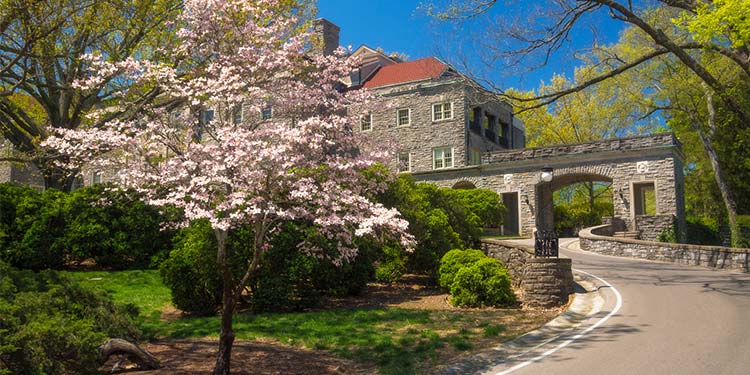 Location: 1200 Forrest Park Drive, Nashville
Opening hours: 9:00 am - 5:00 pm (Tues-Sun), Closed on Monday 
Entry rates: Starts at $20
You should add this heavenly place on earth to your must-go list if you don't mind getting closer to nature and the peace that you find within.
You can wander around the picturesque botanical gardens having a variety of vibrant plants and trees led by a beautifully curated walking path.
Cheekwood Estates and Garden has an Art museum you can visit, a cafe to chill and sip on your warm cup of tea, and a gift shop as well.
Tennessee State Museum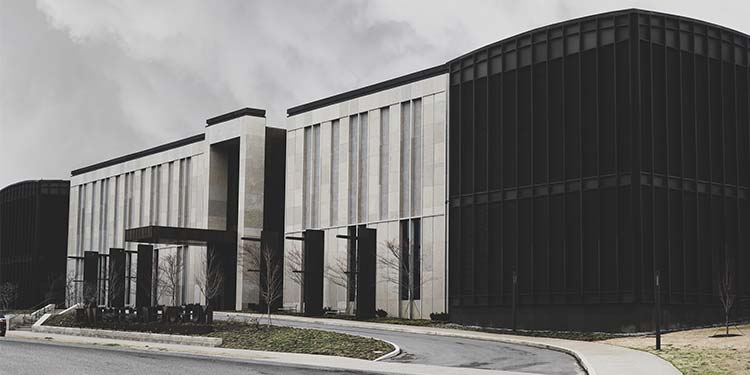 Location:  Bill Haslam Center, 1000 Rosa L. Parks Blvd, Nashville
Opening hours: 10:00 am - 5:00 pm (Tues-Sat), 1:00 pm - 5:00 pm (Sun), Closed on Monday 
Entry rates: Not required
Visiting Museums can never go wrong! If you are visiting the city for the first time, Museums can be a great place to start with.
Likewise, Tennessee State Museum can be your one-stop to get all the important information as it covers most of Nashville's history.
With a collection of art and history of 13000 years, the place is highly educational and informative.
It is also packed with lots of fun, especially for the enjoyment of younger ones; engaging hands-on kids gallery and activities in the children's area.
A must-visit museum for an exciting, relaxing, and meaningful day you may look forward to spending in Nashville.
Grand Ole Opry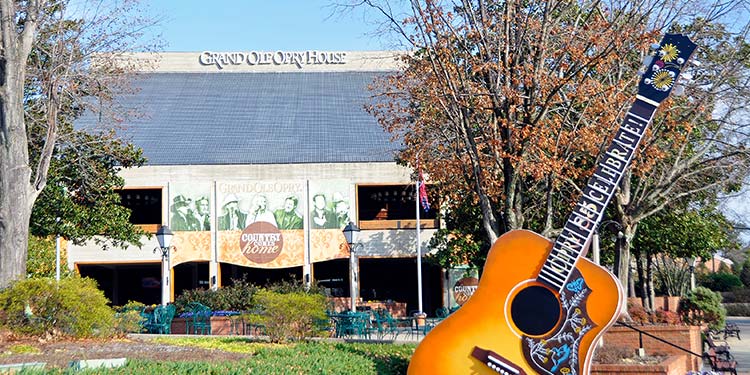 Location: 600 Opry Mills Drive, Nashville
Opening hours: 10:00 am - 4:00 pm (throughout the week), 5:30 pm - 9:30 pm (Tues, Fri & Sat)
Entry rates: Differs on Shows & Seating area
As it is highly known for being the performing stage where country music was born, it is no surprise Grand Ole Opry is the most popular place in the city of music.
It features a mix of established and emerging country music artists, as well as comedic skits and other entertainment.
Famous live performers have blessed this Auditorium with their aura lifting every audience's legs off their ground in joy.
The shows are never dull, and the spirit of music is always so alive every night; it will be worth a visit to watch a show or simply take a tour of the Ryman Auditorium.
Tips: arrive early, dress comfortably, bring a camera, be respectful, and check the schedule.
Nashville Zoo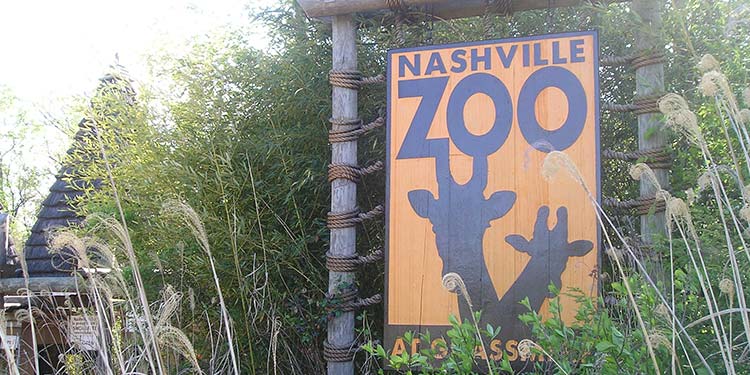 Location: 3777 Nolensville Pike, Nashville
Opening hours: 9:00 am - 4:00 pm (Every day)
Entry rates: Starts from $16 (Adults & Teens), $4 (Ages 2-12)
If you're up for an outdoor adventure, go see the wilds! Nashville Zoo is visitors' favorite for being one of a kind.
Known for its unique structure of sheltering more than 3000 animals of over 325 species in 188 acres of land. It is also a founding member of the Clouded Leopard Consortium.
It has an interesting take on keeping the visitors on the go for 2-3 hours of walking into the zoo; every corner has something new to offer.
A huge playground is designed to keep the children engaged and jolly inside the zoo. The whole zoo experience is educational for both the kids and adults
The place gets usually busier after midday so make sure you avoid it to enjoy your time at the zoo when there's less crowd.
Nashville Farmer's Market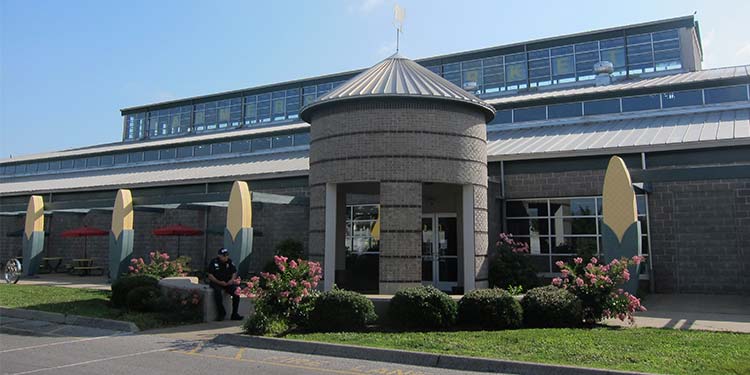 Location:  900 Rosa L Parks Blvd, Nashville
Opening hours: 8:00 am - 6:00 pm
Entry rates: Not required
With a large number of vendors selling various types of items, live music going on, and adults and kids enjoying the lovely atmosphere, Nashville Farmer's Market is one of the most happening places in the city.
From household items to clothes to organic fruits- the market has it all! You can also find an upscale food court selling the best cuisines, beverages, and desserts you can munch on.
This is the type of Nashville vibe you have to experience at least once throughout your stay to know the city better.
One thing is for sure, you won't be leaving this place empty hands!
Frist Art Museum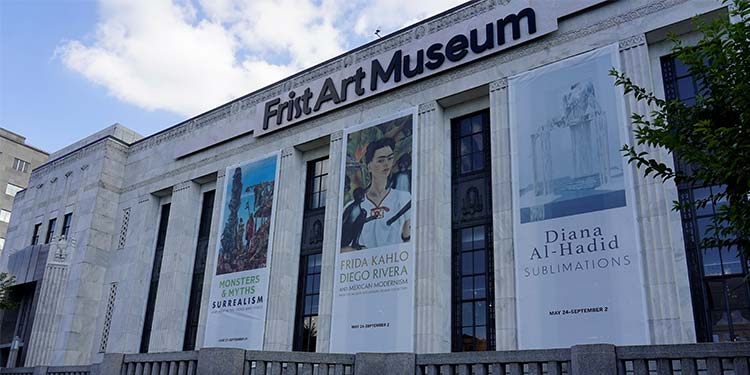 Location: 919 Broadway, Nashville
Opening hours: 10:00 am - 5:30 pm (Mon, Fri & Sat), 10:00 am - 8:00 pm (Thurs), 1:00 pm - 5:30 pm (Sunday), Closed on Tues & Wed 
Entry rates: $15 (Adults), Free (Members & children under 18)
Frist Art Museum is in a magnificent marble building since 2001 which displays visual arts from various artists and exhibits artworks collected from all around the world.
However, it does not have a permanent collection which allows the viewers to experience different exhibits changing all around the year.
The arts displayed here are mostly very unique and the activities corner is fun and interesting engagement for the visitors.
Broadway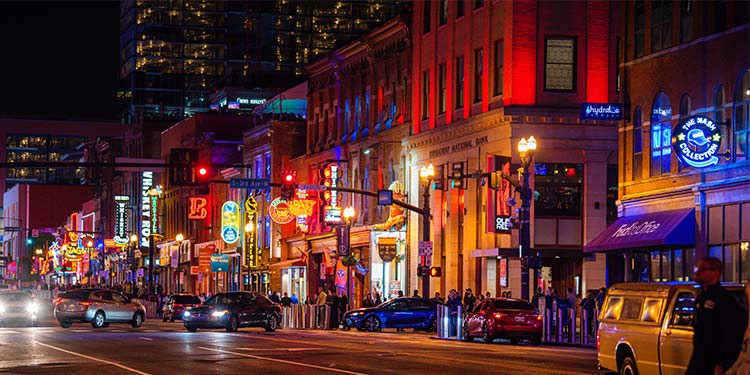 Location: Nashville, Tennessee
Opening hours: 10:00 am - 3:00 am 
Entry rates: Not required
Broadway is one of the most happening areas in Nashville. It is the ultimate destination for tourists as every street is always filled with bright lights and warm energies to welcome them.
This is the place where you find all the fun things you can, all in one place. Live music, bars, parties, and great food- all you might need to spend a good time!
Parthenon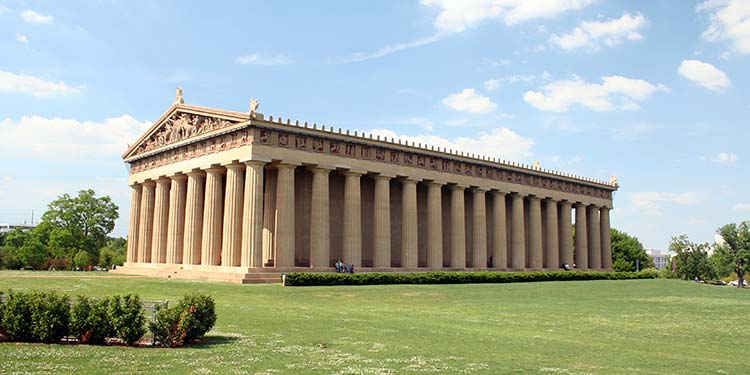 Location: 2500 West End Avenue, Nashville
Opening hours: Changes every Week
Entry rates: $10
The centerpiece of Centennial Park, the Parthenon is truly one of the most beautiful attractions in the city.
Mainly for being the full-scale replicated version of the original Parthenon in Athens which was built in 1897.
The museum inside can be an interesting insight for people who are into Greek history but it isn't just a place to see historical artifacts – it's also a hub for exciting events all year long!
From mesmerizing art exhibits to soulful music performances, there's always something happening here that's sure to delight and inspire visitors of all ages.
Tips: you should take time to explore Centennial Park, which is home to several other attractions and activities, including a lake, walking trails, and a bandshell.
Cumberland Park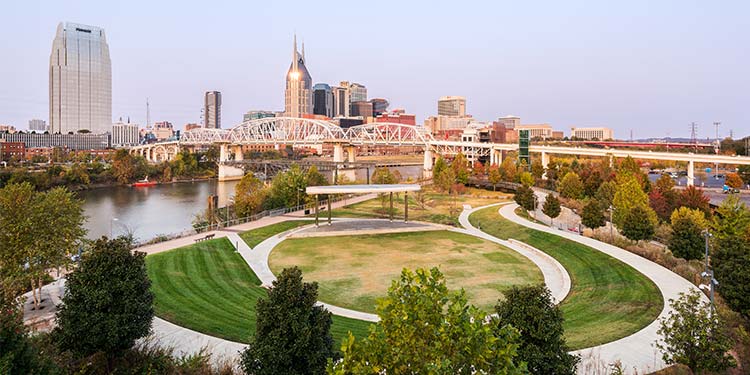 Location: 592 South 1st Street, Nashville
Opening hours: Opens every day from dawn to 11:00 pm 
Entry rates: Not required
If you're traveling with kids, a day out, or spending an evening in Cumberland Park would make a great fun day.
It's a lovely park where you can get on some activities like wall climbing, splashing in the water in the fountain jet area, and taking on the trail to stroll and run with the kids.
You may also walk the bridge that connects the park to the city from where you can get beautiful skyline views of Nashville and the river.
Loveless Cafe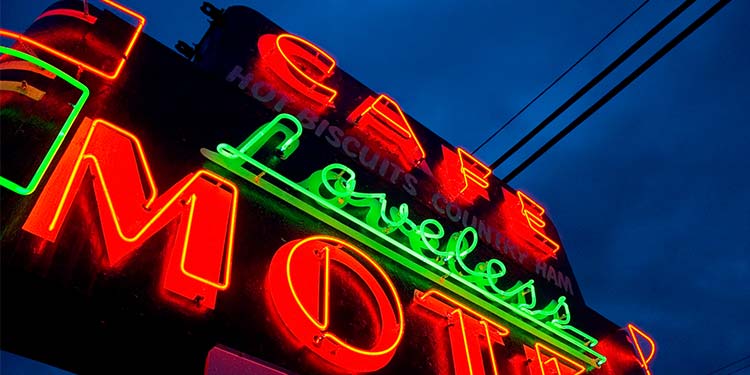 Location: 8400 HWY-100, Nashville
Opening hours: 8:00 am - 8:00 pm (Mon-Fri), 7:00 am - 8:00 pm (Sat & Sun)
Entry rates: Not required
Well, while you're in Nashville you may want to try out some of the best foods in the city. Don't worry you'll find many places with good food.
However, if you are looking for a popular destination to satisfy your cravings, Loveless cafe is the answer. And who knows? you might even add some of their items to your list of favorites!
Any meat item and biscuits are must try. Kids get a separate menu with delicious options of food. While you're there, you can also taste their famous drinks that complete the meal you choose.
Music Row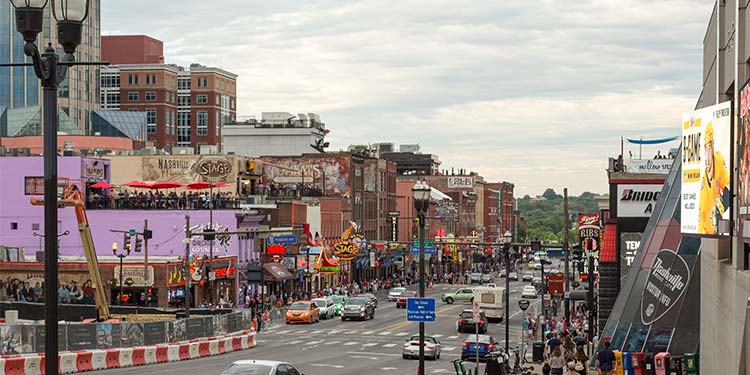 Location: Nashville, Tennessee
Opening hours: N/A
Entry rates: Not required
Being the city of music, your trip to Nashville wouldn't be complete without visiting the place where things started at first.
Music Row is the most famous neighborhood of the city where many artists who evolved music in America recorded some of their top hits.
Historic recording studios are located in Music row. Every corner will remind you of the place you are in and how musical it can get.
Radnor Lake State Park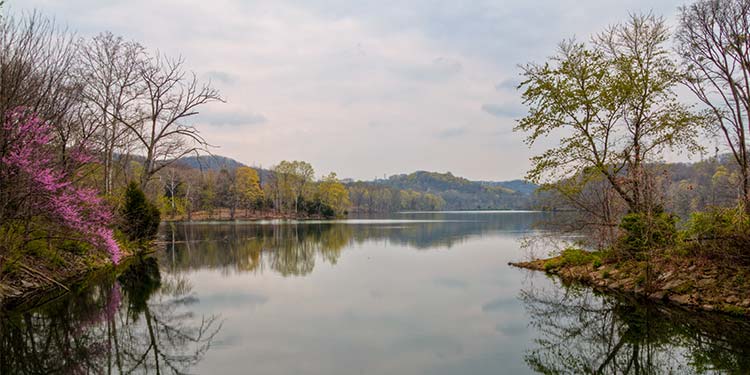 Location: 1160 Otter Creek Road, Nashville
Opening hours: 6:00 am till sunset 
Entry rates: Not required
Radnor Lake State Park is a peaceful park that has a gorgeous lake and preserved nature surrounding the area.
A great place for those who want to hike on scenic trails, go on a bird-watching expedition, fish, or take a guided nature walk. The park is also perfect for canoeing and kayaking on the lake.
Tips: Remember to wear comfortable shoes, bring plenty of water if hiking, follow park rules, and respect the natural resources of the park.
Adventure Science Center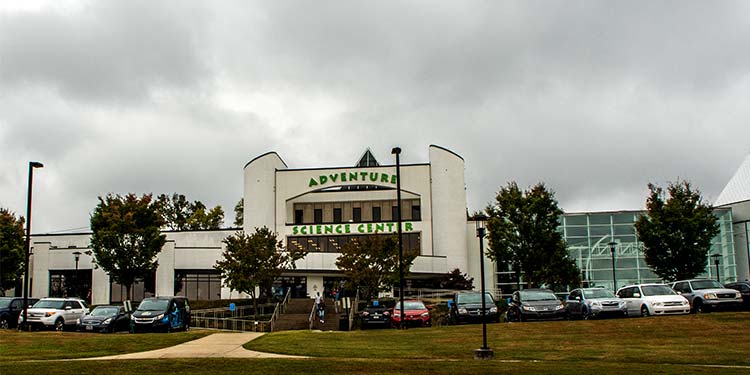 Location: 800 Fort Negley Blvd, Nashville
Opening hours: 9:00 am - 3:00 pm (Sun, Mon, Thurs & Fri), 9:00 am - 6:00 pm (Sat), Closed on Tuesday & Wednesday
Entry rates: $18 (Adults), $14 (ages 2-12)
A mind-blowing experience for kids of any age! Interested in Science or not, this science museum is a must-go for every person wanting to learn beyond books and lessons.
The hands-on activities and interactive experiences cover topics such as space, robotics, health, and wellness.
It also offers educational programs, workshops, summer camps, and outreach programs.
so, if you're looking to learn and have fun while doing it, Adventure Science Center is definitely worth a visit
Bicentennial Capitol Mall State Park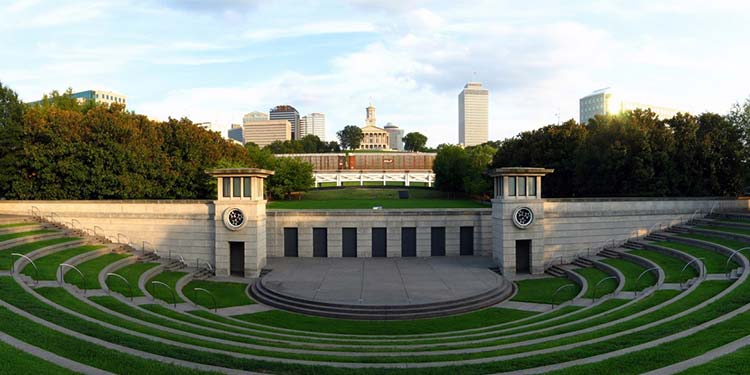 Location: 600 James Robertson Parkway, Nashville
Opening hours: 8:00 am - 4:30 pm (Mon-Fri), Closed on Sun & Sat
Entry rates: Not required 
Visit one of the City's most beautiful and relaxing parks. Bicentennial Capitol State Park is one of the best places you can spend your time while in Nashville.
Learn more about the history of Tennessee and enjoy watching memorials and sculptures that were built to remember and cherish them.
It is a great site for a mesmerizing walk for couples or those with kids, friends, or dogs as a companion.
King Market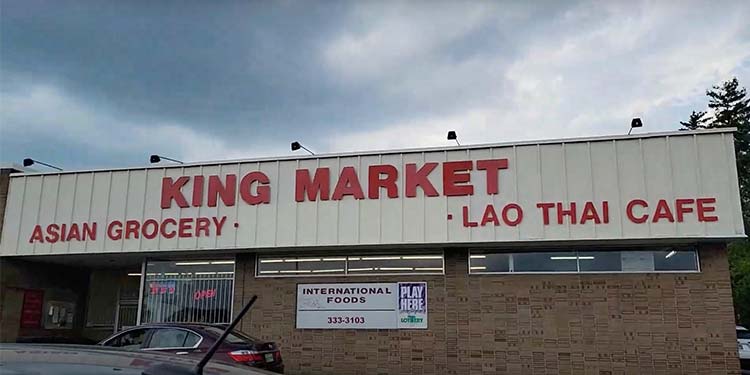 Location: 1801 Antioch Pike, Nashville
Opening hours: 9:00 am - 7:30 pm (Every day) 
Entry rates: Not required 
If you're searching for something spicy, savory, and tasty foods to try, or if you're generally a fan of Asian cuisines- King Market would be the place to get them all.
Varieties of Thai, Chinese, and Vietnamese foods are served hot and you can taste the authentic flavors as well. People love to drop by for lunch as it gets usually busier during that time.
Although it is a small outlet, King Market is not only a place to order your favorite Asian food but it is also a grocery store where you can find everything you might need.
Johnny Cash Museum
Location: 119 3rd Ave S, Nashville
Opening hours: 9:00 am - 7:00 pm (Every day)
Entry rates: $24.95 (Adults), $20.95 (Ages 6-15)
Pay a Visit to the museum which has the largest collection of artifacts of the renowned country singer and songwriter Johnny Cash.
The museum is a great place to watch the Musician's career and personal life closer. It is also ranked as the number one music museum in the world which makes it an unmissable opportunity.
Fan or not, the small gallery will entertain you and leave you hanging in your thoughts about the life the man had lived.
Opry Mills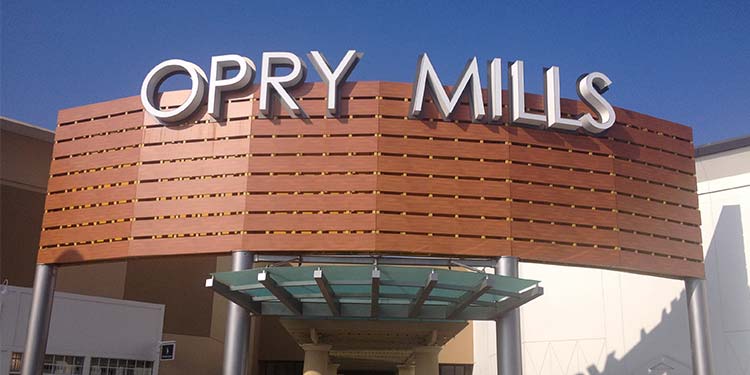 Location:  433 Opry Mills Dr, Nashville
Opening hours: 10:00 am - 8:00 pm (Mon-Sat), 11:00 am - 6:00 pm (Sun)
Entry rates: Not Required
Once a Themepark, Opry Mills is a shopping mall where you can find everything from high-end fashion to bargain outlets, and there are plenty of dining options to choose from as well.
It's not just about shopping and eating! There are also fun things to do like visit the Escape Room or see the famous wax figures at Madame Tussauds.
Whether you're in the mood to shop, eat, or play, Opry Mills is sure to provide endless possibilities for a fun-filled day out.
Tips: If you're visiting from out of town, consider staying at one of the nearby hotels for easy access to the mall and other Nashville attractions.
Bongo Java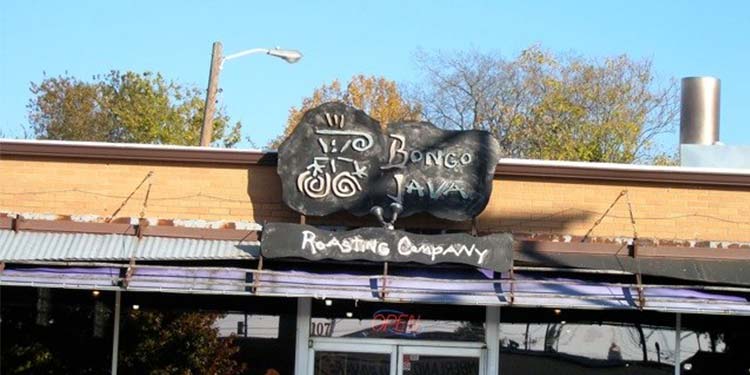 Location: 2007 Belmont Blvd, Nashville
Opening hours: 7:00 am - 2:00 pm (Mon-Thurs), 7:00 am - 5:00 pm (Fri-Sun) 
Are you a coffee lover? If yes, you may have already made up your mind to try the most popular coffee the city has. Get ready to taste some really good coffee.
Bongo Java is Nashville's oldest and most loved coffeehouse. Over the course of years, it has built a group of strong and loyal consumers which has made its coffeehouse expand to two more places possible.
Not only popular for its coffee, but the place also has a variety of tasty breakfast options from bagels to sandwiches, that you must try!
Nissan Stadium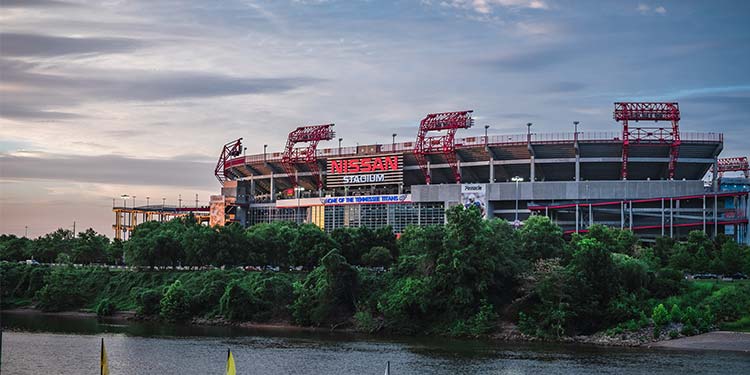 Location: 1 Titans Way, Nashville
Opening hours: Opens on event days only
Entry rates: Differs on the show
Looking for a thrilling experience in Nashville? Look no further than Nissan Stadium! Catch a show if there's one available at the time you visit, and witness the massive stadium that can seat over 68,000 people at once.
A great outdoor venue for concerts and game shows, it offers a thrilling atmosphere on game day, with its iconic design and impressive seating capacity
But it's not just for sports fans! This versatile venue also hosts concerts and other events, making it a must-visit destination for music lovers too.
And don't forget the stunning views of downtown Nashville and the Cumberland River, which you can enjoy while taking a stroll or even renting a kayak.
With its unbeatable combination of sports, music, and scenery, Nissan Stadium is an experience you won't want to miss!
Music City Center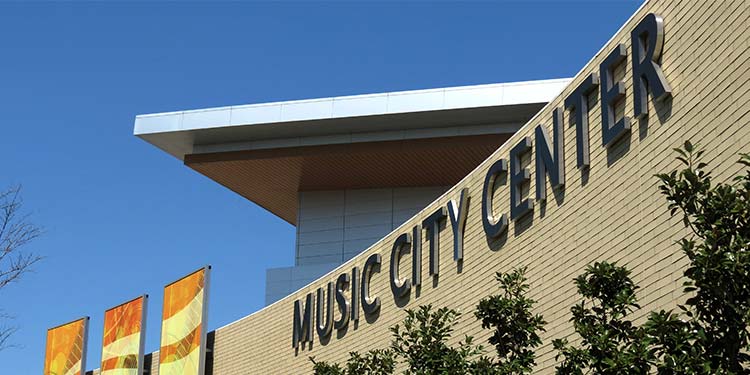 Location: 201 Rep. John Lewis Way S, Nashville
Opening hours: 7:00 am - 10:00 pm (Every day)
Entry rates: Not required
A marvelous architectural creation that you should not miss out on whether you land there for a conference, fest, or any event.
It is one of the most meticulously built buildings which is very aesthetically eye-pleasing. A great place for conventions or any kind of formal, private, and public functions.
Belle Meade Historic Site & Winery
Location: 5025 Harding Pike, Nashville
Opening hours: 9:00 am - 5:00 pm (Every day)
Do you like history and wine? Belle Meade Historic Site & Winery is the right place for you to roll up your sleeves and dig in some interesting information you might like.
A log cabin in a huge compound that was once known for being one of the largest private in Nashville now welcomes guests for food, wine, and bourbon tasting.
Get Ready to See it All
The mystical and musical city of Nashville is the destination that remains close to many visitors' hearts. Shall be yours too if you're a music listener, who isn't anyway?
Moreover, the warmth of people, lovely atmosphere all around the city, beautiful places to explore on every corner, and delicious foods- everything is checked right for your stay in the city.
You'll be glad when you come here and experience the fun on your own! So what are you waiting for? Don't delay the fun any longer!
Note: Keep in mind that information about travel can change quickly. To make sure your trip is fun and safe, we encourage you to double-check official websites and government/travel advisory sites for the latest information on travel restrictions, entry requirements, and safety measures.