The capital city of Texas, Austin is considered one of the most beautiful tourist destinations in the United States, with more than 30 million visitors annually.
Austin has managed to keep its reputation as a friendly local with diverse culture despite being a small town.
It is widely known as ''The Live Music Capital of the World'' because it has more live music venues per capita than any other place in the World.
You can catch up with some of the iconic music festivals like Austin City Limits Music, UTOPIAfest, Levitation, iHeartCountry Music Festival, South by Southwest, and other events with all kinds of genres from jazz, blues, indie, rock, hip-hop, and R&B (Rhythm and Blues).
In addition to music, Austin has the best outdoor recreation and city life attractions.
If you are considering Texas for a more fun and exciting journey, here are the top 22 things to do in Austin.
Things to Do in Austin, Texas
Lady Bird Lake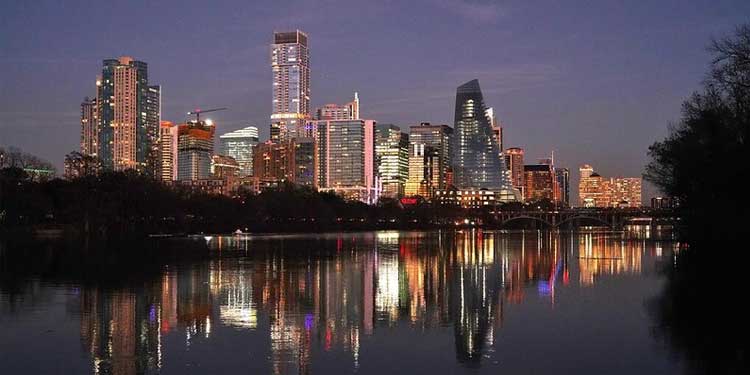 Location: Central Austin, Texas, United States
Lady Bird Lake is one of the most fun sites to explore your outdoor activities for a whole day.
It has a lot to offer you, from most recreational activities like rowing, dragon boating, kayaking, and canoeing to hiking and cycling around the area.
Whether taking a break from your daily work or exploring your hobbies, the 10-mile Roy and Ann Butler Hike and Bike Trail will lead you to every round of the beautiful lake.
In addition, there are numerous trails, parks, restaurants, and hotels around the lake, where you can relax after your long day of adventure.
Note: The only thing to remember is that other motorized boats of any kind are not permitted due to the lake's safety precautions. However, you can rent your kayak, canoe, or paddleboard for the rest of your day. ''So, why not try doing stuff you haven't?'' 
Austin City Limits Music Festival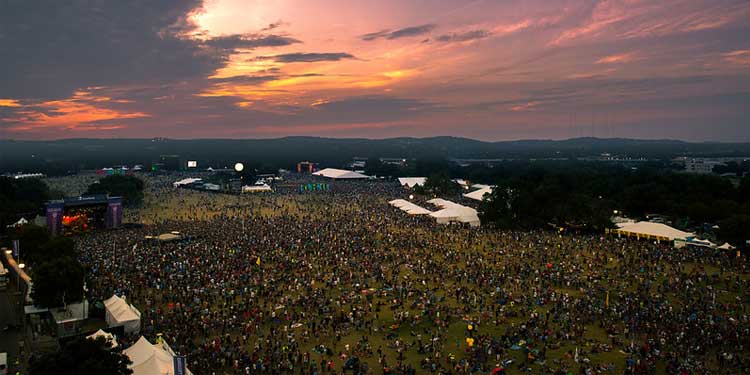 Location: Zilker Park, Austin, Texas, United States
''Do you want to see musicians from all over the world?'' Well, Austin, Texas, will be the perfect place to be around.
This event is organized annually for two weekends, where many artists from around the world gather for live performances of different styles of music.
The event immediately gained recognition for its broad selection of artists from various genres, much like the show did.
Although you may mistake Austin's event for being essentially an "indie" festival, its eight stages feature musical acts from hip-hop and electronic to country and folk.
Austin City Limits cost roughly $260. So if you plan to go to a music festival this year, this can be worth considering.
Congress Avenue Bridge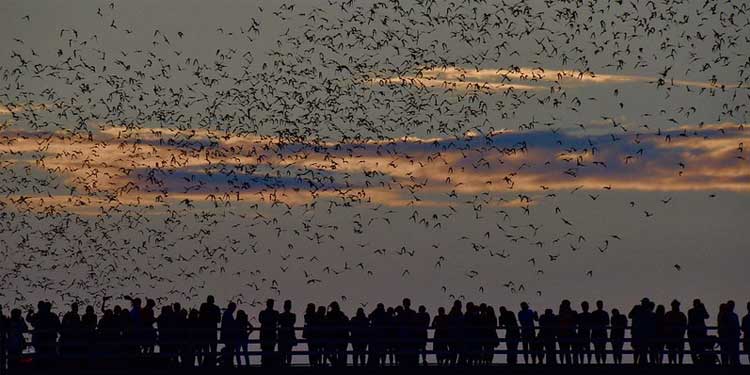 Location: Congress Ave., Austin, TX 78704, United States
''What does a perfect evening look like?'' Well, Congress Avenue Bridge has just everything you don't want to miss seeing.
The largest urban bat colony in North America lives in the gaps between the concrete on this bridge.
From spring to fall, you can come every evening at sunset to watch the bats emerge and fly away into the sunset.
Every day at dusk, you can gather around the bridges to watch huge black clouds of bats erupt into the night, devouring tons of mosquitos and other provoking insects.
In addition, you can witness the annual Bat-Fest, which takes place on the Congress Avenue Bridge every August.
If you are around Austin, Texas, make sure to stop by this place, as it can be a lifetime experience to watch more than 1.5 million bats fly into the deep sunsets at the end of the season.
Austin Nature and Science Center
Location: 2389 Stratford Dr, Austin, TX 78746, United States
''Are you traveling to Austin, Texas, with your kids and family?'' You don't want to miss this place, as Austin Nature and Science Center has a lot to offer you.
From Animal Aisle to Small Wonders to The Birds of Prey, you can learn a lot about the animals native to central Texas by visiting here.
''How does it feel to be a science nerd?'' Austin Nature and Science Center is just the place to explore and learn about Paleontology at the ''Dino Pit''.
You can dig the fossils of some of the extinct Dinosaurs with your hands and feel what it's like to become a Paleontologist for a day.
The Austin Nature and Science Center is open seven days a week with no entry fee required.
The center, located on Stratford Drive, is a great day trip destination, whether coming from your driveway in Govalle or on your family vacation. So, stop by if you are around Austin, Texas.
Franklin Barbecue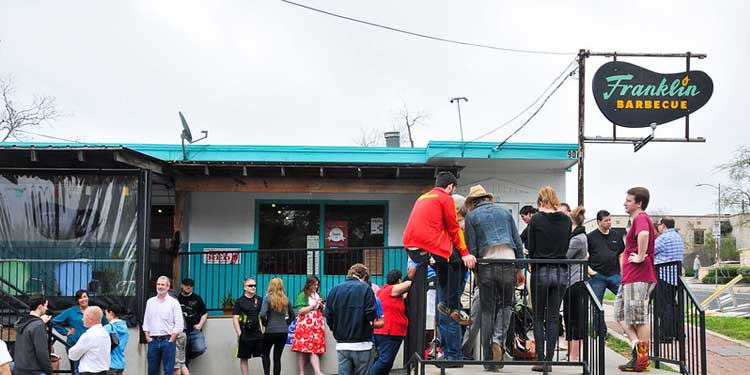 Location: 900 E 11th St, Austin, TX 78702, United States
Everything from the Franklin BBQ Sauce to the Franklin BBQ Ribs and, of course, the most famous of all ''Franklin BBQ Brisket'' will become the best meal to die for.
If you are looking for the best barbecue spot to eat around Austin, Franklin Barbecue will provide you with the best taste and mouth-watering juicy flavor brisket worldwide.
''Want to know the recipe''? Well, you must stay in line like other people from around the United States unless you are President Obama.
The line goes for about 2-3 hours on a typical day, but if you don't want to wait in line, you can preorder for a maximum of 2 days.
Locals enjoy using the lawn chairs provided by Franklin to the first dozens of customers in line. If you are in the Austin, Texas, area, you can also participate in this once-in-a-lifetime experience.
McKinney Falls State Park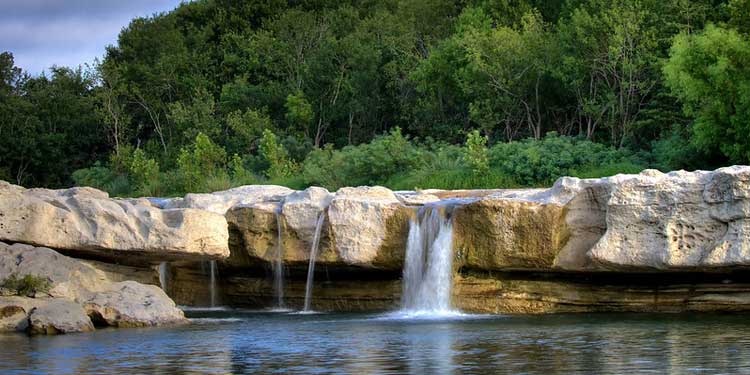 Location: 5808 McKinney Falls Pkwy, Austin, TX 78744, United States.
If you are looking for the best place to adventure, McKinney Falls State Park would be a great option to put on your bucket list.
You can explore its rugged beauty from the lower falls to the upper falls, where it will offer you great outdoor recreational activities.
From Hiking your way through the rock shelter trail and swimming into the lower falls to camping on the Upper falls with a great view of the waterfall and forestland, there is plenty to look forward to.
''Do you like Catch, Cook, and Camp episodes?'' Then, why not make one of your own? For all this, you just need some of your camping and fishing gear, as there are multiple fishing spots within the camping site, making your adventure more thrilling and exciting.
Make sure you explore McKinney Falls State Park on your next adventure of self-catch, cook, and camp episodes.
Bullock Texas State History Museum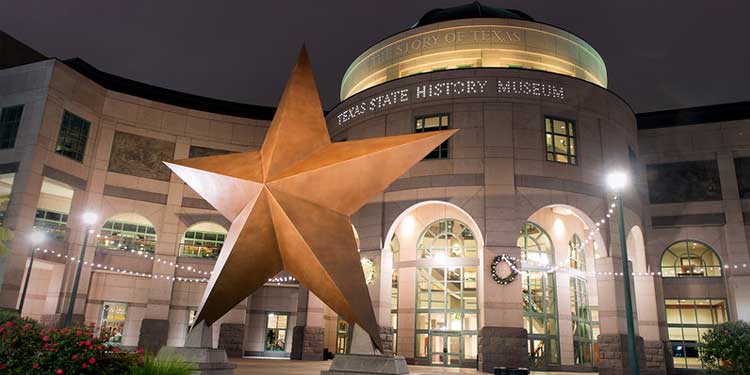 Location: 1800 Congress Ave., Austin, TX 78701, United States
Located in downtown Austin, between the state capitol and the University of Texas, Bullock Museum has a lot to offer you about Texas history.
With a total of 3 floors here, you will see hundreds of original artifacts displayed along with its fascinating history.
''What do 16,000 years of history look like?'' You can get that information by observing the historical galleries from the Texas revolution and European colonization to space exploration, civil rights, and more.
You will witness everything you want to know about its history. Sounds very intriguing, right? Well, there's more to it.
The artifacts in the historical museum change every day, so there will be a lot for you to discover if you are fond of Arts and History.
If you are up for some historical sites to visit in Austin, Texas, make sure to stop by the Bullock Texas State History Museum for some fantastic knowledge and arts.
Texas Capitol
Location: 1100 Congress Ave., Austin, TX 78701, United States
The Texas State Capitol is the most significant state capital of the United States. I guess it's true what they say.
Everything is bigger in Texas. So, make sure to grab your notebook and camera if you want to learn about the history of the building.
Make your way through the Capitol visitors center for a solo tour, or prefer a self-guided brochure that will take you from the Texas Confederate Museum to the Governor's Office.
You can go on a weekend in early spring when the weather is dry and warm, with temperatures around 80 degrees and a light breeze. The quickest way to parking is at the capitol visitor's parking garage at "1201 San Jacinto Boulevard."
It is a must-see in downtown Austin, Texas, if you are a traveling enthusiast.
Note: The visitors center will be open Monday through Thursday from 9 am to 5 pm and Saturday and Sunday from 12 pm to 5 pm. 
Circuit of the Americas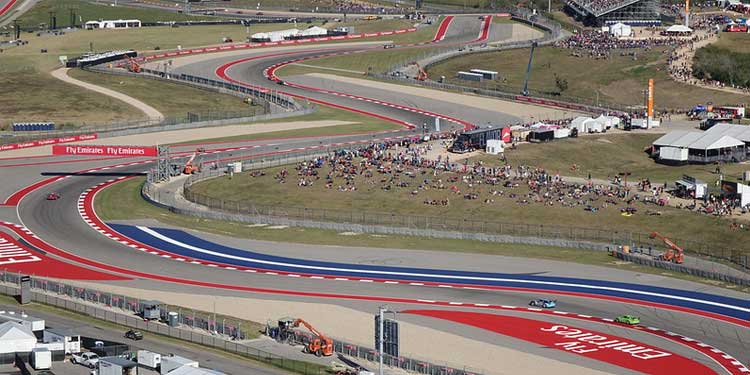 Location: 9201 Circuit of the Americas Blvd, Austin, TX 78617, United States
A spectacular venue known for racing and concerts located southeast of downtown Austin, and near the airport, COTA (Circuit of the Americas) has many enjoyable activities.
Its main event, F1 (Formula 1), is usually held at the end of October or the beginning of November.
You can become a part of a million spectators from Texas to the whole territory of the world in this multi-day event.
While F1 is the most well-known of the racing events at COTA, there is also MotoGP and Rallycross.
Another unique part of this place that you must witness is ''The Amphitheatre.'' A permanent outdoor concert venue with a capacity of 14,000 people.
Located between turns 15 and 19, it hosts several monthly concerts and has hosted prominent artists like Willie Nelson, Lynyrd Skynyrd, and Bruno Mars.
Zilker Botanical Garden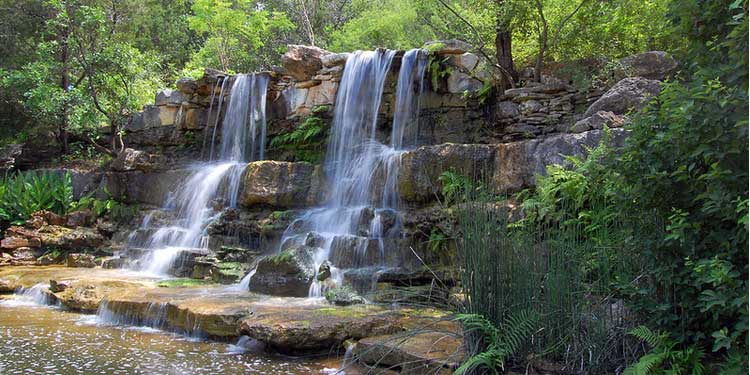 Location: 2220 Barton Springs Rd, Austin, TX 78746, United States
''Have you ever wandered and lost track of time?'' Well, located on 28 acres within Zilker Metropolitan Park in the heart of downtown Austin, Zilker Botanical Garden will give you a perfect evening to spend some quality time.
You don't want to miss out on some of the historical replicas, sculptures, and the tranquility of beautiful nature that this garden has to provide.
With plenty of parking, Zilker Botanical Garden has an affordable charge of $6 to Austin residents and $8 to non-residents, while it's free for children under the age of two.
It opens from 9 Am. to 6 PM daily and from 9 AM. to 8 PM on Thursdays.
During the summer, the last entry is 30 minutes before closing. It is closed on major US holidays, including the Austin City Limits Festival, which is held every October.
Lake Travis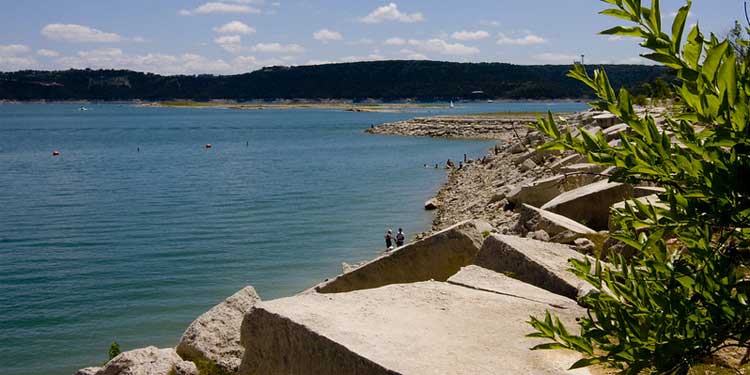 Location: Central Texas, United States
''Do you feel like escaping the pace and worries of everyday life?'' Don't worry; Lake Travis has everything you need for a perfect vacation. It has over 25 boat rental venues that give you operation on the lake.
From stand-up paddle boards, kayaks, and jet skis to runabouts, party barges, luxury yachts, and houseboats, Lake Travis has everything that an Aquaphilic person loves.
You can make reservations based on your budget, and remember to take in the sunsets over the lake for a relaxing evening.
Although if you prefer to bring your food and drinks to the lake, there are many dining in Lake Travis that you can choose from, especially if you want to relax while enjoying live music and experiencing the lakeside's casual atmosphere.
Don't wait if you are up for a vacation in Austin. Make it a memorable trip with your friends, family, or your love on Lake Travis.
Mohawk Austin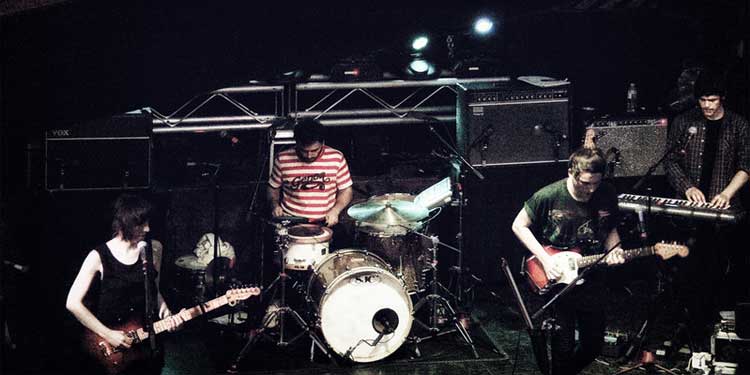 Location: 912 Red River St, Austin, TX 78701, United States
''Are you ready to rock and roll''? Then become a part of the local community of Red River District by joining in the live show of some of the talented bands from all around Austin.
You will love the indoor and outdoor bars and the multiple sitting areas, including a rooftop deck and bar with daily drink specials and happy hours.
The ticket prices vary according to the show days or special events. On a typical day, you could be charged $72 on average.
There is no on-site parking at Mohawk. However, the nearest parking lot is located at 502 East 10th Street in Austin and will cost you between $6 to $14 per day.
If you like small concerts with a decent bar and great stage views, take advantage of the Mohawk. Definitely one to put on your go-to list if you are around Austin, Texas.
Austin Aquarium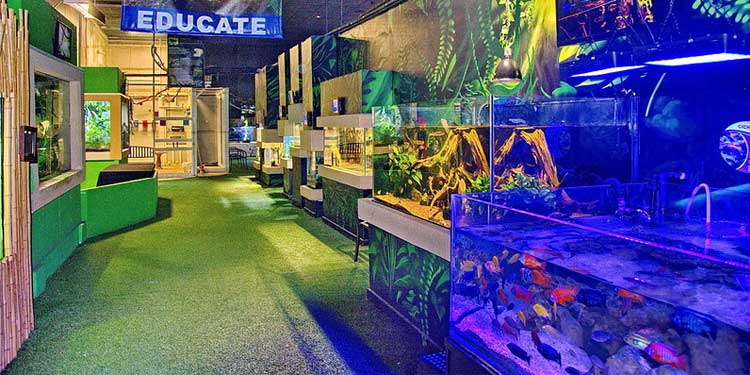 Location: 13530 US-183 Hwy #101, Austin, TX 78750, United States.
If you want to spend time with some of the deep blue creatures, Austin Aquarium is a unique place to visit with your family, especially children.
You don't need to sail into the deep ocean to see a shark or an octopus. Instead, you can see here in the safety of the aquarium.
The Austin Aquarium will direct you to explore everything the deep blue ocean offers through its distinctive interactive activities.
From Hand-feeding stingrays, sharks, and fish to giving educational insights about some of the fantastic animals from the rainforest, like sloths, lemurs, caimans, and more. Interacting with them will just give you and your children the best time.
The entrance fee is about $100 for three people, plus an extra $70 for tokens for the fun activities you will be doing inside the aquarium.
So make sure to stop by Austin Aquarium with your family if you are near downtown Austin, Texas.
iFly Indoor Skydiving- Austin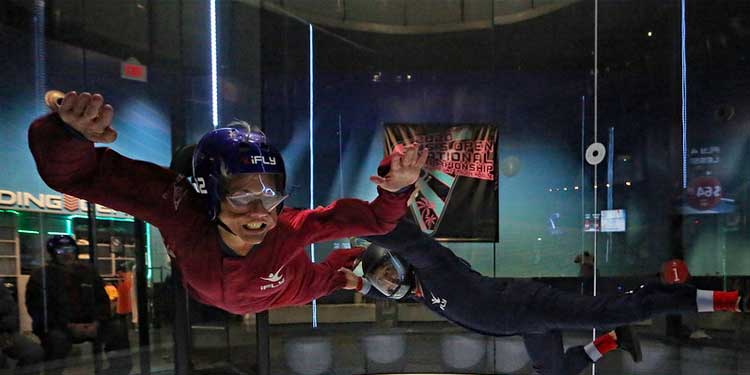 Location: 13265 US-183 Hwy Suite A, Austin, TX 78750, United States.
"Are you afraid of heights but want to skydive anyway?" Austin's iFly Indoor Skydiving will provide an unforgettable experience without requiring jumping out of an airplane.
You will be in the hands of a well-trained and amiable instructor who will make you feel at ease during your indoor flight. So just take a deep breath and relax while you are out there.
Pricing fees start from $60- $100 on average, depending on what package you are going to or the time you stay inside the vessel.
Make reservations early to ensure your preferred flight schedules because weekends tend to fill up quickly.
If traveling around Austin, Texas, you must visit iFly indoor SkyDiving to feel the best free-falling experience.
Cathedral of Junk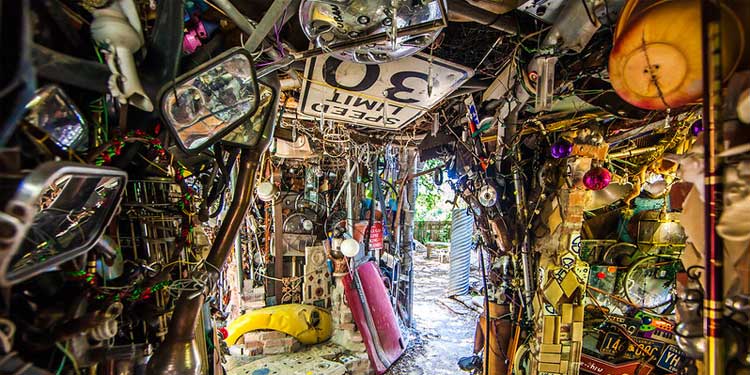 Location: 4422 Lareina Dr, Austin, TX 78745, United States
''Did you know?'' Austin is mostly known for its weirdness which makes it a unique place.
Vince Hannemann was undoubtedly one of those who added to Austin's weirdness by collecting literal junk for more than 30 years which has now turned into a friendly tourist destination.
''Want to know how Vince made Cathedral of Junk''? You have to make an appointment as there are no regular hours to visit here.
One of the best things about this place is its hospitality, and there is no entrance fee. However, you can book for occasions such as birthday parties, magic shows, weddings, or other events.
If you are around Austin, Texas, make sure you add Cathedral of Junk to your must-see list.
The Blanton Museum of Art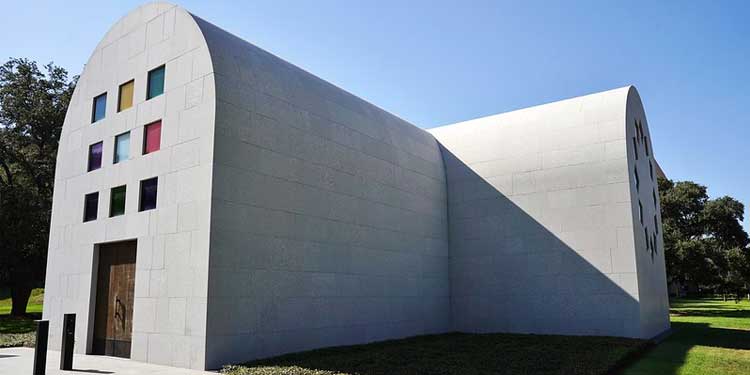 Location: 200 E Martin Luther King Jr Blvd, Austin, TX 78712, United States.
The Blanton Museum of Art holds the primary collection of artwork for Austin.
It will provide you with more than 21,000 pieces from its collection and displays artwork from all periods, from contemporary art to ancient Greek pottery.
If you visit here every Thursday, Blanton is free. Thanks to the generous support of the Moody Family Free Day Endowment.
On regular days it will provide you with a charge of $12 (adults), $10 (seniors), and $5 for college students with ID, and children are free from 12 or below.
If you are an art enthusiast, visit Blanton Museum of Art every Sunday from 1 PM – 5 PM and Wednesday to Saturday from 10 AM – 5 PM. Monday and Tuesday are closed.
River Place Nature Trails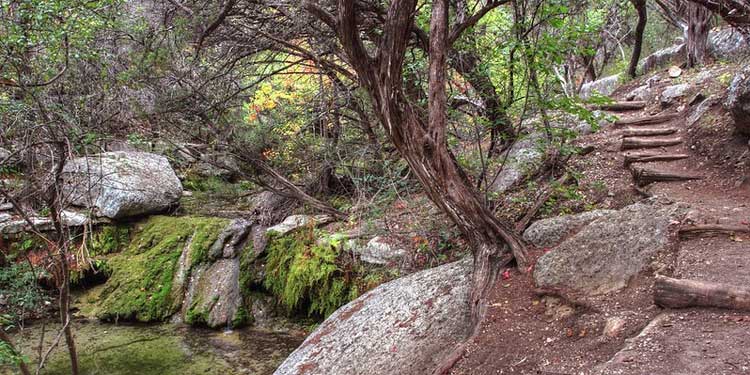 Location: 4998 River Pl Blvd, Austin, TX 78730, United States
The River Place Nature Trail is a breathtaking 6-mile hike through nature situated in the Hill Country outside of Austin.
It will give you a perfect break for relaxing and exercising your mind and body.
I'd recommend you wear excellent athletic shoes and carry lots of water because the stairs and rocky terrain are difficult to navigate as it has a challenging trail path.
And yes, you will be charged a $10 trail use fee per person and another $10 if you bring your pet along on Saturday and Sunday.
''Glare your eyes with sunrise and sunsets'' on River Place Nature Trails. So, arrive early each morning and evening before dawn and sunset.
Broken Spoke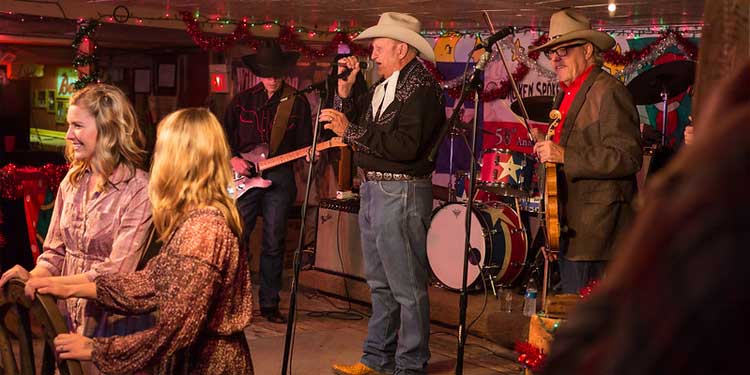 Location: 3201 S Lamar Blvd, Austin, TX 78704, United States
''Are you up for some country vibe in Texas''? The Broken Spoke will give you an idea of what an authentic Texas Honky-Tonk dance bar will be like.
It is renowned for its excellent live country music, phenomenal country dance, and delicious Texas cuisine.
Country music legends such as Willie Nelson and George Strait performed here before they became famous. As for Willie, he occasionally travels to Austin to hang out at the Broken Spoke. So make sure you stop by and say hi.
If you are from the countryside, visit the Broken Spoke every week from 4 PM to 12 AM for a fantastic time with the country folks.
Thinkery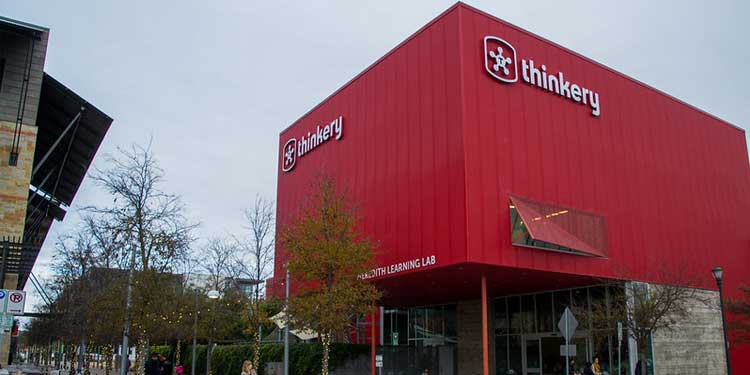 Location: 1830 Simond Ave, Austin, TX 78723, United States.
If you are planning a family weekend trip to Austin, Texas, I recommend you check out Thinkery.
It offers you a well-executed science and learning facility with many innovative and hands-on learning experiences for your kids if you have one.
Even adults can benefit from its many exhibits.
It will charge you $16 per person, including adults and children of all ages, except for those children aged 0 to 23 months.
And there is plenty of metered parking nearby, as well as a variety of food trucks and restaurants where you can enjoy a delicious meal with your children before and after returning to the museum.
Visit Austin's most innovative science center with your family and kids f you are around downtown Austin.
LBJ Presidential Library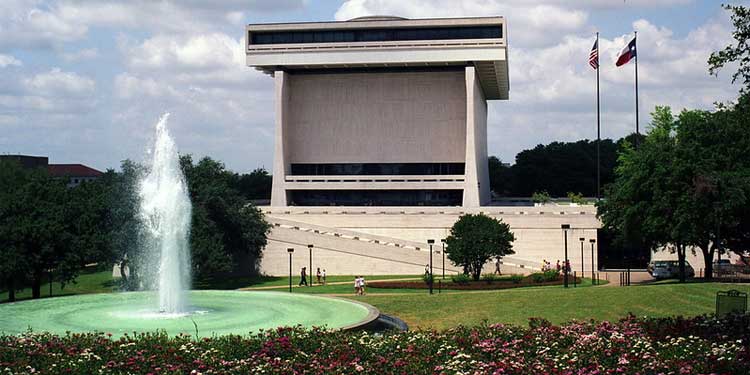 Location: 2313 Red River St, Austin, TX 78705, United States
''Do you want to learn more about American History?'' From the Vietnam war to John. F. Kennedy's assassination and the legacy of the 36th President of the United States, Lyndon Baines Johnson himself. The LBJ Presidential Library, located at the University of Texas, have you all covered.
If you are visiting LBJ, we recommend you arrive early during the day for free parking in ''Lot 38'' during business hours.
The Library is open seven days a week from 9 AM to 5 PM and is closed on significant occasions like Thanksgiving Day, Christmas, and New Year's Day.
Good news for everyone whose name is Lyndon! Whether it's your first, middle, or last name, it gets you into the Library for free. You will be charged $13 per person if you do not have one.
Senior citizens receive discounts, and children under 12 are free.
Whisler's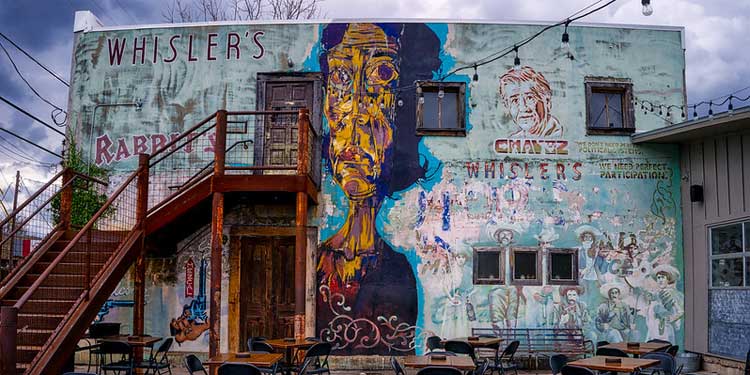 Location: 1816 E 6th St, Austin, TX 78702, United States.
If you're in East Austin, stop by Whisler's for some excellent hand-crafted cocktails and a delicious burger or chicken sandwich from their famous ''Golden Tiger'' resident food truck.
Whistler's has indoor and outdoor bars and will provide you with a great live music session and expert bartending tricks. "Want to know how?" come for a drink with your friends to witness Whisler's excellent service.
Drinks may be pricey. But you need to drink one of Austin's best-crafted cocktails every day. So, including the exceptional service of the bartender, it's worthwhile.
What are the timings of the bar? It is open every week from Monday to Friday( 4 PM to 2 AM), and Saturday and Sunday are the busiest days (2 PM to 2 AM).
Wonderspaces Austin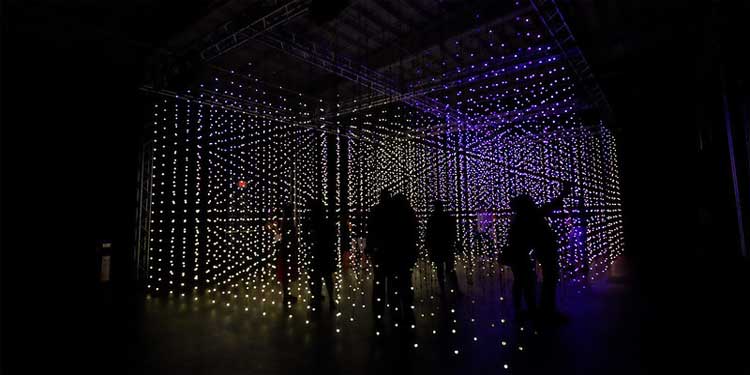 Location: 1205 Sheldon Cove #2A, Austin, TX 78753, United States
Experience immersive and interactive art in North Austin with your friends and family.
If you have yet to experience live art, Wonderspaces will provide you with every kind of art, from VR exhibits and 3D virtual reality to different light experiences and optical illusions.
If you are an art enthusiast, Wonderspaces is one of the best places to go if you want to experience some art while in Austin.
You can view the museum's artwork for $24 per person. So, book your tickets with your friends and family to witness the virtual world of art.
Be "weird" as Austin is, and plan your vacation to one of the most beautiful cities in Texas and stay out of your comfort zone for an epic journey in Austin.
Whether you're going solo travel, as a couple, or with the whole family, you're sure to find the perfect indoor and outdoor activities to make everybody happy during your visit to Austin. So don't wait up. Pack your bags and book your tickets to Austin, Texas, for a perfect holiday in 2023.