Planning a trip could be overwhelming, especially if you are considering traveling solo or with your family.
As one of the most traveled destinations in the United States, Austin has become the most expensive city in Texas, with exotic hotel resorts and costly restaurants.
However, you could do tons of cheap and free things on your visit to Austin. From the best live music scenes worldwide to some of the best outdoor recreation activities.
''Don't worry'' If you travel on a limited budget, let me guide you to some of the best things you could do in Austin for a splendid vacation.
Free Things to Do in Austin
Bat Watching at Congress Avenue Bridge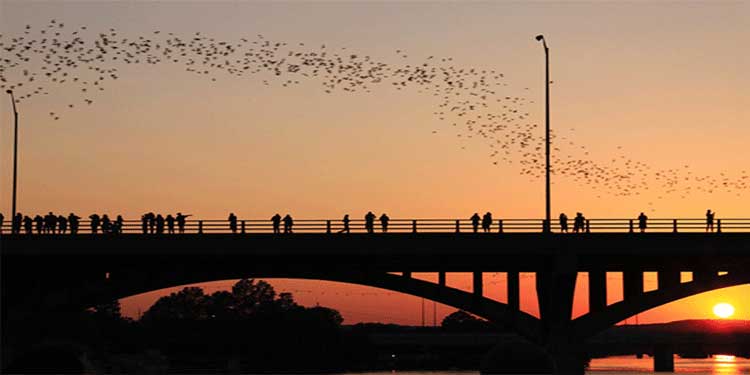 Location: Congress Ave., Austin, TX 78704, United States
''Who knew that the largest urban bat colony in North America lives underneath the gaps of Congress Avenue Bridge?''
From late March to early fall, the best show in Austin happens every night at sundown, where you will witness more than 1.5 million bats emerge into the black clouds during the sunset to feed onto insects.
Many tourists usually rent a boat or a cruise ship to enjoy the sight from the Lake-view.
However, the most authentic way you can see is above the bridge for a better close-up of the bats flying into the sunsets. 
The paths of this bridge are just here for you to imagine and appreciate the little things in life you don't want to miss on checking out.
So, this is a must-see destination if you are around Austin for a delightful evening.
Adventure at Barton Creek Greenbelt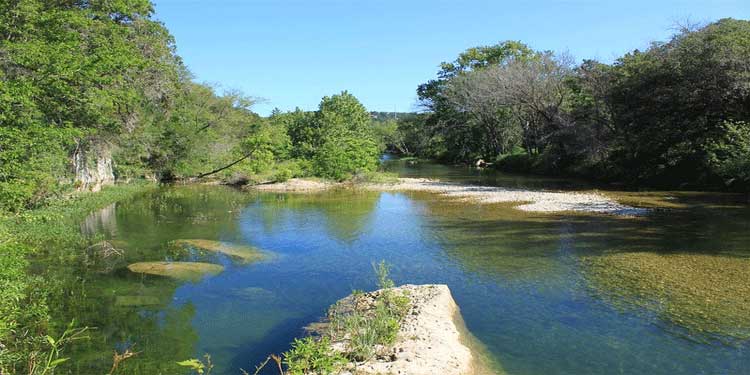 Location: 3755 S Capital of Texas Hwy B, Austin, TX 78704, United States
Barton Creek Greenbelt is one of the most beautiful areas in Texas Hill country. It's over 12 miles of hike and bike trails and is perfect for relaxing on a beautiful day with excellent weather.
Whether you like rock climbing, biking, hiking, Dog-walking, or creek swimming, this place is free to explore and have the best adventure you can explore.
If you hike far enough, there are several beautiful destinations along the greenbelt, such as Twin Falls and Campbell's Hall – a swimming hole often less crowded than some of Barton's Creek's famous spots.
Note: Bring an extra swimsuit with you cause you might need it after a long day of adventure. Beware! There will be a lot of topless sunbathing and swimming, and these pools tend to attract the massive beer-drinking crowd on sweltering weekend days.
Concert at Blues on The Green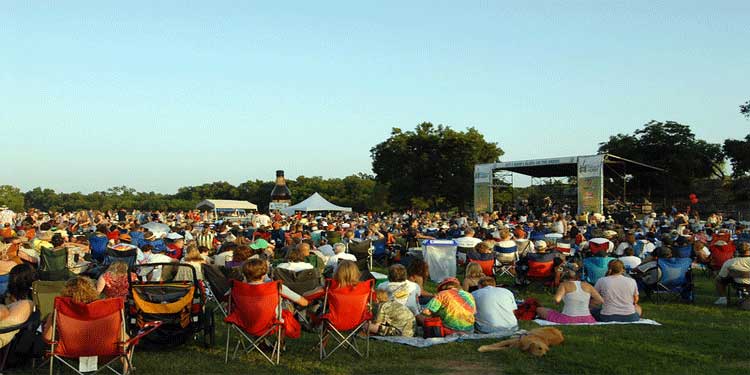 Location: Zilker Park, 2207 Lou Neff Rd, Austin, TX 78746, United States
Aside from Austin's largest music festival, ACL (Austin City Limits), Blues on the Green is the city's most extensive free concert series, with one concert per month between May and August.
A live concert is something you will see around every corner of Austin. If you are into blues and rock, this event will surprise you with talented local bands from all around Texas.
Bring your family and friends to Zilker Park for a free night of music at Blues on the Green.
Some tips if you are planning for this event:
Avoid bringing your vehicle as far as possible as the parking will be massively crowded, or you may book earlier to park around the cheapest and nearest Garage (Heartless Plaza garage 533 Campbell St.)
Although there are lots of food trucks and beverage vendors, you can still bring your own food and drinks to avoid the long queue and save some money of your own.
Bring your lawn chairs and blankets as it can be tiring to stand for the whole day or even at night.
Cathedral of Junk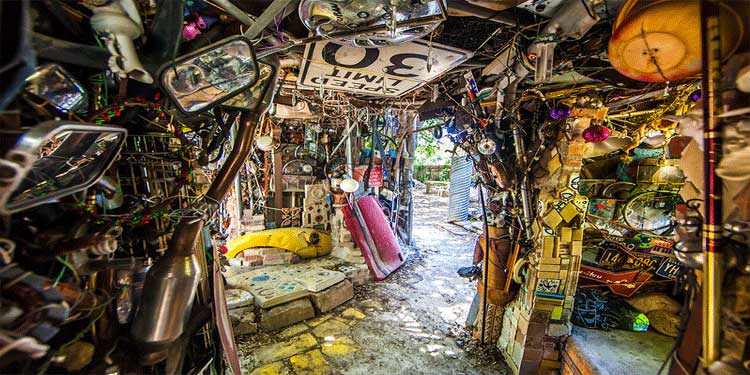 Location: 4422 Lareina Dr, Austin, TX 78745, United States
''What does a fancy junkyard look like''? You don't want to miss out on seeing Vince Hanneman's incredible junk, which he has turned into a living sculpture and made a masterpiece of Austin's most visited sight with literal junk.
You don't need to pay any admission fee for entrance as there are no regular customer hours here.
However, you need to make an appointment with Vince by calling him at his regular number.
You can also pre-book for special occasions such as birthday parties, weddings, and other kid-friendly activities, as the backyard has a spacious area for such events. And you are free to donate any amount as long as you want to.
Watch the Sunset at  Mount Bonnell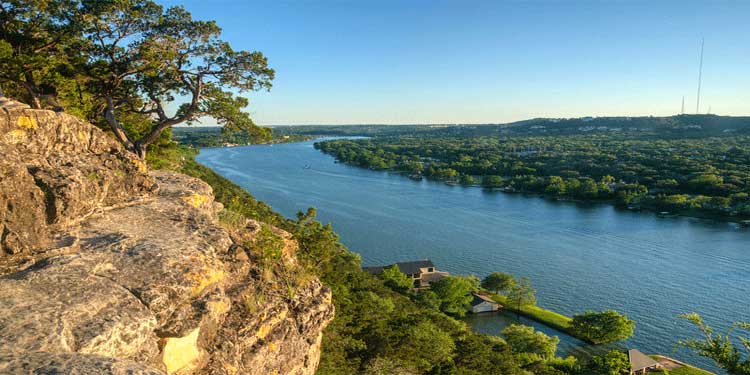 Location: 3800 Mt Bonnell Rd, Austin, TX 78731, United States
Mount Bonnell is a famous landmark and the shortest hike around the city area. It is Austin's highest point at 775 feet above sea level, with over 100 steps.
A hike to Mount Bonnell is a great place to watch the sunset if you want a perfect evening with a view of downtown Austin and Lake Austin.
You won't be charged any admission or parking fee, as access to Mount Bonnell is free. And it is open every week from 5 AM to 10 PM.
On weekends, this place can get very crowded. But I recommend you come by the end of your workday as you're likely to be one of only a few people to enjoy the breathtaking view.
Note: If you stay to watch the city light up, bring a flashlight and plenty of water and food to help yourself find your way back down, as there are no restaurants or hotels on the top. 
Mayfield Park and Nature Preserve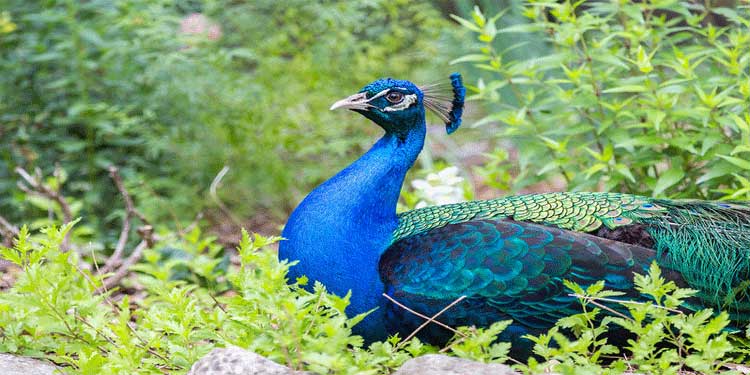 Location: 3505 W 35th St, Austin, TX 78703, United States
''Did you know?'' Mary Mayfield Gutsch gave the entire area of Mayfield Park to the city of Austin in 1971 so that it may be used as a public park by all residents of Austin.
It is widely known as a historical garden or a cottage full of free-roaming peacocks everywhere around the property.
This 23-acre park will offer you a peaceful day with beautiful ponds, turtles swimming everywhere, and gardens filled with colorful flowers that will surely attract you.
''How to get to Mayfield Park and Nature Reserve?'' You can hike this 0.6 miles intertwined trail from Mount Bonnell, located close to Lake Austin.
The nearest location is Laguna Gloria Museum in Tarrytown which sits right next to Mayfield Park and Nature Reserve. 
It is open every week from 5 AM to 10 PM and is accessible to every public visiting here.
So, if you are looking for a perfect place to visit and save money, Mayfield Park and Nature Reserve would be great options to consider going with your family and kids. 
Note: Don't bring any pets on your way to the premises of Mayfield Park. It won't allow you as it is a conservation area with lots of wildlife.
Graffiti at HOPE Outdoor Gallery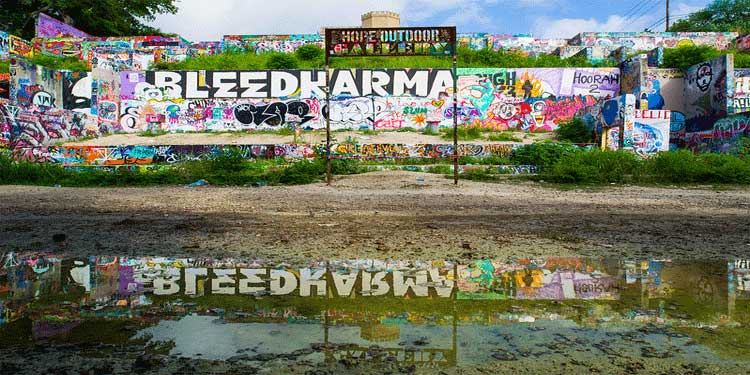 Location: 741 Dalton Ln, Austin, TX 78742, United States
Hope Outdoor Gallery is a park full of Graffiti art and paintings. You get some of the most incredible graffiti art of local artists in Austin.
It is free of cost and won't charge any admission fee as it provides an open space for everyone. I'd recommend you add one of your graffiti art for the memory of visiting Austin.
There are several levels of art that you will find, with a trail leading to the top of the installation, which is the concrete framework of an old structure.
If you are interested in Grafitti arts and paintings, this HOPE outdoor gallery will surely be a lovely day to spend your time on an excellent free day.
Make sure you bring your cameras for a video shoot or a photo shoot in the area featuring the incredible art of the gallery. You can also be a part of some of the special Graffiti art events it hosts yearly.
Note: The outdoor Gallery is temporarily closed for further renovation in the new place. You can contact ( +1 512-643-8836) for details.
There are endless opportunities in Austin to enjoy free things if you are a budget traveler.
Whether with your friends or family, you can have the most amazing time with great places to explore on a limited budget. It will be worth visiting and a special day-trip
Pack your bags and be part of Austin's most weird places and make it a memorable one on your list of travel.