With massive downtown skyscrapers, mountain ranges, rugged deserts, and over 360 miles of coastline, everything is truly bigger in the Lone Star State.
So are the vibrant nightlife and hotels in Texas!
Most of Texas's bigger cities are well-known for world-class luxury hotels that provide guests with the highest comfort level through the best amenities and sophisticated accommodations.
Choose from a shuttle service for pickup and drop-off, relaxed pools/bars, superb Spa treatments, and popular restaurants.
And whether you're traveling with family or simply exploring the best of Texas, our top recommendation for the best Hotels in Texas will undoubtedly add spice to your excitement.
Let's get started!
Best Hotels in Texas
Hotel ZaZa Austin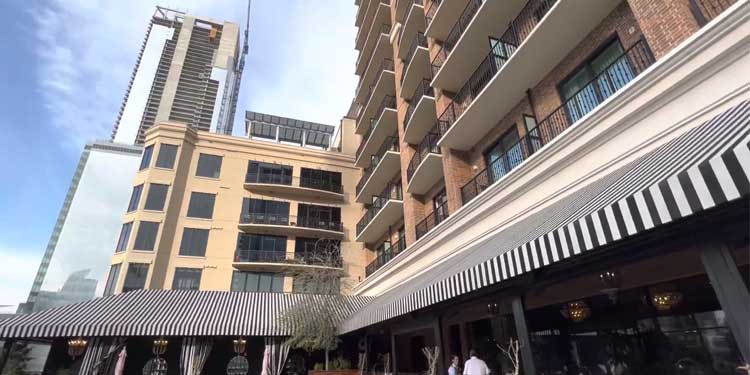 City: Austin
Address: 400 Lavaca Street, Austin, Texas 78701, United States
Phone: +1 512-542-9292
Website: https://www.hotelzaza.com/austin
Situated in the heart of downtown Austin, Hotel ZaZa offers both business and leisure travelers outstanding comfort and convenience in an ideal location.
This luxury hotel is surrounded by the famous Sixth Street, known for its vibrant nightlife and complete entertainment.
Themed designs in the hotel's unique suites are ideal for large gatherings like bachelorette parties or weekend vacations.
For a more excellent choice, you can indulge in the best dining at ZaZa's onsite hip restaurants or treat yourself to a variety of Spa services.
It also features two bars/lounges, an outdoor pool, and a poolside bar serving visitors crafted cocktails and other lists of fine alcoholic and non-alcoholic beverages.
Check out the best things to do in Austin 
Check out the other best hotels in Austin
Four Seasons Hotel Houston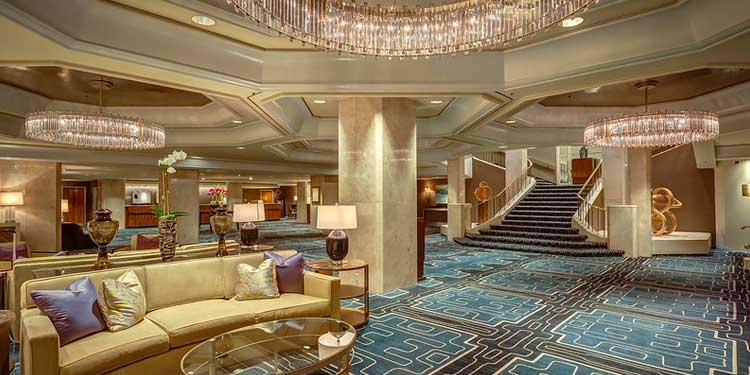 City: Houston
Address: 1300 Lamar Street, Houston, Texas 77010, United States
Phone: +1 713-650-1300
Website: https://www.fourseasons.com/houston/
Four Seasons Hotel is a place where urban sophistication meets Texas hospitality right in the center of downtown Houston.
With its welcoming decor and miniature deluxe rooms having cityscape views, this 5-Star hotel gives guests an intimate sense of luxury.
You can relax by the resort-style pool or visit The Spa, a modest hideaway that offers a variety of pampering and therapeutic treatments.
While you relax and enjoy the hotel's high-end amenities, its top-rated restaurants and bars around the city are ready to provide an unforgettable dining experience.
Check out the best things to do in Houston
Hotel Contessa- Suites on the Riverwalk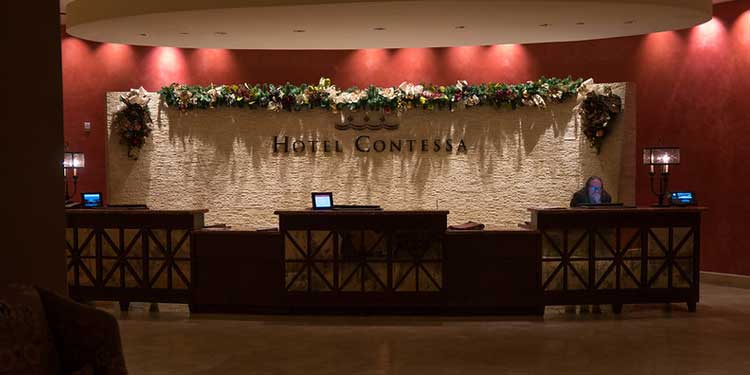 City: San Antonio
Address: 306 West  Market Street, San Antonio, Texas 78205, United States
Phone: +1 210-229-9222
Website: https://www.thehotelcontessa.com/
Situated on the River Walk, this elegant all-suite hotel is a few minutes of walking distance from San Antonio's top attraction, the "Alamo".
This four-star hotel offers modern suites and amenities to offer guests the most extraordinary hotel experience possible.
Enjoy local flavors with onsite dining experiences, or unwind from head to toe at The Woodhouse Day Spa for ultimate rejuvenation.
Your rooms have sophisticated suites with a colorful Spanish flair that offer river views and 24-hour room service.
Other on-site amenities include a heated rooftop pool and a cocktail bar serving fine cocktails and authentic Texas fare.
Check out the best things to do in San Antonio
Rosewood Mansion on Turtle Creek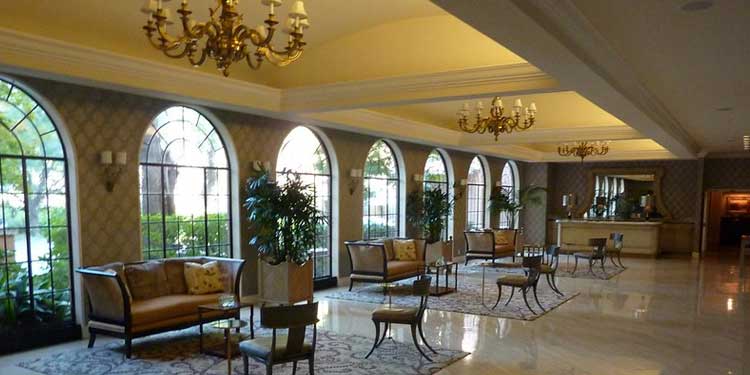 City: Dallas
Address: 2821 Turtle Creek Boulevard, Dallas, Texas 75219, United States
Phone: +1 214-559-2100
Website: https://www.rosewoodhotels.com/en/mansion-on-turtle-creek-dallas
This luxurious hotel is well-known for its triple a's four-diamond ''The Mansion Restaurant.''
The restaurant provides New American cuisine with a regional flair in an elegant setting with an outside patio.
42-inch flat-screen TVs, minibars, and free wifi are available in its spacious rooms with patios and balconies overlooking the downtown area.
Check out the hotel's mansion bar, which offers live entertainment while serving fine cocktails and snacks.
Special accommodations include a complimentary massage and an outdoor pool to unwind after a long day of exploring.
Check out the best and cheap things to do in Dallas
Check out other best Hotels in Dallas
Marriott Marquis Hotel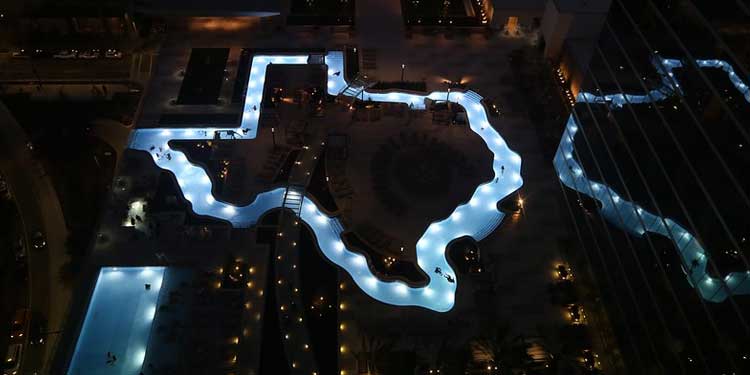 City: Houston
Address: 1777 Walker Street, Houston, Texas 77010, United States
Phone: +1 713-654-1777
Website: https://www.marriott.com/en-us/hotels/houmq-marriott-marquis-houston/overview/
Looking for a resort-styled all-inclusive hotel package in Texas? Then Marriott Marquis Hotel in Houston is just the right place for you.
This family-friendly hotel is just a 2-minute walk from the Convention District light rail station.
Enjoy the view of the downtown area while swimming in the infinity pool or the largest rooftop lazy river in the shape of Texas.
The rooms and suites accommodation features luxurious amenities and 24-hour room service, which includes food, drinks, and other necessities.
More food? Grab a bite among its six on-site restaurants, one of which is a tapas bar serving the greatest Mexican snacks and other traditional Texas cuisines.
For relaxation, indulge in one of the various spa treatments available at Pure, the ideal urban getaway accommodated inside the Marriott Marquis Houston.
Check out the best things to do in Houston for Couples
Overton Hotel & Conference Center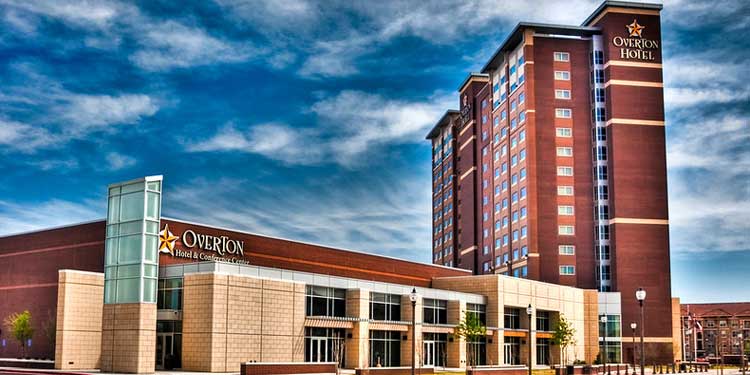 City: Lubbock
Address: 2322 Mac Davis Lane, Lubbock, Texas 79401, United States
Phone: +1 806-776-7000
Website: https://www.overtonhotel.com/
The award-winning full-service Overton Hotel & Conference Center in Lubbock welcomes guests with Texas-sized facilities.
You are just steps away from all the bustle and top attractions in Downtown Lubbock's bustling University District.
This four-star hotel is ideal for unique events as well as large-scale business conferences and meetings.
The Overton's food and beverage selections are endless, and the most skilled culinary team will create a menu sure to delight guests and visitors.
You will also have access to the Club Lounge, happy hour amenities, and a sweet treat of the night with turn-down service during your unique stay at this hotel.
Check out the best things to do in Lubbock
Moody Gardens Hotel, Spa and Convention Center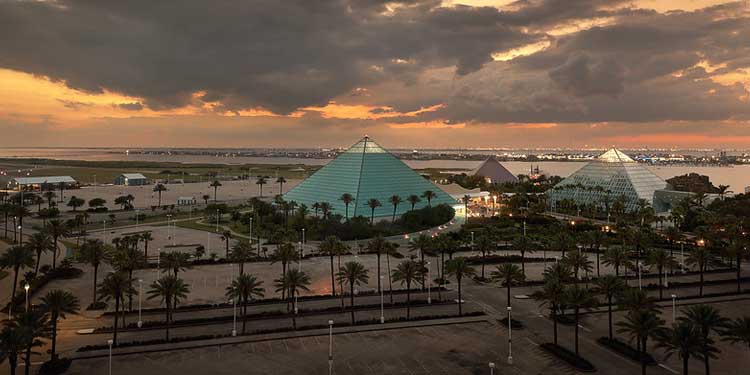 City: Galveston
Address: One Hope Boulevard Galveston, TX 77554
Phone: +1 409-741-8484
Website: https://www.moodygardens.com/
Moody Gardens Hotel Spa and Convention Center is an ideal choice for families and couples looking for a perfect all-inclusive holiday in Galveston.
The interactive aquarium pyramid, which houses thousands of tropical fish and a gallery of preserved jellyfish, is popular with children.
Romantic getaways can be planned by taking a cruise ship trip at the resort's Marina or viewing a romantic movie in the 3D cinema.
The Spa Center offers the greatest massage treatment sessions to help you relax and refresh your body and mind.
An outdoor pool and an on-site restaurant are also available, providing a pleasant break from your busy day.
Check out the best things to do in Galveston
Big Texan Motel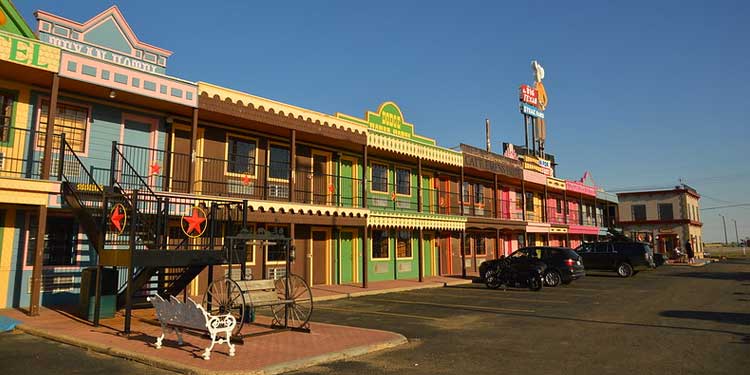 City: Amarillo 
Address: 7701 Interstate 40 Access Road, Amarillo, Texas 79118, United States
Phone: +1 806-372-5000
Website: https://www.bigtexan.com/motel-homepage/
Are you looking for a place to stay during your road trip to the historic Amarillo Route 66? Look no further than the famous Big Texan Motel.
It offers welcoming Texas hospitality and first-rate amenities to make your stay more enjoyable for visitors to Amarillo.
Stay connected while relaxing in cozy rooms with a flat-screen TV and air conditioning in a perfectly comfortable setting.
Additional features at the Big Texan Motel include a pool and a lounge where you can unwind after a long day.
It is situated directly across from Big Texan Steak Ranch's roadways. So be sure to get a beer and try the mouthwatering brisket there.
Check out the best things to do in Amarillo
Check out other best hotels in Amarillo
Hotel Emma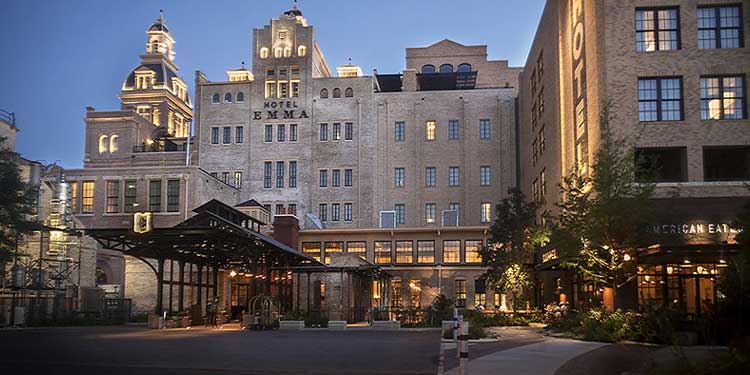 City: San Antonio
Address: 136 East Grayson Street, San Antonio, Texas 78215, United States
Phone: +1 210-448-8300
Website: https://www.thehotelemma.com/
Located in the thriving Pearl District, Hotel Emma is the most famous and best-reviewed hotel in downtown San Antonio.
It is basically for those looking for a gathering place who are passionate about food and eager to experience the authentic spirit of San Antonio.
The top features are a trendy restaurant with river views, a sophisticated cocktail bar, and a chic food market.
Not to forget its artistic decorated rooms that feature terraces, fireplaces, claw-foot tubs, and 24-hour room service.
Overall, the hotel's ambiance feels like a home and will provide a unique vacation experience.
Check out the best free things to do in San Antonio
Kimber Modern Boutique Hotel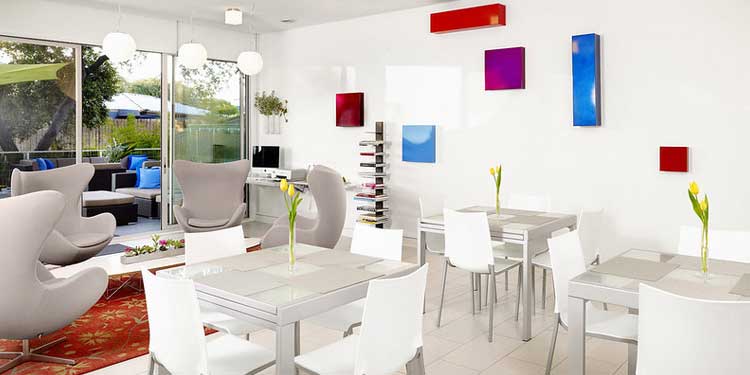 City: Austin
Address:110 The Circle, Austin, Texas 78704, United States
Phone: +1 512-985-9990
Website: https://kimbermodern.com/
If you're an independent urban traveler searching for a one-of-a-kind getaway in Austin, we highly recommend The Kimber Modern Boutique Hotel.
It is a contemporary hotel where you may stay while appreciating its art and architecture as the hotel is designed in an ar
The room accommodations have all of the facilities required for a pleasant and cozy vacation that will make you want to stay forever.
The common area, also known as the breakfast room, is famous for gathering around and enjoying the hotel's special happy hour.
Check out the best things to do in Austin with kids
Make Your Stay Worthwhile in Texas!
While your spending time discovering Texas, make sure to choose the best hotel for a relaxing and cozy stay.
Our list of some of the best hotels around Texas is easily reached around the downtown area of most big cities.
And with its great accommodations and amenities, your stay in Texas will be worth remembering.
If you want to spice it up even more and spoil yourself with a vacation retreat, check out the best all-inclusive resort in Texas.
Good luck!