You probably already know that ''Nothing Good Ever Comes For Free,'' but that isn't entirely true for San Antonio.
So if you're seeking a holiday adventure but don't want to break the bank, there are many enjoyable activities in this River City.
From learning about its mixed Tex- Mexican culture and fascinating historical sites to exploring some of the free outdoor activities, it has one of the best places in Texas for embracing your adventure and making your visit fun and exciting on a lower budget.
Whether you are strolling around the Riverwalk to see the lights or exploring the five missions including the infamous Alamo, there are many more free things to discover in San Antonio. 
Bear with me as I mention the best free things to do in San Antonio here.
Free Things to do in San Antonio
The Alamo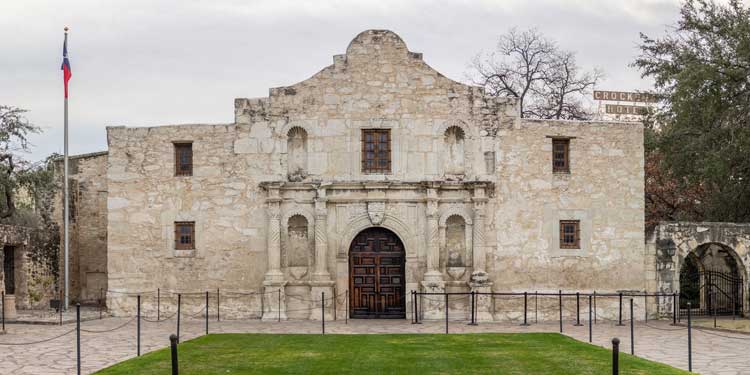 Location: 300 Alamo Plaza, San Antonio, TX 78205, United States
Opening hours: 9:00 am - 5:30 pm
Costs: Admission free
''How does the battle site of the 18th century look like?'' Well, you don't miss out on the Alamo – one of the six Spanish Catholic missions founded on the San Antonio River, with many fascinating Texas history to offer you.
Not far from the iconic San Antonio Riverwalk, the Alamo is the most popular free destination in the city for sightseeing some of the historical battlegrounds, old Chapel, and ancient weaponry artifacts of the 18th century.
If you want to explore some of the pivotal moments in the Texas Revolution I recommend you to take the 30-minute self-guided tour which is totally free.
The Alamo is completely free to enter – however, you must make your reservation on its website and select the Alamo Church Free Timed Entry option.
So if you are a history buff, this is a must-visit place in San Antonio as you will learn all about the history of the Alamo.
The Riverwalk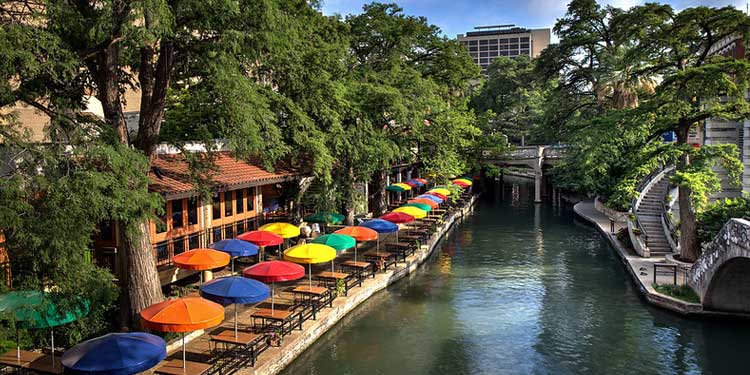 Location: 849 E Commerce St, San Antonio, TX 78205, United 
Opening hours: open 24 hours 
Costs: Free
You can only visit San Antonio by strolling down the Riverwalk. It is San Antonio's main attraction, and you will not be charged with any fee to enjoy the city's beautiful natural scenery.
After the evening, every pathway along the San Antonio River will be lit by decorated vibrant lights like a Christmas tree. The river's top attractions, hotels, restaurants, and other amenities are the best view to look out for hours.
I recommend visiting during the festive season of San Antonio which happens every Friday and Saturday night from June to August.
You will experience the best nightlife – with live music, cultural dance, and colorful lights all around you. "But is it free?" Don't worry because your pocket will be full as it is entirely free. However, make sure to reserve the best seat along the river.
San Antonio Museum of Art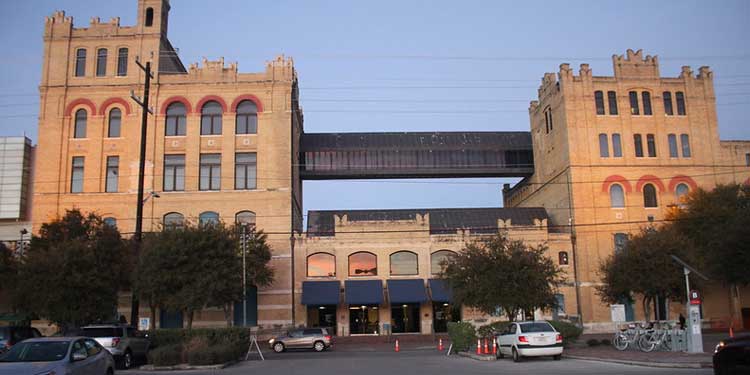 Location: 200 W Jones Ave, San Antonio, TX 78215, United States
Opening hours:  10:00 am - 5:00 pm. Closed on Monday
Cost: Free on Sunday and Tuesday
If you want to see extensive ancient Greek-Roman and Egyptian art collections spanning over 5,000 years of history, you can tour this historical museum for free on Sundays from 10 am to 12 pm and Tuesdays from 4 pm to 7 pm.
The Museum's contemporary art galleries feature works by local artists from Texas and the southern United States to artists from many of Southeast Asia.
Overall, this is a fantastic place to reconnect with your artistic side, and you will be blown away by the stunning exhibitions on display at the San Antonio Museum of Art.
Historic Market Square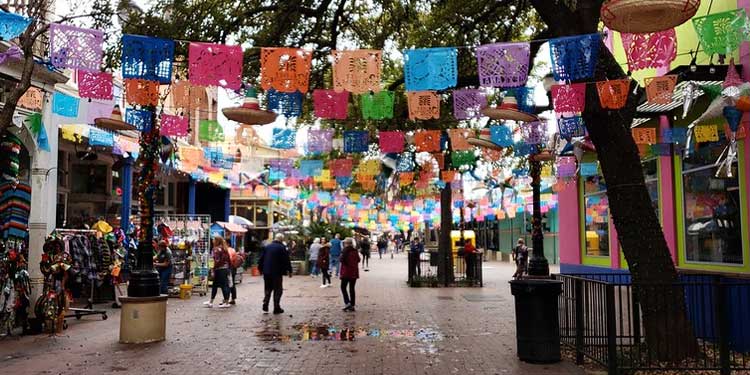 Location: 514 W Commerce St, San Antonio, TX 78207, United States
Opening hours: 10:00 am - 6:00 pm
Costs: Free
''Did you know?'' Since the early 18th century, this famous Marketplace has served as a place for residents and visitors to shop, eat, dance, sing, and have an absolute blast.
Speaking of dancing and singing This Historic Marketplace has many free activities where you can witness or even participate in its famous 'Folkorico dance' and some of its cultural music.
At the same time, you can browse some of the authentic Talavera Pottery and handcrafted gifts, as well as leather goods and other artistic items. Make the most of the opportunity to observe the production process, as they will openly allow you to film or ask questions.
Let us not forget about the dining hotspot. Well, there are many restaurants everywhere in the marketplace. However, you can always choose to bring your food as it can get a bit expensive to order in the market's eateries.
San Antonio Missions National Historical Park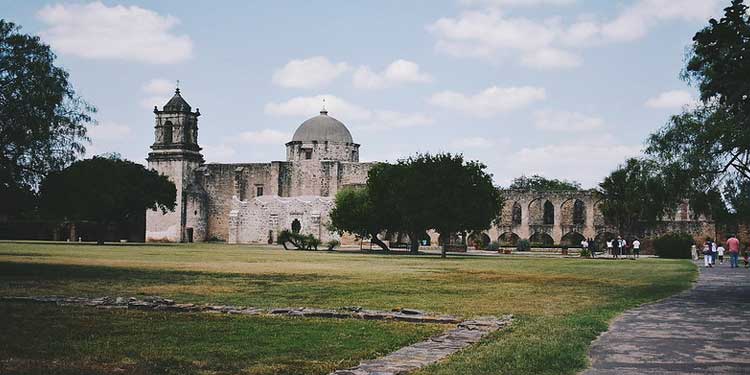 Location: 6701 San Jose Dr, San Antonio, TX 78214, United States 
Opening hours: 9:00 am - 5:00 pm 
Costs: Free
If you enjoy history and beautiful architecture, the San Antonio Missions National Historical Park provides free access to learn about its rich history.
When you visit today, the historical park will offer you a view of the beautiful chapel, the stunning Mill at Mission San Jose with a 270-year-old irrigation system, and much more.
If you want to learn more about the history, the Missions will also offer ranger-led tours. However, I recommend going with the self-guided audio tour because there is free wi-fi at each stop.
An excellent way to learn about San Antonio's rich history. So, if you're in the neighborhood, make a point of stopping by.
Japanese Tea Garden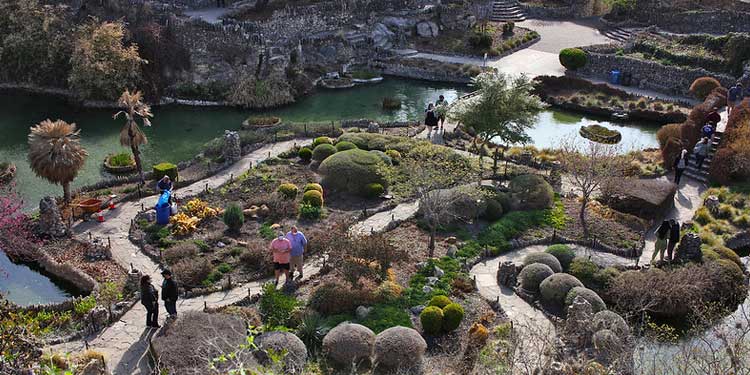 Location: 3853 N St Mary's St, San Antonio, TX 78212, United States
Opening hours: 7:00 am - 5:00 pm 
Costs: Free
The Japanese Tea Garden is a beautiful relaxing space and free attraction in San Antonio. The perfect spot for a self-quality time with nature all around you.
If you want free space to exercise or meditate, this area is ideal for sitting back and relaxing while listening to nature and enjoying its freshness.
You'll be surprised to know that this area was formerly a rock quarry but has now been converted into a tranquil park with views of rare plants, flowers, waterfalls, the well-known Koi ponds, and a gorgeous stone pavilion.
"Want to know more?" The garden has many interesting stories to tell. Well, you can always be humble and ask a couple of questions to the Japanese Gardener that has been here for decades, and you won't be charged a penny.
You can combine a visit here with a visit to the nearby San Antonio Zoo. So, if you're willing to pay a visit, this is one place you'll want to go.
Enchanted Rock State Natural Area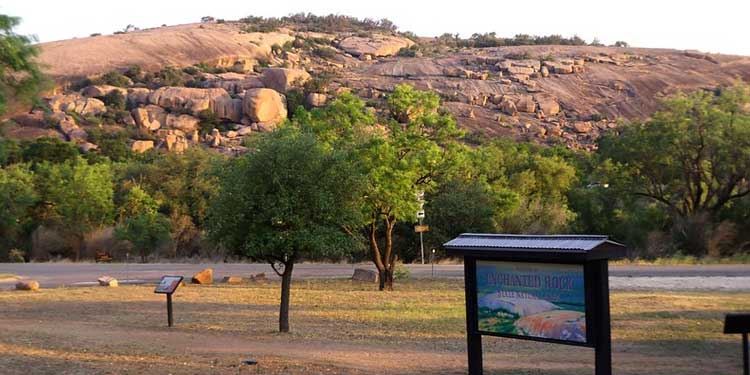 Location: 16710 Ranch Rd 965, Fredericksburg, TX 78624, United States
Opening hours: 6:30 am - 10:00 pm
Costs: Free
If you're searching for a free and fun activity in San Antonio or the Central Texas area, consider taking your partner or family on this Epic adventure in Enchanted Rock State Natural Area.
From a long drive on Fredericksburg's highway with surrounding hills and winding roads to hiking and exploring the Enchanted Rock caves, it has everything you need for a perfect getaway adventure.
If you are looking for a more challenging thrill, it has many camping spots with beautiful scenery of hills and lush greeneries. So, while you're here, choose the best one.
Note: Bring flashlights for the cave exploration because it can get quite dark. And if you are willing to return, the park gate closes at 8:00 pm, and only campers are permitted to enter the park after the gate closes.
San Antonio Pearl District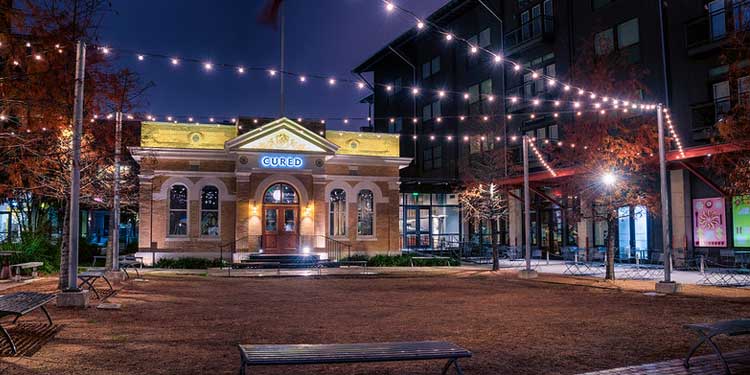 Location: San Antonio, TX 78215, United States 
Opening hours: N/A 
Costs: Free
Once a thriving brewery complex, the area is now a charming and family-friendly historic district with unique shops, restaurants, and a bustling outdoor market.
My favorite is the Pearl Farmers Market on weekends, which features local farmers and ranchers. I recommend going on Saturdays for fun activities as it offers free live music and stalls with unique arts such as pottery, wood crafts, and more. Perfect for browsing around the area and learning about its culture.
Explore the renowned boutique Hotel Emma for free. A landmark in the neighborhood that boasts more than 146 rooms in addition to a library, bars, club rooms, restaurants, and supermarkets.
Travel to Collect Every Memory, Not Money
"When was the last time you packed your bags and hit the road on a shoestring or even nothing?"
Some will say you need a plan, but there's nothing wrong with not knowing where you're going because the world in your pocket isn't your actual world – it's the one that lies ahead of you and the people you meet. It is Everything that awaits new discovery in your journey while traveling!
San Antonio is also a part of the new adventure for you to visit as it has many free attractions that will surely make your time worthwhile with taking in lots of memories with you.
You certainly have an idea of what to do while visiting San Antonio, and with everything it offers, it's easy to see why! So hurry up and make plans to visit this wonderful River City.