Austin, the Capital City of Texas, offers a wide range of hotels that provide amenities to suit every preference and budget.
A carefully chosen hotel can significantly enhance your overall enjoyment of the city.
Whether you're traveling with family or attending the world-famous Austin City Limits festival, staying in downtown Austin ensures a comfortable and convenient experience.
Downtown hotels offer luxurious amenities such as a hotel's pool, rejuvenating deep soaking tubs, mouth-watering cuisine, and rooms that provide breathtaking panoramic views of the skyline.
If you're seeking a more tranquil stay surrounded by nature, head to the enchanting Texas Hill Country.
Here, hotels offer outstanding spa facilities, indoor and outdoor pools, and exceptional service.
And if you are struggling to pick one, here are our top recommendations for the best hotels in Austin, Texas. Let's get started!
Best Hotels in Austin, Texas
Kimber Modern Boutique Hotel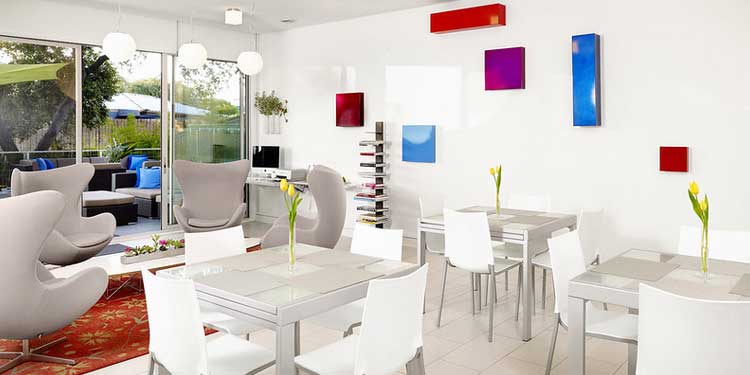 Address: 110 The Circle, Austin, Texas 78704, United States
Phone: +1 512-985-9990
Website: https://kimbermodern.com/
The Kimber Modern is highly recommended for the independent urban traveler looking for a one-of-a-kind retreat.
It is a modern-styled hotel where you can stay and admire the art and architecture at the same time.
The light filtered through the canopy of trees in the artistically designed Courtyard is worth spending an entire day with a bottle of wine to enjoy.
It offers room with every amenities, including an iPod dock, free wifi, mini fridge, bathtub, and much more.
The most well-known is the common room, also known as the breakfast place, where every visitors gather to enjoy happy hour and socialize.
South Congress Hotel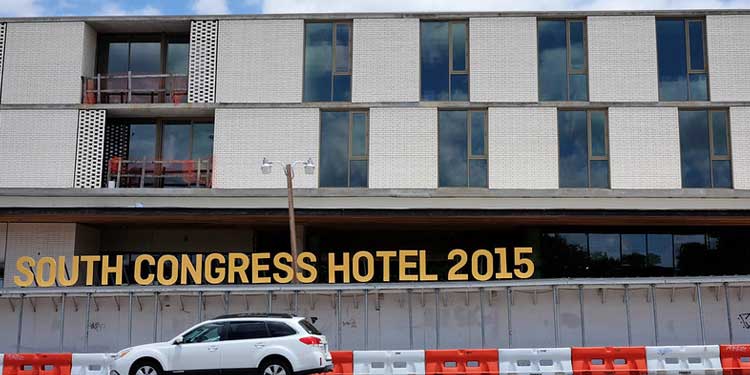 Address: 1603 S Congress Avenue, Austin, Texas 78704, United States
Phone: +1 512-920-6405
Website: https://southcongresshotel.com/
South Congress Hotel is a boutique hotel located in Austin's famous South Congress District, where visitors gather for shopping and entertainment.
With over 83 rooms of subtle elegance providing every amenities and service, it also has furnished balconies and living rooms overlooking the picturesque downtown skyline.
Your stay at this hipster hangout will give you much more than just a place to sleep!
It is worth planning a weekend visit just to stroll around and take advantage of other facilities, including a rooftop area featuring an outdoor pool and a bar to cool off.
Other onsite amenities include a restaurant serving fine Japanese dishes, a 24-hour fitness center, and a lobby bar with live DJs.
W Austin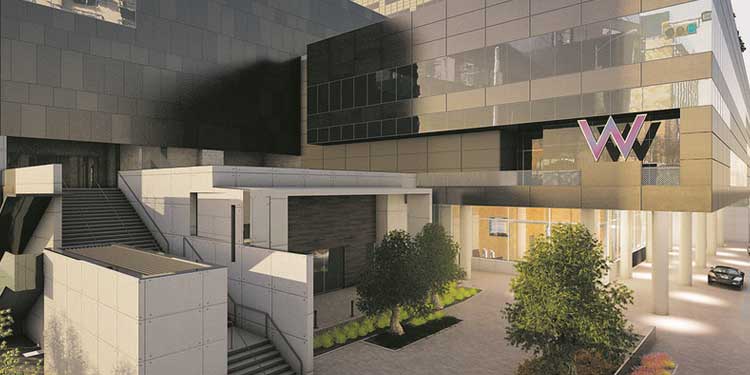 Address: 200 Lavaca Street, Austin, Texas 78701, United States
Phone: +1 512-542-3600
Website: https://www.marriott.com/en-us/hotels/auswh-w-austin/overview/
This luxury hotel is located near the Moody Theater, which is home to the world-famous Austin City Limits Live.
The living room bar is one of the best spots in town to gather around and have the best time partying and drinking.
Best of all! The extreme suites live up to their name with twig floor lamps, suede armchairs, and a high-end sound system.
Thankfully, all the partying is balanced with a full-service spa and one of the city's iconic restaurants serving delectable meals.
When the fun ends, you can relax on your own ultra-comfortable W Bed, order in-room service, and watch the latest Netflix series on your flat-screen TV.
JW Marriott Austin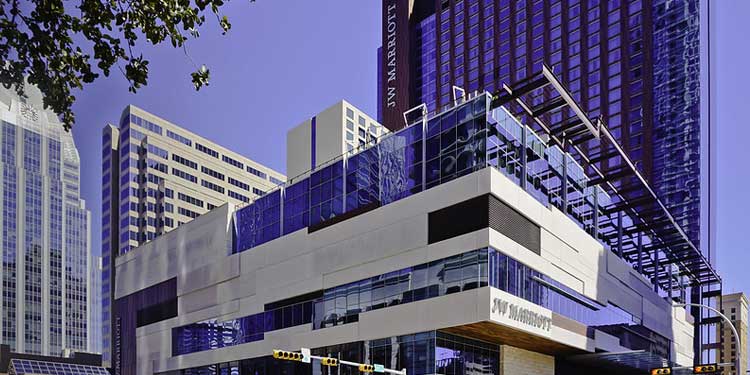 Address: 110 East 2nd Street, Austin, Texas 78701 
Phone: +1 512-474-4777
Website: https://www.marriott.com/en-us/hotels/ausjw-jw-marriott-austin/overview/
JW Mariott Austin is the most business-friendly hotel, with entire floors of meeting rooms equipped with cutting-edge AV capabilities.
A warm welcome awaits you in the beautiful lobby, which features four restaurants, a rooftop bar, and a Starbucks coffee shop.
But that's not all! It also has relaxing amenities, including a stunning rooftop pool with an outline of Texas on the bottom and a Spa for rejuvenation.
And if you want the ultimate luxury, you can choose executive from among the 1012 exquisite rooms where you can access all the VIP private lounges.
Hotel Van Zandt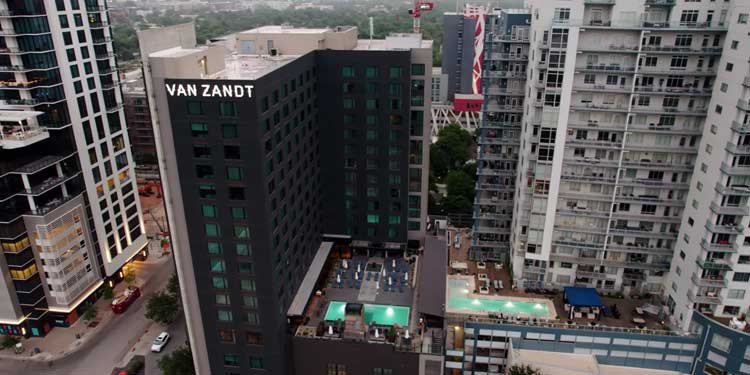 Address: 605 Davis Street, Austin, TX 78701, United States
Phone: +1 512-542-5300
Website: https://www.hotelvanzandt.com/
If you are looking for a relaxed yet sophisticated place to stay, look no further than Hotel Van Zandt, formerly known as the Sleep Bungalows.
Today, it has evolved into the city's prime location for bar hopping and an undoubtedly hip place to be seen but an even hipper place to stay.
The rooms are decorated with dark wood offering visitors a 24-hour service and a soaking tub with cityscape views.
For those who like to eat with a beautiful view of nature, you will be happy to know that It has an on-site restaurant with a view of Lady Bird Lake and live music every week.
There's also a gym and a rooftop pool with a fireplace, and a lively bar that serves the best handmade cocktails and exquisite wines.
Lake Austin Spa Resort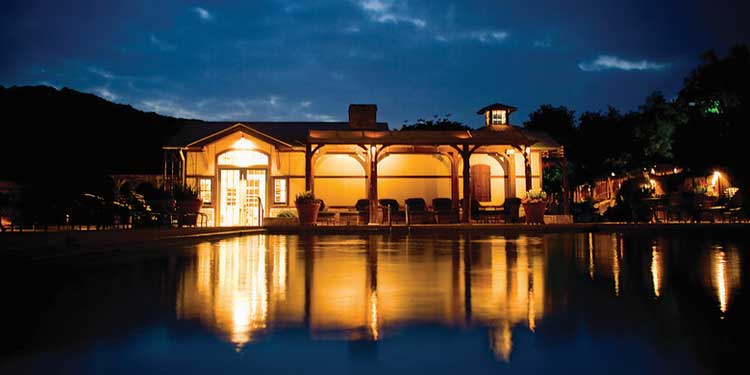 Address: 1705 S Quinlan Park Road, Austin, Texas 78732, United States
Phone: +1 512-372-7300
Website: https://www.lakeaustin.com/
Lake Austin Spa Resort is an exclusive and isolated hotel on the shores of Lake Austin, which is about 30 minutes from the downtown area.
When you need to indulge in excellent self-care at this facility, the hotel's world-class spa offers spa packages and customized treatments. So you can get away with it all!
And, while you're waiting, be ready for an extensive list of all-inclusive aquatic adventure activities!
It offers all you need for a fun-day activity on the lake, from paddleboard yoga, floating water meditation, and kayaking to surfing, water skiing, and sunset wine cruises. kayaking,
Fairmont Austin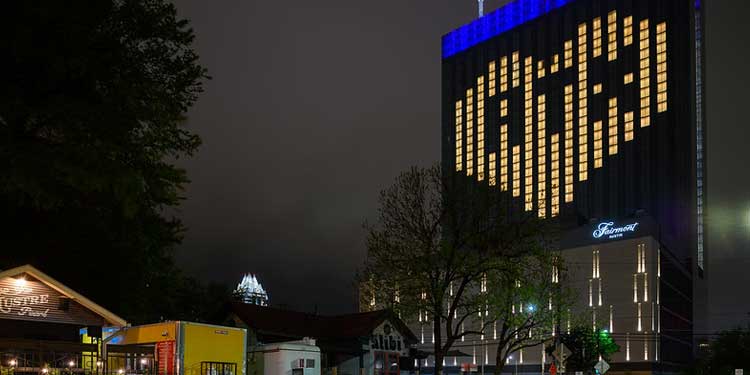 Address: 101 Red River Street, Austin, Texas 78701, United States
Phone: +1 512-600-2000
Webiste: https://www.fairmont.com/austin/
Fairmont Austin is the official sponsor of several major sporting events and festivals. So if you are in town for the big games, this is the place to be.
This 37-story luxury hotel has 1,048 luxuriously designed guest rooms and suites with scenic views of Lady Bird Lake and the downtown skyline.
Book one of the Fairmont gold guestrooms or suites to experience the ultimate luxury.
What is the most enjoyable aspect? You'll have access to the gold lounge, which is as luxurious as it sounds.
For relaxing after a long day of exploration, it offers visitors a rooftop pool and a Spa with a salon, gym, and hot tub.
Four Seasons Hotel Austin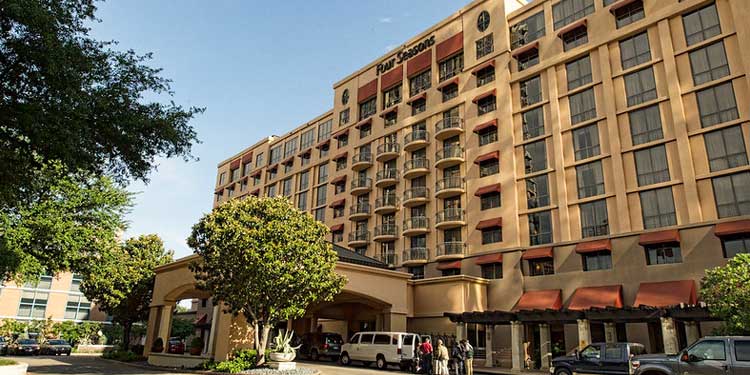 Address: 98 San Jacinto Boulevard, Austin, Texas 78701, United States
Phone: +1 512-478-4500
Website: https://www.fourseasons.com/austin/
The Four Seasons is right next to Lady Bird Lake Hike and Bike Trails giving it an ideal point for exploring one of Austin's outstanding natural features.
The 294 rooms and suites provide a serene private retreat with views of the city and Lake, as well as all of the facilities required for a comfortable stay.
Evening in-house car services and twice-daily housekeeping are just a few of the practical amenities that distinguish this as a higher option.
Not to mention the heated saltwater pool, jacuzzi, and grass hammocks, where you can spend an entire hour relaxing and drinking fine wine.
Head over to the hotel's restaurant, which serves the best modern Texan cuisine blended with Latin tastes.
Austin Proper Hotel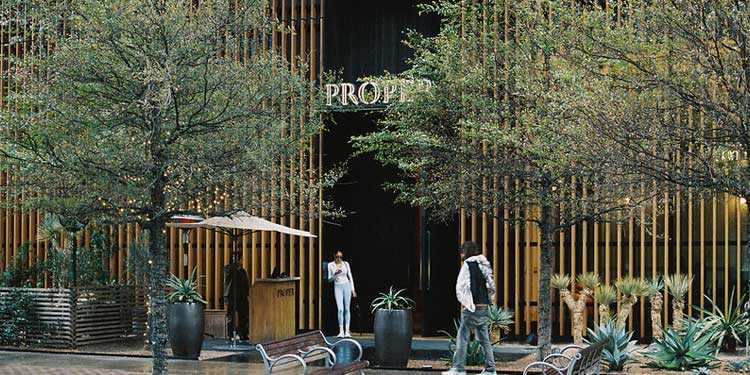 Address: 600 West 2nd Street, Austin, Texas 78701, United States
Phone: +1 512-628-1500
Website: https://www.properhotel.com/austin/
Austin Proper Hotel has its own blend of California cool with Texas charm, offering an artistic immersion in lifestyle and well-being.
This stylish hotel in Downtown Austin offers views of the Colorado River and is 2 miles from Lady Bird Lake.
Its key features include 238 rooms and suites, 99 branded homes, and four distinct dining and drinking venues.
For the ultimate pleasure, try the Verbena Spa for detoxifying your body with a body massage and meditation using tequila therapeutic oils.
Miraval Austin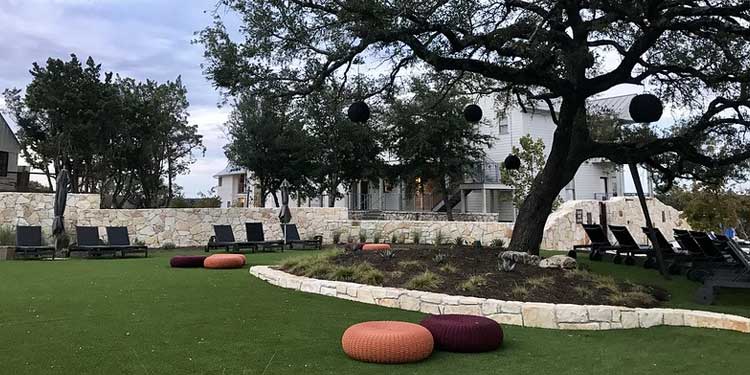 Address: 13500 FM2769, Austin, Texas 78726, United States
Phone: +1 855-234-1672
Website: https://www.miravalresorts.com/austin
Miraval Austin is a 220-acre natural getaway with views of Lake Travis and the tranquil Balcones Canyonlands Preserve.
This southern getaway among the magnificent greeneries of Texas Hill Country offers a perfect retreat for indulging your mind and body at peace.
With its regular schedule of wellness activities and Spa treatments, you are in for rejuvenation.
Its appealing rooms include soothing sensations with views of hills and Lake Travis, monochromatic furniture, meditation equipment, and more.
Other amenities include a cozy lounge and a poolside cocktail bar, excellent cooking classes, and great horseback riding in the hills.
Lakeway Resort and Spa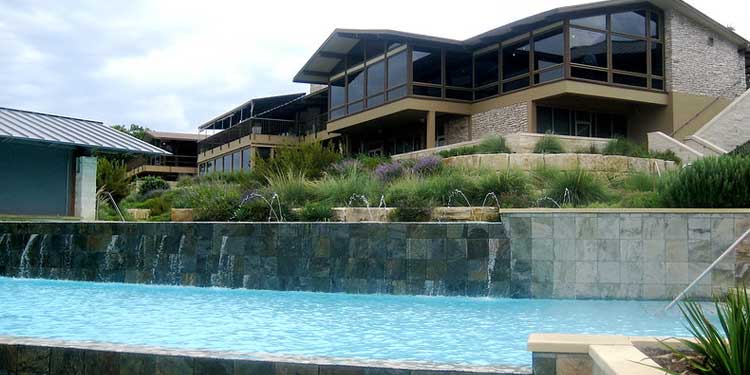 Address: 101 Lakeway Drive, Lakeway, Austin, Texas 78734, United States
Phone: +1 512-261-6600
Website: https://www.lakewayresortandspa.com/
Prepare to be wowed by an ultimate luxury condominium resort with views of Lake Travis and the gorgeous hills surrounding Austin.
It features three-bedroom villas that are completely equipped for families, large groups, and couples and a boutique Spa that serves both men and women.
The Travis restaurant offers premium cuisine in a rustic setting for a memorable dining experience.
On the back patio, you may watch the sunset while drinking cocktails and eating a fantastic supper.
It also offers a kids' waterpark with adventure slides, splash pads, and water playgrounds.
Start Planning Your Trip To Austin!
The best part of a trip is staying in a hotel that provides every amenity and a cozy room with the perfect view and 24-hour room service.
As you can see, Austin has it all!
Greatest of all, you won't have to drive far from the downtown area to find the most lavish hotels. You only need to pick one, make your reservations, and you'll be in good hands.
And while you are here, check out the best things to do in Austin!
Good luck!