Sevierville is a lovely town more than a city that offers tons of possibilities for a curious mind to explore and learn.
The eighth-oldest city in Tennessee also has lots of history and vibrant culture you might want to know about.
Hop on the street and explore the city's love for nature, animals, moonshines, and adventures.
Whether you're searching for places to visit during your trip to the city or you're a local looking for a nice place to hang out—these are our top picks for you.
The food, shopping, outdoor adventure—trust us, there are many reasons to be here!
Things to Do in Sevierville, Tennessee
Spend Quality Time at Sevierville City Park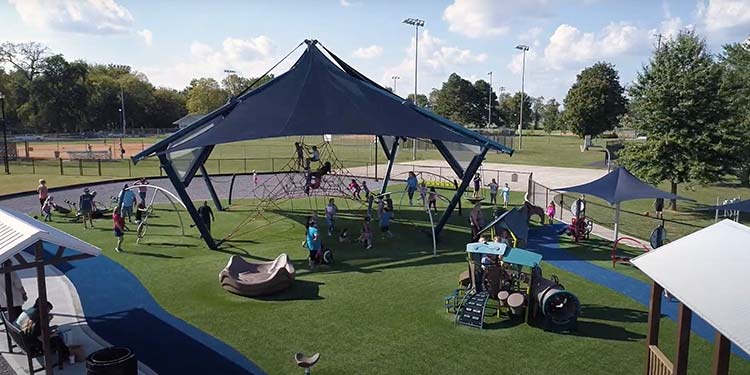 Location: 1005 Park Rd, Sevierville
Opening hours: 8:00 am - 8:00 pm (Every Day)
Entry rates: Not required 
Sevierville City Park is a perfect family-friendly place to spend a pleasant day in the city!
The park offers different types of fun and interesting activities to indulge yourself in during your visit.
Interactive and innovative spaces for kids such as a themed playground, an aquatic center, and athletic fields can be found here.
You can spend your time on the tennis courts, softball fields, or rope jungle gym if you want to sweat off a bit.
Spend a sunny day here with your kids in the water area; enjoy the splash pad and water slides in the pools.
You can also plan for a picnic as sheltered areas are provided on the grounds.
Visit the Tennessee Museum of Aviation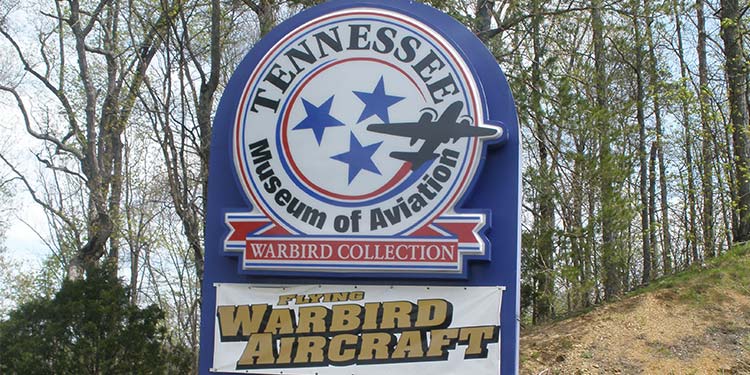 Location: 135 Air Museum Way, Sevierville, TN 37862, United States
Opening hours: 10:00 am - 6:00 pm (Summer), 10:00 am - 5:00 pm (Winter), Closed on Sunday & Monday
Entry rates: $15.75 (Adults), $9.75 (ages 6-12)
You will appreciate this gallery more than anyone else if you are an aviation enthusiast or someone who likes to explore history!
Tennessee Museum of Aviation is an official archive of the aviation history of the state.
The museum has preserved artifacts, uniforms, war tools, gadgets, and various models of planes and is enriched with aviation and military history all over the place.
With professionally well-designed displays, it also pays tribute to the US Military from the Second World War till the date.
Visiting the museum can be an educational, fascinating, and fun experience for all ages.
Every exhibit and memorabilia displayed here is well described and has its own unique and inspiring story to tell!
Speed Your Way to NASCAR SpeedPark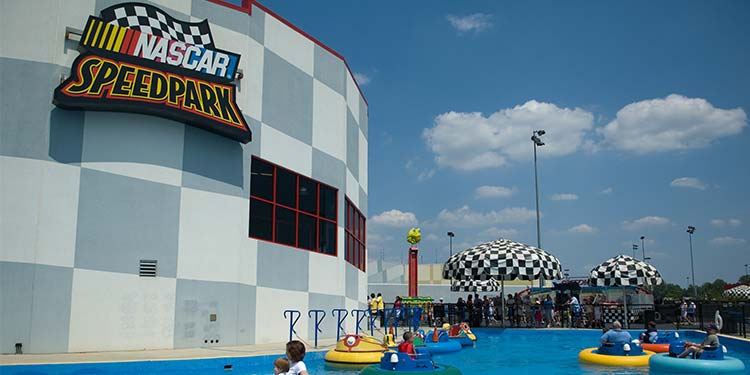 Location: 1545 Parkway, Sevierville
Opening hours: 11:00 am - 8:00 pm (Mon-Thurs), 11:00 am - 9:00 pm (Fri), 11:00 am - 10:00 pm (Sat), Closed on Sunday 
Entry rates: $26.99 - $32.99
Thrilling experiences for offered for every age and skill level, all in one place!
Hop on various activities here in the NASCAR SpeedPark which is a popular place for all adventure-loving families.
The park is mainly known for providing one of the best go-kart experiences having plenty of track options to choose from.
It is a super fun place in the city which is also not far away from the neighboring city of Pigeon Forge.
You can enjoy amusing rides including speedway coaster, speedway spotters, tilt-a-whirl and so many more exciting rides.
Other attractions in the park are speedway soakers, spin zone bumper cars, mini golf, and speed dome arcade which are equally entertaining and enjoyable!
Reach the Top of Skyland Ranch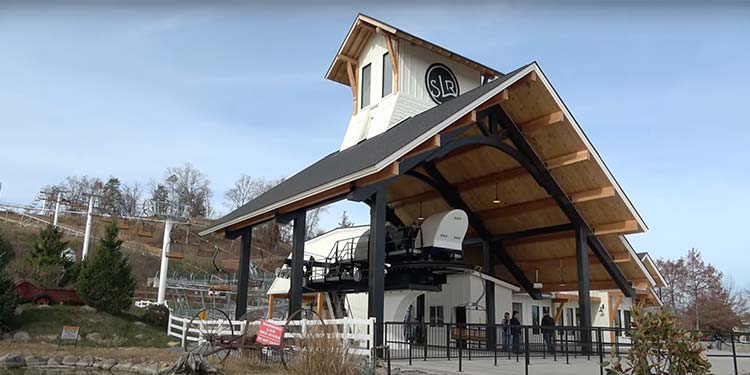 Location: 1620 Parkway Sevierville
Opening hours: 10:00 am - 8:00 pm (Every Day)
Contact: 865-737-2624
Skyland Ranch is the one-stop place for entertainment, relaxation, and lots of yummy food!
The place offers tons of exciting activities you can hop on and make your stay at Sevierville an unforgettable visit.
Situated right in the heart of the city, the 100-acre theme park has one-of-a-kind fun rides you can't say no to!
You can find the longest Mountain coaster in the southeast here in the park which is more than 8 minutes long ride on a 1.25-mile track.
Hop on the horizon Skyride called a chairlift or get on top of the 350 feet at Legacy Lookout and witness the most stunning views of the great smokies.
Try some of the most delicious BBQs, burgers, and corn in the various food trucks available.
The ranch also has a little animal farm where you can visit with kids and request information and do the petting.
Visitors can enjoy both the peacefulness and entertainment here while enjoying the scenic views of Sevierville!
Peek, Pet and Play at Smoky Mountain Deer Farm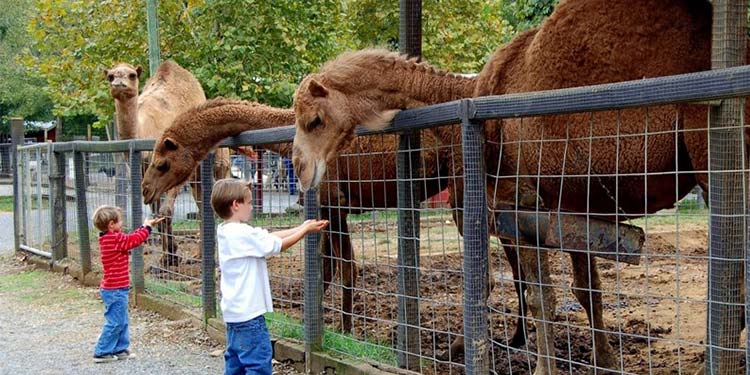 Location: 478 Happy Hollow Lane Sevierville
Opening hours: 10:00 am - 5:30 pm (Every Day)
Entry rates: $15.99 (Adults), $9.99 (Ages 3-12)
The deer farm is an exotic petting zoo where you can meet, feed, and pet various types of animals sheltered here.
Goats, Deer, Turkeys, Rabbits, Donkeys, Zebras, and Camels are some of the animals you can find here.
Visitors can go inside the goat areas and deer stations and pet them as well as carry the baby goats if they wish to!
You can always learn more about the place and animals from the workers here who are very cheerful, informative, and helpful.
Pony rides are also available for children to make their wishes come true!
Tips: This place is highly recommended for people who are traveling with kids, they are sure to love this exotic petting zoo.
Taste Moonshine of Tennessee Shine Company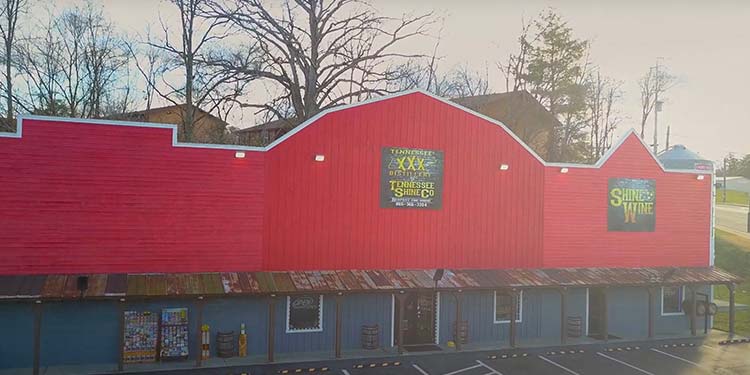 Location: 1424 Winfield Dunn Pkwy, Sevierville
Opening hours: 10:00 am - 8:00 pm (Mon-Thurs), 10:00 am - 9:00 pm (Fri-Sat), 12:00 pm - 7:00 pm (Sun)
Entry rates: Not required
Stop by Tennessee Shine Company and take the moonshine history tour while also tasting it.
The place offers you a free tour of the distillery process and the history behind the production of their drink.
They are known to provide different sorts of interesting flavors of moonshine such as Choco Moo, Cotton Candy, Apple Pie, Jalapeno Cornbread, and much more.
The company has followed a tradition of using family recipes which is the reason why they produced the most delicious booze you can ever try!
If you are interested in learning more about moonshine, this is the right stop for you!
Eat and Throw at Axe House Tavern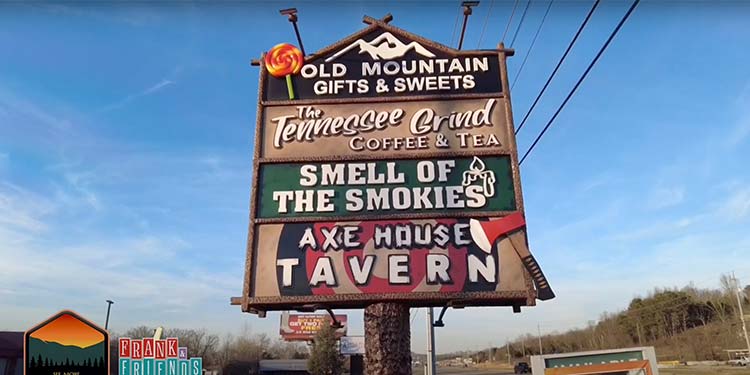 Location: 1436 Winfield Dunn Pkwy No. 66, Sevierville
Opening hours: 11:00 am - 8:00 pm (Mon-Wed & Sun), 11:00 am - 10:00 pm (Thurs-Sat)
Contact: (865) 378-8905
Are you ready for a unique experience of playing and dining? Axe House Tavern can be a great fun place for every person in the family!
This is the place where you can go crazy with throwing an axe—don't worry they provide a safe environment for this activity!
The dine-in serves a variety of delicious food options, bar for they have a separate menu for the children as well.
You can also enjoy watching World Tavern Poker League they host every Thursday.
Tips: Visit during the happy hours to order from a price-discounted menu from 4 to 6 PM (Monday-Thursday).
Meet the Animals at RainForest Adventures Discovery Zoo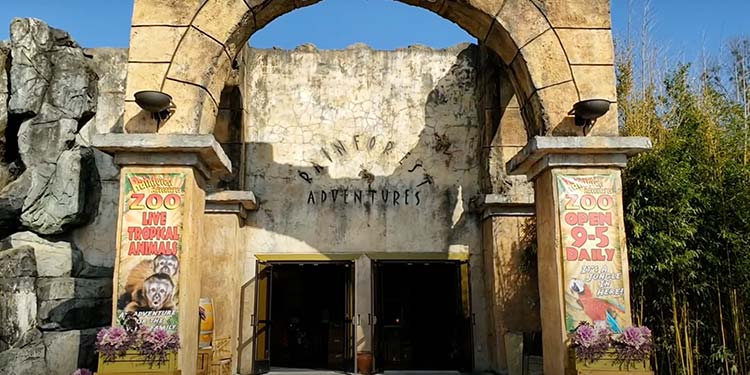 Location: 109 NASCAR Drive, Sevierville
Opening hours: 9:00 am - 5:00 pm 
Entry rate: $16.99 (Adults), $99.9 (Ages 2-11)
Rainforest adventures zoo is the habitat of more than 600 active and cheerful rainforest species and exotic birds.
You can find animals of about 140 fascinating species from all around the world classified under reptiles, birds, bugs, and more.
The beautifully designed zoo attracts many visitors from nearby areas including Pigeon Forge and Gatlinburg.
It can be an exceptionally delightful and educational visit as you get to learn about various animals and their living.
You can also interact with some of the animals in the petting area such as goats, sheep, and emus!
Explore the Forbidden Caverns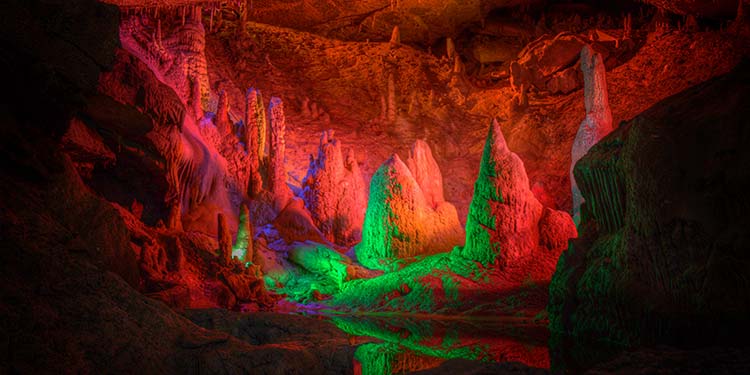 Location: 455 Blowing Cave Rd, Sevierville
Opening hours: 10:00 am - 5:00 pm (Mon-Wed & Fri-Sat), Closed on Sunday & Thursday
Entry rates: $20 (Adults), $12 (Ages 5-12)
Forbidden Caverns is a famous tourist attraction in the city that has sets of caverns and a large wall of rare cave onyx inside.
Take on the adventure and witness beautiful formations and learn about the history of the caves.
You can receive informative and educational guided tours that are provided which adds up to the unique experience.
Take some mesmerizing pictures as the beautiful stalagmites are all over.
On the deeper level, an underground river, chimneys, and grottos can be found as the cave goes a few hundred feet below the surface.
Tips: If you get cold easily then carry a light jacket as it gets cooler inside the caverns.
Check Out the Sevier County Courthouse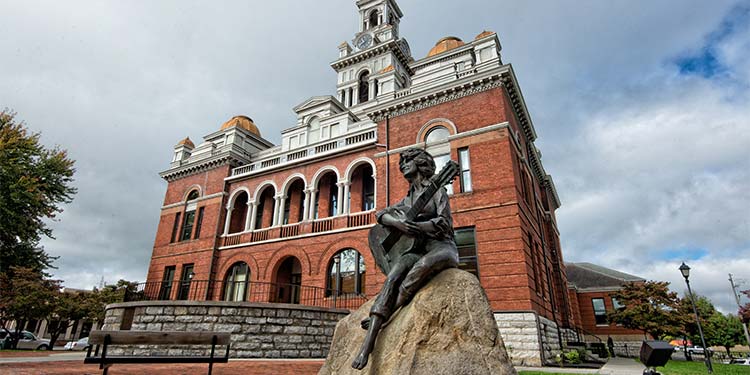 Location: 125 Court Ave, Sevierville
Opening hours: 8:00 am - 4:30 pm (Mon-Fri)
Contact: (865) 453-5502
Sevier County Courthouse is a government office but is also a tourist attraction for its historic contributions.
Built in 1896, the courthouse is a historical landmark that you can visit or look at from the outside if you are nearby.
As a government office, it is always a busy place with all sorts of government work, but you can surely take a tour and learn some interesting facts and history here.
Tips: Also spot the 'Dolly Parton' statue right on the lawn of the courthouse!
Play Hard at Ripley's Old MacDonald's Farm Mini-Golf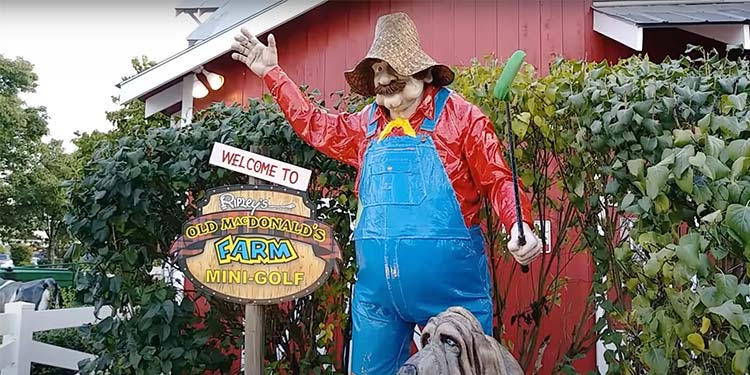 Location: 1639 Parkway, Sevierville
Opening hours: 10:00 am - 11:00 pm (Every Day)
Contact: 865-430-8808
You can spend an entertaining day at Ripley's Old MacDonald's Farm Mini Golf with your family.
Play miniature golf in the farm-themed park and get competitive!
They have the most fun and interesting courses that you might enjoy if you like to take on challenges.
Adorable farm animals are everywhere in the park; you can enjoy playing games while getting easily distracted by the cute little ones.
You can also find an indoor arcade here and win exciting prizes!
Shop at Tanger Outlets Sevierville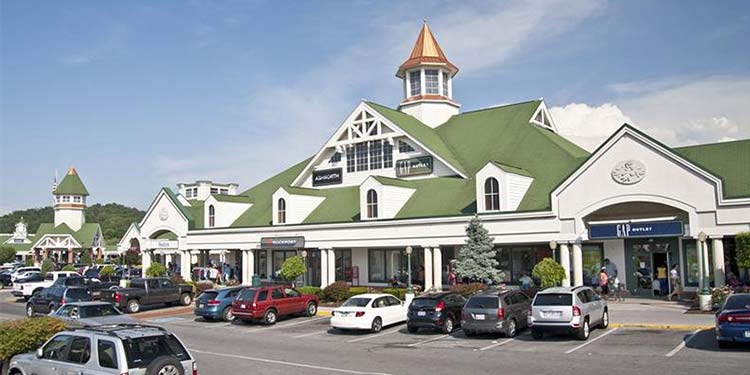 Location: 1645 Parkway #960, Sevierville
Opening hours: 10:00 am - 9:00 pm (Mon-Sat), 10:00 am - 7:00 pm (Sun)
Contact: +1 865-453-1053
Are you searching for a nice place to do your shopping while in the city? Tanger Outlets has all your favorite go-to stores!
The shopping mall has a variety of brands including Disney, Nike, Columbia, Adidas, Old Navy, and tons of high-end stores.
You can also get many restaurant options if you want to grab a meal on-site.
Find and shop all your necessities in good deals, sometimes shopping can be all you need!
Savour the Moments in Sevierville!
The welcoming, family-friendly, and warm city is more of a small town but offers options that are equal to a bigger city.
Whatever you do or wherever you decide to visit in the city, you are sure to have a great time as it can never disappoint you.
Get ready for a place that offers endless options for fun outdoor activities for outdoor lovers!
Note: Keep in mind that information about travel can change quickly. To make sure your trip is fun and safe, we encourage you to double-check official websites and government/travel advisory sites for the latest information on travel restrictions, entry requirements, and safety measures.
Discover More Tennessee Destinations