Kissimmee was originally a ranching country, though citrus farmers also used the fertile land.
However, Disney World opening in 1971 in nearby Orlando changed everything.
Nowadays, though, the area is primarily about vacation, relaxation, and spending fun time in the sun with your loved ones.
Because it is designed for travelers to stop, stay, and have a great time, there's plenty to do for everyone.
Things To Do in Kissimmee, Florida
Amusements
Even though you're within driving distance of Disney, there are other theme parks to explore. Smaller theme parks are a great way to experience local flavor and attractions like nothing elsewhere.
Fun Spot America: Kissimmee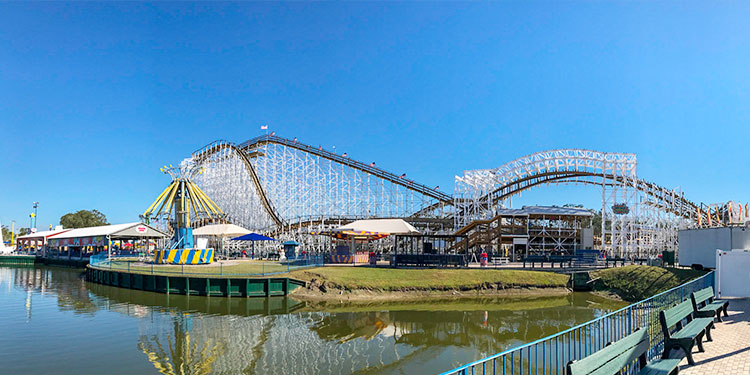 Address: 2850 Florida Plaza Blvd, Kissimmee, FL 34746, United States
Opening Hours: 10:00 am – 12:00 am daily.
Cost: Single-day passes start at $49.95. Prices may vary for special events or holidays. Free parking.
Fun Spot is very family-friendly, so don't hesitate to load up younger children and bring them along for a day of great fun.
Unlike larger theme parks, the lines aren't going to be extended waits.
You'll be able to get through plenty of rides, check out the tasty food, and explore the park's history.
If you get a chance, try the Mine Blower Coaster; it's the only wooden rollercoaster in Florida that turns passengers upside down.
If you plan to do a lot of rides, check out the wristband or season pass.
For a quick look around or to try something specific, you can pay for just the rides you want.
Parking is free, but the lot can get crowded, so show up early if you plan to stay for an entire day.
Check the calendar for the park before you arrive to see whether a particular day offers any new experiences you might not try otherwise.
Old Town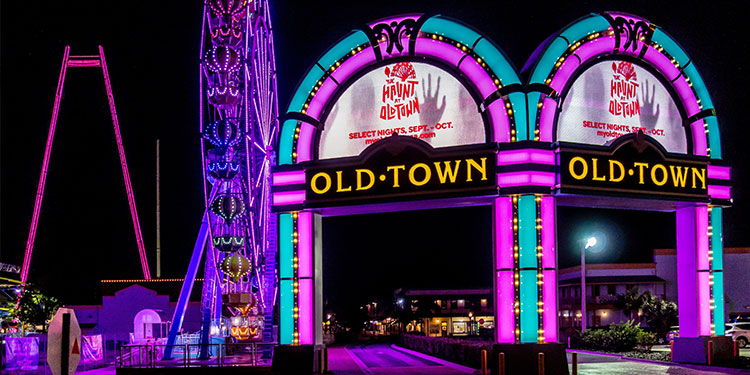 Address: 5770 W Irlo Bronson Memorial Hwy, Kissimmee, FL 34746, United States
Opening Hours: Monday - Thursday: 12:00 pm – 9:00 pm, Friday & Saturday: 11:00 am – 11:00 pm, Sunday: 11:00 am – 9:00 pm.
Cost: Free entry. Individual shop, restaurant, and event prices may vary. Free parking.
Old Town isn't an amusement park, but there are plenty of amusements for anyone in this upscale shopping area – plus, it's right next door to Fun Spot.
You can park for free and then browse through lots of shops, take in live performances, see shows, or grab a bite to eat at one of the many excellent restaurants on the property.
It's easy to find enough to do to fill a few hours, even if you're just taking advantage of the open container rules to have a great drink and people-watch in the area.
Silver Spurs Arena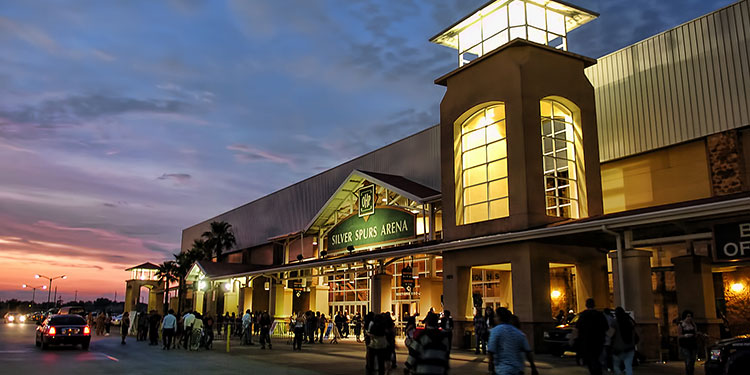 Address: 1875 Silver Spur Ln, Kissimmee, FL 34744, United States
Opening Hours: Depending on the event.
Cost: Tickets usually start at $15. Prices may vary based on the event. Free parking.
Check out the Silver Spurs rodeo to experience some authentic Southern culture.
It might surprise you to learn that cowboys are one of the groups that helped make Florida what it is today.
Before entertainment and travel became the primary industries, many cowboys roamed the plains. See the show, get up close to the animals, and bring the kids.
The show has some interaction, including for the younger audience members.
While parking is free and tickets are inexpensive, buying tickets online is best because the lines can get long.
Plan to hang back when everyone leaves to avoid getting caught in the traffic for the best possible experience.
Tree Trek Adventure Park Zip Line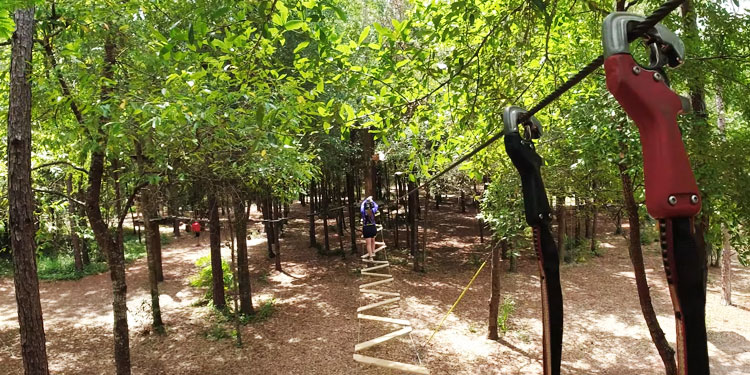 Address: 7625 Sinclair Rd, Kissimmee, FL 34747, United States
Opening Hours: 8:30 am – 5:30 pm daily.
Cost: Prices start at $44.95 for adults and $38.95 for children. Reservations recommended.
If you want to have fun, get sweaty, and feel your adrenaline pumping, you must spend some time at the Tree Trek Adventure Park.
There are a variety of courses to work your way through as you gain experience and get better at moving through the trees.
Remember that you can't skip straight to the hardest one; you have to work through the lower ones before you move up higher.
While this option is excellent for physically fit people, it's less good if you prefer more relaxing activities or need physical accommodations, so keep that in mind.
Packing some Dramamine if you're prone to motion sickness is also a good idea because some people report feeling a bit ill as they adjust to the height and motion.
Even with those concerns, though, patrons always want to return – flying through the courses on the zip line is addictive.
Outdoor Adventures
Kissimmee can get very hot like the rest of Florida, but there are still some great times to be had outside when the sun isn't too warm. Explore the area with these great outdoor activities.
Bike Rental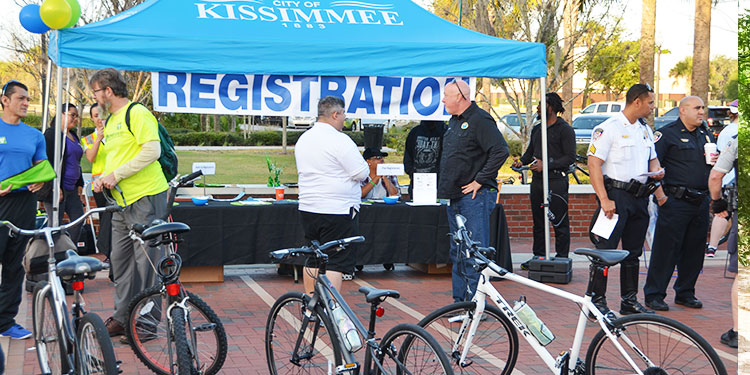 Address: 700 Bloom St, Celebration, FL 34747, United States
Opening Hours: 9:00 am – 5:00 pm daily.
Cost: Bike rentals start at $10 per hour. Rates vary based on the type and duration of rental.
Check out Celebration Bike Rental to take advantage of various bicycling programs as you explore the local area.
You can rent bikes for two hours as a walk-in, reserve them for longer trips, or even book guided bike tours to see everything yourself.
They're designed to be 90 minutes and are low-impact routes with no significant hills.
If you're renting a place locally and want an easy way to get around, check out the weekly bike rentals.
You can even get them monthly if you're staying longer. Standard bikes, children's bikes, and three-wheel bikes for adults are all available.
Talk to the staff to adjust the cycle perfectly before you take off.
Hot Air Balloons and Helicopter Rides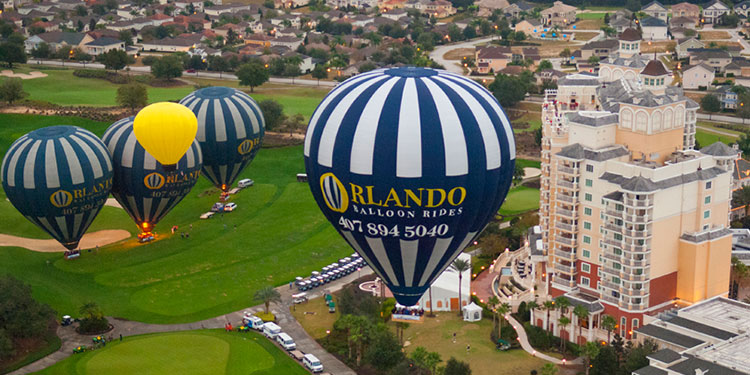 Address & Opening Hours: Vary by company.
Cost: Prices vary by company and package. Typically, hot air balloon rides start at $200 per person, and helicopter rides start at $40 per person.
Check out Kissimmee and the surrounding area from the air with a hot air balloon or helicopter ride.
You can book both as a private group to make it a personal experience that your family will remember forever.
Various companies offer these services, so compare prices, flight times, extras, and reviews before you book one.
Many tours that include Kissimmee will also fly you over Orlando and the various theme parks there.
Be sure to bring a camera to capture gorgeous aerial views, unlike anything you'll see on the ground.
Some packages will even include snacks, drinks, and photography.
Lazy H Ranch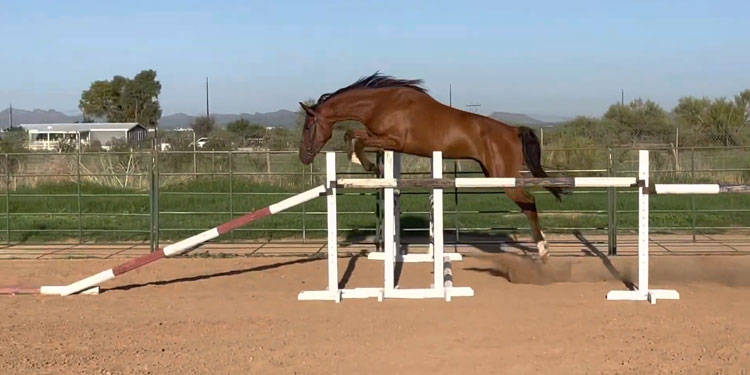 Address: 956 S Old Wilson Rd, Palm Bay, FL 32909, United States
Opening Hours: 9:00 am – 5:00 pm daily. Reservations required.
Cost: Trail rides start at $50 per person. Weight and attire restrictions apply.
To learn more about the history of ranching in Florida, head to Lazy H Ranch and enjoy a guided trail ride on one of their well-trained, sweet horses.
The animals are well cared for and cared about, which makes it well worth a spot on your itinerary – even before the area's expansive views and natural beauty come into play.
Guests mention the scenery and the knowledge of the owner and guide in their reviews. You'll see prairies, oak hammocks, and Lake Tohopekaliga.
You must make a reservation for group rides or sunset tours. Group rides can be an hour or 90 minutes, while the sunset tour lasts slightly over an hour.
You can also book a private sunset tour for a more romantic experience.
To ride, you must be 225 pounds or less, wear closed-toe shoes, and be willing to use a mounting block. They recommend bringing a hat, sunglasses, and sunscreen as well.
Games and Fun
Let your inner kid come out to play at these super fun venues.
GameTime Kissimmee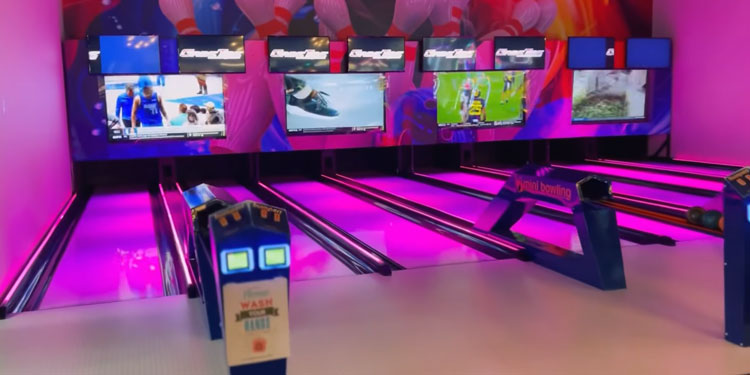 Address: 3216 Margaritaville Blvd, Kissimmee, FL 34747, United States
Opening Hours: Sunday - Thursday: 11:00 am – 10:00 pm, Friday & Saturday: 11:00 am – 12:00 am.
Cost: Game cards start at $10. Unlimited play options available.
GameTime is an arcade, first and foremost, with over 100 games available for visitors to play.
Take a step back into the past with retro arcade games, play some of the newest ones on the market, try mini bowling, or just collect wins until you get the prize you want. There are even ride simulators to get your heart pumping.
While you're there, check out the food and drinks too.
They're much better than the standard arcade fare; reviewers also praise the waitstaff.
If you are on the premises for a while, consider the unlimited play option to save money on your visit. You can even add more time for an additional fee.
Pirates Cove Adventure Golf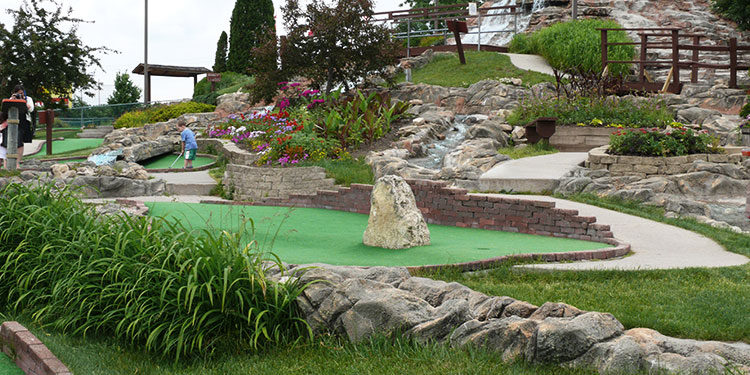 Address: 8501 International Dr, Orlando, FL 32819, United States
Opening Hours: 9:00 am – 11:30 pm daily.
Cost: Courses start at $12.50 for adults and $11.50 for children.
Pirate's Cove Adventure Golf is a marvel of waterfalls and coves as you work your way through this clean and bright course.
It offers two courses, one for more experienced players and one for newer golfers who want a more effortless experience.
Because there are multiple options, it can be great for families or groups of friends who want a more difficult time as they work their way through the holes.
Consider going in the afternoon on hot days when the trees will shade the course more efficiently. It can definitely get hot out there.
Studio Movie Grill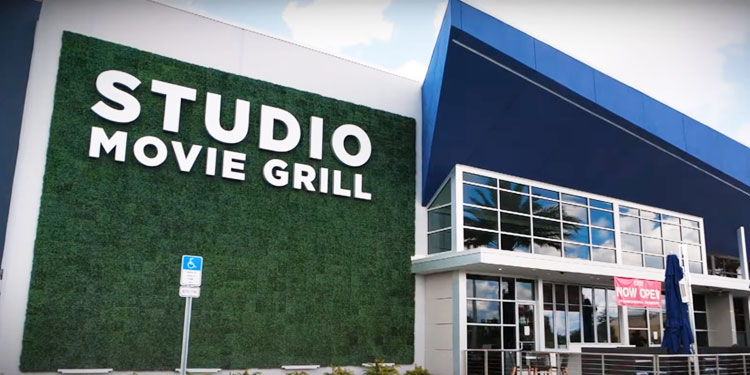 Address: 1555 Simi Town Center Way, Simi Valley, CA 93065, United States
Opening Hours: Depending on the movie schedule.
Cost: Movie tickets start at $10. Food and drinks are additional.
To enjoy some fun inside, try Studio Movie Grill. You can enjoy a great movie on the big screen while ordering food from the comfort of your seat.
There are even daily drink specials to check out – you might be able to save a bit and have your favorite drink simultaneously.
The best way to manage a night at the movies like this is to show up early, order food, and settle in before the film starts.
Otherwise, you risk missing something important while pouring over the menu.
Medieval Times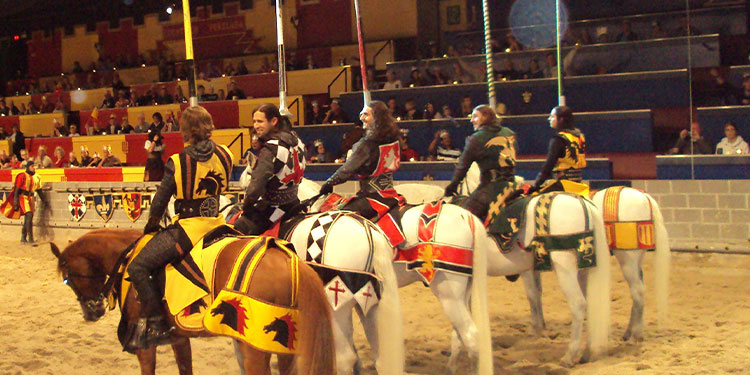 Address: 4510 W Vine St, Kissimmee, FL 34746, United States
Opening Hours: Depending on the show schedule.
Cost: Tickets start at $36.95 for adults and $30.95 for children. Various packages and seating options are available.
If you haven't been to a Medieval Times yet, you must prioritize it while you're in Kissimmee.
You become the guest at a Medieval dinner, complete with jousting and shows on horseback.
Knights walk the arena, engaging the visitors while peasants serve meals and converse with the audience.
In true Medieval fashion, you'll even eat with your hands rather than use utensils while you watch the show.
Check out the packages and seating options when you book.
For example, they offer a Mother's Day Wine Package in May with wine and commemorative glasses.
You may also be able to find premium seats, though the show looks great no matter where you dine.
The roasted chicken, garlic bread, corn, potatoes, and tomato bisque are all delicious and served piping hot.
Kissimmee: Your Gateway to Unforgettable Adventures and Entertainment!
Whatever time you'll spend in Kissimmee, book your tickets early for popular attractions and shows.
It's one of the most popular places in the world to vacation, with Orlando right next door, so things fill up fast during the tourist season.
After all, it is the Vacation Home capital of the world, and all those visitors can't be wrong. 
Note: Keep in mind that information about travel can change quickly. To make sure your trip is fun and safe, we encourage you to double-check official websites and government/travel advisory sites for the latest information on travel restrictions, entry requirements, and safety measures.
Discover More Florida Destinations: