Pensacola is a fantastic place for people who love to get out into the community and do things.
It isn't a city with dozens of tourist traps and shops. Instead, people who live and work there show up alongside tourists at many of the same restaurants and attractions.
You'll know something is good when plenty of locals are lined up at the same place.
Plus, Pensacola has an average of 220 days of sun per year, so you're likely to get great weather while you're there.
Things to Do in Pensacola, Florida
Lively Activities
When you want to walk around and get some air, look for things that will entertain you for a few hours in the sun. Just remember the sunscreen!
UFO's Pensacola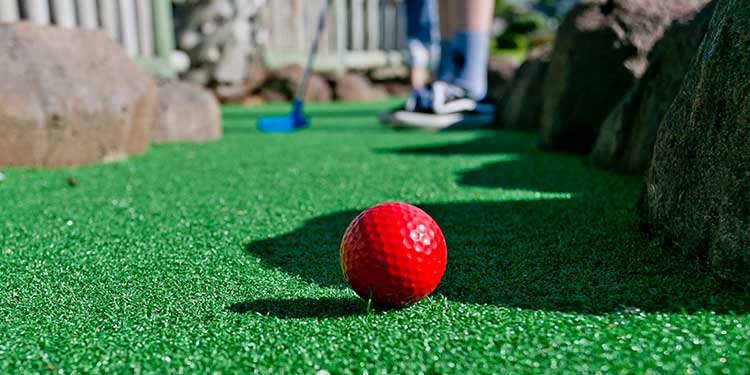 Best time to visit: Early morning or late afternoon.
Head to UFOs to grab some ice cream, play through their courses, and win a few arcade games.
Even if the day is super hot, you can chill out and play games in the air conditioning once it gets too hot to knock the balls around.
Of course, plenty of misters are on the path to help keep you cool, too.
This place is great for kids.
It has an enjoyable and friendly alien theme.
You can even take some snapshots in the photo booth to help you remember the day. The hours will pass swiftly at UFOs. 
Tip: Visit during non-peak hours for shorter lines and better access to games.
Laguna's Beach Bar and Grill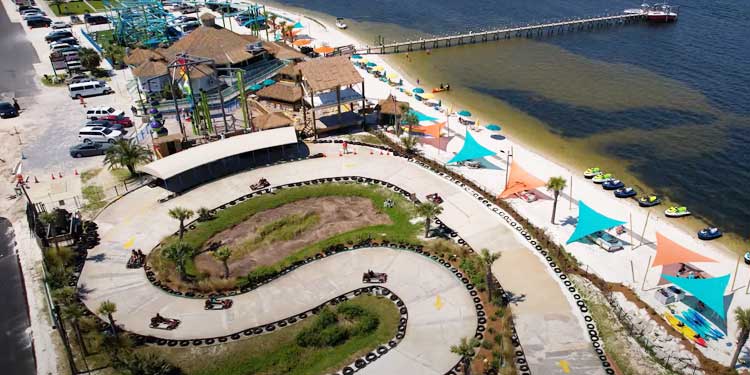 Address: 14595 Perdido Key Dr, Pensacola, FL 32507
Opening hours: 11am - 9pm daily
Cost: Moderate pricing, around $10 - $25 per person
Best time to visit: Weekdays to avoid weekend crowds.
This place is way more than just a restaurant.
It's a place to hang out, watch sports, and have fun at their amusement park.
You can even take a cruise.
You could easily spend a whole day doing everything Laguna's Beach Bar and Grill offers.
The park includes attractions like rip rails, a giant rope course, a clip n' climb, and a splash pad, so bring safe shoes and garb.
The cruises are two-hour dolphin cruises that you can book through the website.
At least two people have to be going before it will set sail, so check beforehand or bring a friend.
Depending on the time of year, you might also find a Blue Angels cruise, a Fireworks cruise, or a Sunset cruise. 
Tip: Wear comfortable shoes and clothing for the amusement park activities.
Splash City Adventures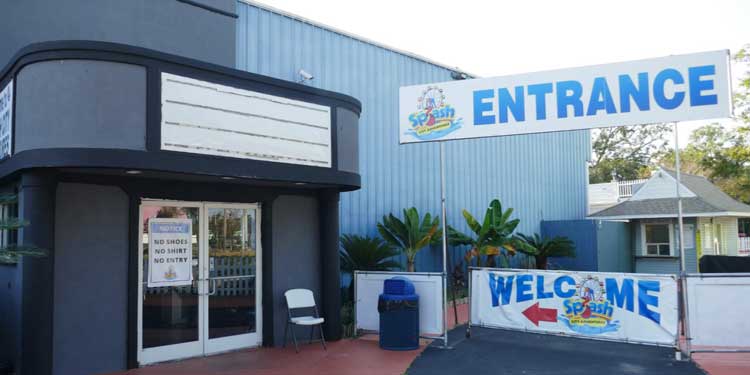 Best time to visit: Early morning or weekdays to avoid crowds.

With Go-Karts, a mini-golf course, and laser tag, there's plenty to do at Splash City before you go to the water park.
Once there, you can try one of their 12 waterslides, seven pools, and a 750-foot endless river. Bring the kids, too.
Two of the pools are meant for young children and are designated interactive play pools.
There's even a junior activity pool with two rope courses.
You can get food at the park, and they don't allow you to bring your own.
Depending on the size, you can also rent a storage container for the day for $8 or $10.
No one under 13 can come to the park without an adult staying with them as they go around. 
Tip: Bring sunscreen, and rent a storage container for your belongings.
Uncle Sandy's Macaw Park
Address: 9511 N Palafox St, Pensacola, FL 32534
Opening hours: Tue-Sun 9am - 4pm, closed on Mondays
Cost: Adults $5, Children (4-12) $4, Children (3 and under) free
Best time to visit: Mornings when it's cooler and less crowded.
Uncle Sandy's Macaw Park isn't a zoo. It's a conservation establishment where they help care for unwanted parrots and other birds.
The money you pay to visit and interact with the birds will help the park care for them.
If you're a local, you can even get involved and volunteer.
The Macaw Park is a great place to bring your kids.
They'll learn how to approach the birds kindly, feed them properly, and interact with them in a way that's fun, educational, and good for the birds.
Always check with the people working there before feeding if you haven't been.
You'll save your fingers from a bite by learning how to do it properly first.
Tip: Learn proper bird feeding techniques from staff before interacting with the birds.
Check Your Calendar
Some events don't happen every day. If you're willing to check the calendar and make plans in advance, you'll find some real Pensacola treasures.
Gallery Night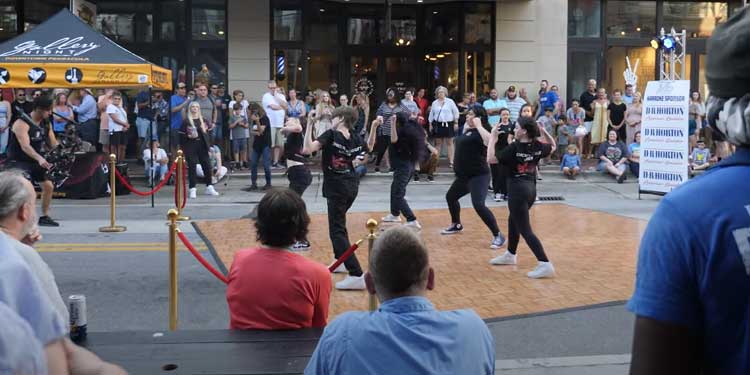 Address: Downtown Pensacola
Event dates: Once a month
Cost: Free to attend, but individual vendors, food trucks, and artists may have varying prices for their products and services
Gallery Night is put on by a nonprofit that showcases Pensacola food, artists, and artisans once a month.
You will find all kinds of things, and it could change each time the event happens.
They also reserve stands for local nonprofits, so you can learn about what type of work is going on in the area.
Grab some food from a truck, wander over to a live show, and then shop around to see what you might take home as a souvenir.
Before you go, check out their website and look at the interactive map.
You'll be able to get an idea in advance about what artists, food trucks, and other entertainment will be around and where it's situated.
You can make a plan of attack to ensure you have the best possible time. 
Bands on the Beach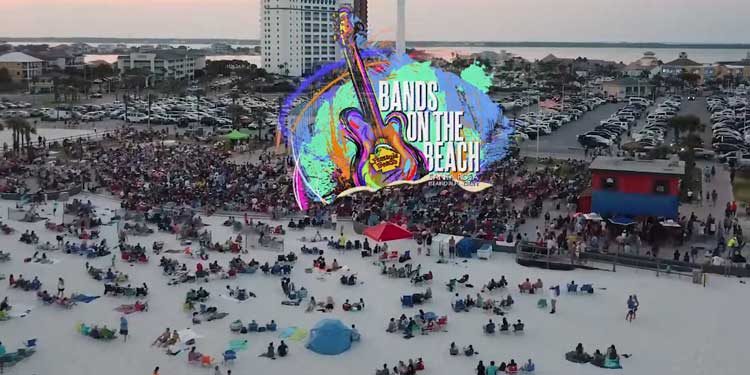 Address: Gulfside Pavilion, 20 Casino Beach Boardwalk, Pensacola Beach, FL 32561
Event dates: Every Tuesday from the first Tuesday in April until the last Tuesday in October
Cost: Free to attend
From the first Tuesday in April until the last Tuesday in October, Bands on the Beach takes place at the Gulfside Pavilion.
Bring your lawn chairs and blankets to listen to the music while you look out over the Gulf of Mexico.
Many groups are crowded around the plaza, dining from coolers and chatting while the music fills the air.
You shouldn't bring your pets or glass containers to this one.
However, it is very family-friendly.
Check their website to see the entire lineup for the season and plan when you'll go.
Pensacola Interstate Fair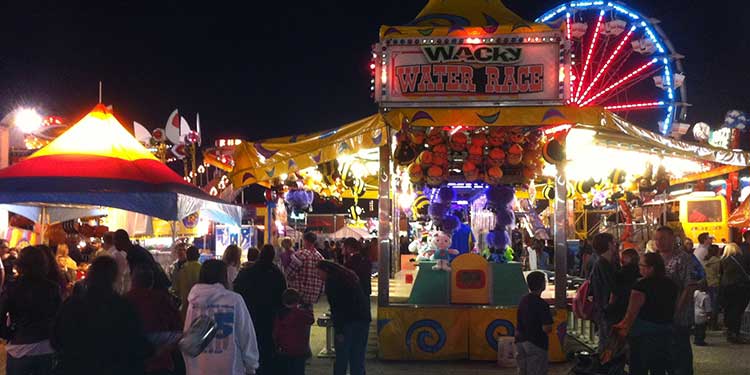 Address: 6655 Mobile Hwy, Pensacola, FL 32526
Event dates: Once a year (usually in October)
Cost: Admission fees vary, check the website for current pricing
Once every year, the Pensacola Interstate Fair brings carnival games, rides, and neat exhibits to town.
Take a ride on some fairground classics, eat your weight in fried dough, and win some prizes to bring home.
It's great for groups of all ages.
Here are a few tips to make sure you have a great time.
Bring cash to avoid paying the surcharge at the ATM or through the vendors.
Your shoes should be comfortable, and – if you're a fan of fair food – consider pants with a bit of a stretch.
Check out the schedule to see the performers on your preferred date.
Offbeat
There's one more place you absolutely have to check out while you're in Pensacola.
Grizzly Axes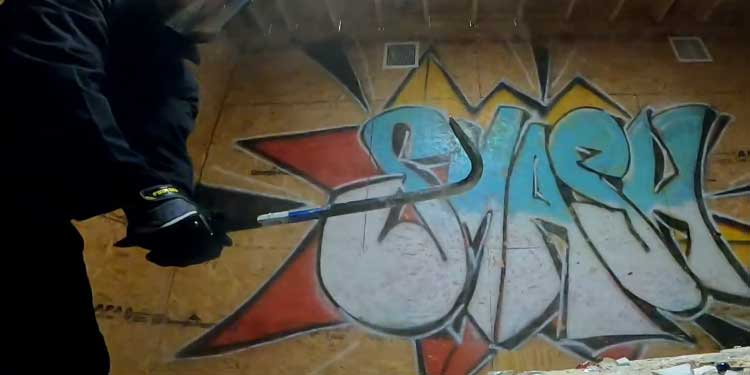 Address: 6300 Pensacola Blvd, Pensacola, FL 32505
Opening hours: Mon-Thu 3pm - 10pm, Fri 3pm - 12am, Sat 12pm - 12am, Sun 12pm - 9pm
Cost: Axe throwing starts at $20 per person, Rage Room packages start at $25, other activities and games may have additional costs.
If throwing axes wasn't enough to get you through the door, there's also a rage room, bar, and place to play games.
You can even make messy murals.
They have a limited selection of snacks, but you can order or bring your food.
Guests praise the experienced staff and clean facilities, so you can be sure you're heading to a winner.
If you've never heard of a rage room, it's a place where you can break things without consequences.
Having a bad day? Go to the rage room!
You can follow it up by making murals with paint packs or getting a lesson in throwing axes.
Play arcade games, shoot pool balls into the pocket, or enjoy a drink with friends. 
Great Food
One of the highlights of exploring any area is getting something new to eat. Pensacola has some true gems of restaurants and bars you have to try.
Shaggy's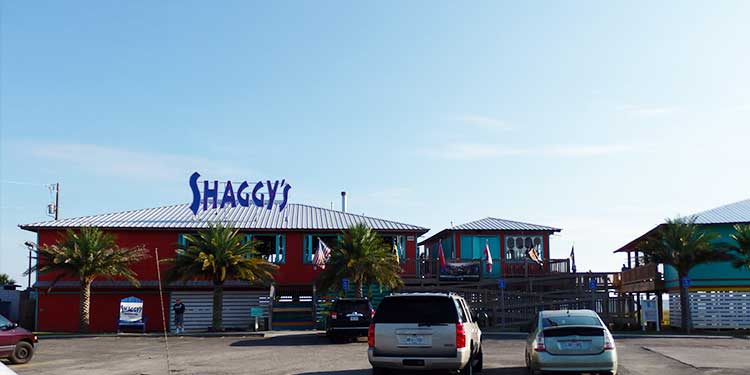 Address: 701 Pensacola Beach Blvd, Pensacola Beach, FL 32561
Opening hours: 11am - 10pm daily
Cost: Moderate pricing, around $10 - $25 per person
Best time to visit: Weekdays or off-peak meal times to avoid long waits.
Excellent service, a gorgeous view from the patio, and tasty food are the hallmarks of this restaurant placed right by Pensacola Beach.
One thing that makes it stand out from the rest? It's incredibly pet-friendly if you're willing to eat outside.
They even have a menu to choose from so that your furry friend can have a treat at the same time you do.
The drinks are refreshing, the key lime pie is perfectly tart, and the menu has many options to suit every palate.
If you want to kick back, relax, and look out over the water while you have your meal, try Shaggy's.
You'll be glad you did. (If you're a fried pickles fan, check those out, too.)
Tip: Request outdoor seating for a great view and pet-friendly dining.
Wisteria Tavern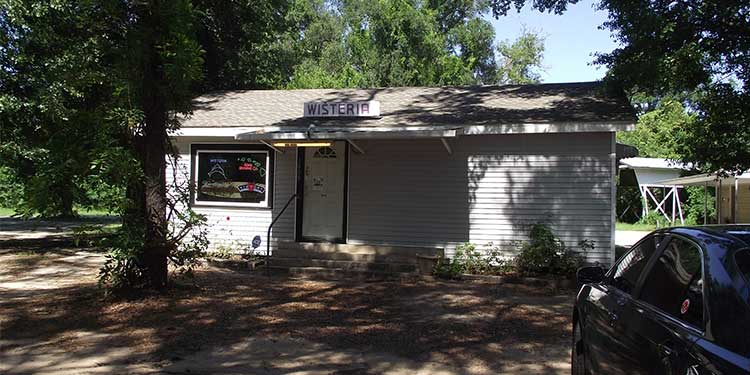 Address: 3808 N 12th Ave, Pensacola, FL 32503
Opening hours: 2pm - 10pm daily
Cost: Moderate pricing, around $10 - $20 per person
Best time to visit: Evenings for live music or weekends for a more lively atmosphere.

If you like history, Wisteria Tavern is a must-visit.
It wasn't even a tavern originally.
It was a grocery and supply store in the late 1920s, where hunters and anglers would come to have a drink at the end of their shift.
It's changed hands a few times, but it is still family owned and serves drinks right in the middle of what's now a residential neighborhood.
It was grandfathered in because of its history.
There's a food truck outside, lots of beer on tap, and you'll often find live music or karaoke.
Expect to see at least a few people with their pets by their side.
Remember that you can take your wine bottle home if you still need to finish it and have purchased the entire thing. 
Tip: Enjoy live music or karaoke on certain nights, and don't forget to check out the historical aspect of the tavern.
Elbow Room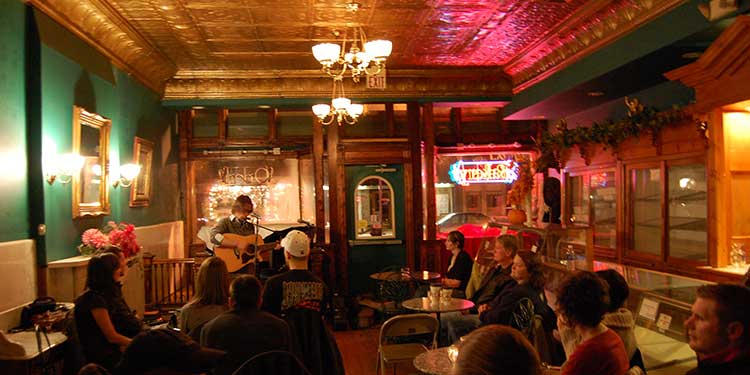 Address: 2213 W Cervantes St, Pensacola, FL 32505
Opening hours: 4pm - 2am daily
Cost: Moderate pricing, around $10 - $25 per person
Best time to visit: Late evenings for a more adult-oriented crowd and lively atmosphere.

Elbow Room is one of those restaurants where you're probably better off not bringing your kids late at night, though they aren't barred from the venue by any means.
Though it's filled with games – arcade, bar, and board – you'll likely meet a more adult crowd at this restaurant.
People praise the sandwiches, the appetizers, and the service, which probably keeps the locals returning for more.
While you're there, check out the Star Trek memorabilia if you're a Trekkie.
You'll be impressed by how much stuff they have.
You can even stop and have a picture taken with cutouts of Captain Kirk and Mr. Spock.
Just make sure you follow the rules, and you'll have a fantastic time.
Tip: Take pictures with the Star Trek memorabilia and enjoy the various games available.
Flounders Chowder House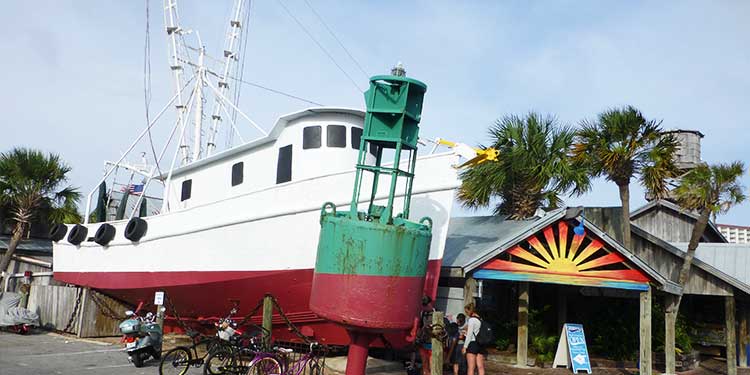 Address: 800 Quietwater Beach Rd, Pensacola Beach, FL 32561
Opening hours: 11am - 10pm daily
Cost: Moderate pricing, around $15 - $30 per person
Best time to visit: Weekdays or early evenings to avoid crowds and long wait times.

Getting a table full of fresh seafood is a must-do in Pensacola.
There are a lot of great places to try, and Flounders Chowder House is one of the best.
You'll find live music, knowledgeable and friendly waitstaff, and an entire menu of not-to-be-missed delicious food.
You'll want to linger by the fire pit after you're done with your food.
If you're hoping to sit outside, call ahead and check on the wait time.
It can get crowded. Of course, the food is just as good inside. Parking can be rough when the local businesses get slammed.
One way to help cut down the time is to have one person go in to get on the list while another circle around to look for a free spot.
Tip: Call ahead for outdoor seating availability and be prepared for limited parking.
Capture Pensacola's Magic: Seize the Moment!
Whether you're heading to Pensacola for a few days or a lifetime, there's so much you can do while you're there.
Explore Pensacola's diverse attractions, from UFO's Pensacola and Laguna's Beach Bar and Grill to Uncle Sandy's Macaw Park and Flounders Chowder House.
Enjoy unique experiences, delicious food, and stunning views while creating unforgettable memories.
If you're looking for more things to do in Florida, consider visiting nearby Destin, known for its beautiful beaches and vibrant nightlife.
Tampa offers exciting attractions such as Busch Gardens and the Florida Aquarium.
While Miami boasts a lively atmosphere with its world-famous beaches, nightlife, and cultural scene.
For couples seeking a romantic getaway, there are plenty of enchanting experiences throughout the Sunshine State.
The city is the home of the Blue Angels, so you can catch an air show if you're lucky.
That's one of the reasons why Pensacola is called the Cradle of Naval Aviation.
So, come and explore Pensacola and the rest of Florida, including Orlando, for an unforgettable adventure!
Note: Keep in mind that information about travel can change quickly. To make sure your trip is fun and safe, we encourage you to double-check official websites and government/travel advisory sites for the latest information on travel restrictions, entry requirements, and safety measures.