Bend is a gorgeous little mountain town in Oregon along the Deschutes River that offers a little bit of everything.
It is home to the world's last Blockbuster Video and the Pacific Northwest's most breathtaking natural wonders.
In fact a nature lover's paradise, with many of its beautiful rivers, mountains, lakes, and forests.
So, whether you're an adventurer exploring the high desert and mountains woods, or a city slicker looking for places to shop and dine, Bend is the ideal destination to arrange a trip almost any time of year.
And for you to get started, we have set a list of the best things to do in Bend, Oregon, to make a memorable trip. So let's get started!
Things to Do in Bend, Oregon
Hike to Tumalo Falls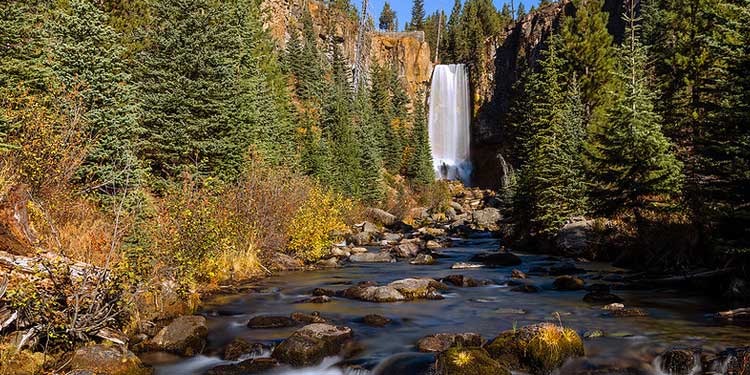 Address: Tumalo Falls Road, Bend, Oregon 97703, United States
Opening hours: the trail is open year-round
Costs: Recreation fee site includes $5 per vehicle
Difficulty level: Moderate
If you are down for a bit of a day trip, take the opportunity to get lost in the stunning beauty of Tumalo Falls.
This 97-foot drop waterfall can be found in the Deschutes National Forest- about 12 miles from downtown Bend.
To get there, be prepared to hike the Tumalo Falls Loop hike trail, which connects both the upper and lower falls.
This majestic fall is open year-round and can be visited any season, but if you are visiting during winter, bring a pair of snowshoes.
Tip: Parking is limited near the trailhead, so get there early to beat the crowds.
Pilot Butte State Scenic Viewpoint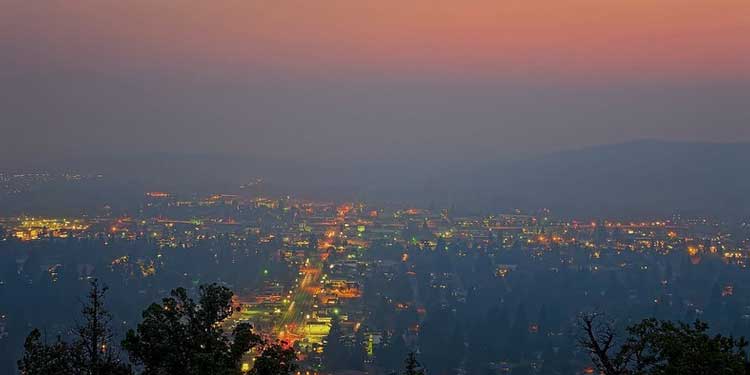 Address: 1310 NE Highway 20, Bend, Oregon 97701, USA
Opening hours: open daily from 10:00 am - 10:00 pm
Costs: free entry
Difficulty level: Easy
Are you looking for a bird's eye view of the city and surrounding area? Then make sure to plan a trip to the top of Pilot Butte.
This isolated rock formation is not a mountain, yet it provides the finest view of Bend's cascade mountains and lush greeneries that covers the downtown area.
It is ideal for a short 1-mile hike, bike ride, or outdoor exercise. But if you dont prefer to walk, you can always take a car ride to the top.
Kids love to hang around, as there is a spacious playground and several picnic tables to enjoy many happy hours.
Tip: The best time to visit would be in the evening to see the sunset and the night cityscape.
Explore the Lava River Cave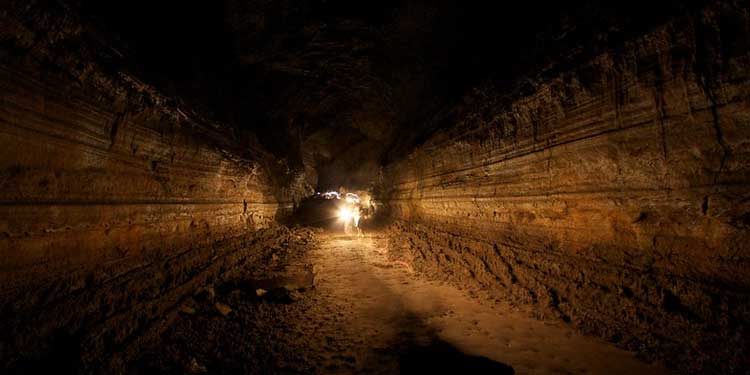 Address: Bend, Oregon 97707, United States
Opening hours: open daily from 9:00 am - 5:00 pm
Costs: $5 per vehicle
Bend is also known for volcanic activity and its history for the past decades.
Within Deschutes County, there are more than 1,000 Lava Tubes that have been forged by millennia of volcanic activity.
Visit the Lava River Cave, part of the Newberry National Volcanic Monument, for a mile-long lava tube adventure.
Or you can book a Lava Tube cave tour to learn about the cave's volcanic history and geology from a trained and knowledgeable guide.
You can explore these fascinating ecosystems on your own, armed only with a torch, a helmet, and a thirst for adventure.
The choice is yours!
Tip: Bring a warm jacket and wear suitable hiking shoes.
Spelunking at the Newberry National Volcanic Monument
Address: 58201 US-97, Bend, Oregon 97702, United States
Opening hours: day use from 9:00 am - 5:00 pm
Costs: $5 entrance fee
For someone looking for an ultimate thrilling adventure should consider the Newberry National Volcanic Monument.
It is the largest volcano in the Cascades volcanic range, with a 55,000-acre area dedicated to preserving unique, accessible volcanic features.
This includes the surrounding hot springs, and geological activities, making it an exciting place to explore.
You can also explore the underground of New Berry through a lot of Lava Tubes, including the Lava River Cave, on a self-guided or guided tour.
Sure, you can spend an hour hiking and enjoying the views of lakes/mountain peaks or make it an overnight trip by camping and fishing.
Go Mountain Biking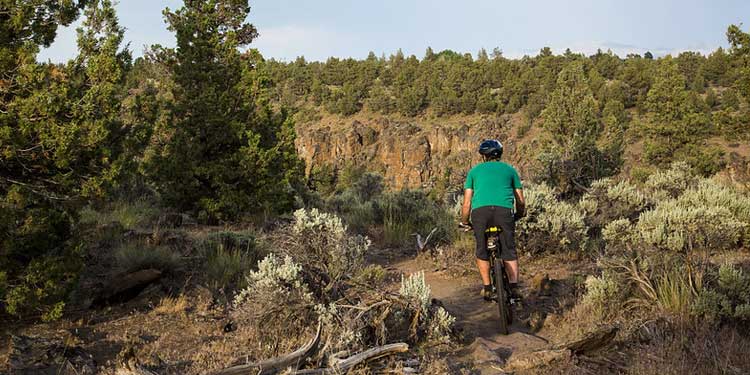 Mountain Biking around Bend is a popular activity for tourists and locals alike.
There are numerous shops in the area where you can rent or buy a bike and gear. From there, you will have hundreds of miles of trails to choose from.
Rentals are reasonably priced, and there are numerous trails suitable for bikers of all skill and experience levels.
Or, if you feel like being on an adventure on your own, I'd recommend Peterson Bridge, Phil's Trail, La Pine State Park, and Mount Bachelor Bike Park.
These areas cover excellent loop trails that are convenient for Mountain bike riders.
Go Mountain Skiing at Mount Bachelor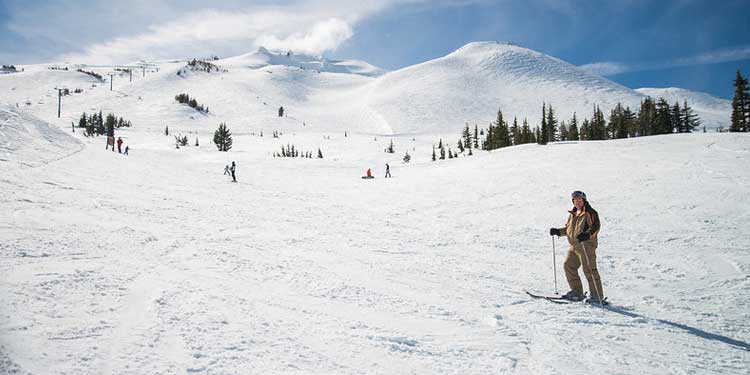 Address: 13000 South West Century Drive, Bend, Oregon 97702, United States
Skiing Operating hours: 9:00 am - 4:00 pm (Winter), 8:30 am - 1:30 pm (Summer) 
Costs: All Lift tickets are $94 for adults, $84 for teens (13-18) & seniors, and $64 for children (6-12)
Mount Bachelors stands tall at an elevation of more than 9,000 feet and has over 4,000 acres of skiable terrain.
It features skiing and snowboarding terrain for all ages and levels, with 101 ski tracks and 13 chairlifts.
At the summit, you will find an observatory deck and plenty of other spots that are open for things like snow tubing, snowshoeing, and even hiking.
Tip: To avoid long lines on the slopes, get your lift tickets and rent your equipment online before you arrive.
Note: Dates and hours might vary according to weather conditions
Visit the High Desert Museum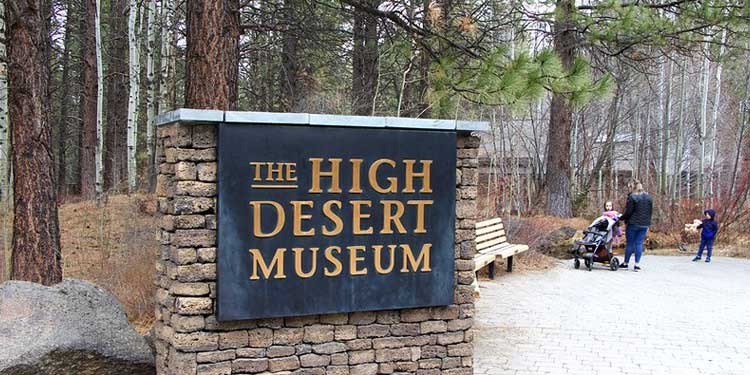 Address: 59800 US-97, Bend, Oregon 97702, United States
Opening hours: open daily from 9:00 am - 5:00 pm in Summer, 10:00 am - 4:00 pm in Winter
Costs: tickets price vary from the season, ranging from $20 - $11, depending on age
If you are looking for more than just a good time on your trip to Bend, consider visiting High Desert Museum.
A place where you get to travel back in time and learn about the history, Native wildlife, and culture of the Cascade Region via both permanent and temporary exhibitions.
Visitors can get up close and personal with a variety of wildlife and even tour the authentic ranch and sawmill from 1904.
The museum is located on a 135-acre plot of forest land and is a great place to explore the outdoors as well.
Shopping and Dining at the Old Mill District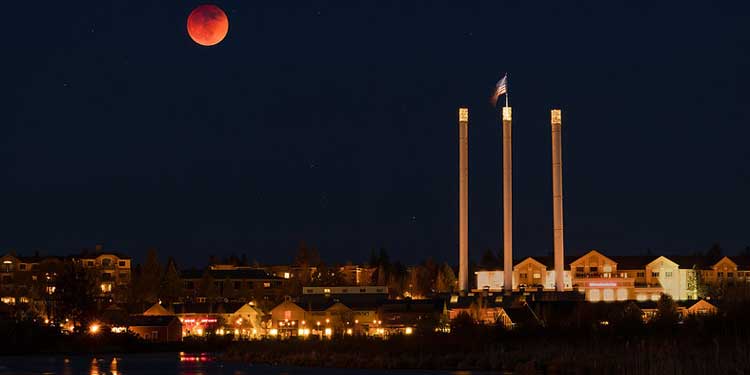 Address: 450 South West Powerhouse Drive, Bend, Oregon 97702, United States
Opening hours: open daily from 10:00 am - 8:00 pm (stores hours might vary)
Take a break from all the outdoors and enjoy some entertainment, shopping, or even a food hunt at the Old Mill District.
The Old Mill District also has over a dozen riverfront restaurants offering everything from exotic happy hours and exquisite dining to family-friendly meals for kids.
And as far as shopping goes, you will find a mixture of luxurious and local brands like Sephora and Lululemons.
If you don't feel like shopping, you may stroll around the historical parks and Deschutes River, just a short walk away.
Fishing and Kayaking at the Deschutes River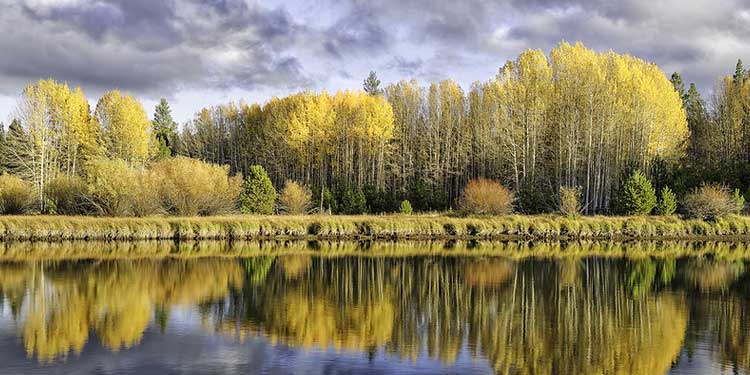 Address: 970 SE Reed Market Road, Bend, Oregon 97702, United States
Opening hours: open 24 hours
The Deschutes River is Bend's shining treasure.
It is almost 250 miles long and home to some of the best fishing places in Oregon for chasing red side Rainbow Trout and Pacific Steelhead.
You can launch a paddleboard, kayak, canoe, or surf at its man-made surfing wave to experience the best water activities.
For those looking for a more challenging adventure, you can always go camping and fishing throughout its miles and miles of shoreline, all the way to Deschutes River State Park.
It's a wild experience, unlike anything you have likely seen before.
Go on a Long Drive at the Cascades Lake Scenic Byway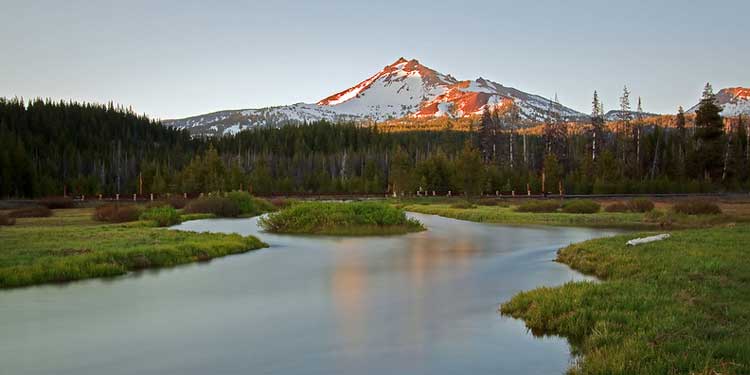 Address: Cascades Lake Highway, Bend, Oregon 97702, United States
Cascades Lake Scenic Highway is undoubtedly Bend's most scenic drive in the Pacific Northwest.
It is 66 miles long and takes about 3-5 hours, depending on the speed and stops you take.
But we recommend taking your sweet time to appreciate the abundance of panoramic views and vista points in your journey.
From entering the Deschutes National Forest to glimpses of towering mountains, your drive will be worth mentioning as one of the best ever.
You can swim, hike, fish, swim, and do various other outdoor activities until the Cascade Lakes Highways ends at OR-58 near Crescent and Odell Lakes.
Watch Live Music at the Hayden Homes Amphitheater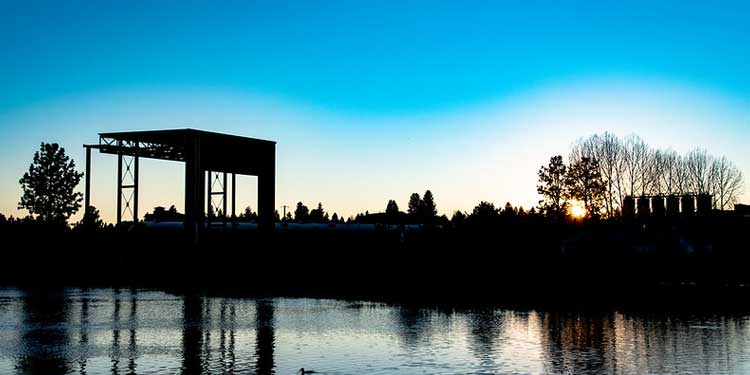 Address: 344 South West Shevlin Hixon Dr, Bend, OR 97702, United States
Opening hours: 10:00 am - 7:00 pm (Monday - Saturday), 11:00 am - 6:00 pm on Sundays (might vary on events and shows)
Costs: ticket prices vary on shows and events
The Hayden Homes Amphitheater is known for its premier music venues in the Pacific Northwest. So it's a joy and treasure for any music lovers out there.
Music icons like Bob Dylan, Ringo Staar, and Willie Nelson have also participated in many music events and festivals at the Hayden Homes Amphitheater in Bend.
With both free and ticketed events happening here, this place is always busy during the summer months.
It is centered on the Deschutes River and the Old Mill District, with an all-grass infield and stunning views of the Cascade Range.
While there are tons of great restaurants nearby, you will always find killer food and beverage trucks surrounding this venue.
Visit the Breweries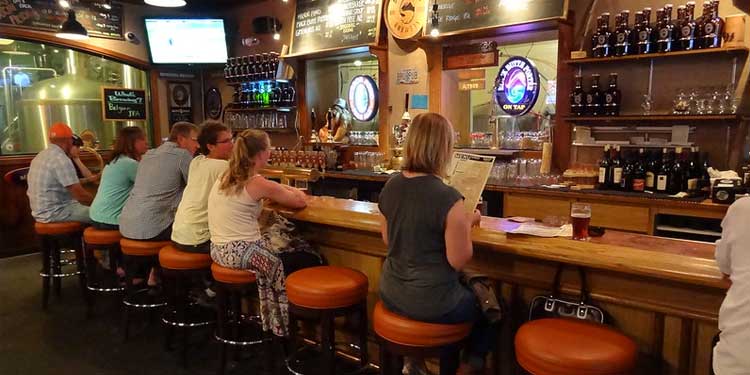 Bend has grown renowned for craft brewers and beer over the previous two decades.
It's usually listed as one of the best beer travel locations in the country, similar to how Fredericksburg is for wine in Texas.
Deschutes Breweries is the most popular and original brewery in all of Bend that has an excellent brewpub known for its famous Black Butte Porter and Mirror Pond Pale Ale.
Likewise, there are several other breweries in town to visit, such as Goodlife Brewing Company, Boneyard Beer, and the Bend Brewing Company.
The Last Blockbuster Video in Bend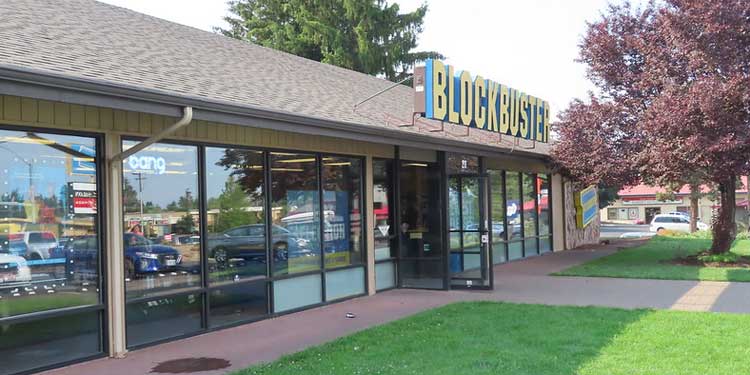 Address: 211 North East Revere Avenue #3, Bend, Oregon 97701, United States
Opening hours: 10:30 am - 8:00 pm (Sunday - Thursday), 10:30 am - 9:00 pm (Friday - Saturday)
If you are old enough to remember Blockbuster, visiting this video rental store is a must during your trip to Bend.
It is the only remaining retail store in the world using the Blockbuster brand.
You will get all the nostalgia of your childhood for 20-30 years once you walk through the aisles and revisit the sights, smells, and tactile sensations of the VHS and DVDs.
At the very least, it's a fun way to spend some free time rediscovering the things that are already extinct.
Check out the Best Places to Eat around Bend
Bend is home to some of the top restaurants, cafes, bakeries, and pubs that will satisfy every visitor with its local flavors and fine dining area. Our top recommendations include the following:
McKay Cottage Restaurant: It is a perfect place for breakfast fare that serves some of the best morning grub with an attached bakery.
The Blacksmith Restaurant: It's a hip steakhouse in a restored 1923 old smithy with brick walls, leather booths, and a blazing bar.
Ariana Restaurant: A quaint Craftsman bungalow serving inventive New American food and house drinks.
McKay Cottage Restaurant: Breakfast and sandwiches are served at this cozy cafe in a 1916 cottage with tables on the lawn.
Bangers & Brews – Westside: Counter-service restaurant serving gourmet Argentine-inspired sausages in a bolillo bun and some fine-crafted beers.
Note: For making a reservation, we recommend visiting its website.
Explore the Wonders of Bend and Make Infinite Memories
While you may come across Bend's weather, just to let you know that it is a great town to visit during the peak season of Winter and Early Spring.
It is the best month to explore the lands and mountains of Bend by hiking, biking, and skiing.
Finally, pack some warm clothes and make sure to bring every essential that you need.
And with our top recommendations, you are sure to fill all your bucket list by exploring the best of Oregon.
Good luck!
Note: Keep in mind that information about travel can change quickly. To make sure your trip is fun and safe, we encourage you to double-check official websites and government/travel advisory sites for the latest information on travel restrictions, entry requirements, and safety measures.