Miami may not be known as the city of love, but it should be.
So many experiences the city offers are perfect for new lovers or couples who have been together for years.
To plan the perfect date, consider what atmosphere you want to create.
A day at the museum and a wine-tasting bar will be completely different from a day on the water, followed by a sports bar.
Knowing what you want from the beginning will help you plan a day you'll both always remember.
Things to Do in Miami for Couples
Relaxing Experiences
Check out these ideas for relaxing experiences you can do during the day.
Morikami Japanese Gardens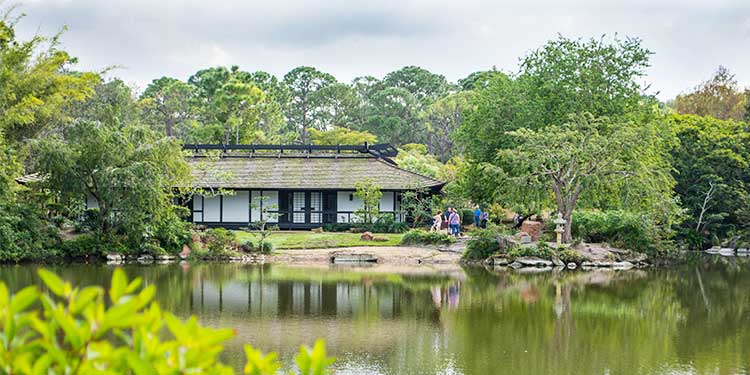 Address: 4000 Morikami Park Rd, Delray Beach, FL 33446
Opening hours: Tue-Sun 10am - 5pm, closed on Mondays
Cost: Adults $15, Seniors (65+) $13, Children (6-17) $9, Children (5 and under) free
The Morikami Japanese Museum and Gardens is a great place to meet up, wander around, and discuss the exhibits together.
You won't run short of conversation, whether it's about the gorgeous displays inside or the well-maintained gardens outside.
Check out the Bonsai showcase and stroll through the gardens before heading to the cafe for a bite to eat while you discuss everything you saw.
If you're able to go during a festival, do so. They may have hands-on projects you can do together.
Lapis, Fontainebleau Spa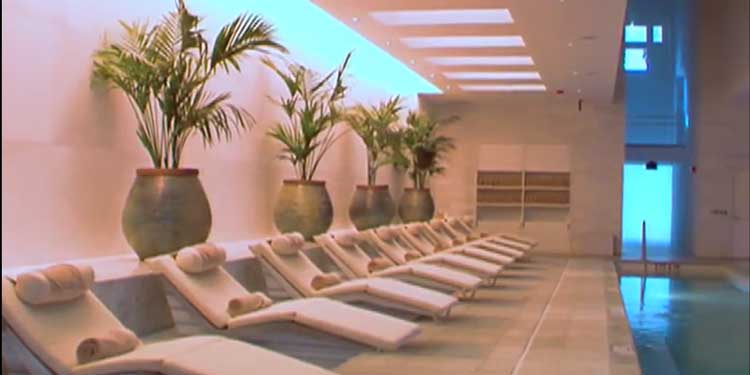 Address: 4441 Collins Ave, Miami Beach, FL 33140
Opening hours: Daily, hours may vary, call ahead for availability
Cost: Bleau Paradise Rituals for Two prices vary, contact the spa for details
Lapis, the spa at Fontainebleau, offers Bleau Paradise Rituals for Two.
This unique selection of treatments for two people will give you a relaxing and luxurious experience when you want to treat yourself.
Depending on your selected options, you'll be treated in the Azure or Indigo spa suite with a couples massage, scented bath, and other treatments.
You'll also be able to use the mineral pool and have beach access from the spa as part of the package.
The day pass gives you access to all hotel amenities.
Coconut Grove Farmers Market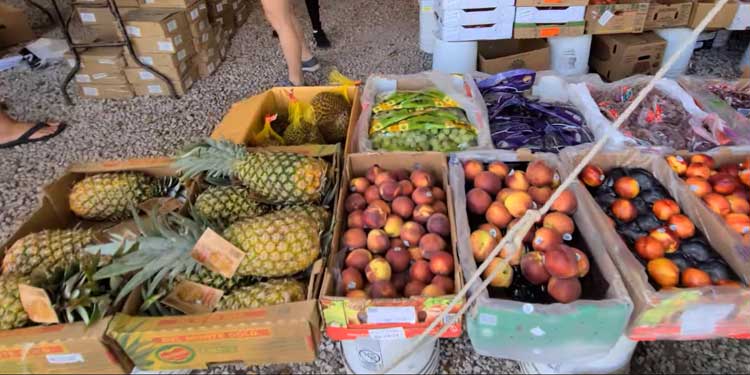 Address: 3300 Grand Ave, Miami, FL 33133
Opening hours: Every Saturday, 10am - 7pm
Cost: Free entry, purchase prices vary for items
A great way to spend a lazy Saturday for two is by heading over to Coconut Grove for the Organic Farmer's Market.
It occurs every Saturday from 10 am to 7 pm, regardless of the weather.
Think of a meal you might want to make beforehand, make a list, and start browsing.
You'll get great vegetables, fruits, legumes, handmade goods, and other delicacies.
Grab a coffee and a table to people-watch and round out your time here.
Active Adventures
Try one of these date ideas to get outside and enjoy the sun or work up a bit of a sweat together.
Rent CitiBikes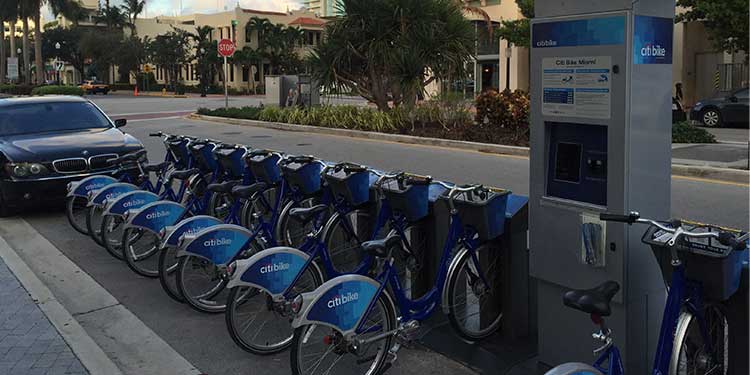 Address: Various locations around Miami
Opening hours: 24/7
Cost: From $6 for 30 minutes to $24 for an entire day
If you don't have your own bike, you can still take to the streets and tour your favorite section of town together.
Bonus points if you have a few local, under-the-radar haunts to show your date.
If you plan to go more often, check out the monthly membership plans but be aware of how long it allows you to use the bikes.
Rates range from under $6 for 30 minutes to $24 for an entire day.
Check the Station Map before you plan a route that lets you pick up and drop off the bike at your convenience.
Picnic at David T. Kennedy Park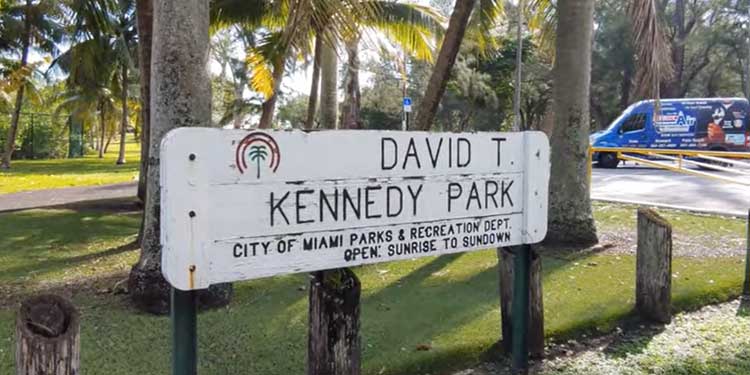 Address: 2600 S Bayshore Dr, Miami, FL 33133
Opening hours: Daily, sunrise to sunset
Cost: Free entry
Pack a picnic basket with your favorite treats, grab a comfortable blanket, and head to David T. Kennedy Park on Bayshore Drive.
Plenty of trees overlook the soft grasses, while you can work up an appetite by winding your way around the mangroves and listening to the sound of the ocean.
You'll see kids playing, dogs in the nearby dog park, and vacationers knocking volleyballs over the public net.
Don't worry about packing dessert, though. You can grab a frozen lemonade from A.C.'s Icees when you finish your meal.
Top Golf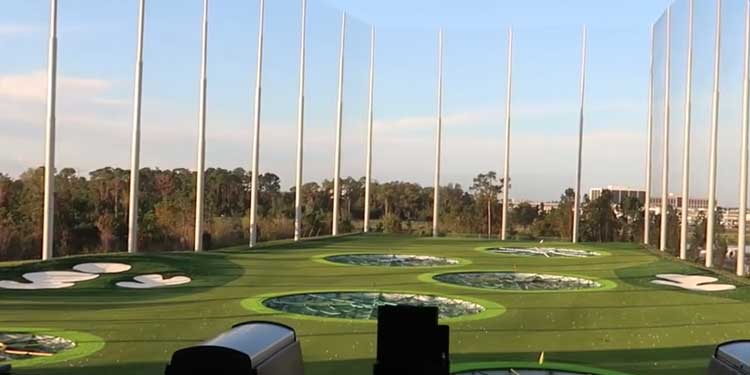 Address: 17321 NW 7th Ave, Miami Gardens, FL 33169
Opening hours: Sun-Thu 10am - 12am, Fri-Sat 10am - 2am
Cost: Pricing varies, check the website for current pricing
Topgolf is an indoor playground for adults, complete with an upscale bar that serves everything from injectable donut holes to golf bag drinks in mugs you take home with you.
This isn't your standard golf or minigolf course.
There are a dozen games to choose from, like Quick 9, where you get three shots each at red, yellow, and green targets.
In Jewel Jam, players line up their shots with jewels to create and destroy rows.
There is even an Angry Birds game where you use your golf balls to take down structures and earn stars.
You don't need to bring your own clubs – but you can.
All the bays are covered and climate controlled, so this option works all year round.
Miami Beach Paddleboard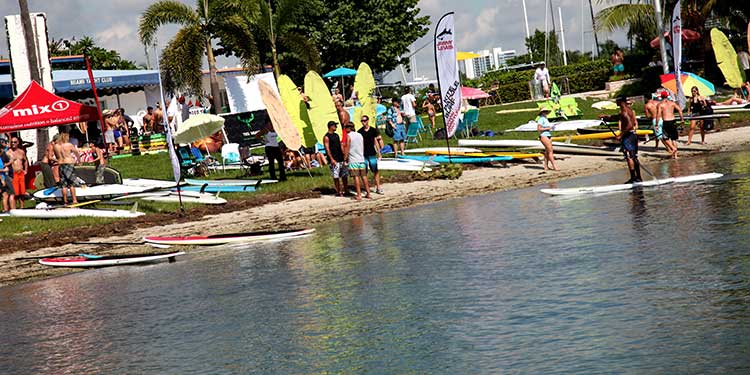 Address: 1416 18th St, Miami Beach, FL 33139
Opening hours: Daily, hours may vary, call ahead for availability
Cost: Prices vary depending on rental type and duration
Take to the water in a kayak or paddleboard. While there are several companies you can go through, I've had luck in the past with Miami Beach Paddleboard.
Whether you're both beginners or have some experience, you will have a good time navigating the water together.
Bring water shoes, sunscreen, and a waterproof bag for any belongings you can't leave at home.
For a particularly remarkable experience, try the eSurfboard. It's motorized and can travel up to 26 miles per hour.
Nights Out
Check out these places if you want to spend a relaxing night with your romantic partner.
Rosa Sky Rooftop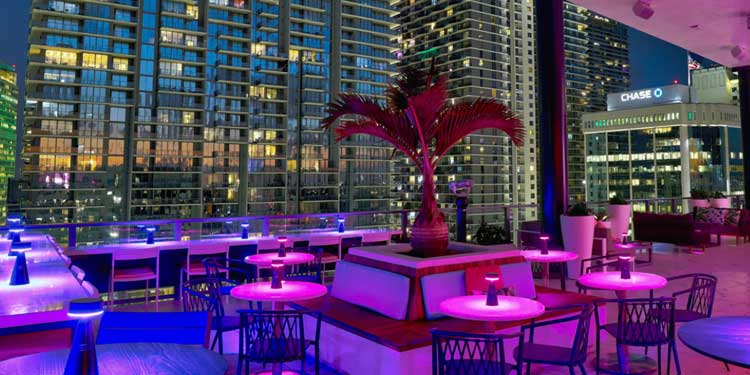 Address: 100 Chopin Plaza, Miami, FL 33131
Opening hours: Daily, hours may vary, call ahead for availability
Cost: Moderate pricing for drinks and tapas
Rosa Sky is a gorgeous, relaxing rooftop lounge in Brickdell with panoramic views of Miami.
Take your date there for delicious drinks, great conversation, and an evening you will never forget.
If you'd like to watch the sunset, check out the mid-week happy hour specials that run until 7 PM.
There are tapas to satisfy your hunger while you kick back and listen to the great music lineup.
Try the signature cocktails for a great experience.
Remember that they have a dress code, so you must wear appropriate attire.
Leave the poolside clothes in your beach bag and dress up for this.
ARTECHOUSE Miami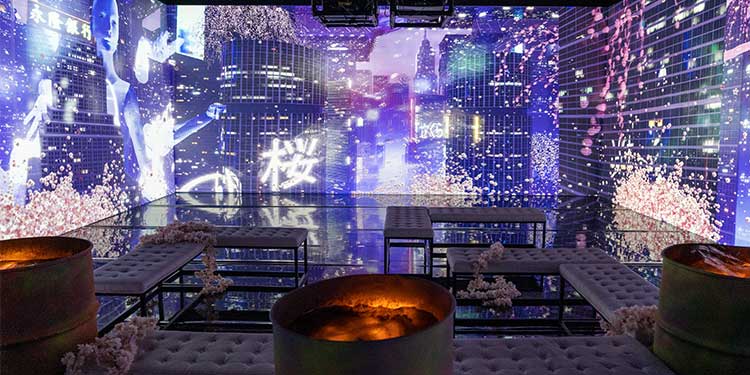 Address: 736 Collins Ave, Miami Beach, FL 33139
Opening hours: Daily, hours may vary, call ahead for availability
Cost: Adults $24, Students/Seniors/Military $20, Children (4-14) $17
This interactive 3D art exhibit will give you and your date something to discuss after the fun of exploring is over and done.
You work your way through multiple rooms, each with a different theme. They may also change from time to time.
For example, a recent exhibit had sensors that detected where you were in the room and adjusted as you moved through the space.
For a smooth experience, download the app before you can.
You can purchase tickets in advance and use the barcode to check in.
You can also see the AR posters on the museum's walls with the app. It's worth getting it ahead of time.
Lagniappe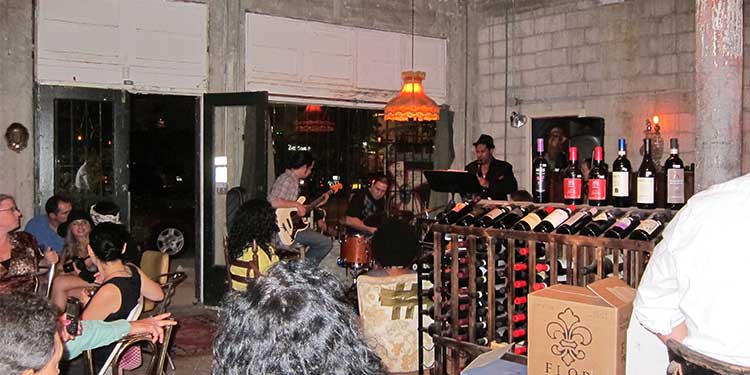 Address: 3425 NE 2nd Ave, Miami, FL 33137
Opening hours: Daily, 5pm - 12am
Cost: Moderate pricing for drinks and charcuterie
Lagniappe is perfect for a low-key night of music, wine, and food.
It's so relaxed that you even get up to serve yourself from the available charcuterie, which is absolutely delicious.
The outdoor atmosphere is positively magical with the greenery and charming little white lights.
From the incredible food to the truly excellent music, there's nothing about this place you won't enjoy.
There's a small space inside to spend time, but most of the action happens outside.
Check it out on a weekday if you want to get in fast. If you go on the weekend, you'll probably have to wait in line.
However, the other people going to the bar are usually in good spirits, and the line doesn't feel like a chore.
Night Tour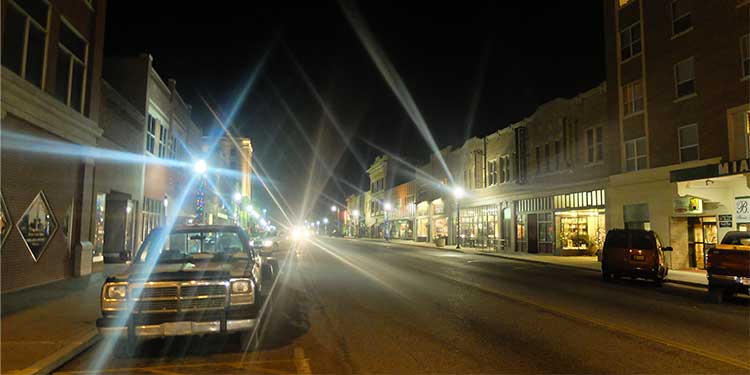 Address: Various locations around Miami
Opening hours: Hours vary depending on the tour
Cost: Prices vary depending on the tour
More than one touring company offers a night tour through the city – complete with different vibes for each package.
Whether you're looking for a relaxed informational tour or an energetic party cruise, a touring company in Miami has you covered.
Get a hop-on, a hop-off ticket to cruise the bars via bus or check out the glittering lights of Millionaire's Row from the bay.
No matter what you and your partner prefer, there's probably something to suit you.
Check when you book to see whether food or drink is included on tour. Some come with music, too.
Knowing what tunes to expect beforehand will help ensure you aren't trapped on a boat or bus with music that doesn't suit your preferences.
Great Dates
For a couple of great dates, visit the following places. You'll be able to have a lot of fun with your guest while also getting to know each other.
CMX Brickell City Center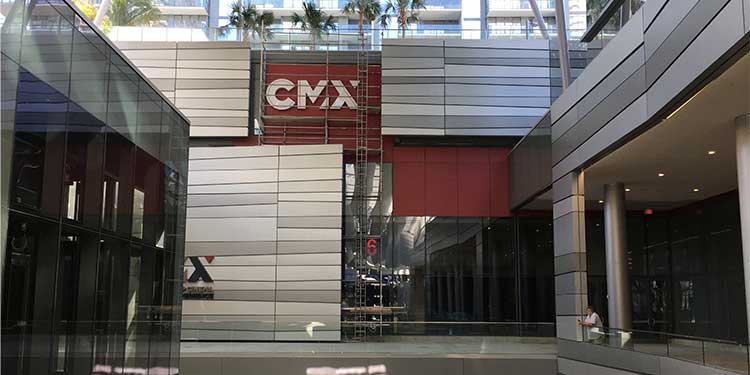 Address: 701 S Miami Ave #Suite A-401, Miami, FL 33131
Opening hours: Daily, hours vary depending on movie showtimes
Cost: Prices vary depending on movie and showtim
This movie theater has excellent food and drinks, reclining seats, massive screens, and a great crowd.
It's an ideal place for an all-in-one date where you grab food and catch a film simultaneously.
You can eat in the building or outside to enjoy the nice weather.
Check it out during the matinee to save a little money on the tickets.
One thing to remember is that many reviewers mention how often they're out of menu items.
If your heart is set on something particular, call ahead and see whether the food you want is available.
If not, you may wish to reschedule for a different day or plan to get food elsewhere.
Arcade Odyssey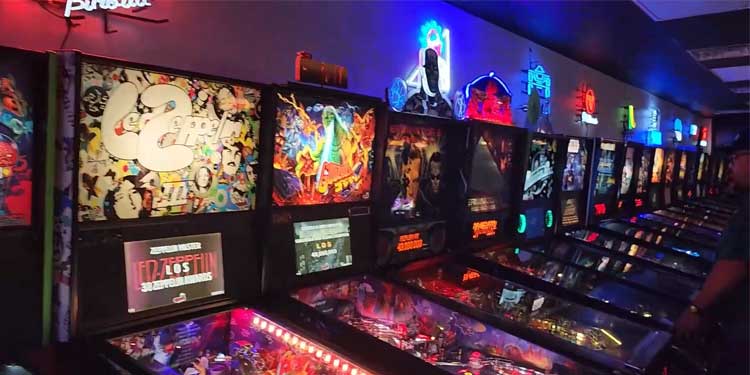 Address: 12045 SW 117th Ave, Miami, FL 33186
Opening hours: Tue-Thu 2pm - 11pm, Fri 2pm - 2am, Sat 12pm - 2am, 
Sun 12pm - 11pm, closed on Mondays
Cost: $1 for 30 Flurbos, game prices vary
For an actual throwback arcade, head over to Arcade Odyssey.
You'll be surrounded by retro gaming machines, neat imports, and wall after wall of ways to spend your time – and your Flurbos.
Try a drink from the menu and get bonus points for trying the adult boba teas.
They're delicious! My favorite is Princess Peach.
You may be wondering what a Flurbo is. It's the currency you use to play games.
It costs one dollar to get a card that keeps track of your currency; games range from 10 to more than 30 Flurbos, depending on what you're playing.
It's only one dollar for 30 Flurbos, so load up your card and start playing.
To experience the venue when it's less crowded, go any time other than weekend evenings.
Create Lasting Memories with Your Special Someone!
There is so much a couple in Miami can do for fun, especially if you're willing to think outside the box.
Don't stay in when you could be out getting sun, experiencing new places, and having fun.
Pick up your phone or log onto the internet and make some reservations for your next date /now before you lose your nerve!
Note: Keep in mind that information about travel can change quickly. To make sure your trip is fun and safe, we encourage you to double-check official websites and government/travel advisory sites for the latest information on travel restrictions, entry requirements, and safety measures.
Discover More Florida Destinations!