Miami isn't just the Magic City for adults; it's also a great place to bring children.
Although Miami is often associated with nightlife and glamour, there are plenty of exciting and family-friendly activities to keep your little ones entertained.
From exploring the beach to visiting museums and parks, incorporating some of these activities into your plans will help entertain and engage your kids while you explore the city.
Things To Do in Miami With Kids
Animal Encounters for Kids
These activities let your kids get up close and personal with incredible animals.
The Miami Zoo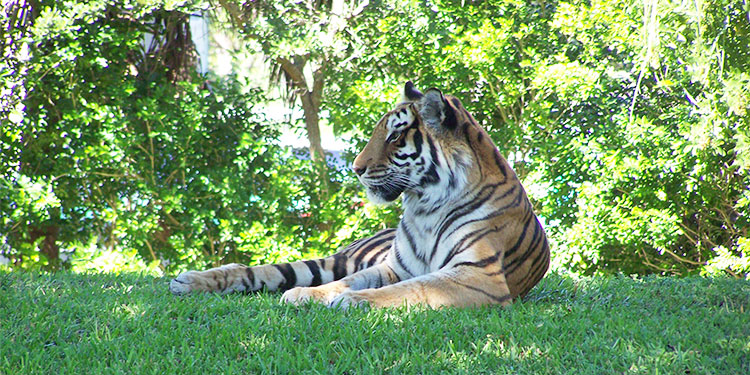 Address: 12400 SW 152nd St, Miami, FL 33177
Opening Hours: 10am-5pm daily
Cost: Adult (13+) $23.95, Child (3-12) $19.95, Children 2 and under are free
The Miami Zoo is a classic choice for families for a good reason.
Not only do they have kids zones especially set up for children, but everything else there is family and kid-friendly too.
The Jungle Journey playground has a jungle gym, animal statues, a shaking bridge, and a hollow log.
If you plan to rent a stroller (or any other conveyance), do it beforehand.
They often run out, and it won't be as easy to get around without one if you plan to use it.
You should also bring a water bottle for anyone wanting a quick drink.
While concessions are available, you can't bring food from outside – making the refillable water bottles important during your visit.
All ages are welcome, but some exhibits may have age or height restrictions. Check the zoo's website for more information: https://www.zoomiami.org/
Zoological Wildlife Foundation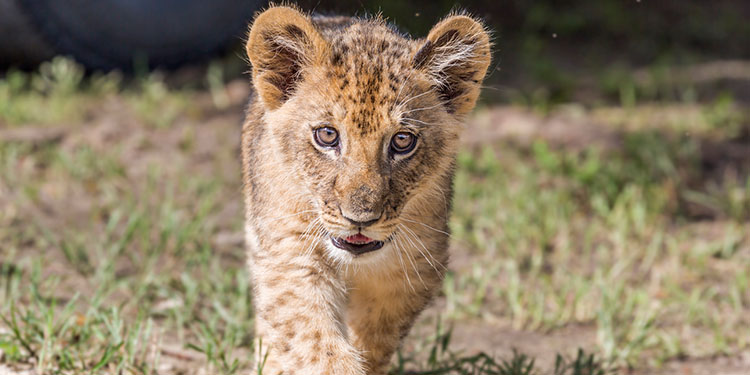 Address: 16225 SW 172nd Ave, Miami, FL 33187
Opening Hours: Tours are by appointment only
Cost: Varies by package and experience. 
If you have older kids who might be excited about directly interacting with wildlife, check out the Zoological Wildlife Foundation.
The organization aims to teach people about these wild animals and help ensure they are understood and cared for.
You can book different packages depending on what you want to do.
For example, you can spend time with a serval, hang out with primates, or learn about other captive species.
Some tours are longer than others, so check out the details before you go.
Some tours are also not available for children under ten because of the type of interaction with the animals.
Check the foundation's website for more information: https://zwfmiami.com/
Frost Science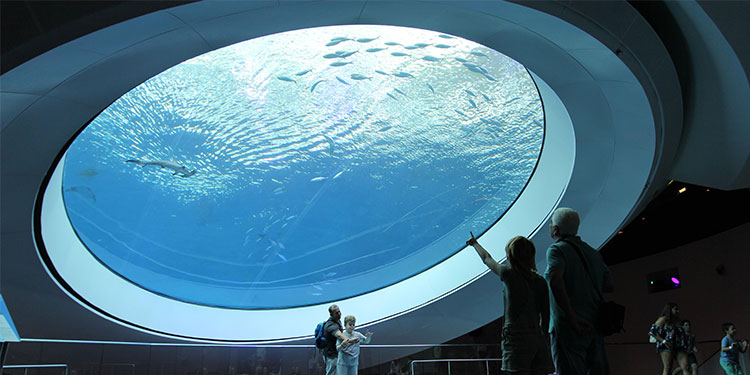 Address: 1101 Biscayne Blvd, Miami, FL 33132
Opening Hours: 10am-5pm daily
Cost: Adult (12+) $29.95, Child (3-11) $21.95, Children 2 and under are free 
Kids are welcome at Frost Science, and there's plenty to do.
There's an aquarium, a planetarium, and many exhibits – including stationary and visiting ones – for you to check out.
They also offer a breastfeeding pod for nursing mothers.
Contact a staff member or go to Guest Services if you need to use it.
Consider having a science-themed birthday party at the museum to make it a special day.
A variety of packages are available. The themes vary, as do the menus.
There's much room for customization to ensure you get the party you want.
Most exhibits are suitable for all ages, but some experiences may have age or height restrictions. Check the museum's website for more information: https://www.frostscience.org/
Fun in the Miami Sun
Check out these venues if you're hoping to catch some rays while the kids play.
Tidal Cove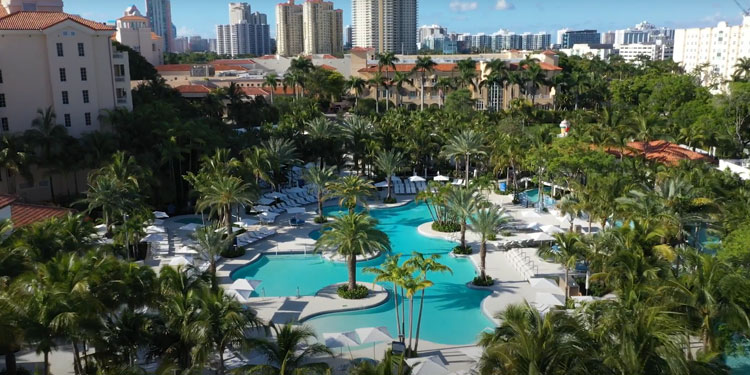 Address: 4010 NE 27th Terrace, Aventura, FL 33180
Opening Hours: Vary by day and season
Cost: General admission starts at $50 per person, but discounts and packages are available. 
Throw some sunscreen in the bag and prepare for big fun at this waterpark.
If you have young children, they can splash the day away in a zone specially made for toddlers.
Older kids will love the lazy river and waterslides.
You can get food and drinks that are pretty upscale for a waterpark – and plan to have some ice cream while you're there.
At the end of the day, seeing your kids' faces light up with joy as they slide through the winky-tongued emoji slide will make your day too.
The only downside is that tickets to Tidal Cove can be pricier than similar attractions.
You can get free admission if you stay at the affiliated hotel. Parking is $25, and lockers are available for rent.
There are attractions for all ages, including a separate area for toddlers. Check the waterpark's website for more information on height restrictions for certain rides:  https://www.tidalcovemiami.com/
Speedboat Tours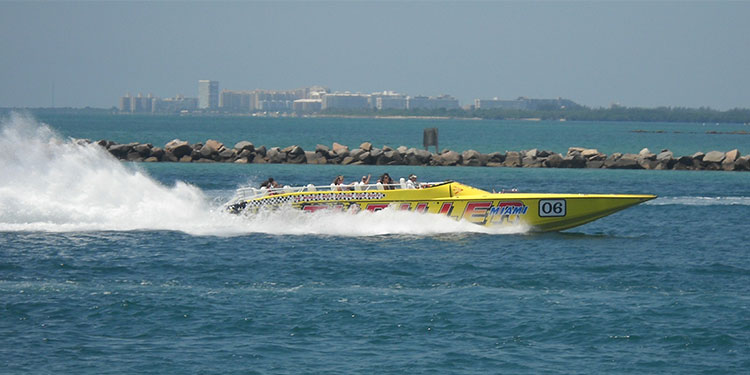 Address: Various locations depending on the company.
Opening Hours: Vary by tour and season.
Cost: Prices vary depending on the company and tour, but discounts and packages may be available. 
To show your kids a different view of Miami, consider booking a tour with a company like Thriller Miami Speedboat Adventures or Miami Boat Cruises.
The most important thing is ensuring your children are the minimum age for the company you book with.
For example, Thriller Miami will only take children ages three and up to ensure they'll be safe on the adventure.
Boats can reach more than 40 miles per hour.
You'll sometimes see the coastline, the expensive homes along the sound, and neat marine life.
Generally, they play music on the boat, and you'll be in the sun – so bring the appropriate clothing and protection.
Check the length of the cruise and when it departs and returns to ensure it'll work with your children's schedules.
Berry Farm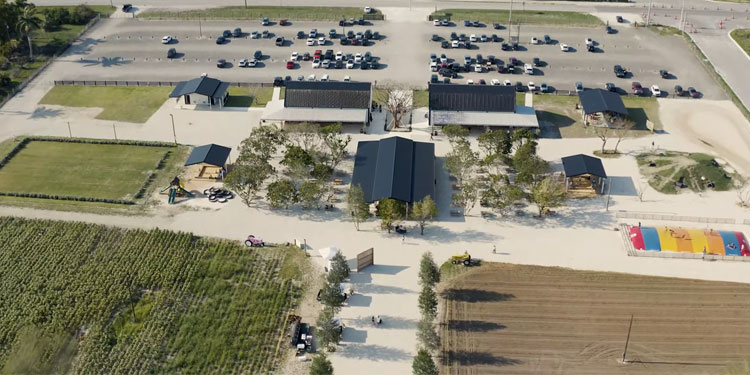 Address: 13720 SW 216th St, Miami, FL 33170
Opening Hours: Open seasonally, check the farm's website for hours and availability.
Cost: Admission is $5 per person, with additional fees for certain activities.
Head out to Berry Farm to spend a day in the sun picking berries and exploring the farm.
Kids will get excited about the hayride that gives them a farm tour, showing everything it offers.
There's a shaded jumping floor and wooden playground where they can play even on hot days with a bit of relief from the sun.
They might also enjoy the obstacle course or the haybales with tunnels inserted between them.
The Berry Farm hosts events throughout the year, including some that are great for kids.
There's also a summer camp field trip that includes the play areas, waterslides, and meals.
And when it comes to food – the farm offers a juice bar, meals, party platters, and some amazing desserts.
Suitable for all ages, but some activities may have height or age
restrictions. Check the farm's website for more information:  https://www.theberryfarmmiami.com/
FunDimension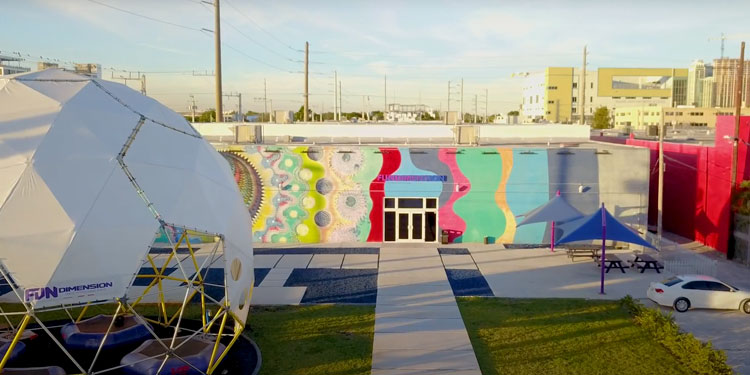 Address: 2129 NW 1st Ct, Miami, FL 33127
Opening Hours: Vary by day and season
Cost: Prices for attractions vary, but packages and specials are available. 
When you need to escape the heat, try FunDimension.
This indoor playspace offers so many different activities that trying them all in one visit can be challenging.
They offer bumper cars, laser tag, virtual reality experiences, games, and a playground – all inside with air-conditioning.
You can even eat from the full restaurant with wine, beer, and plenty of menu options.
Check their schedule to see what special events they might be hosting.
For example, they set up a summer camp, a winter camp, and certain days when they offer activities for kids who don't have school.
It's a fantastic way to let your kids from ages 5-13 have guided activities and play while you get a little time to take care of adult things.
Check the FunDimension website for more information: https://fundimensionusa.com/
Seaside Parks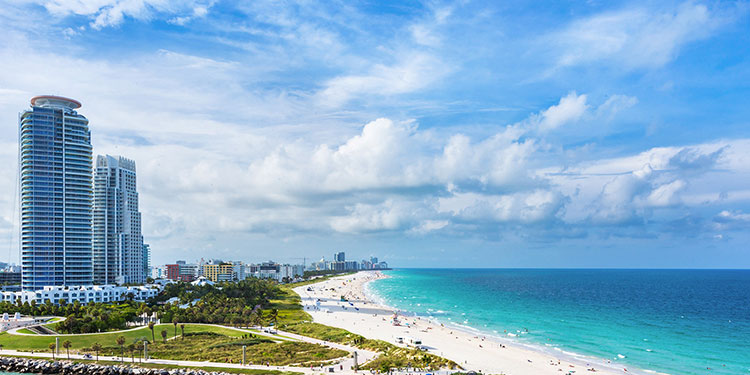 Address: Various locations along the Miami coast.
Opening Hours: Vary by park and season.
Cost: Admission is free for most parks, but some may have parking or rental fees. 
One thing Miami has no shortage of is seaside parks.
One park that's great for kids who love the water is Matheson Hammock Park because of its gentle waves.
While floatation devices aren't allowed, there's plenty of splashing and playing even relatively little kids can do as long as an adult is nearby to supervise.
You'll also see many kiteboarders launching nearby on a nice day.
Matheson Hammock Park has a snack bar and a restaurant on the grounds, so there are plenty of food options. You can also hang out in a lakeside pavilion.
Charcoal grills and picnic tables make it easy to make your delicious lunch before you walk or ride down a nearby nature or bike trail.
Suitable for all ages, with some parks having specific areas or activities for younger children. Some activities may have the height or age restrictions.
Check the Miami-Dade Parks website for more information: https://www.miamidade.gov/parks/
Climate-Controlled Places to Play
It can get sweltering in Miami. When it's a little too much, and the kids are restless, these places come in handy.
The Poppet Project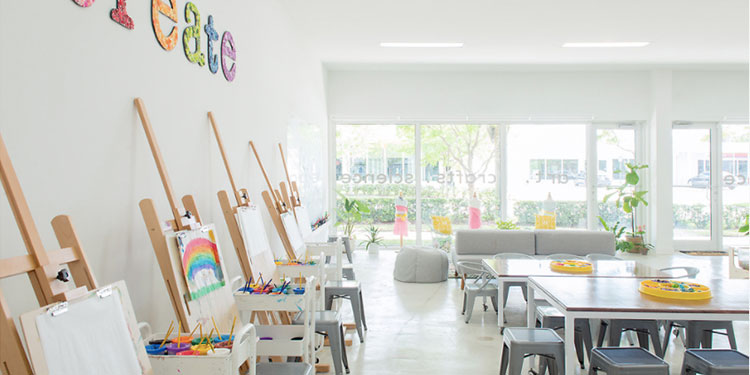 Address: 3100 NW 72nd Ave, Miami, FL 33122
Opening Hours: 10:00am - 6:00pm(Tuesday - Friday),10:00am - 5:00pm
(Saturday - Sunday) Monday: Closed
Cost:
 $20 (ages 2-12), $5 (ages 13 and up)
 Under 2: Free
The Poppet Project is an unstructured creative space that allows kids to flex their creative muscles.
Everything from easels to jewelry-making, sensory play to a hot glue station, a magnet wall to a plexi wall is available for kids to let their imaginations run wild.
Every 20 minutes, a staff member makes slime with any interested kids, too.
The activities are intentionally curated to appeal to kids of many different ages, including very young ones.
There's water available, and they even host birthday parties! Parents who've visited praise the attentive, kind staff and the clean studio space.
The Poppet Project also offers off-site classes, activities, and camps.
Check The Poppet Project website for more information: https://www.thepoppetproject.com/
Dezerland Action Park Miami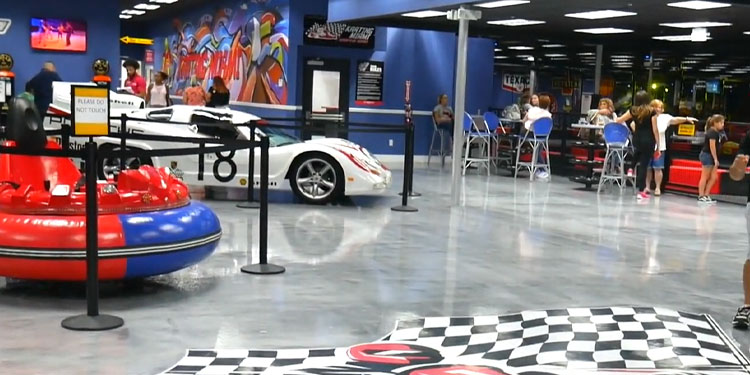 Address: 14401 NE 19th Ave, North Miami, FL 33181
Opening Hours:
12:00pm - 8:00pm(Monday - Thursday), 
12:00pm - 9:00pm(Friday),11:00am - 9:00pm(Saturday), 
11:00am - 8:00pm(Sunday)
Cost: Pricing varies depending on the activity.
Dezerland Action Park is another place kids can run around and burn off some energy in a climate-controlled environment.
It's perfect for blistering hot or rainy days when they need something fun to do.
Go-Karts, rollerblading, arcade games, and a climbing wall are all available, depending on your kids' heights and interests.
There's also a ropes course, virtual reality experiences, and the Mini Ninja obstacle course.
You don't pay for admission or parking, but you must have a credit card because that is the only payment accepted.
To ensure your children can participate in the activities, check the minimum height requirements for each attraction.
VR Experiences require a minimum height of 40 inches, while the Pro Go Kart Track has a minimum height requirement of 58 inches.
Additionally, waivers must be signed for minors to participate in some activities.
Food is available at the venue, but you can't bring your own.
Check Dezerland park website for more information: https://www.dezerlandpark.com/miami/
Miami Children's Museum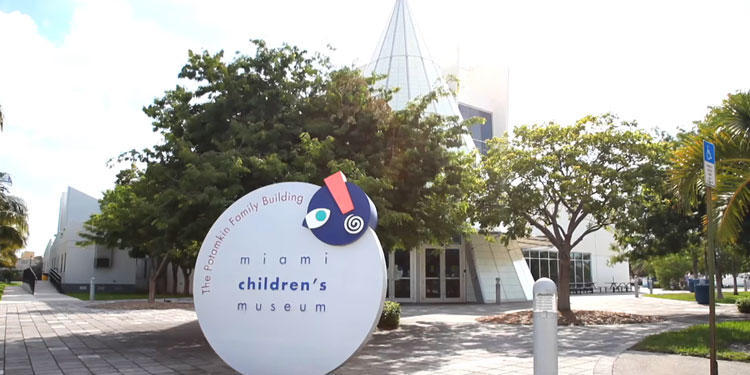 Address: 980 MacArthur Causeway, Miami, FL 33132
Opening Hours: 10am-6pm daily
Cost: General admission starts at $22 per person, but discounts and packages are available.
The Miami Children's Museum is an excellent place for younger kids to engage in hands-on learning and have a great time while doing it.
Exhibits are designed for little kids to actually play with.
There's a cruise ship, construction zone, glass lab, castle of dreams, a multi-sensory room, and more.
Children can diagnose stuffed animals in Pet Central or simply run around the room playing with them.
They can draw at the Sketch Aquarium or enjoy the fresh air at the outside exhibits.
You must buy tickets online. Each is for a timed three-and-a-half hour session, starting at 10 AM or 2:30 PM EST.
When the time is over, the museum closes to reset and sanitize before the next group comes in.
Parking is available on a deck on the east side of the building for $2 per hour.
You can also take a local bus if you'd rather avoid having to park.
Check the museum's website for more information:  https://www.miamichildrensmuseum.org/
Pack your bags and plan your next family adventure in Miami!
Miami may have a reputation for being a city that isn't precisely as child-friendly as nearby Clearwater Beach.
But there's still a lot for kids to do while you all enjoy the spectacular views, great restaurants, and world-renowned art.
Plan for the activities you want the most, and always check online to get the best prices when you bring your kids to enjoy Miami. With everything it offers, they'll make memories to last a lifetime.
Note: Keep in mind that information about travel can change quickly. To make sure your trip is fun and safe, we encourage you to double-check official websites and government/travel advisory sites for the latest information on travel restrictions, entry requirements, and safety measures.