Newport is a small seaside city in Oregon that has been attracting visitors to its shores with an enticing array of coastal scenery.
A place with never-crowded beaches stretching as far as the eye can see and where the Sun and sky embrace the sea each day of every season.
Consider going on a couples getaway or a family vacation, and you will be treated to Newport's most captivating attraction, which describes the best of Oregon.
From sea lions and whale watching tours to camping on the most pristine spots of the beaches, your time here will be filled with excitement.
Theres so much more!
Hop along as we have set a list of the best things to do in Newport, Oregon, to make a memorable trip. So let's get started!
Things to Do in Newport, Oregon
Explore the South Beach State Park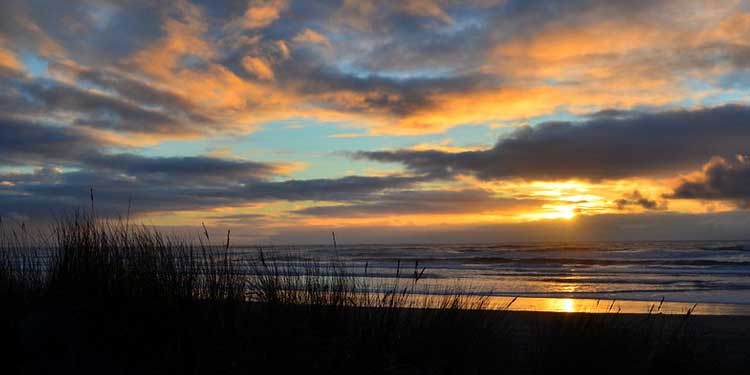 Address: 5580 South West Coast Highway, Newport, Oregon 97366, United States
Opening hours: open 24 hours
Costs: free entry
Situated on the south side of Yaquina Bay and extending miles down the beach is the largest South Beach State Park.
It has been the most popular place due to its proximity to the center and excellent outdoor activities.
Choose from swimming, sunbathing on the beaches, surfing, walking along the jetty, or biking and horseback riding around the well-maintained trails.
And if you want to make an overnight trip, find yourself a family-friendly campsite or a couples yurt that provides every community facility.
Tip: Get the behind the scene tour for the Moray eel and the jelly spawning setup.
See Sea Life Creatures at the Oregon Coast Aquarium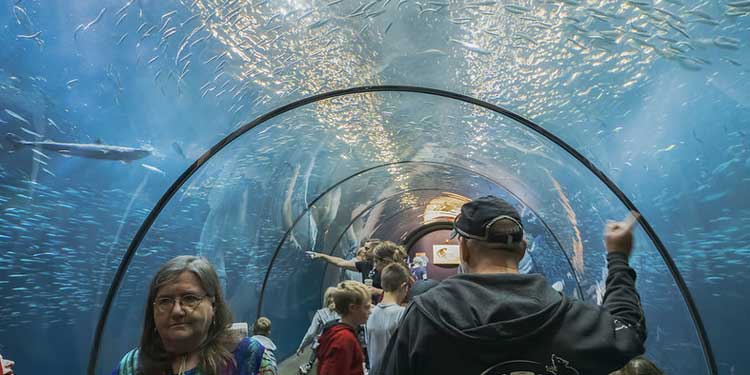 Address: 2820 South  Eeast Ferry Slip Road, Newport, Oregon 97365, United States
Opening hours: open daily from 10:00 am - 5:00 pm
Costs: admission rate range from $25 - $15 depending on age
Get ready to get soaked in with the sea life creatures deep in the underground tunnel of The Oregon Coast Aquarium.
It allows visitors to build distinctive and engaging experiences that connect them to the Oregon coast and inspire ocean conservation.
The Aquarium serves as a living school for visitors of all ages and learning styles, especially for families and the little ones.
And as one of Oregon's most popular tourist attractions, the Aquarium is an important educational resource for the state.
It aspires to be an ocean literacy center of excellence and is involved in conservation and animal rehabilitation activities.
Watch Sea Lions at the Newport Historic Bayfront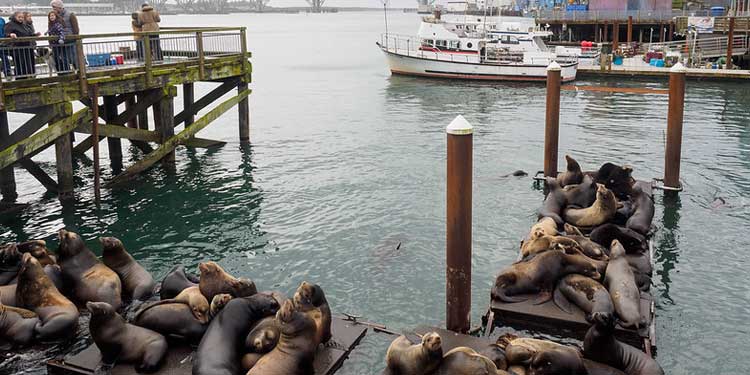 Address: 250-300 South West Bay Boulevard, Newport, Oregon 97365, United States
Opening hours: N/A
Costs: free entry and parking
Watching sea lions get in action is the best thing to see in Newport Historic Bayfront.
But you might want to be ready for a whole lot of shopping and food tours to do around the area.
If you want some local seafood with beers and a great ocean view, you will find them without any trouble.
Theres a buzzing dockside area of gift shops and clothing stores to take an item home.
And if you feel like getting caught in a relaxing moment, take a marine discovery tour on a cruise ship or go fishing at the Bay fishing pier.
View from the Yaquina Bay Bridge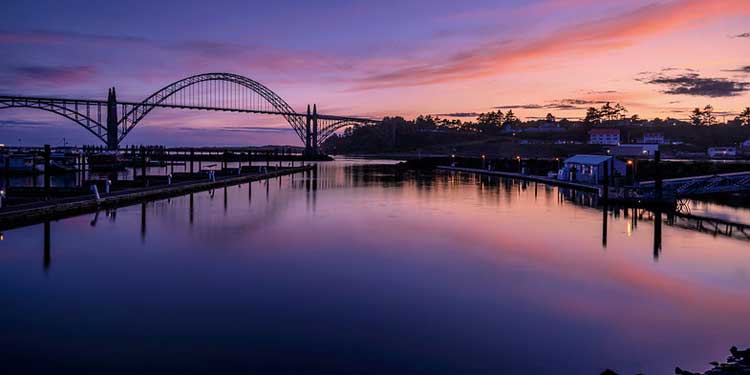 Address: 1950 South West Coast Highway, Newport, Oregon 97365, United States
If you are up for a coastal view and watching soothing sunset from the top of Newport, look no further than the Yaquina Bay Bridge.
It is a terrific place to spend your free time and take a lot of photos to fill in your gallery.
From the bridge, you can view the entire Newport Harbor and the harbor extending into the Pacific Ocean to the west.
Tip: It can get windy, so be prepared with windcheaters.
Hatfield Marine Science Center at the Oregon State University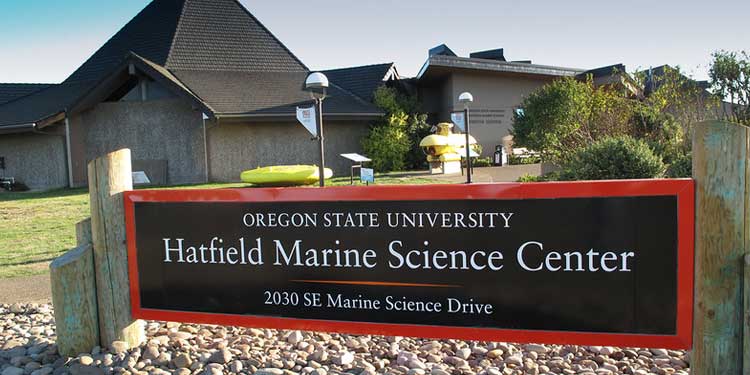 Address: 2030 South East Marine Science Drive, Newport, Oregon 97365, United States
Opening hours: 10:0 am - 4:00 pm (Thursday - Monday), closed on Tuesdays & Wednesdays.
Costs: free admission with a suggested donation of $5 per person
Home to interesting exhibitions and many sea creatures, this excellent Marine Science Center is well worth checking out.
Oregon State University operates the facility and provides a hands-on approach to learning about marine science for all ages.
Especially for the little ones, as it offers many educational hands-on activities suitable for children.
From viewing living aquatic life in the touching tidal pools to witnessing buildings being destroyed by a tsunami, theres a lot to learn for everyone in an ample space.
Visit the Devils Punchbowl State Natural Area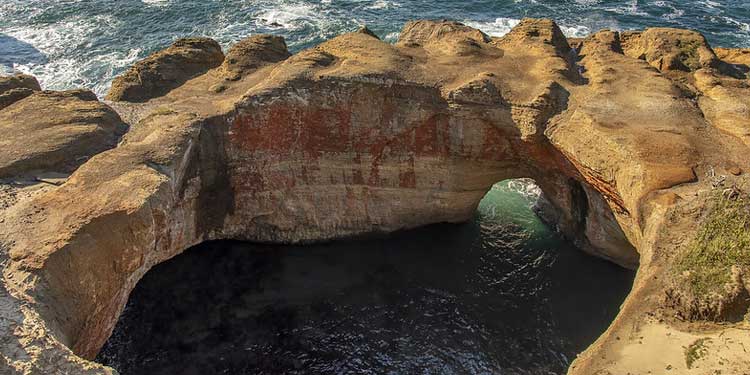 Address: Devils Punchbowl State Natural Area, 122 1st Street, Otter Rock, Oregon 97369, United States
Opening hours: open for day use (year-round)
Costs: Free entry
The Devil's Punchbowl State Natural Area Park is a great whale-watching spot with fascinating geology.
The remarkable bowl-shaped rock formation makes it even more unique for seeing waves and grabbing a lot of photo opportunities.
Theres also a walking trail and a little park which is great for picnicking and watching the sunset.
Tip: Another great way to explore the Devil's Punchbowl cave is by taking a short trail to Otter Crest Beach during the low tide.
Admire Beauty and Learn History at the Yaquina Head Outstanding Natural Area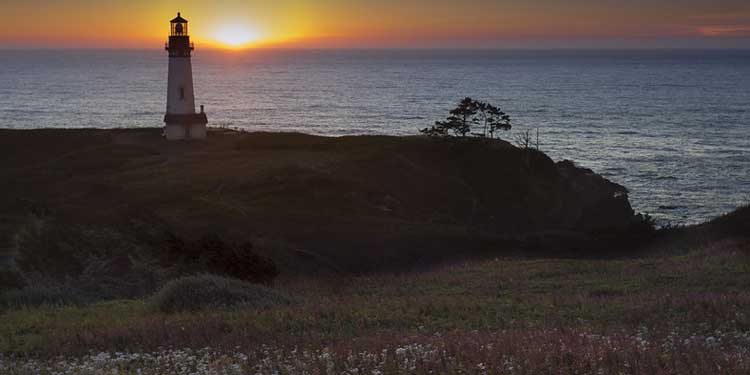 Address: 750 North West Lighthouse Drive, Newport, Oregon 97365, USA
Opening hours: open daily from 8:00 am - 5:00 pm
Costs: Free entry for bikers & Pedestrians, $7 entry for a car
Yaquina Head, on the Oregon coast, offers much more than just a trip to the tallest lighthouse in the nation.
There's a reason why it's called an Outstanding Natural Area!
Since the lighthouse was originally lit in 1873, it has served as a bright beacon of the night, directing sailors and their supplies along the west coast.
It is a haven for wildlife spotting, which includes migratory Whales that can be spotted year-round.
BLM rangers will assist visitors in signing up for a lighthouse tour and describing the tidal schedule at the free interpretive center.
You can study the fascinating history of the lighthouses that played a role in the United States' westward growth.
Seal Rock State Recreation Site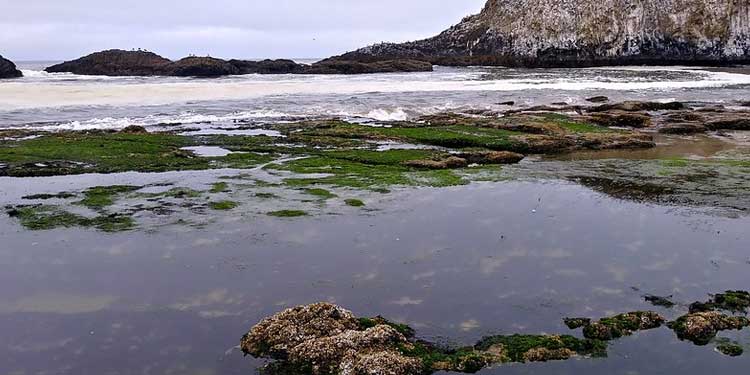 Address: State Recreation Site, 10032 North West Pacific Coast Highway, Seal Rock, Oregon 97376, United States
Opening hours: open daily from 8:00 am - 8:00 pm
Costs: free entry
Seal Rock State Recreation Site is another great picturesque spot along the Oregon coast.
The park is known for its ample wildlife, so you can always see Seals, Sea Lions, and birds on the show anytime you visit.
Be prepared for a steep short hike to the beach which features an ADA-accessible viewpoint at the midway point with views of tidepools and scenic coastline.
Tip: Pack lunch for picnicking and wear adequate walking shoes.
Shopping and Dining at the NYE Beach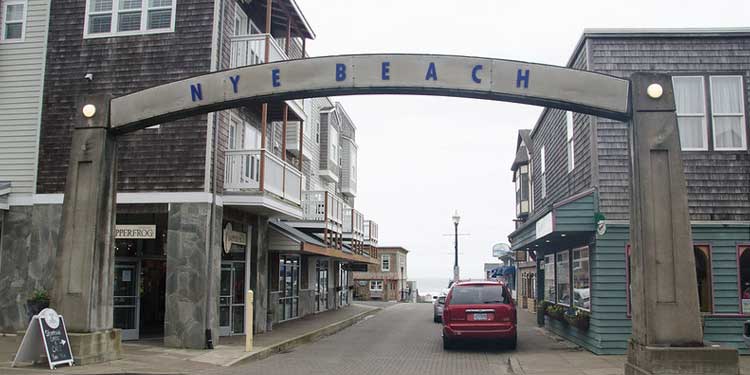 Address: NYE Beach, Highway 101 Northwest Coast 3rd Street, Newport, Oregon, United States
NYE Beach is more of a small town filled with lots of shopping stores, art venues, and restaurants around every corner.
It also boasts easy walking access to the beach, where you may set up your own personal space and watch the soothing sunset.
And if you want to get soaked in with all the fun water activities, arrive early for swimming and surfing lessons from locals.
The Chowder Bowl is famous among locals and visitors for serving award-winning chowder in bread bowls, along with seafood and crafted beers.
Beachside Camping at the Beverly Beach State Park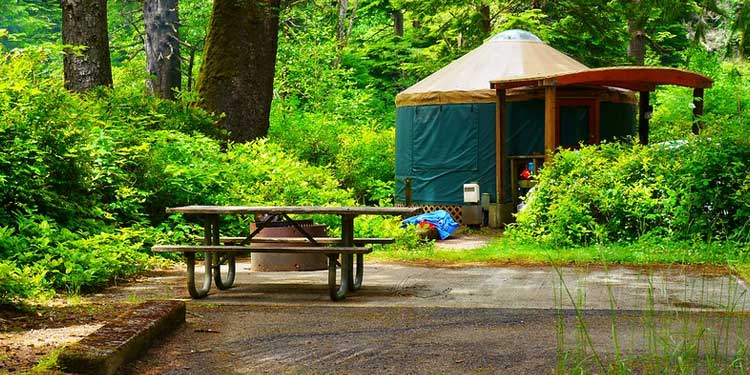 Address: 198 North East 123rd St, Newport, Oregon 97365, United States
Opening hours: 8:00 am - 5:00 pm (open year-round for day use and camping )
Costs: $8 for each campsite reserved
Phone: +1 800-551-6949
Beverly Beach State Park is located 5 miles north of Newport that offers an abundance of outdoor recreational opportunities.
A few steps from the beach and you'll find forest-sheltered campgrounds suited for all types of visitors.
From RV sites, Yurts, tent sites, hiker/biker sites, and dry camping, there is almost everything to your preference.
Note: All campground sites can be reserved online or by phone up to 9 months in advance. For more information, visit its website.
Visit the Pacific Maritime Heritage Center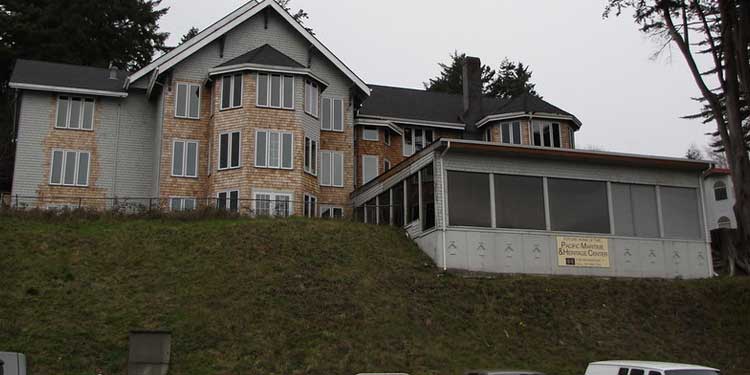 Address: 333 South East Bay Boulevard, Newport, Oregon 97365, United States
Opening hours: 11:00 am - 4:00 pm (Tuesday - Sunday), closed on Mondays
Costs: admission rate is $10 for adults, $5 for children (13-17), and kids under 12 get in free.
Want to learn about the fascinating history of this coastal region? Then visiting Pacific Maritime Heritage Center is a must.
It offers maritime-themed exhibitions and art meant to entertain and educate people of all ages.
You will learn a lot about the history of US fishermen in the Cold War and other things related to surfing and shipwrecks.
It took a lot of dedication and effort to make this vacant historic structure into a great stop for some intriguing history and good bay photographs.
So make sure to pay a visit while you are nearby!
Whale Spotting and History at the Cape Foulweather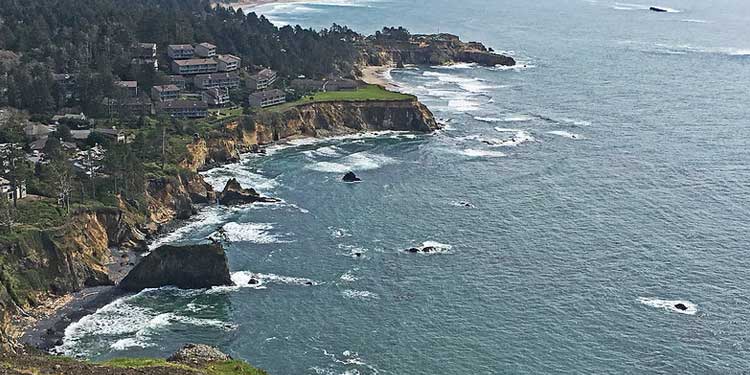 Address: 4905 Otter Crest Loop Depoe Bay, Oregon 97341, United States
Opening hours: N/A
Costs: Free entry/Parking
An interesting fact about this place is that – some even claim that this is where Oregon first began in terms of civilization.
Thanks to Captain Cook, who discovered Cape Foulweather in the late 18th century.
The area is now ideal for whale spotting and taking in panoramic views of 30 miles of distant coastline far away as it lies 500 feet above the ocean level.
So, whether living true to its name or brimming with light and color, this gorgeous section of the Central Oregon Coastline is definitely a sight worth seeing.
Best Places to Eat Around Newport, Oregon
Newport is a foodie's dream, with each neighborhood offering charming Newport Beach eating experiences to suit your appetite.
From upscale restaurants providing seafood and rich wine lists to healthy eateries, it has everything you need for fine dining. Our top recommendations include the following:
Newport at the Rogue Ales & Spirits: It is a casual restaurant in the Rogue Ale Brewery, serving American comfort food and craft beer.
Clearwater Restaurant: Pacific Northwest cooking is presented in a refined, elegant location with spectacular views of Yaquina Bay.
Mo's Seafood & Chowder – Original Newport: It is a local restaurant serving fantastic seafood, special chowder, cocktails & beers in a casual setting.
Nana's Irish Pub: Irish Pub offers a laid-back bar and a pot-pie tavern menu with live music.
Szabo's Steakhouse and Seafood: Classic steaks and seafood are served in a casual sports bar with TVs, trivia, and happy hour.
Note: We recommend checking its website to make a reservation.
Start Planning your Trip to Newport for a Perfect Coastal Vacation
Finally, you are ready to go for miles and miles of shoreline adventure, creating unforgettable memories at the Newport.
However, keep in mind weather here can be extremely windy most of the seasons due to its proximity to coastline areas, so be prepared accordingly.
July to late October is the best time to visit Newport, especially for those seeking adventure trips.
And by following our itinerary and top recommendations, you are sure to have a splendid vacation.
Good luck!
Note: Keep in mind that information about travel can change quickly. To make sure your trip is fun and safe, we encourage you to double-check official websites and government/travel advisory sites for the latest information on travel restrictions, entry requirements, and safety measures.