Welcome to sunny Sarasota, a Gulf Coast jewel that offers endless opportunities for exploration and enjoyment.
Nicknamed "Circus City," this charming destination is steeped in a rich history of the circus industry, serving as the winter home of the world-famous Ringling Brothers and Barnum and Bailey circuses.
As you explore the city's stunning scenery, you'll discover countless nods to the circus's vibrant culture and traditions.
From breathtaking beaches and outdoor activities to world-class arts and entertainment scenes, Sarasota offers something for everyone.
Don't forget to indulge in the delicious local cuisine and discover the city's wildlife and nature preserves.
Things To Do in Sarasota, Florida
Active Activities
Get out and work up a sweat to see the natural beauty of Sarasota. While there are plenty of other fun things to do, this is a great way to get to know the area.
Lido Mangrove Tunnels Tour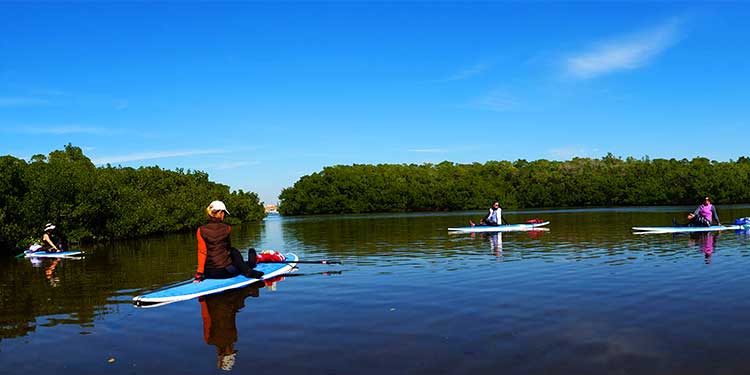 Address: 100 Taft Dr, Sarasota, FL 34236
Opening hours: Varies, book a tour
Cost: Varies, check with Almost Heaven
Best time to visit: Morning or afternoon
Check out Almost Heaven to kayak through the mystical mangrove tunnels.
These host birds, water creatures, and all kinds of gorgeous foliage.
You may even see a manatee or dolphin during your time in the water.
Choose what time you want to set up depending on your schedule and what you want to see; morning, afternoon, and evening options are available.
You should bring water, sunscreen, and anything else to protect yourself from the sun and stay hydrated.
While Almost Heaven provides some dry bags for things like wallets and cameras, you'll want to come prepared for the adventure of a lifetime.
This particular path is perfect for beginners and still interesting for advanced kayakers.
Siesta Beach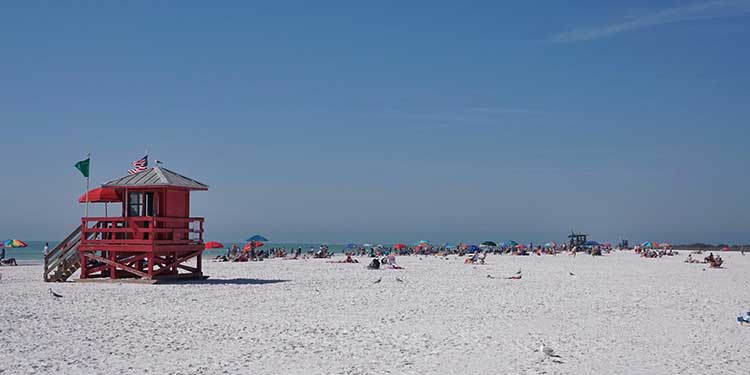 Address: 948 Beach Rd, Siesta Key, FL 34242
Opening hours: Open 24 hours
Cost: Free
Best time to visit: Early morning or late afternoon
White sand and gentle, sparkling waves are some of the hallmarks of Siesta Beach.
It was actually called the Number 2 Beach in the United States by TripAdvisor in 2023.
While you're there, check out the free trolly and the shops at the Siesta Key Village, and be sure to try a local favorite from the concession stands.
Consider stopping by Sunday night for the Siesta Key Drum Circle, which starts an hour before sunset.
Join the fun by bringing a hula hoop or wearing brightly colored clothes and costumes.
Some people dance while others enjoy a meal and sit back, listening to the sound of the music.
Veo Scooters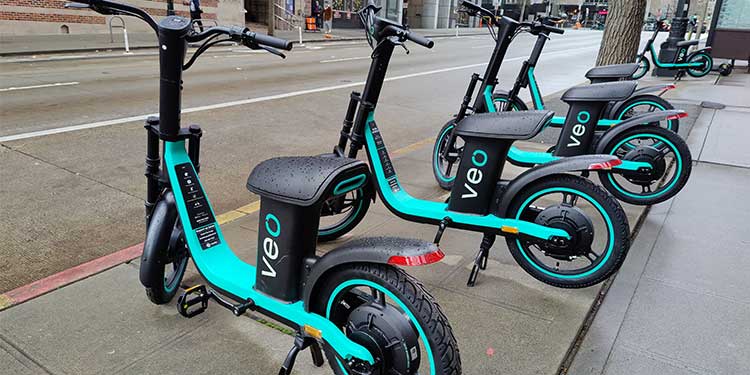 Address: Various locations throughout Sarasota
Opening hours: 6 AM - 10 PM
Cost: Varies, check with Veo
Best time to visit: Anytime during operation hours
For extra mobility, visitors over 18 should consider renting a Veo scooter and using it to see the city.
There are three options: the Astro VS3 e-scooters, the Cosmo e-bike, and the Halo pedal bike.
Rent your favorite and remember to stay in the bike lane or, barring that, on the road.
Sarasota is a growing city with a lot of traffic.
If you want to explore the downtown area or other places, renting a scooter might help you be more mobile.
You should probably bring a helmet. You can rent scooters any time between 6 AM and 10 PM.
Natural Encounters
If you like to get up close and personal with animals and foliage, Sarasota has plenty of places to make that happen. These activities are great for kids and adults.
Mote Marine Aquarium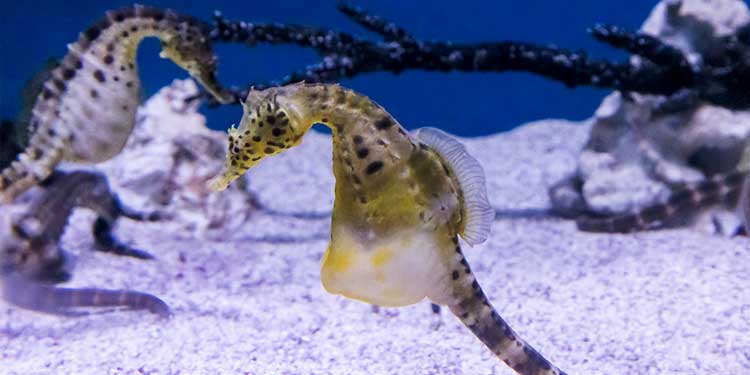 Address: 1600 Ken Thompson Pkwy, Sarasota, FL 34236
Opening hours: 9:30 AM - 5 PM daily
Cost: Varies, check their website
Best time to visit: Weekdays to avoid crowds
Mote Marine Laboratory and Aquarium has many indoor and outdoor displays that will absolutely delight you.
Some of them are interactive and entertaining, even for little kids who want to get up close and personal with sea cucumbers, sting rays, and starfish.
The manatee exhibit is outstanding, but check out the otters, sharks, and turtles – among other aquatic life – as well.
You can't bring food into the museum, but pack a reusable water bottle.
Mote offers places to refill it through the displays.
Be sure to bring your zoo membership if you have one. It will give you a discount on tickets.
Jungle Gardens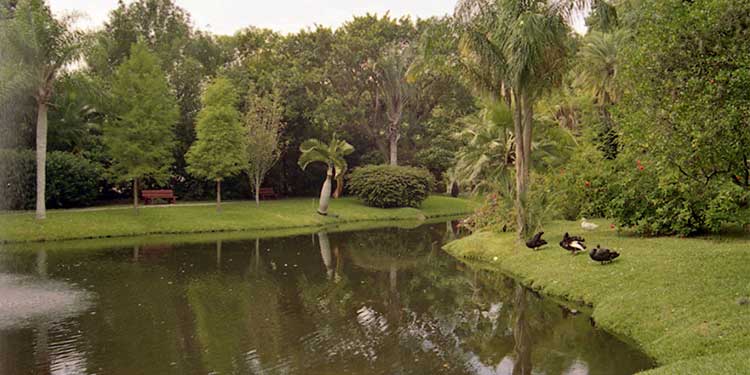 Address: 3701 Bay Shore Rd, Sarasota, FL 34234
Opening hours: 10 AM - 5 PM daily
Cost: Varies, check their website
Best time to visit: Weekdays to avoid crowds
Jungle Gardens let you get up close and personal with more terrestrial animals.
Flamingos wander around and love it when you feed them.
Some visitors rave about spending time holding and playing with a lemur.
You can also attend animal shows to learn more about reptiles, birds, and other life. There's even a petting zoo.
Check the schedule to see which shows you want to attend so you're present at the right time.
Remember that swimsuits are prohibited, but free Wi-Fi is available throughout the park.
Selbys Botanical Gardens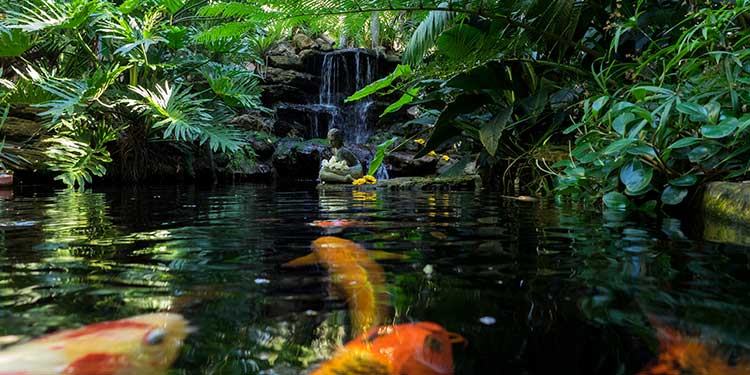 Address: 1534 Mound St, Sarasota, FL 34236
Opening hours: 10 AM - 5 PM daily
Cost: Varies, check their website
Best time to visit: Weekdays to avoid crowds
Stroll around the paths of this colorful and wild botanical garden.
It was once a private home, but Marie Selby willed her property to the public when she died in 1973.
It comprises 15 acres of everything from flowers to a banyan grove that was planted by Marie and her husband.
You can see the bay if you wander to the mangrove boardwalk.
You should also keep an eye on their calendar of events.
They offer multiple shows and attractions throughout the year, from lectures to boating to summer camps for kids.
The gardens are known for their epiphytic orchids, bromeliads, gesneriads, and ferns.
Local Favorites
Because of their quality, certain places attract a lot of locals and tourists. Head out to these favorites.
The Ringling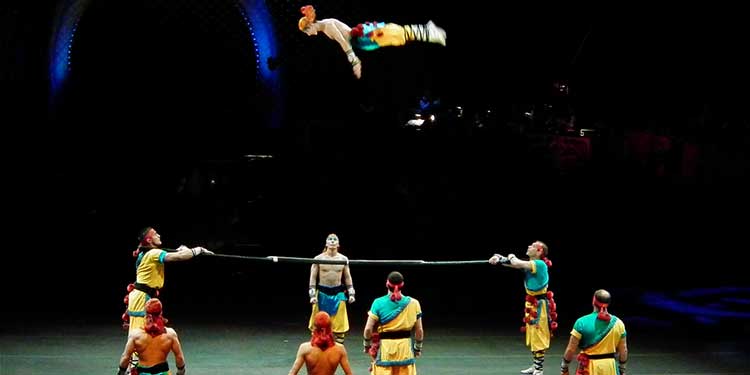 Address: 5401 Bay Shore Rd, Sarasota, FL 34243
Opening hours: 10 AM - 5 PM daily (until 8 PM on Thursdays)
Cost: Varies, check their website
Best time to visit: Weekdays to avoid crowds
There's a lot to do at The Ringling.
One of the best is the Circus Museum, which tells you more about the history of the area and the circus there.
There's an art museum, the Kotler-Coville Glass Pavilion.
A mansion tour called Ca' d'Zan is also available, where you can learn about life in the roaring '20s.
Many visitors say they spend much more time at The Ringling than expected, so try to get there earlier in the day.
You may want to add to your plans and see more than expected.
Check out the different ticket packages available on their site before you book.
Phillippi Farmhouse Market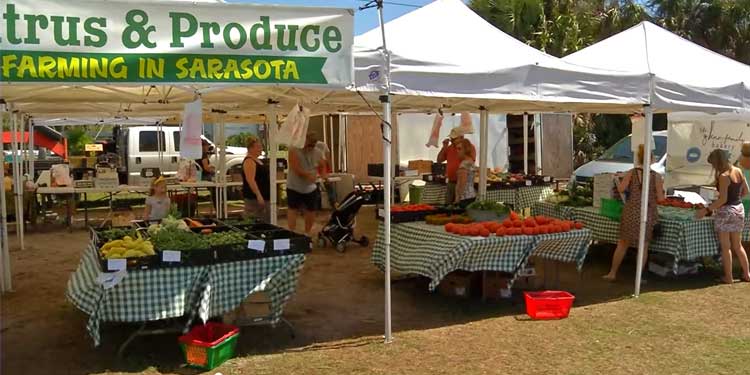 Address: 5500 S Tamiami Trail, Sarasota, FL 34231
Opening hours: Wednesdays 9 AM - 2 PM (April to end of October)
Cost: Free entry, prices vary for items
Best time to visit: Early in the day
Every Wednesday from April until the end of October, the Phillippi Farmhouse Market opens from 9 AM to 2 PM.
For best results, show up early and show up hungry.
There's plenty for sale to take home and enjoy later, but food vendors are also working hard to pump out delicious meals.
Grab a bite to eat while you set up near the live music.
It'll help fuel you to look through the artisan goods and fresh produce.
There's plenty of parking, so you're good to drive in and out.
Expect to see families and dogs. It can get rambunctious, but it's always a good time.
Livingston's Amusements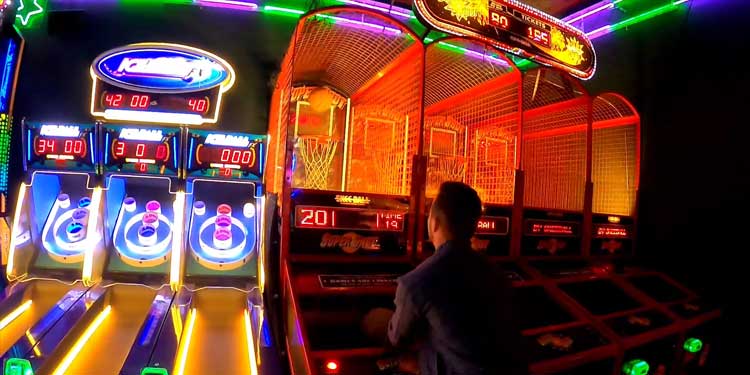 Address: 5947 Clark Center Ave, Sarasota, FL 34238
Opening hours: Varies, check their website
Cost: Varies depending on activity
Best time to visit: Weekdays to avoid crowds
This amusement center is packed with so many fun things to do; you'll be entertained for hours.
Check out their arcade games, play pool at the billiards tables, spin around the track in a go-kart, or slam into others in bumper cars.
Grab a bite to eat at the bar and grill or play some bazooka ball.
You'll find something to entertain you, whether alone or in a group.
While there's plenty for kids to do, remember that not all activities suit all ages.
For example, go-karts have a particular height requirement to use them.
Tasty Meals
Once you've worked up an appetite, check out these places to get a great bite or drink. Each location offers an experience that you can't get anywhere else.
Dinner Cruise at Marina Jacks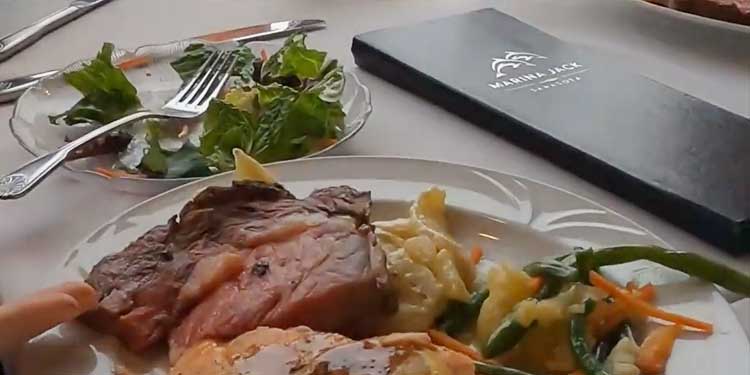 Address: 2 Marina Plaza, Sarasota, FL 34236
Opening hours: Varies, book a cruise
Cost: Varies, check with Marina Jacks
Best time to visit: Sunset for dinner cruise
You can book a lunch or sunset dinner cruise through Marina Jacks.
Each one offers a unique menu and a gorgeous view while dining.
The sightseeing cruise at lunch varies in the course, but ventures through Lido and Bird Key, then into North Sarasota Bay.
The dinner cruise lets you watch the sunset over the Gulf of Mexico.
Valet parking is available when you arrive.
Make reservations to ensure you have a space on the vessel before you go.
If you enjoy it, there's no reason not to try the other cruise while in town!
Bob's Train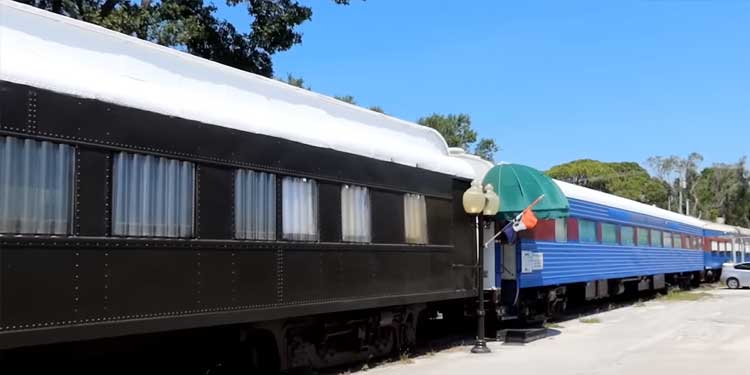 Address: 2211 Fruitville Rd, Sarasota, FL 34237
Opening hours: Varies, check their website
Cost: Varies, depending on the meal
Best time to visit: Lunch or dinner time
Eat dinner in an honest, old circus train.
Several cars are linked together, and when you arrive, you will be greeted by Bob.
He wears all hats at the restaurant and has many great stories to share.
He was both a circus master and lawyer before he started the restaurant.
The regular menu has salads, sandwiches, burgers, and hot dogs.
If you go for brunch, there are omelets with over a dozen add-ins.
The theme of the train is the circus, and you'll learn plenty about the Ringling Brothers circus if you take the time to look around the train.
There is a lot of great memorabilia to peruse.
Westin Rooftop Bar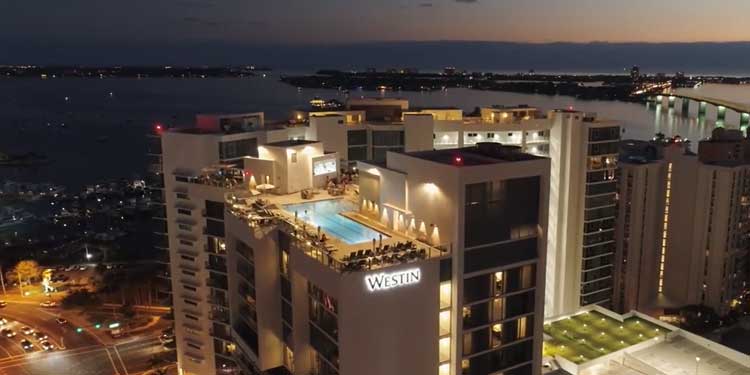 Address: 100 Marina View Dr, Sarasota, FL 34236
Opening hours: Open until 10 PM (11 PM on Fri & Sat)
Cost: Varies, depending on drink
Best time to visit: Late afternoon or evening
Check out the rooftop bar at the Westin for a nice drink and a great view.
The panoramic views of The Roof Bar and Eats are second to none in the city and a great photo opportunity for visitors.
It's open until 10 PM every evening, though the closing time extends by an hour on Friday and Saturday.
Expect it to be busy since the bar is popular, and the pool is also right there.
Also, consider putting on something a bit fancier than beach clothes because the ambiance is upscale.
Owens Fish Camp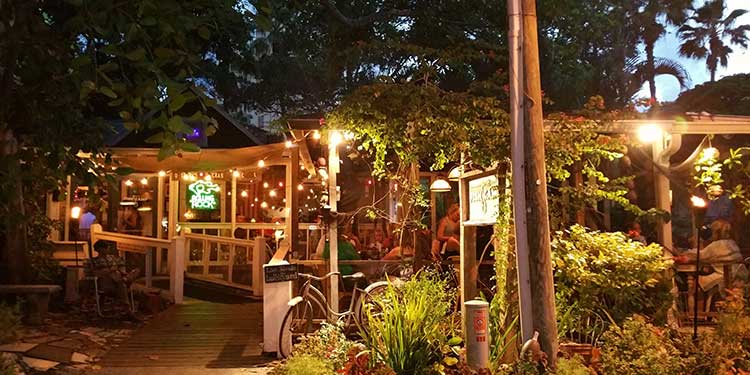 Address: 516 Burns Ln, Sarasota, FL 34236
Opening hours: Varies, check their website
Cost: Varies, depending on the meal
Best time to visit: Dinner time
No visit to Sarasota is complete without a visit to Owen's Fish Camp.
It's a restaurant that feels like you're eating with friends and family in Florida.
The fish is fresh, and the menu is innovative and comforting.
The surroundings are lovely. It's a perfect place to relax and really enjoy your food.
Once you're done, take a drink out back to bask in the tunes.
Owen's Fish Camp doesn't take reservations and only seats parties of 8 or fewer people.
There's plenty of parking, so don't worry about arriving early unless you don't want to wait for your table.
But with a place this beautiful, the wait is nice too.
Discover Fun and Sun – Plan Your Visit Now!
Whether you're exploring the fascinating exhibits at The Ringling, kayaking through the Lido Mangrove Tunnels, or enjoying the sunset on a dinner cruise, Sarasota promises an adventure you'll cherish.
Don't miss the chance to explore this captivating coastal city – start making plans and book your tickets to Sarasota today!
Note: Keep in mind that information about travel can change quickly. To make sure your trip is fun and safe, we encourage you to double-check official websites and government/travel advisory sites for the latest information on travel restrictions, entry requirements, and safety measures.