One can surely plan so many things to do in the beautiful and fresh land of Tennessee!
From hiking in the Great Smoky Mountains to touring Nashville's music scene, this state is full of unique experiences that cater to any traveler's interests.
However, planning a trip means searching for the right place to stay, which can be hectic.
With every individual having their preference in services and necessities, it can take a while to look for a place with everything you might need. 
Not to worry, folks–we've got you covered! 
Here are our top picks on all-inclusive resorts that can add just the right amount of magic to your trip to make it the best vacation ever!
All-inclusive Resorts in Tennessee
Gaylord Opryland Resort & Convention Center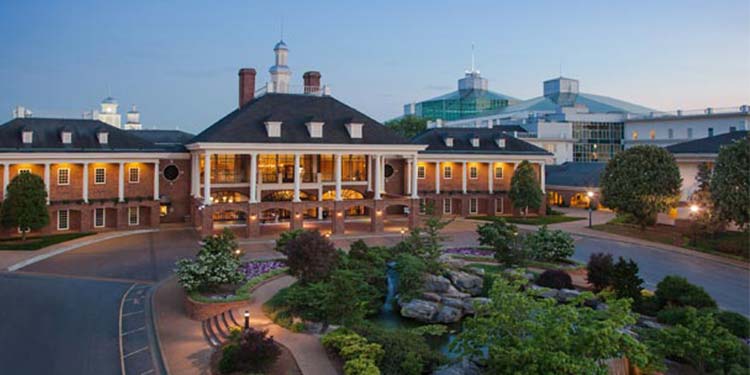 Location: 2800 Opryland Drive, Nashville
Contact: +1 615-889-1000
Gaylord Opryland Resort and Convention Center in Nashville is truly a work of art!
The property is known for its beautiful environment and warm hospitality.
Only 8 miles away from the Nashville International Airport, visitors who wish to stay in the resort can easily get to their destination in a matter of minutes.
You can get yourself a traditional room that comes with Wi-Fi, flat-screen TVs, minifridge, and coffeemakers to make your stay comfortable.
Separate living rooms are available in Suites with great room services.
In the resort, you can get access to an exercise room, both indoor and outdoor swimming pools, a spa, and many options for restaurants and bars to dine in.
Fun activities for children are available in the resort to keep them engaged, energized, and elated!
Shopping opportunities are endless! Wander around the 9 acres of indoor gardens on foot or by boat.
Their gorgeous outdoor space is home to varieties of plants and trees from all around the world—you don't have to worry about fresh air at all!
Dollywood's DreamMore Resort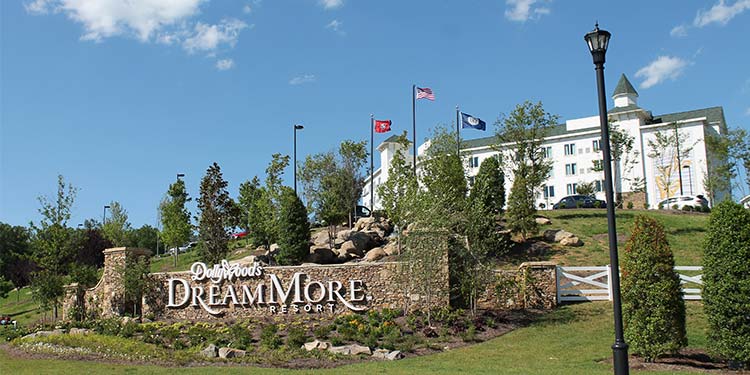 Location: 2700 Dollywood Parks Blvd., Pigeon Forge
Contact: 1-800-365-5996
If your main purpose for visiting Pigeon Forge is the late renowned artist Dolly Parton or not, Dollywood's DreamMore Resort and Spa is the best place to stay anyway!
Reserve yourself a room that has amenities including free WI-FI, TVs, mini-fridge, coffee maker, and more, or get yourself a bedroom suite where you get a furnished patio to chill in.
The modern resort has such detailed decorations that can warm up your heart!
A gym, a salon, and a spa can be used anytime for relaxation whereas, kids can engage in kids' clubs, playgrounds, and pools that are available both in and out!
Many dining options are available where visitors are served their favorite choice of classic foods to many cuisines.
Visitors also get access to the southern restaurant and a snack pantry for a quick bite!
Anyone can enjoy stunning views from the resort as it is surrounded by the beauty of the Great Smokies.
Visitors receive complimentary shuttle service to the water park and Dollywood theme park, which is only 3 miles away from the resort!
Tip: Upgrade your staycation by booking Dolly Suite 1986, Parton's personal motorcoach, which is now parked on the resort's grounds and served as her favorite home on the road, where she wrote many hit songs.
Blackberry Mountain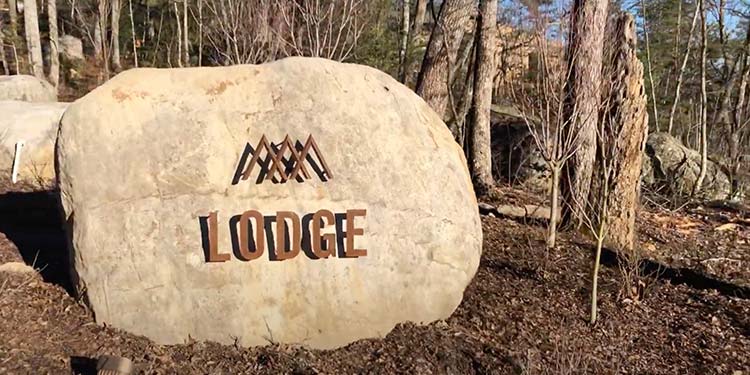 Location: 1507 E Millers Cove Road, Walland
Contact: +1 800-993-7824
Enjoy stunning views from Blackberry Mountain, a resort on private land of 5,200 acres in the Great Smoky Mountains!
You get many options for accommodation here, from Stone cottages to log cottages—each has significant experiences to offer!
Some have pre-installed mini-fridges and coffee makers in kitchens or TVs and outdoor tubs but feature Wi-Fi access, fireplaces, and terraces in all.
Private Modern treehouses with all the services available are highly recommended for couples!
The resort serves you the most delicious meals, and you are welcome to visit the in-house facilities, including the spa, bar, restaurant, yoga loft, and more.
Visitors are provided with a golf cart to commute on the grounds of the massive property.
With so much to explore, you can choose to go for a hike in one of their many private hiking trails and even watch varieties of art installations along the way!
Tips: Don't forget to grab a unique souvenir from their farm shop, where you can find everything from pottery sets to apparel, cheese, and pickles!
Carnegie Hotel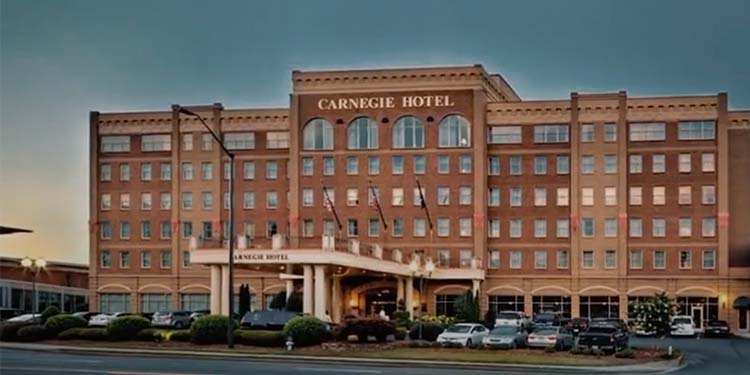 Location: 1216 W. State of Franklin Road, Johnson City
Contact: 423.979.6400
While you're planning a trip to see all the attractions in Johnson City, make sure you book a stay at Carnegie Hotel.
The luxury boutique hotel has a classical touch of elegance with rooms with baroque-style décor displaying antiques.
However, don't worry, you are provided with all the modern facilities, including free Wi-Fi, TVs, coffee maker, refrigerator, and more equipment like a hair dryer and iron.
Alongside deluxe bedrooms, luxurious presidential suites are also available, which have a brick fireplace, bars, and dining tables.
The resort has a seasonal outdoor pool, a spa, and a fitness center that is open 24 hours a day.
Their in-house dining Wellingtons is an impressive restaurant that serves delicious southern cuisines.
Visitors are sure to have a memorable stay at this beautiful, quiet, and relaxing resort with having elegant ambiance.
Tips: Make sure you check their website to grab special deals as they update packages throughout the year!
Westgate Smoky Mountain Resort & Water Park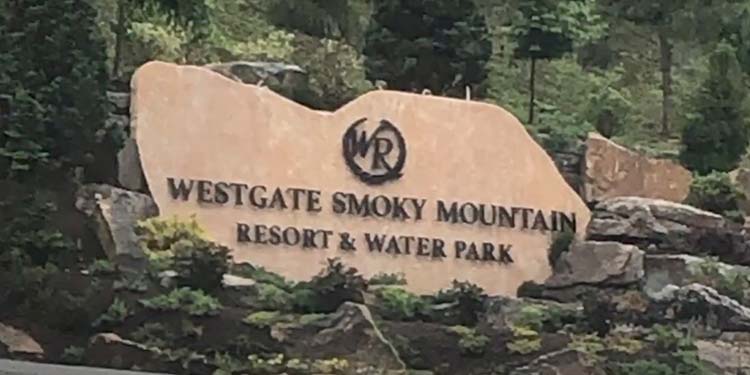 Location: 915 Westgate Resorts Road, Gatlinburg
Contact: 865-430-4800
Looking for a place to stay that is packed up with fun in Gatlinburg? Search no more!
If you have kids traveling along or consider yourself a kid at heart, Westgate Smoky Mountain Resort & Water Park is the right place for you!
This place is full of fun! Westgate is a resort, but it is a waterpark as well—the fun doesn't stop here!
The resort has modern log villas, very attractive and super cozy to live in!
With all the necessary amenities, from Wi-Fi connection to TVs and easy access to a private kitchen, you can also add a fireplace and balcony if you prefer so.
You can find a cocktail lounge, a snack bar, and an ice cream shop to feed off your sweet tooth!
As the best part of the resort is the in-house waterpark, you can also find outdoor pools, hot tubs, a gym, and a game room for entertainment purposes.
WhiteStone Inn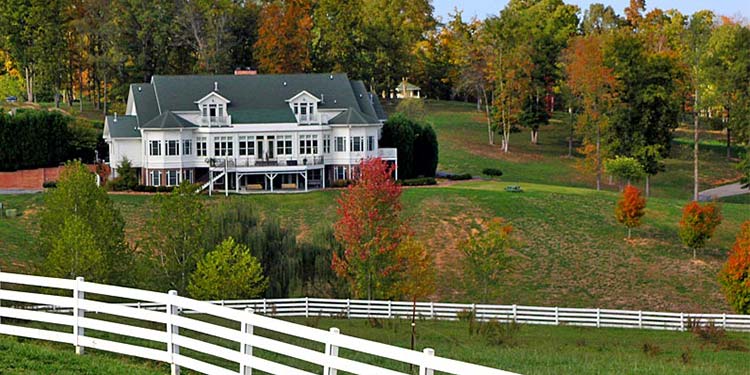 Location: 1200 Paint Rock Rd, Kingston
Contact: +1 865-376-0113
Calm, clean, and comfortable—three perfect words to describe your stay at Whitestone Inn in Kingston, Tennessee.
Surround yourself with the beauty of nature while relaxing in your beautiful and cozy suite on the ground of 360 acres.
The site is situated along Watts Bar Lake, which is the closest attraction you can visit to find tranquility and peace.
Whitestone Inn has a specialty of having every individual room designed and decorated uniquely for every visitor to experience a one-of-a-kind treatment.
Your rooms will feature all the basic needs; Wi-Fi, TVs, fireplaces, kitchens, and Private decks in some and so much more.
Anyone can pop into the library, game room, and verandas to kill some spare time in the resort.
Other than that, visitors are encouraged to explore the beautiful Inn and visit their spa, chapel, and seasonal swimming pool or take a trail and hike around to spend quality time.
This place surely has everything you'll need on a holiday!
The Guest House At Graceland Memphis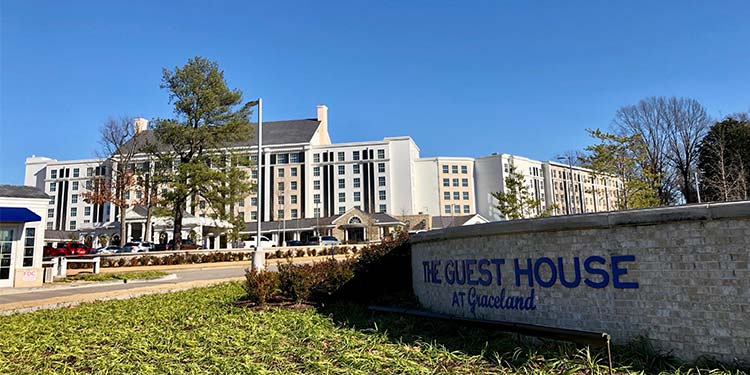 Location: 3600 Elvis Presley Blvd, Memphis
Contact: 901.443.3000 
Graceland Mansion in Memphis is undoubtedly the most tourist-attracting destination in Tennessee.
The former house of the late Elvis Presley is a famous hub for all the fans and music lovers who come here to check out the house their idol spent his life in.
Guest House at Graceland was built in honor of the love of the people who travel from all around the world just to witness the mansion.
The guest house is an exact replication of the original Graceland Mansion—the only difference is, it is a lot bigger!
Rooms in the guest house are glamorous, just like the life Elvis Presley lived.
Every detail has been carefully designed; the singer's ex-wife Priscilla Presley had a major input in designing and curating the massive version of Graceland, so the quality is nothing but top-notch.
Just a 4-minute walk distance from the tourist site, visitors won't have any problem commuting from one Graceland to another!
Other than admiring the amazing building, visitors can spend a great time here by also checking out the in-house restaurants, an outdoor pool, a gym, and a theater.
The Hermitage Hotel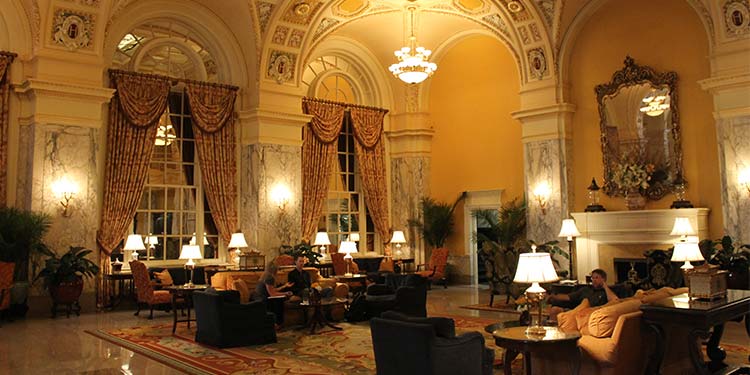 Location:  231 6th Ave N, Nashville
Contact: 615-244-3121
Well known for being one of the top premier hotels in Tennessee, Hermitage Hotel only knows to keep the standard up.
The beaux-art architectural style building itself gives a posh vibe, wonder what the hospitality is like!
Hermitage Hotel provides a luxurious stay time at their 10-story tall building and a lavish selection of perks for visitors.
The hotel leaves everyone impressed, from its classy interior designs to excellent room services.
One can surely plan to visit many famous attractions in Nashville from the hotel very easily as it is situated in the heart of the Music City! 
The Resort At Governor'S Crossing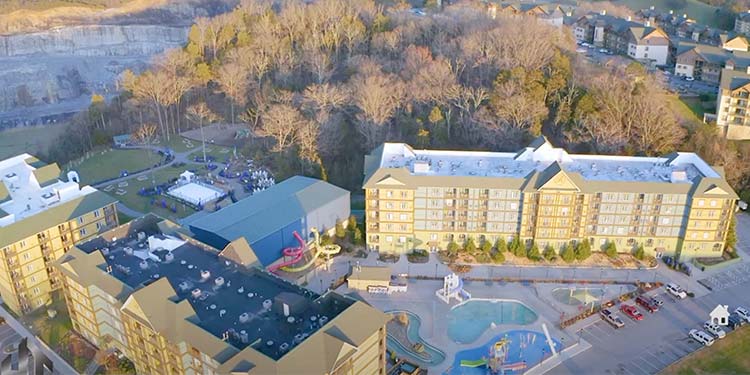 Location: 225 Collier Drive, Sevierville
Contact: +1 865-429-0500
Can you ever get over waterparks? The answer should be 'No', no one does!
Here we are again with another waterpark resort because neither can we get over them!
The Resort at Governor's Crossing at Sevierville is a beautifully designed resort that offers studios to condo units featuring a lot of amenities and good services.
Visitors can also request a good-view balcony to enjoy the best sceneries and enjoy the chilly natural air of the city.
It is only about 4.9 miles far from Dollywood Theme Park in Pigeon Forge, you can plan a fun trip to visit the attraction from your resort.
Obviously, you cannot miss out on the massive indoor water park once you're here, that is where all the fun is!
Other than that, the family-friendly resort also has a seasonal outdoor water park with 5 pools, 2 whirlpool tubs, and waterslides that visitors then enjoy. 
For more entertainment, a mini-golf course, a game room, and a pirate-ship-themed playground is available at the resort.
Glenstone Lodge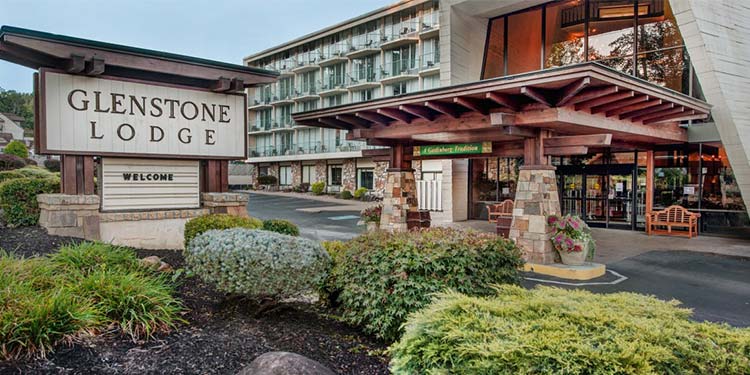 Location: 504 Historic Nature Trail, Gatlinburg
Contact: +1 865-436-9361
Spend your holiday at the lovely Glenstone Lodge located in Gatlinburg!
Well-decorated and comfortable rooms and friendly services are available in this beautiful lodge.
Visitors get their own private balconies from where the stunning views of the mountains can be enjoyed.
You can dive in the outdoor pool, hot tub, or bi-level indoor pool available on the property for a relaxing dive in the water.
The lodge is very close to the entrance to the Great Smoky Mountains National Park, which can be a bonus point for people who love to hike or spend their day in nature. 
Splurging or Saving on your Stay? You decide!
What better way there is to spend a nice vacation in the state than having a staycation at a resort or hotel that offers everything you might ever need?
The place you decide to stay at heavily affects how you conclude the trip, as no matter how many fun places you visit all day, the hotel room is the place you end your day at! 
It becomes the place where you relax and reenergize yourself for another day, so don't hesitate to treat yourself to a good staycation.
From luxurious to waterpark fun to nature vibe, surrounded by mountains kind of staycations, you'll get plenty of options to choose from, select the one that is the most suitable to your style.
The money spent will all be worthwhile in the end if you choose the right place!
Note: Keep in mind that information about travel can change quickly. To make sure your trip is fun and safe, we encourage you to double-check official websites and government/travel advisory sites for the latest information on travel restrictions, entry requirements, and safety measures.