Sunriver is one of the best recreational and resort vacation destinations in the Pacific Northwest.
It is located on the eastern side of the Deschutes River, about 16 miles South of Bend, at the base of the Cascade Range.
The Sunriver Resort is an all-season center offering year-round indoor and outdoor recreational activities.
From world-class Golfing and Lazy River Water Park to exciting Kayak and float trips around the Deschutes River, it has everything you need for the best all-inclusive package.
As summer thaws, winter is the best time to enjoy downhill skiing and snowboarding at Mount Bachelor and biking adventure around the 35 miles of paved trails around Sunriver.
Theres a lot to do and see! And for you to get started, we have set a list of the best things to do in Sunriver, Oregon, to make a memorable trip.
Things to Do in Sunriver, Oregon
Watch Galaxies from the Sunriver Nature Center & Observatory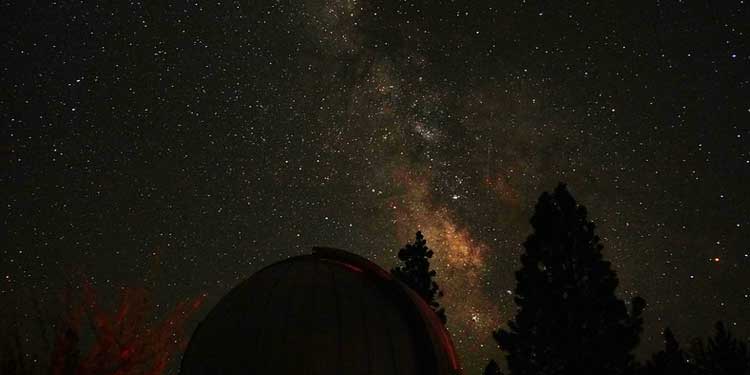 Address: 57245 River Road, Sunriver, Oregon 97707, United States
Opening hours: open daily from 10:00 am - 4:00 pm
Admission Costs: adults $9, seniors $7, children (4 - 12)  $6
Calling out all Stargazers and nature lovers!
The Sunriver Nature Center and Observatory is a must-see destination for astronomy and nature enthusiasts.
It features educational exhibits of animals and birds, along with a botanical garden and a nature trail. Perfect to bring your kids as well!
But the main attraction is the Oregon Observatory which is the largest astronomical viewing facility in the United States.
This state-of-the-art facility allows visitors to view the cosmos like never before.
Theres nothing more awe-inspiring than seeing faraway galaxies and star clusters. So dont miss out!
Go on a Hiking and Biking Adventure at the Benham Falls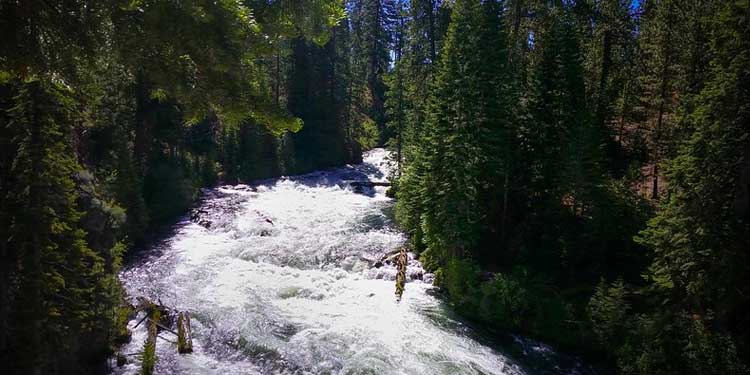 Address: Benham Falls, Oregon, United States
Difficulty level: moderately easy
Benham Falls is a popular hiking and biking destination in Central Oregon that offers majestic forest trails along the Deschutes River.
Two main trails lead you to the best scenic route, giving hikers access to the Deschutes River trail.
Benham Falls East Trailhead and Benham Falls West Trailhead is a day-use recreational area that provides an easy 1.9-mile out-and-back hiking trail with accessible amenities, including picnic tables, restrooms, and seating areas.
Or, if you choose to take a more challenging route, Sunriver Trailhead is a 6.8 miles moderate trail popular for hiking and mountain biking.
Tip: Upper Deschutes make a fantastic place for fly-fishing and rafting all the way down to the Lower Deschutes.
Taste Local Craft Beer at the Sunriver Brewing Company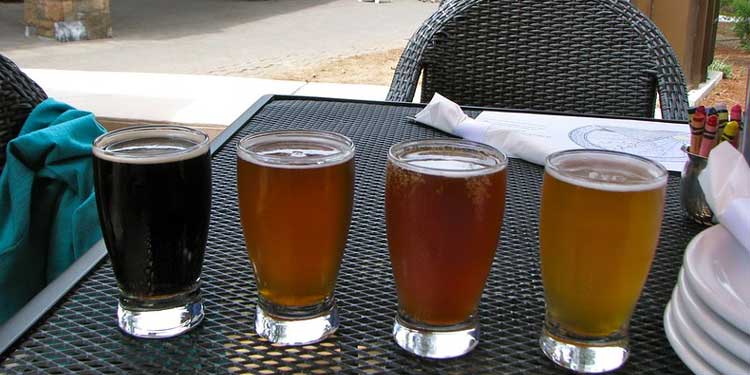 Address: 57100 Beaver Drive Bldg 4, Sunriver, Oregon 97707, United States
Opening hours: open daily from 11:00 am - 10:00 pm (Sunday - Thursday), 11:00 am - 11:00 pm (Friday - Saturday)
Sunriver Brewing Company is well-known for its delicious meals and an extensive assortment of locally brewed beer.
In fact, it is the best Gastro Pub in Sunriver that serves award-winning craft beer providing unique American fare in a rustic environment with a play area for children.
And with a comfortable indoor and outdoor seating area, it makes a great place for larger groups.
Make a pinpoint to stop by the area, and you will know why locals and tourists consider this a must-visit.
Tip: Happy hours are given most of the afternoon, so check its website before visiting.
Amenities at the Sunriver Resort Along the Deschutes River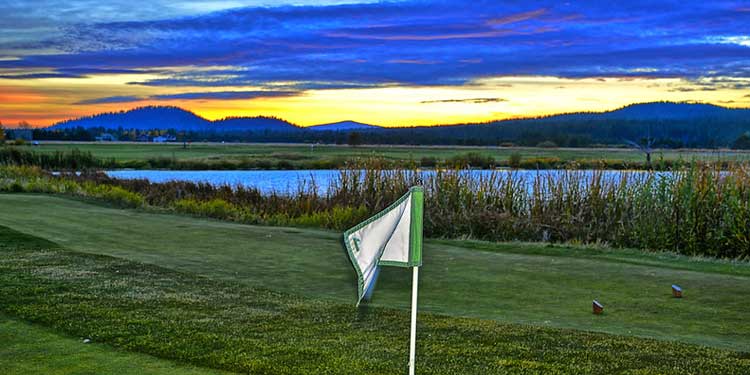 Address: 17400 Deschutes Road, Sunriver, Oregon 97707, United States
Website: Sunriver Resort
Situated close to the Cascade Mountain Range and top-rated ski trails, Sunriver Resort is a Luxury Oregon gateaway that offers a little bit of everything.
It provides visitors all the outdoor recreational activities and lavish amenities in a natural setting.
Choose from its 63 holes of world-class Golf, year-round indoor and outdoor pools, and miles of biking paths that wind up through the entire resort.
And just when you think that's enough, theres a whole package!
From kayaking and standup paddling at the Marina to pampering yourself with a private well-being Spa treatment at the Sage Springs Club & Spa, there is everything to fill in your excitement.
Explore The Volcanic Landscapes of the Newberry National Volcanic Monument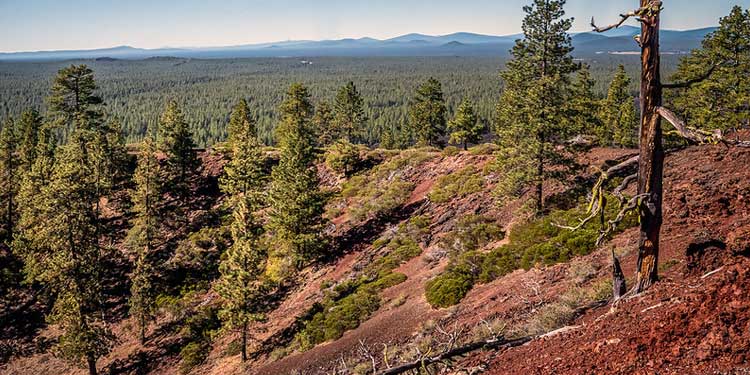 Address: 58201 US-97, Bend, Oregon 97702, United States
Hours: open daily from 9:00 am - 5:00 pm
This stunning monument spans over 55,500 acres Northwest of Sunriver and features multiple lakes, amazing lava flows, and fascinating rock formations.
This includes the nearby hot springs and geological processes, which make it a unique destination to visit.
On a self-guided and guided tour, explore the underground caves and pathways of New Berry through various Lava Tubes, including the Lava River Cave.
You can spend an hour trekking and admiring the views of lakes and mountain peaks, or you may extend your stay by camping and fishing.
Explore the LaPine State Park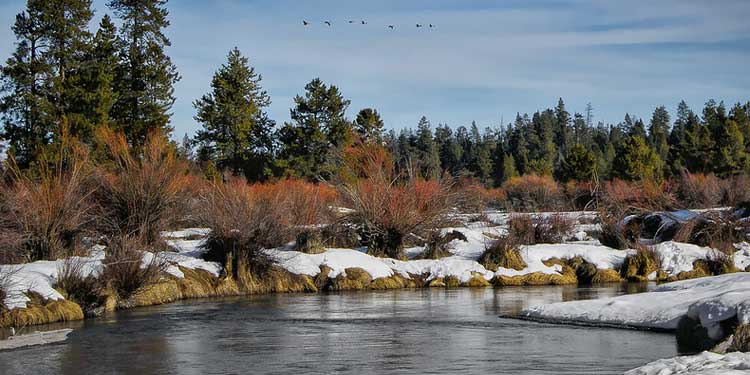 Address: 15800 State Recreation Road, La Pine, Oregon 97739, United States
Hours: open daily from 7:00 am - 8:00 pm
Phone: +1 800-551-6949
LaPine State Park is located in a high desert subalpine forest along the Upper Deschutes River.
It is a great destination to go out for a trout fishing and camping adventure. You can make one of your own episodes of Catch-Cook-and-Camp.
The 14 miles of multi-use trails follow both river banks and connect significant park sites accessible from the campgrounds.
Other main activities in the park include hiking, mountain biking, fishing, and floating.
Winter is best for snowshoeing and cross-country skiing on the park's trail, whereas watersports adventure makes it a prime destination for summer.
Not to forget Spring and Fall, which are great for spotting various wildlife and wildflowers meadow.
In addition, LaPine is also ideal for visiting Central Oregon's most well-known attractions – Deschutes National Forest, Lava River Cave, and the Newbery Crater.
Cool Off at the Sunriver Homeowners Aquatic & Recreation Center (SHARC)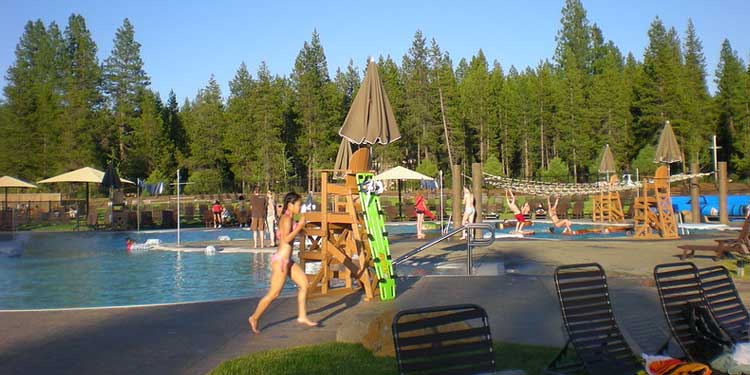 Address: 57250 Overlook Road, Sunriver, Oregon 97707, United States
Hours: open daily from 6:00 am - 7:00 pm 
Admission costs: $30
Sunriver Homeowners Aquatic and Recreation Center (SHARC) is a great family destination in the Sunriver Resort, operated by the Sunriver Owners Association.
This means you are always welcome to enjoy a year-round indoor and outdoor pool, hot tubs, water slides, lazy river, outdoor amphitheater, restaurants, and more.
The Recreation Center is also great for hosting special events, organizing business meetings, and bringing live concerts in a 22-acre laid-back environment.
Fishing and Whitewater Rafting at the Deschutes River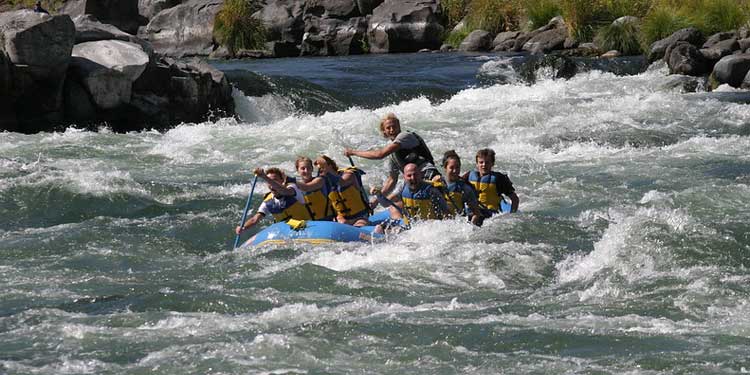 Address: Deschutes River, Central Oregon
Hours: open 24 hours (all year round)
Best time to visit: Spring and Summer
Nestled among the hills and lush greeneries of Central Oregon, Deschutes River is one of the best fishing and whiter water rafting destinations.
The Upper Deschutes River is easily accessible and has excellent brown trout fishing, whereas the Middle Deschutes River offers stunning rock structures and waterfalls for a hiking adventure.
Not to mention the Lower Deschutes River which has the most whitewater rafting options and is one of Oregon's best areas for steelhead and trout fisheries.
And if you prefer to make an overnight adventure trip, there are a lot of year-round campgrounds at the Deschutes River Campground with all the necessary amenities.
It allows you to experience riverside reverie in all seasons. So dont miss out!
Go Skiing and Snowboarding at Mount Bachelor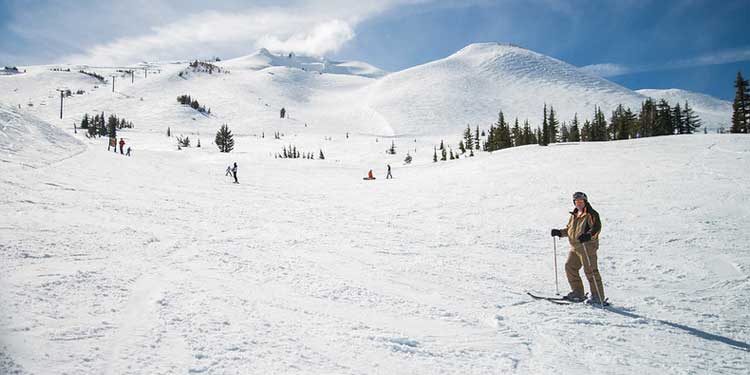 Address: 13000 SW Century Drive, Bend, OR 97702, United States
Hours: skiing operating hours vary from season 9:00 am - 4:00 pm (Winter), 8:30 am - 1:30 pm (Summer) 
Distance: 20 miles from Sunriver via Forest Service Road 45 
Spend your winter vacation over the Mountains and hills of Central Oregon at Mount Bachelor.
With 101 ski tracks and 13 chairlifts, it offers over 4,000 acres of skiable terrain for all ages and skill levels.
And if you like daring adventure, get ready for a downhill bike ride or reach the mountain's height through a thrilling zipline adventure.
Although it is best to visit during winter, there is always something for everyone to try out every season, as it makes a great year-round destination for families and larger groups.
At the peak, there is an observatory platform and numerous other areas suitable for snow tubing, snowshoeing, and hiking.
Shopping and Fine Dining in The Village at Sunriver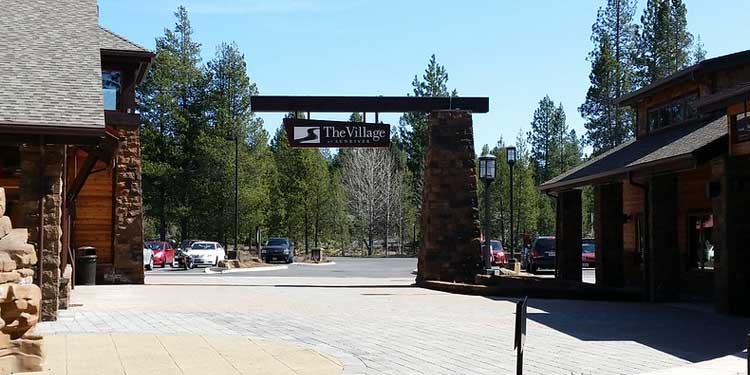 Address: 57100 Beaver Drive, Sunriver, OR 97707, United States
Hours: open daily from 10:00 am - 7:00 pm
Phone: +1 541-593-8704
If you want a place to spend your free time, visit the Village at Sunriver for some shopping, food hunting, and bar hopping.
It is Sunriver's only open-air mall designed to deliver an elegant outdoor experience for visitors and locals.
From shopping stores and local breweries/restaurants to exciting kid-friendly activities like mini golf and a bounce house, it offers everything for a warm and fun stay.
There are also a few bike and sportswear rentals available.
So whether you are up for a mountain biking adventure or a fun 35 miles-paved bike ride, the Village at Sunriver has it all!
Start Planning Your Trip to Sunriver For an All-Inclusive Vacation!
Remember that Sunriver itself is a resort oriented community so you will find plenty of lodging options.
Stay at the stunning Sunriver Resort itself for a luxurious accommodation or rent of the areas private homes or condominiums for a more affordable options.
Dining options include a handful of restaurants and care offering a variety of cuisine.
Getting around the whole resort community is more convenient by renting a bike or walking, as it shares many miles of paved trail.
Finally, with our top recommendations, you sure are leaving Sunriver with lifelong memories.
Good luck!
Note: Keep in mind that information about travel can change quickly. To make sure your trip is fun and safe, we encourage you to double-check official websites and government/travel advisory sites for the latest information on travel restrictions, entry requirements, and safety measures