Pizza is not just a taste of tomato sauce topped up with cheese and toppings on a dough!
It is known as a flavorful art that can connect hearts and fill them with joy and immense feelings of gratification.
This Italian food is available not only in its home countries but also in the corners of the world, which has made it a personal favorite of people all around for so long.
Likewise, pizza is also one of the popular go-to foods for people in the city of Boston.
The endless variety of flavors makes it inclusive for everyone with different preferences on tastes.
Here's a list of Restaurants in Boston where you can get that delicious cheesy, flavorful bite of pizza to light up your mood!
Best Pizza in Boston
Regina Pizzeria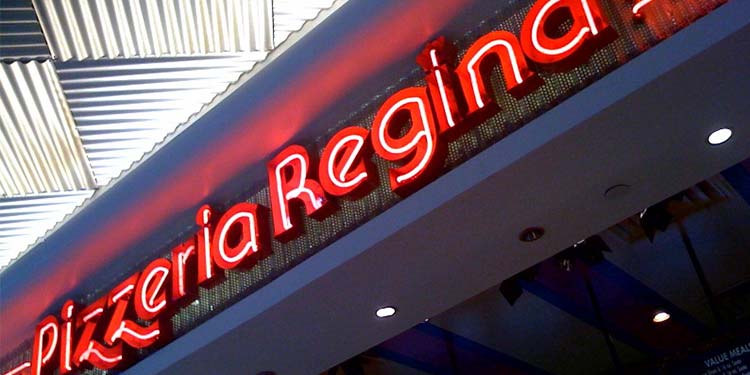 Location: 11 1/2 Thacher Street, Boston
Opening hours: 11:00 am - 9:00 pm (Sun-Thurs), 11:00 am - 10:00 pm (Fri-Sat)
Price range: Starts from $ 11.99 - $ 25.99
One of the largest chains of Pizza in Boston is the Regina Pizzeria, established in 1926. 
Regina Pizzeria has been serving delicious thin-crust and brick-oven pizzas for over three generations.
They have a wide selection of well-made, authentic Italian-American Pizzas from Classico Pizza to Capricciosa Pizza.
Their most popular and must-have pizzas have to be the Melanzane, followed by the Giambotta and St. Anthony. 
Over the years, Pizzeria has earned a huge number of followers which has led them successfully expand their company. 
People can easily access any of the Seventeen Regina Pizzeria Locations spread all around the city. 
It is also a part of the three most famous pizzerias in the city, commonly referred to as the 'Holy Trinity of Pizza'. 
Anyone visiting here will love the vibe and space, and of course, the mouthwatering delicious taste of their Pizza! 
Picco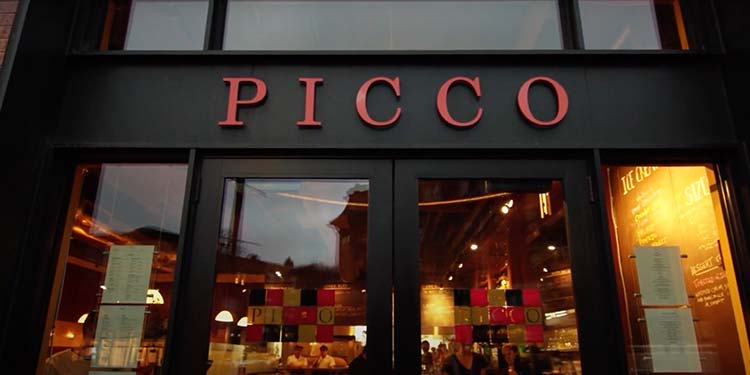 Location: 513 Tremont St., Boston
Opening hours: 11:00 am - 9/10:00 pm (Every Day), Closes from 3:00 pm - 4:00 pm (Every Day)
Price range: Starts from $13.75 - $25.25 
Picco is a fun and casual place to chill and relax for all the pizza and ice cream lovers.
They serve fresh thin-crust pizzas topped up with flavors from classic Pepperoni to Alsatian and the additional charge for cheese, veggies, and protein toppings. 
Although their service is quick, you can engage yourself with some appetizers or a refreshing drink while you await your order.
Gluten-free pizzas are also available in all of flavors or can be built according to your preference. 
You can enjoy your dessert right after the pizza here as they also offer tasty homemade ice cream and dairy-free sorbets from scratch.
Galleria Umberto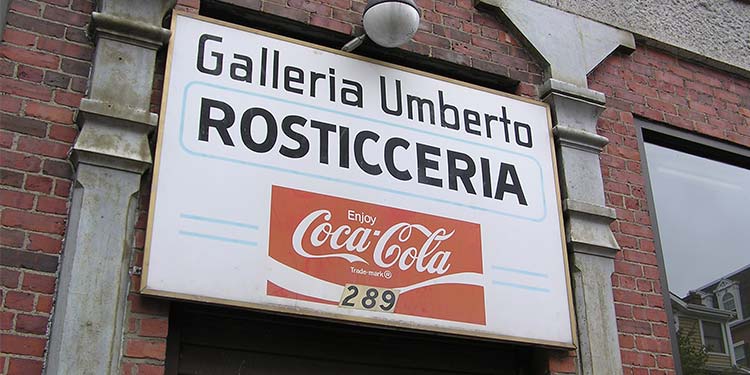 Location: 289 Hanover St, Boston
Opening hours: 11:00 am - 3:00 pm (Mon-Sat)
Contact: +1 617-227-5709
Get some thick-crust, spongey Sicilian-style pizza at Galleria Umberto!
The doughy-looking cheesy rectangular slice of pizza can easily melt in your mouth with bursts of tasty flavors.
Galleria Umberto, the other part of the holy trinity of pizza in Boston, is one of the most authentic Italian pizzerias in the city.
Their pizzas live up to the hype; they close right after they're sold out every day—which happens quite quickly!
They use the perfect ratio of tomato sauce to cheese and the bite of pizza feels so warm and fresh, makes you want to come here again!
Alongside pizza, they also offer other Italian food options including Arancini, Panini, Panzerotti and many more.
Brewer's Fork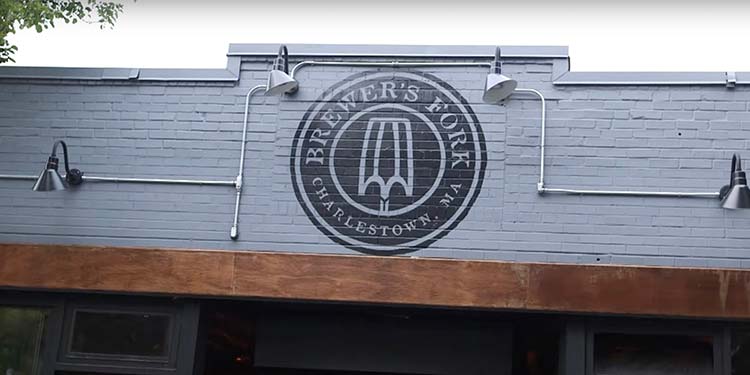 Location: 7 Moulton St, Charlestown
Opening hours: 11:30 am - 10:00 pm (Mon-Fri), 10:30 am - 10:00 pm (Sat), 10:30 am - 9:00 pm (Sun)
Price range: Starts from $16 - $19 
Located in Charlestown is Brewer's Fork, a pizza restaurant also offering varieties of other delicacies for dinner and lunch.
They provide freshly baked unique pizza options from 'Spicy Clam' using local clams to 'Figgie Smalls' using fig spread.
Other than just pizzas, they offer oysters, sandwiches, salads, and many more for lunch and dinner; they have a separate menu for brunch on the weekends.
Both indoor and outdoor seating area is beautiful with a warm atmosphere all around the place and relaxed on the patio.
The Salty Pig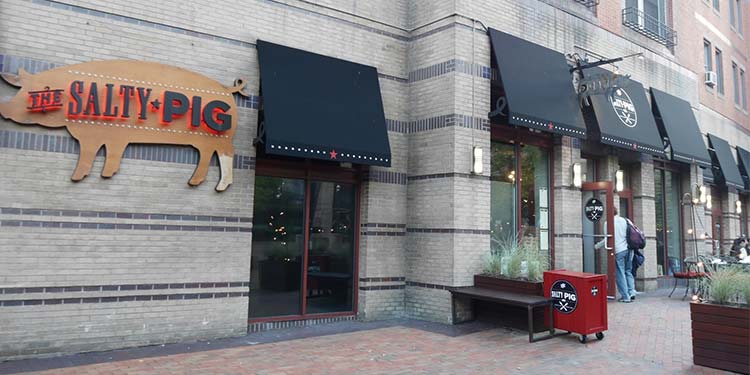 Location: 130 Dartmouth St, Boston
Opening hours: 4:00 pm - 10:00 pm (Sun-Thurs), 4:00 pm - 10:30 pm (Fri-Sat)
Price range: Starts from $16 - $19 
One of the most famous spots to hang out in the neighborhood is the Salty Pig—one place for all.
It is an Italian restaurant focused on pork and serving a homemade taste of pizza and pasta in a decent number of flavors.
Salty Pig has classic choices of pizzas including Margherita, Diavolo, Salsiccia, and their in-house original 'Salty Pig' all on their menu.
They also serve charcuterie boards where people can make their own combination from a selection of meats, cheeses, and other toppings.
Santarpio's Pizza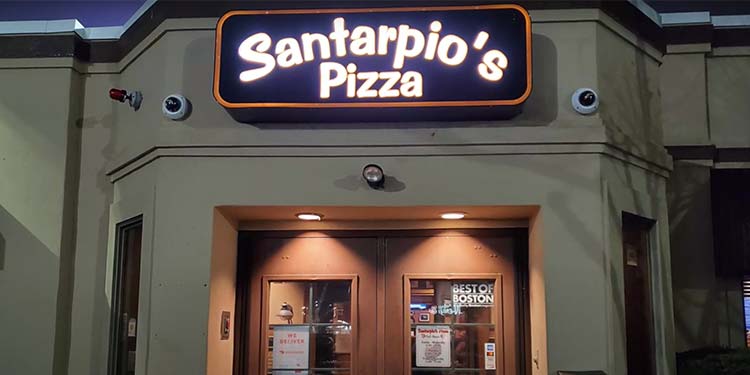 Location: 111 Chelsea St, Boston
Opening hours: 11:30 am - 10:00 pm (Every Day)
Price range: Starts from $12 - $ 22
Last on the list of the holy trinity of pizza is none other than the oldest, Santarpio's Pizza!
Initially opened as a bakery in 1903, the family has been serving quality products for a century, and later converted to a pizza business after three decades.
Santarpio's Pizza is one of the most beloved pizzas in Boston providing tasty freshly baked NYC-style pizzas to their customers for a long time.
The restaurant has plenty of options to choose from which can also be combined with multiple toppings.
If you're not into basic tomato sauce pizza, they also have options for white sauce or no sauce options and a build-your-own choice of pizza.
Which one would be your favorite if you happen to taste all the three 'holy trinity' pizzas in the city? –it's an ongoing battle of the bests you can't ignore!
Ernesto's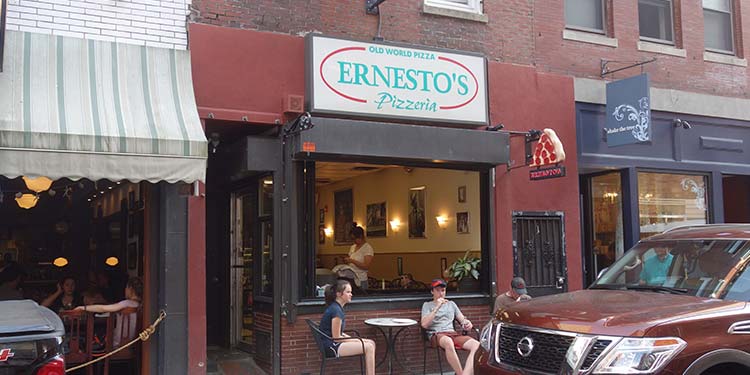 Location: 69 Salem St, Boston
Opening hours: 11:00 am - 8:45 pm (Mon-Thurs), 11:00 am - 9:45 pm (Fri & Sat), 12:00 pm - 8:45 pm (Sun)
Price range: Starts from $19.80 - $29.99
Looking for a pizza that is neither too thin nor too thick? Ernesto's is the real deal!
This casual setting pizzeria offers plenty of flavors for both a whole pizza and a slice of pizza including some creative options.
Ernesto's most popular options are the massive 18-inch slices of pizza that are equal to one-fourth of the whole pizza.
You'll get a seat if you're lucky enough to dine in as the place is small otherwise; their service is quick, and the best option would be to take away.
Delicious Pizza to Devour!
Whenever in doubt, pizza can become your stress-relieving guilty pleasure food you can count on any time of the day!
It's the type of food that can make a tasty brunch option, a quick snack, and even a fulfilling dinner.
Whether for a romantic couple's date, a day out with kids, or simply to enjoy a fun night—Pizza can come to your rescue.
Let's be honest, we all would choose a good slice of pizza over any dish!
Note: Keep in mind that information about travel can change quickly. To make sure your trip is fun and safe, we encourage you to double-check official websites and government/travel advisory sites for the latest information on travel restrictions, entry requirements, and safety measures.