Charlotte is the biggest city in North Carolina and a prime destination if you're in the South.
Named the 'Queen City' because of its royal connections, Charlotte is the region's center of cultural and economic activity.
The city is also well known for being the home of NASCAR and hosts important clubs from other sports like the MLS' Charlotte FC, the NFL's Carolina Panthers, and the NBA's Charlotte Hornets.
In addition to sports, Charlotte provides its guests with various other leisure activities.
There are great parks, museums, and eateries located around the city that should not be missed. Some are the 7th Street Public Market, Discovery Place Science, and the Mint Museum.
Whether you're planning for just a few days or an extended visit, we've put together a list that will take care of all your needs.
Things to Do in Charlotte, North Carolina
The Market at 7th Street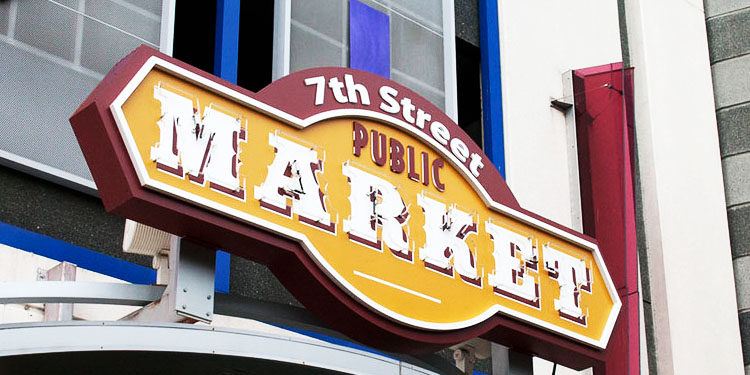 Address: 224 East, 7th Street, Charlotte, NC 28202
Opening hours: Monday: 8 am- 7 pm (limited vendors, hours vary), Tuesday-Wednesday: 8 am- 7 pm, Thursday-Friday: 8 am- 8 pm, Sunday 9 am-5 pm
Costs: Free entry, Price depends on the Food menu. Parking is available with a 90-min time limit. 
Market at 7th Street is a go-to destination to delve into the local food culture.
The market was created to promote local and regional products and artisans. There are 12 shops, including food stalls, a wine shop, and a gift shop.
Grab something to eat here while visiting nearby venues like the Discovery Place Science and the Belk Theater.
You must try the gourmet popcorn at It's Poppin when you're here. You can even try South Asian delicacies like the 'Mo: Mo,' served by a family-owned eatery named Momo Station.
After you're done having your food, head to the CLT Find to get a souvenir to take home. The shop has beautiful souvenirs and gift items designed by local artists.
Freedom Park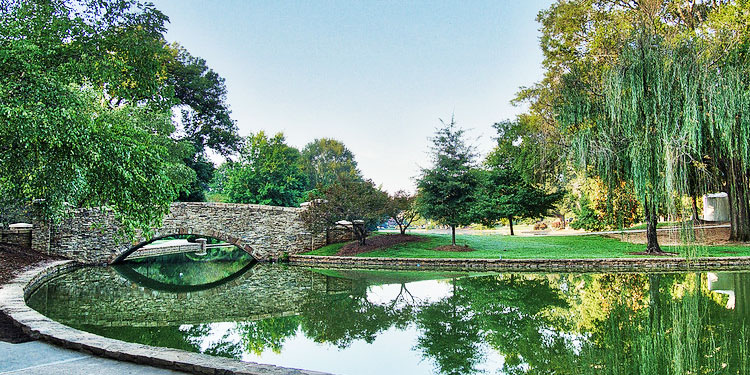 Address: 1900 East Boulevard, Charlotte, North Carolina, 28203 USA
Opening hours:  Sun-Sat: 6:00 am - 10:30 pm
Costs: Free entry, Free Parking 
Plan a day at Freedom Park with the family.
Just 3 miles north of downtown Charlotte's hubbub, the 98-acre park has paved trails, volleyball and tennis courts, sports fields, and two spacious playing areas.
One of the park's highlights is a full-sized steam engine – a sight your kids will likely find fascinating.
Feel free to bring your pets along – the park is perfectly pet-friendly. They'll love roaming around the maze of trails as much as you do.
The best part? Entry to the park and parking are both free.
If you visit in September, you can attend the Festival in the park, which includes entertainment, food, and arts and crafts.
There are perfect spots in the park to lie down and get some sunshine. We recommend you get a book and sit near the pond area.
This beautifully designed park will make you want to come back again. If you want a relaxing afternoon not far from the city, Freedom Park can be the perfect place.
Discovery Place Science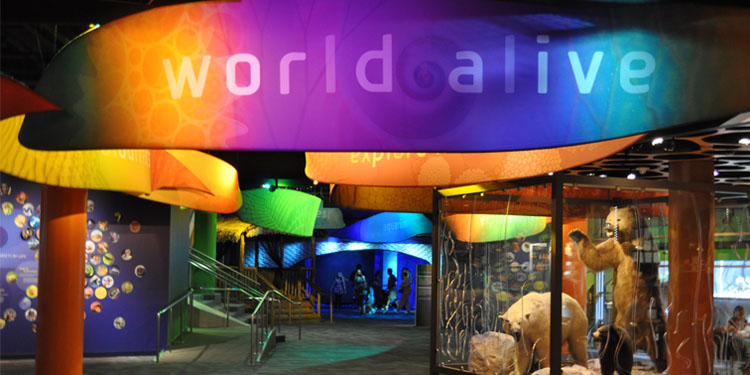 Address: 301 North Tryon Street, Charlotte, NC 28202
Opening hours: Sat-Sun: 10:30 am- 4:30 pm, Mon-Fri: 9:30 am- 4:30 pm
Costs: General Admission Adult (ages 14-59): $23, Child (ages 2-13): $18, Senior (age 60+): $20, Pre-Paid Parking: $14.
If you're looking for a place offering fun learning activities for your kids, this is the spot for you.
Discovery Place Science is an interactive science museum located in Uptown Charlotte.
Kids will love the hands-on interactive exhibits at the museum.
Exhibitions have been designed keeping kids of all ages in mind.
Displays cover everything from biology, chemistry, physics, and geology. There are activities that parents can do too.
It would be best if you visited the Word Alive Exhibition here. The only indoor rainforest in Charlotte, it's also the most popular among guests.
Make sure to check for special rotating exhibits before coming. You might find something of interest there too.
Restaurants are within walking distance, and parking is convenient at this location.
Although on the pricier side, you will appreciate the thoughtfully designed facility after spending a few hours here.
Tip: Buy the tickets in advance to avoid the long lines at the counter. There is even a QR code on the front door to purchase tickets while you are there.
NASCAR Hall of Fame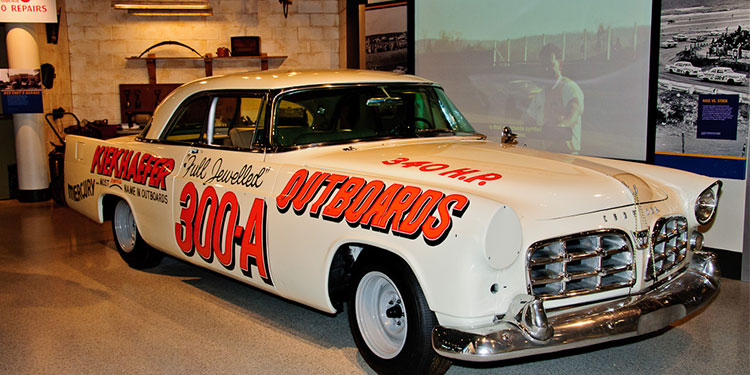 Address: 400 East Martin Luther King Jr. Boulevard, Charlotte, NC 28202 
Opening hours: Open 10 am- 5 pm Monday and Wednesday-Sunday, and Closed on Tuesdays 
Costs: $20-27 $
Located in the heart of the city, the NASCAR Hall of Fame is far from a regular museum.
Established to honor NASCAR's legacy, the Hall of Fame has ten interactive exhibits and a state-of-the-art theater.
There are many things to cover on a day's visit here.
Automotive enthusiasts must take guided tours that provide detailed information about the exhibits scheduled every Monday and Friday.
You can even participate in the pit crew challenge to experience changing tires on a race car.
The racing simulator is also one of the most popular attractions you should not miss.
People of all ages will enjoy spending the day here.
General entry tickets will cost between $20 and 27 dollars. Combo tickets include cafe vouchers and souvenirs.
Even though the prices are steep, you will get your money's worth at the NASCAR Hall of Fame.
The US National Whitewater Center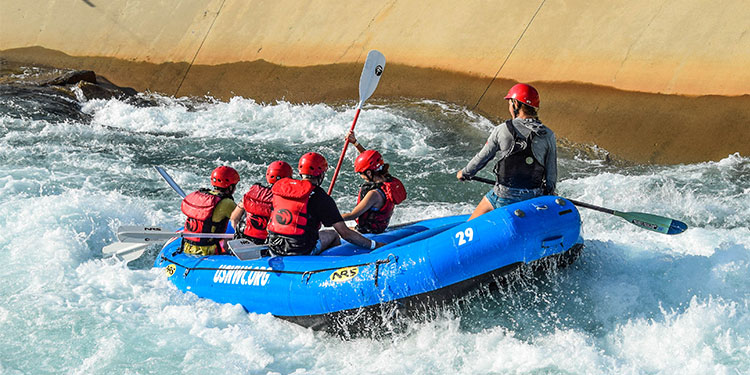 Address: 5000 Whitewater Center Parkway, Charlotte, NC 28214
Opening hours: Open 24 hours. Activities start from 9:30 am till 6 pm 
Costs: Day Pass ($65-75), Annual Pass ($200-250)
A popular attraction for thrill seekers in Charlotte is the National Whitewater Center.
The center occupies 1300 acres of protected land. You can choose from over 30 attractions here.
It also has the largest climbing facility in the region.
But if you're not interested in climbing, the center is well-known for its whitewater rafting and kayaking activities.
Interested ones can even participate in life-saving first aid and water rescue training.
If you have children, check out the field trips, camping, and team-building programs for kids.
The best thing about coming here is that there is no entry fee, and you only pay for your chosen activity.
Did you forget your gear at home? Don't worry, and the Outfitters store will have everything you need.
Are you thinking about where to eat when visiting? You don't need to go far. The restaurant at the center has rave reviews from patrons all over.
If you want a great time, this is the place for you.
Carowinds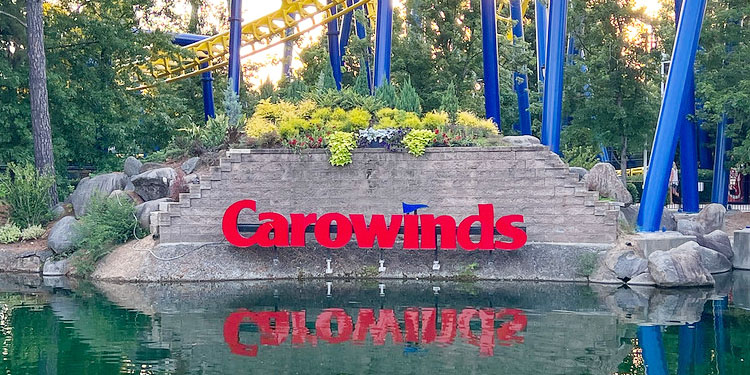 Address: 14523 Carowinds Boulevard, Charlotte, NC 28277
Opening hours: Hours vary by season. The usual opening time is 9 am. 
Costs: Starts from $39.99
If you're looking for amusement parks near Charlotte, Carowinds is the place to go.
With more than 60 world-class rides, you will find everything from a Thrill Zone to a Boardwalk and a Carousel Park.
In addition, there are rides designed for all age groups.
Thrill seekers will have a great time on rides like the Fury 325 and the Intimidator.
Fury 325 is also the USA's fastest, tallest, and longest giga coaster. Wait times for rides are anywhere from 10 to 15 minutes.
You'll easily spend a day here. We recommend you go to the waterpark during the day and hit the rides in the evening.
Ticket prices start from $39.99 for a day pass, and you can get season gold, silver, platinum, and prestige passes.
If you plan to visit here for more than a day or live nearby, getting a seasonal pass would save you a lot of money.
Carowinds is expensive, but coming here with the family will be worth your time and money.
Tip: Visit on the weekend for full ride access, check weather forecasts as conditions can impact rides, and purchase tickets online for savings.
Sleepy Poet Antique Mall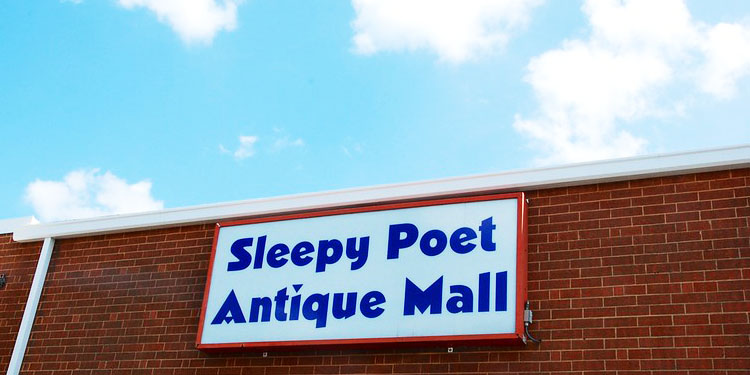 Address: 6424 South Boulevard, Charlotte, NC 28217
Opening hours: Monday - Thursday: 11 am-6 pm, Friday & Saturday: 11 am-7 pm, Sunday: 12 pm-6 pm
Costs: Free entry
A hidden gem in Charlotte, the Sleepy Poet is a haven for collectors of vintage items.
The nostalgic vibe of this place might remind you of your grandma's house.
There are vendors selling home decor, vintage records, clothes, and retro furniture here.
Most items have a unique identity, and you'll be less likely to find these goods anywhere else.
So, prices for these items may be on the expensive side.
That's why remember to visit the discounted booths when you're here.
You might find what you're looking for at a discounted price.
If you want to be at the other end of the booth, you can rent a booth and sell your vintage items here if that interests you.
There's always new stuff coming in at Sleepy Poet. So who knows, you might find that rare jacket you have been searching for all these years.
Charlotte Museum of History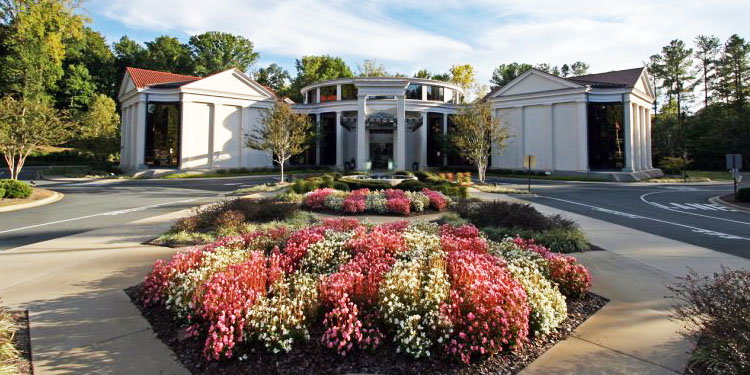 Address: 3500 Shamrock Drive, Charlotte, NC 28215
Opening hours: Monday - Thursday: 11 am-6 pm, Friday & Saturday: 11 am-7 pm, Sunday: 12 pm-6 pm
Costs: Adults-$10, Seniors (62+) and Children (6-17): $7, Guided Tour: Extra $8
A perfect place to learn about Queen City, the Charlotte Museum of History is situated in a picturesque setting suitable for family picnics.
The main attraction of the museum is the Alexander Rock House.
Built-in 1774, the house is the last standing home of Hezekiah Alexander, who wrote North Carolina's first constitution.
Although exhibits are limited, you will have extra activities to do on the grounds.
For example, the American Freedom Bell is present here. It's the largest of its kind, and guests can ring the bell during their visit.
After the tour, you can picnic with your family at one of the tables in the picnic area outside.
Tickets to the museum are reasonably priced, and if you want a complete experience, you must get the guided tour that will set you back an extra $8. Parking here is free.
We suggest you plan a 3-4 hour visit if you plan to come with family.
The Spectrum Center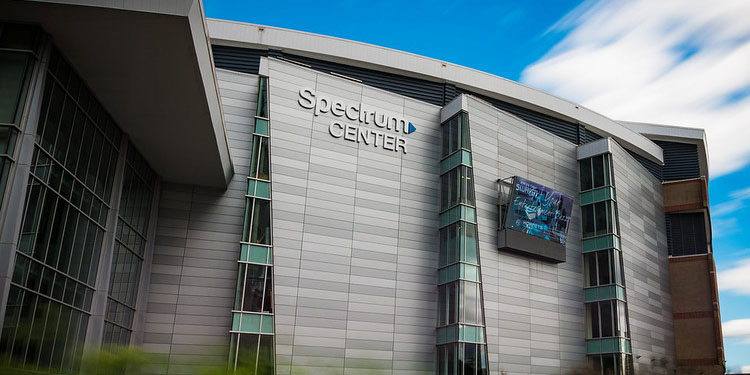 Address: 333 East Trade Street, Charlotte, NC 28202
Opening hours: Depends on the event.
Costs: Depends on the type of event.
If you want to attend live events in Charlotte, the Spectrum Center is the ideal place.
The indoor arena, primarily a venue for basketball games, is also famous for hosting concerts and shows.
Home of the Charlotte Hornets, you can catch one of their games when you're here.
Even if you aren't a Hornets fan, attending a basketball game can be fun with friends and family. Fanfare during sporting events is a thing to experience.
You might even bump into a few celebrities on your way there.
However, if you're not interested in sports, you can go through the events list on their website to catch your favorite artist performing at the arena.
There's ample off-street parking here and plenty of concession stands with various options.
Some things to remember are that they do not do cash transactions. It's either cash or online payments.
Also, leave your bag in the car. Only carry essentials like your phone, ID, and credit card. This will save a lot of time during security checks.
If you're looking for accommodations, there are SpringHill Suites by Marriott, Courtyard by Marriott, and The Holiday Inn Center City nearby that you should check out.
Mint Museum Uptown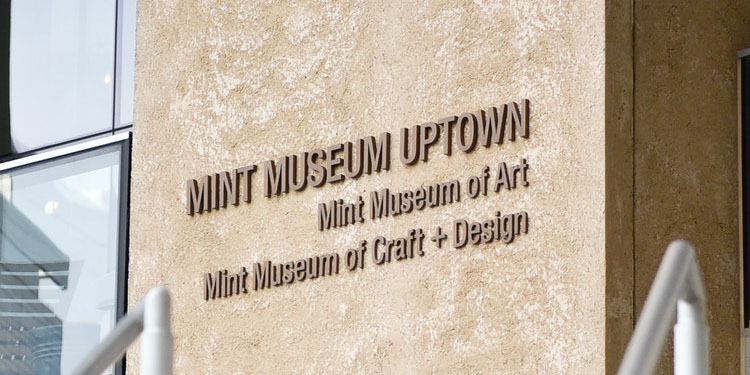 Address: 500 South Tryon Street, Charlotte, NC 28202
Opening hours: Closed on mondays, Hours vary according to the day. 
Costs: $15 for adults, $10 for college students, $10 for seniors, Free for Child (ages 0-17), Free entry every Wednesday from 5 pm-9 pm. 
The first art museum in North Carolina, the Mint Museum, is a must-visit for art enthusiasts.
It has two locations in Charlotte, one in Uptown and the other in Randolph.
The $15 tickets will be good for 2 days and can be used for both locations. You can even get free tickets on Wednesdays from 5 pm-9 pm.
Spread across 5 floors, the location in Uptown includes fashion art, modern art, furniture art, glass art, ceramic art, wood art, impressionist paintings, watercolors, and more.
You should not miss their American art exhibition of unique works from across the Colonial Era till the Second World War.
There is a collection of artworks done on paper, sculpture, prints and photographs.
You'll easily spend a few hours here admiring artworks created by the finest artists in the world.
The Blumenthal Performing Arts Center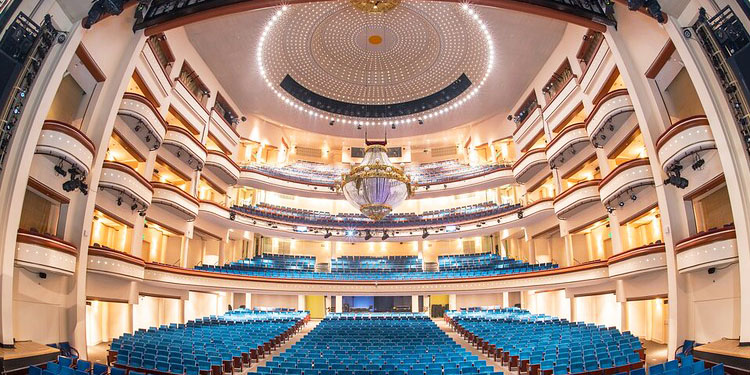 Address: 130 North Tryon Street, Charlotte, NC 28202
Opening hours: Monday - Saturday, 10 am-6 pm
Costs: Depends on the shows. $10 parking charge.
The Blumenthal Center, which houses the Belk Theater, Booth Playhouse, and Stage Door Theater, is Charlotte's finest location for dance, music, performing arts, and theater.
Reviewers have praised the venue for its comfortable seating arrangements, multiple food and beverage concessions stands, and clean toilets.
The cost of tickets varies according to the type of show and ticket. Look through the schedule of events to find a show you might enjoy.
You could plan a special night out with your partner to see a Broadway performance or go to a family-friendly event. At the center, there is something for everyone.
You might even get to watch some of your favorite stars leading the shows. It will be with you for a very long time.
Southern Charm in a Modern Setting
A good blend of old and new, Charlotte will leave a lasting impression on visitors. You'll experience hospitality in a modern city like Charlotte.
This is one of the reasons why many have chosen to settle here. You might just think about it if you experience it for yourself.
Now, time to plan that trip. Charlotte might be a good option if you're thinking about a wholesome outing with the family.
Note: Keep in mind that information about travel can change quickly. To make sure your trip is fun and safe, we encourage you to double-check official websites and government/travel advisory sites for the latest information on travel restrictions, entry requirements, and safety measures.