When you're caught between breakfast and lunch, there's one meal that fits the bill perfectly: brunch! Whether it's for business meetings, social catch-ups, or some much-needed alone time, you can't go wrong with a well-planned brunch.
Visitors can surely find many things to do in Boston; wandering around the museums, following the freedom trail, or learning the city's culture—one can never go out of ideas.
While planning for your next outing or looking forward to taking a day off and just relaxing, try out these popular brunch spots for a good taste of the city!
Best Brunch in Boston
The Friendly Toast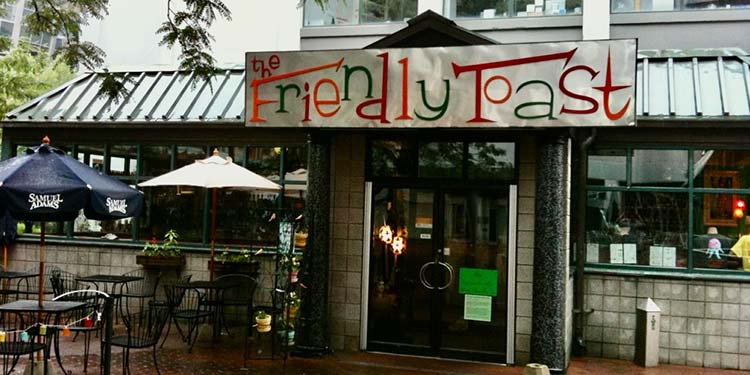 Location: 35 Stanhope St, Boston
Brunch hours: 8:00 am - 3:00 pm (Mon-Fri), 8:00 am - 5:00 pm (Sat & Sun)
Contact: (617) 456-7849
The Friendly Toast is a vibrant, family-friendly, quirky-looking enjoyable brunch spot for all the adults and children in Boston!
A popular brunch restaurant with a creative menu featuring both savory and sweet, delicious breakfast items that can be made on your preference for non-gluten or vegan dishes.
It is a classic breakfast place that serves everything made from scratch all day long—any time of the week.
The restaurant also offers a one-of-a-kind beverage menu from fancy liquor to Iced coffee, anything, when combined, is best with your food is available.
If you happen to be around the area looking for a hearty American brunch, make sure you check out this place—it'll be worthwhile!
Grana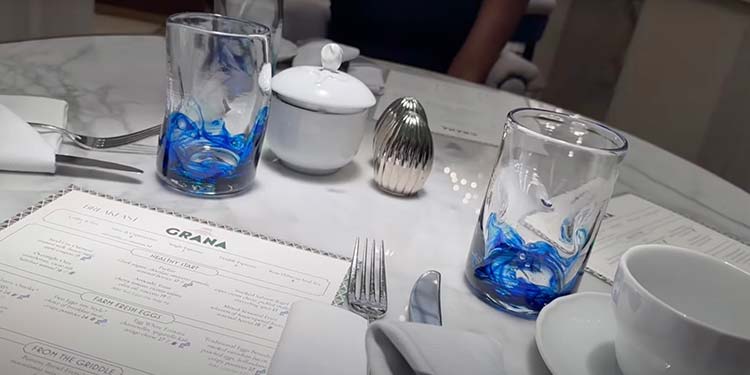 Location: 250 Franklin St, Boston
Brunch hours: 11:30 am - 2:30 pm (Sat & Sun)
Contact: +1 617-956-8765
Perfect for posh weekend brunch—Grana is a beautiful and luxurious Italian restaurant with a European cozy vibe.
The Elegant spot is nestled in the majestic lobby of the former Federal Reserve Bank.
Authentic Italian family-style meals for breakfast, lunch, and weekend brunch are served by highly professional and courteous servers, making the experience more pleasant.
However, an ideal time to plan a visit might be during the weekends as the menu options are even better for the two-day-a-week exclusive brunch.
The grand hall is immaculately furnished with lush velvet furniture and beautifully decorated by a world-class art collection.
Note: Making a reservation if not earlier than a week, a couple of days in advance is suggested for people who wouldn't want to miss a chance to lose a table!
Reelhouse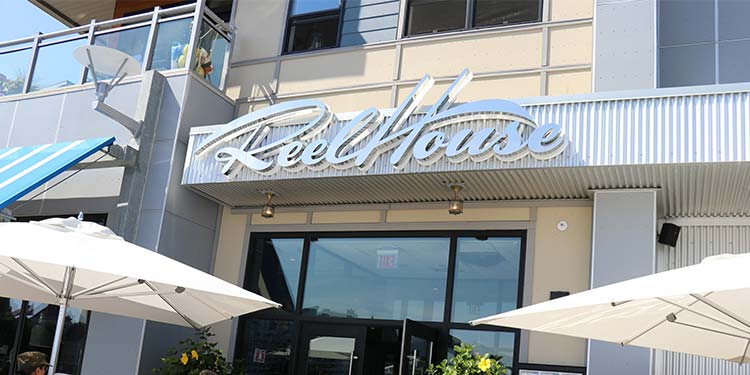 Location:  6 New St, Boston
Brunch hours: 11:00 am - 1:00 pm (Every Day)
Contact: +1 617-895-4075
Delicious brunch, good vibes, and an outstanding view—What more to ask for?
Reelhouse, a restaurant situated on the harbor side of the city is a refreshing and relaxing place open for brunch on the weekends!
A classic selection of Soups, Salads, Charcuterie Board, Lobster rolls, Rice Bowls, and many more tasty items are available on their brunch menu.
The atmosphere is uplifted by the environment, their ambiance, and the music they play in the background.
You can walk in or make reservations in advance for a larger group.
Krasi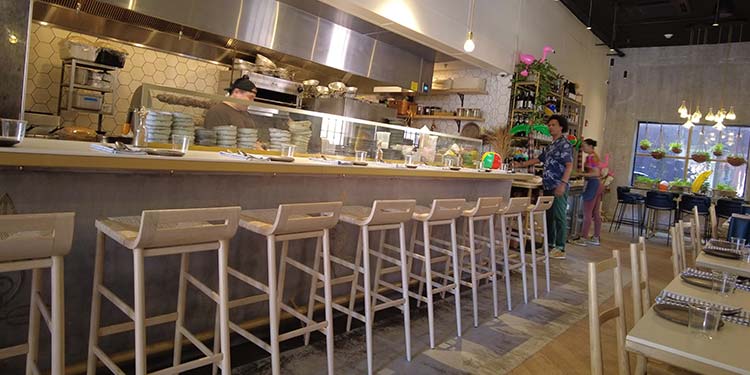 Location: 48 Gloucester Street, Boston
Brunch hours: 10:00 am – 3:00 pm (Sat & Sun)
Contact: 617.536.0230
Krasi is one of the best restaurants in the city that offers a wide variety of contemporary Greek specialties.
Serving brunch on the weekends; Krasi is a beautiful restaurant to devour some tasty breakfast and lunch items.
You cannot find a single wrong choice of dishes here—every one of them is full of flavors that are made thoroughly and presented sophisticatedly.
Their main goal is to make the experience for the people comfortable, enjoyable, and memorable!
If you're visiting Krasi for brunch, lunch, or dinner, you're in for a great time!
Cafe Sauvage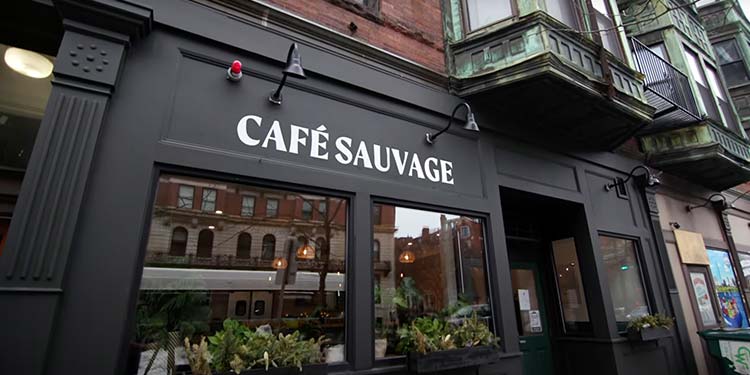 Location: 25 Massachusetts, Ave, Boston
Brunch hours: 8:00 am - 3:00 pm (Fri), 9:00 am - 3:00 pm (Sat & Sun)
Contact: +1 (857) 226-4799
Indulge in the taste of France at Café Sauvage!
Anything on their Modern French cuisine-inspired menu from as basic as an Avocado Toast and Acai Bowl to the café's specials, French BLT to Crispy Chicken Sandwich—you're going to love them all!
The Parisian-style café is a beautiful small and cozy place and has a nature-centric vibe with lush greenery all around.
You can find the workers here communicating in French as it is based on French-speaking only.
Lincoln Tavern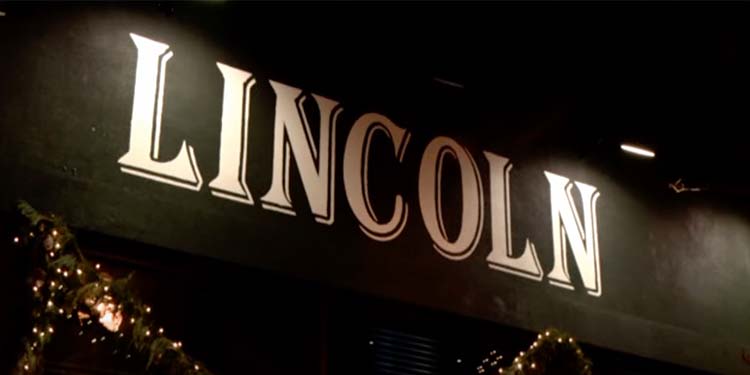 Location: 425 W Broadway, Boston
Brunch hours: 10:00 am - 3:00 pm (Mon-Fri), 9:00 am - 3:00 pm (Sat & Sun)
Contact:  (617) 765-8636
Situated in one of the best neighborhoods in Boston, Lincoln Tavern is a Modern American Restaurant serving comfort dishes and an extensive drinks option for a decade now!
Known for having a good amount of menu options and great portions with their sides, their menu also has some unique dishes to offer that won't disappoint either.
The brunch menu has all including Oysters, Smoked Salmon Toast, Lincoln Sliders, Yogurt Parfait, and many more.
Lincoln Tavern is incredibly lively with an amazing ambience and live music that can just lift your mood!
The place before anything was an old warehouse from where you can still catch the rustic and comfortable atmosphere all around.
Likewise, their outdoor space is also enjoyable as you can see great scenes all around.
Note: They serve you with some scrumptious blueberry beard to enjoy while you await your meal, make sure you don't pass on that!
Monument Restaurant & Tavern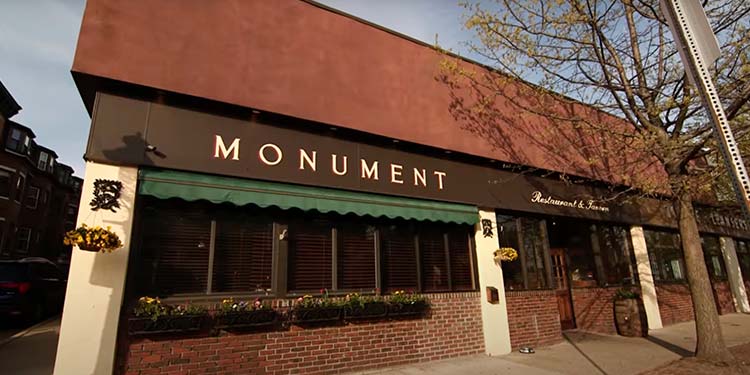 Location: 251 Main St, Boston
Brunch hours: 9:00 am - 3:00 pm (Sat & Sun)
Contact: 617.337.5191
Monument Restaurant & Tavern, also known as the 'Best brunch in Charlestown' is a great place to stop by for brunch as well as lunch and dinner!
They serve delicious brunch every Saturday and Sunday from pancakes to sandwiches.
It is a beautiful place with a high ceiling, red brick walls, and all-wood booths and tables creating a warm and cozy vibe to it.
The restaurant is popular for its delicious wood-fired pizza—a great option for all pizza lovers!
Lots of vegan brunch options are available as well as gluten-free and kid-friendly meals making it a perfect place for everyone with different preferences.
Strega North End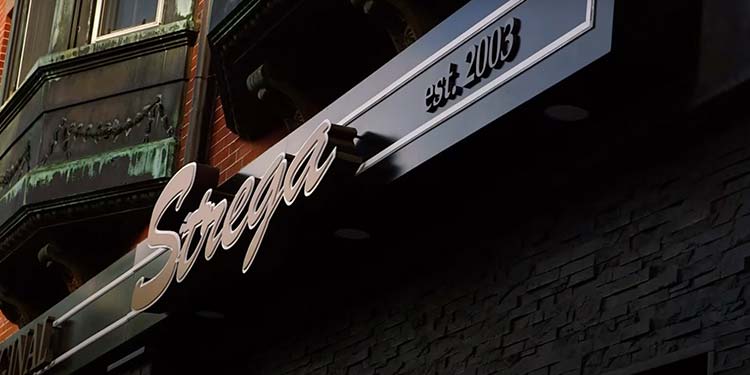 Location: 379 Hanover Street, Boston
Brunch hours: 11:00 am - 2:30 (Sat & Sun)
Contact:  617-523-8481
The charming vibe of Strega is one opportunity you cannot miss out on!
An Italian restaurant with delicious food options, attractive décor, wonderful hospitality, and a go-to for Celebrities as well.
'Prosciutto Benedetto', 'Rocco's French Toast', and 'Fritata di Funghi' are some of the top-notch brunch meal options available.
Known for being Boston's Most Coveted Table Reservation it is difficult to get a seat, however, the experience is worth all the efforts to get in!
Publico Street Bistro & Garden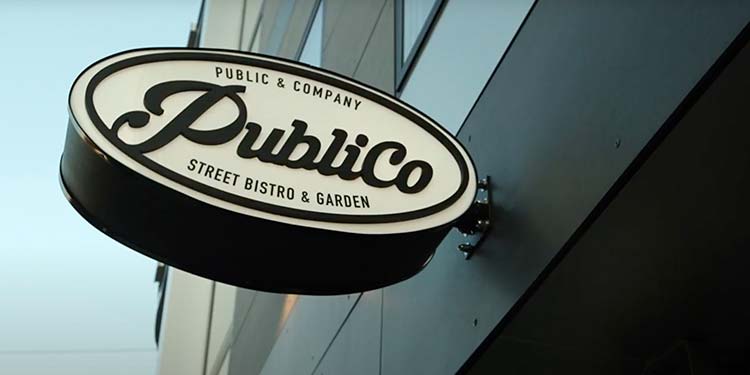 Location: 11 Dorchester Street, Boston
Brunch hours: 10:00 am - 3:00 pm (Sat & Sun)
Contact: 617.622.5700
Publico Street Bistro & Garden is a beautiful place to chill and hang out for a good brunch.
The Bistro offers a selection of delicious combinations of flavors from Europe, South, and North America along with refreshing drink selections from all around the world.
Using the season's fresh ingredients straight from the local farms, they serve you tasty meals from Salads to Sandwiches.
The chic and cool space has a wide variety of unique vibes that can be found in each of the corners—dining space, bar, and courtyard.
It also has a gorgeous atrium-garden bar and the whole place is decorated gracefully, making it a perfect place for a romantic date for couples!
Cafe Bonjour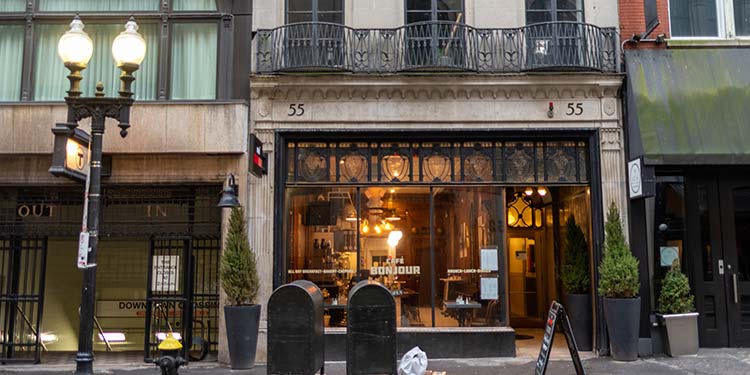 Location: 55 Temple Place, Boston
Brunch hours: 7:00 am - 3:00 pm (Every day)
Contact: 617.779.0062
Looking for a rather light, calm, and easy-going choice of spot for your brunch? You're welcome to Café Bonjour!
Having options from all the classic combinations of breakfast and lunch items, you can surely enjoy a good meal here that happily serves brunch every day.
The vibe is brilliant, and the service is outstanding; it is clearly one of the popular brunch cafés in Downtown, Boston
Café Bonjour uses the best quality ingredients that are sourced organically and consciously works towards sustainability.
Their goal is to provide a same-taste experience for all the visitors so plant-based, gluten-free, vegetarian, paleo, and keto options are available for all the items on the menu.
In this way, everyone can enjoy the fresh variety of meals that Café Bonjour has to offer!
Let's Get Brunching in Boston!
Spend your weekends brunching in any of the suggested places in Boston for a delightful start to the day.
If you don't want to limit your brunch options to Saturdays and Sundays only, not to worry!
There are many restaurants in Boston that happily welcome their customers all days of the week.
Happy Brunching!
Note: Keep in mind that information about travel can change quickly. To make sure your trip is fun and safe, we encourage you to double-check official websites and government/travel advisory sites for the latest information on travel restrictions, entry requirements, and safety measures.