Are you feeling like an anxious parent who is already stressing out about planning a trip with the Kids? If your destination is Boston—don't worry, we've got your back!
There are plenty of fun and educational activities that you can enjoy with your little ones in the city without pushing them to join in.
Although traveling with children is somewhat always a tough job; no matter how big they are or how much you want to act carefree in the situation, one of your eyes is constantly fixed upon them.
While you have your eyes on them, the city will make sure the children will have their eyes on it.
Things to Do in Boston With Kids
The endless choices of adventures offered by this family-friendly city will leave you in a dilemma if you're only here for a short time.
We've got the list ready for children of every age, do what you feel like or in this case—what your kids feel like!
Rose Kennedy Greenway
spin, splash and seek
Location: Atlantic Ave &, Milk Street, Boston  
Opening hours: 7 AM- 11 PM
Entry Rates: Rides starting from $4
We all know parks are children's favorite spots to run, play and relax. But what if I say, this park is unlike any other regular park?
Besides the well-designed playground, your kids can also take an amusing fun ride in the one-of-a-kind Carousel.
Interestingly, they can pick their unique rides which are hand-carved as animals, birds, and marine creatures found in the city.
You can take them to the park's Rings Fountain where you and your little ones can get all splashy surrounded by multiple fountain jets.
And when they're done with all the playing, you will find food trucks and restaurants to feed their hungry tummy.
Or else, you can just take a walk around the 1.5-mile-long Rose Kennedy Greenway; you and your kids are going to love this place!
The Mapparium
gaze all around the world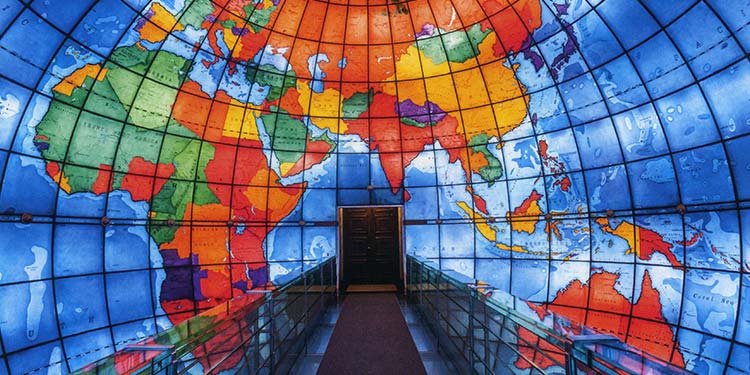 Location: The Mary Baker Eddy Library 
Opening hours: 10:00 am-5:00 pm (Opens at 11:00 am on Sundays)
Entry Rates: Not required for children up to 17, $6 (Adults)
The children won't be expecting to come across an interesting walkway-a bridge made of glass, that leads them to a huge earth globe-shaped room when they're told they are entering a library.
Once you're inside, you might have to take a moment to catch your breath; made of stained glass all across the ceiling, the illuminated room will leave you stunned for a minute.
The air is filled with acoustic soothing music, the narrator's clear audio, and the sound of your little ones' voices echoing. The constant shifts of color inside create a mesmerizing 15 minutes that will amaze your children.
It was constructed in 1937 so you can show your kids the noticeable changes in the map as of now to the way it was almost a century ago! You can turn this visit into a little quiz to boost their geography knowledge.
Unfortunately, you aren't allowed to take pictures inside the dazzling room. You'll have to make sure your kids keep it tight in their memory.
Boston Public Garden
swam around like a swan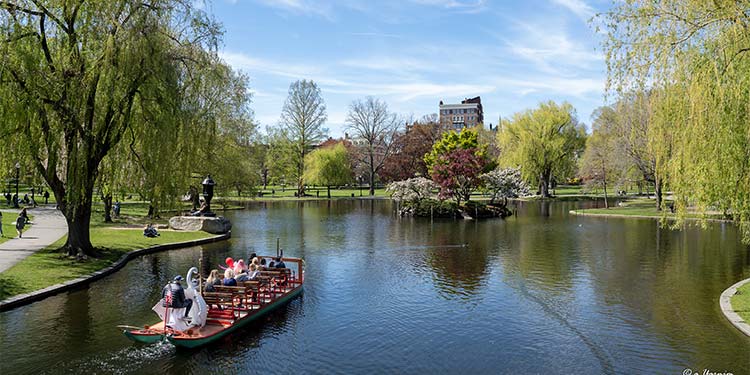 Location: 4 Charles Street, Boston  
Opening hours: 6:00 am-11:30 pm 
Entry Rates: $3.00 (ages 2-15), $5.40 (Adults)
Not every child likes to wander around gardens and parks without having something amusing they get attracted to. Likewise, Boston Public Garden has a fun spot right in the middle of the garden they will enjoy.
Boston Public Garden is famous for having Swan boat rides which make the garden sights even better and more relaxing. Your little ones can hop on the Swan boat and go for a peddling ride.
The one-of-a-kind experience which was specially built for children's amusement will make your kids go holly jolly on the pond!
LEGOLAND Discovery Center
tiny people meet tiny world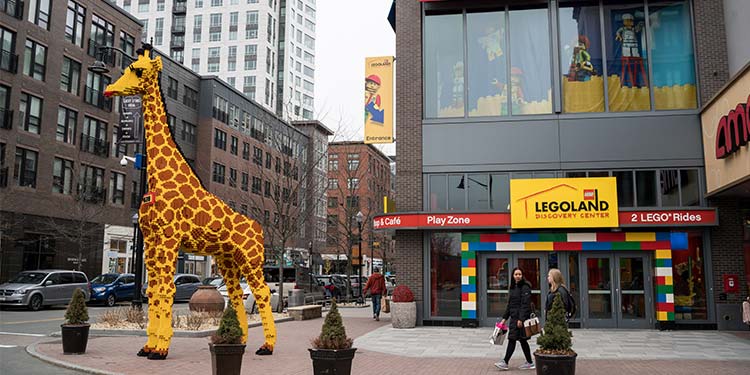 Location: 598 Assembly Row, Somerville
Opening hours: N/A
Entry Rates: $27.95 (Free for ages under 2)
LEGOLAND is close to being entitled as heaven for younger kids but can be enjoyable for teenagers and young adults who grew up playing with the building-block toys.
Whereas the discovery center is supposed to play a smaller role in everything available in the LEGOLAND, it tries to provide the same level of fun in an indoor setting.
The whole place is inspired by the blocks and has many sculptures of characters made from the toys which is a great attraction for the kids.
Many engaging rides and activities available at the center can keep them focused and happy throughout the day.
Let your kids watch the 10-minute-long movie and experience the 4D fun of it. You can also find reasonable lunch options inside the center for your kids when they'll run low on energy.
Don't miss out on an opportunity to sit next to your kids and help them design their creation-it won't take them too long to grow out of these!
Note: Meanwhile, it is under construction; they are coming up with newer installments and additions to the center. The official announcement declaring its reopening is as of Spring 2023. Hopefully, you can visit with your children when you're here next time!
Faneuil Hall Marketplace
food and fun- all in one!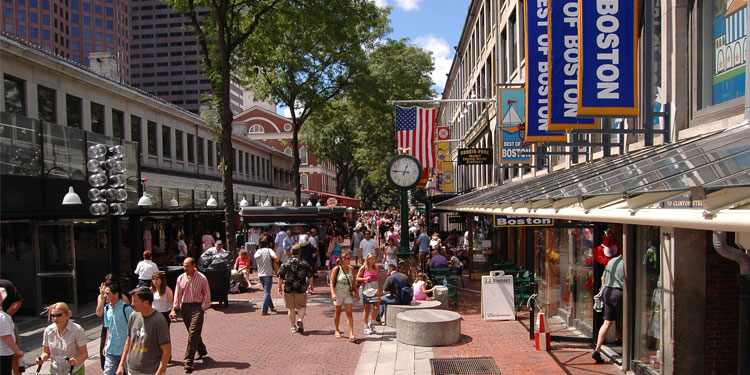 Location: 1 S Market Street, Boston
Opening hours:  10:00 am - 7:00 pm 
Entry Rates: Not Required
Taking your kids to a crowded market full of food, music, and people could be quite a challenge. Nevertheless, the kids will have a great time in the Marketplace if you let them explore it well but under your guidance.
Faneuil Hall Marketplace has tons of carts and stalls where you can get your kids something as a keepsake of the place.
Children can get amused in such places and also get inspired by all the local marketers coming together in one place to sell their products.
A variety of food and beverage options makes it easier for the whole family to indulge in what they prefer all on the same ground.
Boda Borg
on a mission to accomplish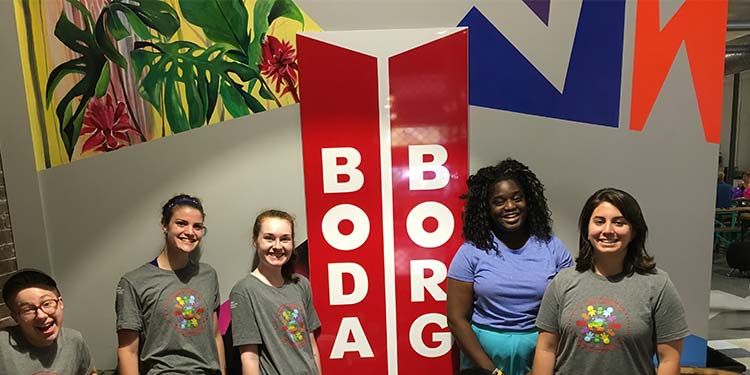 Location: 90 Pleasant Street, Malden 
Opening hours: 10:00 am - 10:00 pm (5:00 pm-10:00 pm on Mondays) 
Entry Rates: Starts at $28
If your kid is 7 or older, spending a fun day at Boda Borg will be quite impressive. Boda Borg is a unique and interesting indoor experience that compels an individual to think outside the box.
Altogether, 19-22 different themed challenges in form of quests can be found that you are supposed to solve using both the body and the brain.
The escape-room-like activity is even more fun when you have more than 3 people on your team whom you can laugh with in a stressful situation to ease down.
Your children will love this experience if they are growing into solving problems and challenges in their normal lives.
Boston Children's Museum
learning together is fun too!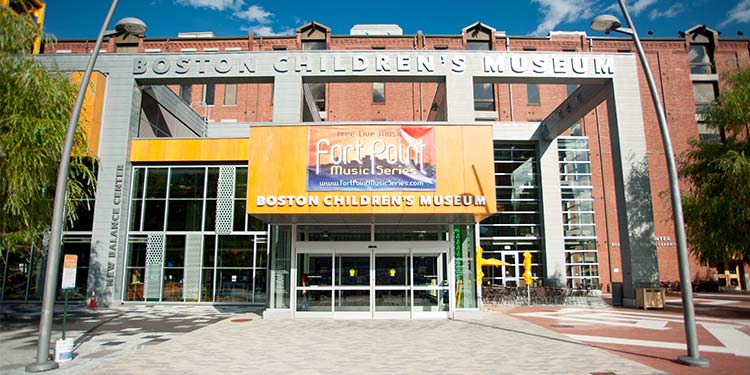 Location: 308 Congress Street, Boston 
Opening hours:  9:00 am - 12:00 pm, 1:30 pm - 4:30 pm (Closed on Mon and Tues)
Entry Rates: $20
Museum can be a fun idea for kids, it is a great place to learn and get inspired but even more when it has something that interests them.
Boston Children's Museum is unlike any other historic or science museum the kids are usually taken to. It is an interactive, interesting, and engaging place full of hands-on activities, play rides, and fun exhibits to see.
Your kids can enjoy every corner of the three-story building; every kid can find something appealing in the spacious rooms.
Grab the opportunity to bond with your kids by engaging in the activities alongside them, or by simply encouraging their participation.
The museum is targeted at children aged 2-10, but mostly, it is the perfect and ideal playing spot for your toddlers!
New England Aquarium
for the love of aquatic animals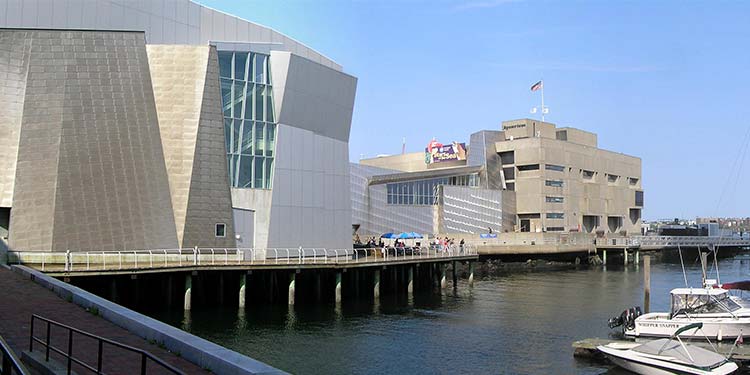 Location: 1 Central Wharf, Boston 
Opening hours: 9:00 am – 5:00 pm
Entry Rates:  $34
The Giant Ocean floor-to-ceiling tank showcases a variety of peculiar species from balloonfish to loggerhead sea turtles and also a rare blue lobster.
The exhibit can make a great place to explore and know the marine creatures closer for any age group of children leaving them awe-struck!
Visiting during the morning hours would be an ideal time if you're planning for a more laid-back and calm tour. You and your kids can also experience animal encounters.
The younger ones may be more than fascinated to practice some maths by impressively counting the fish inside the tank (which can go likely up to 2000!).
Museum of Fine arts
think outside the box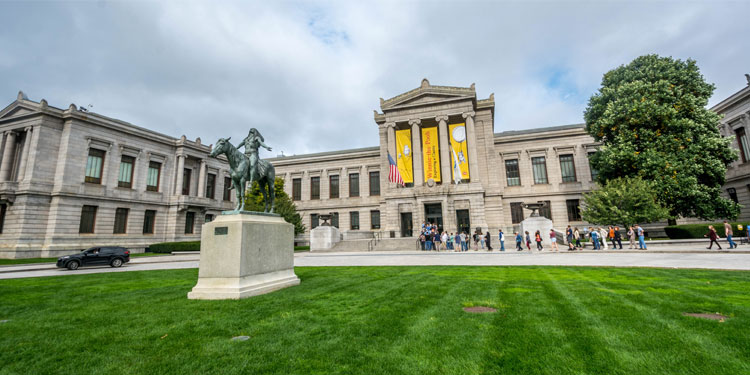 Location: 465 Huntington Ave, Boston 
Opening hours: 10:00 am – 5:00 pm (closed on Tuesday)
Entry Rates: $27
If your child is into arts or you want them to explore newer things, I encourage you to take them to this museum full of interesting artworks.
The museum is so huge and content, it might take you and your kids forever if you try to go watch around every corner; every single displayed piece is so intriguing and eye-catching it will take some time to move on from one to another.
This place usually gets crowded at mid-day so if you want to avoid a crowded space to enjoy the arts without any hassle, try to get there in the morning or the evening.
For mothers with babies, the nursing room and baby-changing areas in the museum can be of great help.
Stone Zoo
ROAR! there goes the king of the jungle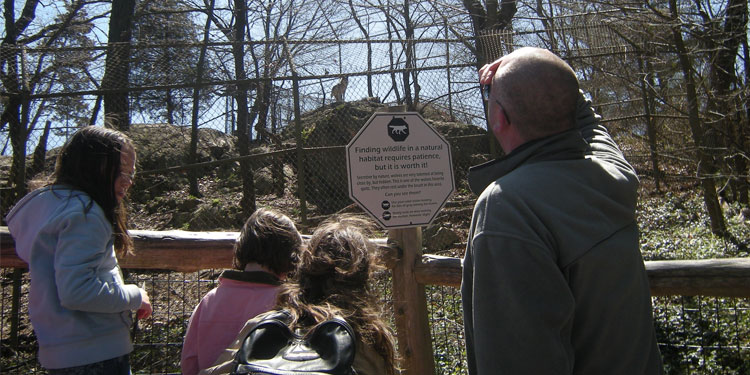 Location: 149 Pond St, Stoneham
Opening hours: 9:00 am - 4:00 pm 
Entry Rates: $4
Children love animals! They do; it is one thing they find very amusing to watch, whether it be a gorilla or a lion.
Stone Zoo has its own unique style of sheltering animals and bird species on a 26-acre land. Relatively, it's one smaller zoo but a spacious one for the kids to run around and enjoy watching the species in their habitat.
It's a great destination for an outing with the kids. They can find many ways to get entertained here; spotting their favorite animal being the highlight of the day.
Flamingos and snow leopards are some of the famous sights of the zoo one will not regret witnessing in the zoo!
The kids can even have their moment of fun in the playground or get on the carousel and take jungle fun rides.
Boston Tea Party Ships & Museum
aye captain, let's sail the ship back in time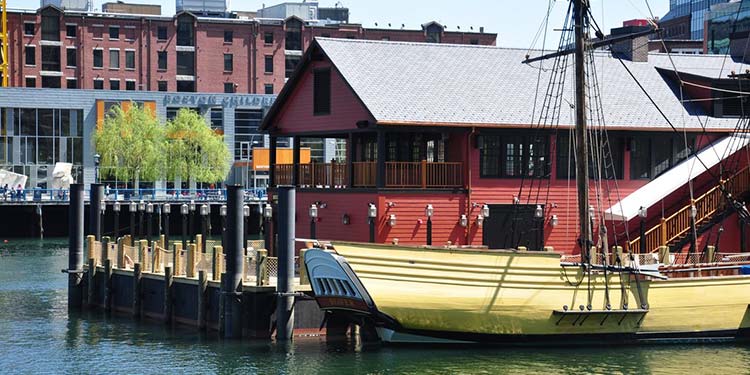 Location: 306 Congress Street, Boston
Opening hours: 10:00 am - 4:00 pm 
Entry Rates: Starts from $32
A little bit of history for the kids to make the place feel worthy of remembering its old glorious days.
Boston is no stranger when it comes to having seen many historic events take place in the city. Likewise, Boston Tea Party Ships and Museum takes you on a fun and educational ride to know history better- even more fun for the kids, they have casts performing live throughout the tour.
With an eye-catching beautiful harbor view, you can spend a great day in the Museum with your little ones and learn something new.
Mugar Omni Theatre
bigger screen equals big-time fun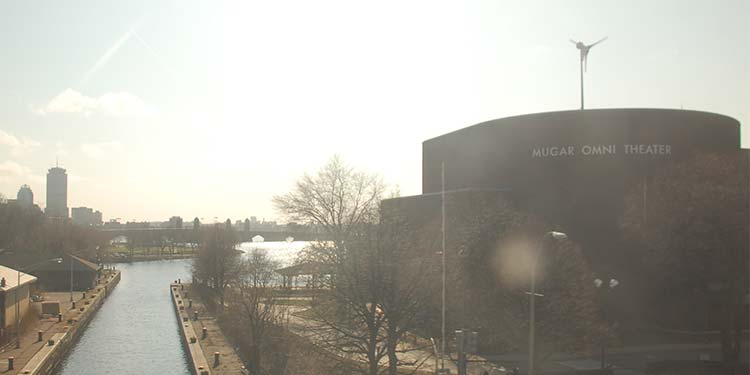 Location: 1 Museum Of Science Driveway Mugar Omni Theater, Boston
Opening hours: 9:00 am - 5:00 pm
Entry Rates: $8 (for ages 3-11), $10 (Adults)
An IMAX experience can never go wrong! If your kids are interested in watching movies then you must take them to this theatre!
Your children can watch informative films and documentaries on the big screen while relaxing on comfortable seats.
Before or after the movie, you can take them to the Museum of Science right outside the theatre which can be an interesting and knowledgeable experience for kids of every age.
Kids Will Find Ways to Have Fun Anyhow, Anyway
The kind of spirit children hold is unlike yours and mine. It is impossible to tell a kid to do what you want them to do. It mostly should go according to their will as they have the whole world to explore. Remember, they will run, fall, and get hurt but they'll never stop.
However, while they still depend on you to take them to new places, you are responsible for the kind of things they will be exposed to. Boston has many places you can take them to but choosing family-friendly sites should always be your priority.
While on a vacation letting your kids know what places the city has for them and visiting the ones that interest them the most will be worth seeing the happiness on their faces!
The kids will have a great time in Boston; the city is very welcoming and open where they can do what they like to do. You can look forward to a memorable bonding trip with your children.