When it comes to the most talked about city in Massachusetts—you will have tons of things to do rather than stroll around and do sightseeing (which in this case, is also not a less likely thing to do either!).
Boston is a city of history, art, and culture. A city that is truly known for its energetic and charming aura which makes it irresistible not to add a visit to the bucket list.
Having numerous historical attributes for being the city of many 'firsts', it is highly regarded as one of the best cities in America.
You will have a sensation of satisfaction the moment you land in Boston; from the Airport to Hospitals, it is well-known for maintaining its top-notch and highly accessible facilities.
As the mid-autumn weather makes it easier to tour around without any hassle, visits around June to October would be ideal to spend your time perfectly.
Whichever time you plan the trip, we are here to guide you through some must-dos and must-go-to-places when you're in Boston—regardless of any season.
One can easily find many ways to learn so much from the city itself!
Things to Do in Boston
Everything and anything starts to look fascinating and amusing to you once you get out there.
It is only a matter of time before you realize the best way to explore this city is through your own eyes.
Explore so much that you get lost—in your thoughts, not literally (in the worst case, Google maps will have your back anyway!)
Fenway Park
catch the 'spirit of the sport'!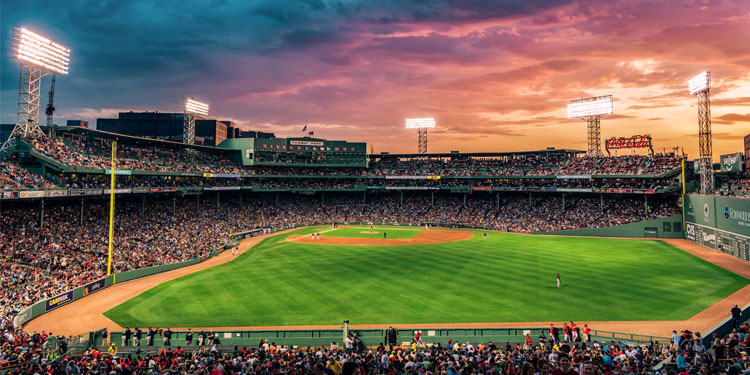 Location: 4 Jersey Street, Boston
Opening hours: 10:00 am – 5:00 pm (non-game days)
Tour Rates: $20 (Adults), $14 (ages 3 to 15)
Whether you are into sports or not, Fenway Park is a must-go place for every tourist. It is the home to the City's American League team Red Sox.
You'll get to witness the craze if you get lucky to go watch a match that's happening. Otherwise, go for a 60-minute guided tour of the oldest baseball stadium.
You'll also get a glimpse of many historic moments that took place in the very stadium. The Lone Red Seat, the Green Monster, and Pesky's Pole to name a few, which highlight some of them.
Museum of Fine Arts
get lost in your thoughts and the artwork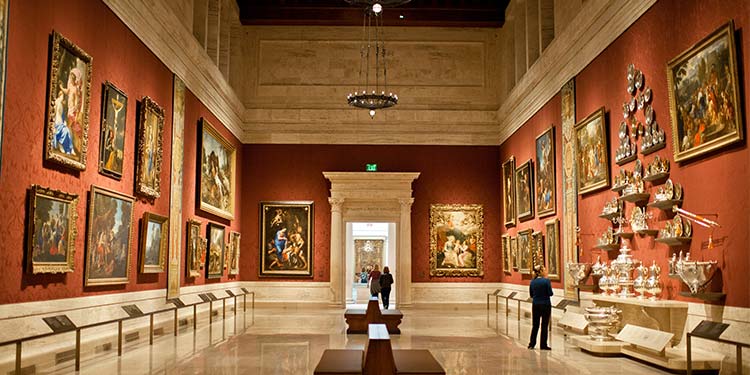 Opening hours: 10:00 am – 5:00 pm (closed on Tuesday)
Location: 465 Huntington Ave, Boston 
Entry Rates: $27 
You should visit this comprehensive art Museum which has about 500,000 works of art. All of the artifacts have been carefully protected and preserved for more than a Century!
This gallery can truly be a great place for inspiration for all ages. Every person has their own take on every art; you might have plenty of learnings to do from them.
Some of the oldest and greatest works of art including 'Postman Joseph Roulin', 'Goddess Taweret' and 'Seated Giant' are displayed in the beautiful Neoclassical Architecture style gallery.
Freedom Trail
know the city better, close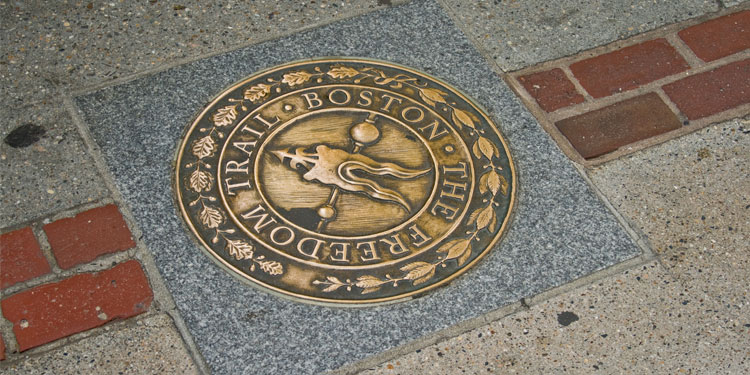 Location: The trail starts from 139 Tremont Street, Boston
Opening hours: 9:00 am – 5:00 pm
Entry Rates: Not Required 
Takes 90 to 120 minutes, this 2.5-mile trail is a path leads you to a total of 16 historical sites and attractions. Here's a little walkthrough of the spots this trail will guide you to:
You first arrive at a beautiful public spot—Boston Common which is also the oldest city park in America having historical changes throughout the decades.
Built after the Revolutionary War, Massachusetts State House is where a few of the most powerful events have taken place. Next, comes the 217 ft tall Park Street Church which is known for its major role in social justice and human rights.
Granary Burying Ground is the next stop you'll reach where many renowned citizens of America have been buried underneath. Likewise, King's Chapel Burying ground is also on the go which is the oldest English Burying ground.
Right around the corner, you'll see the site of America's first public school Boston Latin School which was built in 1635. The statue of the reputed figure Benjamin Franklin Statue is also an attraction that stands in the original location of the schoolhouse.
Then you will reach the Old Corner Bookstore which is the oldest commercial building and remains a historic residence and commercial space.
Old South Meeting House was where the Tea Party of Boston began. The largest building in 1773, became the gathering hall for thousands of colonists.
Built-in 1713, the Old State House is a historic building and the oldest public building to have survived many horrific events. Right opposite it is the Boston Massacre Site where five men lost their lives which was the major event that led to the Revolutionary War.
While you cross from the Boston Massacre Site, you land next to the 'home of free speech' Faneuil Hall and Marketplace always filled with shops, street performers, and lots of people.
Then you reach the Paul Revere House which is the oldest historic site that is an actual home built in 1680, and the Old North Church built in 1723 which is the oldest Church.
The merchants, artisans, and craftspeople who lived in the North end are buried in the Copp's Hill Burying Ground. Then comes the fascinating oldest commissioned warship USS Constitution which was launched in 1797.
Lastly, the trail ends at the famous Bunker Hill Monument which is 294 steps higher with a rewarding top view of the city.
This guided walk will be a great start if you want to know the city better. Just the right amount of history you might need in one go!
Quincy Market
feel the Buzz Around the oldest Marketplace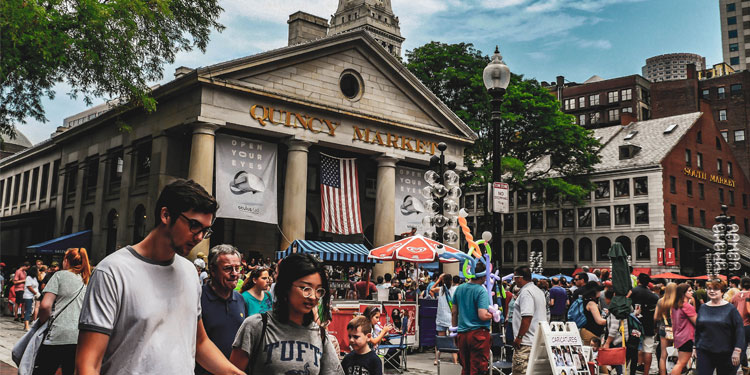 Location: 206 S Market Street, Boston
Opening hours: 10:00 am – 9:00 pm
Entry Rates: Not required 
Visiting one of the busiest, most popular and loved markets will be a great exposure for you to know this city even more.
The place is filled with pushcarts, tons of stores, and restaurants. An interesting mix of exclusive brands to local brands can be found here.
You can join the fun with your friends and family or even alone as chances of getting into some good conversation with people you've never met before are always high in this mixed crowd.
All the street performers, entertainers, and their amused audiences all over the place make the energy around contagiously fun!
New England Aquarium
go blue with the marines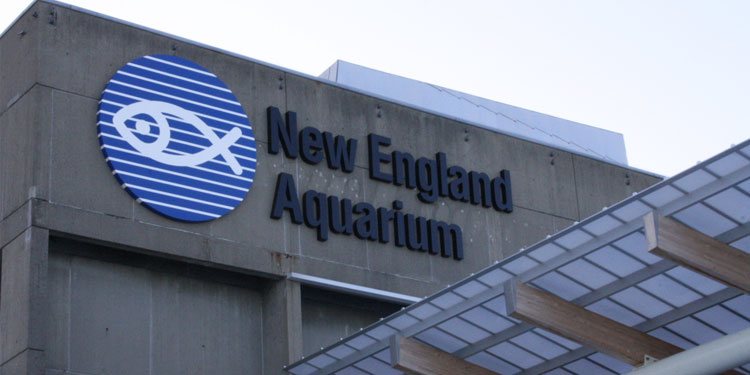 Location: 1 Central Wharf, Boston  
Opening hours: 9:00 am – 5:00 pm
Entry Rates: $34
Witness sharks, sea otters, turtles, corals, and many more all in the Giant Ocean Tank which has a capacity of 760,000 liters.
A spiral stair leads you all the way down to an open space where you can admire the adorable Penguins.
It is one amusing ride for marine lovers. You might be eager to spend hours watching the huge central tank with endless sights to see.
Also, you must experience the IMAX film. Mesmerizing nature in one of the largest screens with good air conditioning and comfortable seating will truly be worth the price!
Boston Public Library
where's one book for all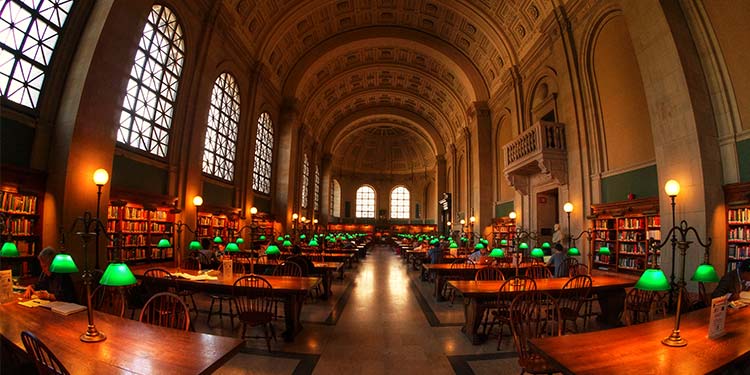 Location: 700 Boylston Street, Boston  
Opening hours: 9:00 am – 8:00 pm
Entry Rates: Not required (You must reserve a Pass to make research)
Now that you are here, don't miss out on visiting the famous Boston Public Library. One of the biggest book hubs that have a history of establishing many firsts in America.
Also known as 'the palace for the people', the attractively designed building is heaven to all the bookworms and also to the aesthetes.
You get to go through this tranquil library that stores more than 23 million items of original works as old as from the 10th century without any rush.
Franklin Park Zoo
go for a wild adventure with the wilds!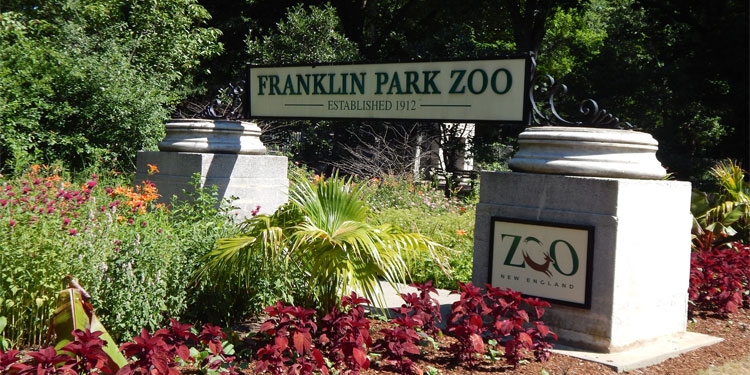 Location: 1 Franklin Park Rd, Boston 
Opening hours: 9:00 am – 4:00 pm
Entry Rates: $22.95 (Adults), $15.95 (ages 2-12)
Going to a Zoo can never go out of style! It is the closest we can feel to Animals and Nature. Just like that, Franklin Park Zoo has all of our favorite species we can pay a visit to.
The Zoo built on 72 acres of land is a shelter for more than 1000 animals. Almost all types of Mammals, Reptiles, Amphibians, Birds, Fishes, and Insects can be found here.
The variety of exotic animals and birds can be a great attraction for both kids and adults.
The park has exhibits, activities for the children, and a lovely spacious environment to stroll around which can be a good destination for a date as well.
Caution: For all the right reasons, as much as you might want to you cannot feed the animals–they are provided with enough good food at the park! 
Boston Tea Party Ships & Museum
hop on the party ship, sipping on some tea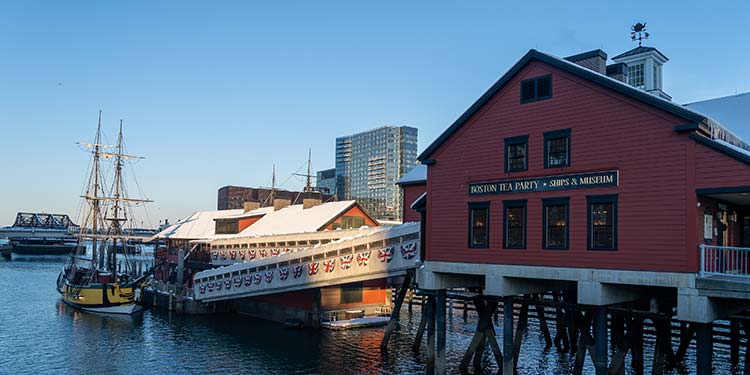 Location: 306 Congress Street, Boston    
Opening hours: 10:00 am - 4:00 pm 
Entry Rates: Starts from $32
Aye hye! This ship is not a normal ship. We sail through an interactive exhibit of the American Revolution's early days.
You get welcomed by the cast members of the show they depict. The live-action show makes the experience more fun and lively.
It has, not many but some valuable bits of history displayed you can glance at.
Their tour also includes a watch party of short films. And the best part is you can do all of that while enjoying the sampling of delicious teas!
The well-known Abigail's Tea room is nearby if you want to drop in for a cup of tea and something to munch on.
You can also find a gift shop close to it where you can get something for your family and friends who are big-time tea lovers!
Franklin Park
feel closer to the nature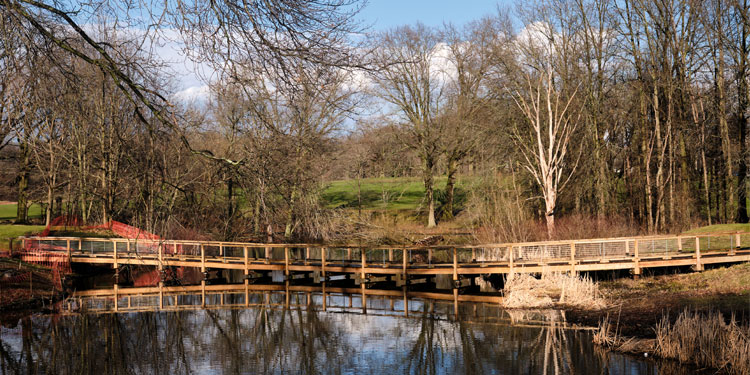 Location: 1 Franklin Park Road, Boston    
Opening hours: 6:00 am - 11:30 pm
Entry Rates: $22.95 (Adults), $15.95 (ages 2-12)
It is nature that we mostly rely on when we want to feel burden-free, relaxed or in peace.
With woods all around, an open greenery space, and beautiful scenic views–this park is the place to dump all your stress and walk out with fewer things to worry about.
Franklin Park covers over 485 acres of land being Boston's biggest park. Located in the center of the City, it connects five different neighborhoods.
Isabella Stewart Gardner Museum
surround yourself with the beauty within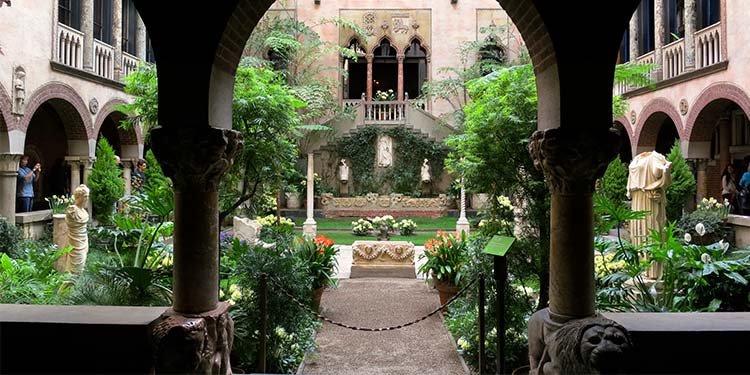 Location: 25 Evans Way, Boston  
Opening hours: 10:00 am - 5:00 pm (Closed on Tuesday)
Entry Rates: $20 (Adults, free for Children under 18)
It is not just a Collective Art Gallery. You can feel your soul healing in this lovely exhibition that was brought up together by an art collector who left them in the name of public viewers.
It is a well-detailed walkthrough of many famous paintings, sculptures, and other artworks. You will love this place even more if you are interested in Renaissance art.
The attractive species of flowers blooming all over the courtyard gives a vibrant and pleasant touch to the atmosphere.
Artworks worth more than $500 million are still not found after 13 pieces from the collection were stolen in 1990.
Harvard Square
Check out the neighbor's neighborhood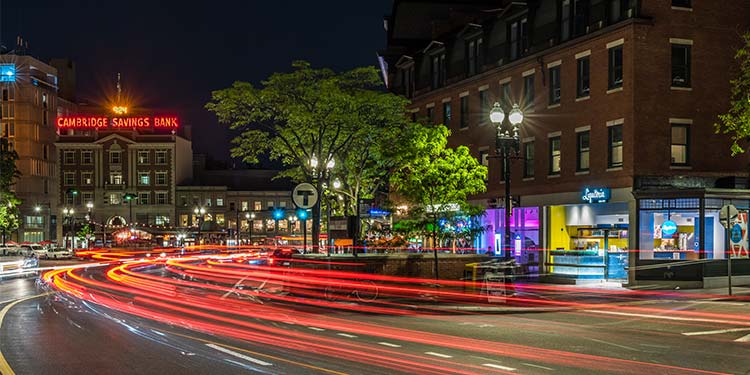 Location: Brattle Street, Cambridge 
Opening hours: opens 24 hours, all-day
Entry Rates: Not required  
Yes, Cambridge is Boston's neighboring city, but it is not a part of Boston. However, you can still enjoy the neighborhoods of Cambridge while you're here.
The most famous one is Harvard Square. It is an iconic place with historic buildings and is surrounded by restaurants, bookstores, theaters, and shops.
It attracts many tourists all around the year. It has a calm and soothing vibe around you can feel.
Museum of Science
Got to love science and history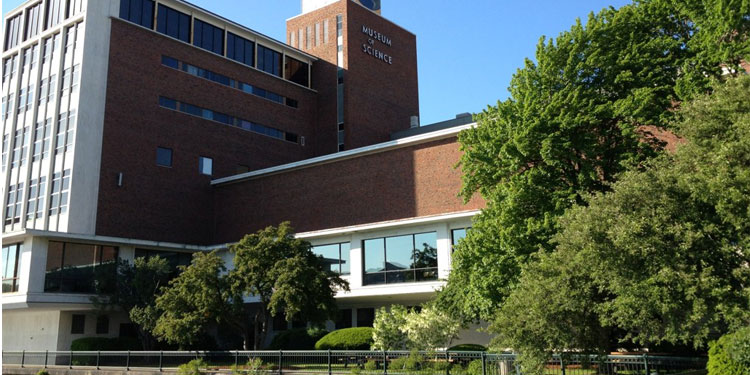 Location: 1 Museum of Science Driveway, Boston 
Opening hours: 9:00 am - 5:00 pm
Entry Rates: $29 (Adults) 
An ageless and timeless museum depicting the evolution of science and technology throughout the ages. It is full of interesting facts–a great and effective way of learning.
Fascinating and innovative inventions such as the oldest rotative beam engine (1788), R4 satellite launch vehicle (1971), and Wells Cathedral Clock (C.1390) are a few of the oldest exhibits you cannot miss out on!
It can be an educational and amusing visit for kids of any age and adults too! And you can also enjoy their facilities like good food and parking which can be of great help in making the visit even worthwhile.
SoWa Open Market
an unmissable refreshing gathering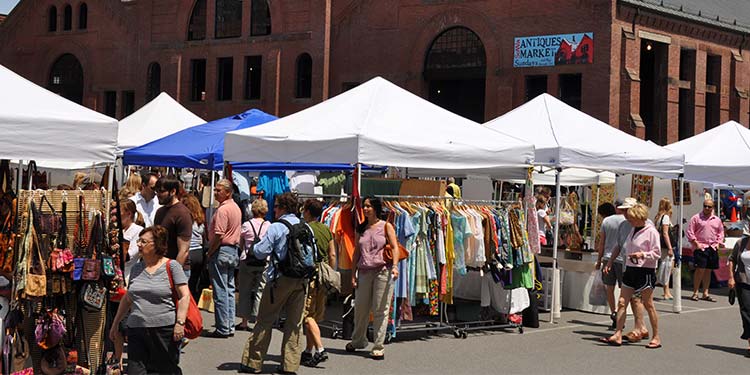 Location: 500 Harrison Ave, Boston 
Opening hours: 11:00 am - 4:00 pm (Only on Sundays)
Entry Rates: Not required 
Have you ever been to a farmer's market? Either way, you will love this once-in-a-week event that has food, galleries, and people–what to ask for more on a fine Sunday?
You will see vendors enthusiastically selling refreshing ice creams and sodas, hot beverages, all kinds of freshly baked goods and fruits, varieties of accessories, and clothing items all in different carts and stalls.
It might be the most happening Sunday you will be spending your whole trip to this city!
Public Garden
lay low and get energized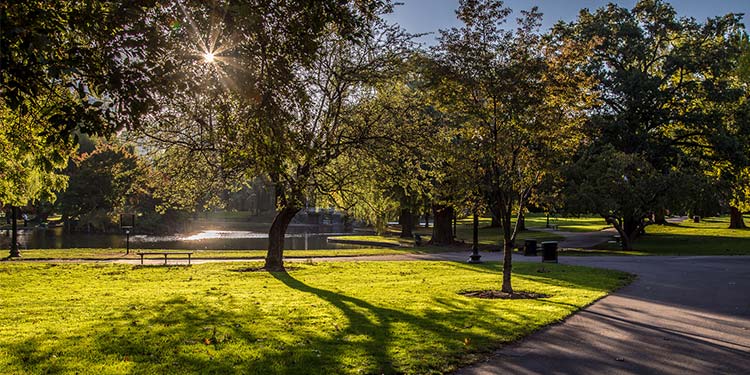 Location: 4 Charles Street, Boston  
Opening hours: 6:00 am - 11:30 pm 
Entry Rates: Not Required
This will be the perfect place if you're looking for one to start off the day well as it is usually very peaceful in the morning hours.
Going for a walk or doing the morning workouts in this beautiful sunny garden will give you the right amount of energized motivation and enough Vitamin D!
Strolling around this serene park, you will get to see tons of sculptures and a beautiful view of the city.
Boston Public Market
slow down, relax, and look around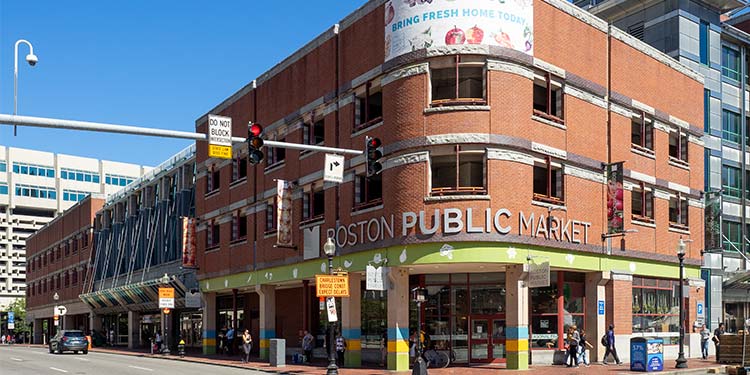 Location: 100 Hanover Street, Boston   
Opening hours: 8:00 am - 8:00 pm (time differs on different days)
Entry Rates:  Not required
In case you've missed the SoWa Open Market or you would consider going to a public Market on any other day rather than Sunday–Boston Public Market is here to save the day.
This Market is open all year round. They connect the consumers to all the farmers, fishermen, and food producers.
It is a huge indoor market place for all your needs. You'll have plenty of good food and beverage options here.
Institute of Contemporary Art
pause and reflect with art and a great view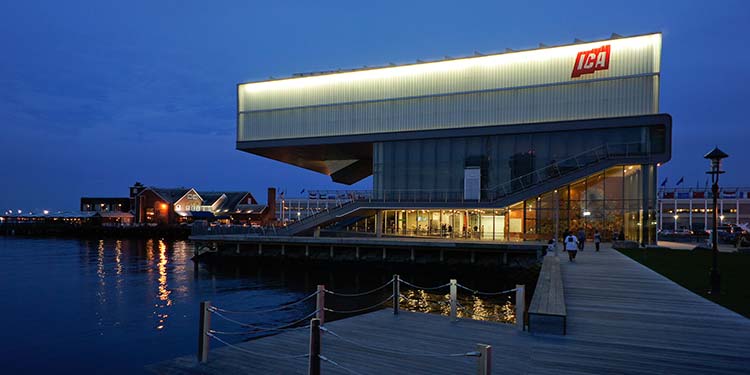 Location: 25 Harbor Shore Dr, Boston  
Opening hours: 10:00 am - 5:00 pm (closed on Mondays)
Entry Rates: $20
The Modern Art Museum founded in 1936, located at the seaport has a collection of interactive installations with a nice harbor view from the building.
Well-curated paintings, sculptures, and photographs along with audience-engaging games are displayed in the gallery which can be enjoyed by any interested guest.
People can enter the exhibition hall without any entry fee on Thursday evenings. You can simply take that advantage or plan a visit any day to get a glance at different styles of art.
Nantasket Beach
feel the splash!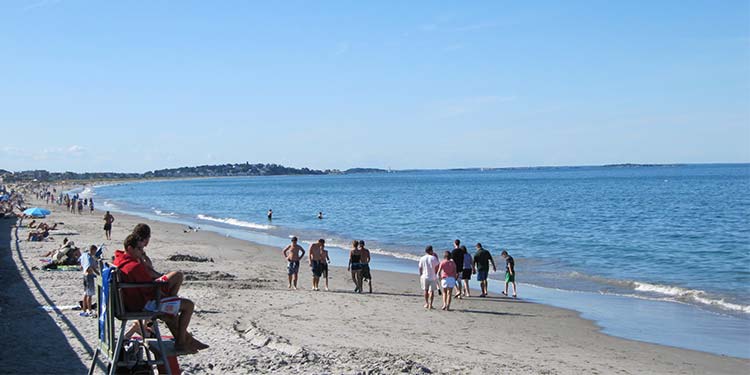 Location: Town of Hull, MA
Opening hours: All the time
Entry Rates: $15 (for MA Residents), $40 (for Non-state Residents)
The beach is a wonderful place for swimming, surfing and sun bathing. Nevertheless, you can always go for a walk as the solid sandy surface is easy to walk on.
Lay back-it is a clean beach with fresh air and you get a great view. It has a wide space but it is usually busy so arriving earlier would be ideal if you want to get a spot for yourself.
Exploring the beach will be very fun. You can also take some beautiful shells back home if you find them on low tides.
oston Children's Museum
let the kids be kids till they remain kids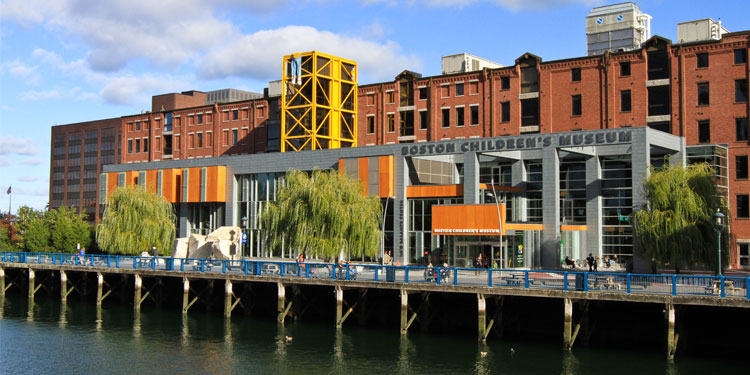 Location: 308 Congress Street, Boston  
Opening hours: 9:00 am - 12:00 pm, 1:30 pm - 4:30 pm (Closed on Mon and Tues)
Entry Rates: $20
Are kids involved in this trip? And if you're looking for a fun and interactive place to take your kids to, the Boston Children's Museum is one to not miss!
Not only will your children willingly engage in hands-on activities, but they will be also learning from every activity they take part in as they are constructed to be educational.
The children-friendly space also opens ways for the kids to look at things in a brighter and more constructive way. It helps to encourage them to develop basic skills.
Castle Island
feel the ocean breeze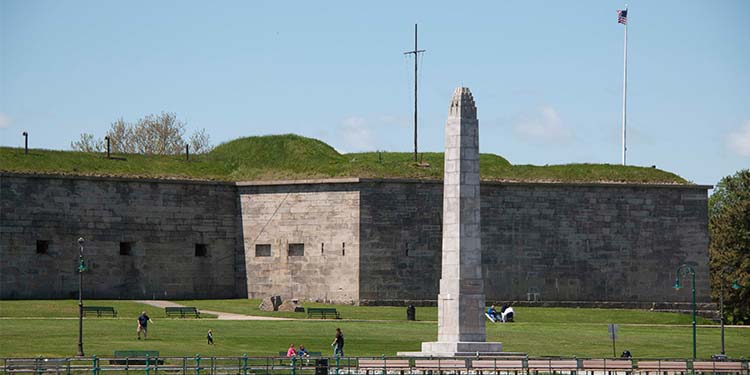 Location: 2010 William J Day Blvd, Boston 
Opening hours: 6:30 am - 7:00 pm
Entry Rates: Not required 
If you are mistaken by the title, no, there is not an actual castle on Castle Island. It is a fort on an island. A beautiful place to enjoy your picnic at, enjoying the view.
It is a place that has many connections with history. Taking the harborwalk which covers almost half of the island when you walk in the circle.
Luckily if there is any chance of you being there on the 4th of July–which is the best time to be there, you will get to watch the mesmerizing view of fireworks in the dark sky from the Island.
USS Constitution Museum
a ride back to the past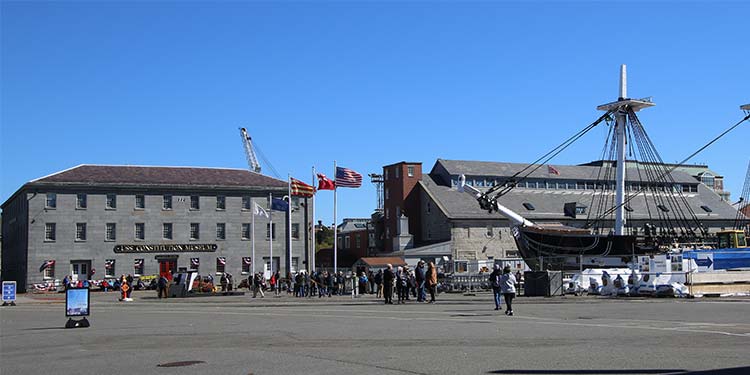 Location: Building 22, Charlestown Navy Yard, Charlestown 
Opening hours: 10:00 am - 5:00 pm 
Entry Rates: Not required 
Witness and walkthrough the world's oldest commissioned naval warship that has been preserved for more than over two centuries.
As much as you're going to admire the ship from its exterior functions, you may like it more as you go inside the ship for a closer tour.
It is one historic treasure that shall live with us for as long as it survives.
The Museum has over 2000 artifacts displayed in the gallery. It is overall designed to be an educational visit for everyone.
Boston Harbor Hotel
staycation at one of the finest luxury hotels in the city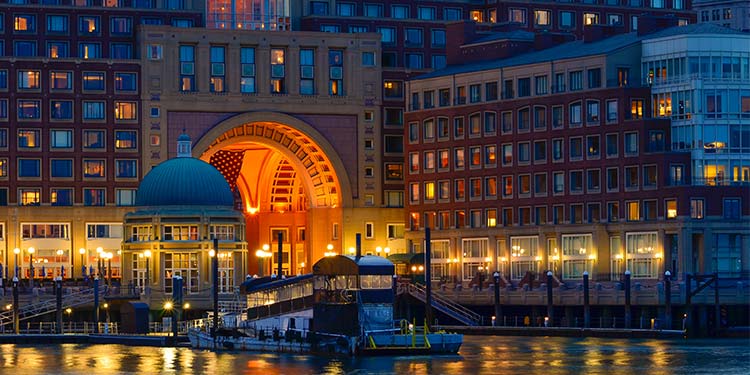 Location: 70 Rowes Wharf, Boston   
Opening hours: Open all hours
Entry Rates: Starts from $432
Boston Harbor Hotel is a grand hotel that has been on top of its business for more than 30 years.
With a beautiful waterfront it is no less than a dream palace! The elegant hotel has an outstanding view of the harbor and top-notch customer services.
If you want to experience a memorable yet luxurious stay in the city–Boston Harbor Hotel will match your expectations or might even exceed!
The Lawn On D
games, live music, drinks, and lots of fun!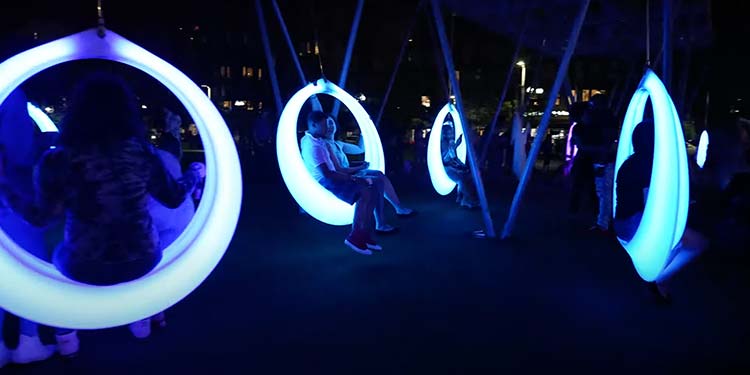 Location: 420 D street, Boston 
Opening hours: 7:00 am - 11:pm 
Entry Rates: Not required 
It is surely one of the best outdoor event spaces with art installations, LED illuminated circular swings hanging from the roof and the whole air filled with live music.
You can join in for games in the backyard game station, all the game equipment required to play ping pong, jenga, cornhole and many more are provided.
You can also book the place for a private event in case you were wondering!
TD Garden
big shows in the arena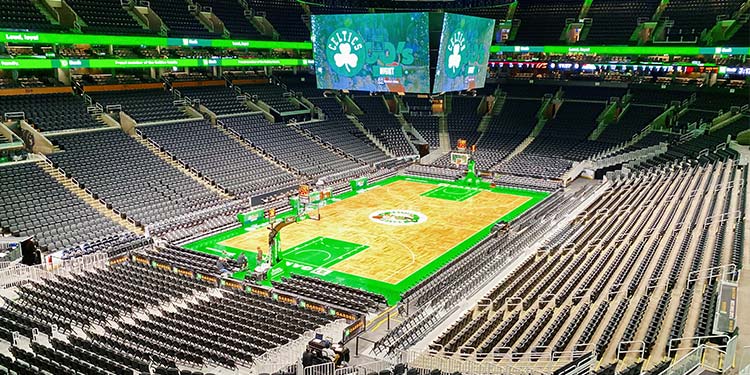 Location: 100 Legends Way, Boston   
Opening hours: 12:00 pm - 6:00 pm
Entry Rates: N/A
If you're going for an event taking place at the TD Garden, whether it's for a concert or a game show–you're promised a fun time.
With about 2000 comfortable seats and an energetic atmosphere, the venue makes sure the visitors have one of a kind experience.
The tickets might come off as a bit pricey but once after the gig, it's all worth the money you pay!
Blue Hills Ski Area
smooth your way down on the snowy hill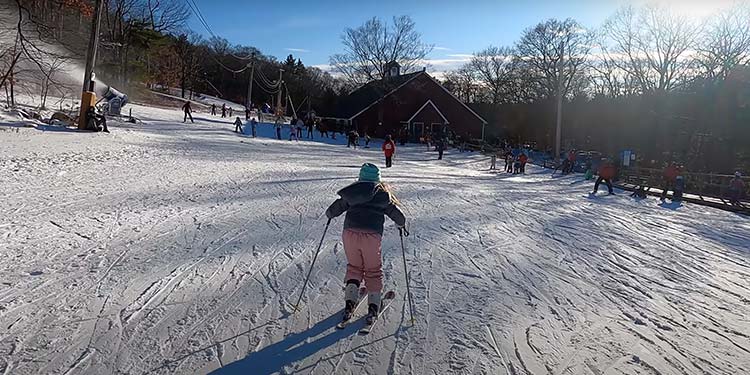 Location: 4001 Washington Street, Canton 
Opening hours: 1:00 pm - 9:00 pm (time differs in different days)
Entry Rates: Starts at $35 (varies on different time of the day)  
Skiing on the Blue Hills in either daytime or in the night time whichever you prefer shall be one of the things you must try when you're there.
It's a perfect place for the beginners to practice as it is a children-friendly spot.
Although it's a little hill with not so big of an area to spread, you will have a great time with your family and friends!
Museum of African American History
another day in Boston, another insight to history and culture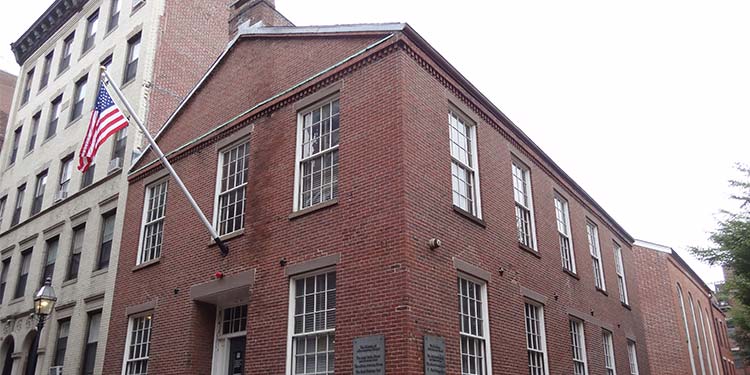 Location: 46 Joy Street, Boston  
Opening hours: 10:00 am - 4:00 pm (Closed on Sun and Mon)
Entry Rates: $10
The history of African American is thoroughly assembled and displayed with important details in two of the historic buildings.
Covers all the information one needs to know about how big of a role did the African Americans played in making America.
It's a must visit if you have any interest in history
Lookout Rooftop and Bar
relax with a drink on the rooftop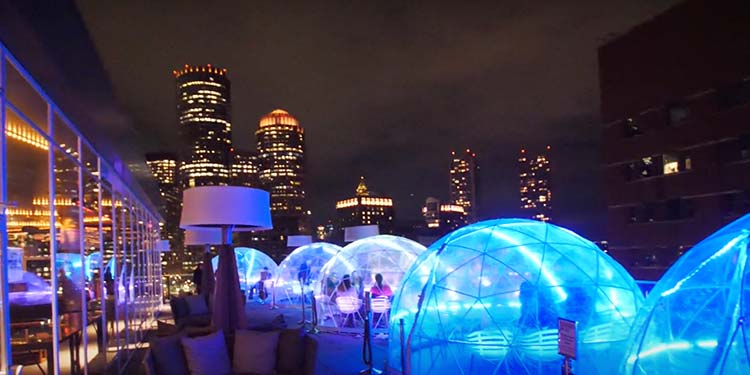 Location: 70 Sleeper Street, Boston
Opening hours: 4:00 pm - 12:00 am (time differs on different days)
Entry Rates: Not required 
Another great spot for the breathtaking views of Boston Harbor and the city lights.
Not so many food options available here but you can drinks and snacks indoor, out open in the terrace or in the
You can enjoy your evening in an interesting ambiance with your go-to drink and lay back to have a moment to take in all.
This place is all about the vibe! Get it and roll on.
Copley Place
sometimes shopping is all the healing you need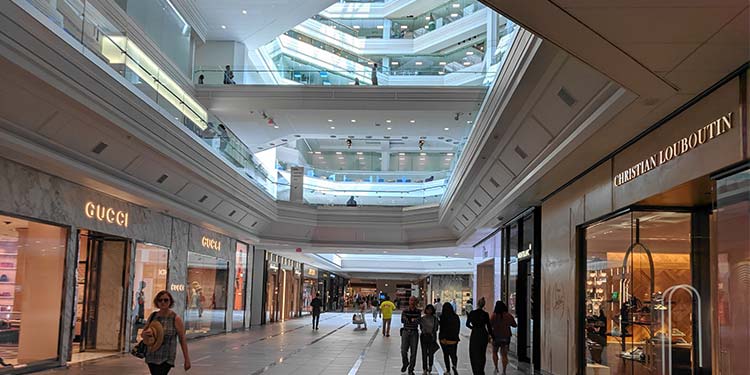 Location: 100 Huntington Ave, Boston  
Opening Hours: 11:00 am - 7:00 pm, 12:00 pm - 6:00 pm (On Sundays)
Entry Rates: Not required 
One of the best shopping mall experiences you'll ever have–Copley Place is an exceptionally beautiful mall where you can find all of the high-end brands.
The two-story tall building is known for having all the designer shops but is also famous for being the favorite window-shopping spot for locals.
Whether you're in there for a glance-and-walk or take-all-home, you will love the calm-toned colors of the building, its architectural style, and the vibe around this classy place.
Get Ready to Create Unforgettable Memories
You are welcome to expect a good vacation in Boston either with your friends, family or even just with yourself. The city has something exciting, fun, and educational in store for every person of every age.
However, you will find yourself getting attached to more than a few things after you get there. Boston is a great place to find new things alongside finding what you really love.
Who knows? You may even find the answers to your unanswered questions. Exploring the city can also become a soul-searching journey for all the lost wanderers.
Whether it is the history of art that may pull you in or it can simply be the food they'll have for you; you will most likely remember this once-in-a-lifetime experience for life.
If you're still conflicted as to whether hop on this trip or not-GO FOR IT; it'll be one fun memorable ride. You might even reconsider coming back to relive the moments again—and again!