Fredericksburg is a small town in Texas that German immigrants discovered in the 19th century for their protection and settlement.
Since then, it has been a great place to learn about the history of America and German culture.
Today, Fredericksburg has become a renowned tourist destination in the Texas Hill Country.
With over 50 wineries, extensive shopping opportunities, and many wine and beer-tasting tours around the area.
You can discover this beautiful gem of Texas within a short reach of big cities like Austin and San Antonio.
And for you to get started, we have listed our top recommendations for things to do in Fredericksburg, Texas, to plan a memorable trip. So let's get started!
Learn History at the National Museum of the Pacific War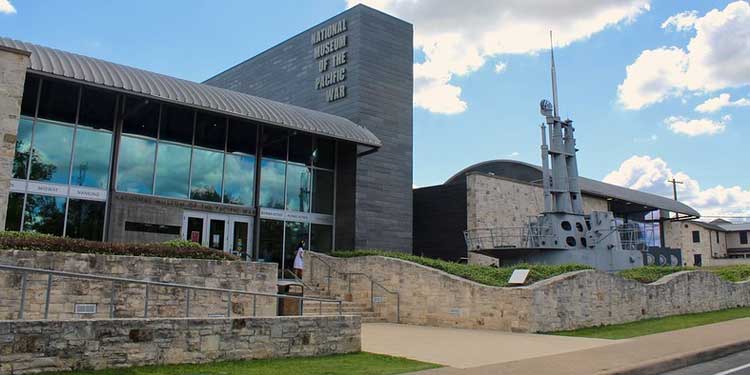 Address: 311 East Austin Street, Fredericksburg, Texas 78624, United States
Opening hours: 9:00 am - 5:00 pm (Wednesday - Monday), closed on Tuesdays
Costs: One-day admission is $24 for adults, $16 for seniors (65+), $10 for students (6-17), and children 5 and under are free
If you are a history buff, visiting the National Museum of the Pacific War is a must.
This Museum is dedicated to Fleet Admiral Chester Nimitz, who was a significant leader during World War II in the Pacific.
The Museum's main mission is to help visitors connect with the history of the war through a whole array of artifacts and exhibits.
The museum offers a unique program on weekends where visitors can witness troops in action and hear jaw-dropping stories about artillery and historical wars.
Don't miss out on one of the museum's main attractions, the HA-19, a midget submarine used by the Japanese in the initial attack on Pearl Harbor.
Visit Wildseed Farm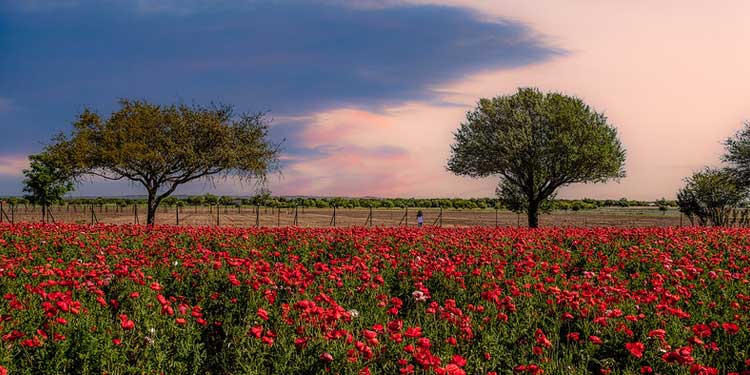 Address: 100 Legacy Drive, Fredericksburg, Texas 78624, United States
Opening hours: open daily from 9:30 am - 6:00 pm 
Costs: Free Entry
Sprawling over the Texas Hill Country, this 200-acre flora farm and vineyard welcomes you to indulge in nature with many wildflower and butterfly gardens across the site. 
You can spend hours traveling its loop track and admiring the beautiful flowers blossoming on the field. Perfect for a photo opportunity!
And while you stroll around, take in the beauty of nature while sipping fine local wines of the vineyards and enjoy a delightful lunch.
Spend the rest of your time on the farm by shopping at its gift shop or eating a sandwich while browsing one of Hill Country's largest selections of excellent cuisine at the farm's cafe.
Hiking and Stargazing at the Enchanted Rock State Natural Area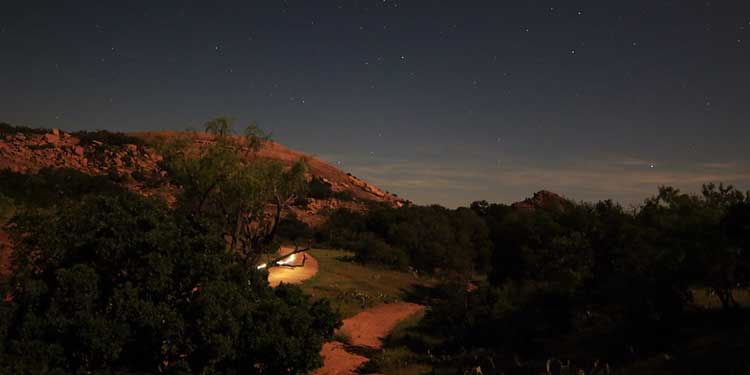 Address: 16710 Ranch Road 965, Fredericksburg, Texas 78624, United States
Opening hours: 6:30 am - 10:00 pm
Costs: Entry fee is $8 for adults, children 12 and under are free
If you want to escape from the hustle and bustle of Fredericksburg, Enchanted Rock State Natural Area awaits a perfect adventure in the Texas hills country.
This 1600-acre park offers diverse Texas landscapes, from rocky terrain to magnificently towering trees and stunning grasslands.
And if climbing straight up is different from your style, you can also start your adventure by walking over nearly 11 miles of hiking trails surrounding the base of the Texas landmark.
To spice it up even more, go caving into one of its historical rock caves or make it an overnight trip by camping at one of the best spots for stargazing and viewing wildlife.
Go Shopping and Food Tour at Fredericksburg Main Street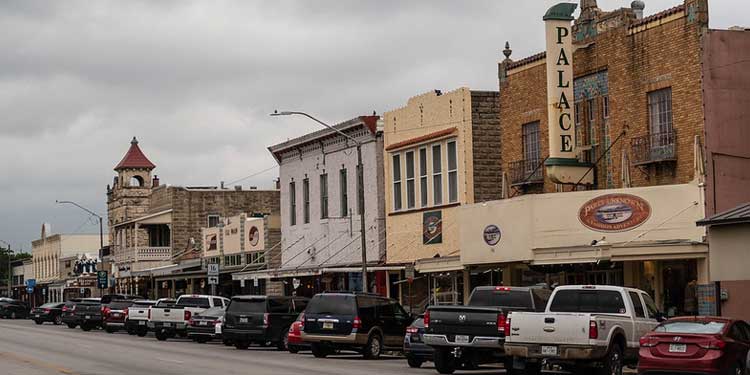 Address: East Main Street, Fredericksburg, Texas 78624, United States
Fredericksburg Main Street is a central location with a rich history, an eclectic mix of art galleries, restaurants, and plenty of shopping opportunities.
With over 150 unique shops, you can find everything from branded/local clothing and jewelry to the finest arts from Fredericksburg.
And while you stroll around, I recommend going on a food tour and getting a taste of some of the best German and local cuisine around every block.
If you are more of a nightlife person, the area is filled with restaurants and bars that provide an overall fantastic atmosphere with live music, crafted beer, and great hospitality.
Take a Lord's Blessings at the St Mary's Catholic Church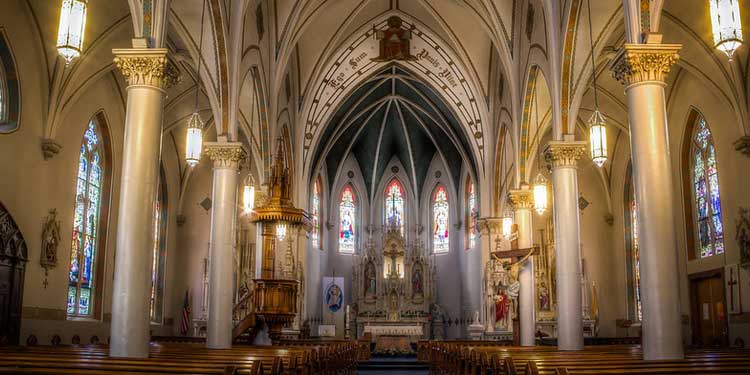 Address: 304 West San Antonio Street, Fredericksburg, Texas 78624, United States
Opening hours: Praying hours mostly start early morning and evening.
Cost: Free 
This lovely church was built in 1906 in the Gothic architectural style found in many of Europe's Medieval churches.
You can learn about the church's important role in the community's religious, educational, and social lives.
You can come any day, but I recommend praying early in the morning on weekends, where you will also learn about the Church's history with a guided tour provided by the congregation.
Take a few moments to sit and reflect; it will be well worth your time.
Explore President Lyndon B. Johnson Historical Park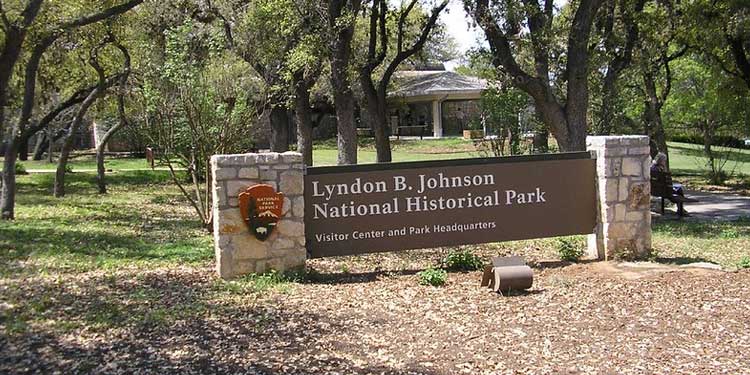 Address: 1048 Park Road #49, Stonewall, Texas 78671, United States
Opening hours: open daily from 9:00 am - 5:00 pm
Costs: Free admission
The Lyndon B. Johnson National Historical Park recalls the life and times of the 36th President from his ancestors through his ultimate burial place on his beloved LBJ Ranch.
The entire area tour gives visitors a unique perspective of life in 1920s rural Texas.
Get a guided tour from the visitors center and tour the entire property of Lyndon B. Johnson.
You can delve into learning and witnessing the detailed exhibits on President's Johnson Legislative legacy, watching documentaries, and his career and accomplishment.
There is a field of yellow wildflowers to the left of his birthplace and an oak tree-lined portion of the road behind his grave where you can spend the rest of the day strolling around.
Watch Millions of Bats at the Old Tunnel State Park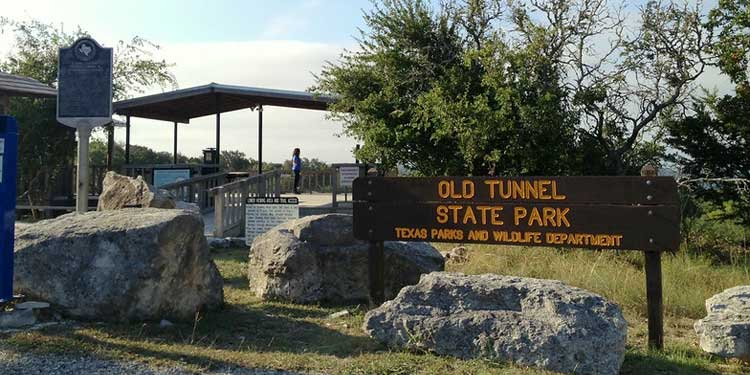 Address: 10619 Old San Antonio Road, Fredericksburg, Texas 78624, United States
Opening hours: open year-round from sunrise to 5:00 pm
Costs: Entrance to the park is free
This century-old tunnel near Fredericksburg's downtown is a long abandoned historical railroad tunnel home to 2-3 million bats.
It provides visitors with an excellent loop hiking trail with easy access of 0.7 miles to the top of the bat viewpoint.
While you wait for the bat to emerge, the park also offers educational programs about Mexican-free-tailed bats and their natural habitat.
I recommend visiting the park from May to October when nightly watching of the bat emergence is free from the higher observation area.
Note: If you are willing to stay after 5:00 pm, you must get a permit in advance online or by calling the Texas State Park customer service center.
Go on a Wine Tasting Tour at the 290 Wine Trail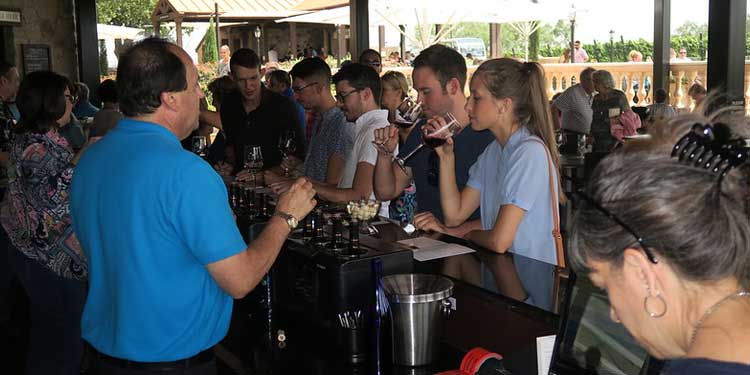 Address: 308 South Washington Street Suite #1, Fredericksburg, TX 78624, United States
Let's not forget that Fredericksburg is mainly known for many wineries and vineyards on the 290 Wine Trail, where wines are produced naturally.
If you want to visit all the wineries, taste wine, and learn how it's made, I recommend the 290 Wine Shuttle.
Fredericksburg's only wine shuttle service will transport you to as many wineries as you want to see in a day for only $40.
The shuttle will take you to your next destination in no time, with convenient pick-ups at each winery every 10 minutes.
It also offers private wine tours for special occasions like birthdays, bachelorette parties, weddings, and more.
For more information, visit its website at https://290wineshuttle.com
Grab a Beer at the Fredericksburg Brewing Company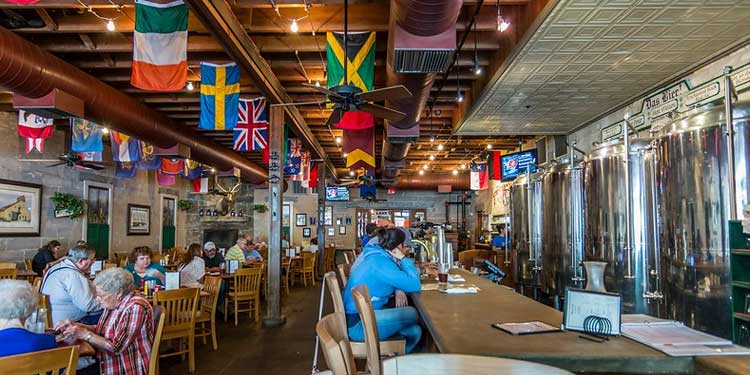 Address: 245 East Main Street, Fredericksburg, Texas 78624, United States
Opening hours: 11:00 am - 8:00 pm (Sunday- Thursday), 11:00 am - 9:00 pm on Friday and Saturday
Since Fredericksburg is also known as the German Town of Texas, you will instantly see it's a great place to grab a beer.
Located on the city's Main Street, visit the Fredericksburg Brewing Company, the oldest operating brewpub in the state.
You will also get various delicious food options with a fine selection of German-crafted beers and an eclectic Southern and German fare menu.
Tip: Sidewalk consumption is permitted in Fredericksburg, so you can always take your cold beers and stroll down Main Street.
Go Thrift Shopping at Fredericksburg Trade Days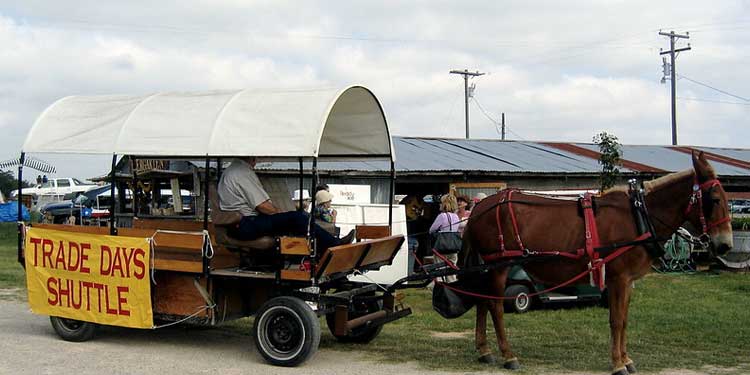 Address: 355 Sunday Farms Road, Fredericksburg, Texas 78624, United States
Opening hours: 9:00 am - 5:00 pm (Friday & Saturday), 9:00 am - 4:00 pm on Sundays
If you want to save yourself a few dollars, Trade Days is another fantastic option for shopping second-hand goods from more than 350 indoor and outdoor vendors.
You can find clothing, souvenirs, jewelry, crafts, or even the odd antique of your preference.
It is held every weekend on the third Saturday of each month, with live music and plenty of food stalls around the corner.
Best of all, you can enjoy a day of shopping without breaking the bank!
See the Life of Ranchers at the Sauer-Beckmann Living History Farm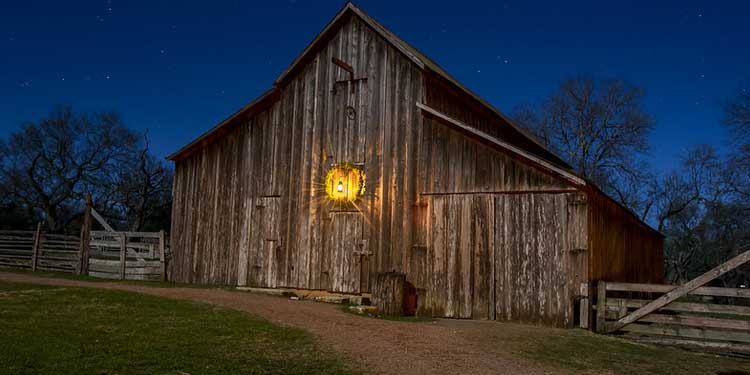 Address: 501 State Park Road 52, Stonewall, TX 78671, United States
Opening hours: open daily from 10:00 am - 4:00 pm
Costs: Free Entry
Sauer-Beckmann Living History is located in the center of Lyndon Johnson State Park, which allows visitors to experience ranch life and learn about Fredericksburg's agricultural history.
Take a self-guided tour of the Farm, where Rangers dressed in historical attire grow crops, care for animals, and prepare meals.
You'll enjoy working with the interpreters on the farm, and if you have a lot of questions, they'll be pleased to answer them all.
Watch Theater Shows and Live Music at the Fredericksburg Theater Company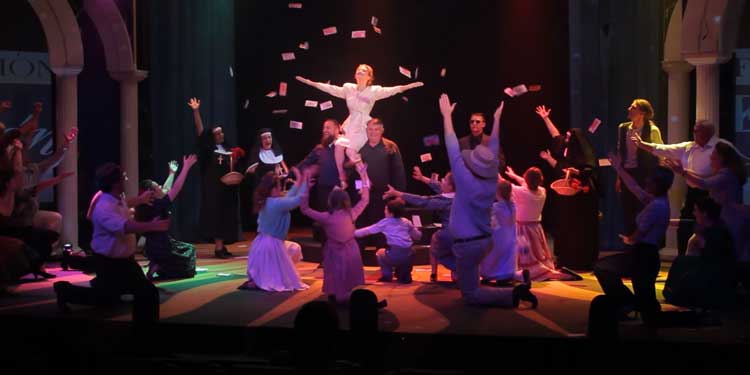 Address: 1668 South US Highway 87, Fredericksburg, Texas 78624, United States
Opening hours: start from noon to late night (might vary from shows and events)
Costs: Ticket price vary from shows and events
Fredericksburg is not just famed for its wines and shopping, but it also has the best live theater in the Texas Hill Country.
Fredericksburg Theater Company is an award-winning theater known for its blockbuster Broadway musicals, fascinating dramas, and various comedic acts.
You will see performances of famous American plays and well-known artists of Fredericksburg that have entertained locals and travelers for decades.
The theatre provides comfortable seating and fantastic sight all around the theater, as well as a little box seating with a suitable room for the little ones.
Check out the Best Places to Eat Around Fredericksburg
Fredericksburg has a thriving food industry despite being a small town in Texas.
Plenty of wonderful restaurants are here to suit your taste, with great Texas wine, German delicacies, and plenty of Tex-Mex and cuisines tossed in. Some of our top recommendations are as follows:
The Auslander: It's a German-American restaurant with a Texas flair, outside seating, live music, and a huge beer variety.
Old German Bakery & Restaurant: A homey German bakeshop and cafe serve that serves a breakfast/lunch menu of potato pancakes, schnitzel, and other dishes.
Mamacita's Restaurant: It is a small business branch that serves Mexican and Tex-Mex food in a fun, family-friendly atmosphere.
Pasta Bella Restaurant: It is a modest, brightly colored Italian restaurant that serves sandwiches, hearty pasta dishes, and other meals.
Cabernet Grill Texas Wine Country Restaurant: It is a rustic-style restaurant with elevated American steak, seafood meals, local wines, and a patio.
Discover the Fredericksburg to Make Every Moment Count!
With its friendly hospitality and Texas Charm, you sure are leaving this town full of memories that will make you want to come again.
Despite being a small town, Fredericksburg has Taxis, Uber Pool, and bike rental options for getting around. However, we recommend taking a walking tour for a more affordable option.
The town's visitor center prints maps of Fredericksburg geared primarily toward walking guests. These maps are available at the facility or can be downloaded from their website at https://www.visitfredericksburgtx.com/
Good luck!
Note: Keep in mind that information about travel can change quickly. To make sure your trip is fun and safe, we encourage you to double-check official websites and government/travel advisory sites for the latest information on travel restrictions, entry requirements, and safety measures.