Whether you are backpacking or simply looking for a perfect adventure of fishing, kayaking, and camping, our list of best lakes in Oregon has it all. 
You can find the largest crystal clear lakes within the West and East Cascades region, whereas the coastline shares a few within the miles of hiking trails and scenic viewpoints. 
Crater Lake in Southern Oregon is the deepest lake in the United States and is best for scenic drives, moderate hikes, camping, skiing, and many more.
Some top lakes are at high elevations with snow, and some are at low elevations with beautiful scenery.
Check our list of the best lakes in Oregon for a fantastic trip year-round. 
Lakes in Oregon
Wallowa Lake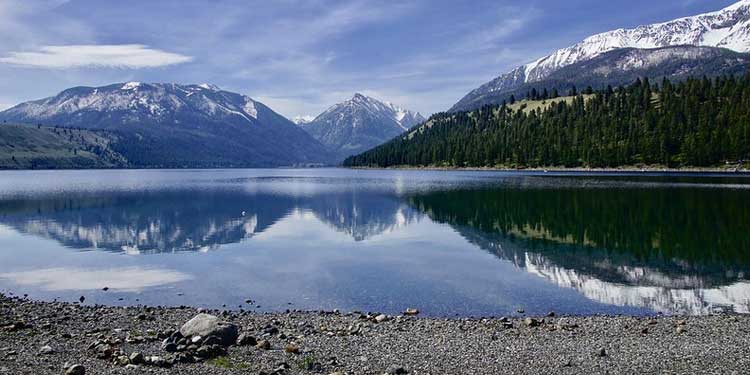 Address: Wallowa Lake State Park, Joseph, Oregon 97846, United States
Hours: Park opens daily from 8:00 am - 5:00 pm
Costs: $7 vehicle fee 
Wallowa Lake is a hidden treasure situated at the base of the glaciated Wallowa Mountains in eastern Oregon.
Its crystal clear water makes an excellent place for fishing rainbow trouts and kokanee salmon.
The entire surrounding of the lake offers a unique alpine experience making it an excellent destination for long backpacks or shorter trips into the rushing rivers, forest, and mountains.
You can choose to hike on its several trails into the wilderness. I recommend taking the 8.1 miles out and back Chief Joseph Mountain Trail for a challenging route. 
The Lake Park offers plenty of amenities for visitors, including overnight campgrounds, water sports rentals, picnic spots, and many more.
Crater Lake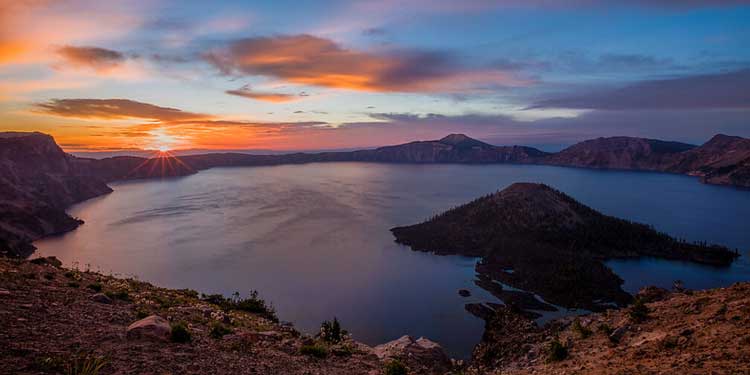 Address: Klamath County, Oregon, United States 
Hours: Open 24 hours
Costs: Standard entrance fees range from $15 - $30
Crater Lake is part of the National Park in southern Oregon, providing 180,000 acres of adventure around the rolling hills, forest, and mountains.
It is located 73 miles from Downtown Medford and is renowned for its deep blue water and the lake's center of attraction Wizard Island.
The 33-mile scenic Rim drive provides all the viewpoints around the lake while 28 different trails await for an epic hiking adventure into the wilderness.
If you have enough time for the rest of your trip, make sure to take an entire round boat trip. It gives you a unique perspective and an in-depth education tour of the historic Island and Crater Lake.
Timothy Lake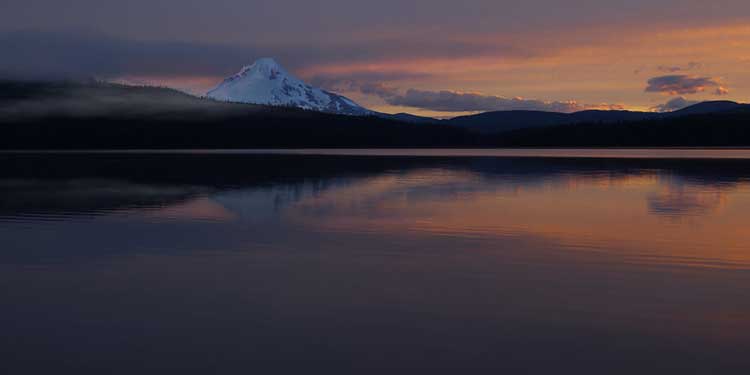 Address: Clackamas County, Oregon, United States
Hours: N/A
Costs: Day use require a $10 vehicle parking permit
If you want to escape the city life's hustle and bustle and enjoy outdoor recreational activities with a scenic view of Mount Hood, head over to Timothy Lake.
Located approximately 50 miles from Downtown Portland, this artificial lake covers 1,500 acres of majestic natural beauty with an abundance of exploring to do.
Many backpackers flock to this aquatic attraction to use the variety of trails near the water. So theres room for everyone to explore this waterway.
You can choose from a 12-mile loop moderate hiking and mountain biking trail to horse riding, fishing fresh trouts, and boat tours, theres something for everyone to go out looking for epic getaway.
Diamond Lake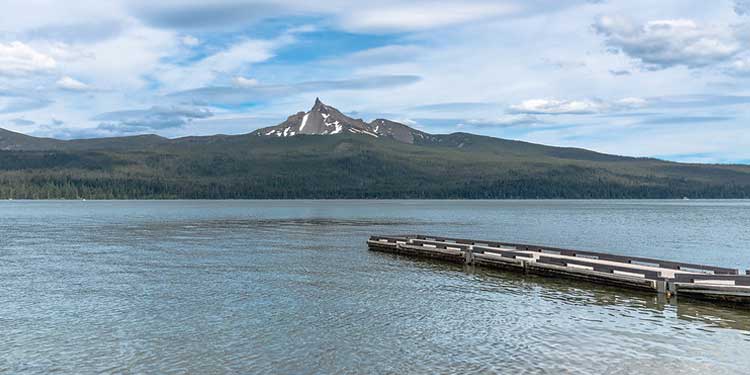 Address: Douglas County, Oregon, United States
Hours: N/A
Costs: free entry, campgrounds reservation is $16, and $22 for lakeshore
Diamond Lake is a great year-round destination in Umqua National Forest which is located a few miles from the Crater Lake National Park.
Visit during summer and get astonished by the clear water that makes it great for catching some rainbow trout and kayaking around.
In winter, you can have the best camping experience by reserving the perfect spot at Diamond Lake Campground, with facilities including RV hookups, tents, firewood, and a picnic table.
The full-service Diamond Lake Resort offers rental cabins and boats for visitors who enjoy overnight stays and water sports recreational activities.
Tip: You can always make a plan to extend your trip to Crater Lake by taking an extra 15-mile scenic Rim drive to Diamond Lake.
Emigrant Lake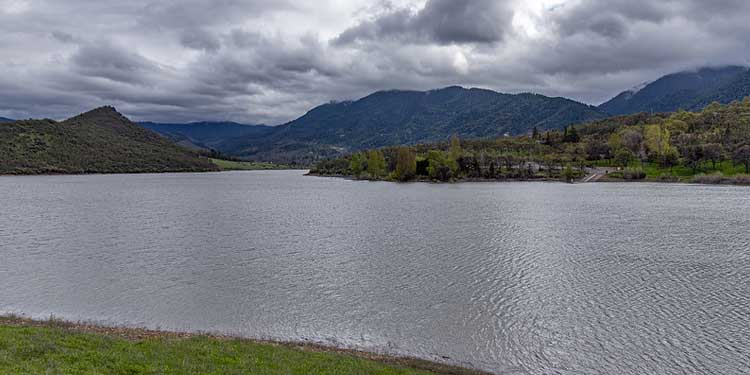 Address: Jackson County, Oregon, United States
Hours: open daily from 9:00 am - 5:00 pm for day use
Costs: entry is $4 per person
Located just five miles away from southeast Ashland, Emigrant Lake is an 806-acre reservoir created in 1924 for irrigation use and flood control.
But today, it has been a renowned recreation destination in Oregon to cool off and beat the heat of southern Oregon.
You can spend a day swimming, boating, fishing, and even camping around the pristine lake. However, dont forget to bring your own essentials if you want to save some dollars.
The lake is easily accessible from Downtown Ashland and Medford in Jackson County. So make a pinpoint while you are visiting either of these cities.
Siltcoos Lake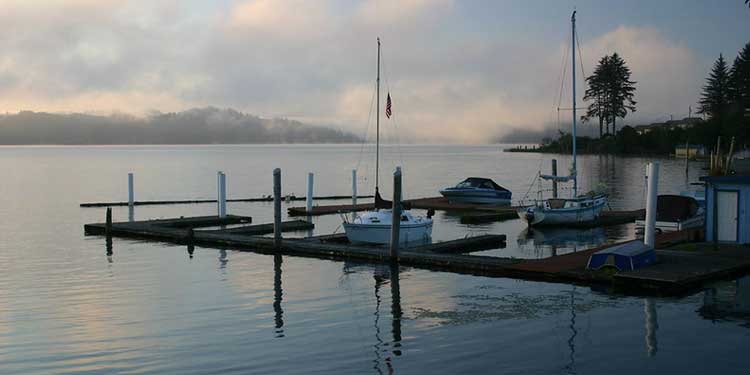 Address: Douglas County, Oregon, United States
Hours: N/A
Costs: $5 per day/vehicle
Siltcoos Lake is the largest lake on the Oregon Coast that is famous for water bass fishing and enjoying outdoor recreational activities.
There are dozens of fish species where you can cast your bait in the deep water. Some include Coho Salmon, bluegill, bullhead Catfish, rainbow trout, and many more. 
You can spend your day hiking, boating, fishing, and camping, or make it an overnight trip by renting a variety of cabins with a lake view on Siltcoos Lake Airbnb.
The lake is located approximately 7 miles south of Florence and is a great destination for travelers looking for an outdoor getaway. So make sure to take advantage of all the fun!
Sparks Lake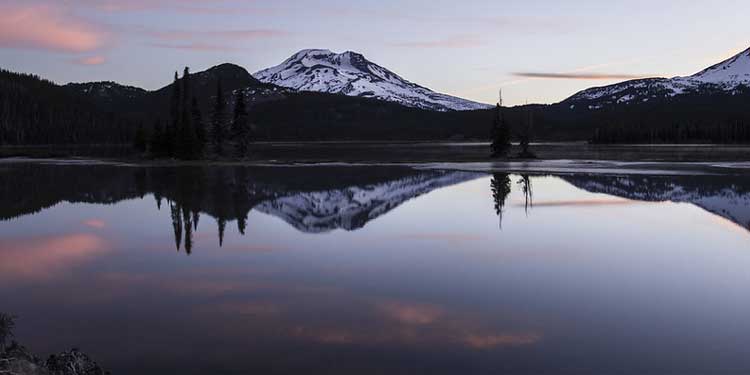 Address: Deschutes County, Oregon, United States
Hours: open daily from 5:00 am - 10:00 pm
Costs: Recreation fee site is $5 per person/vehicle
With breathtaking views of Mount Bachelor and South Sisters, Sparks Lake is a hidden gem 25 miles west of Bend. 
It is one of the most beautiful destinations in Oregon, surrounded by lush greenery, blossoming wildflower meadows, and stunning mountain peaks.
Several hiking trails lead you to this freshwater lake. Take the 2.4-mile loop Ray Atkeson Memorial Trail, which is a fairly easy hike with about a 60 feet elevation change. 
The lake makes a great place to kayak, paddleboard, and canoe. You can rent your water sports gear from the nearby store.
Tip: It's enjoyable to visit on a hot summer day since it's approximately 10 degrees cooler than Bend.
Todd Lake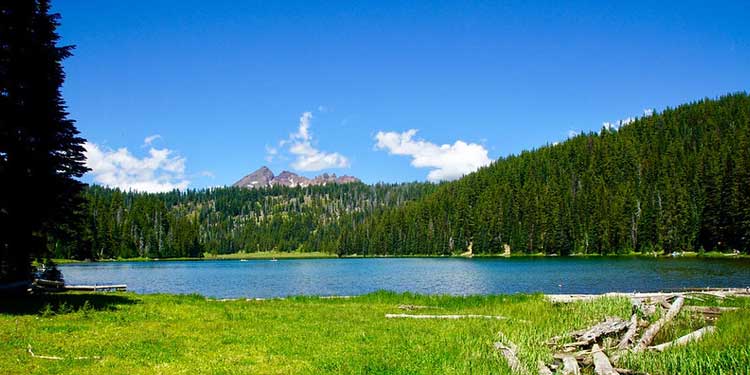 Address: Deschutes County, Oregon, United States
Hours: N/A
Costs: $8 per person/vehicle for day use
Todd Lake is another beautiful high mountain body of water near Bend, located in the wilderness of Deschutes National Forest.
The lake is easily accessible from the 66-mile Cascade Lake Scenic Byway, which is open to traffic from late spring to early fall.
The lake is about 1.4 miles from the trailhead with a short bit steep hike on the west. You will get nice views of Mount Bachelor and wildflowers from June through August.
In the Summer, the area is great for hiking, swimming, fishing, and paddle boarding, while winter makes it great for cross-country skiing, snowmobiling, and snowshoeing.
Whatever you do, you are left with many choices! So make sure to pinpoint this must-see attraction in Oregon.
Waldo Lake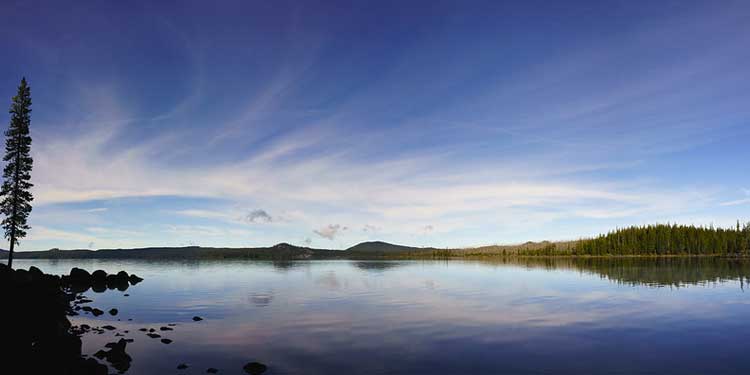 Address: Lane County, Oregon, United States 
Costs: $27 per night for camping
Waldo Lake is one of the world's most peaceful and clearest lakes, where you can see the deep water up to 100 feet on a clear day.
Its pristine and high altitude of over 5,000 feet offers views of surrounding forested hills and mountains. 
It is located in the cascading mountains of central Oregon, approximately 31 miles east of Oakridge and 74 miles from Downtown Eugene.
The lake is motor free and is an excellent destination for a great kayak, sail, or canoe venture.
There are also a few hiking trails with a steep climb and adventure into the forest. 
It also provides visitors three campgrounds with about 600 spots offering necessary facilities for tent and RV camping.
Clear Lake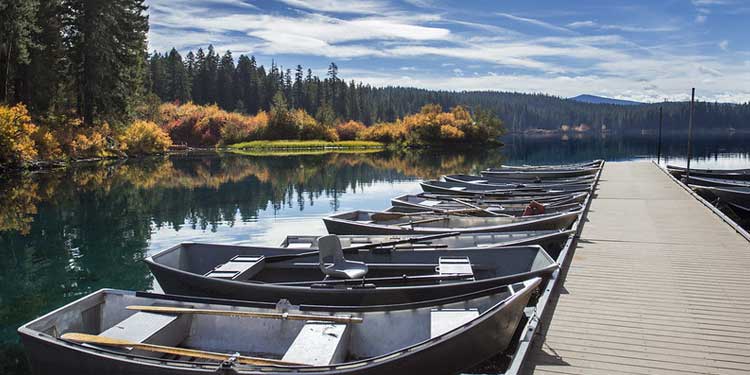 Address: Willamette National Forest, Linn County, Oregon, United States
Hours: Clear Lake Lodge open from 7:00 am - 7:00 pm
Costs: entry is $5 per person
Clear Lake is the starting point of the McKenzie River that sits at the cascades of Linn County near Sisters, Oregon.  
This heavenly-located lake is hidden between the wilderness of Willamette National Forest and provides many recreational activities.
From hiking and biking around the 5.3 miles of Clear Lake Loop Trail to fishing and boating at the lake, theres something for every outdoorsy traveler.
And due to its clear deep blue water, it also has access to scuba diving and swimming during the Summer. No wonder locals regard it as a renowned destination for diving!
The starting point for visitors is the Clear Lake Resort. You can make an extended trip by booking your stay at one of its many wood cabins.
Other amenities include boating rentals, shopping stores, restaurants, and lodging. It is open from Spring to Fall and is a great family-friendly relaxing spot.
Additional Tips for Best Lakes in Oregon
Lake Trips can be overwhelming, especially if you are planning one in Oregon's mountain region. Here are a few essential things to consider before heading out on your blues journey.
Food and Water: Bring extra food and plenty of water, as most of the lakes in Oregon are situated in rural areas. You might need it on your hike to the lake to keep you moving actively.
Boat Rental: The best option would be to rent a boat instead of bringing one. It will save most of your time and energy on your trip to the lake.
Water Shoes: Many lakes in Oregon have rocky bottoms and hot sands. It can be quite difficult if you swim and fish near the shores, so bring a pair of water shoes to protect your feet.
Fishing permit: Having a fishing license is a must in the United States. Dont worry! Making one is relatively quick and easy if you purchase it online.
First Aid Kit: A first aid kit is always necessary while planning outdoors. Pack bandaids, Aspirin, altitude sickness medicines, Antiseptic wipes, and Antibiotic ointment. These are the most important things you will need on your lake adventure.
Start Packing Your Bags!
Oregon is rich in many natural and artificial lakes that make visitors want to travel back again for a long period of time.
With its pristine crystal clear water and many outdoor recreational activities, you are sure to have a memorable trip. So hurry up and start making plans!
Good luck!