Known for its rich history and heritage sites, San Antonio has one of the best places in the Lone Star State of Texas, especially for the love birds.
If you want to kick-start your relationship on a romantic note, you might be surprised to find many fantastic options in San Antonio, Texas.
Whether it's the shimmering stroll down the Riverwalk, a long drive on the weekend to Enchanted Rock State Natural Area, or decadent restaurants, there are a lot of romantic ideas in the Alamo City for you to discover as a couple.
Additionally, if you are on a budget, there are also free things to do in the city.
so, don't worry! For you to get started, We have set a list of some of the best things you could do with your partner while your visit to San Antonio.
Things to do in San Antonio for Couples
Dinner and Long Walk at the Riverwalk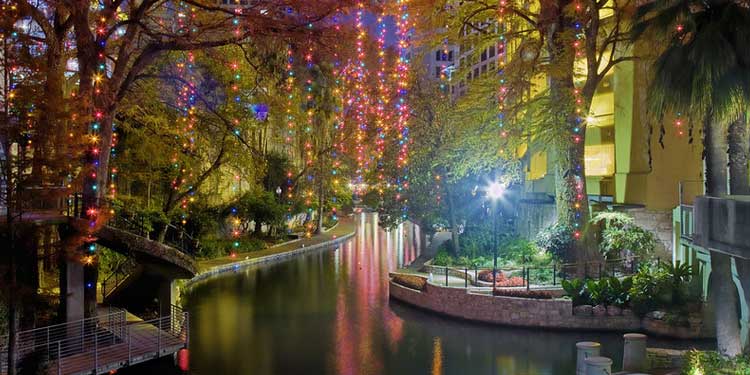 Location: 849 E Commerce St, San Antonio, TX 78205, United  
Opening hours: open 24 hours  
Costs: Free
Located in the heart of downtown San Antonio and the beating heart of lovers to any romantic getaway to the city, the Riverwalk is the most iconic landmark in all of Texas.
Strolling or cruising around the Riverwalk is free and is open 24 hours a day. However, individual restaurants and shops on the Riverwalk have their own operating hours.
You can enjoy some of the best views of the city's historic sites. However, we recommend you come at dusk when the whole area turns into sparkling glitter shining with lights and decorated flowers.
The fine-dining Fig Tree restaurant is one of the Riverwalk's best on-site dining options. Bring your partner to this well-known location in the evening for a romantic date night.
''What are the specials?'' For a romantic date night, I prefer its crab cakes and duck confit while sipping exquisite french wines before diving into the most mouthwatering Baked Alaska.
Shows at the Majestic Theater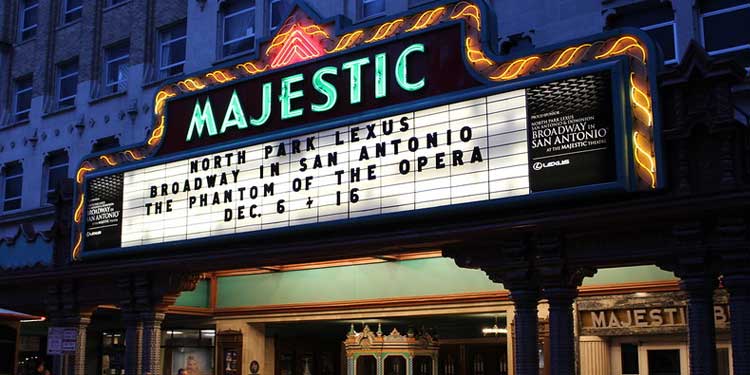 Location: 224 E Houston St, San Antonio, TX 78205, USA
Opening hours: 10:00 am - 5:00 pm (Monday - Friday)
Costs: vary by show. Average $127
The Majestic Theater is a national historic landmark in the heart of downtown San Antonio and has been a venue for performing acts since 1929.
The theater offers couples a spectacular performance in gorgeous art deco settings. From comedy shows and Broadway musicals to Orchestra performances and symphonies, it has everything you need for a fun night with your significant other.
Drink service at the seats alone would tempt you to return to this theater in the future. So grab a $20-25 glass of wine with your partner and enjoy the magnificent shows.
Tip: If you are still getting familiar with the show, know more about the performers before you go, as it is only for some. But if you are a fan, prepare for your best concert in years.
Rejuvenate at the Mokara Hotel and Spa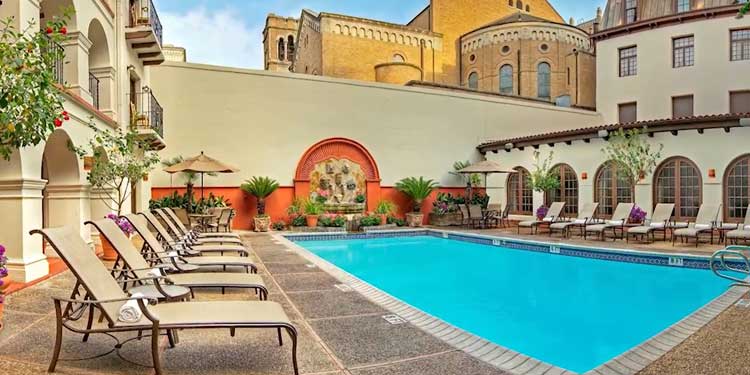 Location: 212 W Crockett St, San Antonio, TX 78205, United States
Opening hours: 8:00 am - 7:00 pm
Costs: N/A
"Are you looking for a place to relax?" Located near the sparkling Riverwalk, Mokara Hotel and Spa is ideal for unwinding with your partner.
Special couple packages provide excellent accommodation and a rooftop pool with a cafe and city views of San Antonio's skyline and heritage sites.
The finest place to unwind after a long day of exploration is the Spa. It includes impressive indoor jacuzzis, whirlpool tubs, and massage therapy with some of the finest masseuses in the city.
Enjoy the Hotel's fine cuisines at the romantic riverfront locale Ostra restaurant. Perfect place for you to try some of the best seafood and wines of San Antonio.
If you're looking for a place to stay in San Antonio's downtown area for a few days. In that case, Mokara Hotel and Spa comes highly recommended because it has everything you need for a romantic and relaxing stay.
Note: It is important to keep in mind that peak travel periods may result in higher rates and more crowded facilities. It's always a good idea to plan ahead and make reservations early to ensure availability and avoid any inconveniences.
Long Drive and Adventure at the Enchanted Rock State Natural Area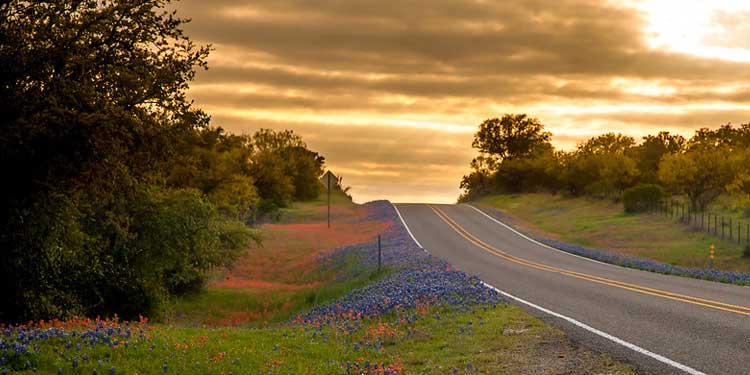 Location: 16710 Ranch Rd 965, Fredericksburg, TX 78624, United States
Opening hours: 6:30 am - 10:00 pm
The long drive from San Antonio to Fredericksburg's Enchanted Rock State Natural Area will take you to heaven, as the road trail will provide an incredible scenic view of Texas Hill country.
There are still plenty of exciting experiences to uncover, so the enjoyment never ends. From hiking and caving in the historical rock caves to camping in the best spots with fantastic animals and birdwatching nearby, you will find everything in this natural environment.
If you enjoy stargazing, stay for the night because you will see the stars up close and personal, and if you are lucky, you may even see the Milky Way.
Consider this your road trip, and spend some intimate time with your partner because it is a great time to talk and forget about the chaos in your life and relationship.
Romantic Date at the San Antonio Botanical Garden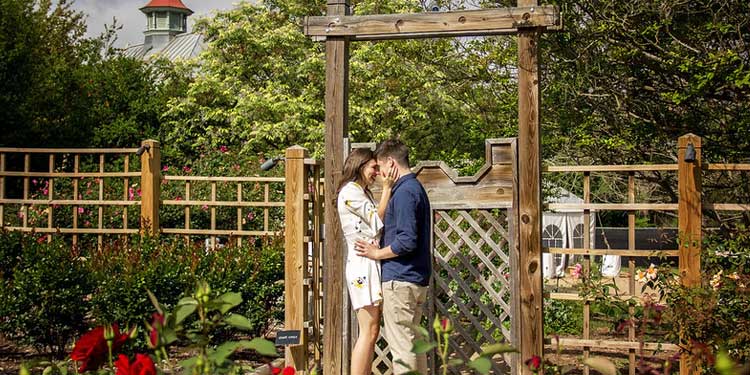 Location: 555 Funston Pl, San Antonio, TX 78209, United States
Opening hours: 9:00 am -  5:00 pm
Costs: $15 (Adults), $12 (Children 3 - 12), $10 (Senior Citizens)
With 38-acre beautiful plant exhibits and hiking trails, San Antonio Botanical Garden has something for everyone, especially for lovers.
Couples are welcome to stroll around the garden's beautiful grounds, filled with aromatic flowers and plants, with each step you take.
Discover some of the most beautiful Gardens in this area, such as the Old Fashioned Garden, Texas Native Trail, Water Saver Garden, Conservatory, and Rose Garden.
In addition, it hosts some special events for couples, including wedding ceremonies and picnics spots. So, whatever you decide to do, make it unique and romantic.
Celebrate Love at the Marriage Island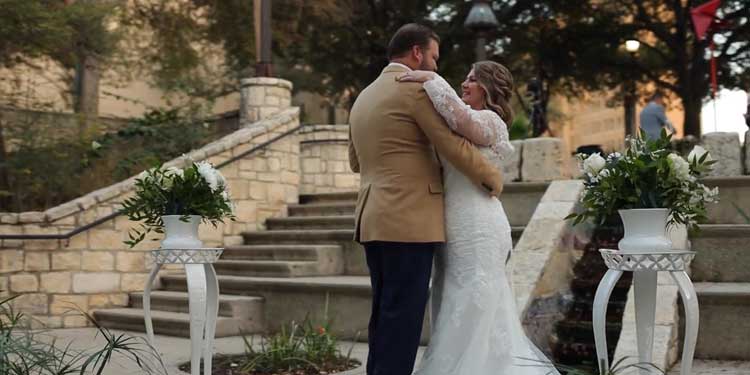 Location: 11 Soledad St #346, San Antonio, TX 78205, United States
Opening hours: 9:00 am - 5:00 pm, closed on Sundays
Costs: Marriage Island Rental $481.55 ( Monday - Thursday), $555.05 (Friday - Sunday)
''Are you looking for the ideal location to propose?'' Then look no further than Marriage Island for the perfect destination, as it will provide you with all the romantic ideas you seek.
It is a small heart-shaped Island located close to the hotel Contessa on the wildest stretch of San Antonio's famous Riverwalk and hosts approximately 225 wedding ceremonies annually.
You won't have to worry about arranging the small settings of your romantic proposal because it offers a variety of packages that include a professional wedding officiant, photography, decoration, a custom bouquet, and much more. So pick the best one and surprise the love of your life.
Interesting Fact: Couples who get married or engaged on Marriage Island would have good luck in their future endeavors. And because many marriages have happened throughout the years, the place was nicknamed Marriage Island.
Dinner and View from the Tower of Americas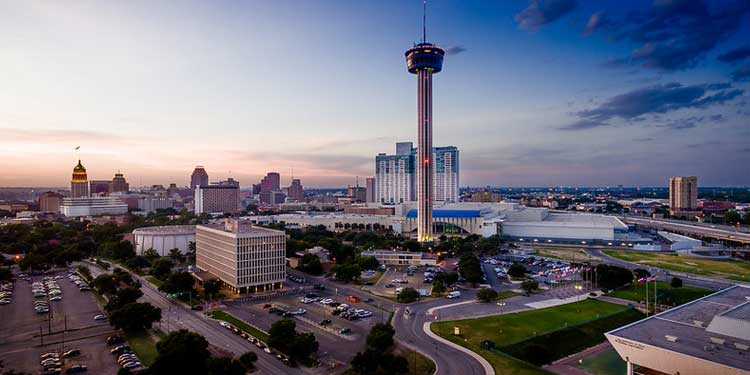 Location: 739 E César E. Chávez Blvd, San Antonio, TX 78205, United States
Opening hours: 10:00 am - 11:00 pm
Costs: $16.50 (Adults), $12 (children 4-12), free for children under 3
If you are around downtown Santonio, bring your partner to the Tower of Americas, as it takes romantic dinner and entertainment to the next level.
Located in downtown San Antonio, the 750-foot-tall Tower of the Americas offers couples the most spectacular River City view, great dinner plans, and many fun activities.
From taking in the fun 4D theatre rides to watching the soothing sunset over the city's skyline, it has everything you want for a perfect date night.
You can have the best dinner and french wines with various couples' special menus with your partner at the revolving Chart House in the tower's on-site restaurant. However, it can get crowded on busy days, so we recommend booking your table online from its website.
If you are wondering about parking, it has plenty of parking outside its premises. However, it will charge you a fee of $10 – $20.
Sightseeing at the McNay Art Museum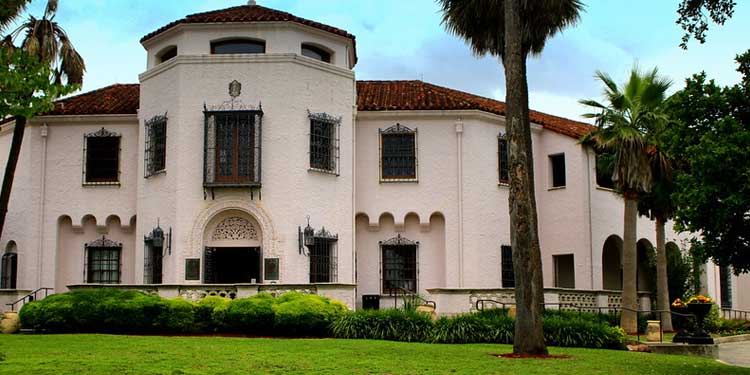 Location: 6000 N New Braunfels Ave, San Antonio, TX 78209, USA
Opening hours: 10:00 am - 6:00 pm (Tuesday, Wednesday, and Saturday), 10:00 am - 9:00 pm (Thursdays), 12:00 pm - 5:00 pm (Sundays), closed on (Mondays and Tuesdays)
Costs: $20 (General admission), free on Thursdays
If you and your partner are art enthusiasts, joining McNay Art Museum is just the right place to discover some of the extensive collection of 19th – 20th-century art displays.
The gallery walls feature some excellent contemporary artwork and sculptures with big names like Robert Indiana, George Rickey, Marry Cassatt, and more. Perfect for sightseeing and strolling around the art exhibits.
We recommend coming on Thursdays after 4 p.m. because admission is free.
In addition, there will be free Museum tours, weddings, live music, photography sessions on the fountains, and food trucks and beers available throughout the grounds. It will include everything you need for a perfect day with your partner.
Catch A Glimpse And Make Every Moment Special
True happiness comes from planning a trip to somewhere new, especially with someone you love. The world is vast but yet too shallow, and we must travel to many places, as planning with the person we are forever bound to can be difficult.
Let me tell you that today is a good day to begin your journey on this fantastic trip to San Antonio. You and your partner will have the best time ever, and your happiness will go beyond words with romantic ideas and intimacy everywhere you go.
I recommend visiting from spring to early fall, as the weather will be ideal for exploring some of the best romantic indoor-outdoor activities, and the hotels and lodging can also be cheaper.
So, don't wait too long and start planning your trip now that you've gathered all of the romantic ideas from San Antonio's top attractions.