Are you wondering which hotel would be an ideal choice to stay in while you're on an adventure to explore the beautiful city of Boston?
Worry not—you're in the right place!
This is where we can help you find a suitable hotel to make your staycation comfortable and memorable.
Boston is a big buzzing city with an eccentric vibe where you can expect to see a mix of old and new architecture, all co-existing together on the streets.
Likewise, various styles of hospitality are offered here, which everyone can enjoy!
Best Hotels in Boston
Encore Boston Harbor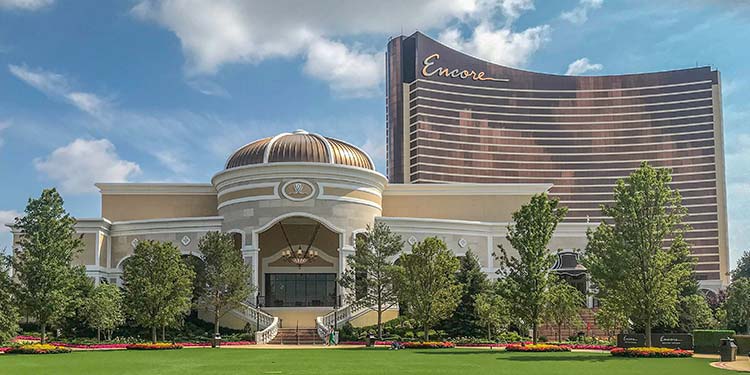 Location: 1 Broadway, Everett, MA 02149
Contact: +1 857-770-7000
If you're looking for a magnificent place to stay, you will surely love the luxurious treatment at Encore Boston Harbor.
The elegant-looking hotel has equally excellent accommodations and services to provide.
With 671 spacious and immaculate rooms spread over 27 floors of the building, people with different preferences can choose their guest room within the eight plans available.
The guests can easily access their gym for a good workout or spend a relaxing hour at the spa.
It is widely known for having the best game house; people who love to gamble are welcome to their vibrant casino.
People can also enjoy the shopping area and find several restaurants on site for a good time.
Being one of the highest-rated hotels in this area, Encore Boston Harbor not only lives up to its commitments but also exceeds expectations.
Tip: The most rewarding part of staying at this tall building is the spectacular view of the harbor and the city skyline!
Revere Hotel Boston Common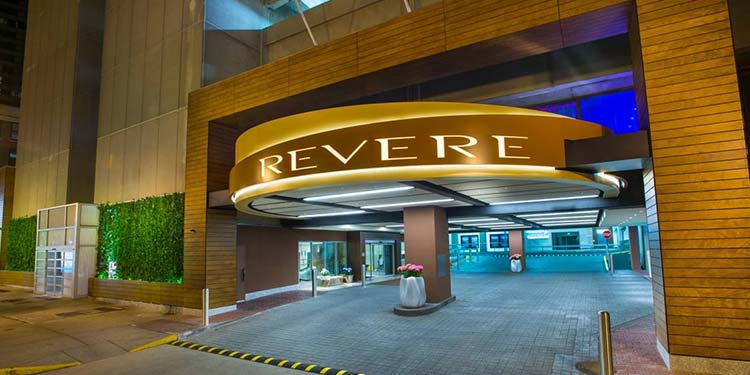 Location: 200 Stuart Street, Boston
Contact: 617-482-1800
Situated right in the heart of Downtown, Revere Hotel is a perfect place to stay if you wish your stay in Boston to be convenient.
They have a wonderful atmosphere where you can easily blend in from their lobby to their beautiful guest rooms.
If you prefer to stay in a king-sized room, your room will have an enormous bathtub, a balcony for refreshments, and basic amenities such as a Wi-Fi connection and a mini fridge.
The Hotel has a great lounge and bar area where the guests can have a relaxing and fun time with friends and family.
A restaurant is also attached to the building, making it easier for people looking for a place to dine.
Over everything, their kind and quick assisting staff's services are top-notch.
Tip: As it is in a prime location on Boston Common, you can find many historical places, theaters, and restaurants to visit at a walkable distance.
Copley Square Hotel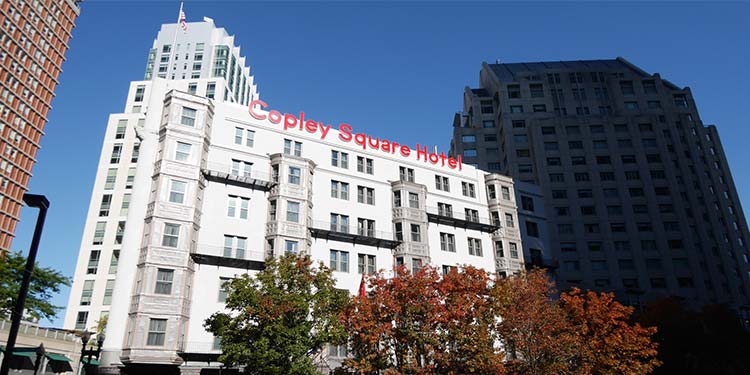 Location: 47 Huntington Ave, Boston
Contact: +1 617-536-9000
Copley Square Hotel, a 4-star hotel known for being one of the finest first-class hotels in the city, is also one of the oldest hotels in Boston.
Established in 1891, the hotel is over a century old and has an old architectural charm alive.
Mainly constructed of bricks, the seven-floor building has over 140 guest rooms with basic amenities, including free Wi-fi and access to free wine and coffee in their lobby.
The spacious rooms, which have been renovated, are made in order to provide a comfortable experience.
Visitors can find many nearby tourist attractions and places for shopping and lots of food!
Having the best customer service, the historic hotel has hosted many renowned celebrities throughout the years.
Note: Copley Square Hotel is not the quietest as it is on a busy street, so if you prefer a peaceful morning, it might not be for you.
The Verb Hotel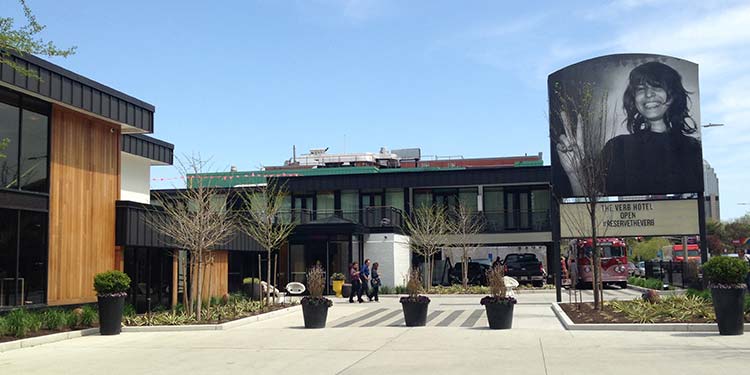 Location: 1271 Boylston Street Boston
Contact: (617) 566-4500 
Are you willing to stay at a hotel with a musical vibe? The Verb Hotel might be a good choice for those wishing for a fun getaway.
They provide great standard accommodations to their guests, and the friendly staff team is eagerly waiting to assist with any help at any time.
This vibrant rock & roll-themed hotel is well-decorated with music posters and paraphernalia; their ambiance can be truly admired.
Interestingly you can find an impressive collection of music on turntable tables that can be put on the vinyl record player available in every room.
Alongside music, you shall also enjoy free coffee and water available in the funky lobby all day long; the restaurant and bar connected to the lobby are also recommended.
If you're visiting during winter, you can dive into the outdoor heated swimming pool that opens until 10 pm to put a warm and relaxing end to the day!
Four Seasons Hotel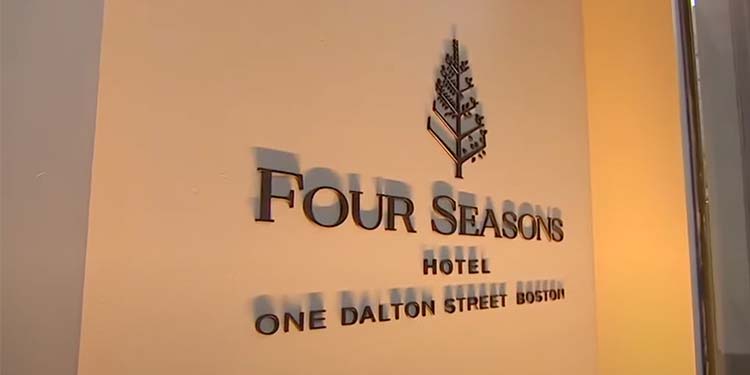 Location: 1 Dalton St, Boston
Contact: +1 617-377-4888
One of the top luxurious staycations is provided by no other than the Four Seasons hospitality company.
Likewise, having two of its services available at different locations in Boston, people wishing to experience exceptional service can book their rooms here.
Their rooms are spacious, clean, and neatly designed in a charmingly modern way, and the assistance is excellent.
Guests can enjoy their top-level services in the fitness center or on the wellness floor, where professionals provide facials and massages.
One of the best restaurants in Boston, which is also internationally acclaimed, Zuma—a Japanese restaurant and bar—is on the 2nd floor of the hotel building serving izakaya-inspired cuisines.
You can explore so much on-site, including the spectacular-looking curved swimming pool.
They also offer lots of fun plans to offer to kids and couples as well!
Boston Park Plaza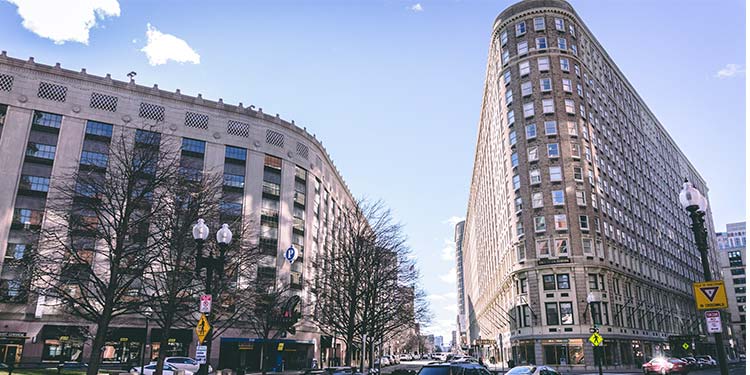 Location: 50 Park Plaza, Boston
Contact: +1 617-426-2000
Built-in 1927—almost a century ago, Boston Park Plaza is one of the classic buildings in the city.
The hotel has a consistently quiet and calm atmosphere and is an excellent destination for people who do not prefer busy air.
The elegant hotel has comfortable rooms and is mainly known for providing fantastic services.
It is also a great destination for delicious cuisine and entertainment in the Terrace Room for a refreshing time.
It is located in a clean and convenient area, making it easier for visitors to reach famous spots such as Newbury Street and Beacon Hill.
Studio Allston Hotel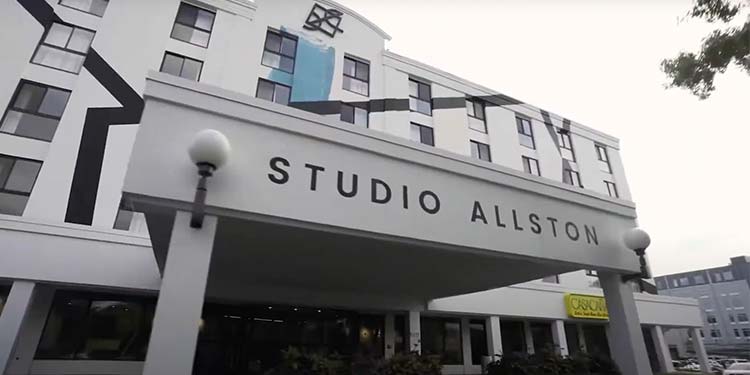 Location: 1234 Soldiers Field Rd, Boston
Contact: +1 617-206-1848
If you're looking for a reasonably priced hotel with good features, then look no further!
Studio Allston Hotel is truly a fun hotel that offers a unique experience to its guests.
This vibrant hotel is aesthetically well-curated and decorated with art in every corner, keeping visitors hooked.
Located near Harvard Square, you can visit the student hub and blend in the young, spirited energy of the people for a change.
You also get a nice view of the Charles River from here, which flows all the way back to Massachusetts Bay.
Fun Fact: The hotel has a Party Elevator that has joyful and multicolored that fills the box, which might excite anyone!
The Colonnade Hotel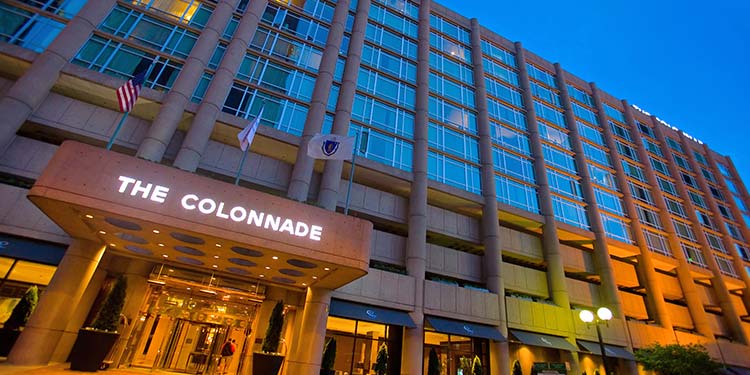 Location: 120 Huntington Ave, Boston
Contact: +1 617-424-7000
The Colonnade Hotel is suitable in Back Bay's fresh and lively neighborhood.
Visitors are warmly welcomed; the comfortable rooms also have amenities such as LCD TV, coffee brewer, complimentary high-speed Wi-Fi, and much more.
You can also have the best summertime at the only rooftop pool in the city.
If you wish to wander around the historic Copley Square, starting point at the Colonnade Hotel would be ideal.
Anyone looking for a good nearby shopping experience can visit the shopping center a few minutes away from the Hotel. 
Boston, Booked!
Whichever hotel you choose at your preference and convenience, you are promised a fantastic stay in the city.
Moreover, visitors can easily explore the city from the hotel within a short walkable distance to visit nearby attractions.
Boston has a warm, relaxed, and lively vibe all around, which can truly feel like a home away from home!
Note: Keep in mind that information about travel can change quickly. To ensure your trip is fun and safe, we encourage you to double-check official websites and government/travel advisory sites for the latest information on travel restrictions, entry requirements, and safety measures.