Highlands is a cozy and charming town in Macon County, North Carolina, where the beauty of nature will sweep you off your feet.
Watching the sunset from sunset rock or witnessing some of the most spectacular cascades like Bridal Veil and Secret Falls, the Highlands truly is a nature's paradise.
So much that you will wander around indulging in outdoor adventures.
From hiking and camping on the Mountaintops to going on a romantic long drive, theres something for everyone.
A perfect place to get close to mother nature and unwind yourself!
And to get started, check out our list of the best things to do in Highlands, North Carolina.
Things to do in Highlands, North Carolina
A Must-Visit to the Dry Falls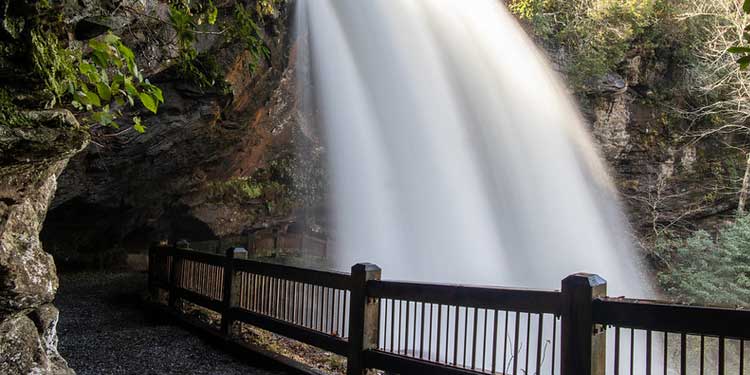 Address: Hwy 64 between Franklin and Highlands) in the Cullasaja Gorge
Opening season: open-year round
Costs: $3/vehicle fee, $15 annual pass (usable at Dry Falls, Whiteside Mountain, and Whitewater Falls)
Dry Falls is an absolute visual spectacle right in the heart of Nantahala National Forest.
Experience the sight and sound of the rushing 75 ft tall waterfall up close that allows you to walk behind the fall without getting drenched.
Visitors will notice a much higher volume of water during the monsoon season, while winters are best to see the water frosted turned into an exquisite frozen fall.
Now reaching here won't be a hassle as the parking spots and the trailhead to dry falls are just a short distance from the road.
It is more of a stroll down steps rather than a hike.
So, you won't be that tired when you reach the fall, and you will have ample time to take some fantastic pictures.
Tip: Avoid running, as the surface near the fall can get slippery.
Wander in the Lush Whiteside Mountain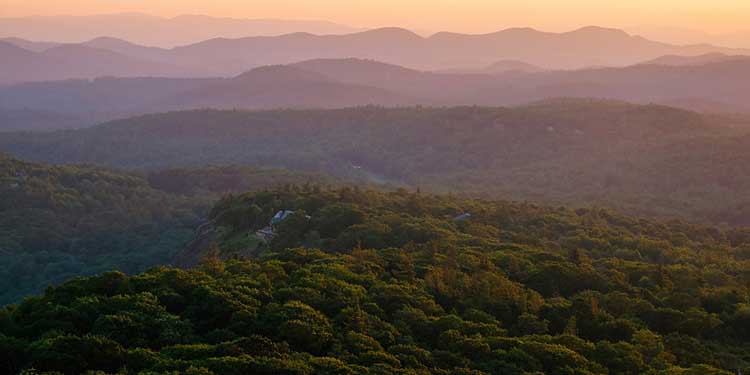 Directions: From Highlands, take US 64E, about 5 miles. Turn right on SR1680.
Open Season: year-round
Costs: $3/vehicle fee, $15 annual pass (usable at Dry Falls, Whiteside Mountain, and Whitewater Falls)
Known as the tallest cliff in the eastern United States, Whiteside Mountain is a popular natural attraction in North Carolina.
People also call it the 'Switzerland of America' during the winter as the mountain will be covered in snow, and the temperature drops, freezing down to 20 Fahrenheit.
Visitants absolutely love to do all kinds of winter outdoor activities in the Whiteside Mountains.
So don't get surprised if you see people skiing, snowboarding, and making a snowman in here.
Look out for an awe-inspiring panoramic view of the Blue Ridge Mountains and Rolling Hills.
Also, the good thing here is that you have two trails to choose from for the hike, the main loop trail and the summit trail.
During your hike, be prepared to see some of the most stunning views of the mountain and its surroundings.
Tip: stay alert as you may encounter a few wild animals.
Attend the Highlands Food and Wine Festival
Address: Main St, Highlands, NC 28741, United States
Event: held in early November
Costs: Varies according to each event
You have to dive into The Highlands Food and Wine Festival, which is a 4-day celebration of nothing short of food, wine, and music.
An annual festival in the early days of November is 'the event' of the year where locals and visitors come together and celebrate life to the fullest.
Expect to get several plates of food from the finest chefs and performances by some of the most renowned artists as well as promising new talents and singers.
And not to forget a variety list of refreshing cocktails and wine.
Note: The temperature usually falls on the colder side, so it's better to carry/wear a jumper and unleash that fall fashion at the festival. 
Take a Scenic Boat Tour on Lake Jocassee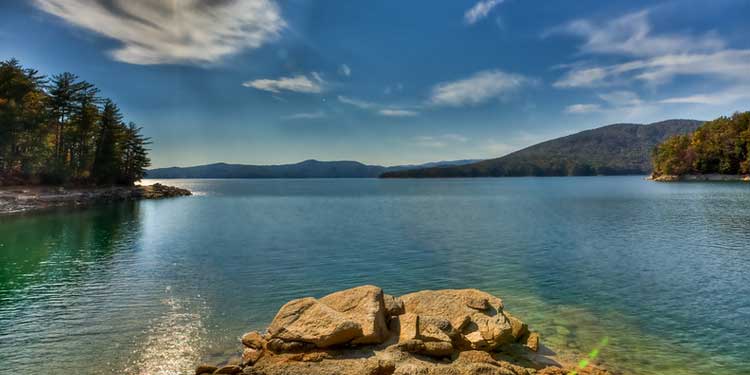 Address: Oconee/ Pickens counties, South Carolina, USA
Open season: 7:00 am-9:00 pm every day. Late fall to mid-spring 7:00 am-6:00 pm
Costs: $8/adults, $4/ages 6-15, free for kids six and under. It is also free entry every Tuesday all year round.
Surrounded by the lush green forest Lake Jocassee is the most gorgeous, crystal clear lake in Southeast USA.
If you like jet skiing, scuba diving, or swimming, this is the place to be.
Trout fishing is the most popular outdoor activity at this lake. The good thing is you can easily do your fishing either by sitting on the shores or while on a boat.
Apart from the outdoor activities, Lake Jocassee is also perfect for a personal getaway where you can enjoy the scenic view and walk across a suspension bridge followed by a quick foothills trail.
Fun fact: Lake Jocassee is a rainforest and receives an extraordinary amount of rainfall every year.
Visit The Bascom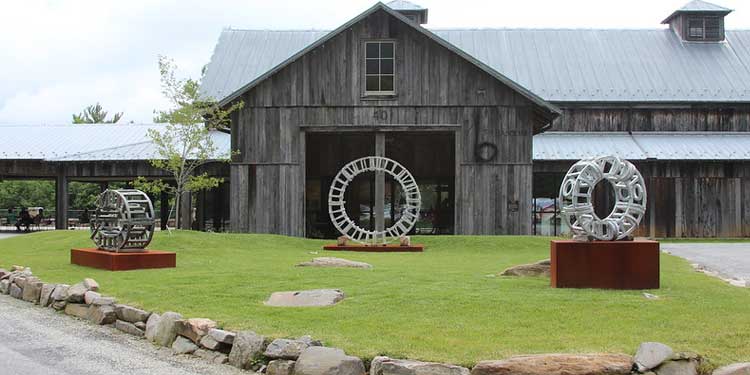 Address: 323 Franklin Rd, Highlands, NC 28741, United States
Exhibitions & Shop hours: Tuesday - Saturday 10am - 5pm
Studio Barn Hours: Monday - Saturday 10 am - 5 pm, Sunday Noon - 5 pm
Costs: Free entry
Bascom is a mix of fun and learning under one roof. It is truly the best artist retreat with a unique architectural vision.
It offers free art exhibitions by some of the most talented local and regional artists throughout the year.
While you stroll around, you will find exquisite collections of various art forms like sculpture, ceramics, painting, photography, and more.
One of the best programs of Bascom is 'art by appointment.' It is simply a no-pressure zone to indulge yourself in the creative process of art-making.
Tip: Make sure to check out the gift shop at the Bascom. They have a beautiful range of jewelry collections.
Experience Live Performances at the Highlands Playhouse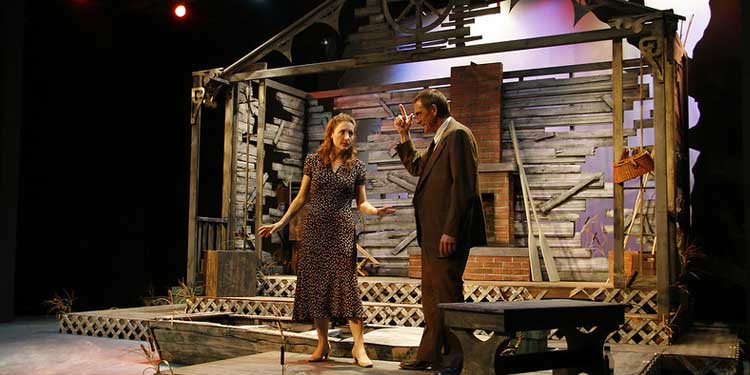 Address: 507 Chestnut St, Highlands, NC 28741, USA
Opening hours: Wed-Fri, 12-4 pm
Costs: Varies according to the show
The thrill of watching live storytelling at the Highlands Playhouse cant be described in words.
If you're a movie or acting enthusiast or love the art of all forms, you will love this place.
It has an exceptional range and genres of shows ranging from comedy to musicals, intimate setting plays, and classics.
Name any of it, and they are at the top of it!
Tip: The Highlands Playhouse has special shows running according to the holiday season and extraordinary occurrences.
Discover the Highlands Nature Center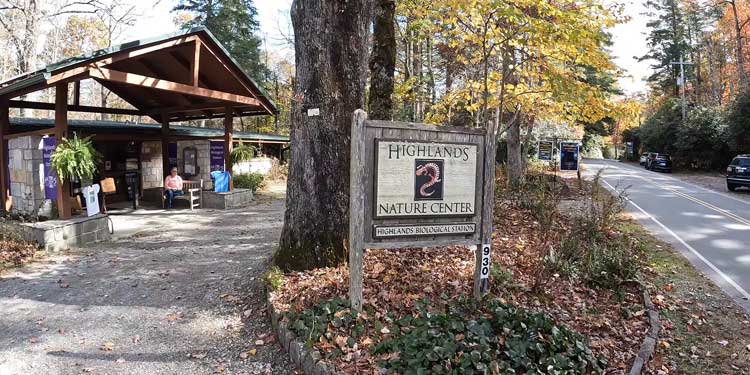 Address: 930 Horse Cove Rd, Highlands, NC 28741, USA
Opening hours: Mon-Sat 10 am to 5 pm
Costs: Free entry
If you want to learn about the natural environment of this beautiful southern plateau, look no further than Highlands Nature Centre.
This center solely focuses on educating and conserving our surroundings through informative, fun, and interactive sessions.
Apart from the exhibits, Highlands Nature Centre also hosts community events and festivals focusing on nature and environmental awareness.
You will also get a chance to get involved in taking care of and practicing mindful steps for the environment.
Also, guided walks and hikes allow visitors to explore the surrounding area's natural beauty.
Highlands Country Club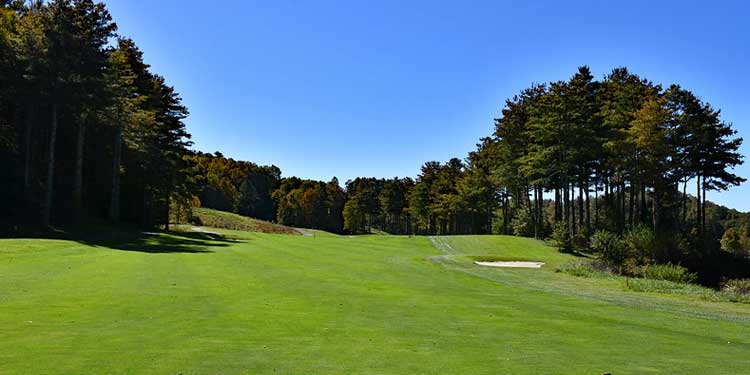 Address: 981 Dillard Rd, Highlands, NC 28741
Opening hours: All week, 8:30- 5 pm
Website: highlandscountryclub.com
Golfing in the highlands is all about being close to nature and witnessing a scenic view as you indulge in this sport.
One of the best private golf clubs is the Highlands Country Club.
Situated in the heart of the mountains, it has an 18-hole championship golf course with obviously a fantastic view.
Let's say you don't want to golf. In that case, you can take a tour by just driving around the course and enjoying the beautiful scenes.
Stroll Around Highland's Main Street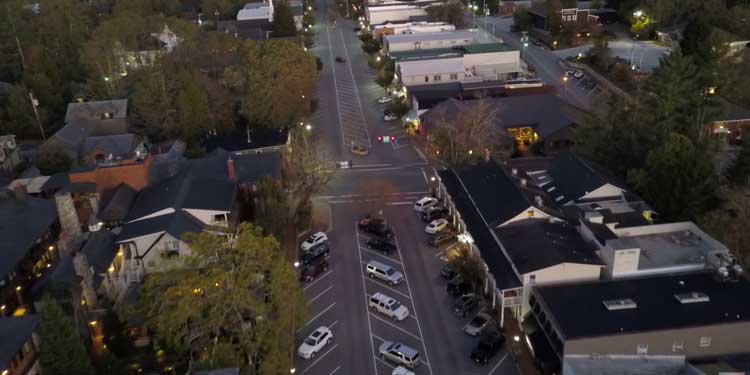 Address: Highlands, NC 28741, USA
Opening hours: Varies
Costs: Free entry to the streets
Highland's main street is such a picturesque and vibrant downtown where you will be able to experience Highland's authenticity.
This street is filled with boutique shops and art galleries.
The one place you have to visit is the MLPAC Gallery, which has some of the most innovative and fresh artwork pieces from promising local artists.
Then you should head to try some delicious southern comfort food at the eateries along Main Street.
Or take a stroll around the street and admire the town's quaint vibe, unique architecture, and natural beauty.
Take a Scenic Drive on the Blue Ridge Parkway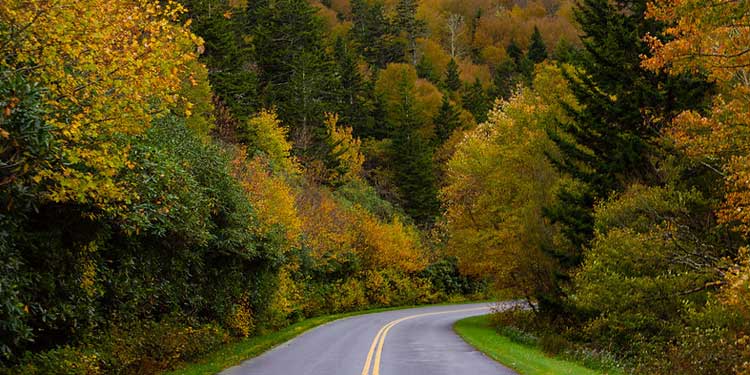 Address: Blue Rdg Pkwy, Canton, NC 28716, USA
Opening hours: All year long
Costs: Varies
Blue Ridge Parkway is a journey one must take up to experience some astonishing views and rich flora and fauna.
It is an open landscaped highway that connects Shenandoah National Park in Virginia with the Great Smoky Mountains National Park in North Carolina and Tennessee.
So, get ready to witness numerous stunning panoramic views of the mountains and forests along your drive.
Retreat Yourself at the Heart of Nature
Highland's natural beauty is undoubtedly stunning and a major attraction, so exploring this area by taking hiking trails and drives should be at the top of the list.
However, remember that the Highlands weather can be unpredictable, and temperature fluctuations might occur throughout the day.
It might get hot and humid in the morning but super cold during the evenings, so always carry an extra clothing item with you.
Finally, by following our top recommendations, you are sure to leave this majestic city with tons of memories. So hurry up!
Enjoy your journey to the mountains!
Note: Keep in mind that information about travel can change quickly. To ensure your trip is fun and safe, we encourage you to double-check official websites and government/travel advisory sites for the latest information on travel restrictions, entry requirements, and safety measures.