Splurged with several kid-friendly hiking trails, fun activity sites, and bumpy fun rides, Sedona is the right place to go on a vacation with kids.
Whether you want an adventure Jeep ride on the rocky Red Rocks or enjoy water sports in Oak Creek Canyon, there is something for kids of all ages.
However, there's plenty of space to learn too!
You will also get a chance to experience the rich culture of the original inhabitants of Sedona at the Birthing Cave and Sedona History Museum.
And Stargazing from the peak of the red rocks at Airport Mesa tops it off all for the little ones.
Are you excited to learn more?
Go through the following list of the best things to do in Sedona with kids to find even more exciting places in the city.
Things To Do in Sedona with Kids
Learn History at Sedona Heritage Museum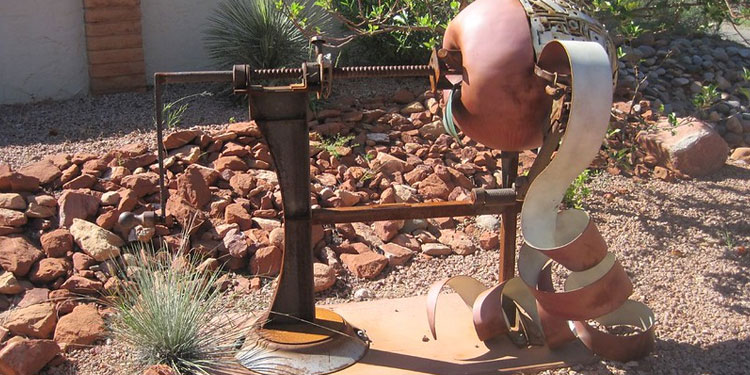 Location: 735 Jordan Road, Sedona, AZ 86336
Opening hours: Open daily, 11:00 am - 3:00 pm
Cost: Self-guided tour at $7 (Free for kids under 13)
Best time to visit: Mid-weekdays
Bring your little ones to learn the history of the origin and development of Sedona at the century-old Sedona Heritage Museum.
This 4.8 acres oasis in uptown Sedona was actually a preserved farmstead of the Jordan Family that was established as a museum later in 1991.
You can stroll through the regular exhibits of vintage vehicles, antique orchards, stories of pioneers, and arts heritage on display.
And the seasonal highlights include the annual event on special occasions of Veteran's Day, Christmas, and the Fall & Craft Fair.
Water Activities at Oak Creek Canyon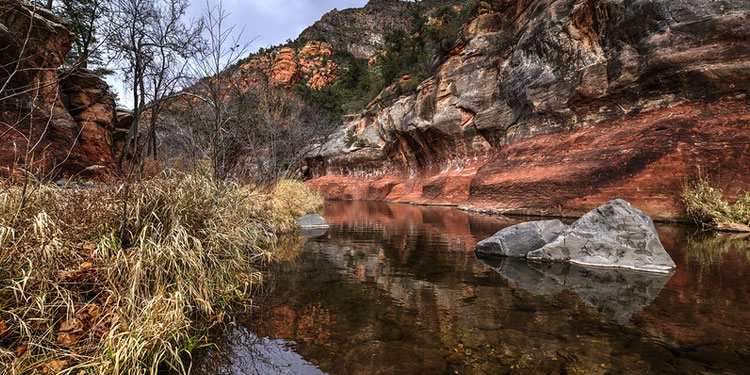 Location: Oak Creek Canyon, AZ 86336
Opening hours: Open 24 hours
Cost: Free
Best time to visit: Springs
Let your kids enjoy the spring water of Oak Creek Canyon of Sedona, also known as the smaller cousin of the Grand Canyon for its incomparable beauty.
This 12 miles long river gorge connects Sedona with Flagstaff, another major city in Arizona.
You can set up a camp on the edge and enjoy fishing, swimming, and wading off in the water.
The freshwater of this canyon is rich in different varieties of trout, bass, and catfish. Rainbow trout and Wild brown trout are the most common ones.
Watch Starry Sky from Airport Mesa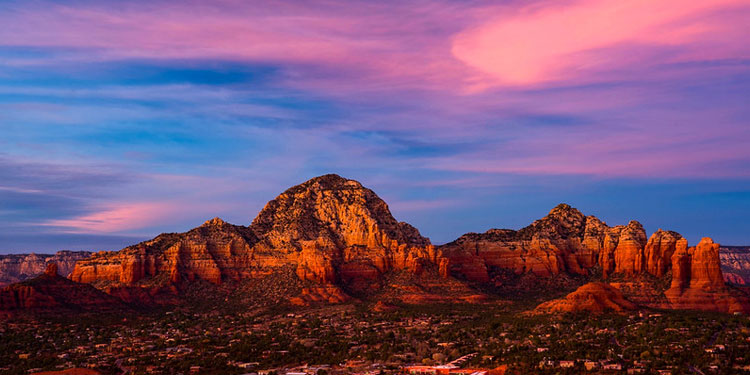 Location: 483 Airport Road, Sedona, AZ 86336
Opening hours: Open 24 hours
Cost: Free
Best time to visit: Spring and Summer evenings
Hiking Difficulty: Moderate
Most adults can relate to their childhood while staring at the starlit sky of Sedona from Airport Mesa.
Just after hiking a 3.3-mile loop around Tabletop Mountain, you can reach the top of this infamous vortex.
This spot offers a fascinating view of Bell Rock, CathdralRock, and Coffee Pot Rock.
And stay until the sun sets to catch sight of the Milky Way Galaxy full of twinkling stars. It feels like a frosted river of sparkly light over your head.
Tip: Go on a Jeep ride if you have young kids; hiking up the rocky trail could be difficult.
Hike up the Boynton Canyon Trail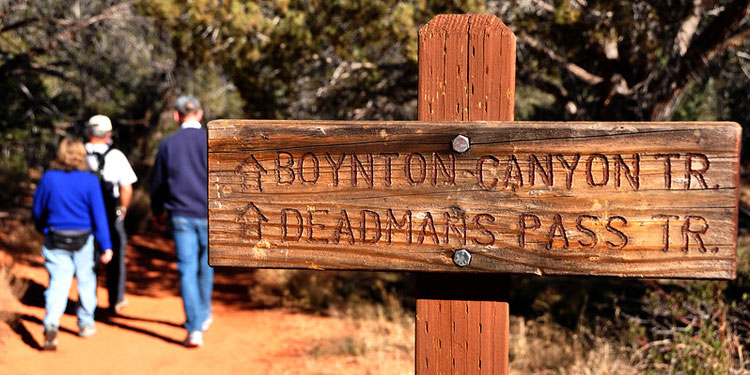 Location: 525 Boynton Canyon Road, Sedona, AZ 86336
Opening hours: Open daily, 6:00 am - 11:00 pm
Cost: Red rock pass of $5 required
Best time to visit: Spring mornings
Difficulty: Easy
Awaken the adventurous side of your kids on a hike along the colorful cliffs of the Boynton Canyon Trail.
Since it is a flat trail of 3 miles with a moderate climb, it can be done with young kids.
You can get a view of the Canyon floor and even a chance to encounter the wildlife of the Red Rock Secret Mountain Wilderness area.
The beautiful bird songs and scenic views will definitely encourage you while climbing up the trail.
Wildlife Safari at Red Rock State Park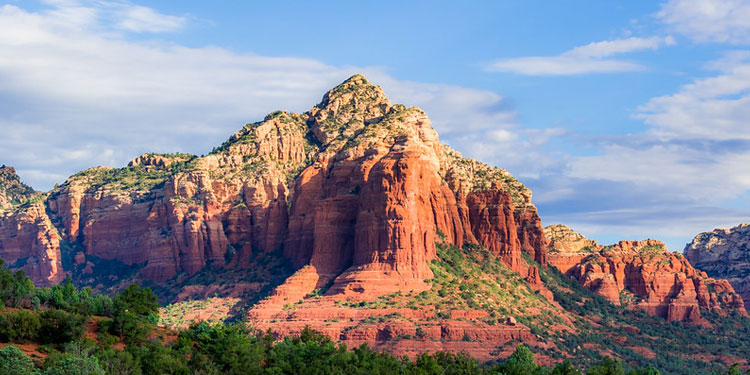 Location: 4050 Red Rock Loop Road, Sedona, AZ 86336
Opening hours: Open daily, 8:00 am -5:00 pm (Visitor center- 9:00 am - 4:30 pm)
Cost: Youth- $4 and Adults- $7 (Free for young kids)
Best time to visit: Summer and Spring
Explore the 286 acres wide natural reserve of Sedona's wildlife at the re4d Rock State Park.
The site is famous for mountain biking for its 5-mile-long trail with an elevation gain of 300 feet.
But if you have little kids, opting for the Wildlife Jeep Safari is better. It would be more fun and convenient for them.
You can also take a guided nature walk, bird-watching strolls, or go for a moonlit hike in this park.
The on-site visitor center will provide details about the history of the area.
Have Fun Tour in Pink Jeeps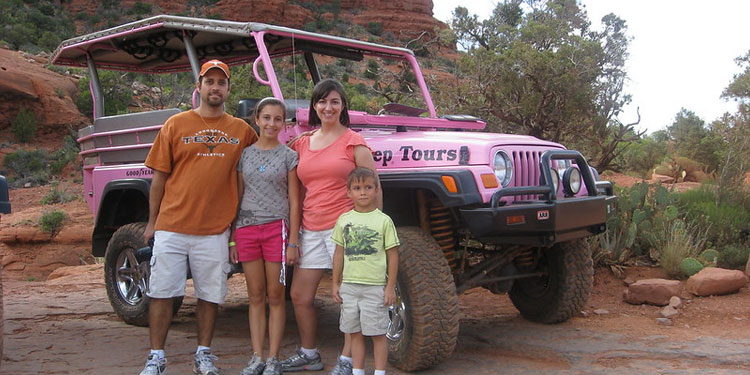 Location: 204 N State Route 89A, Sedona, AZ 86636
Opening hours: Open daily, 7:00 am -8:00 pm
Cost: Ranges from $49 - $259 per person (Separate range for private tours)
Best time to visit: Spring and Fall
Your little ones would love exploring the beauty of red rocks city on an exciting ride of the Pink Jeeps.
There are several routes to choose from in the sightseeing tour in these jeeps. Check the website to book one for you and your family.
You can choose combo packages to cover all major highlights like the Red Rock range, Scenic Rim, and Sedona East in one ride.
The guides will give an insight into these landmarks' cultural importance and history as you pass them.
Explore the Exposures International Gallery of Fine Art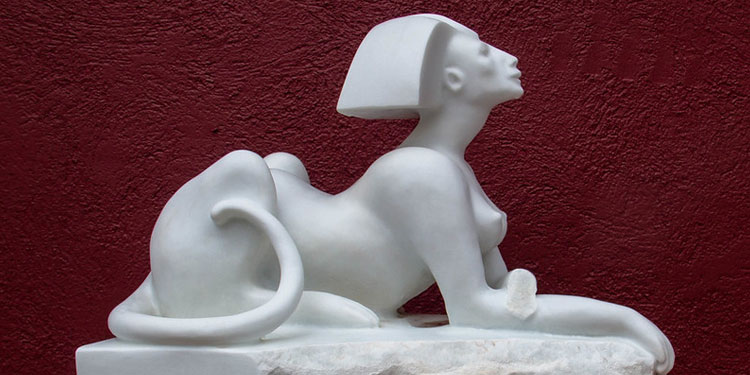 Location: 561 State Route 179, Sedona, AZ 86336
Opening hours: Open daily, 10:00 am - 5:00 pm
Cost: N/A
Best time to visit: Weekdays
If you have art-enthusiastic kids in your family, then the Exposures International Gallery of Fine Art is a really cool place to visit.
Spread over an area of 20,000 square feet; there's a display of classical to contemporary masterpieces of artists around the globe.
You will find a wide range of art on display, from stone to bronze sculptures and oil to acrylic paintings.
And if you cannot visit, take the virtual tour of the art galleries. Check the website for detail.
Note: The gallery is also available for reservation for private events.
Family Picnic at Crescent Moon Picnic Site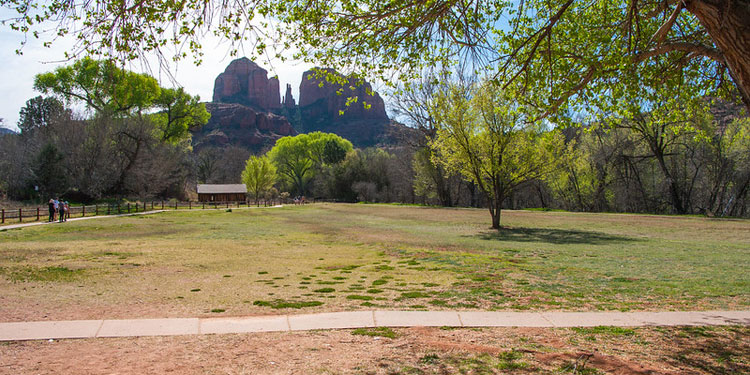 Location: 333 Red Rock Crossing Road, Sedona, AZ 86336       
Opening hours: Open daily, 7:00 am -7:00 pm (Subject to change seasonally)
Cost: $3 per person ($12 per vehicle for up to 5 people)
Best time to visit: Spring through Fall
Spend a fun evening with a family picnic by the freshwater of Oak Creek at the Crescent Moon Picnic Site.
With Cathedral Rock soaring over in the Southwest, you can see the most photographic scenes of the city from this site.
Your little ones can chill out, swim, or wade in the water. It is also quite popular for fishing several varieties of trout.
The picnic site has washrooms, abundant drinking water, and picnic tables to facilitate the visitors.
Explore the Birthing Cave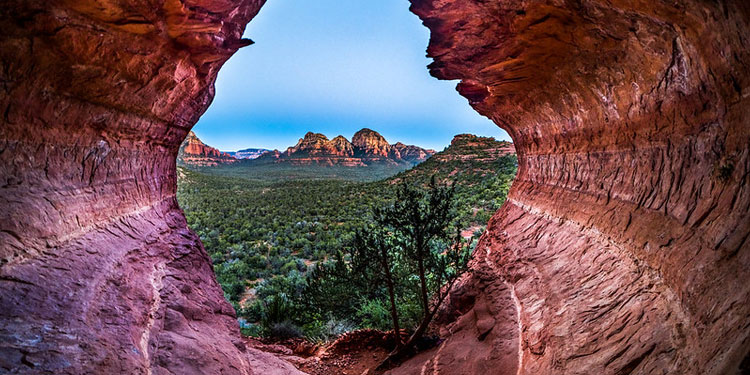 Location: Deadman's Pass Trail, Sedona, AZ 86336
Opening hours: Open 24 hours
Cost: Red Rock pass of $5 required
Best time to visit: Spring and Fall
Go on an easy hike of a 1.9-mile-out-and-back trail with your kids to explore the secluded hidden gem of Sedona, the Birthing Cave.
The indigenous inhabitant of the city, the Hopi people, gave the name this name when pregnant women from this tribe came here to deliver their babies.
You can get sweeping views of the Sedona's Redrocks just after crossing four ledges of the cave's wall.
Don't forget to click a picture with your little ones to make their adventurous ascend.
Tip: Be careful while climbing up the wall of the cave, and wear boots with a good grip to avoid slipping.
Fishing at Rainbow Trout Farm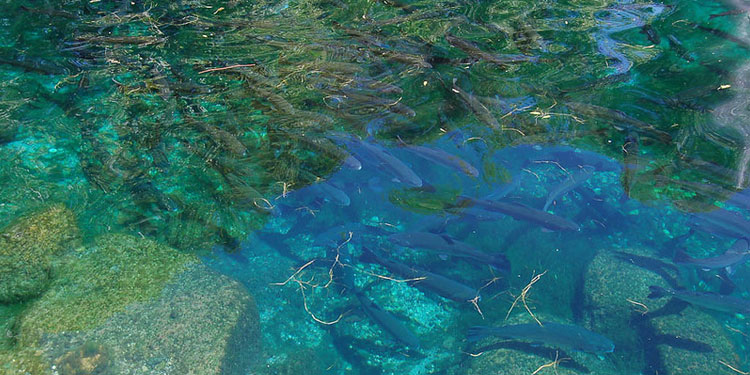 Location: 3500 N State Route 89A, AZ 86336
Opening hours: Open daily, 9:00 am -5:00 pm
Cost: $1.5 per fishing person (Additional $1 per catch)
Best time to visit: Early morning
Let your little ones learn to fish at the fishing ponds located beneath Wilson Mountain within the premises of Oka Creek Canyon.
The farm raises the trouts in fresh artesian spring water after hatching them from the eggs. Hence, quality fish are guaranteed.
You can even grill and eat your catch from the water on-site. How exciting is it for the kids?
The farm also has fish food dispensers and assorted snacks on sale.
Off-road Jeep Tours at Cathedral Rock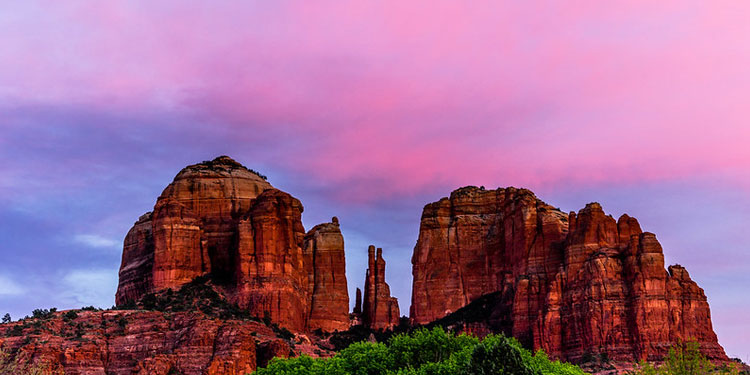 Location: 8375 State Route 197, Sedona, AZ 86336
Opening hours: Open 24 hours
Cost: Ranges from $99.95- $199.95 (varies with no. of people)
Best time to visit: Spring through Fall
Experience the positive energy of Sedona's most famous vortex, located just 2 miles away from downtown.
Since the hiking trail is rock and challenging to ascend, exploring it on a 4WD is better if you are a family with little kids.
You can get a gorgeous panoramic view of the city and other major landmarks from the top of this 1514-meter-tall monument.
It also holds an amazing photo opportunity with a backdrop of towering red rocks and a luscious green forest of Coconino National.
Tip: Visit in the evenings for a gorgeous sunset view.
Shopping at Hillside Sedona Shopping Center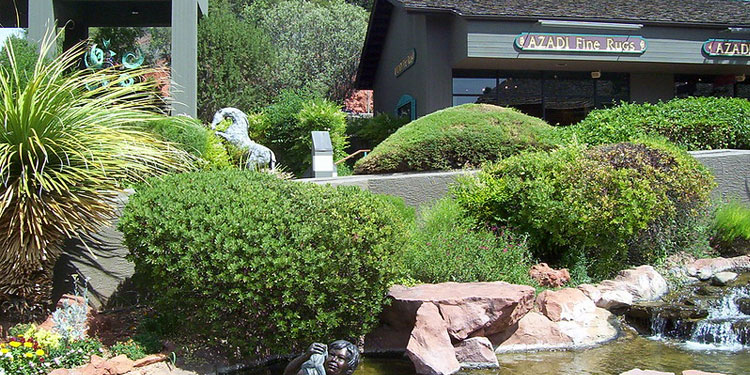 Location: 671 AZ-179, Sedona, AZ 86336
Opening hours: Open daily, 10:00 am - 6:00 pm
Cost: Free entry
Best time to visit: Summer evenings
Explore the art galleries, fashion boutiques, and specialty shops as you stroll down the Hillside Sedona Shopping Center alleys with your kids.
You can find a diverse display of pottery, sculptures, and art in the gallery focusing on the region's local artists.
And the little ones will enjoy making a wish by throwing coins in the water fountains inside the premises.
Don't forget to enjoy the amazing cuisine of the on-site Hilltop Deli Sedona restaurant with a stunning view of the red rocks.
It is quite popular among the locals for its sandwiches.
Visit the Amitabha Stupa and Peace Park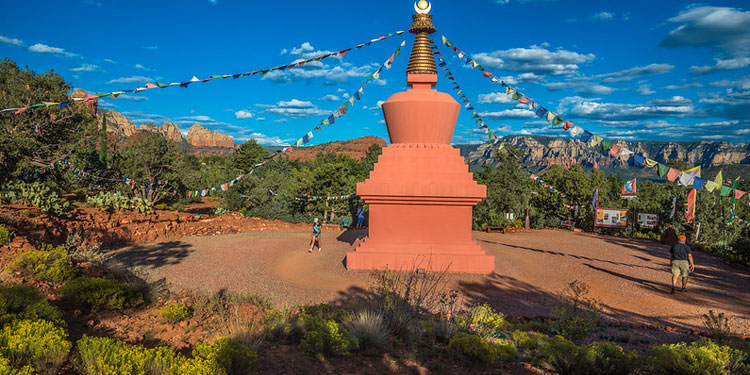 Location: 2650 Pueblo Drive, Sedona, AZ 86339
Opening hours: Open daily, 8:30 am - 6:00 pm
Cost: Free
Best time to visit: Spring mornings and evenings
Take your kids for a spiritual renewal at the 14 acres of the holy park of Amitabha Stupa and Peace Park.
This privately owned property of Kunzang Palyul Choling is a good venue for prayer, meditation, and refuge for visitors all around the globe.
At the park, you will see two Buddhist stupas and the 36-foot-tall Amitabha Stupa.
One is of a Native American medicine wheel, and the other is an exquisite wooden statue of Shakyamuni Buddha.
Tip: Wear good walking shoes, put on sunscreens, and carry water to drink as you have to walk a while for full exploration.
Collect the Best Vacation Memories
You have learned about Sedona's natural and historical wonders, but that's not the only thing this Desert Town has for kids.
Many kid-friendly downtown restaurants and shopping villages serve kid-friendly meals.
Some of the popular ones include the pet-friendly Secret Garden Cafe and the giant chocolate chip pancake of the Coffee Pot Restaurant.
And remember to visit Puzzling Adventures for a fun scavenger hunt session.
Enjoy your vacation!
Note: Keep in mind that information about travel can change quickly. To make sure your trip is fun and safe, we encourage you to double-check official websites and government/travel advisory sites for the latest information on travel restrictions, entry requirements, and safety measures.