If you are looking for the best family-friendly vacation destination around Oregon, theres many indoor and outdoor waterparks that suit visitors of all ages.
Let the kids have all the fun at the thrilling waterslides and by floating along the lazy river, while adults can enjoy swimming in the pool or basking in the sun.
Oregon's water parks also offer plenty of amenities to ensure a comfortable and enjoyable experience.
From cozy cabanas and shaded picnic areas to concession stands serving delicious snacks and refreshing beverages, you'll have everything you need for a day of aquatic fun.
Explore the best water parks in Oregon and embark on a wet and wild journey filled with excitement and laughter.
So let's dive into the top water parks that Beaver State has to offer.
Waterparks in Oregon
Wings & Waves Waterpark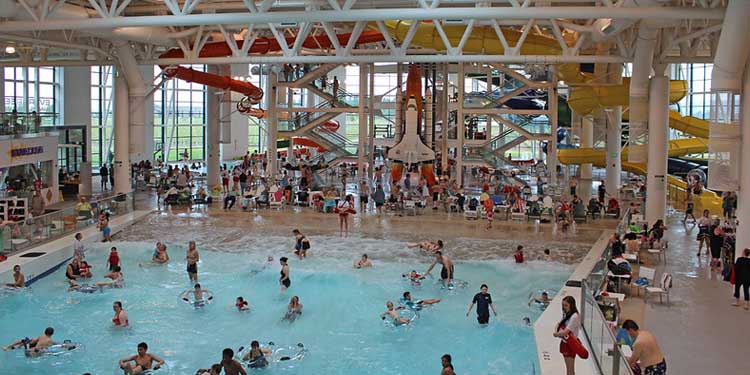 Address: 60 Northeast Captain Michael King Smith Way, McMinnville, Oregon 97128, United States
Hours: open year-round from 10:00 am - 7:00 pm
Costs: Buy Tickets
Wings and Waves is a quirky indoor water park in McMinnville located adjacent to the Evergreen Aviation and Space Museum just south of Portland.
One of the most unique features of this water park is that you can actually slide out of a real Boeing 747 (American Aircraft) all the way through the pool area.
Best of all, everyone gets to enjoy this exhilarating experience, as there are several large waterslides, each depending on age.
Other amenities include an onsite food court, swimming equipment rentals, and a fun wave pool for the entire family.
Tip: If you plan on doing both the waterpark and the museum on the same day, I'd definitely recommend planning an all-day event.
Astoria Aquatic Center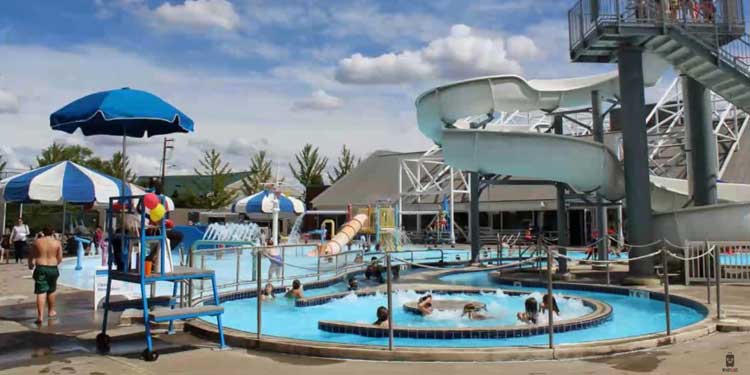 Address: 1997 Marine Drive, Astoria, Oregon 97103, United States
Hours: open 6:00 am - 6:00 pm (Monday - Friday), 9:00 am - 3:00 pm on Saturdays & closed on Mondays
Costs: Admission for the entire day is $8 per person for adults, seniors & youths are $6, and kids under 3 are free
Get ready to be soaked in the indoor water park of Astoria Aquatic Center, featuring four large pools with a stunning lazy river and a heated wading pool for the little ones.
The center also boasts a large 25-meter lap pool for die-hard swimmers providing swimming lessons, fitness, and lifeguard training.
Let your body rest and relax in its steaming hot tub, or make it a delightful treat at its on-site cafe that serves foods and beverages of all kinds.
Whatever you do, you are spoilt with many choices!
It is open year-round and makes a great destination for families and larger groups.
Tip: Make sure you go when the red slide is open for an exciting water ride.
Check out other best things to do in Astoria, Oregon.
Pendleton Family Aquatic Center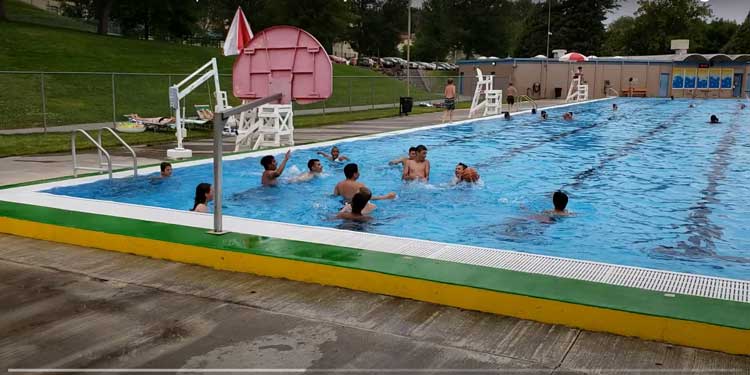 Address: 1901 Northwest Carden Avenue, Pendleton, Oregon 97801, United States
Hours: open daily from 12:00 pm - 8:00 pm 
Costs: Buy tickets
For an epic summer holiday vacation Pendle Family Aquatic Center offers an abundance of fun acitivities for everyone.
The waterpark features three swimming areas, including a zero-depth leisure pool and a dive well, along with multiple slides for kids and adults.
And if you are looking for a place to eat after a long day of water recreational activities, there are plenty of family picnic areas with tables, BBQ grills, and canopies.
Occasionally, it hosts special events like Adult Pool Party, Teen Night, Aquatic Dollar Day, and Doggie Dip Day.
These events are filled with fun water activities, so do check out its website before visiting to participate in the grand events of Pendleton Family Aquatic Center.
Check out other best things to do in Pendleton, Oregon.
North Clackamas Aquatic Park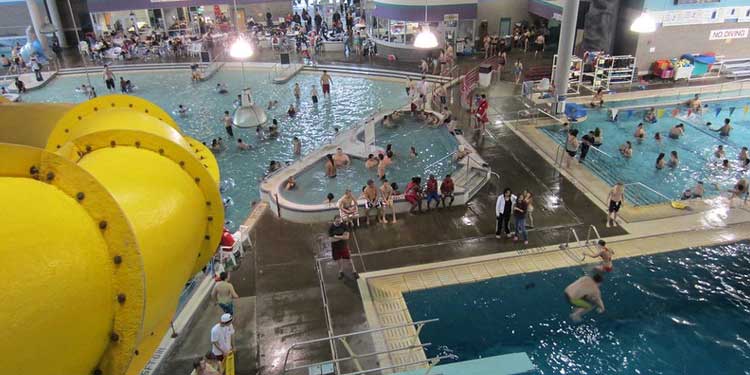 Address: 7300 Southeast Harmony Road, Milwaukie, Oregon 97222, United States
Hours: timings vary on days and seasons 
Costs: Buy tickets
North Clackamas Aquatic Park is a recreation center that has been providing excellent service to locals and visitors since 1994.
It is located just a few miles drive away from Downtown Portland.
With huge pools and thrilling water slides, this Aquatic Park has something for everyone.
Come splish and Splash in the huge lap and wave pool, relax in the hot tub, or watch the kids have a blast discovering all the activities in the kiddie areas.
Other amenities include wall climbing and special events like birthdays and other kid's parties.
Shute Park Aquatic & Recreation Center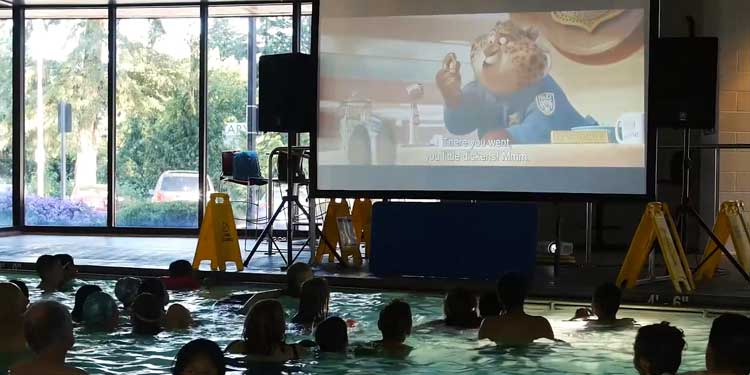 Address: 953 Southeast Maple Street, Hillsboro, Oregon 97123, United States
Hours: open 5:30 am - 9:30 pm (Monday - Thursday), 7:00 am - 5:30 pm on Saturdays & 8:00 am - 5:30 pm on Sundays
Costs:
With an indoor, outdoor, and warm pool, Shute Park Aquatic and Recreation Center makes a lovely destination for visiting all seasons.
Whether for swimming, exercise classes, or just sliding through the huge pool, the entire facility is very well-maintained and ready to use.
For a little bit of excitement for the little ones theres a Dive-in movie theater that shows kids related movies and various other cartoons.
And if you want that ultimate rejuvenating treatment, the center also provides a spa pool and dry sauna.
It is located just 19 miles from the Historic Pearl District of Portland. So make sure to stop by while you are around!
Splash! at Lively Park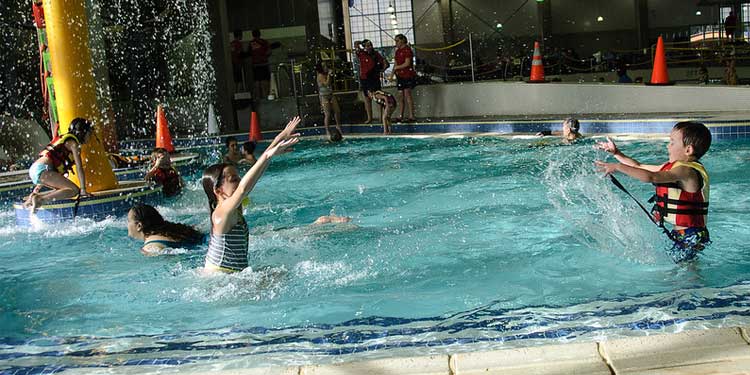 Address: 6100 Thurston Road, Springfield, Oregon 97478, United States
Hours: 1:00 pm - 7:30 pm (Monday - Saturday), 1:00 pm - 5:00 pm on Sundays
Costs: ticket rate range from $10 - $6, depending on age and districts
Splash! at Lively Park is a public swimming pool in Springfield, located just a stone's throw away from Eugene, Oregon.
This indoor water park features a wave pool, fun water slides, a kiddie pool for the little ones, and an adult spa treatment for the big ones.
Get in the pool, play a round of water basketball, and get a lovely treat at its on-site cafe serving delicious foods and drinks.
Whatever you do, theres a lot to do! So start making plans today on your must-visit places in Oregon.
Osborn Aquatic Center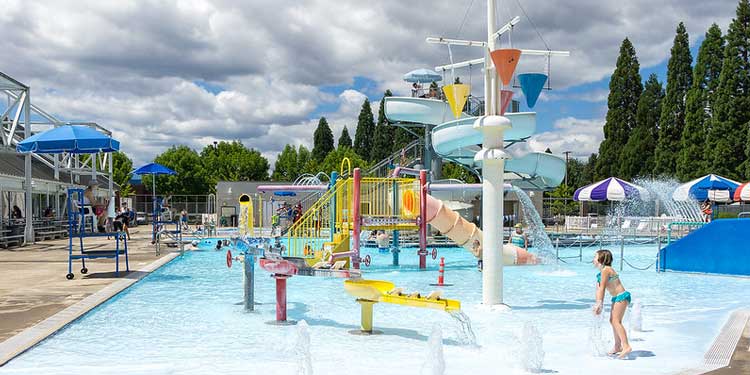 Address:1940 Northwest Highland Drive, Corvallis, Oregon 97330, United States
Hours: operating hours vary from days 
Costs: Buy tickets
If you want a great family-friendly beach and water park fun experience, look no further than the Osborn Aquatic Center.
Whether it's swimming indoors or outdoors, theres many amenities that are best for kids and adults of all ages.
You can choose from a whooping water slide for toddlers, a lazy river, lap pools, and many more.
This public swimming and community center also offers an artificial beach where visitors can have the best time sunbathing and soaking in the water.
It also hosts several special events, such as dog parties, birthdays, and movie nights. So make your calendars for an epic summer holiday.
Check out other best things to do in Corvallis, Oregon.
Water Parks in Oregon awaits! 
Finally, keep in mind that the water park's safety is of the first importance. Lifeguards are stationed around the parks to protect the safety of all visitors and provide a comfortable atmosphere for everybody.
So, whether you're looking for thrilling water slides, soothing pools, or interactive water play zones, our top recommendations have everything.
So hurry up and plan your trip, grab your swimwear, and get ready for a splashing good time in Oregon's heart.
Note: Keep in mind that information about travel can change quickly. To make sure your trip is fun and safe, we encourage you to double-check official websites and government/travel advisory sites for the latest information on travel restrictions, entry requirements, and safety measures.