Astoria is a small picturesque town near the Oregon Coast, mostly known for being home to the classic 1985 film ''The Goonies''.
Located on the South shore of the Columbia River, this city is filled with historical sites, fascinating museums, breathtaking State Parks, and exciting nature adventures.
It is easy to see why Astoria makes a great coastal vacation for everyone!
The bustling Downtown area near the Riverwalk boasts plenty of shopping malls, restaurants, and entertainment venues that will delight your taste.
To find out more, we have set a list of some of the best things to do in Astoria, Oregon, to make a memorable trip. So let's get started!
Things to Do in Astoria, Oregon
Watch Scenic View from the Top of Astoria Column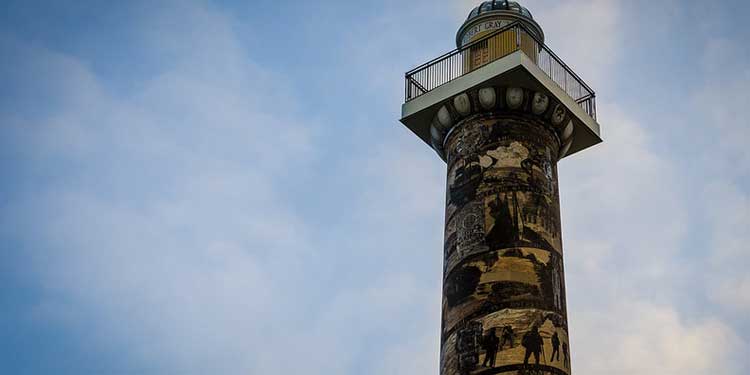 Address: 1 Coxcomb Drive, Astoria, Oregon 97103, United States
Opening hours: open daily from 5:00 am - 10:00 pm
Costs: free entry to park with a $5 parking fee per vehicle
This 125-foot-tall tower is located in the Pacific Northwest, overlooking the mouth of the Columbia River on Coxcomb Hill in Astoria.
Its 164 steps lead you to an observation deck at the top, offering a panoramic view of the ocean and mountains.
Another fascinating thing is the art-covered pillar made out of concrete that features artwork depicting many American histories.
From the origin of Astoria to the settlement of pioneers and the adventure of Lewis and Clark, visitors are sure to be learning and seeing many pieces of history.
Tip: Buy a wooden airplane from the gift store and fly it from the top of the column to see how far it will pass.
Walk in the Steps of The Goonies at the Oregon Film Museum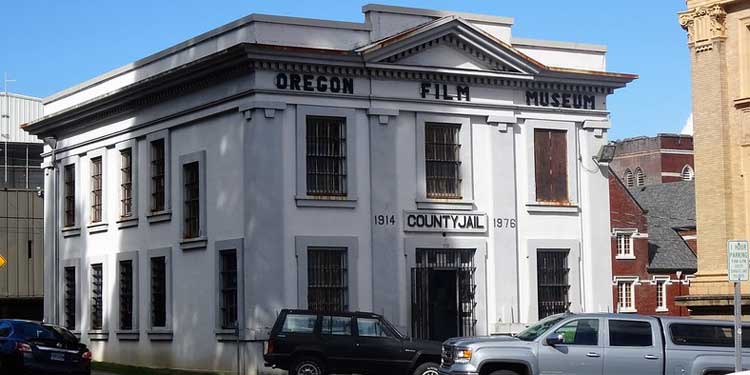 Address: 732 Duane Street, Astoria, Oregon 97103, United States
Opening hours: open daily from 10:00 am - 5:00 pm 
Costs: admission rate is $6 for adults & seniors, $2 for youths
Did you know?
Iconic scenes from the classic Steven Spielberg movie ''The Goonies'' were shot right here at the Oregon Film Museum.
Go behind the scenes and recreate one of your favorite sequences from the film, which you can then combine to create your own production.
A super fun thing to do in Astoria with your friends and family!
The museum is housed in the old Clatsop County Jail, which was an actual working prison in the early to late 20th century.
Take a stroll around, and you will learn everything there is to know about this historical site and the creation of movies in Oregon.
Visit the Columbia River Maritime Museum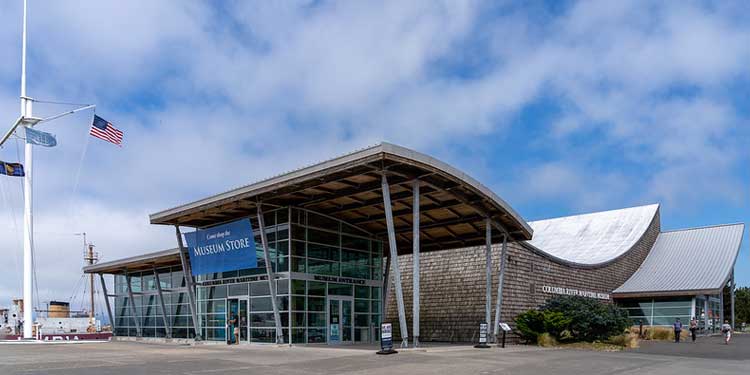 Address: 1792 Marine Drive, Astoria, Oregon 97103, United States
Opening hours: open daily from 9:30 am - 5:00 pm
Costs: admission rate range from $16 to $5 depending on age; children five and under are free
The Columbia River Maritime Museum was founded in 1962 by a commercial artist named Rolph Klep.
Today it is home to the Pacific Northwest's most extensive collection of marine artifacts, with a research library and over 35,000 photographs.
Aside from its permanent and rotating exhibitions, the museum often hosts seminars, workshops, demonstrations, lectures, and other educational events.
Visitors get to learn jaw-dropping stories about generations of individuals who have earned a livelihood navigating the region's waterways.
Cool off at the Young River Falls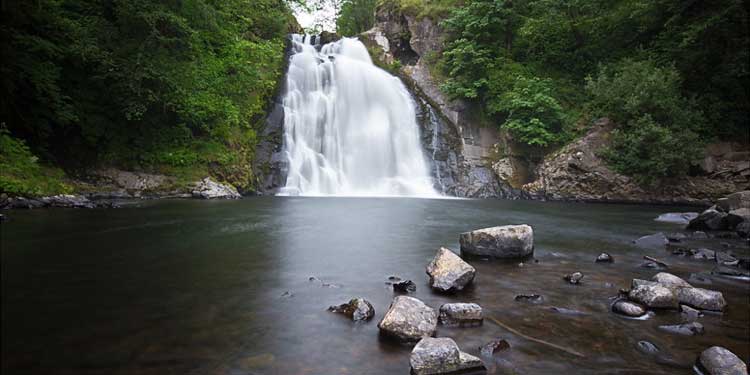 Address: Young River Road, Astoria, Oregon 97103, United States
Best time to visit: Summer
Youngs River Falls is a 54-foot waterfall located 8 miles south of Astoria that is ideal for outdoor exploration.
This water feature has also appeared in several films, including the famous Free Willy 2 and Teenage Mutant Ninja Turtles 3.
On a good day, its spectacular waterfall makes it a terrific site to go for summer swimming and observing salmon spawning.
There is a short nature hiking route to reach here, with easy and free access from the parking lot.
It is open all year and is a great destination to spend a day getting away from the hustle and bustle of the downtown area.
Tip: Bring swimsuits and pack a lunchbox.
Stroll Around the Riverwalk Trail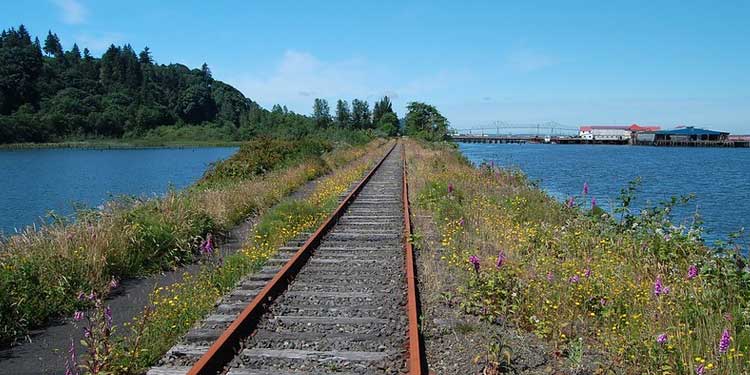 Address: Astoria Riverwalk, Astoria, Oregon 97103, United States
Opening hours: open 24 hours
Take a whimsical walk around the Astoria Riverwalk that follows the Columbia River as it flows past Astoria on its route to the Pacific.
The 12-mile route runs along the city's waterfront and offers a spectacular view of the river and many historical sites.
Its wheel-accessible paved and wooden boardwalk makes it even more suitable for cycling and jogging around the trail.
Give your feet a rest and indulge in fine dining at many riverside restaurants or shop at local stores to collect a souvenir.
It's a great way to spend some free time, as theres always something to satisfy everyone on these miles of River Trail.
Admire the Garden of Surging Waves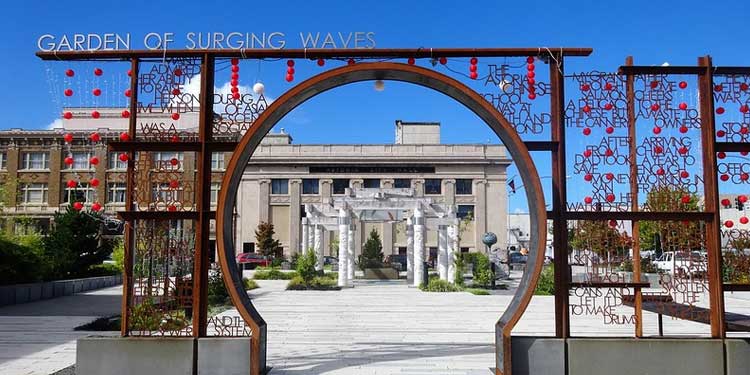 Address: Astoria City Hall, 1095 Duane Street, Astoria, Oregon 97103, United States
Opening hours: open 24 hours
Costs: free entry
The Garden of Surging Waves is a community park dedicated to honoring and celebrating the Chinese Heritage of Astoria and the Lower Columbia River Basin.
Take a walk around, and you will learn everything about Chinese culture and its role in the development of Astoria.
Its unique architecture of the garden, sculptures, and quotes written by renowned Chinese philosophers are major attractions to look out for.
A great addition to put on your must-visit list while you are in the downtown area.
Visit the Flavel House Museum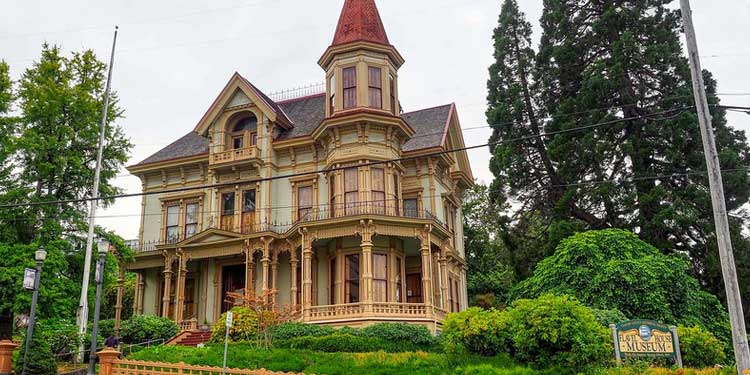 Address: 714 Exchange Street, Astoria, Oregon 97103, United States
Opening hours: open daily from 10:00 am - 5:00 pm
Costs: admission is $5 for adults, $6 for seniors, and $2 for youths
Initially, the Flavel House Museum was the home of Captain George Flavel, who was one of Astoria's most influential people in the early to late 19th century.
Today, this marvelously well-preserved mansion is a popular destination in the city due to its interior and exterior designed in Queen Anne Architecture.
The museum provides information boards in each room showcasing many original Victorian pieces that belonged to Flavel's family.
Take a self-guided tour around the property, and you will be treated to witness and learn the entire history of the museum.
Learn History and Enjoy Outdoor Recreational at the Fort Stevens State Park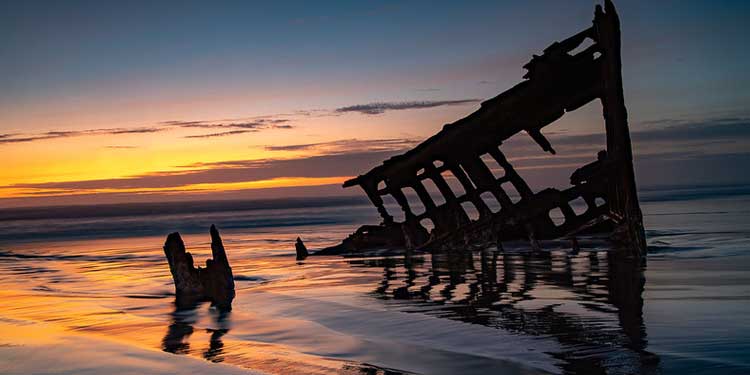 Address: 1675 Peter Iredale Road, Hammond, Oregon 97121, United States
Opening hours: open daily from 6:00 am - 10:00 pm (day use)
Costs: free entry
Stevens State Park is mostly famous for viewing the Peter Iredale shipwreck, which ran ashore in the early 1900s.
Not to mention the renowned Battery Russel, which was built during the civil war to protect the shores of the United States.
Both of these shares the very intriguing history of Astoria, so it's a must-visit while you are adventuring around the park.
But theres a lot more than just looking out for historical places!
This 4,300-acre park is also a great destination for outdoor recreational adventures.
From camping at many of its campgrounds to going on a horse ride and beachcombing at the beach, theres everything to satisfy your need.
Go Hiking at the Cathedral Tree Trail Trailhead
Address: 2800 Irving Avenue, Astoria, Oregon  97103, United States
Opening hours: N/A
Costs: $5 per person
This short hike through Astoria's hillside urban forest is an excellent way to see cities historical landmarks and the beauty of nature.
Generally considered an easy route, it takes an average of 30 minutes to an hour to complete.
Don't be surprised if you stumble across wildlife while exploring, as the area is home to many wild birds.
The trail ventures a half-mile to the massive Sitka spruce, also known as the "Cathedral Tree," through a well-preserved coastal forest to the top of Coxcomb Hill.
If you wish to extend your hike, an additional half mile will lead you to the iconic Astoria Colum to enjoy scenic views of the region.
Enjoy a Breathtaking View from the Astoria-Megler Bridge
Address: US-101, Astoria, Oregon 97103, United States
The Astoria-Megler Bridge is the longest continuous suspension bridge in North America that overlooks the mouth of the Columbia River and connects Oregon and Washington.
Its architectural structure and 4.1 long mile roads make a great stop for a quick view of the river and hills of Astoria.
Take a stroll around in the evening and witness soothing sunset straight out of a scene from a classic movie.
Perfect for couples and families going for a short drive from the downtown area.
Explore the Downtown Astoria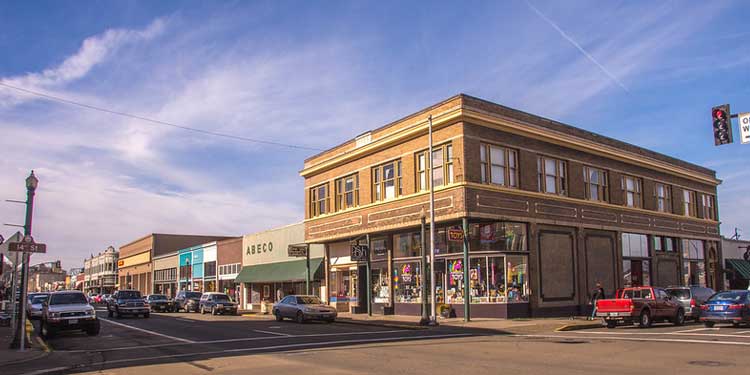 The downtown area is one of Astoria's best attractions, filled with entertainment, shopping, and terrific dining options.
Choose from award-winning breweries to high-end clothing stores and fresh-caught seafood galore, theres something for everyone to enjoy.
Pier 11 Mall stands out as one of the best attractions for shopping, whereas Buoy Beer Company wins the perfect combination of American grub and craft beer.
Start Planning Your Trip to Astoria
Finally, getting around Astoria without a vehicle is rather simple, as many attractions, shops, and restaurants are within walking distance if you stay near the downtown area.
However, if you want to see one of Astoria's most popular sights, the best way to get there is to take the Riverfront Trolley.
It's more convenient and cheaper for budget travelers.
And by following our top recommendations, you are sure to have a splendid time here in Astoria, Oregon.
Good luck!
Note: Keep in mind that information about travel can change quickly. To make sure your trip is fun and safe, we encourage you to double-check official websites and government/travel advisory sites for the latest information on travel restrictions, entry requirements, and safety measures.