Best known as the best island in the world, the magical Maui can be an ideal vacation spot for everyone traveling with kids.
Beloved for its world-famous gorgeous beaches and lush jungles, kids can enjoy exploring the second-largest Hawaiian Island. 
Maui can be an excellent place for the little ones to learn about the unique Hawaiian culture, history, and marine life.
Enjoy water sports activities, including windsurfing, snorkeling, boating, and so much more!
Try our top picks of fun activities, from whale watching to hiking at the national park!
Things to Do in Maui, Hawaiian Islands with Kids
Maui Ocean Center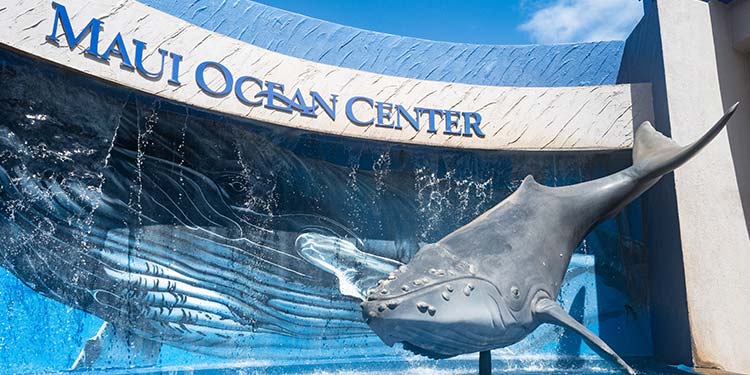 Location: 192 Māʻalaea Road, Wailuku
Opening hours: 9:00 am - 5:00 pm (Every day)
Entry rates: $26.95 (Children), $39.95 (Adults)
While the ocean surrounds you, explore more about marine life at Maui Ocean Center.
The Center is an aquarium and oceanography, which offers an excellent experience for everyone who wishes to connect to aquatic animals on a deeper level.
The 3-acre Center, opened in 1988, is home to the world's largest display of Pacific corals.
It is also the largest living tropical reef aquarium in the Western Hemisphere.
They have a variety of exhibits featuring a diverse collection of endemic Hawaiian species, live coral reef displays, and other sea creatures.
Enjoy them all, from Living Reef, an exhibit showcasing 40 Hawaiian coral species, to Turtle Lagoon, which houses one of Earth's most ancient animals, green sea turtles.
'Open Ocean' is the largest tank in the state, having different species of water animals, including fishes, sharks, rays, and many more.
Kids will also love the 3D immersive experience in their Sphere, a brilliant way to watch the underwater world!
Old Lahaina Luau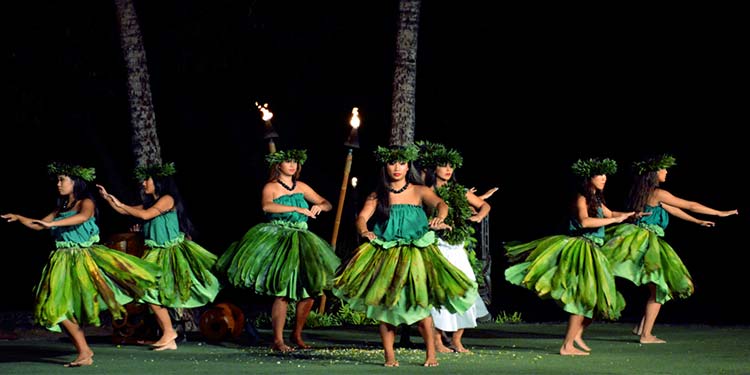 Location: 1251 Front Street, Lāhainā 
Opening hours: 8:15 am - 8:30 pm (Every day)
Contact: +1 808-667-1998
Experience the beautiful Hawaiian Culture at Old Lahaina Luau, a beachside eatery and recreation company.
Old Lahaina Luau demonstrates the most authentic Hawaiian Luau cultural experience in Maui for a diverse audience.
'Luau' is translated to a traditional Hawaiian party that involves entertainment, food, and history.
Try out a wide variety of Hawaiian dishes as they provide a five-course dinner and tropical beverages, suitable for people with different taste palates.
Children will get to learn about the culture in many interesting ways at Old Lahaina Luau.
Enjoy the live performances of some of the most talented entertainers on the island of Maui!
A Family-Friendly Beach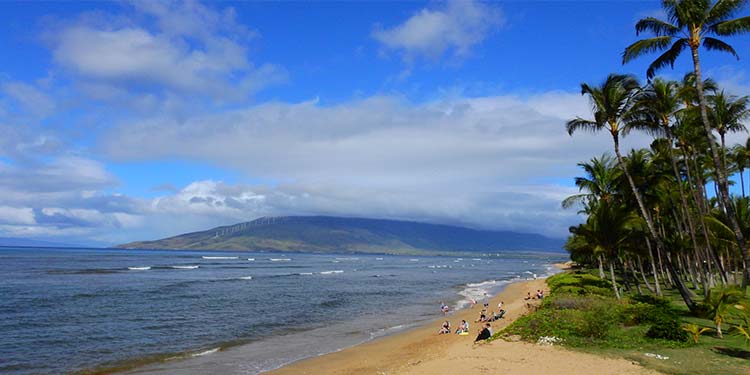 As known for some of the world's most wonderful and breathtaking beaches, Maui has numerous beaches you can visit.
However, it is essential to select a family-friendly beach as not all beaches are safe for every age of kids!
Baby Beach at Baldwin Beach Park, named for its calm water and safe area for the younger kids, is one of the most kid-friendly beaches in Maui.
On crystal clear water at Kapalua Bay Beach, children can enjoy water adventures such as snorkeling and paddle boarding.
Moreover, you can also accompany your kids to Ho'okipa Beach, which has the most scenic views of the Pacific Ocean.
And a bale of Hawaiian Green Turtles comes out in the sand to bask in the sun in the afternoon, which can be a beautiful sight to see for the little ones.
Travel the Road to Hana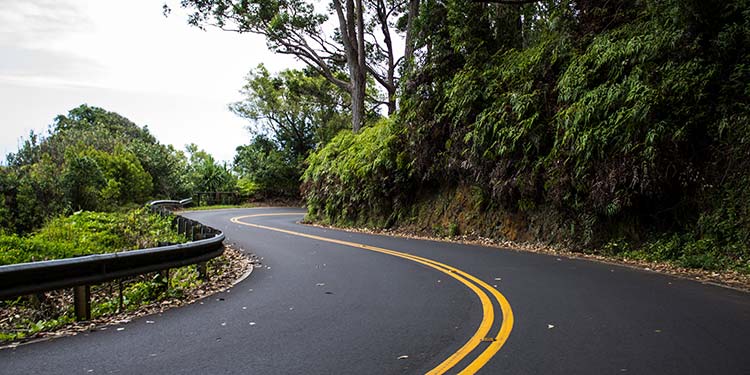 ​​Get on the road and travel the Road to Hana – a perfect family getaway!
The Hana Highway is a 64-mile-long road that stretches from Hawaii Route 36 to 360, featuring many attractions of Maui found along the journey.
Passing over 59 bridges, the road passes from the lush tropical rainforest to the urban street.
Regarded as one of the National Historic Places, the highway is a popular tourist attraction for easy access to many waterfalls, beaches, and towns on the way.
The scenic drive with kids can be a perfect opportunity to make stops at places such as the Garden of Eden, Twin Falls, and Hana Town.
Hawaii Mermaid Adventures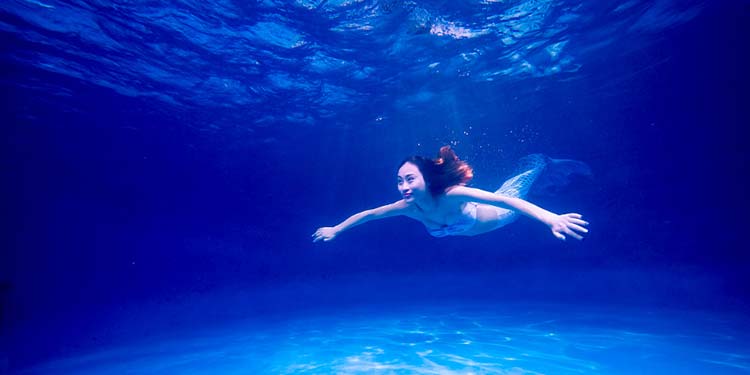 Location: 61 Halekuai St. Unit 5, Kihei
Opening hours: 7:00 am - 5:00 pm (Every day)
Contact: (808) 495-8919
Does your kid love the story of the Little Mermaid?
Make their dream to become a mythological aquatic creature come true!
Hawaii Mermaid Adventures is a one-stop shop for everything you'll need to surprise your kids with a Mermaid Tail.
It is a fun and exciting way to explore the ocean and create unforgettable memories.
They offer a magical adventure to the kids and everyone who loves to live off their imagination.
It will be an experience of a lifetime for kids who love the stories of mermaids and mermen!
Haleakala National Park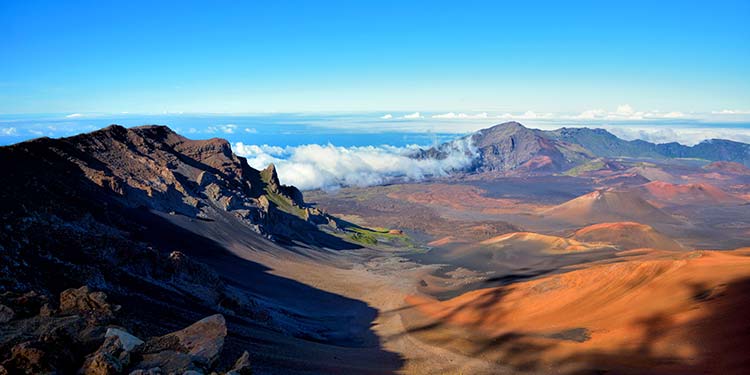 Take your kids for a hike at the Haleakalā National Park, one of the major tourist spots on the island of Maui!
The national park is an outstanding place to explore and feel closest to Hawaiian culture and the history preserved by nature.
Its well-maintained road that leads up to the mountain makes it perfect for a hike or a ride.
The Pipiwai trail is the most famous in the park, with a bamboo forest, banyan trees, and stunning waterfalls along the way.
Explore nature to the fullest as it is home to the most endangered species of animals, birds, and plants than any other national park in the country.
Tip: Many wilds can be spotted here as more than half of the park is covered by wilderness areas, so sticking to the trail is the safest option.
Molokini Snorkeling Tour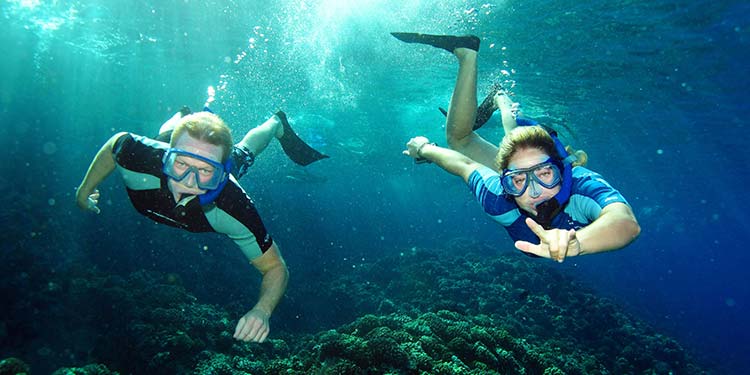 Take your children to the marvelous Molokini Crater to get underwater and explore marine life!
Scuba Diving, Snuba, and Snorkeling are some of the adventurous activities you can do with your kids in this small crescent-shaped islet.
The crater is home to more than 250 species of fish and endemic, making it a perfect place to swim along them!
Whale Watching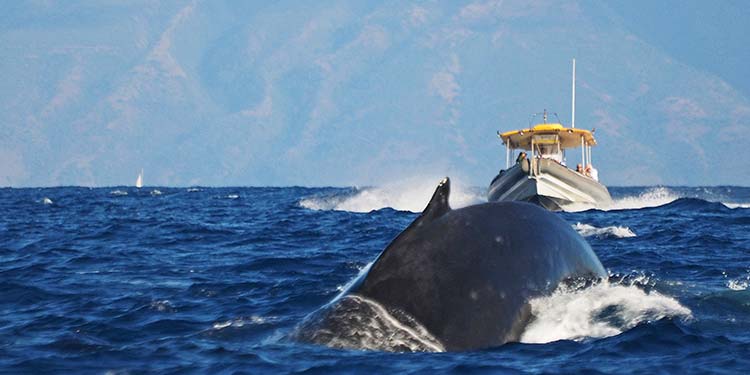 Location: Lahaina Harbor 
Entry rates: Starts from $69
Go for a boat ride to watch the infamous pod of humpback whales with the little ones on the island of Maui!
As one of the most popular excursions in Maui, whale watching will be worth your time.
Other than the humpback whales, you can also spot some rare appearances of fin, blue, pilot, false killer, and more.
Visitors can enjoy the whale watching season from November to May. However, January to March is regarded as the peak season.
Children will surely love spotting all the colorful tropical fishes and dolphins in the sea for sure!
Maximise Memories in Maui!
Children are guaranteed to love their visit to Maui for all the fun adventures the island has in store for all the seasons.
The diverse and unlimited selection of activities and attractions found on the Hawaiian island will instantly set the vacation vibe for kids.
Maui provides an unforgettable experience for the whole family!
Note: Keep in mind that information about travel can change quickly. To make sure your trip is fun and safe, we encourage you to double-check official websites and government/travel advisory sites for the latest information on travel restrictions, entry requirements, and safety measures.