Bounded by the magnificent Ohio River, the State of Ohio is renowned for having an intriguing history of music, sports, and films.
Located in the Midwestern United States, the capital of the State is Columbus, and the most tourist-attracting cities are Cincinnati and Cleveland.
It is also home to many influential people, including the Wright Brothers, who are known for inventing and flying the first successful airplane.
Not to forget many of the admirable attractions and fascinating architecture to wander around.
Explore the corners from the Crystal Cave to meticulous Metroparks and the most thrilling rides in the Amusement Parks of Ohio.
Or, witness some of the world record holders, such as the world's largest Rubber Stamp, Basket Building, Cuckoo Clock, and more.
Theres plenty of room for you to explore in this chill and lively state!
We are more than glad to help you find some of the best things to do in Ohio!
Things to Do in Ohio
Rock & Roll Hall of Fame: Cleveland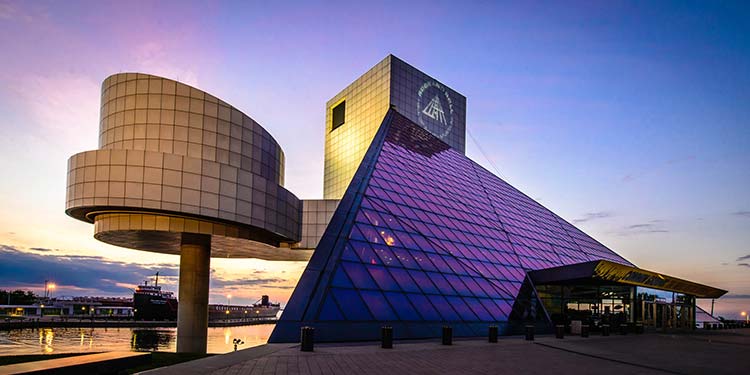 Location: 1100 Rock and Roll Boulevard, Cleveland
Opening hours: 10:00 am - 5:00 pm (Every Day)
Entry rates: $35 (Adults), $25 (Ages 6-12)
Music lovers, the most famous Rock and Roll Hall of Fame is situated right here in Cleveland, Ohio!
The Museum and Hall of Fame was established in 1983 and has been a remarkable place for all wanting to learn about the roots of rock and roll.
It preserves the history of all the notable figures involved in developing the genre and is displayed in a well-curated manner.
The seven-leveled outstanding building has a separate gallery for all rock and roll subgenres and individual artists.
Galleries feature gospel, folk, and country to the Beatles, the Rolling Stones, and the late Elvis Presley.
It is one of the best interactive museums where you get to learn history, witness significant memorabilia and artifacts, and rock and roll!
Cedar Point Amusement Park: Sandusky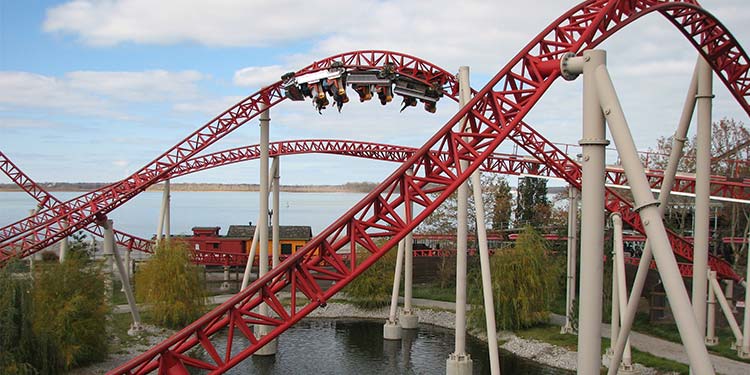 Location: 1 Cedar Point Drive, Sandusky
Opening hours: 10:00 am - 8:00 pm (Sun-Thurs), 10:00 am - 10:00 pm (Fri & Sat)
Entry rates: Starts from $49.99
Visitors don't miss out on visiting one of the greatest amusement parks in the world!
Opened in 1870, Cedar Point Amusement Park is a 364-acre land full of entertainment located in Sandusky, Ohio.
Featuring 16 roller coasters, the country's second-oldest amusement park is also called the 'America's Roller Coast.'
Some of their roller coasters are the Blue Streak, Maverick, and Rougarou.
One of its most popular and unique attractions is the tallest, fastest, and longest hybrid roller coaster – Steel Vengeance.
The park has a huge variety of rides for both beginners and thrill-loving coaster enthusiasts.
Other than roller coasters, you can also find other attractions: Family rides, Water rides, Thrill rides, and Children's rides.
Additionally, the park has a one-mile-long beach, an outdoor & indoor water park, two marinas, and an outdoor sports complex.
Wright Brothers Memorial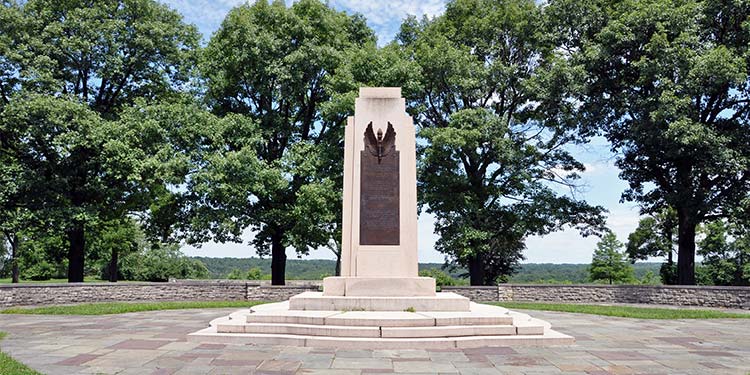 Location: 2380 Memorial Rd, Dayton
Opening hours: 8:00 am - 8:00 pm (Every day)
Entry rates: $10 for Adults
The Memorial was constructed in honor of the historical contributions made by the Wright Brothers.
The pair of brothers were American aviation pioneers who are known for building and flying the first-ever successful airplane in history.
Orville Wright and Wilbur Wright took the first brief flights around Kitty Hawk and North Carolina.
Located near the National Airforce Museum, on top of the hill, the memorial site is a well-maintained and peaceful area.
You get breathtaking views of the Huffman Dam area and a wonderful place for plane spotting.
Cincinnati Zoo & Botanical Garden: Cincinnati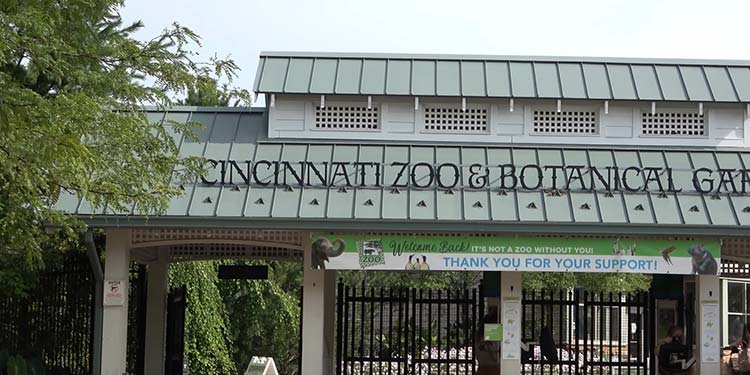 Location: 3400 Vine Street, Cincinnati
Opening hours: 10:00 am - 5:00 pm (Every Day)
Entry rate: $10 - $27
Cincinnati Zoo and Botanical Garden is a fantastic place to spend a lovely day with your family.
It is the sixth oldest zoo in America and has been registered as one of the National Historic Landmarks.
The zoo shelters a diverse collection of over 1800 animals from 500 different species.
Check out their interesting exhibits, including the Gorilla World, Cat Canyon, Eagle Eyrie, and many more.
And the beautiful botanical garden has over 3000 species of plants, and the tulip garden is an unmissable spot here!
A visit here can be a great experience for both the kids and the adults as the diversity of animals and plants can be educational yet exciting.
The zoo and garden are easy to navigate with an excellent overall layout design.
The Center of the World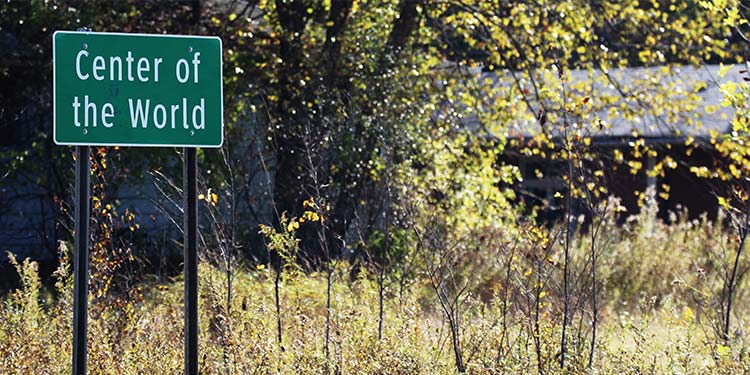 That's right! The Center of the World is right here in Ohio.
However, the name is only given to a small unincorporated community in Trumbull County it can be an interesting place to visit.
The community has several houses and a few retailers, but tourists come here just for the Destination sign!
Pro Football Hall of Fame: Canton
Location: 2121 George Halas Dr Nw, Canton
Opening hours: 9:00 am - 8:00 pm (Every day)
Entry rates: $43 (Adults), $36 (Ages 6-12)
The Pro Football Hall of Fame is located in Canton, a popular attraction made for all football fans and enthusiasts.
Opened in 1963, the Hall of Fame is a tribute to all the people involved in making the National Football League a successful organization.
Take a tour and experience the historical achievements as well as the newer establishments through numerous displays.
It preserves and showcases many interactive displays, plenty of original artifacts, and the history of professional football from the beginning.
The Hall of Fame has a turf field artificial stadium visitors can walk through for a closer look.
The Christmas Story House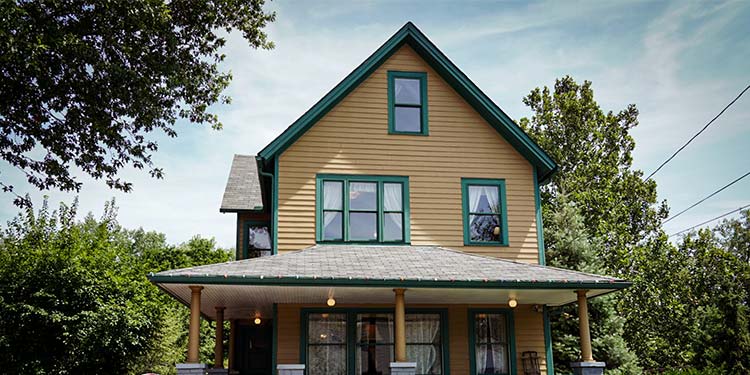 Location: 3159 W 11th St, Cleveland
Opening hours: 10:00 am - 5:00 pm (Every day)
Entry rates: $18 (Adults), $13 (Ages 3-12)
Did you grow up watching the 1983 comedy film 'A Christmas Story'? Then don't miss this place!
The 19th-century Victorian house is an attraction in Cleveland's Tremont neighborhood, with a gift store across the street.
Now known as the Christmas Story House, it was used in the film and was later opened as a museum devoted to the movie in 2006.
The museum features many original props, memorabilia, and costumes from the film.
Not only is the museum open to the public for tours, but it is also for overnight stays all year round.
Although the holiday season is the busiest time, the experience gets much better if you visit the place during Christmas!
Riverboat Cruise in Cincinnati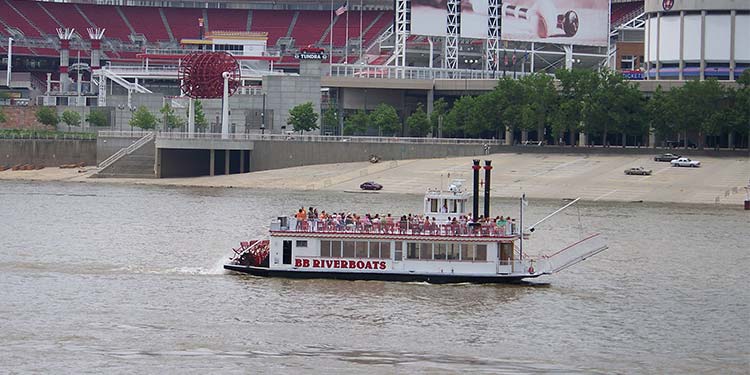 Location: 101 Riverboat Row, Newport
Opening hours: 9:00 am - 7:00 pm (Tues-Thurs & Sat), 9:00 am - 7:30 pm (Fri), 9:00 am - 6:30 pm (Sun), 9:00 am - 5:00 pm
Entry rates: Starts at $69
Get on a BB riverboat to sail around the Ohio River and witness the beauty of Cincinnati in the best way!
You can choose the most suitable cruise for you from their wide variety of riverboats and events.
Captain's Lunch Cruise, Jazz Brunch Cruise, and Holiday Family Dinner Cruise are some of their many signature cruises.
BB riverboats promise to provide a ride of a lifetime, so make the most fun memories sailing!
Cuyahoga Valley Scenic Railroad, Ohio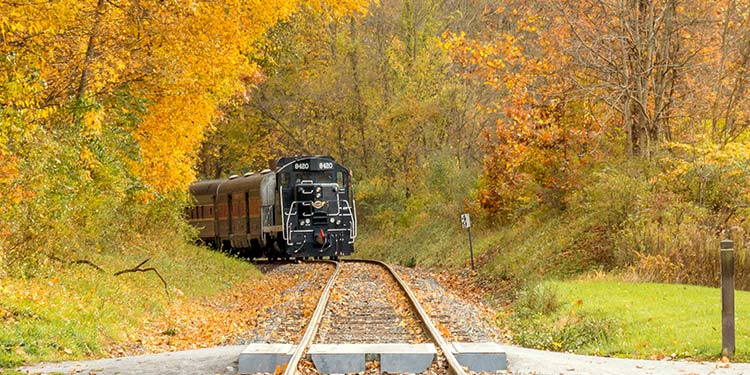 Contact: 330-439-5708
Opening hours: 9:00 am - 4:00 pm (Mon-Fri)
Entry rates: $18 (Adults) / $13 (Children)
Cuyahoga Valley Scenic Railroad is a historical area you can explore better by hopping on the train!
The train makes its stop at several locations and follows many routes. You can check on their site to catch the one nearer to you.
This Vintage rail car offers the choice of Coach Seating, Table Seating, Lounge Class Seating, and many more.
Visit the Café Car for various snacks, beverages, and souvenirs.
They also organize themed rides for a fantastic tour of the park 'National Park Scenic', a special holiday-themed excursion 'The North Pole Adventure', 'Explorer' for bicyclists, and more.
West Side Market: Cleveland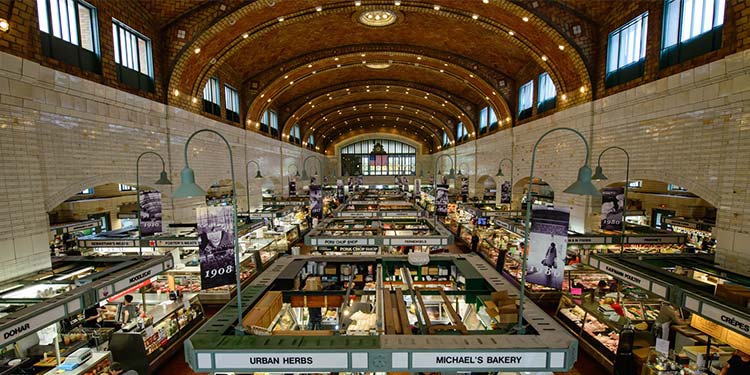 Location: 1979 West 25th Street, Cleveland
Opening hours: 8:00 am - 5:00 pm (Mon/ Wed/ Fri),  7:00 am - 5:00 pm (Sat), 10:00 am - 4:00 pm (Sun), Closed on Tues & Thurs
Entry rates: Not required 
Visit the grand and historic building that hosts Cleveland's oldest indoor and outdoor public market.
The brick-constructed Neo-Classical and Byzantine building provides vending space for about 100 stalls all under one roof and 85 stalls outside.
From meats and seafood to fruits and vegetables to bakery items, the market has diverse locally produced food options.
West Side Market attracts customers from all around the world who wish to experience the fun atmosphere and learn about its history as well.
The historical building has a large clock tower attached to it, also regarded as Ohio's attraction.
Crystal Cave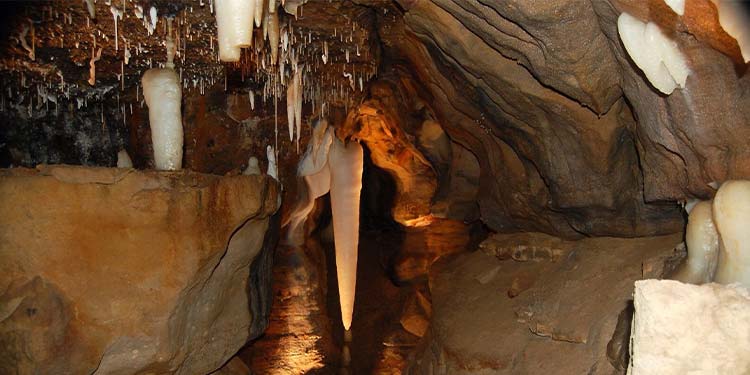 Location: 978 Catawba Ave, Put-In-Bay
Opening hours: 11:00 am - 5:00 pm (Mon-Sat), 12:00 pm - 5:00 pm (Sun)
Entry rates: $12 (Adults), $7 (Ages 6 to 11)
Crystal Cave is an amazing hidden gem in the state of Ohio—quite literally!
In fact, it is a limestone cave full of tabular crystals called celestine that goes up to 3 feet wide.
Operated by the Heineman Winery, the cave was discovered in 1897 while the workers were digging a well for the winery.
The cave was once regarded as the world's largest geode but remains one of the state's popular tourist attractions.
It's a great experience inside the cave to witness the huge crystals and even walk inside the giant ones!
Tips: Visitors will be offered a glass of wine or juice of their choice if they wish to do a combo tour of the Crystal Cave and Wine Cellar.
Field of Corn
Location: 4995 Rings Rd, Dublin
Opening hours: All day
Entry rates: Not required
Field of Corn is one of Ohio's many popular eccentric public art installations.
The field was once a farm operated by a hybrid corn species inventor and now contains 109 concrete sculptures of ears of corn.
Sculpted by the artist Malcolm Cochran, the corn ears are positioned upright in rows is partly a tribute to the site's previous owner.
It was also created with the intention of keeping the history of Dublin's agricultural heritage alive.
The field is a fun place to spend a chilly evening and is known best for being an interestingly quirky spot to take pictures.
Cincinnati Museum Center: Cincinnati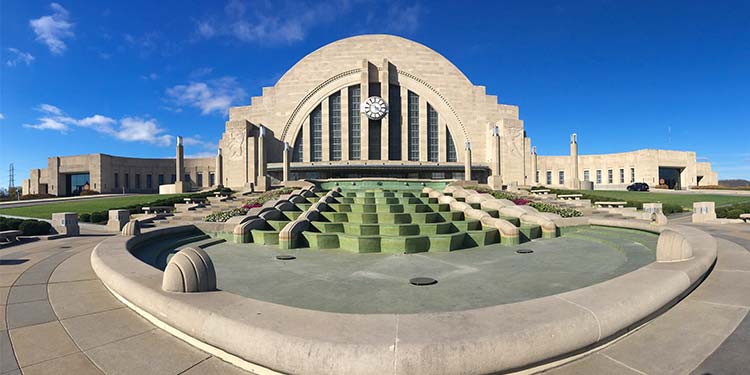 Location: 1301 Western Ave, Cincinnati
Opening hours: 10:00 am - 5:00 pm (Thurs-Mon), Closed on Wed & Tues 
Entry rate: $25 (Adults), $19.50 (Ages 3-12)
Explore the spectacular building of Cincinnati Museum Center, which is filled with eye-pleasing artworks and lots of history.
Opened in 1990, the museum displays numerous educational and interactive exhibits that all ages can enjoy.
The museum showcases the civic history of Cincinnati through exhibits such as Public Landing, Cincinnati in Motion, Shaping Our City, and more.
They also offer numerous fun and interactive exhibits to children.
Every part of the center is made with keen attention to detail to provide a great experience to the visitors.
Kings Island: Kings Island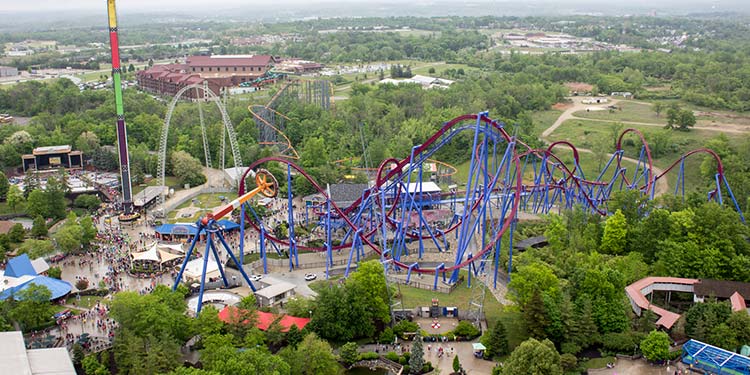 Location: 6300 Kings Island Dr, Mason
Opening hours: 10:00 am - 10:00 (Every day)
Entry rates: $49.99 
Another brilliant amusement park in Ohio makes it to the list!
Kings Island is a 364-acre park that features over a hundred fun attractions and a 33-acre waterpark.
Over the years, the park has expanded its number of entertaining thematic areas from five to eight now.
Coney Mall, Area 72, Adventure Port, International Street, and Oktoberfest are some of the themed areas with lots of attractions.
This amusement park offers something to everyone in the family and can be a great experience for all!
Tips: Get the dining pass which includes delicious food and beverages with the entry provided on-site.
Topiary Park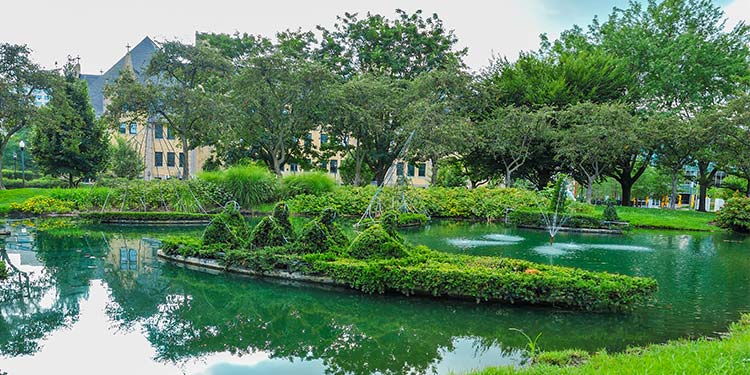 Location: 480 E. Town St., Columbus
Opening hours: 7:00 am - 11:00 pm (Every day)
Entry rates: Not required 
Topiary Park is a 9.2-acre public park and garden located in Downtown Columbus.
The park is a beautiful and interesting spot to walk through and admire the impressive shrub artworks.
Topiaries displayed in this park depict the French artist Georges Seurat's 1884 painting 'A Sunday Afternoon on the Island of La Grande Jatte'.
The one-of-a-kind garden is the only park that is completely based on a painting.
A life-sized representation of 54 men, women, and children, eight boats, and a few animals, including dogs, monkeys, and a cat, is a major attraction.
Other than the topiaries, visitors can also admire various intriguing species of trees in the park.
Harding Tomb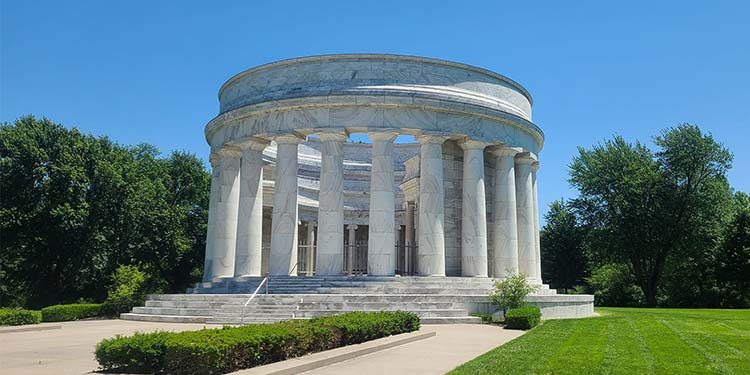 Location: 966-870 Delaware Ave, Marion 
Opening hours: All day
Entry rates: Not required 
Rich in the history of the country's numerous presidents, Ohio is where the late 29th President of the States body rests.
The tomb of former president Warren G. Harding and First Lady Florence Kling Harding is in Marion.
Built-in 1927, the burial site has a circular Greek temple-style marble tomb in the well-maintained 2 acres of ground.
It is the last of the elaborate presidential tombs and one of the state's most popular and interesting landmarks.
Chief Leatherlips Monument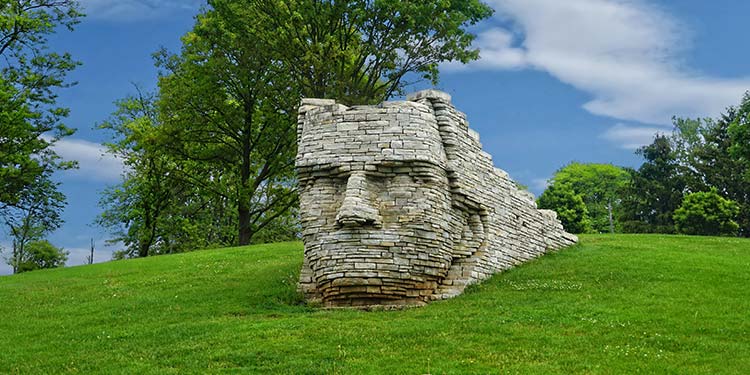 Location: 7377 Riverside Dr, Dublin
Opening hours: All day
Entry rates: Not required 
The unique monument of Chief Leatherlips is the Dublin Arts Council's first outdoor public sculpture.
Designed by American Sculptor Ralph Helmick in 1990, it is an eleven-foot-high limestone portrait of an 18th-century Wyandot Native American leader.
Situated in a beautiful small park in Dublin, it is one of the popular attractions in the area with a bit of history to grasp.
Fun Fact: The name 'Leatherlips' was given by the former residents of this area for his impressive trait of never breaking a promise.
National Museum of the United States Air Force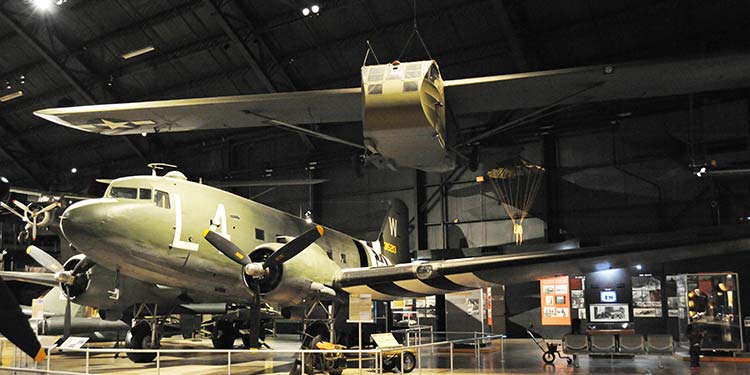 Location: 1100 Spaatz St, Dayton
Opening hours: 9:00 am - 5:00 pm (Every day_
Entry rates: Not required 
Visit the official museum of the United States Air Force, situated a few miles from Dayton, Ohio.
The National Museum of the United States Air Force is the world's oldest and largest military aviation museum.
Established in 1923, the museum displays more than 360 aircraft, missiles, memorabilia, and artifacts from the history of aviation.
The gallery showcases pieces of America's Air Force uniforms and clothing.
Some of the rarest and most honored exhibits are Apollo 11, which orbited the Moon 74 times in 1971, and the only surviving North American XB-70 Valkyrie.
Visitors get to learn plenty of aviation history and witness an admirable collection of planes.
The Air Force Museum is known for being one of the most frequently visited tourist attractions in the State.
The Shawshank Trail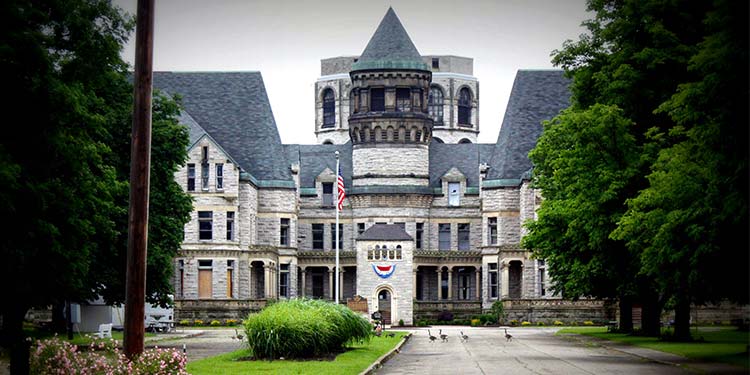 Location: 124 North Main Street, Mansfield
Opening hours: 9:00 am - 5:00 pm (Every day)
Entry rates: Starts at $25
Fans of the seven Oscar-nominated American movie "Shawshank Redemption" better not miss out on this attraction!
The Shawshank Trail is a fun self-guided driving tour of 15 original filming sites from the drama and crime-fiction movie.
Regarded as one of the best movies of all time, the Shawshank Trail was made an attraction for beloved fans who travel from all around the world to witness the sites.
As you go along the trail, pay attention to the movie site's signs!
You can also explore the intimidating historic Ohio State Reformatory, where all the jail scenes were shot.
Although the Shawshank Trail is free of cost, touring the prison requires the purchase of tickets that starts from $25.
Squire's Castle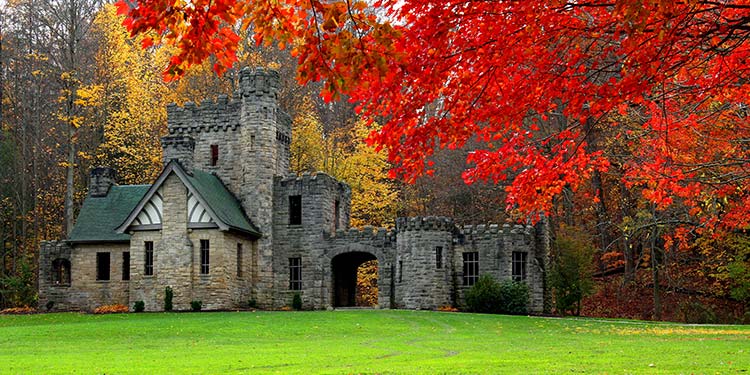 Location: 2844 River Rd, Willoughby Hills
Opening hours: 6:00 am - 11:00 pm (Every day)
Entry rates: Not required 
Squire's Castle is an enchanting, fairytale-like, beautiful gatehouse from the 1890s.
The castle is a popular attraction in North Chagrin which is also a part of 18 reservations of Cleveland Metroparks in Ohio.
Its design is inspired by German and English Baronial Castles, which can be a great spot for people who admire classical architecture.
There are lots of hiking opportunities from the castle ranging from half a mile to 10 miles of marked trails.
Explore the open grounds and interiors of the castles that have installed plaques with historical information.
Overall, it is a great spot for a little history, family picnics, and games!
Longaberger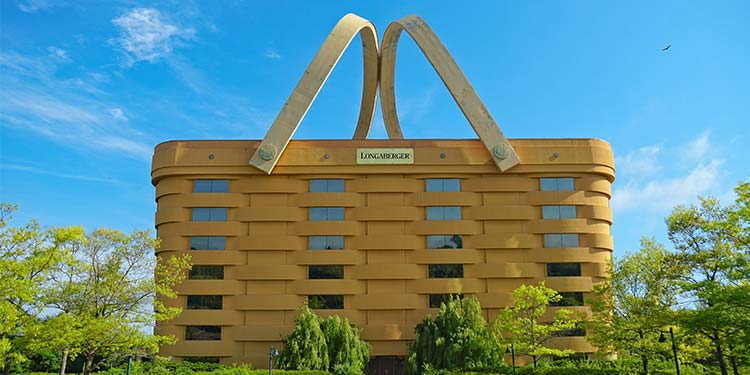 Location: 1500 E Main St, Newark
Opening hours: 10:00 am - 5:00 pm (Mon-Sat), 12:00 pm - 5:00 pm (Sun)
Ohio is known for having many worlds record-breaking massive-sized attractions.
The former headquarters of an American manufacturer of handcrafted maple wood baskets, Longaberger, is one of them.
It is truly a remarkable work of architecture that brings creativity, functionality, and imagination to life.
This enormous woven basket that can be toured around is an impressive artwork with fine details.
The roadside attraction can be a fun little stop to admire the marvelous building when you're near the location!
Get on Board to Observe Ohio Closely!
Ohio is a remarkable state known for many things, including being a great vacation place.
Although regarded as one of the coldest regions in America, summer is the ideal time for an adventurous trip to enjoy all the grassy places and fun rides.
Visitors will get a chance to learn so much from the city and its culture and people.
Also known for being the 11th friendliest state, the Ohioans are always warm and welcoming towards new people.
Travelers, get ready to explore the state of Ohio!
Note: Keep in mind that information about travel can change quickly. To make sure your trip is fun and safe, we encourage you to double-check official websites and government/travel advisory sites for the latest information on travel restrictions, entry requirements, and safety measures.