Cincinnati—commonly known as 'Cincy'— is Ohio's largest metropolitan area and a charming city to visit all year round.
Many people know the city for being home to some of the major influential people, from Steven Spielberg to Neil Armstrong and the four American Presidents.
Also known as the 'Queen of the West,' Cincinnati is known for all its bejeweling eccentric historical architecture, energetic culture, and explorative nature.
Confined by seven different hills, the city is surrounded by greenery and freshness, where you can have the best time going on a hiking adventure.
It has a great atmosphere and a friendly vibe all around.
And anyone with a deep fascination for sports, history, or food should feel glad to know the city is the right destination to indulge in what you like.
To make sure you have a fantastic time in Cincy, here are the best places we have listed for you.
Things to Do in Cincinnati
Check Out the American Sign Museum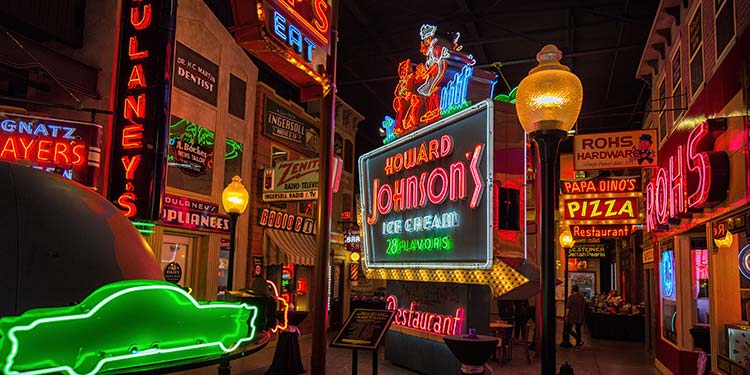 Location: 1330 Monmouth Avenue, Cincinnati
Opening hours: 10:00 am - 4:00 pm (Wed-Sat), 12:00 pm - 4:00 pm (Sun), Closed on Mon & Tues
Entry rate: $15 (Adults), $10 (Ages 13-18)
Have you ever been to a Sign Museum before? If not, this is your chance to experience such type of a unique gallery!
American Sign Museum displays a collection of over 200 signs and artifacts ranging from the 18th century.
The museum remains to preserve the signs as a dedication to the art and history of sign-making throughout the years.
It is the largest public sign museum in the country; they showcase not only neon signs but also other types such as carved, painted, bulb-lit, and more.
Some of their highlights include a variety of unique styles as gold leaf lettering on glass and many businesses' sign boards.
The self-tour around the museum is very convenient to follow with the help of an audio guide and short films.
Visitors can also join an entertaining treasure hunt-style tour available to stay engaged.
Overall, an informative and fun family-friendly place to explore, the displays can be nostalgic for most senior citizens.
Have Fun at Coney Island Park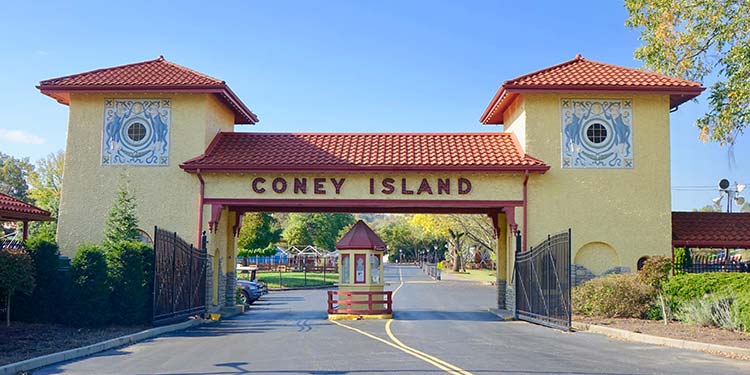 Location: 6201 Kellogg Avenue, Cincinnati
Opening hours: 10:00 am - 8:00 pm (Every Day)
Entry rate: Starts at $25
Coney Island Park is a refreshing water park situated on the banks of the Ohio River.
It has the largest swimming pool in the area and lots of slides, obstacle courses, and fun activities to unravel.
With many family attractions available, it is also a perfect destination to spend a day with family outdoors in the summer.
The Action Alley, Cincy Mini-Golf, and Storybook Paddle Boats are the classic and versatile attractions of the park.
Other major water rides, such as the Twister, Cyclone, and Cannonball Cove, are placed under Sunlite Water Adventure.
The park has plenty of food and beverage options where you can find anything from salad to sandwiches and ice cream to frozen cocktails to beat the heat.
Visitors can also find the 'Island Shop' on site, where it sells swimwear suits and other necessary accessories.
Tips: Grab the discounted entrance tickets for late hours during weekdays after 4:00 pm and also get to avoid the crowd as well!
Take a Look Around the Contemporary Arts Center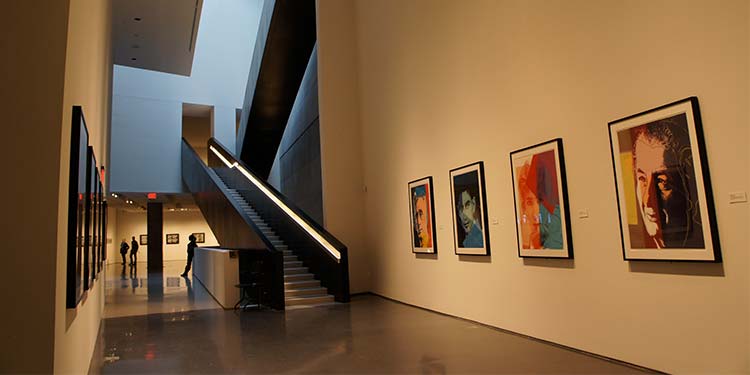 Location: 44 E 6th Street, Cincinnati
Opening hours: 10:00 am - 7:00 pm (Wed-Fri), 10:00 am - 4:00 pm (Sat-Sun), Closed on Mondays
Entry rate: Not required 
In the Queen City, there is so much art and history to explore!
Contemporary Arts Center—one of the first contemporary art institutions in the country, should be on your list in case you anticipate witnessing something impressive.
As a non-collecting museum, the change and development in their exhibits revolve timely.
The outstanding modern architectural design of the arts center is some of the finest designs and the first American project of the renowned architect Zaha Hadid.
You can find a relaxing atmosphere all around the inspiring and engaging displays making the experience fun and interesting.
Visitors might enjoy some of the interactive exhibits displayed on the first, second, and fifth floors of the building.
Note: The arts center might not be suitable for kids of all ages as you can find few exhibits with explicit content.
Enjoy the Feast at Findlay Market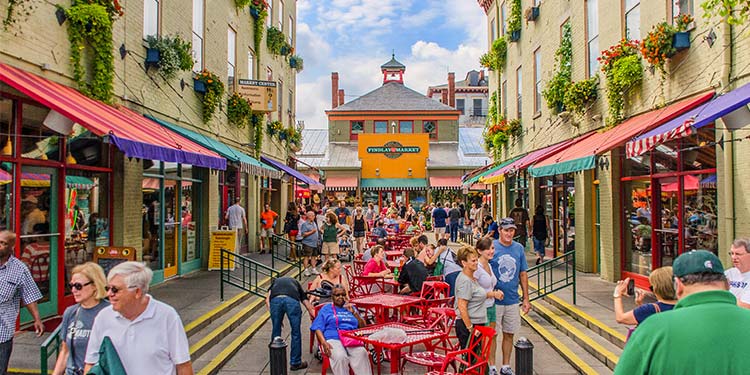 Location: 1801 Race Street, Cincinnati
Opening hours: 9:00 am - 6:00 pm (Tues-Fri), 8:00 am - 6:00 pm (Sat), 10:00 am - 4:00 pm (Sun), Closed on Mondays
Entry rate: Not required 
Visit the city's most beloved and oldest public market—the only remaining market of nine that began over a century.
You can find the lively market in the midst of a historic neighborhood north of downtown Cincinnati.
The market is widely spread from indoor to outdoor spaces that welcome a large number of visitors every day.
Many merchants gather around the market to sell locally sourced quality products, from various kinds of food to handicrafts.
It is a vibrant market with a fun and interesting atmosphere where you can find fresh, delicious, and clean foods and beverages.
On weekends, along with other outdoor vendors, you can also catch street performers lifting the energy of people.
Fun Fact: Renowned country singer Johnny Cash from Nashville, Tennessee, has shot a scene in Findley Market for the movie 'The Pride of Jesse Hallam'.
Admire the Cincinnati Music Hall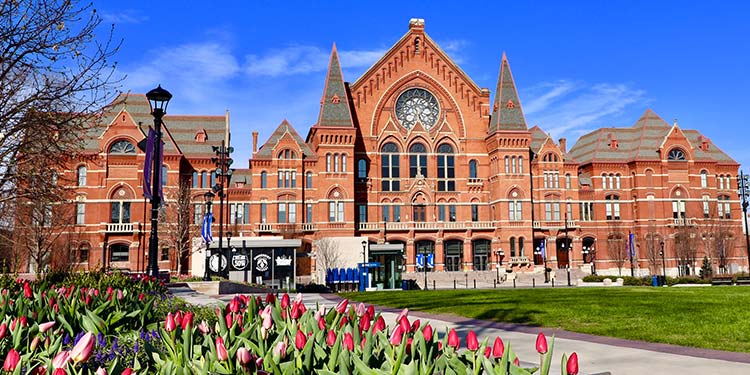 Cincinnati Music Hall is one of the most recognizable buildings in the state, appreciated by people of generations.
The venue hosts many states' performing arts, including Cincinnati Ballet, Cincinnati Opera, Cincinnati Pops Orchestra, Cincinnati Symphony Orchestra, and more.
Although it was built in 1878, the music hall was identified as a National Historic Landmark in 1975.
Their outstanding Springer Auditorium impressively seats more than 2000 audiences for symphony performances and Cincinnati Pops.
Also known for its detailed brickwork, the building was designed by Samuel Hannaford, that remains one of the last and best architects of the Victorian Gothic Revival Style.
In case you want to delve deeper into music, grab a show here–the last thing you would do is regret coming here!
Follow the Footsteps to the Fountain Square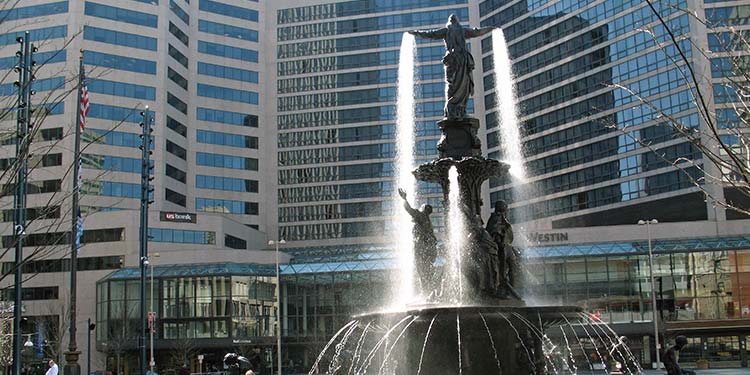 Location: 1241 Elm Street, Cincinnati 
Opening hours: 10:00 am - 5:00 pm (Mon-Fri), 10:00 am - 2:00 pm (Sat), Closed on Sundays
Entry rate: Differs on shows 
Founded in 1871, Fountain Square is the epicenter of downtown—where all the people are at!
With many shops and restaurants featured in the district, the square now has become a popular entertainment hub.
Many special events are organized here in honor to celebrate the change of seasons and to welcome festivals.
The centerpiece of fountain square is the Tyler Davidson Fountain making it one of the area's most visited attractions.
Fountain Square has many events, such as games, movie screenings, concerts, and more happening throughout the week.
Visit the Cincinnati Zoo & Botanical Garden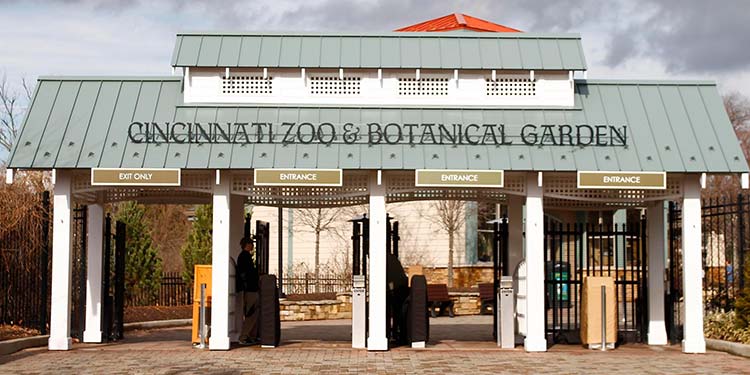 Location: 3400 Vine Street, Cincinnati
Opening hours: 10:00 am - 5:00 pm (Every Day)
Entry rate: $10 - $27
Located in the beautiful neighborhood of Avondale, Cincinnati Zoo and Botanical Garden is a fun place to visit with family.
Being the sixth oldest zoo in the country, it is also regarded as one of the National Historic Landmarks.
With over 500 species of 1800 animals and 3000 species of plants, it has a rich and diverse collection of nature to showcase to its visitors.
There are exhibits from 'Eagle Eyrie' featuring Steller's Sea Eagle and an Andean condor to Asian elephants in 'Elephant Reserve.'  
You can find other exhibits entitled Reptile House, Gorilla World, Cat Canyon, and many more!
Tip: Don't miss out on their tulip garden, as it is one of the most popular spots on the property.
View the Cincinnati Reds Hall of Fame & Museum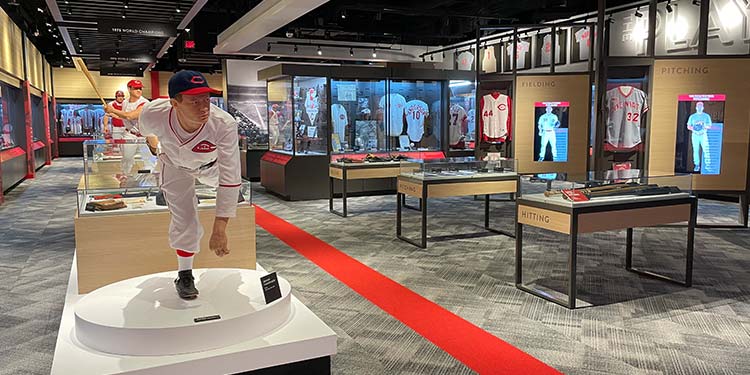 Location: 100 Joe Nuxhall Way, Cincinnati
Opening hours: 10:00 am - 5:00 pm (Every Day)
Entry rate: $12 
The city is the beloved home of many reputable people and things.
The Cincinnati Reds, who was the first Major League and the country's oldest Baseball team, have deep roots in Cincinnati.
Established in 1958, the Cincinnati Reds Hall of Fame and Museum is a tribute to the baseball team's history and legacy.
The museum exhibits artifacts, photographs, and multimedia, paying respect to the team's former players, managers, and everyone involved in the success.
It is a must-stop location for all baseball enthusiasts to learn about the historic baseball team and the Red organization.
Tips: Make sure to check out their store, where you can buy memorabilia and merchandise that are available nowhere else.
Take a Hike at Mt. Airy Forest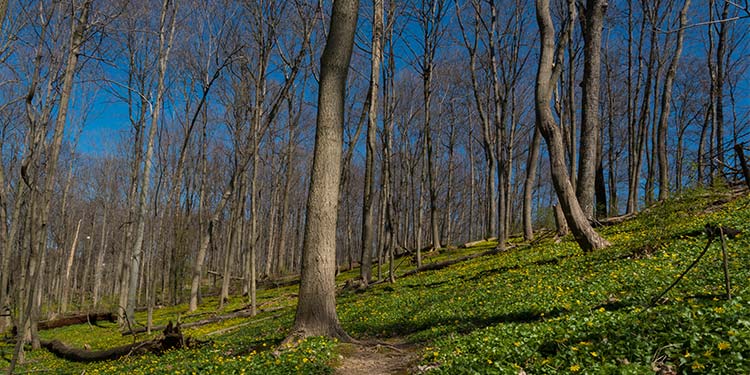 Location: 5083 Colerain Ave, Cincinnati
Opening hours: 6:00 am - 10:00 pm (Every Day)
Entry rate: Not required 
Looking for a rusty yet calm getaway? Mt. Airy Forest is a must-visit for all nature and adventure lovers!
The fairly dense forest is about 1500 acres, making it the largest park in Cincinnati.
It is one of the best places to explore any season.
However, the most preferable time to visit would be summer and fall.
The natural area has various hiking trails, bridle paths, gardens, and bridges, which are timely improved for the safety of the visitors.
Hikers and bikers can have a fun time taking on their well-maintained yet moderately challenging and steep trails.
You can spot plenty of wildflowers and animals while delving deeper into the woods.
Check out their public arboretum, golf courses, playgrounds, and treehouse for more fun in the forest.
Stroll Around the Smale Riverfront Park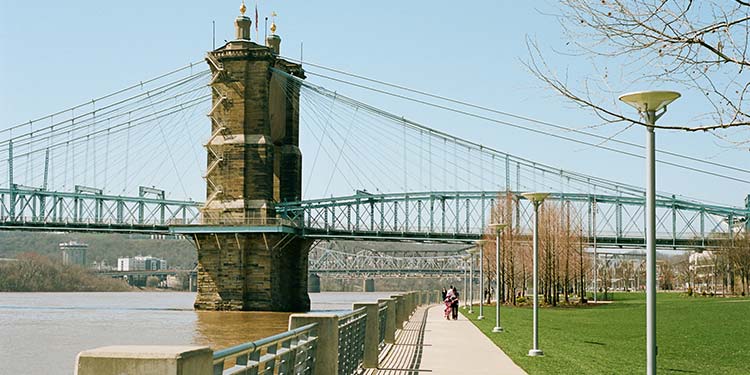 Location: 166 W Mehring Way, Cincinnati,
Opening hours: 6:00 am - 11:00 pm (Every Day)
Entry rate: Not required 
A great area to visit, Smale Riverfront Park is a park for everyone!
Especially the little ones, as they are sure to have a great time with all the fun activities available within the 400 acres of land.
A playground, a splash pad, and a carousel are some of the popular attractions in the park for the kids.
It is a picturesque water area with jets, pools, cascades, waterfalls, and fountains.
Other than that, the park has panoramic walking paths, bike trails, boat docks, beautiful gardens, and so much more.  
There is easy access to clean and well-maintained public washrooms.
Tips: Come during the evening and witness the stunning view of sunset and fountains lighting up in the dark.
Explore the Cincinnati Museum Center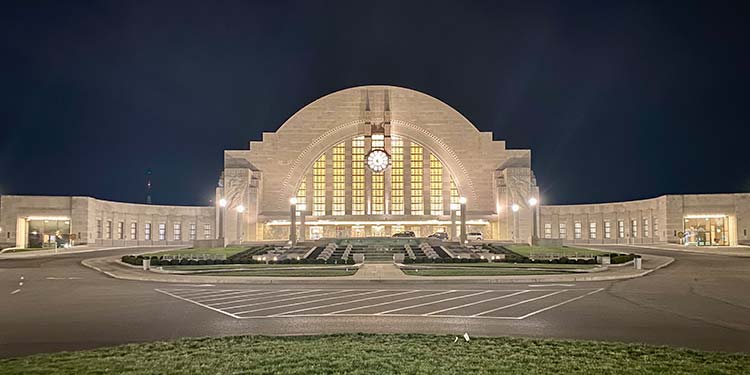 Location: 1301 Western Ave, Cincinnati
Opening hours: 10:00 am - 5:00 pm (Thurs-Mon), Closed on Wed & Tues 
Entry rate: $25 (Adults), $19.50 (Ages 3-12)
Opened in 1990, Cincinnati Museum Center was established to preserve the civic history of Cincinnati.
The gorgeous architecture of the building with a stunning fountain at the entrance remains to impress every visitor at first sight!
The museum displays Cincinnati's History in exhibits like Public Landing, Cincinnati in Motion, and Shaping Our City.
While The Energy Zon, KidSPACE, and 'Little Sprouts Farm' are some of the interactive and educative exhibits for the children.
The center features outstanding visuals and attractions that both kids and adults can admire.
One can find so much to explore, learn, and experience in this well-curated and visually pleasing museum.
Watch a Match at Great American Ball Park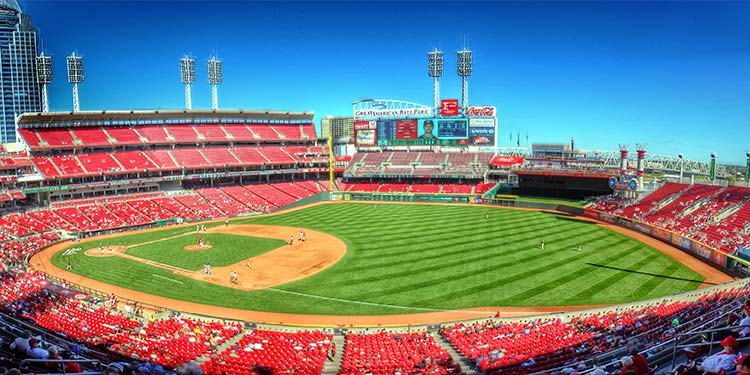 Location: 100 Joe Nuxhall Wy, Cincinnati
Contact: +1 513-381-7337
Great American Ball Park is where all the buzz of the city is at!
The baseball stadium was opened in 2003 and has been serving as the home stadium for the city's very own team Cincinnati Reds.
It is known for having a history of many first records—a first grand slam, the Fastest pitch ever, the longest home run, 1000 hits, and many more.
Grab a ticket to witness the lively match, as it can be a great experience for any baseball fan.
There is a huge variety of foods and drinks you can munch on while enjoying the baseball match.
Besides the Great American Ball Park on the banks of the Ohio River is the Cincinnati Reds Hall of Fame and Museum for more information.
Tips: Get the upper deck seats for an expansive, beautiful view of the river and downtown.
Learn at National Underground Railroad Freedom Center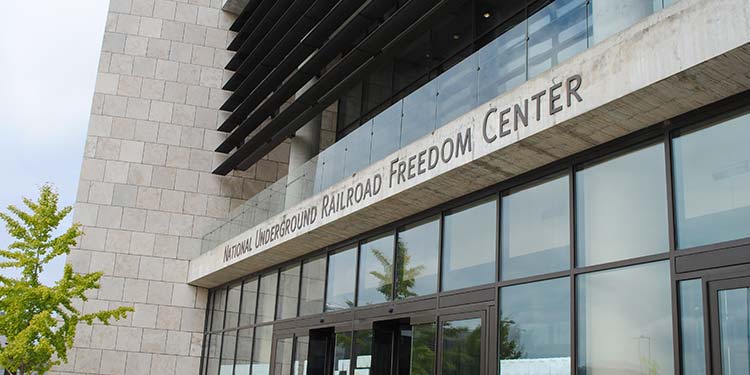 Location: 50 East Freedom Way, Cincinnati
Opening hours: 10:00 am - 5:00 pm (Wed-Sun), Closed on Mon & Tues
Entry rate: $12 (Adults), $8 (Ages 3-12)
Delve deeper into the history of the underground railroad and slavery at the National Underground Railroad Freedom Center.
The museum focuses on delivering the meaning of freedom one has in their life by giving an insight into the struggle for freedom in the past.
Visitors can gain so much knowledge and experience from this monumental place.
Many artifacts, murals, real-life stories, pictures, and so many displays are exhibited in the freedom center.
One of the major artifacts in the center is a two-story log 'Slave Pen' that was built in 1830 and transported originally from Kentucky.
It took ten years of planning and fundraising to finally construct the museum in Cincinnati, which later opened in 2004.
If you wish to learn more about African American History, you will not find a more informative place other than this in the city.
Fun Fact: There is a FamilySearch Center that allows visitors to investigate their own roots!
Check out the Cincinnati Art Museum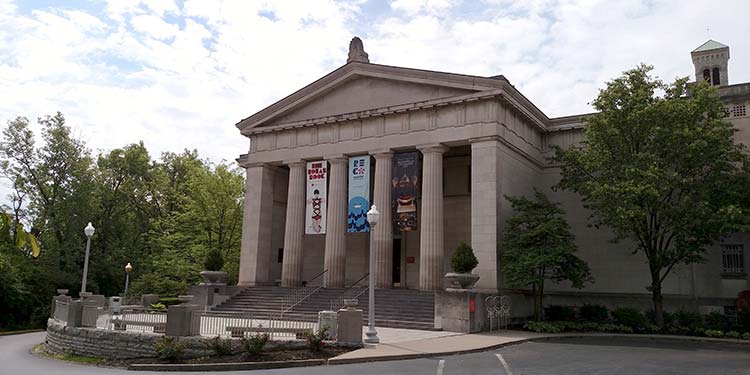 Location: 953 Eden Park Drive, Cincinnati
Opening hours: 11:00 am - 5:00 pm (Tues, Wed, Fri-Sun), 11:00 am - 8:00 pm (Thurs), Closed on Mondays
Entry rate: Not required 
Are you looking for a creative space to indulge in the beauty of art?
Exploring the Cincinnati Art Museum can be the perfect thing to do while you're in search of a good art experience.
Opened to the public in 1886, the museum is one of the popular attractions in Eden Park.
The museum does remarkable work of preserving the legacy of humanity and providing a one-of-a-kind experience to people of generations.
They display an impressive collection of over 67,000 artworks and different pieces from time periods to browse through.
Interesting artworks from Vincent Van Gogh to Pablo Picasso are displayed in the museum.
The Romanesque-revival building holds a century-old history, and despite many alterations over the years, the building remains inspirational.
You will find a cozy café and a small library with a balcony on the third floor of the building as you keep exploring it.
Grasp the Beauty of Eden Park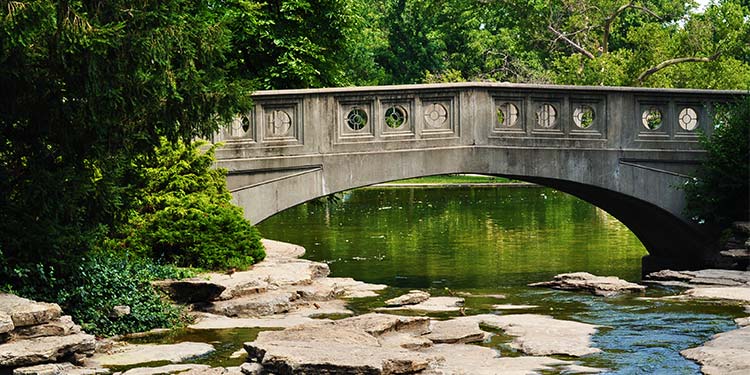 Location: 950 Eden Park Dr, Cincinnati
Opening hours: 6:00 am - 10:00 pm (Every Day)
Entry rate: Not required 
Eden Park is one of the most lovely and serene places in the city!
Located in the Walnut Hills neighborhood, the urban park is spread over 186 acres featuring numerous landmarks of the city within.
Cincinnati Art Museum, Cincinnati Playhouse, and a natural amphitheater known as 'the Seasongood Pavilion' are some of the popular highlights in the park.
The park also has a Gothic Revival architectural style, 'Krohn Conservatory,' which houses over 3500 species of plants from all around the world.
Families can spend quality time exploring the park, which has surprises in every corner!
One of the most scenic spots on site is the Twin Lakes which is beautifully connected by a footbridge.
Other than that, visitors can look out for many attractions all over the park, from statues to art made by the local people.
City Charm of Cincinnati!
As one of the top vacation destinations, the Queen City remains to enhance its top-notch hospitality and offers an unforgettable experience to all.
Whether it is museums or hiking spots, regardless of what you like, you are sure to enjoy your time here to the fullest.
The charm of the city is unlikely to be avoidable as the fusion of warmth and freshness here makes it easier to get a grip quickly.
You will enjoy exploring the city's streets as much as devouring their world-famous cuisines.
So don't miss out on all the fun!
Note: Keep in mind that information about travel can change quickly. To ensure your trip is fun and safe, we encourage you to double-check official websites and government/travel advisory sites for the latest information on travel restrictions, entry requirements, and safety measures.